June, 11, 2014
6/11/14
6:00
PM ET
CINCINNATI -- Since his Queen City arrival about a month ago,
AJ McCarron
's nights have followed a distinct pattern.
If the rookie quarterback is not at a Cincinnati Reds baseball game or taking in a quick meal at a local eatery, he is in his new Ohio River Valley abode with his nose buried in a
Cincinnati Bengals
-issued iPad until past midnight while his famous fiance looks on.
Still six weeks and one day shy of the start of training camp, it's all about learning for the first-year player. It's not about trying to supplant the veteran starter from Day 1 of training camp, or taking first- or second-team reps throughout the preseason. For the foreseeable future, it's about learning the Bengals' offense, adapting to it and playing as well within it as he can.
[+] Enlarge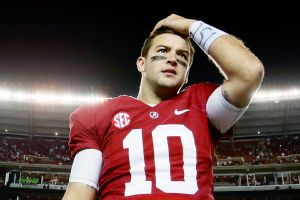 Kevin C. Cox/Getty ImagesAJ McCarron is spending his early days with the Bengals just trying to get a handle on the playbook.
All of that means it's also about subjecting his partner, Sports Illustrated model and former Miss Alabama Katherine Webb, to hours upon hours of football.
"She's having to sit there and watch the game when she probably didn't want to," McCarron said Wednesday, adding that he felt bad for subjecting her to it. "But right now, it's just a lot of studying and trying to make everything like it's natural and I don't have to think about it."
McCarron added that part of his Sunday night was spent watching the Miss USA beauty pageant with Webb.
Tuesday night, though, it was back to football. McCarron said he stayed up to 12:30 a.m. breaking down protections, coverages and blitzes as he sifted through offensive coordinator Hue Jackson's new system. He thinks the study has been paying off.
"I feel like I'm in a good groove right now, and I feel like I'm in a good place," McCarron said. "I'm catching on."
He's also healing. After being forced to only hand off the football during the first two weeks of voluntary organized team activities, McCarron has been throwing during the minicamp all this week. On both Tuesday and Wednesday, he was mostly firing shorter passes to running backs tucked at the bottom of coverage patterns. After dealing with so-called "arm tightness" the first two weeks, he's been cleared to at least throw in a limited capacity. Eventually, the Bengals will work up to allowing him to make longer throws.
Still, he was glad to have a chance to make the ones he did.
"Just to get back in the swing of things and being able to have reps throwing the ball instead of just run plays the whole time; it's definitely good," McCarron said.
In addition to his late-night film study, McCarron credited Jackson and quarterbacks coach Ken Zampese for helping him quicken his pace of learning.
"It's Coach Zamp. We're really close," McCarron said. "He's a really good friend and a great coach. He's helped me a ton. We've spent a lot of hours together going over everything. He's been a huge help to me so far, and he pushes me. That's what I like. I want somebody where, if I don't do right, they get on me and just throw me in the fire. Coach Hue and Zamp have done that."
June, 14, 2012
6/14/12
8:00
AM ET
Like
Ed Reed
,
Joe Flacco
is missing the final two days of Ravens mandatory minicamp. Unlike Reed, the Baltimore quarterback was excused by the team.
Flacco rushed home to New Jersey on Wednesday when his wife Dana went into labor. "Joe got the call this morning, and obviously the labor had started and Joe was high-tailing up the road," coach John Harbaugh said, via the
team's website
. "I wish them nothing but the best."
Flacco said they chose not to find out whether the baby will be a boy or a girl.
Hensley's slant
: Flacco and
Ben Roethlisberger
have taken this competition between rivals to the extreme. Flacco got married last year and Roethlisberger soon did the same. Now, they're both going to be fathers. All joking aside, the AFC North blog wishes the Flacco family the best.
BENGALS
:
Andy Dalton
hasn't been afraid to throw the ball deep during the offseason camps, according to the
Cincinnati Enquirer
. He threw a pass that traveled more than 70 yards in the air last Monday, and he hit
A.J. Green
in double coverage on a throw that went 55 yards. Quarterbacks coach Ken Zampese is among those who don't have any major concerns over Dalton's arm strength, but he told the paper that he could see where others outside the building could. Dalton left a number of passes short last year.
Hensley's slant
: Green is going to help any quarterback look good when they throw the ball downfield. According to ESPN Stats & Information, Green had 12 receptions of at least 30 yards in 2011, the fourth-most in the NFL. The rest of the Bengals' receivers had eight such receptions.
BROWNS
: Punter
Reggie Hodges
told the
Cleveland Plain Dealer
that he has fully recovered from an Achilles injury that sidelined him all of last season. In 2010, Hodges averaged 43.9 yards per punt. His replacement last year,
Brad Maynard
, averaged 40.5 yards per punt.
Hensley's slant
: The Browns punted the ball 89 times last season, which was the eighth-most in the NFL. With the addition of running back
Trent Richardson
and quarterback
Brandon Weeden
, Cleveland is hoping to use its punter less this season.
STEELERS
: The
Pittsburgh Steelers
haven't made a big deal of
Mike Wallace
's absence until Wednesday. That's when team president Art Rooney II delivered a message to his Pro Bowl receiver who has yet to sign his restricted free-agent tender. "He should be here," Rooney told the
Pittsburgh Post-Gazette
.
Hensley's slant
: What the Post-Gazette failed to ask Rooney was whether or not the Steelers plan to reduce his $2.7 million tender to to $577,500 if Wallace doesn't sign it by Friday. It's assumed that Pittsburgh won't do so, but no one from the organization has confirmed this publicly.
May, 20, 2011
5/20/11
7:00
AM ET
Here are the most interesting stories Friday in the AFC North: Morning take: The edge goes to New England for two reasons. First, the Patriots won more Super Bowls (three) in the past decade than the Steelers (two). Second, New England has been dominant against Pittsburgh in its recent meetings.
Morning take: This is a pivotal year for Flacco, who has to prove he's ready to take the next step. The Ravens are expected to be Super Bowl contenders and much of that will rest on Flacco's shoulders.
Morning take: Zampese has done a good job in Cincinnati developing Carson Palmer and now has another task on his hands with Dalton. Like most quarterbacks from this draft, questions remain if Dalton can be successful at the NFL level.
Morning take: With a new offense, a new defense, a young quarterback and a rookie head coach, Cleveland has a ton of ground to make up this summer. Getting the team up to speed will be the biggest challenge facing new coach Pat Shurmur.
May, 7, 2011
5/07/11
8:00
AM ET
Here are the most interesting stories Saturday in the AFC North:
Morning take: This is a great move by Foxworth. Smith has made a lot of mistakes in his past but can control his present and future with Baltimore. Foxworth is a high-character player who could help.
Morning take: Not at all. Everyone has the right to express their views. Although I don't believe Twitter is the proper medium to address in-depth and highly-controversial topics, I would be surprised if the Steelers consider his release.
Morning take: Zampese has always been a solid and stable quarterbacks coach working with Palmer. But Palmer's trade demands impact everyone in the organization, especially Zampese. Now he likely has to work next season with the rookie.
Morning take: Nope. The deal from the Atlanta Falcons was just too rich to pass up. Cleveland now has two first-round picks in 2012, which could dramatically improve the franchise.
August, 16, 2010
8/16/10
12:30
AM ET
CINCINNATI --
Denver Broncos
rookie quarterback
Tim Tebow
made his highly anticipated NFL debut Sunday night in a
33-24 loss
to the
Cincinnati Bengals
. Entering the game in the third quarter, the first-round pick produced a mixed bag. Tebow led the Broncos with 105 yards on 8-of-13 passing.
Here are five things we learned:
[+] Enlarge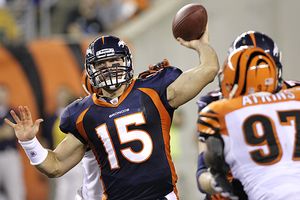 AP Photo/Ed ReinkeTim Tebow completed 8 of 13 passes for 105 yards and ran for a touchdown in his NFL debut, a 33-24 preseason loss at Cincinnati.
1. Tebow's mechanics must improve.
Tebow spent countless hours with coaches this offseason working to improve his mechanics. But his throwing motion looked similar to what we saw in college at Florida. Tebow held the ball very low at times and he still has a long, winding delivery. Tebow had some success Sunday against Cincinnati's third-stringers, but he may have a difficult time against better competition without shortening his delivery.
"There are a lot of things I can get better at," Tebow said. "I really went out there and tried to compete. We did some pretty decent things, but we still have a long way to go. I have a long way to go."
2. The arm strength is there.
Although his throwing motion isn't textbook, Tebow displayed NFL-caliber arm strength. He displayed good zip and velocity. Sometimes it was too fast, as Broncos receiver Matthew Willis dropped a potential third-down completion along the sideline. Tebow also made a couple throws that were nearly intercepted, but Bengals defenders couldn't handle his fastballs.
"He has a strong arm. It's a different technique, but he gets it there," said Jonathan Long, who was scouting Tebow and the Broncos for AFC West rival
Oakland Raiders
. "But arm strength doesn't mean much if you can't hit the wide receiver. You gotta have accuracy in this league ... and that's something he has to work on. But he can do it because he's got a great work ethic."
3. Tebow isn't used to the speed and feel of the NFL yet.
Perhaps the most telling play of the night occurred in the fourth quarter when Bengals safety
Jeromy Miles
put a big hit on Tebow at the 34-yard line. Tebow held the ball too long, and despite being lefthanded, he failed to see or feel the safety blitz coming from his front side and paid for it. The initial ruling was a sack and fumble, but the call was overturned and ruled an incomplete pass.
"It felt great," said Miles, who was congratulated in the locker room by teammates for his big hit on Tebow. "I think he was just locked into his receivers. He probably saw something out there and just never really looked or seen me coming, and I just ran through him."
4. Tebow is resilient.
Following the big hit by Miles, Tebow didn't get down on himself. Instead, he showed his toughness by coming back to lead a touchdown drive on the Broncos' next possession. With 1:09 remaining, Tebow led Denver 73 yards and finished the drive with a 7-yard touchdown run. Tebow's biggest play on the drive was a 33-yard strike to his right to receiver
Britt Davis
.
"It shows resilience, and I like him for that," Bengals quarterback coach Ken Zampese said. "He's got toughness, and he's got the leadership skills, and he sure showed me something tonight after he got hit."
5. The No. 2 quarterback job could be Tebow's for the taking.
Backup quarterback
Brady Quinn
, also playing in his first game with Denver, struggled. Quinn completed 6 of 16 passes for 68 yards and threw an interception that was returned for a touchdown. Tebow looked more sure of himself and the offense than Quinn, whose accuracy was off and was bothered by Cincinnati's pressure. If this trend continues, Tebow could move up the depth chart quickly and become backup to starter
Kyle Orton
.
AFC West blogger Bill Williamson agrees.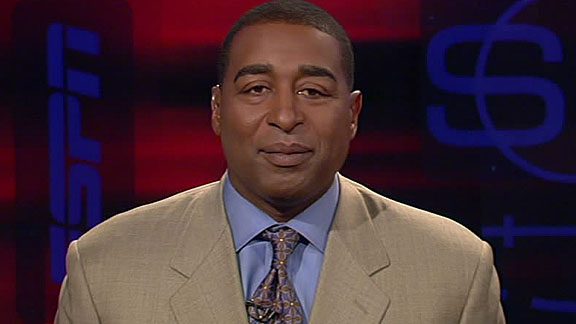 January, 26, 2010
1/26/10
8:30
AM ET
Here are the most interesting stories Tuesday in the AFC North:
Morning take: This is obviously the time of year when a lot of rumors fly around. But McNabb wouldn't want to come to Cleveland, and the Browns are not one player away from the Super Bowl. This is a bad idea.
Morning take: Jackson is flying all over the country doing interviews with other teams. That means he's done a good job of generating interest.
Morning take: Zampese was thought to be a serious candidate in Chicago. But another year with Bengals quarterback Carson Palmer isn't a bad consolation.
Morning take: The Lombardi trophy couldn't stay in the division forever. Whoever wins between the New Orleans Saints and Indianapolis Colts will be deserving champions.
January, 13, 2010
1/13/10
5:00
PM ET
The
Cincinnati Bengals
are moving quickly to retain their coaching staff.
Just one day after retaining defensive coordinator Mike Zimmer,
ESPN's John Clayton reports
the Bengals also re-signed longtime offensive line coach Paul Alexander to a three-year deal. Alexander has been with the Bengals since 2002.
Coming off 10 wins, a playoff appearance and division title, Cincinnati's coaches have garnered some attention this offseason. Clayton reports Alexander received interest from the
Washington Redskins
, who also were reportedly interested in Zimmer.
In addition, Bengals quarterback coach Ken Zampese is
considered a hot candidate
for
Chicago Bears
' opening at offensive coordinator.
January, 13, 2010
1/13/10
7:00
AM ET
Here are the most interesting stories Wednesday in the AFC North:
Morning take: Zampese's name has been mentioned in previous years with coordinator openings. He is very good working with quarterbacks, and that goes a long way in the NFL.
Here is a ranking of the eight remaining playoff teams, which includes the Baltimore Ravens (10-7).
Morning take: Ravens fans won't like where their team is rated. But click the link anyway to find out.
Morning take: I was in Berea, Ohio for general manager Tom Heckert's news conference Tuesday and was impressed. My impression is this leadership group appears professional and confident it can turn Cleveland around.
Morning take: I agree with Ed Bouchette of the Pittsburgh Post-Gazette. The Steelers should keep Hampton for at least another year, and the franchise tag is a possibility.
January, 30, 2009
1/30/09
9:00
AM ET
Posted by ESPN.com's James Walker
Here are the most interesting stories Friday in the AFC North:
Morning take: This article is correct. These are the games that create stars. If Taylor shuts down Arizona Cardinals' receiver Larry Fitzgerald -- a tall order -- Taylor would quickly become a household name.
Morning take: Lewis learned a lot under Sharpe when the two were together in Baltimore. At the very least, Lewis will pay attention to Sharpe's words.
Morning take: It looks like the Bengals will get both their quarterbacks coach (Zampese) and quarterback (Carson Palmer) next season.
Morning take: This is the time of year when every player says this. My guess is, with a new coaching staff, Adams and many other in-house free agents will not return.