AFC North:

Kendall Simmons
January, 13, 2014
Jan 13
2:55
PM ET
PITTSBURGH --
Kelvin Beachum
started 11 of the
Pittsburgh Steelers
' final 12 games at left tackle -- he missed a game because of a knee injury -- and strengthened his grip on the position as the season progressed.
Not that Beachum would engage in any talk about his future at the all-important position when he cleaned out his locker a couple of weeks ago.
[+] Enlarge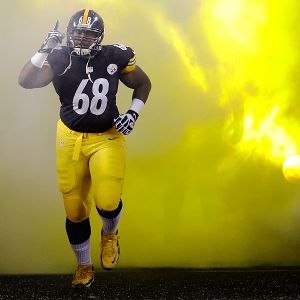 AP Photo/Gene J. PuskarKelvin Beachum starts the offseason as the presumptive starter at left tackle.
Beachum gave his standard replay -- "ask the organization" -- when the subject was broached multiple times in multiple ways.
He did explain why he refuses to address his future at left tackle.
"I don't know what their plan is," the second-year man said. "All I can do is continue to prepare, look at film, grow from it. I learned a lot playing left tackle. All I can do is continue learning and continue getting better."
Such sensibilities may stem from Beachum getting taken near the end of the 2012 NFL draft. The seventh-round pick knows nothing is guaranteed in the NFL, particularly for those who enter the league in the manner that he did.
Beachum's stock answer to all left tackle questions also speaks to the singular focus he applies to his job -- whether it is learning every position along the offensive line and filling in where needed or doing everything he can to protect quarterback
Ben Roethlisberger
's blind side.
Beachum takes the latter seriously enough that he has sought out advice from a number of former Steelers offensive linemen, including
Tunch Ilkin
,
Kendall Simmons
and
Marvel Smith
.
Beachum talked with Simmons at a Steelers event last season in Pittsburgh. He met with Smith, who was the Steelers' left tackle for much of the last decade before back issues cut short his career, when the team played in Oakland last October.
Ilkin, the color analyst for Steelers' radio broadcasts, is a regular at the team's practice facility, and he is often seen chatting up Beachum.
"Anybody that's willing to help me become a better player I'm willing to take their advice and put it in my tool box," Beachum said.
That willingness to soak up advice from those who have played before him is one reason why Beachum will enter offseason workouts and practices as the starting left tackle.
"He's got a big offseason and training camp [ahead of him]," Steelers coach Mike Tomlin said, "but he's in pretty decent position from that regard."
That is all that Tomlin would concede when it comes to Beachum's hold on left tackle.
"I will not allow him to have an opportunity to exhale or seek comfort in regards to that," Tomlin said.
Not that Beachum needs any reminders that he has to keep working and keep getting better.
The 6-foot-3, 306-pounder, who is not a prototypical left tackle, said he wants to add strength during the offseason without compromising his athleticism. He plans to work out in Pittsburgh with defensive end
Cameron Heyward
among others in advance of the Steelers' offseason workouts.
Beachum's emergence at left tackle should allow the Steelers to use their first-round pick in the 2014 draft on another position. Even if the Steelers don't draft a left tackle at some point Beachum will face competition from
Mike Adams
.
Adams faltered at left tackle last season but the 2012 second-round pick steadied himself after his demotion and contributed as an extra tight end. Adams also played well when he started in place of Beachum against the Dolphins last month.
Adams will have a new position coach this year and he won't have to overcome an offseason stabbing, something that had to set him back last year. His presence -- as well as the investment the Steelers made in Adams -- won't allow Beachum to get too comfortable at left tackle.
Whatever challenges Beachum has to fend off won't faze him considering the path he has taken from the 248
th
pick of the 2012 draft to the job of Steelers left tackle.
"I embraced and enjoyed the challenge," Beachum said, "and we'll see what the organization has in store for me moving forward."
March, 7, 2011
3/07/11
3:00
PM ET
This week we kick off our series on the top draft classes in the AFC North of the past decade.
We will hit one team each day, starting Monday with the
Pittsburgh Steelers
. On Friday, we will compile the best of the best and rank the top draft classes overall in the division.
Let's get it started.
No. 3:
Class of 2003
Best picks:
S
Troy Polamalu
(first round) and CB
Ike Taylor
(fourth round)

Polamalu
Analysis:
The Steelers had a limited number of picks in this draft, because they traded up to get a player they really liked in Polamalu. Pittsburgh was confident Polamalu was special, and it was the right call. Polamalu, the NFL's reigning
Defensive Player of the Year
, is putting together a Hall of Fame career and already has led Pittsburgh's defense to three Super Bowl appearances and two titles. That pick alone makes this class worthy of consideration. But the Steelers also landed No. 1 cornerback Taylor in the fourth round, making this draft the hallmark of the team's secondary for years to come. Pittsburgh only had five picks in 2003 and hit home runs on two.
No. 2:
Class of 2002
Best picks:
G
Kendall Simmons
(first round), WR
Antwaan Randle El
(second round), S
Chris Hope
(third round), LB
Larry Foote
(fourth round), DE
Brett Keisel
(seventh round)
Keisel
Analysis:
This class lacks the star power, but has a ton of depth with five starters. Arguably the best player to come out of this draft is Keisel, who was the final pick for Pittsburgh in 2002 and No. 242 overall. Keisel, 32, remains a longtime starter for the Steelers, and qualified for his first Pro Bowl as an alternate this past season. Hope and Simmons were both good players who eventually bolted for free agency. Hope has started for the
Tennessee Titans
the past five seasons. Randle El and Foote won three combined Super Bowl rings with the Steelers, and remain role players on the team.
No. 1:
Class of 2007
Best picks:
LB
Lawrence Timmons
(first round), LB
LaMarr Woodley
(second round), TE
Matt Spaeth
(third round), P
Daniel Sepulveda
(fourth round), CB
William Gay
(fifth round)

Woodley
Analysis:
The 2007 draft has stars and depth, making it Pittsburgh's best class of the past decade. The Steelers are never shy to draft linebackers, and they took Timmons and Woodley with back-to-back picks, building their foundation for years to come. Both are now starters entering their prime. Woodley already has one Pro Bowl and became the second Steeler to record
three consecutive years of double-digit sacks
. After hitting big in the first two rounds, Pittsburgh landed three role players in the middle rounds with Gay, Spaeth and Sepulveda. They each contributed to Pittsburgh's past two Super Bowl runs to varying degrees, although Sepulveda has mostly battled knee injuries in his career.
On Tuesday we will take an in-depth look at the draft classes of the
Cincinnati Bengals
.
April, 22, 2009
4/22/09
12:30
PM ET
Posted by ESPN.com's James Walker
The NFL draft is where major decisions are made to either build a team into a contender or lead down a path of destruction.
The AFC North provides a mix of teams with good track records in the draft (Baltimore Ravens, Pittsburgh Steelers), poor draft histories (Cincinnati Bengals) and a new regime trying to make its mark for the first time (Cleveland Browns).
With the draft just a few days away, let's look at the riskiest moves each team will consider.
Cleveland Browns
Needs: WR, LB, C
Biggest risk: Drafting a receiver with the No. 5 pick
| | |
| --- | --- |
| | |
| | Peter G. Aiken/Getty Images |
| | The Browns could consider Texas tech receiver Michael Crabtree with their pick at No. 5. |
Why: Taking a receiver in the top 10 is one of the riskiest moves a franchise could make. Teams at the top of the draft usually have multiple needs, and receivers can only make a significant impact once everything else -- quarterback, offensive line, running game -- is in place. For example, look no further than the Detroit Lions, who bypassed a ton of talent at other positions to take receivers in the top 10 in 2003 (Charles Rogers), 2004 (Roy Williams), 2005 (Mike Williams) and 2007 (Calvin Johnson). The Lions got absolutely nowhere and eventually hit rock bottom in 2008 by becoming the first 0-16 team in NFL history.
The reward: Cleveland would fill a big need by taking a receiver with the fifth pick. The Browns have backed themselves into a corner with a recent run of roster moves and bad luck this offseason. Since the start of free agency, the Browns released veteran receiver Joe Jurevicius, ran into legal trouble with starter Donte' Stallworth, and currently are involved in trade talks about former Pro Bowl receiver Braylon Edwards. If Edwards is moved by the end of the week, as many expect, the Browns would be down to David Patten and Josh Cribbs as their starting receivers. If the Browns overlook other needs such as linebacker and defensive linemen, the target could be Texas Tech receiver Michael Crabtree, whom some feel is the best pure athlete in the draft.
Chances of risk: Decent
Cincinnati Bengals
Needs: OT, C, RB
Biggest risk: Not getting a left tackle
| | |
| --- | --- |
| | |
| | G. Newman Lowrance/Getty Images |
| | Protecting Carson Palmer is something the Bengals need to consider heading into the draft. |
Why: Bengals franchise quarterback Carson Palmer needs better protection if Cincinnati is to have any success in 2009. Palmer's 2008 campaign ended after only four games with a season-ending elbow injury. He was pretty much battered from the beginning, as evident by the broken nose he also suffered in the preseason. This isn't to put all the blame on current left tackle Levi Jones. But when your entire offensive line struggles and you're picking sixth overall, left tackle and protecting the quarterback's blindside is the biggest priority. Luckily for the Bengals there are plenty of good tackles in this draft, including Baylor's Jason Smith, Virginia's Eugene Monroe and Alabama's Andre Smith. So not only would it be risky, it would be surprising if Cincinnati bypasses all of them in the first round.
Reward: Although the risk far outweighs the reward, the Bengals also have a chance to land a very good defensive player at No. 6. Cincinnati drafted defense in the first round for four consecutive years, and that unit finally is playing solidly. The Bengals finished last season ranked 12th in total defense. But some holes remain in terms of rushing the passer and getting stronger in the middle of the defensive line. Cincinnati signed Tank Johnson, who could be a short-term solution. But Boston College defensive tackle B.J. Raji has the potential to dominate the middle for years to come. The Bengals' lack of pass rush also brings up the possibility of choosing Texas defensive end Brian Orakpo over the most pressing need of offensive tackle.
Chances: Below average
Baltimore Ravens
Needs: OL, CB, DL
Biggest risk: Not taking a receiver

Why: It is Baltimore's only glaring need entering the draft. The Ravens were a few plays away from participating in last season's Super Bowl. Even with the loss of several key free agents, Baltimore general manager Ozzie Newsome plugged enough holes at center and cornerback where this team should be back in contention in 2009. What Newsome and the Ravens didn't address is the receiver position. Behind starters Mark Clayton and Derrick Mason, there isn't much depth or proven talent. And the team would like to utilize the deep-ball capability of second-year quarterback Joe Flacco more often in 2009. Not giving him another weapon in the first round could hold back the growth of the offense.
Reward: By passing over a receiver, the Ravens could simply go with the top player on their draft board. At No. 26, Baltimore should have a choice of good prospects at several positions. There could be some good cornerbacks, linebackers and possibly the top tight end prospect, Brandon Pettigrew. The Ravens aren't in a similar situation to last year when they had to draft a quarterback. There may be other good receivers for Baltimore to target in the second round or later if another position player happens to catch Newsome's eye early.
Chances of risk: Average
Pittsburgh Steelers
Needs: OL, CB, WR
Biggest risk: Ignoring offensive line

Why: It's no secret that the Steelers also have a track record of taking the best available players. But that practice has put them in a current bind where they need quality depth at offensive line. For years, the Steelers ignored taking offensive linemen high in the draft. The last player taken at that position in the first two rounds was former guard Kendall Simmons in 2002. By 2008, Pittsburgh was struggling to consistently run the football. Despite winning a Super Bowl, the need cannot be ignored any longer. Expect the Steelers to bring in help early this weekend in order to get back to the team's physical, smashmouth style of offense.
Reward: Similar to the Ravens, Pittsburgh is not a team with many needs, so it has the luxury of going elsewhere in the first round. For instance, cornerback depth also is important for the Steelers. Therefore if the right corner falls to Pittsburgh with the final pick of the first round, it would be understandable to go in that direction as long as the offensive line isn't completely ignored on the first day of the draft.
Chances of risk: Average
April, 9, 2009
4/09/09
12:00
PM ET
Posted by ESPN.com's James Walker

As the NFL draft nears, AFC North teams are narrowing their lists of prospects to take with the first-round picks. This week we look at those players and how each would fit with their teams.
Thursday we look at potential prospects for the Pittsburgh Steelers, who own the No. 32 overall pick:
1. Alex Mack, C, Pittsburgh Steelers
Starting center Justin Hartwig is in the final season of his two-year deal, so Pittsburgh will eventually need a long-term solution to work with quarterback Ben Roethlisberger. Mack could develop into that type of leader for the Steelers. Every good team needs at least six or seven solid offensive linemen. The Steelers were fortunate to be able to replace starters Marvel Smith and Kendall Simmons when they were injured last year. Both of those players are now gone, which means depth is needed.
2. Darius Butler, CB, Connecticut
This is a deep year for cornerbacks and receivers, which is good for the Steelers because they should have a pick of solid players at either position with the final pick of the first round. If all things are equal, Pittsburgh could choose corner over the other skill position after losing starter Bryant McFadden to Arizona. Butler could be a good fit.
3. Alphonso Smith, CB, Wake Forest
If Pittsburgh wants to go for bigger-school experience, Smith could be the pick. He was the other stud defensive player for Wake Forest last year, opposite linebacker Aaron Curry. Smith (5 feet, 9 inches tall) is undersized, but he makes it up with aggressiveness and great speed. The Steelers could also look to take the best available offensive tackle here if the right player slips down the draft board.
March, 15, 2009
3/15/09
9:30
AM ET
Posted by ESPN.com's James Walker
Team needs: Offensive linemen, defensive linemen, cornerback
| | |
| --- | --- |
| | |
| | G Fiume/Getty Images |
| | The Steelers could use California center Alex Mack if he drops to them at the end of the first round. |
Dream scenario:
An ideal scenario for the Steelers would be for them to have a smorgasbord of quality offensive linemen available with the final pick in the first round (No. 32 overall). The NFL draft tends to have teams make a run at certain positions in spurts. But if linemen such as Cal center Alex Mack, Oregon center Max Unger or a quality tackle such as Michael Oher of Mississippi somehow make it through the first 31 picks, Pittsburgh would have a happy draft room. To the chagrin of some fans, the Steelers retained their entire O-line front five from their Super Bowl XLIII victory over the
Arizona Cardinals
. Depth is sorely needed on the offensive line as the Steelers let go of veteran linemen
Kendall Simmons
and
Marvel Smith
. There is very little competition behind the starters and that position always faces the prospect of injuries.
Plan B: If the dream scenario fails to materialize, Pittsburgh can simply take the best available player. The Steelers have done it many times, drafting players they don't need right away but who will later develop into solid players. Pittsburgh could use help on the defensive line, which is aging but still has quality starters such as Aaron Smith, Brett Keisel and Casey Hampton. Cornerback also is a position of need after the loss of starter Bryant McFadden to Arizona in free agency. Pittsburgh is confident in William Gay but needs additional corners behind him and the aging Deshea Townsend to serve as backups and play in obvious passing situations.
Scouts Inc.'s take: "If I were a betting man, I would say the Steelers are going to go with an interior offensive lineman. But it certainly wouldn't shock me if they went with a defensive lineman. If you look at their defensive line, they're all 30-plus. And it takes those guys with the 'five technique' time to learn. None of them ever do it in college. So it takes a couple years of grooming. If you look at how successful they've been, Brett Keisel was a seventh-round pick and Aaron Smith was a fourth, and they didn't come in the league right away and handle that job. It's time to get young blood in to learn from the guys, rotate in and take snaps here and there. Two years ago, when Aaron Smith went down, their season completely crumbled. So that position might be their No. 1 need. If they can find a legit D-end to teach, that would be ideal. But those guys don't grow on trees." -- Matt Williamson of Scouts Inc.
Who has final say: General manager Kevin Colbert makes the final calls on Pittsburgh's 53-man roster and will do so during the draft on April 25-26. But there will be group input from head coach Mike Tomlin and his staff as well.
February, 26, 2009
2/26/09
5:07
PM ET
Posted by ESPN.com's James Walker
The Pittsburgh Steelers made a somewhat surprising move Thursday evening by releasing offensive guard Kendall Simmons. The seven-year veteran was penciled in as a potential starter for the reigning Super Bowl champions next season.
Simmons suffered an Achilles injury that kept him out of 12 games last year, so it is possible the team wasn't optimistic about his recovery for next season. Before then, Simmons was durable as he held a streak of 30 consecutive starts prior to the injury.
Pittsburgh also released 2008 draft pick Mike Humpal. The linebacker was a sixth-round pick.
October, 2, 2008
10/02/08
8:00
AM ET
Posted by ESPN.com's James Walker
Here are the most interesting story lines in the AFC North:
Morning take: "My brains are fine" was a pretty funny remark from Anderson. But will the offense be fine when it takes the field next week against the New York Giants?
Morning take: The Bengals are ranked No. 30 in the league in rushing, so they need all the help they can get.
Morning take: Health will be an important part of the success of Baltimore's defense, particularly in the secondary where injuries hurt the team last year.
Morning take: Keep in mind if neither Stapleton nor Essex pan out, the Steelers also have the option of moving the versatile Willie Colon to guard and starting backup tackle Max Starks.
October, 1, 2008
10/01/08
1:00
PM ET
Posted by ESPN.com's James Walker
In Week 2, the Pittsburgh Steelers survived a tough rivalry game against the Cleveland Browns.
In Week 3, then they were punched in the mouth -- time after time -- by the Philadelphia Eagles.
In Week 4, Pittsburgh waged a major-league slugfest in an overtime victory over the Baltimore Ravens on "Monday Night Football."
And although the Steelers stand at 3-1 and in first place in the AFC North, does this team have anything left in the tank?
| | |
| --- | --- |
| | |
| | AP Photo/Jeff Roberson |
| | Running back Willie Parker is expected to return in the next few weeks. |
It's a legitimate question for Pittsburgh at the quarter mark of the NFL season.
The Steelers knew exactly what they were getting into leading into the season. After winning the division last year, Pittsburgh wound up with the NFL's toughest strength of schedule and so far the team is paying the price.
Starting defensive end Brett Keisel (calf) went down against Cleveland. Defensive tackle Casey Hampton (groin) and tailback Willie Parker (sprained left knee) were hurt against Philadelphia. Offensive guard Kendall Simmons (Achilles) and rookie tailback Rashard Mendenhall (shoulder fracture) were lost for the season during Monday's game against Baltimore.
Hampton, Keisel and Parker are expected to return within the next several weeks. Until then, Pittsburgh is playing shorthanded, losing five key players in the past three games. The Steelers signed running back Najeh Davenport to fill in temporarily for Parker.
"[Injuries are] only devastating if you allow it to be," Steelers head coach Mike Tomlin said this week. "We are a team for a reason. People are not concerned with our problems. They are probably happy that we have them."
Tomlin's no-nonsense, no-excuses approach to injuries is part of the reason the Steelers have been able to weather the storm. Injuries have beset every team in the AFC North, and throughout the NFL, but traditionally the Steelers have been one of the better teams at consistently playing at a high level.
It also helps to have a very good defense to carry the team through rough stretches.
September, 30, 2008
9/30/08
6:48
PM ET
Posted by Scouts Inc.'s Matt Williamson
With rookie RB
Rashard Mendenhall
(shoulder) and veteran RG
Kendall Simmons
(Achilles') now headed for injured reserve, Pittsburgh's depth and resourcefulness is about be tested.
On the surface, the injuries seem like deal-breakers. With RB Willie Parker already out, Mendenhall's injury obliterates Pittsburgh's depth at the position. And because the rookie was the team's only legitimate power back, there isn't a viable replacement on the roster equipped for short-yardage situations. And though Simmons has been no better than an average NFL starter for a few years now, he's smart and experienced -- two qualities that seem to be lacking on the Steelers' offensive line lately.
Still, these developments shouldn't break this team -- or even significantly affect how the Steelers go about their business. RB Mewelde Moore is set to start at Jacksonville on Sunday, and though he's a bit small and should be Pittsburgh's No. 3, he's a better runner than his numbers against Baltimore (13 yards on eight carries) indicate. He has good vision and instincts and, despite his 209-pound frame, is tough enough to run inside. He lacks Parker's burst and breakaway speed and Mendenhall's power and measurables, but Moore is, at worst, a capable emergency starter. He's also an excellent receiver and a solid contributor in pass protection -- an asset Pittsburgh needs now more than ever.
With Simmons done, the Steelers likely will turn to backup RG Darnell Stapleton, which is a mistake. Stapleton isn't a bad player, but the team has better options. RT Willie Colon could slide inside to guard and OT Max Starks could start on the edge. Starks is talented and underrated and Colon -- who took reps at guard in training camp each of the last two years -- could handle the move with a little coaching. In this scenario, Pittsburgh's offensive line would be bigger and more experienced than if Stapleton replaces Simmons.
The Steelers won't change their scheme much to accommodate the new starters, but in any case they need to get better at what they already do. Coordinator Bruce Arians has taken some heat for his play calling, and rightfully so. Against blitz-happy Philadelphia and Baltimore defenses the last two weeks, he didn't do enough to aid an offensive line that struggles in protection and a quarterback who tends to hold on to the ball a beat or three too long. To preserve QB Ben Roethlisberger, give the linemen a hand and make the most of Moore's abilities, Arians needs to use more screens, draws and the like against pressure defenses (the Jaguars and Giants, two of the Steelers' next three opponents, certainly qualify).
Additionally, FB Carey Davis' ankle injury could limit Arians' flexibility, though it won't dramatically affect an offense that already prominently features two-tight end and multiple-receiver sets. RB Najeh Davenport likely will be brought back for depth and short-yardage work, and RB Gary Russell is a wild card who could spell Moore.
In the end, Pittsburgh may throw a bit more often and align Moore in the slot or split wide at times, but the core offense will remain unchanged. Mendenhall's and Simmons' replacements should be fine, but the pressure on Big Ben's shoulders and a stout Steelers defense just got turned up a little more.

Scouts Inc. watches games, breaks down film and studies football from all angles for ESPN.com.
September, 30, 2008
9/30/08
12:32
PM ET
Posted by ESPN.com's James Walker
Four weeks into the 2008 regular season, let's take a look at who's hot and who's not in the AFC North division:
Who's hot?
1. James Harrison, LB, Pittsburgh Steelers
At some point, we may start calling Harrison "Mr. Monday Night." The Pittsburgh Steelers outside linebacker showed up with yet another huge performance on "Monday Night Football." Harrison had 11 tackles and 2.5 sacks, and his game-changing forced fumble against Baltimore Ravens quarterback Joe Flacco led to a defensive touchdown and helped breathe new life into the Steelers in the second half of last night's 23-20 overtime win.
2. Derrick Mason, WR, Baltimore Ravens
Many observers were impressed with Flacco's performance in his first road game, but Mason was a major reason for the rookie's success. Mason served as Baltimore's most reliable weapon and Flacco's safety valve against the Steelers. He had eight catches for 137 yards and seemed to navigate around the Steelers' secondary with ease.
3. Jamal Lewis, RB, Cleveland Browns
Lewis felt he could help the Browns with more carries, and Cleveland's coaching staff honored his wishes. The Browns improved to 5-0 when Lewis gets at least 25 carries in a game. He registered 79 yards rushing on 25 carries and a touchdown in a 20-12 win over the
Cincinnati Bengals
. He also had two catches for 15 yards. Lewis didn't put together many explosive plays but was consistent in helping the Browns get first downs.
Who's not?
1. Ryan Fitzpatrick, QB, Cincinnati Bengals
With starting quarterback Carson Palmer out with an elbow injury, the Cincinnati Bengals' offense committed five turnovers. Four of those can be attributed to backup quarterback Ryan Fitzpatrick. His three interceptions and a fumble prevented the Bengals from winning. Some fans in Cincinnati wanted to see Fitzpatrick play earlier in the year when Carson Palmer was struggling. Sunday's performance should put that idea to bed.
2. Chris Perry, RB, Cincinnati Bengals
In his first year as a full-time starter, Perry is only averaging 2.9 yards per carry. He could only muster 28 yards on 12 carries against the previously winless Browns. Plus Perry lost a crucial fumble in the fourth quarter that prevented any hopes of a comeback against the Browns.
3. Steelers offensive line
The victory masked another poor performance from Pittsburgh's hogs up front. The Steelers allowed three sacks -- 12 in the last two games -- and couldn't open many holes in the running game. A season-ending Achilles injury to starting guard Kendall Simmons will not help. But Pittsburgh's line did play better when the offense opened it up in the second half and went no huddle. Perhaps that's part of the solution.
September, 1, 2008
9/01/08
12:00
PM ET
| | |
| --- | --- |
| | |
| | Jason Bridge/US Presswire |
| | The Steelers need Ben Roethlisberger to remain healthy for the team to be successful in 2008. |
Posted by ESPN.com's James Walker
Now that we've traveled to see every team in minicamp, training camp and the preseason, it's time to make our All-AFC North picks for 2008.
Let's start with the offense.
Quarterback: Ben Roethlisberger, Pittsburgh Steelers
Skinny: Roethlisberger has the ability and big contract to match what should be a tremendous year in 2008. He has full command of this offense and rarely misses a throw he should make. The only question is can the offensive line keep Roethlisberger upright and healthy all season?
Honorable mention: Carson Palmer, Cincinnati Bengals
Running back: Willie Parker, Pittsburgh Steelers
Skinny: "Fast Willie" tells us his leg is fine. We tend to believe him. Parker led the NFL in rushing before his injury last December. Therefore, health questions aside, there's no reason to believe he won't have another productive season for Pittsburgh. Rookie Rashard Mendenhall will get some of Parker's carries, but it could turn out to help keep Parker fresh in games.
Honorable mention: Jamal Lewis, Cleveland Browns
Fullback: Lawrence Vickers, Cleveland Browns
Skinny: This pick is tricky and the one we are least sure about. Vickers had a tremendous year in 2007. But he hasn't looked all that impressive this offseason and word from the Browns is that he needs to pick it up. We want to pick Lorenzo Neal of the Baltimore Ravens, but he was signed by a new team late in preseason and he's coming off a broken leg. That would be too risky.
Honorable mention: Lorenzo Neal, Baltimore Ravens
Wide Receivers: Braylon Edwards, Cleveland Browns; Santonio Holmes, Pittsburgh Steelers
Skinny: Cleveland's Edwards is a nightmare to cover one-on-one because he can blow by you or jump over you. If Edwards cures his occasional case for the dropsies, we will begin mentioning his name next to those of Randy Moss and Terrell Owens. Sure, the Holmes pick might have caught you off guard. But the Steelers' top deep threat has been the most impressive receiver in the division this offseason and we feel he's due for a monster season. Also, both receivers in Cincinnati are battling injuries.
Honorable mention: T.J. Houshmandzadeh, Cincinnati Bengals.
Tight end: Kellen Winslow Jr., Cleveland Browns
Skinny: In a division stacked with quality tight ends, Winslow remains a cut above the competition. Coming off an 82-catch, 1,106-yard season, Winslow is the one tight end in the AFC North that's dynamic enough to completely change the course of a game.
Honorable mention: Heath Miller, Pittsburgh Steelers
Center: Jason Brown, Baltimore Ravens
Skinny: Jason Brown is a name not many people know, but you will this season. The four-year veteran has been the stable force on Baltimore's offensive line and has versatility to play the center and both guard positions at a high level.
Honorable mention: Hank Fraley, Cleveland Browns
Guards: LG Eric Steinbach, Cleveland Browns; RG Bobbie Williams, Cincinnati Bengals
Skinny: Steinbach is coming of a Pro Bowl year for the Browns and, teamed with Joe Thomas, should have another stellar year on Cleveland's left side. Cincinnati's Williams has never been flashy, but he is consistent. He started all 16 games last year and played in 98.7 percent of the team's snaps in 2007.
Honorable mentions: LG Andrew Whitworth, Cincinnati Bengals; RG Kendall Simmons, Pittsburgh Steelers
Tackles: LT Joe Thomas, Cleveland Browns; RT Kevin Shaffer, Cleveland Browns
Skinny: Thomas is an easy pick, as he might be the best left tackle in the NFL by season's end. But picking a right tackle is where it gets dicey. We're going with the proven commodity here in Shaffer. Some of the other right tackle candidates in the AFC North are too inexperienced and unproven.
Honorable mentions: LT Marvel Smith, Pittsburgh Steelers; RT Stacy Andrews, Cincinnati Bengals
Check back later today for our All-AFC North defensive and special teams for 2008.
August, 4, 2008
8/04/08
6:00
PM ET
Posted by ESPN.com's James Walker
| | |
| --- | --- |
| | |
| | AP Photo/Keith Srakocic |
| | Steelers coach Mike Tomlin talks with players during an afternoon session at training camp. |
LATROBE, Pa. -- The Pittsburgh Steelers opened their second week of training camp Monday at St. Vincent College, and the AFC North version of the Blog Network is here this week to take in some of the action.
Here are some of today's highlights:
Projected starting guard Chris Kemoeatu (triceps) came off the physically unable to perform list Monday and practiced for the first time in training camp. He had to wear a special arm apparatus during practice, but looked in pretty good condition.
"It's not so much the arm, I just haven't been hitting anybody or putting a lot of pressure on it," Kemoeatu said. "But as far as pain, it feels OK. The brace kind of helps from my elbow locking up."
Pittsburgh punter Daniel Sepulveda is scheduled to have right knee surgery on Wednesday, head coach Mike Tomlin said. Sepulveda, who tore his ACL, was walking around practice Sunday and is expected to be put on injured reserve later this week.
The players were very upbeat during the second of the two practices today, which impressed Tomlin. Usually the second stint during two-a-days is the more difficult for players, but Pittsburgh as a team upped its energy level in the evening session.
"I thought we had a significant day today," Tomlin said. "This morning, I thought as a football team we were in survival mode. Hopefully, there is a feeling that we may have crossed the threshold this afternoon where we are enjoying it and not enduring it, and we're thriving."