October, 7, 2012
10/07/12
9:00
AM ET
Here are some happenings over the weekend for each AFC North team:
RAVENS
: Baltimore is preparing for Kansas City's press coverage with cornerbacks Brandon Flowers and Stanford Routt. "They had a little bit of a switch from last year," offensive coordinator Cam Cameron told
The Baltimore Sun
. "It will be interesting to see. I am sure they'll have some things they'll change coming into this game. They made a complete switch in their secondary approach."
BENGALS
: Miami defensive coordinator Kevin Coyle who spent the past 11 seasons as the Bengals' secondary coach, isn't surprised by the development of Andrew Hawkins. "But it does scare me because I have to go up against it this week," Coyle told
The Cincinnati Enquirer
. "I knew early on that he was going to be a special player. He is a great hard worker, has talent and also has heart and is tough." Hawkins is third on the team in receptions (15) and second in receiving yards with 247.
STEELERS
: Pittsburgh will rotate outside linebackers James Harrison and LaMarr Woodley to avoid any fatigue in the fourth quarter,
The Pittsburgh Post-Gazette
reports. Harrison and Woodley will be spelled by Chris Carter and Jason Worilds, respectively, as they look to chase down the elusive Michael Vick. "I have to come off," Harrison said. "It's no need being out there, being dog-tired, and not be able to do what's necessary to play the position. You want to stay fresh. You don't want to go out there and play every snap in the first half and come out sluggish in the third and have nothing left in the fourth."
BROWNS
: Browns wide receivers Mohamed Massaquoi and Travis Benjamin were ruled out with hamstring injuries by the team after being listed as doubtful on Friday. Greg Little and rookie Josh Gordon will start, according to
The Plain Dealer
. "I plan to take full advantage of it," Gordon said said.
February, 15, 2012
2/15/12
8:00
AM ET
Every morning, grab a cup of coffee and get your AFC North wake-up call here:
New Ravens quarterbacks coach Jim Caldwell is turning his focus to
Joe Flacco
after a decade of working with the Colts'
Peyton Manning
.
But no one should expect Caldwell to morph Flacco into Manning.
"Everybody's different," Caldwell told the
team's website
. "[Flacco] has his own strengths, and what we want to try to do is accentuate those. I'm not here to make him like any other quarterback in this league, like Peyton Manning or Brad Johnson or the other guys I've coached. That's not my goal. He is who he is. What we want to do is just help him perfect what he does well."
In three years as the Colts head coach, Caldwell faced Flacco three times. The most recent meeting was in December, when Flacco threw for 227 yards and two touchdowns.
"We knew he was dangerous because we knew he could make all the throws," Caldwell said. "He could make all the finesse throws, all the intermediate throws, and under duress. He's a tough guy to handle."
Hensley's slant
: Still not sold on how much Caldwell will raise Flacco's game. It's difficult to tell how effective Caldwell was as the Colts' quarterbacks coach when he worked with a future Hall-of-Fame quarterback in Manning. But it was a good move to add a quarterbacks coach this year after the one-year experiment of Cam Cameron overseeing the position.
BENGALS
: Dolphins defensive coordinator Kevin Coyle, a former defensive backs coach in Cincinnati, might lure a couple of Bengals free agents to Miami. Among the possibilities listed by the
Miami Herald
were: safety
Reggie Nelson
and defensive tackle
Pat Sims
. "[Coyle] somehow got Nelson, an early-round draft bust in Jacksonville, to play well in Cincinnati," the Herald's Armando Salguero wrote. "Maybe Nelson might be the answer to getting some plays out of the Miami free safety spot."
Hensley's slant
: The loss of Nelson would hurt because he is one of the top three free agents the Bengals would like to re-sign. But Coyle would like to bring a veteran along who is familiar with his system and style. Luckily for the Bengals, they have plenty of cap room to sign a replacement if Nelson does leave.
BROWNS
: The
Canton Repository
's Steve Doerschuk suggests that the Browns keep running back
Peyton Hillis
and pursue quarterback
Matt Flynn
and wide receiver
Pierre Garcon
in free agency. That would allow Cleveland to fill other holes in the draft, where they have three of the top 37 picks.
Hensley's slant
: Signing Flynn would make a lot of sense. He would make more of an immediate impact than any of the rookie quarterbacks, and the Browns would have the freedom to draft the best player that falls to the No. 4 pick. This has the potential to backfire if Flynn becomes this year's
Kevin Kolb
and Baylor's
Robert Griffin III
becomes this year's
Cam Newton
.
STEELERS
: The
Pittsburgh Post-Gazette
's Ron Cook says it's time for the Steelers to realize that they owe wide receiver
Hines Ward
nothing. "There is no room in pro sports for sentimentality or loyalty, not when so much money is at stake and the pressure to win is so great," Cook wrote. "Unfortunately, Ward's inevitable parting from the Steelers looks as if it will be awkward with hurt feelings for Ward."
Hensley's slant
: This is the bad part about the business, because you want to see all of the stars finish their careers with one team. But that rarely happens these days in the NFL. Just ask another longtime wide receiver, Jerry Rice, who finished his career with the
Oakland Raiders
and
Seattle Seahawks
and not the
San Francisco 49ers
.
February, 2, 2012
2/02/12
9:15
AM ET
Here are some coaching moves around the division:
BENGALS
: Cincinnati needs to fill the void left by defensive backs coach Kevin Coyle, who became the defensive coordinator with the Dolphins. It's expected that Cincinnati will also replace linebackers coach Jeff FitzGerald. Rod Woodson has been
mentioned as a possible candidate
for the defensive backs coaching job.
RAVENS
: The team hired Don "Wink" Martindale as their new inside linebackers coach. Martindale, the Broncos' defensive coordinator in 2010, takes over for Dean Pees, who became the Ravens' defensive coordinator. Colts coach Chuck Pagano, the former Ravens defensive coordinator, hired two Ravens assistants: assistant special teams coach Marwan Maalouf and defensive assistant Roy Anderson. Defensive line coach Clarence Brooks, who was rumored to be leaving, attended the Ravens' State of the Team address.
STEELERS
: In his introductory news conference, Colts offensive coordinator Bruce Arians said "it was a great ride" when looking back at his five seasons as the Steelers' offensive coordinator. ... With linebackers coach Keith Butler staying, defensive assistant Jerry Olsavsky interviewed for the
Tampa Bay Buccaneers
' linebackers coaching job, according to the
Pittsburgh Post-Gazette
. If Butler had left, Olsavsky would have become the Steelers' linebackers coach.
February, 1, 2012
2/01/12
3:59
PM ET
INDIANAPOLIS -- Bengals coach Marvin Lewis is considering a familiar face to replace longtime defensive backs coach Kevin Coyle, who left to become the Miami Dolphins defensive coordinator.

Hall of Fame defensive back Rod Woodson is a potential candidate to join the Bengals' coaching staff, according to the
Cincinnati Enquirer
. Lewis' connection with Woodson spans eight years from their time in Pittsburgh (where Lewis was the linebackers coach and Woodson was a cornerback) and in Baltimore (where Lewis was the defensive coordinator and lured Woodson to play corner and safety). Woodson was also a coaching intern with the Bengals in the 2010 training camp.
The addition of Woodson would be a good one even though he has limited coaching experience. His only coaching job was last year when he was the defensive backs coach for the Oakland Raiders. He wasn't retained after head coach Hue Jackson was fired. As AFC West blogger Bill Williamson pointed out, there was a report that Jackson had fired Woodson along with three other coaches before he was let go, but the Raiders
later denied it
.
Woodson was one of the first players to make a seamless transition from cornerback to safety. He was a seven-time Pro Bowl cornerback and a four-time Pro Bowl safety. Playing these multiple positions, especially at a high level, gives him a unique perspective on how to play them.
Lewis said there is no timetable on filling the position.
"It's just a matter of getting the right fit for our staff along with working with [defensive coordinator] Mike Zimmer and the rest of the coaches and they feel good about it," Lewis said. "That's why we're taking the time and doing due diligence."
January, 27, 2012
1/27/12
6:10
PM ET
Kevin Coyle, the Bengals' defensive backs coach for the past nine seasons, has been hired as Miami's defensive coordinator, the Dolphins announced.

While the Bengals would have preferred to keep Coyle, this loss would have been magnified if defensive coordinator Mike Zimmer had left as well. Zimmer was in the running for head coaching jobs with Tampa Bay and Miami.

Replacing Zimmer would be a tougher challenge than filling the void left by Coyle. The Bengals defense will remain a top-10 one under Zimmer.

The Bengals knew Coyle was going to leave at some point. Cincinnati denied Coyle permission to speak to the Eagles last season for a defensive coordinator position.

So, when the Bengals allowed Coyle to interview with the Dolphins, they knew he was likely gone, especially with his ties to Miami coach Joe Philbin. Coyle has known Philbin for years, and reportedly attended the recent funeral for Philbin's son, Michael.
January, 27, 2012
1/27/12
7:30
AM ET
Every morning, grab a cup of coffee and get your AFC North wake-up call here:
A shocked
Ben Roethlisberger
wants answers from team president Art Rooney II following the "retirement" of offensive coordinator Bruce Arians.
"When I get back, I'm going to go up to Mr. Rooney's office and ask him what he wants from me, what he wants from this offense, because I think that's a viable question for him," Roethlisberger told the
Pittsburgh Tribune-Review
at the Pro Bowl in Honolulu. "He's our owner and our boss, so I really would like to know kind of what he wants and where he sees our offense going because I'd like to tell him where I see us going."
The Steelers announced Arians had retired, but he later said his contract wasn't renewed by the team. Arians had been the only offensive coordinator in coach Mike Tomlin's five seasons as Steelers head coach.
Roethlisberger, who is close with Arians, invited him to Hawaii as his guest for the Pro Bowl, but Arians decided not to go after he was no longer with the team.
Roethlisberger was described as being "miffed" by the timing of the Steelers' move with Arians.
"We feel like we are really close to being an elite offense," Roethlisberger told the Tribune-Review. "For your leader to be gone is kind of a shocker for us, but you've got to be ready for it, and whatever the Rooneys and coach Tomlin decide is our next step. I think the [Steelers'] mind was made up, and B.A. was kind of ready to move on as well."
Hensley's slant
: Roethlisberger has to be worried about the direction of the offense. Team sources told ESPN's Chris Mortensen that Rooney wants the offense to go back to its
blue-collar identity of the past
. The trouble is, the Steelers are built to throw the ball with one of the best young and fast receiving groups in the league. You can criticize Arians' play calling. But it's hard to argue that the Steelers should go back to a run-first offense.
BENGALS
: Mike Zimmer is returning for his fifth season as the Bengals defensive coordinator, the
Cincinnati Enquirer
reported, after the
Tampa Bay Buccaneers
hired Rutgers' Greg Schiano as their head coach. Zimmer also had been in the running for the
Miami Dolphins
job before Joe Philbin was hired. While Zimmer is coming back, defensive backs coach Kevin Coyle is expected to be named the Dolphins' defensive coordinator.
Hensley's slant
: If the Bengals had their way, this is how it would have played out. Cincinnati didn't want to lose Coyle, but it was more important to keep Zimmer. The Bengals defense will remain a top-10 one under his direction.
BROWNS
: Brad Childress is close to becoming the Browns' offensive coordinator, sources told
The Plain Dealer
. For more, click on the
AFC North blog
posted last night.
Hensley's slant
: My take on the probable hiring will be posted shortly.
RAVENS
: In his introductory news conference as the new Colts head coach, former Ravens defensive coordinator Chuck Pagano said he went from an all-time low -- the loss in the AFC championship game was his most devastating one ever -- to an all-time high. "As fate would have it, I've got to be honest with you, I thought for sure that I was going to be coming to Indy to play for a world championship," Pagano said, via
The Indianapolis Star
. "That's what I thought I was going to be coming here for, and certainly not standing before you today as the next head football coach of the
Indianapolis Colts
."
Hensley's slant
: Don't be surprised if Pagano takes some Ravens with him. Pagano's first target should be outside linebacker
Jarret Johnson
, who will be a free agent, because he'll need a leader who can explain the defensive system to the other players. It would be like when Rex Ryan brought
Bart Scott
along to the
New York Jets
. Defensive line coach Clarence Brooks could also follow Pagano to Indianapolis.
January, 25, 2012
1/25/12
7:00
AM ET
Every morning, grab a cup of coffee and get your AFC North wake-up call here:
The Bengals have given permission to the Dolphins to speak to secondary coach Kevin Coyle about Miami's defensive coordinator job, according to
The Cincinnati Enquirer
. Coyle is expected to meet with the Dolphins this week in Miami, The Enquirer reported.
He is considered the top in-house choice to become Cincinnati's defensive coordinator if Mike Zimmer left for a head-coaching opening. Zimmer is in the running for the jobs in Tampa Bay and Indianapolis.
Head coach Marvin Lewis said he is in the process of putting together a list of potential candidates at the Senior Bowl to fill Coyle's position.
"This is my chance to come down here and have one-stop shopping and talk to people about different people I know," Lewis told The Enquirer.
Hensley's slant
: It looks like the Bengals expect to keep Zimmer and lose Coyle if you connect the dots. The Bengals denied Coyle permission to talk to the Eagles last season about their defensive coordinator position. So, by granting him permission this year, it says that Cincinnati believes Zimmer will stay. The Bengals wouldn't want to put themselves in a position where they would lose both Zimmer and Coyle in the same offseason.
BROWNS
: To no one's surprise, the
Cleveland Plain Dealer
's Terry Pluto says the Browns are looking to get a fast receiver this offseason. "There were no other receivers to take any attention away from the rookie [Greg Little]," Pluto wrote. "The Browns want to add a speed receiver. If they do, Little should be position for a strong second season."
Hensley's slant
: If the Browns are looking for top-end speed at wide receiver, they won't be selecting one with the fourth overall pick. The best receivers in this draft class -- Justin Blackmon, Michael Floyd and Alshon Jeffery -- are considered playmakers but not the top burners at the position. Kendall Wright has elite speed and could be available when the Browns make their second selection in the first round at No. 22 (this pick came from Atlanta in the draft-day trade for Julio Jones).
RAVENS
: A team source told
The Baltimore Sun
that no coaches have been dismissed yet, but that could happen in the next two to three weeks. The source indicated many offensive coaches were told they had to get to the Super Bowl to avoid possible dismissal and that offensive coordinator Cam Cameron has not been told whether he will return next season. According to The Sun, Cameron drew criticism from team officials for throwing the ball to receiver Lee Evans in the end zone late in the game instead of to other prominent receivers.
Hensley's slant
: Beyond the results, what hurts Cameron is his relationship with quarterback Joe Flacco. There's been speculation for years that Cameron and Flacco don't see eye to eye when it comes to the offense. If the Ravens had to make a choice between the two, they would go with Flacco, who is expected to receive a contract extension this offseason.
STEELERS
: Head coach Mike Tomlin is facing some issues at the quarterback position, according to The
Pittsburgh Post-Gazette
. The primary backup job will be given to either Byron Leftwich or Charlie Batch, both of whom are unrestricted free agents in March. Dennis Dixon is expected to go someplace where he can be the clear-cut No. 2 quarterback.
Hensley's slant
: Batch is 3-1 when he's had to fill in for starting quarterback Ben Roethlisberger, but the favorite to become the backup is Leftwich. The Steelers brought back Leftwich on a draft-day trade in 2010 for a reason. He would have served as the No. 2 quarterback this season if he didn't break his left arm in the preseason.
January, 23, 2012
1/23/12
7:00
AM ET
Every morning, grab a cup of coffee and get your AFC North wake-up call here:
The Steelers are expected to cut as many as four players from the NFL's top-ranked defense that opened the regular season as starters, according to
The Pittsburgh Post-Gazette
.
The top candidates to get released before March 13 are: nose tackle Casey Hampton ($4.89 million salary in 2012), inside linebacker Larry Foote ($3 million), inside linebacker James Farrior ($2.82 million), cornerback Bryant McFadden ($2.5 million) and defensive end Aaron Smith ($2.1 million). That would remove $15 million for the Steelers, who are a projected $25 million over the salary cap.
Hensley's slant
: The biggest hit would be losing Farrior. He isn't the same player as he once was, finishing fourth on the Steelers in tackles. But Farrior's leadership has been a constant in the Steelers' dominating defenses. Pittsburgh can fill his void on the field with a younger player, although filling his role on the defense won't be as easy.
BENGALS
: Defensive backs coach Kevin Coyle is under consideration for the
Dolphins' defensive coordinator job
on new coach Joe Philbin's staff, a source told NFL.com. Todd Bowles, Miami's interim head coach this season, was the frontrunner for that job but he is looking at other options now.
Hensley's slant
: The Bengals have to monitor this situation carefully because they don't want to end up without Coyle and defensive coordinator Mike Zimmer next season. Zimmer is in the running for the head coaching positions in Indianapolis and Tampa Bay (although Oregon's Chip Kelly is nearing a deal). The fallback option could be Jack Del Rio, but the Bengals would be better served with Zimmer or Coyle as their defensive coordinator next season.
BROWNS
: The Browns' draft class received a lot experience this season. According to the
Cleveland Plain Dealer
, here are the percentage of total snaps taken by the rookies: wide receiver guard Jason Pinkston (100 percent), Greg Little (91 percent), defensive end Jabaal Sheard (89 percent), defensive tackle Phil Taylor (68 percent) and fullback Owen Marecic (27 percent).
Hensley's slant
: The Browns created a solid foundation with this draft class. But the only way Cleveland can compete with the other teams in the AFC North is to do this for two and three straight seasons. The Browns have a great opportunity to add more impact rookies with three picks in the first two rounds in April.
RAVENS
: For coverage of the team's AFC championship loss, here's a column on the Ravens'
devastating mistakes
late in the game, a blog on coach John Harbaugh being
surprised that there was no replay review
on Lee Evans' fourth-quarter drop and a news story on linebacker Ray Lewis' decision to
comeback next season
.
January, 14, 2012
1/14/12
8:00
AM ET
If you have a question about the AFC North, send it to
my mailbag
. It's Saturday morning, so let's open up some mail ...
Jac, from Ohio, writes
: Lately you have been saying that the Bengals need a No. 2 receiver, if and when
Jerome Simpson
leaves. I would think that
Jordan Shipley
would fill the No. 2 role in the slot behind
A.J. Green
. Or would Shipley be more of a No. 3 working the slot? And if
Andrew Hawkins
improves in the offseason, that would be a plus, right?
Jamison Hensley, from AFC North headquarters, responds
: Shipley and Hawkins are more on the level of being No. 3 receivers. That was the Bengals' biggest problem in the passing game. They had top targets in Green and tight end
Jermaine Gresham
. But the rest (Simpson and
Andre Caldwell
) are No. 3 receivers on many teams. Both are very athletic but both struggle with route-running, which can be a big problem, especially for a developing young quarterback like
Andy Dalton
. Cincinnati needs to look in free agency for an upgrade.
-------------------------------------------------------------------------------
Chris, from Milford, Conn., writes
: Just wondering what your thoughts are on the Steelers rebounding next season after that awful loss to Denver. Also, how can the Steelers be $20 million over the salary cap when they never sign any big free agents and don't have that many mega-deals with current players?
Hensley responds
: The Steelers will always be competing for the division title if
Ben Roethlisberger
and his young receivers are healthy and the core of the NFL's top-ranked defense remains intact. And the reason why the Steelers are projected to be over the cap is because many veterans are entering the point of their contracts where the salaries escalate. Players with high salaries for 2012 are: outside linebacker
James Harrison
($5.3 million), guard
Chris Kemoeatu
($3.5 million), inside linebackers
Larry Foote
($3 million) and
James Farrior
($2.8 million), defensive end
Brett Keisel
($2.8 million) and cornerback
Bryant McFadden
($2.5 million). Those players represent $19.9 million. Some could be facing the decision of restructuring to stay with the team or getting released.
-------------------------------------------------------------------------------
Bryan, from Wickliffe Ohio, writes:
I was just wondering what you think the Browns' chances are of drafting
Robert Griffin III
. To me it just seems like he is too much of a talent to pass up. No disrespect to
Colt McCoy
, but let's face it -- he's not going to win us any games based primarily on his skill level and I see RG3 as somone who can do that.
Hensley responds
: It's really to early for teams to lock into one player. There are still all-star games, combine workouts and interviews as well as private workouts. Players will rise and fall up and down teams' draft board from now until April. There's no doubt that the Browns need a playmaker. But don't forget that the Bengals drafted wide receiver A.J. Green in the No. 4 spot last year — so you can see the level of impact player that Cleveland can get if it hits on the right prospect. At this point, Griffin has to be on the Browns' radar. But it's too early to say that he's their man with the fourth overall pick.
------------------------------------------------------------------------------
Dave, from Burke, Va., writes:
With the Bucs and Dolphins in the mix for Mike Zimmer's services, what are the chances that he returns as Cincinnati's defensive coordinator?
Hensley responds
: It's a very real possibility that Zimmer could be hired elsewhere, particularly since Jeff Fisher spurned Miami and went to St. Louis. Both the Buccaneers and the Dolphins needed big-name splashes to generate some interest with apathetic fan bases. But there are really no buzz-worthy candidates left. That's why Zimmer has a legitimate shot at both places. If Zimmer goes, the Bengals can promote defensive backs coach Kevin Coyle, who has been on the staff since 2001. There's also been some talk that former Jaguars head coach Jack Del Rio could take over as defensive coordinator. But Del Rio is still owed $5 million next season, so he doesn't need to find a job.
------------------------------------------------------------------------------
Lucas from Severn, Md., writes:
I've been watching the Ravens closely all season and there have been some real flashes of greatness by
Joe Flacco
. There have also been some of his worst passing games as a quarterback (the Jets and Jags games specifically). Other than the playoff game against Kansas City last year, he hasn't proven to be solid in the playoffs. What are the chances that he will have a breakout game against Houston if the Texans choose to focus on stopping the run?
Hensley responds
: Flacco has been extremely ragged when it comes to the playoffs. He's averaged 150 yards passing in seven games, throwing four touchdowns and seven interceptions. But remember that all of those games were on the road and three of them came when he was a rookie. This is the time for Flacco to shine. He's at home where he has thrown 29 touchdowns and eight interceptions in his past 19 games (97.6 rating). And he threw for 305 yards against the Texans three months ago in Baltimore. So to answer the question, all indications point to a strong effort by Flacco on Sunday.
January, 13, 2012
1/13/12
11:44
AM ET
Just days after the Bengals locked up offensive coordinator Jay Gruden, there is a possibility they could lose defensive coordinator Mike Zimmer.
The
Tampa Bay Buccaneers
received permission to speak to Zimmer, ESPN's
Adam Schefter
reported. Zimmer recently interviewed for the Dolphins' head-coaching job.
In Zimmer's four seasons as coordinator, the Bengals' defense has finished in the top half of the NFL each year including two top-10 rankings. The Bengals spent a couple of weeks this season as the league's top-ranked defense.
Zimmer has previously been the defensive coordinator for the
Dallas Cowboys
(2000-06) and
Atlanta Falcons
(2007).
"If Mike gets an opportunity, that would be fantastic," Bengals coach Marvin Lewis said at his end-of-the-season news conference, "and we'll do nothing but be very supportive of him and any opportunity he gets a chance at."
Defensive backs coach Kevin Coyle would likely get promoted to defensive coordinator if Zimmer left for a head-coaching job.
June, 17, 2010
6/17/10
1:00
PM ET
»
NFC On the Radar
:
East
|
West
|
North
|
South
»
AFC
:
East
|
West
|
North
|
South
A player, coach or issue that should be on your radar as training camp approaches.
CINCINNATI -- Coachable. Hard-working. Willing to listen.
These were not terms often used to describe cornerback
Adam Jones
during his turbulent NFL career. But that's the praise I heard from the
Cincinnati Bengals
' coaching staff during this week's mandatory minicamp.
Jones was out of football in 2009 for various off-the-field issues. The defending AFC North champions took the risk and signed Jones to a two-year contract with hopes that he can provide depth for the secondary.
[+] Enlarge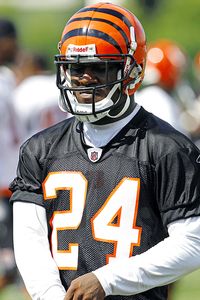 Frank Victores/US PresswireAdam Jones has been doing all of the right things since joining the Bengals.
It's been so far, so good, according to the Bengals.
"He's come in and done everything we've asked him to do at this point," Cincinnati defensive backs coach Kevin Coyle said. "He's been very coachable. He wants to do well and is extremely competitive. He wants to win at everything. He's got that nature about him."
Jones said he's working to better himself and shed his old image. For starters, he no longer wants to be called "Pacman." That nickname represents a persona that often got into trouble.
Jones' athleticism has never been in question. That's what made him the No. 6 overall pick of the
Tennessee Titans
in the 2005 draft. In minicamp, Jones has showed flashes by making several nice plays on the ball at cornerback and still displaying natural skills as a kick returner, despite his extended time away from the NFL.
The extra work spent in organized team activities has helped Jones shake the rust.
"I've only had one year of OTAs since I've been in the NFL; that was my second year," Jones explained. "I had a pretty good second year, too. I think OTAs is a big part for me. Some people don't need it. I need the extra work. It's a situation that [keeps me] focused and just getting back to football."
By September, Jones expects to be in even better football shape. But it's his history of not being able to steer clear of trouble that will be the biggest question for the cornerback this season.
If Jones, 26, figures out the latter, Cincinnati's experiment could pay dividends.
June, 16, 2010
6/16/10
3:00
PM ET
CINCINNATI -- The reigning AFC North champion
Cincinnati Bengals
had their second day of minicamp Wednesday.
[+] Enlarge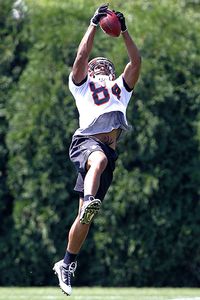 Frank Victores/US PresswireRookie Jermaine Gresham has been impressive during offseason workouts.
Here are some notes and observations: