AFC North:

Knowshon Moreno
March, 25, 2014
3/25/14
12:00
PM ET
PITTSBURGH -- The Steelers raised eyebrows when they hosted
Maurice Jones-Drew
for an extended visit last week.
Jones-Drew, after all, seemed about as good a fit in Pittsburgh as palm trees.
But Mike Tomlin made it clear Tuesday morning that while the Steelers are committed to
Le'Veon Bell
they will also cover themselves at running back.
Jones-Drew
Blount
"We're looking to add depth at that position and a guy of that caliber, a 'been there, done that' type of veteran will be an asset for us," Tomlin said at the NFL owners meetings, per the Pittsburgh Post-Gazette.
Having legitimate interest in Jones-Drew, who has over 8,000 career rushing yards, and landing the former Jaguars running back are two different things.
Jones-Drew is probably looking to sign with a team that will at least give him an opportunity to start as well as provide the eight-year veteran with a significant pay day.
The Steelers aren't in a position to do either.
Bell is entrenched as the starter after an impressive rookie season, and the Steelers are just $1.52 million under the salary cap, according to ESPN Stats & Information.
That doesn't mean the Steelers aren't well-positioned to sign a proven veteran to back up Bell.
The market is not a good one for running backs, even accomplished ones such as Jones-Drew and
Knowshon Moreno
, who had over 1,500 combined rushing and receiving yards and 13 touchdowns last season but remains unsigned.
Unlike other positions, running backs haven't cashed in while teams are throwing around money as if it were confetti.
A buyer's market bodes well for the Steelers adding a quality veteran to their backfield even if it isn't Jones Drew, whose base salary was $4.95 million last season.
The Steelers are scheduled to meet with
LeGarrette Blount
on Friday, and he is another running back looking for work despite emerging as the Patriots' best back in the second half of last season.
The Steelers are serious enough about Blount that they pushed his visit back -- he was initially slated to be in Pittsburgh on Monday -- so Tomlin and general manager Kevin Colbert could meet with the four-year veteran.
It is possible that the Steelers make enough of a push -- and free up the necessary cash -- that they sign Blount before he leaves Pittsburgh.
Or they will continue to be patient, knowing the market is such that a proven veteran will eventually fall into the range of what they can offer -- both in dollars and in playing time.
November, 26, 2013
11/26/13
7:00
AM ET
ENGLEWOOD, Colo. -- It is what drains the superpowers out of the
Denver Broncos
' offense. It brings it to its knees. It is the fumble. Rather, not just "a" fumble, but a slew of them. No team in the league has put the ball on the ground and lost more fumbles than the Broncos have this season.
The total is now 16 lost fumbles after three more got away in the Broncos' overtime loss to the
New England Patriots
on Sunday night. This puts the Broncos well in front of the
New York Giants
' 12 fumbles and the 10 by the
Minnesota Vikings
.
[+] Enlarge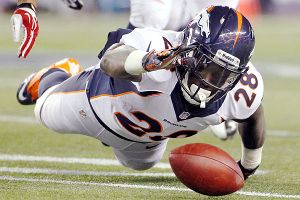 Stew Milne/USA TODAY SportsMontee Ball has had three lost fumbles this season.
"Kryptonite, it's been kryptonite so far," Broncos interim head coach Jack Del Rio said. "I watched 'Man of Steel' on the ride home [from New England]. That's an issue and we've got to correct it. We've got to be better there. That's the one area that regardless of how good you are, that's the kind of thing that can really cripple you and we've got to protect the football better. We are preaching it."
While quarterbacks routinely lead their respective teams in lost fumbles because of blindside hits in the pocket --
Peyton Manning
is no exception with a team-leading six lost fumbles this season -- it is the propensity for the ball to end up on the ground in the return game and from the team's running backs that have been most troubling.
And after offensive coordinator Adam Gase said he hoped to dial back running back
Knowshon Moreno
's workload a bit, Moreno has carried the ball 64 times combined in the past two games because he seems to be the only one who can hold on to it.
Before the
Kansas City Chiefs
arrived in Denver two Sundays ago, Moreno had carried the ball more than 25 times just once in 53 regular-season games, and that was a 32-carry effort last season against the
Oakland Raiders
. But in the last two weeks, he has had 27 carries against the Chiefs for 79 yards to go with 37 carries against the Patriots on Sunday for a career-best 224 yards.
Yes, the Broncos want to spell a player who had ACL surgery in 2011 to go with another knee procedure this past offseason. Yes, the Broncos would like one of their young running backs to be the guy to do it.
But it hasn't happened because of, at least in part, what Gase refers to as the "trust factor."
And it's really two factors: it's blocking in the passing game and it's still having the ball in your hands when the running play ends. It's why, until
Montee Ball
,
C.J. Anderson
or
Ronnie Hillman
consistently meets those two standards -- Ball and Anderson each fumbled Sunday night -- the Broncos will be inclined to keep handing the ball to Moreno and hope for the best in terms of Moreno's durability.
But after a career night, Moreno left Gillette Stadium with a walking boot on his right foot because of what Del Rio called a bone bruise. But Del Rio added Moreno's workload against the Patriots was part of a concerted effort for the Broncos to run the ball better, and Moreno has produced the best results.
"I think it was the hot hand [Sunday] night," Del Rio said. "I think we played the hot hand. [Moreno] really was exceptional. ... He ran tough, had passion. They were doing their best to rattle him, do different things to try and get the ball off of him -- and it wasn't even close. So no, it was a really gritty, tough performance. We thought he was the hot hand. We rolled that hot hand. He had a great night. We have that in the back of our mind. We don't have him on a pitch count. We're not protecting a pitcher and going to make sure that he's going to be good 10 years from now. We'd like to win now. We're working the guys we have, the best of our ability, recognizing there is a season to play. But [Sunday] night, I think it was just right."
Just right, perhaps, but it was just the second game of Moreno's career in which he's had more than 30 carries. Del Rio said Moreno could return to practice at some point this week, but the time has come for the other backs to show they can hang on to the ball. And the one who earns the most trust will be the one who gets the carries, most likely Ball at the moment.
Or as Ball has put it: "We know it's important to keep the ball, it's the priority, that and making sure you protect Peyton. It's pretty clear."
But the Broncos have tried to deal with the problem as well. They have talked about fumbling -- "over and over again,'' Gase said -- about how the ball should be carried drill after drill in practice when the defensive players have been asked to make it as difficult as possible for the ball carriers to hang on to the ball.
"We dedicate more [time] than you might think," Del Rio said. "We drill it, rip at it. We have different drills that our guys are being put through all the time. So we are definitely not only stressing it and talking about it, but we are coaching it and drilling it. Look, I'm an optimistic guy. I believe that we're giving it the proper attention. I believe that is something that we can fix ourselves. We control that. And so I believe, as we do that, that we take away the one thing that has kind of been our kryptonite and hopefully it gets a lot better."
January, 11, 2013
1/11/13
1:30
PM ET
»
NFC Final Word
:
Packers-49ers
|
Seahawks-Falcons
»
AFC
:
Ravens-Broncos
|
Texans-Pats
Five nuggets of knowledge about Saturday's AFC divisional playoff game:
Flacco factor
: The Ravens are at their best when quarterback
Joe Flacco
goes deep. In the wild-card win over the Colts, Flacco averaged a career-best 23.5 yards per completion, which was also the second-highest for any quarterback in a playoff game, according to the Elias Sports Bureau. Baltimore is 10-2 this season when Flacco's average target is more than 9 yards downfield. The Ravens are 1-4 when it's fewer than 9 yards. It's tough to throw deep downfield against Denver because of LB
Von Miller
and the Broncos' pass rush. Denver allowed 39 completions of more than 20 yards, the fifth-fewest in the NFL.
[+] Enlarge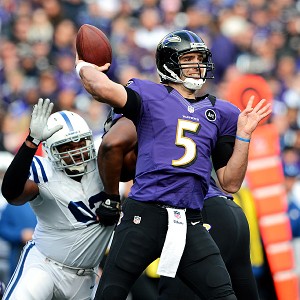 Patrick Smith/Getty ImagesBaltimore is 10-2 this season when Joe Flacco's average target is more than 9 yards downfield.
Pass at your own risk
: The Ravens haven't allowed a touchdown pass in their past three playoff games. Baltimore has held Houston's
T.J. Yates
, New England's
Tom Brady
and Indianapolis'
Andrew Luck
to a combined six interceptions and no touchdowns. Since 2008, when John Harbaugh took over as coach, the Ravens have intercepted 18 passes in the playoffs, the most in the league. No other team has more than 16 turnovers in the postseason, much less interceptions, over that span. Only two quarterbacks have thrown more touchdown passes than interceptions against Harbaugh's Ravens in the postseason:
Ben Roethlisberger
and
Peyton Manning
.
Ball security
: Ravens running back
Ray Rice
lost two fumbles in Sunday's wild-card game; Rice and Green Bay RB
Ryan Grant
(2007) are the only running backs to lose two fumbles in a postseason game in the past 10 seasons, according to ESPN Stats & Information. Rice's four fumbles lost in the playoffs are the most for any active player. The Broncos forced 20 fumbles in the regular season, fifth-most in the NFL; Miller and DE
Elvis Dumervil
caused six fumbles each. In Rice's past six playoff games, he hasn't rushed for more than 70 yards in any game.
Third-down meltdown
: Last month, in the Ravens' 34-17 loss to Denver, Baltimore failed to convert on 11 of 12 third-down opportunities (8 percent success rate), their worst showing of the season. That was Baltimore's first game under new offensive coordinator Jim Caldwell, and the Ravens went three-and-out on their first five drives of the game. They didn't record a first down until midway through the second quarter, and Flacco finished 3-of-11 on third downs for 29 yards. Since that game, the Ravens have been much more efficient, converting on 44 percent of their third downs. Also, after being held to 278 yards by Denver, the Ravens have gained at least 350 yards in their past three games, their longest such streak since 2010.
Tough against the run
: Baltimore has allowed one 100-yard rusher in the playoffs (Houston's
Arian Foster
last season), keeping opposing running backs under the century mark in 17 of 18 postseason games. The Ravens have given up 89.3 yards rushing per game in the postseason, the lowest average since the 1970 merger. The Ravens' run defense has been more vulnerable this season, ranking 20th in the regular season. Denver's
Knowshon Moreno
gained 115 yards last month against the Ravens, which included a leap over safety
Ed Reed
. But the Ravens didn't have
Ray Lewis
or their two top tacklers (safety Bernard Pollard and linebacker
Dannell Ellerbe
) for that game. All of them will suit up Saturday.
November, 1, 2009
11/01/09
1:35
PM ET
Posted by ESPN.com's James Walker
BALTIMORE -- Ravens safety
Ed Reed
was upset after nearly making one big play in the first quarter.
So Reed made up for it by making another big play with his next opportunity.
Reed's big hit on Broncos tailback
Knowshon Moreno
caused a fumble that led to a Baltimore first field goal. The Ravens take a 3-0 lead. Reed barely missed a blocked punt earlier in the game and was clearly upset on the sideline.
It had been a battle of field position until Reed's big play helped the Ravens get on the board first.
April, 6, 2009
4/06/09
10:12
AM ET
Posted by ESPN.com staff
Baltimore Ravens
Cincinnati Bengals
Cleveland Browns
Pittsburgh Steelers