November, 27, 2013
Nov 27
10:00
AM ET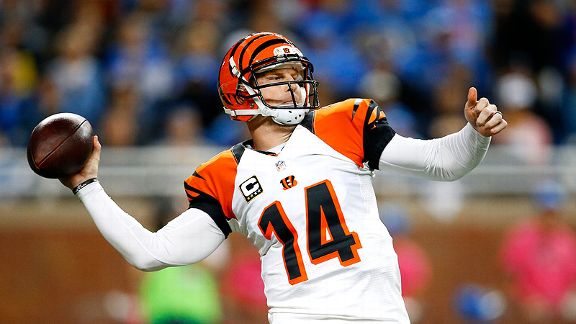 AP Photo/Rick OsentoskiThe Cincinnati Bengals are counting on Andy Dalton to return to the form that helped lead the team to a 4-1 record in October.
CINCINNATI -- Earlier this week,
Cincinnati Bengals
players like cornerback
Chris Crocker
were adamant in pointing out the urgency they need to play with throughout the
month of December
.
"It's all about winning in December," Crocker said. "Let's win out and see where the chips lay. Why can't we win out? I don't see why we can't."
If you ask some Bengals fans and most NFL analysts, they'll give you one big reason why they don't believe Cincinnati will be able to go 5-0 to close out the regular season: No. 14.
That's right. To some, the primary obstacle in the way of end-of-season perfection for the Bengals is
Andy Dalton
, the player who has quarterbacked the franchise into the playoffs each of the past two seasons, and who constantly is trying to prove himself to those who consider him just another member of a mostly failed 2011 quarterback draft class.
For that reason, as the Bengals gear up for a stretch run that could give them a first-round bye and home-field advantage in the playoffs, an important question has to be asked.
Can December Andy mimic October Andy?
As we've written countless times in the past month, October Andy was indeed a dandy. Through the first four games of that month, Dalton threw for 1,243 yards and 11 touchdowns. He also completed 67.9 percent of his passes, won four games, had a passer rating higher than 116.0 and a QBR above 83.0. He was, quite simply, brilliant. His play was so sharp back then that on the final day of the month, hours before the Bengals were set to take on the Dolphins in a road Thursday night game, he was named the AFC's Offensive Player of the Month.
And, yes, even though, comparatively speaking, he didn't look as good overall against the Dolphins and ended up taking the game-winning sack for a safety in overtime, Dalton still had a rather special performance in the 22-20 loss. Aside from not completing a touchdown pass and getting intercepted three times, he threw for 338 yards, marking the fourth straight game he had gone over the 300-yard passing mark.
Overall, October Andy was Good Andy.
But now here comes December with all of its postseason potency. If Cincinnati hopes to set itself up for the type of playoff seeding Crocker believes it deserves, then it will have to play its best ball across the next five weeks. That's especially the case for Dalton and a Bengals offense that has looked rather anemic in the past three games.
One look at Dalton's previous December stats and it doesn't appear the third-year star should have any problem showcasing even a sliver of the success that made him and his team so good about two months ago.
After a rocky December as a rookie in 2011, Dalton was among the difference-makers last season when the desperate Bengals were in need of a strong final month just to secure a playoff berth. One year after going 2-2 in the month, Dalton went 4-1 during December 2012. The lone loss came after the
Dallas Cowboys
made a field goal in the final seconds to win 20-19.
While the level of desperation may be different this December, the Bengals are looking for Dalton to thrive under similar pressure-packed moments during this one. This time around, the pressure on Dalton mainly stems from the fact that so many are fed up with his play from the past three games. In them, he's thrown eight interceptions and been sacked 10 times. Across the latter two of those games, he's completed fewer than 50 percent of his passes and hasn't posted a QBR higher than 18.0.
Weather factored heavily in Dalton's inability to move the ball in those two games. Windy conditions at Baltimore and windy and rainy conditions against the Browns sent some of his passes sailing and forced others into the hands of defensive backs.
Although weather shouldn't be a concern this weekend in San Diego (the forecast calls for partly cloudy skies and a delightful high of 71 degrees Sunday), it could be the rest of the season. Farmer's Almanac projects cold, damp conditions for all of December in the Ohio Valley. It should be noted that after Sunday's game, the Bengals are home three of the next four weeks. Their only remaining road game is at Pittsburgh.
Throughout his career, Dalton has performed better in warmer games. In games with temperatures 50 degrees or higher, he has a 20-14 record, an 85.1 passer rating and a 52.5 QBR. In games with temperatures at 49 and lower, he has a 5-5 record, a 75.4 passer rating and a 32.9 QBR. Dalton's last three sub-49-degree wins came last December, though; a sign that perhaps he's turning a corner in cold-weather contests.
Whatever the conditions and whomever their opponents are, when it comes to the next five weeks, the Bengals can only hope that Dalton turns into the same man who torched through this October.
November, 8, 2013
Nov 8
11:00
AM ET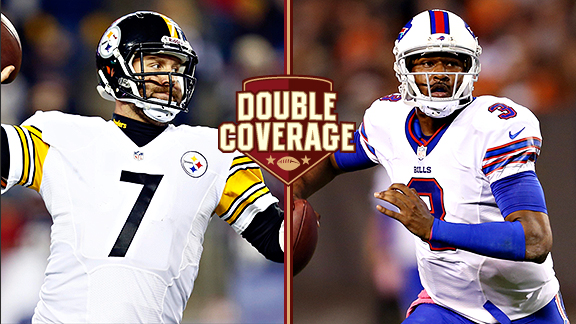 USA TODAY SportsBen Roethlisberger, left, and EJ Manuel are trying to guide their teams through difficult seasons.
Two teams that have combined for five wins and don't appear to be going anywhere this season meet Sunday at Heinz Field. The
Pittsburgh Steelers
will be angry after getting routed Sunday in New England, but the
Buffalo Bills
might be equally desperate after losing four of their past five games.
It looks like
EJ Manuel
will return for the Bills, but rookie quarterbacks have not fared well against Dick LeBeau defenses. But no rookie quarterback has faced the Steelers defense when it has been this vulnerable under LeBeau.
ESPN.com reporters Mike Rodak (Bills) and Scott Brown (Steelers) take an in-depth look at the first meeting between the teams since the Steelers won a 19-16 overtime game at Buffalo in 2010.
Brown:
Mike, is this team Pittsburgh North? There are a lot of Steelers connections there with general manager Doug Whaley and a handful of the players. The two I'm interested in hearing about are the starting guards --
Doug Legursky
and
Kraig Urbik
. How have the two played, and how has the offensive line played overall?
Rodak:
Scott, I think Whaley would like it to be Pittsburgh North, eventually. The Steelers are one of the most successful franchises, and Whaley comes from that background. Defensively, there are similarities between Mike Pettine's blitz-heavy scheme and much of the zone blitzing that LeBeau uses. And offensively, Manuel is a big, mobile quarterback with some speedy receivers, much like
Ben Roethlisberger
and his pass-catchers in Pittsburgh. Ultimately, though, I think the Bills want to forge their own identity, and the Steelers connections don't run much deeper than Whaley and a few others.
As far as Urbik and Legursky, they haven't been Pro Bowlers by any stretch. Returning from a knee injury last month, Legursky helped stabilize a left guard position that has been reeling since losing
Andy Levitre
in free agency last offseason. But as a whole, the offensive line has allowed more sacks -- the seventh most in the NFL, to be precise -- than it would prefer.
Looking at the Steelers' big picture, what has gone wrong this season? From an outside perspective, an aging defense appears to be part of it, but that can't tell the whole story. What are the biggest problem areas?
Brown:
Age is only part of the equation when looking at the Steelers' struggles. The other half is that the Steelers were so good for so long at developing younger players to step in for veteran stalwarts who retired or signed elsewhere. That hasn't happened in recent years, in part because the quality of Steelers' drafts has slipped.
The drop-off in talent hasn't been as severe as it would seem for a team that has lost 11 of its past 15 games, which leads me to perhaps the Steelers' biggest problem on the field: This team is simply allergic to momentum. The Steelers, when they were winning regularly, played so well off one another as far as the different units. This season, more often than not, the offense has not been able to bail out the defense and vice versa.
I'm curious what has held back the Bills, aside from the instability and inexperience at quarterback. This team seems to have its share of talent, so why aren't the Bills winning more?
Rodak:
The quarterback situation is a big part of it, like you said. No matter who's been out there -- Manuel,
Thad Lewis
or
Jeff Tuel
-- they haven't been able to make enough plays to win in the NFL. It's really been the defense that has picked up the slack in two of the Bills' three wins this season. Against the
Baltimore Ravens
, it intercepted
Joe Flacco
five times, and just when it looked like the
Miami Dolphins
were going to win a few weeks ago,
Mario Williams
came up with a game-changing strip-sack. So when dissecting why the Bills are 3-6, their quarterback play is the overriding factor.
Otherwise, I think the story is similar to Pittsburgh's. The defense has played well at times, but when it hasn't played well, the offense hasn't been up to snuff. And when the offense has started cranking -- and that's been rare -- the defense has dropped off. Doug Marrone referenced Wednesday the need for the defense to generate more turnovers -- it hasn't forced one in more than two games -- which has caused the Bills' turnover differential for the season to turn negative this week.
What has been the problem offensively for the Steelers? I've always counted Roethlisberger among the top 10 quarterbacks in the league, and at least on paper, there is some serious talent between
Le'Veon Bell
,
Heath Miller
and
Antonio Brown
. Is the offensive line really that bad to drag everyone down?
Brown:
The offense played without Bell and Miller for the first two games, and it showed as the Steelers managed just two touchdowns in those contests. Bell has stabilized the running game, and Miller's return has been huge considering his value in the running and passing game.
The offense's struggles stem most from the ongoing shuffling along the offensive line. The unit, for whatever reason, is consistently decimated by injuries, and this season is no different. Pro Bowl center
Maurkice Pouncey
went down with a season-ending knee injury in the opener. The Steelers even lost a lineman (
Levi Brown
) to a season-ending injury in pregame warm-ups. Those kinds of things have happened to the Steelers' offensive line, it seems, every season since Mike Tomlin took over as head coach in 2007.
The line has played better in recent weeks, and I thought it did fairly well in New England even with the crowd noise forcing the Steelers to use a silent snap count. It faces another challenge this week as the Bills have the kind of defensive line that can really give the Steelers fits.
Williams has been a beast, and the Steelers will probably have to give left tackle
Kelvin Beachum
some help with Williams. Mike, what about the two interior lineman,
Kyle Williams
and Marcell Dareus? They seem like they can be plenty disruptive.
Rodak:
They certainly can be, Scott. Each has four sacks this season, which puts both on pace for career highs. It seems like each week, when we talk to opposing head coaches, they start off by mentioning Dareus, Mario Williams and Kyle Williams. They're the strength of the team. Kyle Williams in particular has shown a knack for being disruptive in the backfield at the right time, while Dareus has improved from what some felt were subpar seasons since being drafted third overall in 2011. The Steelers' offensive line will need to hold its ground and allow Roethlisberger to take shots at the weaker points of the defense.
What do the Steelers need to do to turn this season around? Does any hope remain that they will make the playoffs?
Brown:
Believe it or not, the players still believe they have a shot at the playoffs given how mediocre the AFC has been aside from a few teams. But they are also realistic that their focus has to stay squarely on what is in front of them.
The biggest thing the Steelers need to do to turn around their season is get back to what has worked for them for so long. That starts with stopping the run. As much as some Steelers fans want to lay blame for the defense's failings on LeBeau -- and the fact that he is 76 -- the reality is this: LeBeau didn't suddenly forget how to coach. However, his defense doesn't work if the Steelers can't stop the run and force teams into obvious passing situations.
Offensively, the Steelers have been at their best this season when they have established balance. If they want to take better care of Roethlisberger, who is taking another beating this season, they need to limit his passing attempts. The best way to do that is establish the ground game and run Bell early and often. Sounds easy enough, no?
July, 22, 2013
Jul 22
2:15
PM ET
ESPN's Ashley Fox wrote a column Monday on how the
Pittsburgh Steelers
are
no longer the pacesetters
of the AFC North. They face the unusual position of trailing the
Baltimore Ravens
and
Cincinnati Bengals
as far as talent level.

Fox points out that the Steelers have been losing ground in the draft:
"(A)t some point between drafting Ben Roethlisberger and Jarvis Jones, the Steelers' first-round pick in April, Pittsburgh slipped. The Ravens saw it and came to believe that because of a superior scouting department and because of Ozzie (Newsome), they could draft better than the Steelers and thus have better results. And the Ravens were right."
The Steelers' drafts from 2008 to 2011 have taken a toll on the team's depth and ability to promote quality players into starting spots when losing key members in free agency. During that time, the Steelers have drafted 33 players and the only player who has gone to multiple Pro Bowls is center
Maurkice Pouncey
.
The Steelers have drafted four players who have been the primary starter for more than one season (running back
Rashard Mendenhall
, wide receiver
Mike Wallace
, defensive end
Ziggy Hood
and Pouncey) and eight players who played fewer than nine career games. Pittsburgh has missed on wide receiver
Limas Sweed
(2008 second round), offensive tackle
Kraig Urbik
(2009 third round) and linebacker
Jason Worilds
(2010 second round). Last year, the Steelers' draft class made headlines for injuries and off-the-field incidents (nose tackle
Alameda Ta'amu
and running back
Chris Rainey
).
If the Steelers want to bounce back from last year's disappointing 8-8 season, they're going to need to get production from recent draft picks like guard
David DeCastro
and offensive tackle
Mike Adams
as well as rookies
Jarvis Jones
and
Le'Veon Bell
.
July, 6, 2012
7/06/12
12:30
PM ET
All this week, the AFC North blog has taken a look back at the 2009 draft for each team in the division. For Friday, we'll wrap up the draft reviews with the
Pittsburgh Steelers
:
First round
:
Ziggy Hood
, DE

Third round
:
Kraig Urbik
, G,
Mike Wallace
, WR, and
Keenan Lewis
, CB
Fifth round
:
Joe Burnett
, DB,
Frank Summers
, RB
Sixth round
:
Ra'Shon Harris
, DT
Seventh round
:
A.Q. Shipley
, C, and
David Johnson
, TE
Thumbs up
: The Steelers came away with one of the steals of the 2009 draft by getting Wallace at the 84th pick. He was the 11th wide receiver taken in this draft after the likes of
Darrius Heyward-Bey
(Raiders),
Mohamed Massaquoi
(Browns),
Brian Robiskie
(Browns),
Derrick Williams
(Lions) and
Brandon Tate
(Patriots). Wallace's 3,206 yards receiving are the second-most by an active wide receiver in his first three seasons (ranks only behind
Anquan Boldin
). Hood has quietly stepped up as a starter the past two years when
Aaron Smith
was injured. Some suggest he's been a disappointment. Hood was the lowest graded 3-4 defensive end, according to Pro Football Focus. The Steelers have gotten some use out of Johnson, who could become the team's fullback this season.
Thumbs down
: Urbik was a bust for the Steelers, getting cut after one full season when he lost the backup job to
Ramon Foster
. But Urbik proved to be one of the top pass-protecting guards in the NFL after making 13 starts last season for the Bills. Maybe the Steelers gave up on Urbik too quickly. Lewis, the last of the Steelers' three third-round picks in this draft, has been a role player behind
William Gay
and
Bryant McFadden
. With those veterans gone, this year will tell a lot about Lewis and his future with the Steelers. Burnett is now playing for the CFL's Edmonton Eskimos after playing 15 games and recording no interceptions for Pittsburgh.
Hensley's grade
: B-minus. The only established starter in this draft has been Wallace, who happens to be the AFC North's best player from this draft. It's not even close. Hood has been adequate as a fill-in starter, and Lewis has yet to make a significant impact. Johnson has provided production as a seventh-round pick, which is a pleasant surprise.
August, 26, 2010
8/26/10
2:30
PM ET
Less than three weeks before the start of the regular season, the
Pittsburgh Steelers
are making significant changes on the offensive line.
[+] Enlarge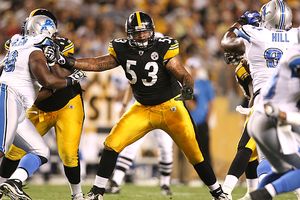 Jason Bridge/US PresswireRookie Maurkice Pouncey is taking over the starting center spot from Justin Hartwig.
This week first-round pick
Maurkice Pouncey
was
promoted to first-team center
after spending most of the spring and training camp at right guard. Although the move isn't shocking -- center is Pouncey's natural position -- this will have an impact on Pittsburgh's entire offensive line.
It's clear this move benefits Pouncey. But will it improve the Steelers' offensive line?
The AFC North blog checked in with Matt Williamson of Scouts Inc. to get some answers.
Matt, let's start with Pouncey's switch to center. Good idea or bad idea?
Williamson:
Tremendous idea. It's a no-brainer. Pouncey is going to be a fixture there for the next 10-12 years, and he can potentially be a special player. He's already their best player on the offensive line, in my opinion, and he will prove it quickly this season. Before long, I think Pouncey will be one of the better centers in this league this time next year. Can he handle all the O-line calls? That we don't know. But he is smart, he has a lot of experience at the college level and at a really high level, and athletically he's way past
Justin Hartwig
. I don't think you can allow those other guys with potential short-term problems get in the way of Pouncey, because he's a fixture.
So what's next at right guard for Pittsburgh? Hartwig? Trai Essex?
Williamson:
There's not an easy answer, because you can't turn them into better football players. Unless somebody like
Kraig Urbik
would step up, which doesn't seem like it will happen, I guess you have to live with Essex. He's a little more experienced there, and he played guard last year. I think you give Hartwig a chance in these last two preseason games to see if he shows up as a guard. But I kind of think he won't. Both [Hartwig and Essex] were major liabilities last year. I'm not sure how that will change if you have Hartwig do something he's not as good at. I don't know if there's an answer.
With Ben Roethlisberger's suspension, Pittsburgh will start either Byron Leftwich or Dennis Dixon. Is Pouncey's move worth the risk of having a rookie center teaming with a new quarterback early in the season?
Williamson:
I think it is. Pouncey is a way better football player. Maybe you get one or two more mental errors. But in the end, I think Pouncey is going to help your run game more, your pass game and ability to block
Shaun Rogers
,
Haloti Ngata
, those type of players. Pouncey is athletically and physically superior, and it's all in front of him. You can't hold back the long-term development of this line just because you're worried about the short-term mental thing. That's why you have coaches coach him up to what needs to be done. There probably will be some growing pains, but he still needs to be in the center of the O-line starting for the next 10 years.
August, 13, 2009
8/13/09
1:30
PM ET
Posted by ESPN.com's James Walker
The Pittsburgh Steelers make their preseason debut Thursday night at 8 p.m. against the Arizona Cardinals in a Super Bowl rematch at Heinz Field.
It will be the first time both teams take the field since quarterback Ben Roethlisberger's game-winning drive to earn Pittsburgh's sixth NFL title.
Here are some things to look for:
| | |
| --- | --- |
| | |
| | Getty Images |
| | Ben Roethlisberger and Kurt Warner meet Thursday night in a rematch of Super Bowl XLIII. |
The starters won't play much for Pittsburgh, but it will be interesting to see if the offensive line sets the tone early. The Steelers struggled up front all last season yet opted to keep the unit together for continuity. The team believes playing together another year will strengthen this weakness, and Thursday against the Cardinals will be the initial test of that theory.
Roethlisberger has been up-and-down during the early portion of training camp. In particular his deep throws haven't been crisp. Roethlisberger recently complained that his arm doesn't feel as strong due to his inactivity in the offseason. This doesn't seem to be a major concern for the Steelers, as throwing every day in training camp should eventually help Roethlisberger regain his form. Still, his performance early in the preseason will be something to monitor.
How will new starters Lawrence Timmons and William Gay fit in at linebacker and cornerback, respectively? Pittsburgh is very confident that these two young players will easily replace dependable veterans in Larry Foote and Bryant McFadden. McFadden happens to return to Heinz Field as a member of the Cardinals.
Preseason always provides a good opportunity to get an extended look at rookie players. For Pittsburgh, first-round pick Evander "Ziggy" Hood and third-round receiver Mike Wallace have been the most impressive rookies so far in training camp. Look for them to get a lot of playing time. Also, rookie offensive linemen Kraig Urbik and A.Q. Shipley will get a chance to see if they can eventually contribute on the offensive line.
Pittsburgh punter Daniel Sepulveda will see his first game action Thursday in nearly two years. Sepulveda tore his ACL in his knee and sat out the entire 2008 season. The Steelers struggled with punting all last year, but the special teams expect to get a big boost in that area with Sepulveda's return.
August, 9, 2009
8/09/09
6:00
PM ET
Posted by ESPN.com's James Walker

LATROBE, Pa. -- As the AFC North blog puts the final touches on its visit to the training camp of the Pittsburgh Steelers, here are some final notes and observations:
Let's get right to the "goal-line drill," which was the highlight of Sunday's practice. The football was put on the 1-yard line and in a best-of-seven scenario, the defense won the drill 4-3. But it wasn't nearly as close as the score would indicate. The first- and second-team defenses dominated the opening sessions as Steelers tailbacks Rashard Mendenhall and Frank "The Tank" Summers were stuffed at the line of scrimmage on four consecutive attempts. With the drill already won, Steelers coach Mike Tomlin elected to continue the final three reps, and Summers and rookie free-agent Isaac Redman scored on their final three tries. Despite the victory, starting safety Ryan Clark was upset with the way his backups on defense finished the drill. "I don't like that at all," Clark said to his defensive teammates.
Two key players returned to practice Sunday. Starting outside linebacker LaMarr Woodley (knee) and rookie receiver Mike Wallace (groin) had full participation. Running back Willie Parker (back spasms) was held out for the second straight day but is expected to return soon, possibly as early as Monday.
Receiver Dallas Baker is starting to turn it on after stringing together a few solid days of practice. Baker had a solid scrimmage Friday and returned with some nice catches throughout the weekend. Baker has always been a bubble player in Pittsburgh, and it will be interesting to see if makes the 53-man roster out of training camp this year.
Pittsburgh is putting a lot of work into pass protection from the running backs as a way to improve overall blocking for the quarterback. Starting quarterback Ben Roethlisberger was sacked 46 times last year and the Steelers are trying to improve all aspects of their protection in hopes that they can lower that sack total.
Overall the Steelers looked focused. I didn't hear the words "Super Bowl champs" the entire time I was in Latrobe from anybody in the organization, which is a good sign that this team learned from the 2006 season. Health permitting, this visit further confirmed my thoughts that Pittsburgh placed itself in a great position to make another run at the title.
August, 7, 2009
8/07/09
1:00
PM ET
| | |
| --- | --- |
| | |
| | Gregory Shamus/Getty Images |
| | Veteran receiver Hines Ward promises the Steelers will stay focused this season. |
Posted by ESPN.com's James Walker
LATROBE, Pa. -- University of Kentucky basketball coach John Calipari knows a title contender when he sees one.
Fantasy Football: 32 Questions

ESPN.com fantasy expert Christopher Harris wonders why the Super Bowl champs don't have more fantasy stars. Story

Calipari, who has led two different programs to the Final Four, was in
Steelers
training camp this week to see what he could incorporate into his program.
"They are a championship organization because of the people," said Calipari, a native of suburban Pittsburgh. "That means the people that own it, the people that manage it and the people that coach it. They make sure the players are quality people and they take care of everybody. That's why they are what they are."
After returning 20 of 22 starters, Pittsburgh is in a prime position to become the first group since the 2003-04
New England Patriots
to win back-to-back Super Bowls. But it won't be easy.
They have a shot if they can answer "yes" to these key questions.
Key questions
1. Will the offensive line improve in 2009?
The knee injury this week to guard Darnell Stapleton already hurts the depth of a unit that has struggled in recent years. Stapleton, who started in the Super Bowl, will have arthroscopic knee surgery Friday and will miss a good portion of the preseason.
Pittsburgh's offensive line remains one of the team's few glaring weaknesses. The Steelers have allowed quarterback Ben Roethlisberger to be sacked an astounding 139 times the past three seasons. The running game, normally a Steelers staple, stalled in 2008.
Knowing that Roethlisberger cannot continue to take a pounding at this clip, the Steelers have been working on improving pass protection this summer. Although Stapleton is injured, the Steelers return all five starters from the Super Bowl and hope another year together improves chemistry and helps the line's overall performance.
Pittsburgh also has backups who have the potential to contribute, including versatile guard/tackle Trai Essex and rookies Kraig Urbik and A.Q. Shipley, who were taken in the third and seventh rounds, respectively.
2. Can Pittsburgh handle distractions?
In terms of distractions, the Steelers did not get off to a glowing start. About a week before camp opened, Roethlisberger was hit with a civil lawsuit alleging sexual assault in Nevada. Pittsburgh's offseason was relatively quiet up until that point, and Roethlisberger apologized to his teammates and the organization last week for shifting the attention from football.
Whether the Steelers learned anything from 2006 remains to be seen. That was the last time the Steelers were coming off a Super Bowl victory, and the wheels came off quickly and completely as distractions, injuries and poor play led to a 2-6 start and an 8-8 finish.
But this group seems very business-like in its approach. Key veterans such as receiver Hines Ward, linebacker James Farrior and safety Troy Polamalu were also on that disappointing team in 2006 and claim to have learned from that humbling experience. Training camp practices have been crisp and players, including Roethlisberger, appear focused.
3. Will the special teams be good?
The Steelers don't have many holes, so we're just nitpicking. But Pittsburgh's special teams were the weakest of the three units (offense, defense, special teams) last season.
Kicker Jeff Reed, in the final year of his contract, is solid. But beyond that, Pittsburgh's special teams were weak.
The Steelers are trying to find a boost in the return game. In camp, Pittsburgh is working out several new players at returning kicks, including former CFL running back Stefan Logan and receiver Shaun McDonald. The goal this year is to take every-down players such as Santonio Holmes off special teams to help the offense.
Perhaps the biggest addition to special teams will be the return of punter Daniel Sepulveda, who missed all of 2008 with a torn ACL in his knee. Pittsburgh's punting was one of the league's worst last year and Sepulveda should change that. The team also is giving Sepulveda an occasional day off from punting in camp to make sure he doesn't rush back.
Market watch
Second-year receiver Limas Sweed was an enigma last season. First, he couldn't find his way on the field. Then when his number was called late in the year, Sweed wasn't ready.
But last season's disappointment led to Sweed become one of the hardest-working players on the team this offseason. In camp, the former second-round pick looks more confident and continues to make plays.
Sweed has the inside track to open the season as Pittsburgh's No. 3 receiver and knows his number will be called early if he holds onto the job. This time Sweed believes he's prepared to produce.
| | |
| --- | --- |
| | |
| | AP Photo/Michael Conroy |
| | Rookie defensive tackle Evander Hood should have time to prove himself this season. |
Newcomer to watch
The Steelers do not often take defensive linemen high in the draft, but they broke that mold with first-round pick Evander "Ziggy" Hood.
Pittsburgh likes Hood's motor and versatility. He is expected to spell both starters at defensive end and possibly play some nose tackle.
The three starting defensive linemen for the Steelers are all over 30, so it will be vital for Hood to provide depth and inject some youthful exuberance. The fact that he's not expected to start puts him in a good spot to produce without the normal pressures of a first-round pick.
Observation deck
Roethlisberger is struggling with his arm strength early in camp. After taking a pounding and playing so deep into the postseason, Roethlisberger didn't do any throwing independently away from the Steelers this offseason, choosing to rest instead. But many of his deep throws are coming up short and intercepted. With the preseason starting next week, it will be interesting to see how long it takes for Roethlisberger to regain his form. ... Tailback Rashard Mendenhall appears to have recovered from his season-ending shoulder injury. The former first-round pick lost significant weight in his upper body last year because he was unable to lift weights after surgery. But he has regained his bulk and looks more sure of himself in his second training camp. ...Pittsburgh defensive coordinator Dick LeBeau is using inside linebacker Lawrence Timmons in a variety of ways now that the former first-round pick is a full-time starter. Timmons has great range to patrol the middle of the field. But LeBeau also likes Timmons' skills as a pass-rusher and has been turning him loose in pressure packages. ...Look out for rookie receiver Mike Wallace. The third-round pick from Mississippi is making a good impression in camp. Teammates are already calling him one of the fastest players on the team.
June, 29, 2009
6/29/09
1:25
PM ET
Posted by ESPN.com's James Walker
After spending much of the offseason close to the salary cap, the Pittsburgh Steelers finally have some much-needed relief following a recent four-year contract extension with starting left tackle Max Starks. The agreement lifted the $8.451 million franchise tag off Starks and provided about $3 million in salary-cap space for this season.
Now the question in Pittsburgh is, "Who's next?"
Most people are aware of the high-profile Steelers playing in the final year of their deals such as tight end Heath Miller, safety Ryan Clark, tailback Willie Parker and starting nose tackle Casey Hampton. The 2010 class also included Starks, receiver Hines Ward and Pro Bowl linebacker James Harrison until Pittsburgh took care of those players with long-term deals this offseason.
The first order of business for Pittsburgh likely is getting rookie Evander "Ziggy" Hood under contract before players report to training camp on July 31. Hood is the only unsigned draft pick left for the Steelers.
But once that part is complete, expect the Steelers to attempt to lock up at least one more key cog -- maybe Miller or Clark -- long-term before trying to make another title run.
June, 29, 2009
6/29/09
10:54
AM ET
Posted by ESPN.com's James Walker
The Pittsburgh Steelers wasted little time getting back to business this week. The defending Super Bowl champions signed third-round pick Kraig Urbik to a three-year deal, the team announced Monday morning.
Urbik, who played both guard and tackle at Wisconsin, is expected to provide much-needed depth on the offensive line this year. He registered 50 career starts for the Badgers.
Overall, Pittsburgh now has every draft pick from this year under contract with the exception of first-round selection Evander "Ziggy" Hood. The Steelers are due to report to training camp on July 31.
June, 22, 2009
6/22/09
9:09
AM ET
Posted by ESPN.com's James Walker
Here are the most interesting stories Monday in the AFC North:
Morning take: As Anquan Boldin and the Arizona Cardinals also found out, most teams have smartened up on the going rate for receivers. I've said for a long time that offenses should be built from the inside out, and thus receivers are final link in the chain -- not the most important. It appears the days of getting a first- and third-round pick for that position could be nearing an end.
The Cincinnati Bengals have a new motto for this season: "Fight back!"
Morning take: And I saw a lot of fighting at last week's three-day minicamp. Sure, it was amongst teammates. But it could help make the Bengals a tougher team in the long run.
Former Baltimore Ravens return specialist B.J. Sams was taken last week in the UFL draft by San Francisco.
Morning take: Sams was an exciting returner in Baltimore until breaking his leg in 2007. Let's see if he's able to jumpstart his career again outside of the NFL.
Morning take: First-rounder Evander "Ziggy" Hood and third-rounder Kraig Urbik are those two players, and no one expects any issues with them in the next six weeks.
April, 26, 2009
4/26/09
11:23
AM ET
Posted by ESPN.com's James Walker
It was surprising that the defending champion Pittsburgh Steelers didn't address their inconsistent offensive line on the first day of the NFL draft.
Therefore, it was no surprise that Pittsburgh addressed arguably the team's biggest need with its first pick Sunday.
The Steelers took Wisconsin guard Kraig Urbik in the third round. Urbik is durable, starting 45 consecutive games for the Badgers. The streak was broken last season because of a knee injury.
Urbik will provide depth and competition at guard for the Steelers. Their struggles running the ball and protecting quarterback Ben Roethlisberger last season were well documented.
The Steelers also took receiver Mike Wallace from Mississippi with their other third-round pick. Wallace is a speedster who also can provide depth and has potential to return kicks.