May, 12, 2014
May 12
4:30
PM ET
PITTSBURGH -- Would the Steelers have taken a cornerback in the first round of the NFL draft had either
Justin Gilbert
or
Kyle Fuller
-- or both -- been available at No. 15?
Steelers general manager Kevin Colbert isn't saying.
"Sure, there were guys that went ahead of Ryan that were really good players," Colbert said Monday on TribLive radio. "We were extremely excited [Shazier] was there but there were other players that we would have entertained and maybe didn't have an opportunity to pick them. But that doesn't diminish our excitement for Shazier."
The Steelers really liked tight end
Eric Ebron
, and the North Carolina product certainly would have been prominent in the discussion that preceded the Steelers' first-round pick had he still been available.
But the Steelers were more than happy to select Shazier, who provides speed, athleticism and versatility to their defense.
The Steelers only took one cornerback in the draft but Colbert echoed comments made by defensive coordinator Dick LeBeau that the position is not as lacking as has been widely perceived.
"
Cortez Allen
we think has a real bright future and he should only get better," Colbert said. "When you've got a guy like
William Gay
and
Brice McCain
and
Antwon Blake
and we feel nice about what they're going to be able to contribute. Blake did a great job coming in [last season] and playing mainly on special teams because he was a late addition for us but he's going to have a whole offseason to grow as a corner."
Despite taking only one cornerback -- and waiting until the fifth round to select Arizona's
Shaquille Richardson
-- the Steelers have generally gotten good reviews for their draft.
ESPN analyst Mel Kiper Jr. gave the Steelers an A-minus for their draft. ESPN analyst Todd McShay also liked what the Steelers accomplished during the three-day draft.
"I was really impressed. I thought they had one of the better drafts of all the teams in the league," McShay said Monday during a post-draft conference call. "I really thought beginning to end that Pittsburgh did a really good job of finding players that fit their system and do multiple things."
May, 8, 2014
May 8
7:15
PM ET
PITTSBURGH – It's hard to imagine a scenario in which the
Pittsburgh Steelers
don't
use their first-round pick on a cornerback.
But it's not impossible.
One of the left tackles could slip to No. 15 and tempt the Steelers.
Anthony Barr
fell to the Steelers in the ESPN NFL Nation mock draft held earlier this week, and I grabbed the UCLA outside linebacker after also considering Virginia Tech cornerback
Kyle Fuller
and LSU wide receiver
Odell Beckham Jr.
Barr had 23 ½ sacks in two season while learning to play outside linebacker on the fly. He is a playmaker who has a tremendous upside, and the Steelers need to bolster their pass rush.
The problem is I don't think Barr will be available at No. 15. I think Beckham is gone before then too with a team likely trading up to draft him.
That leads me back to cornerback and I think the Steelers will be thrilled if they have their choice of Fuller and Michigan State's
Darqueze Dennard
.
Both are good fits for the Steelers and I think they would be happy with either one. If they have a choice I think the Steelers take Fuller. He is a little bigger and probably has better ball skills than Dennard.
But really it could be a coin flip between the two and the Steelers would love nothing more than if they have to choose between Dennard and Fuller.
I say they do and that they opt for Fuller.
May, 8, 2014
May 8
2:00
PM ET
PITTSBURGH -- Following up on a post about the 14 players I don't think will be available when the
Pittsburgh Steelers
select, here are five targets who might be available to them in the first round. I do expect the Steelers to look into moving down in the first round and collecting an extra pick or two.
I ranked these five in descending order based on the likelihood that the Steelers draft them.
5. LB C.J. Mosley, Alabama:
Three-down linebacker would make for a nice pairing with
Lawrence Timmons
, and he could be an immediate starter, as loathe as the Steelers are to play rookies extensively. Mosley had some injury issues in college, so the Steelers would have to be comfortable with him medically to take the 2013 consensus All-American this high. I think the Steelers wait to address this position later in the draft, but Mosley would shore up an area where they could use help if he has checked out medically.

Ebron
4. TE Eric Ebron, North Carolina:
The best tight end in the draft has drawn comparisons to the 49ers'
Vernon Davis
because of his size and athleticism and ability to stretch the field. Ebron would give
Ben Roethlisberger
a tall, athletic target as well as a complement -- and future successor -- to
Heath Miller
. The biggest question with Ebron is how much of a blocker he will develop into at the next level. The Steelers will be tempted if he is still on the board at No. 15, and they could try to trade down if Ebron is there and another team wants to move up to take him.
3. CB Justin Gilbert, Oklahoma State:
There is a ton to like about Gilbert, who has decent size and ran a sub 4.4 in the 40-yard dash at the NFL scouting combine. He intercepted seven passes last season, returning one for a touchdown, and he also excelled as a kick returner. The knock on Gilbert is that he is not the best tackler nor is he particularly strong in run support. Tackling the catch, as the Steelers call it, is essential in Dick LeBeau's defense, which is why they might shy away from Gilbert.

Dennard
2. CB Darqueze Dennard, Michigan State:
The 2013 Jim Thorpe Award winner has Steelers written all over him. He is tough, physical and is exactly the kind of player the Steelers need to start building around at cornerback. The biggest question about Dennard is whether he will still be available when the Steelers make their first pick tonight. A handful of teams picking ahead of the Steelers, including the Lions and Titans, could take a cornerback. If Dennard is on the board when the Steelers pick at No. 15, it might be a coin flip between him and…
1. CB Kyle Fuller, Virginia Tech:
He is similar to Dennard in that he is physical and is good in run support as well as in coverage. Fuller is a little bigger and might have better ball skills than Dennard, something that might appeal to a team that has intercepted just 20 passes in the past two seasons combined. Fuller doesn't have any flaws in his game, is a high-character guy and would be a really good fit with the Steelers.
May, 7, 2014
May 7
1:45
PM ET
CINCINNATI -- You might have seen this week
when we caught up
with
Cincinnati Bengals
Hall of Fame offensive tackle Anthony Munoz at the Pro Football Hall of Fame's Fan Fest in Cleveland.
Though quarterback Andy Dalton's play was among the Bengals-related concerns Munoz touched on, he also spoke for a moment about the direction he felt the franchise was going, and what he anticipated seeing it do when the NFL draft arrives Thursday night.
When it comes to building up the Bengals' roster this weekend, expect them to do so by focusing on defense, not offense, Munoz said.
[+] Enlarge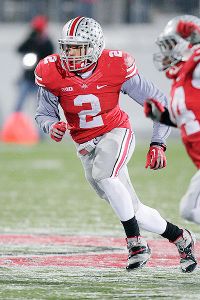 AP Photo/Jay LaPreteOhio State linebacker Ryan Shazier could be a good fit for the Bengals in the first round.
"I don't know names, but I think we need a linebacker," Munoz said. "We can go out and get a pretty good linebacker, maybe a defensive back. I don't think you can ever have too many cornerbacks and defensive backs."
So there you have it.
Munoz, a former Bengal who attends every home game and called preseason games for a local television station last year, is not looking for the Bengals to draft
Teddy Bridgewater
or any other quarterbacks or offensive players in the first round.
"The linebacker position is a good position to go with our D-line," Munoz continued. "Even though we lost one or two [on the defensive line], it's an area that's still strong. As far as linebacker or defensive back, that's what I would look at."
Michael Johnson
was the starting defensive end the Bengals lost this offseason when he signed with Tampa Bay. Linebacker
James Harrison
was also cut in March, leaving a hole in the regular rotation at "Sam" linebacker. The Bengals also probably wouldn't mind having another linebacker who could play the "Will" position, giving them another option in situations where tight ends, running backs and the occasional slot receiver needs to be covered.
Ohio State product
Ryan Shazier
is one linebacker who could provide that level of versatility and depth for the Bengals. If he is there when Cincinnati selects at No. 24, he could be an option. Other options for that draft slot include cornerbacks
Darqueze Dennard
(Michigan State),
Justin Gilbert
(Oklahoma State),
Kyle Fuller
(Virginia Tech),
Bradley Roby
(Ohio State) and
Jason Verrett
(TCU). At least two of those cornerbacks are expected to be off the board before the No. 24 pick, as should the two highest-rated safeties --
Ha Ha Clinton-Dix
(Alabama) and
Calvin Pryor
(Louisville).
If there are no defensive backs or linebackers the Bengals like at No. 24, don't be surprised if they turn to the defensive line and figure out a way to help add to the depth at end. It all depends upon how that player grades on the Bengals' big board, though.
Munoz is probably on to something. It's something we've been saying for a while, but somehow it makes even more sense when a revered Hall of Famer says it: Cincinnati would be best served focusing early in the draft on defense. After that, go to town beefing up the offensive line with another body that can run block, another physical running back and a quarterback to back up Dalton.
The following is Munoz had to say about the Bengals' direction the past few seasons under head coach Marvin Lewis. It's something to keep in mind this weekend as the Bengals draft players. They don't just want good players, they want leaders, too. And lately, they have been among the best at drafting and developing those types of players:
"You can take the last three or four years and really separate it from the previous 18, 19 years. It is a different mindset and it's a totally different group of guys. One of my former teammates who's been a radio announcer or analyst for close to 30 years I think says it best: when your best players are your best guys and your hardest workers, that's when it starts to come around. I really believe that's what the Bengals have going for them. Their best players are their hardest workers and their best guys. ... This is a totally different makeup of the team. They're going in the right direction."
May, 7, 2014
May 7
8:00
AM ET
The Ravens have never taken a Baltimore native in the franchise's 18-year draft history. So, what are the chances that streak ends this year?
Actually, there's a possibility the Ravens could draft two hometown players this week. The Ravens could select Virginia Tech cornerback
Kyle Fuller
in the first round and Towson running back
Terrance West
in the third or fourth round. Fuller and West both played their high school football in Baltimore.
[+] Enlarge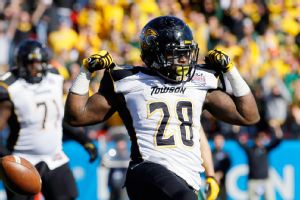 AP Photo/Tony GutierrezBaltimore native Terrance West, a running back out of Towson, could be an option for the Ravens in the third or fourth round.
Fuller hasn't been linked heavily to the Ravens, but the team places a high priority on cornerbacks. Most draft analysts consider Fuller one of the top three cornerbacks available, and the NFL Network's Mike Mayock has him rated No. 1.
"He's a competitive player with excellent speed and athleticism, and he comes from a very good football family," Ravens director of college scouting Joe Hortiz said of Fuller.
Fuller has been projected to go in the middle of the first round, and there's no guarantee he will be available when the Ravens pick at No. 17. While cornerback isn't a major need for the Ravens, they could use one to replace
Corey Graham
as the nickelback and to possibly start in 2015, when
Lardarius Webb
's salary-cap number is $11 million.
"We've always felt you can't have enough corners, especially when you're in a league now where it's a passing league with people putting three or four receivers in the games," general manager Ozzie Newsome said. "You don't have too many corners."
The Ravens have a history of taking cornerbacks high in the draft, selecting five in the first and second rounds. This is second only to outside linebackers (six drafted in the first two rounds).
"Obviously, we like corners and we're not afraid to take them," Hortiz said. "If there is one sitting there and we've got him ranked high, we'll take him."
There's a stronger likelihood that the Ravens will consider West, who ran for 2,519 yards and scored 42 touchdowns (setting an FCS record). The Ravens are expected to start looking at running backs in the third and fourth rounds, and West is projected to go in that range.
Running back is a need because starter
Ray Rice
could miss time because of an NFL suspension, and backup
Bernard Pierce
won't practice until training camp after undergoing offseason shoulder surgery. The Ravens averaged a franchise-worst 3.1 yards per carry last season.
"Terrance [is] a guy who really burst onto the scene this year," said Hortiz, who attended West's game against Delaware last season. "He ran through [Division] I-AA. What he did in the postseason was pretty fun to watch. He's a really productive player who has had a great year and a lot of touchdowns and knows how to find the end zone."
May, 6, 2014
May 6
6:30
PM ET
CINCINNATI -- Take a good, hard look at the
Cincinnati Bengals
' defensive backfield and what do you see?
Age and experience, yes. But what else?
A slew of former first-round draft picks.
Leon Hall
,
Adam Jones
,
Terence Newman
,
Dre Kirkpatrick
and
Reggie Nelson
are all Bengals defensive backs who were selected in the first round. Free-agent addition
Danieal Manning
wasn't far behind them, either, going 42nd overall in the second round in 2006.
No, not all of those players began their careers with the Bengals and the jury is still out on how the youngest member of the crew, Kirkpatrick, will ultimately fare. Regardless, the number of former first-round picks in Cincinnati's secondary indicates just how much the Bengals value those who play those positions, especially cornerback.
"Quarterback and cornerback are the toughest positions to play in the league," Bengals coach Marvin Lewis said during a pre-draft news conference Tuesday. "If you're not good enough there, everyone else suffers. And there's no way to mask it. It takes certain rare ability to play those two spots. To play cornerback on defense, to run with a guy that can be bigger than you, can be faster than you, knows where he's going and you've got to run with him and you've got to defend him and you can't touch him.
"Other than that, it's an easy job."
The Bengals will be looking for at least one cornerback in the NFL draft that begins Thursday night. A cursory read of the Bengals' draft needs suggests that when they pick near the end of the first round at No. 24, they will snag a corner.
Which corners could be there? Well, the list is exhaustive, but it primarily features any one of five names:
Darqueze Dennard
(Michigan State),
Justin Gilbert
(Oklahoma State),
Kyle Fuller
(Virginia Tech),
Jason Verrett
(TCU) and
Bradley Roby
(Ohio State). It all depends on how highly the Bengals have each one of those players rated and which ones are available when they make their pick.
In Tuesday afternoon's
ESPN.com NFL Nation mock draft
, I was surprised to find cornerback Kyle Fuller still on the draft board deep into the first round. Granted, our little experiment may not be an adequate reflection of what will end up happening Thursday night, but I thought it did give a strong glimpse into how each team might think when draft day comes.
I'll admit, I thought briefly about trading up after Dennard went extremely early at No. 10 overall to Detroit. But when another corner wasn't picked until the Packers took Gilbert at No. 21, I had a good feeling that either Fuller or Jason Verrett would be on the board. I should note, this draft was about what we as NFL Nation team reporters think the various teams WILL do Thursday. Not what we think they should do. Cincinnati's recent history shows that the franchise isn't too keen on wheeling and dealing and making big draft-weekend trades. In fact, the Bengals are largely more remembered for their trade busts than for ones that were successes, like 2012's move down that landed them offensive guard Kevin Zeitler.
So I tried to stay true to my guns and not make a move, even after an enticing overture from the Vikings for the No. 40 overall pick early in the second round, and possibly another in the third. (We didn't get far enough along in trade talks to determine what the pick behind No. 40 would have been.)
Anyway, I reference all of that to say, there could be a cornerback available in the first round to keep the trend going.
"That's a tough position," Lewis said. "I've been fortunate in the league to be around a bunch of good corners, and most of them came in the first round. I feel pretty good about that."
Safety also has been an option for the Bengals in this draft, as they look to add as much speed and cover ability to their defensive backfield as possible. As more NFL teams adopt the multiple-receiver spread offenses that have been such a big part of college football the last decade, there is a need to have safeties who can cover and bigger corners who can play both on the inside and outside to help negate some of those passing options.
"I've been that way philosophically for a while," Lewis said, referring to his desire to have bigger corners and cover safeties. "It's to my upbringing and so forth in the NFL, where we've had safeties that way that could also do that. We've been that way since I've been here, and the trend will continue that way because the trend in college football is that way. So these guys are becoming more of big corners with the style of coverage, the style of offense and the things that people are playing."
Some options at safety for the Bengals could include
Ha Ha Clinton-Dix
(Alabama),
Calvin Pryor
(Louisville),
Terrence Brooks
(Florida State),
Jimmie Ward
(Northern Illinois) and
Deone Bucannon
(Washington State).
May, 2, 2014
May 2
9:30
AM ET
PITTSBURGH -- Mel Kiper Jr. and Todd McShay will critique draft picks that are made in less than a week. The ESPN analysts took their own respective turns in the hot seat Thursday night on ESPN2.

Ebron
The two engaged in a head-to-head,
three-round mock draft

with Kiper picking for teams with even-numbered draft picks and McShay picking for those with odd-numbered picks. Their selections were followed by analysis from former NFL general manager Bill Polian and former NFL director of pro personnel Louis Riddick.
And Polian didn't opt for subtlety after McShay picked North Carolina tight end
Eric Ebron
for the Steelers at No. 15 overall.
"He's a Pittsburgh Steeler and he doesn't block. That doesn't compute," Polian, a six-time NFL Executive of the Year, said of Ebron. "I don't think he's ready to play in the NFL right now. I think he's too immature. I don't think his feet are firmly planted on the ground. Yeah, he has ability but that only gets you so far."
Ebron may be one of the more polarizing players in the draft.
The 6-foot-4, 250-pounder is the best tight end in the draft and an undeniable talent. Ebron, who caught 62 passes for 973 yards in his final season at North Carolina, has the size and athleticism to create mismatches.
And he is part of the new wave of tight ends who have become such a commodity because of their ability to put stress on opposing defenses.
Ebron would give quarterback Ben Roethlisberger a tall target, and he would add a pass-catcher to a group that doesn't have a reliable one after veteran Heath Miller.
But as a blocker he can most diplomatically be described as a work in progress.
Or, as McShay said recently, "He's a buffet blocker if you will. He kind of picks and chooses when he wants to get interested. But what he does well it's just hard to find guys that can do it at the level that he does as far as stretching the field vertically and creating after the catch."
Ebron may be too much of a gamble for the Steelers to pick at No. 15, especially since they have more pressing needs. McShay picked him for the Steelers with Michigan State's
Darqueze Dennard
off the board though with every other cornerback still available.
Riddick said he would have taken a cornerback for the Steelers, and he is especially high on Virginia Tech's
Kyle Fuller
. Polian added of Ebron, "I would not risk this guy in a Pittsburgh offense that requires you to block."
As for the Steelers' other two picks, Kiper took LSU wide receiver
Jarvis Landry
for them in the second round (No. 46 overall). McShay picked Clemson cornerback
Bashaud Breeland
for the Steelers in the third round (No. 97 overall).
April, 30, 2014
Apr 30
4:45
PM ET
OWINGS MILLS, Md. -- The overriding theme of the
Baltimore Ravens
' pre-draft news conference Wednesday was this team loves picks.
General manager Ozzie Newsome talked about how he likes being able to acquire more picks. Assistant general manager Eric DeCosta mentioned a few times how he enjoys collecting picks. Newsome even spoke about how owner Steve Bisciotti is an advocate of gaining as many picks as possible.
If there was a "we love picks" drinking game at Ravens headquarters today, no media member would've been able to walk straight after the 40-minute question-and-answer session. That's why you're going to repeatedly hear about how the Ravens are looking to trade down from now until May 8.
There is logic to it. Newsome acknowledged the Ravens have already fielded calls from teams wanting to move up to No. 17, and the Ravens have traded down three times in the previous six drafts.
I'm just not entirely sold on the Ravens doing it this year. It comes from a story told by DeCosta on Wednesday.
"I was thinking about a trade that we didn't make a few years ago," DeCosta said. "In 2010, we had a chance to trade a player that we had drafted. It would've been a great trade picks-wise. However, we couldn't find anyone to pick. We liked the player so much that we didn't see any player close to that player."
What I took from this is the Ravens love picks but they love particular players more. This story may have some relevance in this year's draft as well.
The Ravens find themselves in a rare draft position in the middle of the first round. From 2009 to 2013, the Ravens entered the draft with these first-round picks: No. 26, No. 25, No. 26, No. 29 and No. 32.
This is the first time in years that the Ravens have a shot at getting an impact player instead of just a prospect at the bottom of the first round that you hope will turn into a long-term starter. The Ravens don't want to be in this area of the first round anytime soon, so I don't see them just moving back to the same spot they've been in for the previous five years.
Who could be there at No. 17? North Carolina's
Eric Ebron
, the best tight end in the draft. Alabama's
Ha Ha Clinton-Dix
, the top safety in this draft class. Alabama's
C.J. Mosley
, the consensus top inside linebacker. Virginia Tech's
Kyle Fuller
, who has been ranked as the No. 1 cornerback by some analysts.
Some of these players won't make it to the middle of the first round. But the Ravens also know none of them will be available at the bottom of it.
"We love picks. We've said that a bunch," DeCosta said. "I think it all depends on the trade itself -- who's available and what can we get."
The odds are that a difference maker will be there at No. 17 when the Ravens are on the clock. That's why no one should assume the Ravens are trading back this year.
March, 6, 2014
Mar 6
2:00
PM ET
CINCINNATI -- While
Cincinnati Bengals
coaches insist they are open to using their first-round draft pick on virtually any position this year, ESPN draft insider Todd McShay shares the same thought that most outside of Paul Brown Stadium have.

To McShay and many others, the Bengals will begin their draft May 8 by
taking a cornerback

.
As it currently stands on McShay's series of mock drafts, Virginia Tech cornerback
Kyle Fuller
would be packing his bags for Cincinnati later this spring, taken with the 24th overall pick. A good-sized cornerback, the 6-foot Fuller would give the Bengals height that they wouldn't get from other corners who could be available that late in the first round.
Fuller is a bit of a departure for McShay, who previously listed the 5-foot-8
Lamarcus Joyner
as his selection for a Bengals corner in his mock draft 2.0. The Florida State defensive back played both corner and safety in college and could be a good fit at nickel corner for Cincinnati. He had a strong showing at the combine in Indianapolis last month. So did Fuller.
Touted for playing with good instincts, as well as his ability to help in run support, Fuller has started climbing up the draft boards. Lately he has been sneaking into the first round on projections like McShay's. With veterans like
Adam Jones
,
Leon Hall
and
Terence Newman
all now over 30 and having battled in recent years through their share of injuries, the Bengals could use a physical corner like Fuller as they start shoring up depth behind the starters. Newman's contract expires after the 2014 season. Hall and Jones will be up for new deals the following year.
The biggest question marks surrounding Fuller before the draft dealt with his speed and durability, McShay said. From what he's been told, though, the durability is no longer an issue. After Fuller's 4.49 40-yard time, speed doesn't appear to be, too.
Fuller's selection in McShay's mock came after Oklahoma State's
Justin Gilbert
and Michigan State's
Darqueze Dennard
were selected by teams ahead of the Bengals. TCU product
Jason Verrett
, another potential Bengals target built much in the same mold as Joyner, was claimed one spot after Cincinnati in the mock. McShay has him going to San Diego.
Joyner went unpicked in McShay's first round but remained on his board as one of the best available.
During the combine, Bengals defensive coordinator Paul Guenther made it clear that he and the rest of the staff weren't just looking at cornerbacks for the first overall pick. There might be a need at defensive end with unrestricted free agent
Michael Johnson
possibly on his way out. Outside linebackers could be part of the equation after a lack of depth there rocked the position last season. Safeties could be an area of need depending upon what happens in free agency, too.
Still, it's my contention the Bengals would be best served picking a cornerback with their first-round pick. The pool of defensive backs is so deep this season that it might be in the Bengals' best interest to grab one of the best as early as they can, and then focus on the rest of their draft needs in later rounds. Because of their versatility of being able to play in the slot, as well as outside, Joyner and Verrett seem to be the better options for Cincinnati, in my opinion.
Either way, whichever team ends up picking Fuller -- first round or not -- will not regret the decision.