November, 8, 2013
11/08/13
11:00
AM ET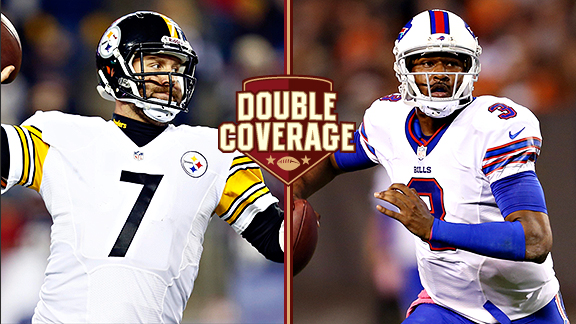 USA TODAY SportsBen Roethlisberger, left, and EJ Manuel are trying to guide their teams through difficult seasons.
Two teams that have combined for five wins and don't appear to be going anywhere this season meet Sunday at Heinz Field. The
Pittsburgh Steelers
will be angry after getting routed Sunday in New England, but the
Buffalo Bills
might be equally desperate after losing four of their past five games.
It looks like
EJ Manuel
will return for the Bills, but rookie quarterbacks have not fared well against Dick LeBeau defenses. But no rookie quarterback has faced the Steelers defense when it has been this vulnerable under LeBeau.
ESPN.com reporters Mike Rodak (Bills) and Scott Brown (Steelers) take an in-depth look at the first meeting between the teams since the Steelers won a 19-16 overtime game at Buffalo in 2010.
Brown:
Mike, is this team Pittsburgh North? There are a lot of Steelers connections there with general manager Doug Whaley and a handful of the players. The two I'm interested in hearing about are the starting guards --
Doug Legursky
and
Kraig Urbik
. How have the two played, and how has the offensive line played overall?
Rodak:
Scott, I think Whaley would like it to be Pittsburgh North, eventually. The Steelers are one of the most successful franchises, and Whaley comes from that background. Defensively, there are similarities between Mike Pettine's blitz-heavy scheme and much of the zone blitzing that LeBeau uses. And offensively, Manuel is a big, mobile quarterback with some speedy receivers, much like
Ben Roethlisberger
and his pass-catchers in Pittsburgh. Ultimately, though, I think the Bills want to forge their own identity, and the Steelers connections don't run much deeper than Whaley and a few others.
As far as Urbik and Legursky, they haven't been Pro Bowlers by any stretch. Returning from a knee injury last month, Legursky helped stabilize a left guard position that has been reeling since losing
Andy Levitre
in free agency last offseason. But as a whole, the offensive line has allowed more sacks -- the seventh most in the NFL, to be precise -- than it would prefer.
Looking at the Steelers' big picture, what has gone wrong this season? From an outside perspective, an aging defense appears to be part of it, but that can't tell the whole story. What are the biggest problem areas?
Brown:
Age is only part of the equation when looking at the Steelers' struggles. The other half is that the Steelers were so good for so long at developing younger players to step in for veteran stalwarts who retired or signed elsewhere. That hasn't happened in recent years, in part because the quality of Steelers' drafts has slipped.
The drop-off in talent hasn't been as severe as it would seem for a team that has lost 11 of its past 15 games, which leads me to perhaps the Steelers' biggest problem on the field: This team is simply allergic to momentum. The Steelers, when they were winning regularly, played so well off one another as far as the different units. This season, more often than not, the offense has not been able to bail out the defense and vice versa.
I'm curious what has held back the Bills, aside from the instability and inexperience at quarterback. This team seems to have its share of talent, so why aren't the Bills winning more?
Rodak:
The quarterback situation is a big part of it, like you said. No matter who's been out there -- Manuel,
Thad Lewis
or
Jeff Tuel
-- they haven't been able to make enough plays to win in the NFL. It's really been the defense that has picked up the slack in two of the Bills' three wins this season. Against the
Baltimore Ravens
, it intercepted
Joe Flacco
five times, and just when it looked like the
Miami Dolphins
were going to win a few weeks ago,
Mario Williams
came up with a game-changing strip-sack. So when dissecting why the Bills are 3-6, their quarterback play is the overriding factor.
Otherwise, I think the story is similar to Pittsburgh's. The defense has played well at times, but when it hasn't played well, the offense hasn't been up to snuff. And when the offense has started cranking -- and that's been rare -- the defense has dropped off. Doug Marrone referenced Wednesday the need for the defense to generate more turnovers -- it hasn't forced one in more than two games -- which has caused the Bills' turnover differential for the season to turn negative this week.
What has been the problem offensively for the Steelers? I've always counted Roethlisberger among the top 10 quarterbacks in the league, and at least on paper, there is some serious talent between
Le'Veon Bell
,
Heath Miller
and
Antonio Brown
. Is the offensive line really that bad to drag everyone down?
Brown:
The offense played without Bell and Miller for the first two games, and it showed as the Steelers managed just two touchdowns in those contests. Bell has stabilized the running game, and Miller's return has been huge considering his value in the running and passing game.
The offense's struggles stem most from the ongoing shuffling along the offensive line. The unit, for whatever reason, is consistently decimated by injuries, and this season is no different. Pro Bowl center
Maurkice Pouncey
went down with a season-ending knee injury in the opener. The Steelers even lost a lineman (
Levi Brown
) to a season-ending injury in pregame warm-ups. Those kinds of things have happened to the Steelers' offensive line, it seems, every season since Mike Tomlin took over as head coach in 2007.
The line has played better in recent weeks, and I thought it did fairly well in New England even with the crowd noise forcing the Steelers to use a silent snap count. It faces another challenge this week as the Bills have the kind of defensive line that can really give the Steelers fits.
Williams has been a beast, and the Steelers will probably have to give left tackle
Kelvin Beachum
some help with Williams. Mike, what about the two interior lineman,
Kyle Williams
and Marcell Dareus? They seem like they can be plenty disruptive.
Rodak:
They certainly can be, Scott. Each has four sacks this season, which puts both on pace for career highs. It seems like each week, when we talk to opposing head coaches, they start off by mentioning Dareus, Mario Williams and Kyle Williams. They're the strength of the team. Kyle Williams in particular has shown a knack for being disruptive in the backfield at the right time, while Dareus has improved from what some felt were subpar seasons since being drafted third overall in 2011. The Steelers' offensive line will need to hold its ground and allow Roethlisberger to take shots at the weaker points of the defense.
What do the Steelers need to do to turn this season around? Does any hope remain that they will make the playoffs?
Brown:
Believe it or not, the players still believe they have a shot at the playoffs given how mediocre the AFC has been aside from a few teams. But they are also realistic that their focus has to stay squarely on what is in front of them.
The biggest thing the Steelers need to do to turn around their season is get back to what has worked for them for so long. That starts with stopping the run. As much as some Steelers fans want to lay blame for the defense's failings on LeBeau -- and the fact that he is 76 -- the reality is this: LeBeau didn't suddenly forget how to coach. However, his defense doesn't work if the Steelers can't stop the run and force teams into obvious passing situations.
Offensively, the Steelers have been at their best this season when they have established balance. If they want to take better care of Roethlisberger, who is taking another beating this season, they need to limit his passing attempts. The best way to do that is establish the ground game and run Bell early and often. Sounds easy enough, no?
August, 25, 2012
8/25/12
10:41
PM ET
Ben Roethlisberger
looked like his old self for the first time this preseason in the Steelers'
38-7 victory
over the
Buffalo Bills
.


It took until the third game of the preseason for it to happen. It also took the Steelers getting backed up to their end zone with under two minutes left in the first half.
Not sure whether he suddenly felt comfortable in Todd Haley's new offense or he just got ticked off after getting penalized for 12 men in the huddle, but Roethlisberger marched Pittsburgh down the field on an 11-play, 98-yard drive that he capped with a six-yard touchdown pass to
Antonio Brown
. He completed seven of eight passes for 92 yards on that drive.
For most of the preseason, it's been a conservative passing attack for Roethlisberger. Even his longest pass of the preseason -- a 57-yard touchdown to Brown -- was the result of a long run after a short throw.
In Buffalo, after a sluggish start that featured four dropped passes, the key play was Roethlisberger throwing a deep back-shoulder toss to running back
Jonathan Dwyer
for 33 yards to convert a third-and-9. He then finished off the marathon drive by hitting Brown with 13 seconds remaining in the first half.
Here are some other thoughts from the Steelers' third preseason game:
Head coach Mike Tomlin called the injury to the right knee of right guard David DeCastro "potentially severe" after the game. He is scheduled for an MRI on Sunday. DeCastro was carted off early in the first quarter after right tackle Marcus Gilbert fell on the leg of the Steelers' first-round pick. Ramon Foster is adequate if you need him to fill in, but he is a marginal starter over an entire season. That's why the Steelers used the 24th overall pick on DeCastro.
The other injury concern is defensive end Brett Keisel, who has a mild high-ankle sprain, according to Tomlin. He is expected to be ready for the season opener. The Steelers have less of a worry at this spot because they have a solid replacement in Cameron Heyward, a 2011 first-round pick.
Other than that long pass to Dwyer, Roethlisberger didn't really try to stretch the field. He went deep one other time, but Emmanuel Sanders dropped the throw down the right sideline. Mike Wallace is reportedly ending his holdout Sunday.
Outside of that final drive in the first half, the Steelers offensive line had problems moving a physical Buffalo defensive front. Foster and left guard Willie Colon got pushed back in pass protection, and there were few running lanes for Isaac Redman (24 yards on 12 carries). On one play, center Maurkice Pouncey got called for holding after he grabbed the left leg of Kyle Williams. Even on Redman's touchdown run, he had to push back two Bills defenders who met him in the hole.
Forcing turnovers has been a priority for the Steelers, who finished last in the NFL last season with 15 takeaways. Pittsburgh came away with three turnovers against the Bills, forcing a fumble and intercepting Bills backup quarterback Vince Young twice. The Steelers converted touchdowns off all three turnovers.
Brown remains the focal point of the Steelers' passing attack, especially with the absence of Wallace. He caught seven passes for 108 yards and two touchdowns, including a 39-yard touchdown from Byron Leftwich. But Brown should've had better numbers than that. He dropped two passes from Roethlisberger early in the game.
The Steelers have to figure out a way to set the edge better in the run game. Bills running back Fred Jackson gained most of his yards by breaking to the outside. He made safety Troy Polamalu look bad in the open field on a 15-yard run. Polamalu, though, rebounded to strip the ball away from Shawn Nelson in the end zone and intercepted Young early in the third quarter.
With James Harrison still out, it was expected that LaMarr Woodley would be the key to the pass rush. On Saturday night, Woodley was more of a presence in pass coverage. He should've intercepted a deflected pass in the first quarter (he dropped it after Bills receiver collided into him) and he later got his hand on a pass while dropping back.
The Steelers backup quarterbacks are making this a tough decision for the coaching staff, although I still see them giving the job to Leftwich. Last week, Charlie Batch was the first to replace Roethlisberger and he completed seven of 10 passes for 84 yards. On Saturday night, Leftwich took over for Roethlisberger and finished 5 of 8 for 105 yards and two touchdowns.
December, 3, 2010
12/03/10
4:00
PM ET
»
NFC Final Word
:
East
|
West
|
North
|
South
»
AFC
:
East
|
West
|
North
|
South
Here are five nuggets of knowledge about Week 13:
[+] Enlarge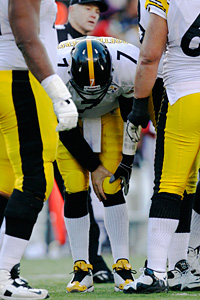 AP Photo/David DupreyThe Ravens will be sure to test Ben Roethlisberger's injured foot Sunday.
Footgate:
Does
Pittsburgh Steelers
quarterback
Ben Roethlisberger
have
a broken foot or is it sprained
? Either way, we will find out how badly injured Roethlisberger is in Sunday's prime-time showdown with the
Baltimore Ravens
. The Pittsburgh Post-Gazette reported Roethlisberger broke a bone in his foot against the
Buffalo Bills
. The report was quickly refuted by the team, which said it's simply "an aggravation of an old injury where scar tissue is present." There often seems to be a shroud of mystery surrounding the extent of Roethlisberger's injuries. But look for the Ravens to test his mobility with first place in the AFC North hanging in the balance.
Boldin's numbers:
Ravens receiver
Anquan Boldin
's numbers have dipped in the past month, as teams have put more emphasis on stopping the three-time Pro Bowl receiver. He has only 13 receptions in the past four games, but Boldin said he's not concern with numbers because the Ravens are 8-3. Baltimore acquired Boldin in an offseason trade with the
Arizona Cardinals
, and his presence has opened things up for teammates
Derrick Mason
,
Todd Heap
and
T.J. Houshmandzadeh
to make more big plays the past few weeks. Steelers defensive coordinator Dick LeBeau usually takes away an opponent's best option, which means Boldin could see plenty of coverage again.
Interior concerns:
An area where the Ravens have a huge advantage over Pittsburgh is on the defensive line. Buffalo's defensive line, and particularly
Kyle Williams
, gave the Steelers a lot of problems last week. Roethlisberger was sacked five times against the Bills, including the hit that twisted his foot. The Ravens have
Haloti Ngata
,
Terrell Suggs
and waves of defensive linemen to throw at Pittsburgh's struggling and banged-up offensive line. If Baltimore wins this matchup, it will go a long way toward slowing Pittsburgh's offense.
Passing attack:
Can the
Cincinnati Bengals
defend the passing game of the
New Orleans Saints
? Entering the season, Cincinnati's pass defense was the strength of the team. But injuries at safety and cornerback have made this an unexpected area of concern. New Orleans is third in the NFL in passing with a variety of weapons and a dynamic quarterback in
Drew Brees
. The Saints are the type of team Cincinnati doesn't want to face right now. It also doesn't help that New Orleans is on a four-game winning streak.
Delhomme gets another nod:
Cleveland Browns
quarterback
Jake Delhomme
will be the starter for the second straight week against the
Miami Dolphins
. Cleveland's revolving door at quarterback has been a big topic of discussion all season. It's questionable whether Delhomme -- who has one touchdown, six interceptions and a 54.2 passer rating -- has earned another start. But Browns coach Eric Mangini remains confident in the veteran, who is making $7 million this season. Rookie quarterback
Colt McCoy
(ankle) is hurting, but backup
Seneca Wallace
is healthy and has put up much better numbers (88.5 passer rating) in his four starts.
December, 2, 2010
12/02/10
3:30
PM ET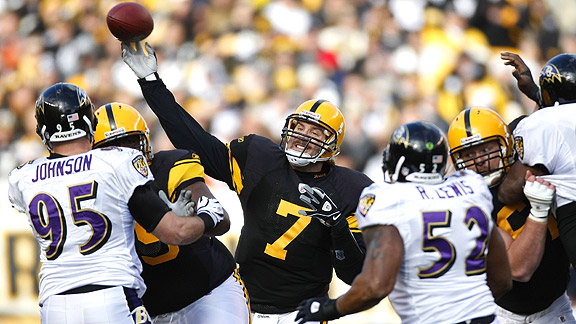 Gregory Shamus/Getty ImagesSteelers quarterback Ben Roethlisberger is 7-2 in his career against the Ravens.
OWINGS MILLS, Md. --
Baltimore Ravens
head coach John Harbaugh has never beaten
Pittsburgh Steelers
quarterback
Ben Roethlisberger
. Neither has quarterback
Joe Flacco
, or the other Ravens who joined the team within the past four seasons.
Similar to
Indianapolis Colts
quarterback
Peyton Manning
, Roethlisberger has been one of the biggest thorns in the side of the Ravens (8-3). Roethlisberger is 5-0 against Baltimore since 2007 and 7-2 in his career against his biggest rival. The only two losses came in 2006, which was the year of Roethlisberger's motorcycle accident.
"That's a horrible stat," Ravens linebacker/defensive end
Terrell Suggs
admitted this week.
Can Baltimore break its five-game losing streak against Roethlisberger in Sunday's matchup against Pittsburgh (8-3) at M&T Bank Stadium? With first place in the AFC North hanging in the balance, this would be a perfect time for the Ravens to end their drought.
The AFC North blog teamed up with its resident scout -- Matt Williamson of Scouts Inc. -- to map out four ways the Ravens can beat the two-time Super Bowl winning quarterback.
1. Bring pressure, collect sacks
Analysis:
Roethlisberger was sacked eight times in his two losses as starting quarterback this season against the
New Orleans Saints
and
New England Patriots
. The
Buffalo Bills
also sacked Roethlisberger five times during last week's 19-16 overtime win for the Steelers. That was a common theme in the three games Pittsburgh's offense struggled under Roethlisberger. Rushing the passer hasn't been Baltimore's strongest area, but it seems to be improving and getting more disruptive as of late.
Tampa Bay Buccaneers
quarterback
Josh Freeman
was flushed out the pocket several times and looked uncomfortable last week in Baltimore's win.
"I would come after them," Williamson said. "I think Pittsburgh's blitz recognition, as a whole, is a weakness. Their blockers don't pass off blitzers very well, and a lot of Pittsburgh's linemen don't have a lot of experience, including
Maurkice Pouncey
, who is their best guy."
2. Win the pre-snap battle
Analysis:
Something I believe the Steelers do very well is mask their blitzes. Defensive coordinator Dick LeBeau is very good at showing different fronts to confuse the quarterback with who's coming and who's dropping into coverage. By the time Pittsburgh shows its coverage, it's too late because there's pressure on the quarterback. I think the Ravens and defensive coordinator Greg Mattison can better implement disguises in their defense to confuse Roethlisberger. If so, Roethlisberger's penchant for holding the ball too long could result in sacks and perhaps a big turnover or two.
"I don't think Roethlisberger is a very good pre-snap quarterback," Williamson explained. "A guy like Peyton Manning is tremendous pre-snap, recognizing the defense well before the ball is even snapped. Ben is more reactionary, more sandlot: The ball is snapped, this is what I see, now make something happen and get it there."
3. Take advantage of offensive line woes
Analysis:
Pittsburgh's offense line is banged up and has a lot of moving parts. The Steelers lost starting left tackle
Max Starks
(neck) for the season and have rotated players at both guard positions. Baltimore's defensive line, led by Pro Bowler
Haloti Ngata
, should be able to win most battles at the line of scrimmage. That would stuff Pittsburgh's running game and put Roethlisberger in a lot of 3rd-and-long situations.
"If you look at the Steelers' guards, they are really bad, and [tackle]
Jonathan Scott
on the edge is a real problem," Williamson said. "There's a lot of one-on-one matchups there that favor Baltimore's defensive front. We saw a huge one last week with [Buffalo] defensive tackle
Kyle Williams
."
[+] Enlarge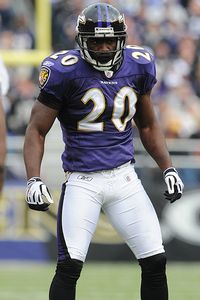 Al Messerschmidt/Getty ImagesIf Ed Reed can keep Mike Wallace in check, Pittsburgh's offense should be much less explosive.
4. Use Ed Reed to take away the deep ball
Analysis:
In his first press conference after returning from his four-game suspension, Roethlisberger noticed something while watching the games on television. "It looks like
Mike Wallace
got faster," Roethlisberger said. The quarterback was very excited about the prospect of connecting with Wallace on big plays this year, and the pair hasn't disappointed. Wallace is having a breakout season, already setting new career highs in yards (792) and touchdowns (eight). Wallace is averaging 22.0 yards per reception, as he has been able to consistently get behind the defense. This is where Reed comes in. The dynamic safety was absent from the first meeting due to offseason hip surgery. But Reed is back and making big plays again. He already has four picks in five games. If Reed can help keep Wallace under wraps, a big part of Pittsburgh's offense will be taken away from Roethlisberger.
"I think they will take shots downfield every game if they can," Williamson said of the Steelers. "Ben is a very good deep thrower and it ties in very well with Wallace, who is obviously an elite deep threat with crazy speed. Pittsburgh is aggressive in that way. They don't have any reservations about throwing deep, and I think they want to go deep no matter what defense they're playing."
If Baltimore can accomplish these four things, it has a great chance of ending its five-game losing streak against Roethlisberger. This is one of the many great chess matches in this rivalry, where the winner will have the inside track to capture the AFC North division title.
April, 23, 2010
4/23/10
8:31
AM ET
Here are the most interesting stories Friday in the AFC North:
Morning take: The Ravens got three quality picks from the Denver Broncos, but they also passed on cornerback Kyle Wilson and defensive linemen Jared Odrick and Dan Williams. Time will tell if they made the right call.
Morning take: I have to pat myself on the back for nailing this pick way in advance. I held firm to the good information I was getting that Cincinnati was very interested in Gresham and tight ends in general, despite getting a ton of heat for weeks from Bengals followers.
Morning take: This means that "Big Ben" will remain on the team next season. I never got a strong sense he would be traded in the first place.
Morning take: After trying hard to get Sam Bradford and missing on Eric Berry, I just don't get the sense Haden was Plan A for Cleveland. Haden is a good player, but a surplus of corners on a struggling, rebuilding team doesn't fully add up.