February, 24, 2013
2/24/13
9:30
AM ET
I will provide my take on all things NFL combine Monday. For now, it's time to tackle some questions sent to the AFC North mailbag ...
Justin from Canton, Ohio
: I have no confidence in (Browns vice president of player personnel) Mike Lombardi. I still do not have a clue why the Browns hired him. What will have to happen for him to get fired?
badbrown4life from Honolulu
: I'm a true-blue Browns fan, born in Cleveland, living in Hawaii. Imagine all the jokes I suffer. Here are my questions: What has Mike Lombardi done to earn his current job with the Browns? I like the coaching staff, but can they overcome the bumbling of (chief executive officer Joe) Banner & Lombardi combined?
Jamison Hensley from AFC North headquarters
: Justin and badbrown4life, you're not alone in your skepticism of Lombardi. But you're going to have to get used to him for a while. When Banner introduced Lombardi at the introductory press conference, Banner showed his commitment to this hire when he said, "There's no question he's near or at the top of quality talent evaluators." So it would look bad on Banner if this marriage ended quickly.
My skepticism of Lombardi is based on a couple of instances. When he was with the NFL Network, Lombardi bashed Tom Heckert's last draft as well as the addition of wide receiver
Josh Gordon
in the supplemental draft. This is the same draft that produced seven promising prospects (and three immediate starters): running back
Trent Richardson
, quarterback
Brandon Weeden
, offensive tackle
Mitchell Schwartz
, defensive linemen
Billy Winn
and
John Hughes
, linebacker
James-Michael Johnson
and wide receiver-returner
Travis Benjamin
. The other part that puzzles me is the fact Lombari has only received one interview over the past five years and that was the 49ers two years ago. It just doesn't add up for me.
---
Dave from Kensington, Md.
: Which position do you think the Steelers feel most confident with their current (non-free-agent) personnel, and consequently are least likely to spend a early-to-mid-round draft pick on: inside linebacker, nose tackle, quarterback or safety?
Hensley
: Dave, in order of
least
importance, this is how I see it: quarterback, nose tackle, safety and inside linebacker. Yes, it would be beneficial to get a younger backup to develop behind
Ben Roethlisberger
, but it's nowhere close to being the same need as nose tackle, safety and inside linebacker. At nose tackle, the Steelers lose
Casey Hampton
but still have
Steve McLendon
and
Alameda Ta'amu
(even though he screwed up majorly last season). Pittsburgh should improve its depth at safety considering the age of
Ryan Clark
and
Troy Polamalu
(and Polamalu's injury history). The biggest need is inside linebacker because, even if
Larry Foote
comes back, you're not sure if
Stevenson Sylvester
can start in this league and when
Sean Spence
can come back from that brutal knee injury.
---
Ryan from Salt Lake City, Utah
: I was wondering about the Bengals' potential linebacker moves coming up to the draft. With
Vontaze Burfict
's fantastic rookie season and
Thomas Howard
coming back from knee surgery, I feel like there is potential to get a big, run-stopping middle linebacker that would have a great chance to thrive his rookie season between our leading tacklers for the last two seasons. Thoughts?
Hensley
: Ryan, the plan is to move Burfict inside in 2013. There was a report last week that the Bengals would only consider bringing back
Rey Maualuga
as an outside linebacker because the preference is to go with Burfict in the middle. It's uncertain whether the Bengals will re-sign Howard, who is a free agent in March. He has to prove he is healthy enough to play this season after going down with a season-ending ACL injury in a Week 2 practice.
---
Dirk from Everett, Wash.
: What are the chances the Browns use some of that salary-cap space to try to lure
LaRon Landry
in at free safety? I'd love to see an experienced playmaker next to
T.J. Ward
.
Hensley
: Dirk, the Browns should be active in free agency. I just don't think Landry is a good fit. He's too similar to T.J. Ward in that he is a physical presence who can make an impact in run support. The Browns need someone who is a free safety and be a factor in coverage. Also, with the amount of money it will take to get Landry, it's a gamble considering his injury history.
---
Hans from Bel Air, Md.
: With the likely departure of
Bryant McKinnie
(unless he comes back as a bargain basement free agent), does this mean a return of "The Human Turnstile" aka
Michael Oher
to the Blind(ed) Side?
Hensley
: Hans, I know you're not going to like this answer, but I see Oher going back to left tackle. The Ravens won't have the money to go after a legitimate left tackle like
Jake Long
and they don't draft high enough to get a tackle who can start immediately on the left side. Sure, there is a chance that McKinnie could come back, but the Ravens can't depend on him after his weight issues in minicamp and his absence at the start of training camp. General manager Ozzie Newsome has repeatedly said how much he likes the young guys on the offensive line. I believe he's telling everyone that the guys on the roster now will be the guys who will will start on the offensive line.
---
Charles from Augusta, W.Va.
: So when Mel Kiper's and Todd McShay's second mock drafts came out, I found their picks for the Browns to be interesting. I had no problem with Mel's selection, but in Todd's draft he had
Jarvis Jones
falling to the Jets. Now I ask you: if Jarvis Jones falls to the Browns at No. 6, why wouldn't they take him? With the Browns' well-documented switch in defensive philosophy, it would seem like Jones would be a perfect fit in our defense now as a pass-rushing outside linebacker opposite of
Jabaal Sheard
who can also stop the run and drop-back and cover someone. What are your thoughts on this?
Hensley
: Charles, I'm in total agreement with you. If Jarvis Jones, the linebacker out of Georgia, is there at No. 6, the Browns would be crazy to pass him up. The big question is his medical history. Jones suffers from a condition called spinal stenosis, which is the narrowing of the vertebrae in his neck. The only way the Browns pass on him is if they're concerned that this condition will hinder his playing career.
---
Jody from Hastings, Pa.
: Should the Steelers consider waiving
LaMarr Woodley
and keeping
James Harrison
? I know Woodley is younger but has been more injury-prone. Harrison had surgery late last season and played more games than Woodley. Your thoughts?
Hensley
: Jody, there is a zero percent chance of this happening. The Steelers are disappointed in Woodley's season in 2012, but they're not giving up on him this quickly. Plus, the cap hit would be more than $8 million. The Pittsburgh coaching staff wants to keep Harrison. The front office, however, likely won't do it at his current $6.57 million salary. Harrison said he won't take a pay cut. The Steelers have to either be creative with some restructuring or part ways with the 2008 NFL Defensive Player of the Year.
---
Vince from Virginia Beach, Va.
: If
Ed Reed
doesn't come back, what do you think of the idea of
Jimmy Smith
moving to safety?
Lardarius Webb
will be back and, with
Corey Graham
and
Chykie Brown
stepping up, wouldn't it be a cheaper option to just move Smith to safety?
Hensley
: Moving a corner to safety is what you do to an aging player to get a few more years out of him, like a
Rod Woodson
or
Charles Woodson
(or anyone named Woodson, it seems). The Ravens still believe in Smith as a cornerback. If they didn't, he wouldn't have been on the field in the Super Bowl when they were backed up against their goal line. Shifting Smith to safety would be a desperation move. Even though Smith has been a disappointment so far, the Ravens are far from that point with him.
---
Karl from Rapid City, S.D.
: Just a note to thank you for blogging the AFC North. I'm a Bengal fan and would prefer the division still be called the AFC Central.
Hensley
: Thank for the note. Just hearing AFC Central, it makes me think of Three Rivers, Riverfront and Cleveland Municipal Stadiums. Those places housed good memories, but I don't think even the die-hard fans would like to go there.
May, 3, 2011
5/03/11
1:00
PM ET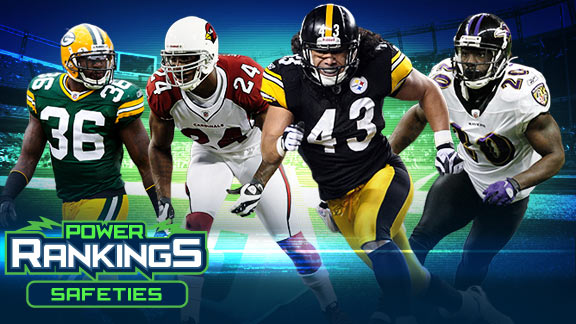 ESPN.com IllustrationPittsburgh's Troy Polamalu (43) and Baltimore's Ed Reed (20) were the consensus top picks in the ESPN.com safety Power Rankings.
ESPN.com's NFL writers rank the top 10 safeties in the league today. Next week: top 10 owners.
When it comes to rating NFL safeties, there's
Troy Polamalu
and
Ed Reed
followed by a huge gap before everyone else.
As expected, the star safeties for the
Pittsburgh Steelers
and
Baltimore Ravens
dominated ESPN.com's positional Power Rankings this week. No other safety received a vote higher than third place.
But what is surprising is that Polamalu -- the reigning NFL Defensive Player of the Year -- became the first player in this year's series to sweep all eight first-place votes. Bill Belichick of the
New England Patriots
did the same
among head coaches
.
This should finally put to rest the
"Troy Reed" debate
that has been raging for years between these two great safeties. According to our panel, there is a clear separation between the two. Reed received all second-place votes to finish with 72 points.
"Polamalu and Reed are the secondary's version of
Tom Brady
and
Peyton Manning
. They are the gold standard of safety play," AFC West blogger Bill Williamson said. "While Reed is great, Polamalu is stunning. I've never seen him play and not make a jaw-dropping play."
Both safeties have different styles. But our panel preferred Polamalu's versatility to play closer to the line of scrimmage. Steelers defensive coordinator Dick LeBeau uses Polamalu all over the field to help defend both the run and the pass.
Reed is more of a ballhawking safety who defends the deep portion of the field. He led the NFL with eight interceptions last season despite missing six games because of offseason hip surgery.
"Taking nothing away from Ed Reed, who is a great player in his own right, but Troy Polamalu is the first guy I think of when I think of safeties," NFC South blogger Pat Yasinskas said. "He's been a huge force in Pittsburgh's recent championships. He's just a great all-around player and still in the prime of a career that's going to land him in the Hall of Fame on the first ballot."
Don't fret, Reed supporters. Someone is in your corner.
Earlier this year I interviewed
former five-time Pro Bowl safety and current ESPN analyst
Darren Woodson
, who said he would choose Reed over Polamalu.
"As far as changing the game, I would probably start my defense with Ed Reed, to be honest with you," Woodson explained. "I know I can put him in any situation. I know I can put him on any team, and he will be the free safety in the middle of the field who makes plays on the ball. Now, Troy, it will be a little different. If you put him in a conventional defense, he's probably not going to be the same guy."
The best of the rest:
There wasn't much of a consensus after Polamalu and Reed.
Fresh off a big interception return for a touchdown in Super Bowl XLV,
Nick Collins
of the
Green Bay Packers
finished third with 56 points. But Collins received votes as high as third and as low as seventh. He was a distant 24 points behind Polamalu and 16 points behind Reed.
Adrian Wilson
of the
Arizona Cardinals
finished fourth, but he drew the widest range of votes among safeties in the top 10. ESPN.com senior writer John Clayton and Bill Williamson ranked Wilson No. 3, and NFC North blogger Kevin Seifert ranked Wilson No. 10.
In the final tally,
Kansas City Chiefs
upstart
Eric Berry
was fifth,
Michael Griffin
of the
Tennessee Titans
placed sixth and
Donte Whitner
of the
Buffalo Bills
finished seventh. New England Patriots safety
Brandon Meriweather
was eighth,
Antrel Rolle
of the
New York Giants
was ninth and the
Indianapolis Colts
'
Antoine Bethea
and
LaRon Landry
of the
Washington Redskins
tied for 10th.
"There is a pretty wide gap for sure after the top two," said Matt Williamson of Scouts Inc. "Nick Collins would be my third safety, but the gap is pretty large. I think it is because Troy and Reed are just so good."
Seventeen safeties received votes, which was the second-highest total to date in our Power Rankings. Last month, 23 cornerbacks received votes for our top 10.
In addition, every voter had at least one player on his ballot who failed to make the cut. For example, NFC West blogger Mike Sando and I both voted for longtime
St. Louis Rams
safety and current Redskin
Oshiomogho Atogwe
, who finished 14th.
"I really struggled putting together the list after Polamalu and Reed," Sando said. "I kept shuffling around names and eliminating various guys, only to revive them out of necessity. This wasn't a list to feel good about."
What about Bob?
It was not long ago when
Bob Sanders
was mentioned in the same sentence as Reed and Polamalu. When healthy, Sanders was a game-changing safety and helped lead the Indianapolis Colts to a Super Bowl title after the 2006 season.
But for the past three seasons, Sanders has been injured and spent more time off the field than on it. The Colts cut Sanders, and he was picked up this offseason by the
San Diego Chargers
.
It's dramatic how fast and how far Sanders has fallen out of the conversation. He didn't receive a single vote from our panel.
"Sanders just hasn't played," AFC South blogger Paul Kuharsky explained. "In his prime and healthy, he's fantastic. But who knows if we will see that again. He's played nine games in the last three years. There is no reason to even consider him for a list like this at this point."
The next generation:
Polamalu (30) and Reed (32) will not play forever. Therefore, someone needs to step up as the next great safety to carry the torch Polamalu and Reed will leave behind.
Berry, 22, is the most likely candidate. The 2010 first-round pick was voted in the top five after helping lead the Chiefs to the postseason. Berry recorded 92 tackles, two sacks and four interceptions his rookie season.
"I think it's safe to project that Berry will be the premier safety in the NFL in the second half of this decade," Bill Williamson said. "He became the signature player on a surprise playoff team as a rookie. Soon, he will be the face of a rising organization."
Other up-and-coming candidates include Whitner (25), Bethea (26) and Landry (26).
Seattle Seahawks
safety
Earl Thomas
, 21, also garnered votes from two panelists.
"Eric Berry and Earl Thomas should lead the next wave of top safeties," Sando said. "Berry's peers voted him among the top 100 players in the game for 2011, but I think it's premature to say Berry or any other second-year player is going to become the next Polamalu or Reed. Those guys have set such a high standard."

AFC NORTH SCOREBOARD
Thursday, 9/11
Sunday, 9/14