AFC North:

LeCharles Bentley
June, 24, 2013
6/24/13
10:00
AM ET
Cleveland Browns
wide receiver
Josh Gordon
's bad judgment surfaced once again this offseason. Two weeks after the NFL announced Gordon had been suspended for two games, he decided to wage a Twitter war with Cleveland fans.
After the Miami Heat won its second straight NBA championship, Gordon posted this on Twitter:
Y'all can find me atvthe champions parade on the #winners float.. #sorry

— Josh Gordon (@JOSH_GORDONXII) June 21, 2013
Earlier in the night, Gordon riled up fans in Cleveland, where LeBron James is Public Enemy No. 1, by posting on Twitter: "The haters creeping back into the couches right now.. #HeatNation"
Gordon can root for whatever NBA team he wants. He signed with the Cleveland Browns, not Cavaliers. And athletes aren't going to look at LeBron James like someone from the Dawg Pound. Players are going to support another's right in free agency to go where he desires. To be honest, Gordon certainly isn't in the wrong to cheer for James.
Where Gordon erred was his handling of the situation. He seemed to enjoy antagonizing the same fan base that buys the tickets which helps pay for his salary -- well, excluding the four weeks of pay checks the NFL will take from him for violating the substance abuse policy. This is why you have to seriously question Gordon's decision-making. When you already made a mistake this offseason, you should do everything in your power to endear yourself to fans and not taunt them.
Gordon wasn't the only Browns player who publicly showed support for James, who famously took his talents from Cleveland to South Beach three years ago. Defensive tackle Phil Taylor put this
on Twitter
: "Goodnight! Imma still love Cleveland when I wake up. #GoBrowns"
But it was Gordon who took the brunt of the criticism. Former Pro Bowl center
LeCharles Bentley
, a native of Cleveland, called out Gordon with a series of tweets, including:
Not a good look bro, @JOSH_GORDONXII riding shotgun with champions when your team sucks makes you a scrub. I'm done... #DamnKids

— LeCharles Bentley (@LeCharlesBent65) June 21, 2013
Immaturity has long been a problem for Gordon, who failed three drug tests in college. The Browns took a chance on him by selecting him in the second round of last year's supplemental draft. But that was the old regime. The new one doesn't have any ties to him. New general manager Mike Lombardi once labeled Gordon a "waste" of a supplemental draft choice when he was an analyst with the NFL Network. Gordon's actions this offseason won't do much to put him in the team's -- or city's -- good graces.
May, 12, 2012
5/12/12
10:00
AM ET
The first day of rookie minicamp was supposed to represent a new start with running back
Trent Richardson
and quarterback
Brandon Weeden
getting on the field for the first time. Instead, the day was marred by the
Cleveland Browns
' continued run of bad luck.
Head coach Pat Shurmur announced that defensive tackle
Phil Taylor
would need
surgery to repair a torn chest muscle
and could miss the upcoming season.
Taylor
"It was just one of those things that happens," Shurmur said Friday. But why does it always seem to happen to the Browns?
In May 2005,
Kellen Winslow
's season ended when he
tore the anterior cruciate ligament
in his right knee in a motorcycle crash. In July 2006,
LeCharles Bentley
's season was done after he sustained
an injury to his left knee
on the first team drill of training camp. And middle linebacker
D'Qwell Jackson
missed 26 games in 2009-10 because of two pectoral muscle injuries.
The latest rough turn of events occurred Thursday when Taylor injured himself. It didn't occur on the field and it wasn't the result of a hit. Taylor tore his left pectoral muscle while doing bench presses in the weight room.
Taylor posted this message on Twitter: "Just a bump in the road. Got [to] work hard and come back -- Strong."
Injuries aren't the only reason why the Browns have lost 117 games since returning to the league 11 seasons ago. The instability in the front office and coaching staff shows Cleveland has struggled to find and develop talent.
It just seems like the Browns are dealing with a setback even before the regular seasons begins. This time, the injury hurts an already weak spot on the Browns team.
Even with a run-stuffer like Taylor, the Browns gave up 147.4 yards on the ground per game last season, which was third-worst in the NFL and last in the AFC. In comparison, the Ravens (92.6 yards rushing allowed), Steelers (99.8) and Bengals (104.7) all ranked in the top 10 in run defense last season.
The likely replacement is rookie sixth-round draft pick
Billy Winn
. Third-round nose tackle
John Hughes
could also figure into the competition. The interesting part is Winn and Hughes are roommates.
"We've already started to create that little bond," Winn told the
Cleveland Plain Dealer
. "We're roommates so we've been doing a little chatting and going over the playbook. We'll help each other out and compete against each other and make each other better."
December, 21, 2010
12/21/10
11:00
AM ET
There are a lot of things you can criticize about the inconsistent play of the
Cleveland Browns
(5-9) this year. Yet, one thing that has been consistent is the team's toughness.
But as the Browns wrap up the final month of the season, is their physicality starting to fade?
[+] Enlarge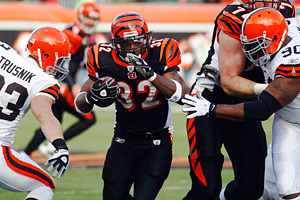 AP Photo/David KohlCedric Benson racked up a lot of carries (31) and rushing yards (150) against Cleveland Sunday.
The Browns were manhandled in the trenches of back-to-back losses against the lowly
Buffalo Bills
(4-10) and
Cincinnati Bengals
(3-11), and now whispers of the infamous "S" word are starting to permeate in Cleveland.
Is it possible the Browns are going "soft" down the stretch?
Former two-time Pro Bowler and Cleveland radio personality
LeCharles Bentley
believes that's the case.
On ESPN's WKNR 850AM
Monday Bentley, a former offensive lineman for Cleveland and the
New Orleans Saints
, didn't hold back when he described the Browns as "green-sticker nice guys" and not nearly as tough as they thought they were.
Ouch!
A few weeks ago toughness was never a question. Despite their lack of talent, the Browns were willing to bang heads with anyone for four quarters offensively and defensively, which made for competitive games. Only two of Cleveland's nine losses this year have come by more than a touchdown.
But lately the Browns have looked uninterested while getting pummeled by inferior opponents. Buffalo and Cincinnati outgained Cleveland in rushing by an astounding 380-164 margin. Bengals tailback
Cedric Benson
and Buffalo's
Fred Jackson
-- not necessarily household names -- combined for 262 rushing yards.
Whether it's a two-week anomaly for Cleveland remains to seen. But the Browns' toughness certainly will be tested down the stretch against two of the NFL's biggest bullies: the
Baltimore Ravens
(10-4) and
Pittsburgh Steelers
(10-4).
Will the Browns rediscover their physicality to end the season or continue to get pushed around?
July, 23, 2010
7/23/10
12:19
PM ET
By
ESPN.com staff
| ESPN.com
June, 26, 2009
6/26/09
2:52
PM ET
Posted by ESPN.com's James Walker
There had been speculation for months -- and perhaps longer -- that someone would eventually take the Cleveland Browns to court over their staph infection problem.
It turns out former Browns receiver Joe Jurevicius was the first to take the plunge.
Jurevicius, an 11-year NFL veteran, is reportedly suing his former team for negligence over a staph infection he received in his right knee last year. He has since been released by the Browns.
Several current and former Browns have had similar health problems with staph, including Braylon Edwards, Kellen Winslow Jr., LeCharles Bentley and Brian Russell. There are approximately seven known cases of staph infections linked to the Browns in recent years.
Jurevicius is a Cleveland native and very well-respected within the Browns' family and his community. Most likely, he wouldn't have gone as far as suing a team he grew up rooting for unless Jurevicius legitimately feels his playing days were cut short by staph.
March, 4, 2009
3/04/09
12:00
PM ET
Posted by ESPN.com's James Walker
The AFC North has been a competitive division since its inception and realignment in 2002.
Every team has won the division or finished tied for the best record at some point the past seven seasons. A major reason for a team's success or lack thereof can be traced to good or bad moves in free agency.
This year all four teams have opted for a conservative approach to free agency. Quality players such as T.J. Houshmandzadeh, Bart Scott, Jason Brown and Nate Washington left the AFC North for greener pastures, because teams in the division were unwilling to dole out huge contracts.
Building through the draft is a way to create a quality contender long term. But free-agent signings also can get a team to the next level as long as it's the right move at the right time.
With that in mind, here are the five best bargains and worst free-agent busts in the AFC North. These 10 signings helped teams win Super Bowls and playoff games, or led to disastrous seasons in the division.
Kudos to ESPN.com's research team for giving me a comprehensive list of players from the past seven years.
Five best signings
1. James Farrior, LB, Pittsburgh Steelers
Year: 2002
Amount: Three years, $5.5 million
Analysis: In the first year of the new division alignment, the Steelers hit the jackpot, signing Farrior from the New York Jets to the bargain basement price of $5.5 million over three years. Farrior played tremendous football over that three-year period and continues to play that way during his two title runs with Pittsburgh, making him the top free-agent bargain in the AFC North's short history.
2. Derrick Mason, WR, Baltimore Ravens
Year: 2005
Amount: Five years, $20 million
Analysis: Considering the production and the position, Mason continues to be a tremendous bargain for the Ravens. He joined the team four years ago and has three 1,000-yard seasons and a total of 337 receptions in that span. In 2008, Mason led Baltimore with 80 receptions for 1,037 yards as he helped rookie quarterback Joe Flacco emerge on the scene. Mason is entering the final year of his contract and still going strong at age 34.
3. Ryan Clark, S, Pittsburgh Steelers

Year: 2006
Amount: Four years, $7 million
Analysis: Clark signed with Pittsburgh in 2006 as a journeyman safety and has been in the starting lineup ever since. Clark has started in 32 of 33 career games for the Steelers and has recently developed the reputation as one of the league's most ferocious hitters. Clark is a solid complement in the back line to the free-willing Troy Polamalu, who often positions himself all over the field. Coming off a Super Bowl run in 2008, Clark still has one year left on this original deal with Pittsburgh at a bargain basement price.
4. Jamal Lewis, RB, Cleveland Browns
Year: 2007
Amount: One year, $3.5 million
Analysis: So far Lewis has been the best one-year rental in AFC North history. The Browns believed "a hungry Jamal was a good Jamal," and they were right as Lewis ran wild for 1,304 yards on a one-year contract and nearly carried the Browns to the postseason. After the brief tryout, Cleveland signed Lewis to a three-year deal in 2008 with mixed results. It's clear the Browns won't get the same bargain they received in 2007.
5. Eric Steinbach, G, Cleveland Browns
Year: 2007
Amount: Seven years, $49.5 million
Analysis: At the time of Steinbach's signing, he was briefly the highest-paid interior lineman in the NFL. Some felt the Browns overpaid for a player who never made it to the Pro Bowl. But Steinbach silenced his critics by making it to Hawaii in his first year with the Browns. Cleveland's left side of Steinbach and tackle Joe Thomas didn't have a great year in 2008, but it is still considered one of the NFL's best. The Browns paid a hefty ransom for Steinbach in free agency but also got a Pro Bowl-caliber guard in return.
Five worst signings
1. LeCharles Bentley, C, Cleveland Browns
Year: 2006
Amount: Six years, $36 million
Analysis: Although much could be attributed to awful luck, the Bentley signing is the runaway winner. It looked great at the time as Bentley was the one of the league's best centers and returning to his hometown of Cleveland. Then things quickly went awry as Bentley injured his knee on the first contact drill of training camp in 2006. Surgery followed, then multiple staph infections that turned a one-year recovery into a two years before he was finally cleared in the summer of 2008. Once cleared, Bentley asked for his release and hasn't returned to football. He made $16 million without playing a down for Cleveland. The Bentley signing also was acknowledged recently as one of the 10 worst contracts in free-agency history.
2. Gary Baxter, CB, Cleveland Browns
Year: 2005
Amount: Six years, $30.5 million
Analysis: Baxter was former Cleveland GM Phil Savage's first big free-agent signing, which again, turned out to be awful luck. In Baxter's second season with the team, he blew out both knees while competing for a jump ball. It was the rarest of football injuries. Baxter vowed to return. He made great progress but could never regain playing form. He was cut last summer, ending his football career.
3. Duce Staley, RB, Pittsburgh Steelers
Year: 2004
Amount: Five years, $14 million
Analysis: Even the Steelers make personnel mistakes from time to time. Staley happened to be one of their bigger gaffes in recent memory. What was most surprising is this signing went against nearly every trend the Steelers normally follow. They gave a long-term, big-money contract to an outside free agent, who was pushing 30 (Staley was 29 when he signed). On cue, Staley had one decent year and hit a wall in terms of health and performance at 30. Pittsburgh was desperate to find a complement to the aging Jerome Bettis, and Willie Parker eventually beat out Staley for the job, leaving him as a high-paid, injury prone and little-used player in the final two years of his deal.
4. Donte' Stallworth, WR, Cleveland Browns
Year: 2007
Amount: Seven years, $35 million
Analysis: This pick may be premature, but the size of the contract and lack of first-year production earned Stallworth a spot on this list. The receiver was expected to take a 10-win team to the next level, but caught only 17 passes for 170 yards in 2008. He was often injured and even hurt teammate Braylon Edwards for several weeks by stepping on his foot in training camp. If anyone needs to start over and have a big season in 2009, it's Stallworth.
5. Antwan Odom, DE, Cincinnati Bengals
Year: 2008
Amount: Five years, $29.5 million
Analysis: Similar to Stallworth, Odom is just one year into his deal and can quickly work his way off this list. But for now, it's hard to ignore his 28 tackles and three sacks of production combined with the average annual salary of nearly $6 million per season. This especially stands out because it is the largest monetary contract the Bengals ever gave to an external free agent. The previous high was John Thornton's $22.5 million deal in 2003. Injuries slowed Odom's first campaign in Cincinnati. The Bengals should get a better gauge of their investment with a healthier Odom in 2009.
Agree or disagree with this list? Tell us what you think.
February, 12, 2009
2/12/09
4:00
PM ET
Posted by ESPN.com's James Walker
We have lots of mail to catch up on, and I'm trying to answer as many as possible.
Let's dig into some more questions.
Jason from Knoxville, TN writes: Hey James, with the Pro Bowl...how is it that the Ravens' defense got more players into the Pro Bowl over the Steelers' #1 rated defense? Lamarr Woodley not going? Ike Taylor gets hidden in the shadows? What's the deal James?
James Walker: What's up, J. Mills? Overall ranking is not the only determining factor. Pittsburgh was the No. 1 defense in the NFL, but Baltimore was No. 2. I don't think it's an injustice that the Ravens got one more player into the Pro Bowl than the Steelers. The swing vote went to Baltimore linebacker/defensive end Terrell Suggs, who just beat out Steelers outside linebacker LaMarr Woodley. Otherwise, Pittsburgh would have had one more defensive player in Hawaii.
---
Gregory from White Plains writes: Everette Brown: Todd McShay has the Browns taking Brown with the 5 overall pick. Please please please tell me they are not actually considering this. We already tried this with Wimbley and it clearly has not worked out. They wouldn't really try to convert another pass rushing DE from Fl St. to an OLB again would they? I think we've endured enough pain as fans without doing this twice. On a better note: any ideas about who they might be looking at, or even if they might be trying to trade down?
James Walker: It's hard to tell what the new regime in Cleveland is thinking at the moment, Gregory, because it's still putting together a coaching and scouting staff. So I would assume this team is still far from decided its direction in the draft, especially before the combine. But Brown is a possibility because Cleveland needs dynamic talent on defense. Brown is versatile and can play both defensive end and outside linebacker, and you need those players in a 3-4 defense. Just because he's from Florida State, that shouldn't be held against him.
---
Matt from Rancho Cucamonga, CA writes: Hey James, love the coverage you give to the AFC North. With the free agents for the steelers i see them resigning McFadden and either Max Starks or Chris Kemoatu. My question is who do you see them signing as the back up quarterback, Leftwich or Batch or neither?
James Walker: Thanks, Matt. Byron Leftwich likely will not return as he is seeking a starting job or at least a chance to start elsewhere. Charlie Batch is a good possibility to sign a one-year deal. He knows the system. The only question is where is his health at this point coming off a collarbone injury?
---
Todd from Encinitas, CA writes: Mr. Walker, any guesses on what happens with LeCharles Bentley in 2009? Thanks
James Walker: Todd, it's probably a 50-50 chance Bentley returns to football. His life was literally in danger in Cleveland dealing with the multiple surgeries resulting from staph, and going through that plus the business side of football has really soured him on returning. Teams also are questioning his health, which makes it a two-way street.
---
Brian from Latrobe writes: What are the Steelers chances of getting Larry Johnson? I know the Steelers usually don't get "trouble makers" but Johnson is the type of back they need.
James Walker: I don't see it, Brian. Johnson's downhill style would fit, but he costs a lot of money and doesn't seem to fit the Pittsburgh mold inside the locker room. Plus, the Steelers already have a deep running back core with Willie Parker, Mewelde Moore, Gary Russell and the return of 2008 first-round pick Rashard Mendenhall, who should develop into a solid player in his second year.
January, 23, 2009
1/23/09
7:30
AM ET
Posted by ESPN.com's James Walker
Here are the most interesting stories Friday in the AFC North:
Morning take: Pittsburgh's Heath Miller has been solid in the postseason, averaging 16.5 yards per catch. He could be a sleeper in this game.
Morning take: This is not a bad position to fill now that John Thornton likely won't return. But a lineman on either side would work.
Morning take: In reading this story, it doesn't sound like Bentley is too eager to return to football, which is somewhat surprising.
Morning take: Sapp is in the majority. There aren't many who think Lewis should be in another uniform next season.
July, 29, 2008
7/29/08
11:00
AM ET
Posted by ESPN.com's James Walker
With all four training camps officially underway in the AFC North, there is no better time to look into the crystal ball.
But these predictions are a little different because they don't state the obvious. Many are going out on a limb, which could draw responses such as, "Are you crazy?"
With that in mind, here are four fearless predictions from training camp representing each AFC North team:
1. Cleveland Browns: Rookie LB Alex Hall will make the 53-man roster.
This is the most talented team the Browns have had since returning to the NFL in 1999. Still, seventh-round pick Hall from tiny St. Augustine will make the initial 53-man roster. Keep in mind, just one seventh-rounder has made the Browns out of training camp in the Romeo Crennel-Phil Savage era. But Hall, although he's very raw, has just what the Browns need at outside linebacker with athleticism and the ability to rush the passer. Even if that's all Hall can do, it will make it tough for Cleveland to cut him. If Hall proves to be solid on special teams, he could be a lock.
2. Cincinnati Bengals: Marcus Maxwell will win the No. 3 receiver job.

I know what you're thinking. Who is Maxwell? My point exactly. Maxwell has been quietly on the lips of the Bengals' coaching staff all offseason for his playmaking and work ethic in practice. The question is can Maxwell translate that into actual games? Maxwell is big at 6-foot-3. He has nice quickness and great hands. It may be enough to replace Chris Henry in 2008. Check here for a profile on Maxwell from Bengals camp later today.
3. Baltimore Ravens: Joe Flacco will start in week one.

This will not be a shock to regular readers of this blog. I've held this prediction for months since I watched all three quarterbacks throw in minicamp. There are many unknowns with Flacco. First, he's a rookie. Second, he has yet to take a hit. Third, we don't know how well he can read defenses. But Flacco physically is superior to his two competitors, Troy Smith and Kyle Boller. Flacco is taller, throws the best ball and has the strongest arm. That gives him enough of a chance to win the job in week one.
4. Pittsburgh Steelers: LeCharles Bentley eventually will sign with Pittsburgh.

The Steelers and Bengals were two teams within the AFC North that showed preliminary interest in Bentley this summer. Bentley, if healthy, has a chance to make an impact at guard for Pittsburgh. He is a natural center but Justin Hartwig is expected to start there. Although Bentley is a Cleveland native, he was not a happy camper when he left the Browns because of the way his knee injury was handled. So what better way to get back at the Browns by playing for their biggest rival?
July, 14, 2008
7/14/08
8:01
AM ET
Posted by ESPN.com's James Walker
Here is your one-stop shopping for the best stories around the AFC North:
Walker's take: This is an odd time to find work as front offices spend most of July on vacation and negotiating rookie contracts. Bentley will get a look somewhere, even if it's not at the start of training camp.
Walker's take: Two years ago, Ravens rookie head coach John Harbaugh and new assistant Jerry Rosburg may have been the top special teams coaches in the NFL. Now those two minds are together in Baltimore.
Walker's take: I am in total agreement. See for yourself.
Christopher L. Gasper of the Boston Globe did a profile on Donte' Stallworth's move from the New England Patriots to the Cleveland Browns. In the article Stallworth says, "I've been kind of joking with Randy [Moss] and some of the guys that the road to the Super Bowl goes through Cleveland."
Walker's take: Has the road to the Super Bowl ever gone through Cleveland? The last time the Browns won a football championship was in 1964, before the NFL/AFL merger.
July, 9, 2008
7/09/08
10:30
AM ET
Posted by ESPN.com's James Walker

Bentley
There have been several inquiries the past few weeks asking if center LeCharles Bentley's release helps or hurts the salary cap situation of the Cleveland Browns.
The answer is neither. It's a stalemate.
When the Browns restructured Bentley's contract this offseason, they made it a one-year deal worth $605,000. The salary only counted against the cap if Bentley made the team out of training camp.
So, when Bentley asked for his release in June, the Browns neither lost nor gained any cap room. The salary wasn't on the books to begin with unless Bentley made Cleveland's final 53-man roster.
AFC NORTH SCOREBOARD
Sunday, 10/19
Monday, 10/20