May, 9, 2012
5/09/12
1:16
PM ET
After expressing very little interest in other teams' free agents this year, the
Pittsburgh Steelers
have a busy day planned, hosting players on Wednesday, according to ESPN NFL Insider
Adam Schefter
. Kicker
Dave Rayner
, pass rusher
Matt Roth
and linebacker
Brandon Johnson
are all scheduled to meet with the
Pittsburgh Steelers
.

The one that's surprising is Rayner, even though the Steelers should bring in a veteran to compete with
Shaun Suisham
. Rayner, 29, converted 10 of 15 field goals (67 percent) in seven games with the
Buffalo Bills
last year. He's a journeyman -- he's played for eight teams -- who has failed to latch onto a team because of his career 72 percent conversion rate. The Steelers should think about upgrading over Suisham, who made 13 of 21 (62 percent) from beyond 30 yards last season.
Roth and Johnson would be vying for backup jobs. The Steelers didn't address outside linebacker in the draft, which could explain the interest in Roth. He had 3.5 sacks in nine games for the Jaguars last season, which was shortened because of a concussion. Johnson was voted the Bengals' special teams captain last year and can play inside or outside linebacker.
Tight end
Leonard Pope
(Chiefs) is the only unrestricted free agent signed by the Steelers this year who played for another team in 2011.
April, 12, 2012
4/12/12
8:15
AM ET
Every morning, grab a cup of coffee and get your AFC North wake-up call here:
The Baltimore Ravens could be in line to make a repeat appearance on HBO's "Hard Knocks" this summer.
If the New York Jets pass on the show, HBO has interest in featuring the Ravens and San Francisco 49ers, sources told
Fox Sports
. The show, which chronicles training camp, would feature the NFL's head-coaching brothers John and Jim Harbaugh.
A Ravens spokesman told the
Baltimore Sun
that he was unaware of any request from HBO. The Ravens were the first team to be featured on "Hard Knocks" in 2001 when they were defending Super Bowl champions.
The Ravens might not be high on HBO's list anymore. Sources told
ESPNNewYork.com
that HBO has extended an offer to the Atlanta Falcons to be on this year's show.
Hensley's slant
: I would be shocked if the Ravens agreed to be on the show. When the Ravens were on "Hard Knocks" 11 years ago, their head coach was Brian Billick, who never minded the media attention and actually seemed to enjoy it. The same can't be said for John Harbaugh, who seems uncomfortable when the local media shoot parts of the open media viewing of practice. That's why I can't see Harbaugh signing off on cameras in meeting rooms and having it broadcast on national TV.
BENGALS
: The team announced that it re-signed offensive tackle Dennis Roland, who was used mainly as an extra blocking tight end last season after being the primary starter at right tackle in 2009 and 2010. Bengals coach Marvin Lewis also did not completely rule out re-signing Bobbie Williams. "We can't close the door to it," Lewis said, via the
Cincinnati Enquirer
. "What Bobbie has meant to this team, he's been an incredible locker room guy and in the huddle."
Hensley's slant
: The thinking here is that Williams would be a solid fallback option if the Bengals don't like any of the guards available in the early rounds of the draft. I still see the Bengals having a good shot at either Stanford's David DeCastro with the 17th overall pick or Georgia's Cordy Glenn at No. 21.
BROWNS
: The team wraps up its pre-draft visits by meeting with Texas A&M quarterback Ryan Tannehill on Sunday and Monday, according to the
Cleveland Plain Dealer
. The paper believes that the Browns have four options with the fourth overall pick if they decide not to trade down: Tannehill, Oklahoma State receiver Justin Blackmon, Alabama running back Trent Richardson and LSU cornerback Morris Claiborne.
Hensley's slant
: I'm still not buying the Browns' interest in Tannehill at No. 4. There's also a chance that he won't even be available when the Browns are on the clock at this spot. Some predict the Miami Dolphins will trade to move up to No. 3 to take Tannehill.
STEELERS
: Tight end-fullback David Johnson signed his
restricted free-agent tender
, which will pay him $1.26 million this season. The
Pittsburgh Post-Gazette
's Gerry Dulac expects the Steelers to carry three tight ends this season and sees the team cutting Weslye Saunders if it likes recently signed Leonard Pope. Saunders has reportedly been suspended the first four games for violating the NFL's policy on performance enhancing substances.
Hensley's slant
: This scenario could very well happen because the suspension might be causing the Steelers to reconsider why they signed Saunders as an undrafted free agent. He left South Carolina after his junior season because he was kicked off the team in September 2010 for violating team rules. That was one of the reasons teams didn't draft him even though he was regarded as one of the top tight ends coming out of college last year.
April, 11, 2012
4/11/12
10:00
AM ET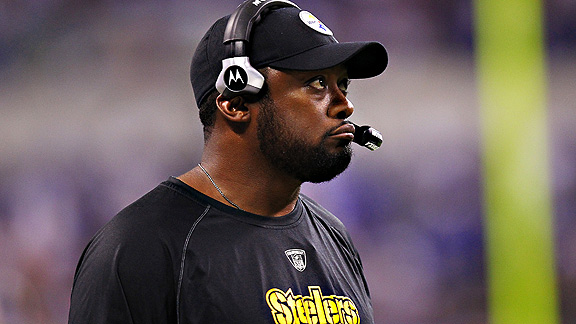 Michael Hickey/US PresswireMike Tomlin and the Steelers need to tap into their draft magic this year more than many.
Nearly a full month into free agency, the Steelers finally signed their first player Tuesday. It was -- yawn --
Leonard Pope
.
Not excited about adding a backup tight end? Well, this is essentially a repeat of last year, when the Steelers' big free-agent signing was wide receiver
Jerricho Cotchery
. Let's face it, Steelers free agency contains as much action as a Sarah Jessica Parker flick. Everyone knows this, and that's why no one is wringing their Terrible Towel over the inactivity.
The Steelers find players in April, not March. They hit on first-round picks every year -- at least in recent memory -- and develop undrafted prospects into starters. No one has built their team through the draft quite like the Steelers this decade. If the season started today, only one of the projected starters (safety
Ryan Clark
) joined the Steelers as an unrestricted free agent.
The Steelers need this remarkable track record in the draft to come through for them again. In some ways, this is the most important draft of the Mike Tomlin era. I'm not saying this is a crucial draft in terms of finding immediate starters. But the pressure is on the Steelers to find "potential" starters for the 2012 season.
The organization lost a piece of its history when it parted ways with wide receiver
Hines Ward
, linebacker
James Farrior
, defensive end
Aaron Smith
, nose tackle
Chris Hoke
and guard
Chris Kemoeatu
this offseason. Some have downplayed these departures because none were major contributors last season. Farrior was a part-time player, Ward was being phased out, Kemoeatu was benched and Smith and Hoke were both injured. The Steelers, though, could have used their experience as backups this season.
The loss of these veteran safety nets makes injuries a major concern. Two starters -- running back
Rashard Mendenhall
and nose tackle
Casey Hampton
-- are candidates to start the regular season on the physically unable to perform list (and miss at least the first six games) after ACL surgeries this offseason. Tomlin has expressed concern about whether right tackle
Willie Colon
and wide receiver
Emmanuel Sanders
can shake their injury histories. And the Steelers have to be worried about
Maurkice Pouncey
's ankle,
LaMarr Woodley
's hamstrings and
Doug Legursky
's shoulder.
If Hampton is placed on the PUP, the starting nose tackle would likely be an out-of-position
Ziggy Hood
. If Legursky is hurt, the current top backup at guard is
John Malecki
. If Colon goes down, the Steelers have to turn to the often-struggling
Jonathan Scott
. If Sanders can't play, the third receiver would be ... well, no one right now. These are all painful scenarios for the Steelers.
This is where the draft comes into play for Pittsburgh. Taking the right college player has always kept the Steelers in the mode of reloading, not rebuilding. No one knows whom the Steelers will select with the 24th overall pick. It could be Alabama inside linebacker
Dont'a Hightower
, Georgia offensive lineman
Cordy Glenn
, Stanford tight end
Coby Fleener
or someone not even linked to Pittsburgh. Based on the Steelers' history, the only certainty is that the pick will become an impact player.
[+] Enlarge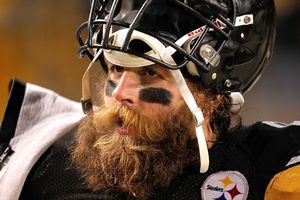 Gregory Shamus/Getty ImagesDefensive end Brett Keisel, taken in the seventh round, is just one of the Steelers' draft finds.
Since 2000, the Steelers' first-round selections have been wide receiver
Plaxico Burress
, Hampton, guard
Kendall Simmons
, safety
Troy Polamalu
, quarterback
Ben Roethlisberger
, tight end
Heath Miller
, wide receiver
Santonio Holmes
, linebacker
Lawrence Timmons
, Mendenhall, Hood, Pouncey and defensive end
Cameron Heyward
. The only one who didn't quite live up to expectations is Mendenhall, and he is hardly a major disappointment, having led the team in rushing for the past three seasons. This great run is more amazing when you consider that only two (Burress and Roethlisberger) were selected in the top half of the first round. Even the Ravens, who are known for excelling in the draft, have had two busts during this span with quarterback
Kyle Boller
and wide receiver
Travis Taylor
.
Steelers general manager Kevin Colbert, one of the underrated decision-makers in the NFL, can't explain this string of success.
"We've been fortunate," he told reporters at the NFL owners meetings. "We are capable as anybody of making a mistake. We never keep score. There's only one score that matters and that's the last game of the year."
If the Steelers had been keeping score, they would realize their success goes beyond the first round. They have come away with current starters in the second round (linebacker Woodley), third round (wide receiver
Mike Wallace
), fourth round (cornerback
Ike Taylor
), sixth round (wide receiver
Antonio Brown
) and seventh round (defensive end
Brett Keisel
). And don't forget about the undrafted finds like Legursky, right guard
Ramon Foster
and running back
Isaac Redman
.
This is why the Steelers don't have to write a $100 million check to free agents. This is why the Steelers can sign one player in the first 28 days of free agency and not sweat about it. Pittsburgh's way of business is about patience and faith. The Steelers believe in their front office to select the right college players and they believe in their coaching staff to develop them. It's a proven system that has led to five AFC North titles in 10 seasons and three trips to the Super Bowl during that span.
As players come and go, the Steelers' goals never change. Like Tomlin always preaches: "The standard is the standard."
"If you have a desire to be in this league for a length of time, you are going to roll with the punches and the ebb and flow, the evolution of the game," Tomlin said at the NFL owners meetings. "Thankfully, I've been in the game long enough to see a little bit of that. Those who are able to sustain success are pliable and flexible."
And the organizations that are able to sustain success are often quiet in free agency and make the most noise in the draft.
April, 10, 2012
4/10/12
4:54
PM ET
It's taken 28 days and their usual amount of patience but the
Pittsburgh Steelers
finally signed their first free agent, reaching a one-year deal with tight end/lockout hero
Leonard Pope
.
While Pope is hardly a high-profile addition, he will serve a couple of important roles for the Steelers.
Pittsburgh needed a No. 2 tight end behind
Heath Miller
. Weslye Saunders has been suspended for the first four games of 2012 for violating the league's rule on the use of performance-enhancing drugs.
Pope is also someone who knows offensive coordinator Todd Haley's system as well as anyone in the league. He played under Haley for two seasons in Arizona (2007 and 2008) and followed him in 2009 to Kansas City where he played three seasons. Pope can certainly help teammates in the transition to Haley's style of offense.
In 16 games last season, including 10 starts, Pope caught a career-high 24 passes for 247 yards and one touchdown.
Pope is more known for what he did off the field last season. In June, during the NFL lockout, Pope saved 6-year-old boy Bryson Moore from
drowning at a pool party
. "All of a sudden, I saw Bryson going down in the water and I started screaming," the boy's mother said last year. "Leonard was inside, and he came out of nowhere and dove into the water without any hesitation, cell phone in his pocket and all. He saved my son's life."