July, 18, 2013
7/18/13
10:25
AM ET
By
ESPN.com staff
| ESPN.com
Baltimore Ravens
Tight end
Dennis Pitta's game compares favorably to that of former Ravens receiver Anquan Boldin
, writes Garrett Downing of BaltimoreRavens.com. Downing: "The ability to haul in passes with defenders draped over them is critical, as neither player is known for their breakaway speed. Like Boldin, Pitta exploits mismatches against linebackers and has a knack for finding the soft spot in the defense."
The Ravens were in the running for four ESPY awards Wedsnesday night, but
they were shut out
.
The Ravens' retooled defense
reminds defensive assistant Steve Spagnuolo of the 2007 New York Giants defensive unit
, The Baltimore Sun's Aaron Wilson writes. "This is as good a looking football team that I've ever seen," Spagnuolo said. "I'm talking about physically and stout. I'm a firm believer, both sides of the football, that you win upfront. Defensively, wow."
Cincinnati Bengals
Receiver A.J. Green doesn't think he's among the NFL's star attractions just yet. "One thing is I'm not a superstar," Green said from his inaugural youth football camp via the Cincinnati Enquirer's Paul Dehner Jr. "
I'm just a regular guy who plays football
."
Unlike in years past, the Bengals
need their rookies to be contributors
, not franchise saviors, writes Josh Kirkendall of Cincy Jungle.
Carlos Dunlap has signed a long-term extension, which means
the odds of Michael Johnson signing a new deal next season are diminished
. Brett Witterstaetter of isportsweb.com considers whether this is a positive development for the Bengals.
Cleveland Browns
Browns rookies are scheduled to report to Berea on Friday, but
the team still has three unsigned draft choices
: Barkevious Mingo (first round), Leon McFadden (third) and Armonty Bryant (seventh), reports Mary Kay Cabot of The Plain Dealer. In Mingo's case, the hold up appears to be offset language in the contract.
Leroy Kelly comes in at No. 9
and
Ozzie Newsome at No. 10
on The Plain Dealer's list of the top 100 Browns of all time.
"Following the free agent exodus of veterans Ben Watson and Alex Smith, the stage is set for [Jordan] Cameron, in his third season, to elevate to a starting, if not starring, role," writes ESPNCleveland.com's Tony Grossi in his
training camp preview of tight ends
.
Pittsburgh Steelers
Rookie safety Shamarko Thomas said the Steelers stress proper tackling form -- wrapping up, leading with the shoulder and not the head -- rather than going for a "blow up" hit, writes Tom Robinson of The Virginian-Pilot. "They're afraid of the fines. I don't want any fines, either," Thomas said. "
I'm gonna get some fines, I'm not gonna lie
. That's just how I play. It's football."
In its annual preseason ranking of NFL teams for fantasy purposes, Yahoo! Sports
has the Steelers at No. 23
.
Emmanuel Sanders is No. 15
on NFL.com's list of players who could make the leap to take their game to the next level.
June, 23, 2010
6/23/10
12:30
PM ET
Notable players:
RB Jim Brown, WR Paul Warfield, K Lou Groza, G Gene Hickerson, RB Leroy Kelly, QB Frank Ryan, LB Jim Houston.
Analysis:
Jim Brown and Paul Warfield in the same offense.
Does any more need to be said?
[+] Enlarge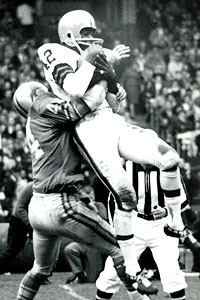 Malcolm Emmons/ US PresswirePaul Warfield averaged 17.7 yards per catch during his rookie season in 1964.
Often you hear Cleveland fans longing for the glory days, and this group led by Brown and Warfield -- perhaps the two best to play their respective positions -- tops the list.
This team was ahead of its time. Cleveland, which finished 10-3-1 in 1964, scored more than 400 points in an era when that was extremely difficult. For perspective, only eight teams scored more than 400 points in 2009 with two more regular-season games (16) and numerous advancements in the NFL game.
Brown, 28 and in his prime, rushed for 1,446 yards and averaged 5.2 yards per carry. He averaged more than 100 yards rushing per game. Warfield, then a 22-year-old rookie, had 920 receiving yards and nine touchdowns, as he was a key figure who helped revolutionize the vertical passing game. He averaged 17.7 yards per catch in '64, a stat that would still be impressive today.
To further prove Cleveland's dominance, they won the NFL Championship, 27-0, over the Baltimore Colts. The high-powered offense with Brown, Warfield and Ryan (25 touchdown passes) at quarterback was too advanced. Cleveland scored 30 points or more in half of its games that season.
Brown, Warfield, Groza, Hickerson and Kelly -- who was a rookie kick returner in '64 -- are all Hall of Famers from this group.
Most impressive win:
As mentioned earlier, Cleveland's 27-0 rout of the Baltimore Colts was the exclamation point of the '64 season.
Both teams had an amazing collection of talent. But Baltimore Hall of Famers such as quarterback Johnny Unitas, running back Lenny Moore and tight end John Mackey were stifled by Cleveland's defense, which forced four turnovers. Brown rushed for 114 yards for Cleveland and Ryan threw three touchdown passes in the blowout win.
Research room:
Groza had one of the most interesting careers in football history. He played 22 years in Cleveland and arrived as an offensive lineman. He made the Pro Bowl nine times as a left tackle and also played some right tackle, center, defensive tackle and kicker during his career. Groza was the kicker for the '64 team at age 40. He made 22 field goals and all 49 extra-point attempts.
Sudden retirement:
Following the championship in '64, Brown would play one more season before suddenly retiring to pursue a movie career.
Brown rushed for an astounding 1,544 yards and 17 touchdowns in his final season. Most of Brown's rushing records have been broken. But he's widely considered the best running back of all time.
Honorable mentions:
1950:
Another elite, championship team stacked with talented players such as Otto Graham and Marion Motley. This Browns team would give the '64 group a run for its money. But not having Warfield or Brown on this squad makes the difference.
1953:
The Browns, again led by Graham at quarterback, ran off 11 consecutive wins before losing a meaningless final regular-season game. But Cleveland lost to the Detroit Lions, 17-16, in the NFL Championship for a disappointing end to an otherwise dominant season.
1986:
This team is best known for falling victim to "The Drive" led by quarterback John Elway of the Denver Broncos. Elway orchestrated a 15-play, 98-yard drive in Cleveland to force overtime and Denver eventually won the game, costing a talented Browns team a shot at the Super Bowl. One year later, a chance at revenge against Denver in the AFC title game was thwarted by "The Fumble."