August, 23, 2014
8/23/14
12:30
PM ET
PITTSBURGH -- Mike Tomlin did not have to review film from the 31-21 loss at Philadelphia on Thursday night to identify one of the many areas where the
Pittsburgh Steelers
came up short following their trip across the state.
Shazier
McLendon
"In a nutshell not enough guys coming off blocks and making tackles," the Steelers coach said. "Defensive football is very simple at times. It's about defeating blocks and making tackles."
The Steelers did not do nearly enough of that against the Eagles.
And they have been lacking in that critical component of defense the entire preseason.
The Eagles gashed the Steelers for 182 rushing yards and averaged 5.2 yards per carry. They were still able to run the ball at will even after
LeSean McCoy
left the game after the second series with a thumb injury.
And the Eagles' success on the ground was not an aberration.
The Steelers have given up 4.8 yards per carry in three games. What is troubling about that is they yielded 115.6 rushing yards per game last season, so it's not like the Steelers can expect to just begin stopping the run once the games start counting.
"I think this humbled us," starting nose tackle
Steve McLendon
said. "We're going to watch film, we're going to correct it and we're going to get better from this."
Ryan Shazier
echoed similar sentiments after the rookie inside linebacker didn't play nearly as well as he had last Saturday night in his NFL debut.
"We were feeling pretty good coming in and but [the loss] really showed us that we have to get back in the office and keep working," Shazier said. "It will humble us a little bit."
A review of the film from the loss should give the Steelers a better idea of what they need to clean up.
It should also heighten the urgency in practice this week even though the starters will be sparingly if at all Thursday night against the visiting
Carolina Panthers
in the final preseason game.
"We have to play for the team. We have to play for each other," McLendon said. "We can't let this distract us from our goal. We all know what the common goal is."
They also know that the Steelers have no chance at that goal -- competing for a seventh Super Bowl title -- if they can't do something as basic as stopping the run.
August, 22, 2014
8/22/14
3:00
PM ET
PHILADELPHIA -- A starting job awaited him in Arizona when he boarded a flight to Phoenix early Tuesday morning.
What brought him back to Pittsburgh, where there are no guarantees as far as starting, was a pull even stronger than
Brett Keisel
's desire to play his entire career with the
Pittsburgh Steelers
.
"It was really my wife and kids," Keisel said Thursday night before leaving the visiting locker room at Lincoln Financial Field. "They took me to the airport and my kids were looking at me with doe eyes and wondering what's going on and where are you going and how long are you going to be gone."
[+] Enlarge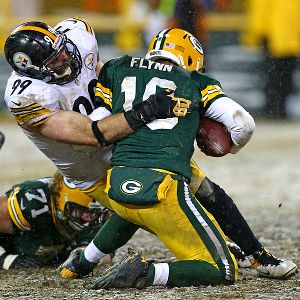 Jonathan Daniel/Getty ImagesBrett Keisel hopes to provide a jolt to the Pittsburgh Steelers' defense.
Keisel, as it turned out, was gone for less than a day. He immediately flew back to Pittsburgh after meeting with the
Arizona Cardinals
, and by Tuesday evening the veteran defensive end had agreed to a two-year, $3 million contract that included a $500,000 signing bonus.
Keisel traveled with the team to Philadelphia and dressed for the Steelers' preseason game. He didn't play against the Eagles but the game made clear why the Steelers brought back Keisel for a 13th season.
The Steelers were gashed repeatedly by the Eagles' running backs, even after
LeSean McCoy
left the game in the first quarter with a thumb injury. And they yielded 182 rushing yards and 5.2 yards per carry in a 31-21 loss to the Eagles.
Keisel had joked with coach Mike Tomlin before the game that he might try to sneak onto the field so he could play in his first game since late last December. The 6-foot-6, 285-pounder probably had to really restrain himself as he watched the Eagles go up and down the field against the Steelers' first-team defense.
"I wish I could have helped. I never like watching," Keisel said. "I'll back go and look at [film] with them and try to correct some of the mistakes that were made."
Keisel figures to be part of the solution if the Steelers are to fix a run defense that is allowing 4.8 yards per carry during the preseason. The question moving forward is where he will fit in after practicing with the Steelers on Wednesday.
The Steelers listed Keisel as the starting right defensive end on their depth chart after he signed with the team. They later put him fourth on the depth chart, behind rookie
Stephon Tuitt
,
Nick Williams
and
Ethan Hemer
.
Tomlin did not commit to anything when asked about Keisel's return to the Steelers.
"Obviously Brett is a capable NFL lineman and we've been in continual communication with him," the eighth-year coach said. "I'm glad to have him back in the fold. He's in great shape. We'll see what the football looks like."
Said Keisel, "I think I can still play."
That Keisel, who turns 36 next month, is again playing for the Steelers can be traced -- at least from his part -- to the offseason he spent pondering his next move.
Keisel did not take part in offseason practices, and the five months he had off gave him more time to spend with his wife, Sarah, daughter, Grace, and sons Jacob and William. In the end, "Da Beard" could not leave them even if the Cardinals may have offered a better opportunity than the Steelers.
"[The offseason] really did bring us closer and going to the airport it just really put things into perspective for me," Keisel said. "I'm just grateful that [the Steelers] helped work something out to where I could finish where I started."
August, 21, 2014
8/21/14
11:00
PM ET
PHILADELPHA -- Steelers coach Mike Tomlin suddenly has a lot more to worry about than his top two running backs facing citations for marijuana possession.
The Steelers' third preseason game turned out about as well as the infamous car ride that landed
Le'Veon Bell
and
LeGarrette Blount
in trouble and in unflattering headlines a day earlier.
The Steelers struggled in every aspect Thursday night at Lincoln Financial Field, and they were dominated when it mattered most in a
31-21 loss
to the
Philadelphia Eagles
.
The Eagles, crisper and more physical than their in-state rivals, raced to a 17-0 halftime lead when starters from both teams were in the game, and it could have been worse for the Steelers.
Philadelphia quarterback
Nick Foles
just missed on a few throws that would have netted big gains, but he still completed 19 of 29 passes for 179 yards and a touchdown before calling it a night.
Ben Roethlisberger
played two series in the second half, and he salvaged something from an otherwise forgettable night by leading a six-play, 79-yard touchdown drive in the third quarter.
Roethlisberger, who struggled with his accuracy and threw a bad interception in the first half, capped the drive with a 27-yard touchdown pass to tight end
Heath Miller
.
That march wasn't nearly enough to offset the ineptitude that the Steelers showed at times in all three phases of the game.
Some other thoughts from the Steelers' third preseason game:
Blount's play, ironically enough, was among the few positives that the Steelers could take away from the thorough beating they received from the Eagles. Blount, who alternated with Bell, rushed for 32 yards on seven carries and showed the nifty footwork that is unique for such a big back. Bell started the game and Blount also played on the first series.
If the preseason is any indication, the Steelers still haven't fixed a run defense that yielded 115.6 rushing yards per game last season. The Eagles repeatedly gashed the Steelers in the running game even though LeSean McCoy played just two series because of a thumb injury. The Eagles have one of the best offensive lines in the NFL, but Tomlin won't be happy with how they pushed around the Steelers. Defensive end Brett Keisel, who re-signed with the Steelers on Wednesday but didn't play against the Eagles, should help the defensive line. Improvement must be made across the board.
Wide receiver Justin Brown has faded and his hold on a roster spot should be tenuous after he failed to catch a pass despite getting extended work with the first-team offense as the No. 3 wide receiver. Brown, playing in place of Lance Moore, drew Roethlisberger's ire early when he ran a comeback route and had a pass sail over his head. The 2013 sixth-round pick was later flagged for offensive holding. In three preseason games Brown has three catches for 15 yards. Darrius Heyward-Bey, meanwhile, caught a 33-yard touchdown pass in the fourth quarter.
The Steelers didn't sustain a lot of injuries, but the two that were announced are worth watching. Linebacker Sean Spence left the game in the third quarter with a right knee injury and outside linebacker Jason Worilds didn't play again after hurting his right knee in the same quarter. Worilds may have been the Steelers' best defensive player before getting hurt. Of course that's not saying much considering that the Steelers gave up just under 500 yards of total offense.
There has to be some concern over Shaun Suisham, who has already missed two field goals in the preseason, the same number he missed all of last season. The 10th-year veteran has also missed a 33-yard extra point in preseason play.
September, 7, 2012
9/07/12
1:37
PM ET
Scouts Inc.'s Matt Williamson analyzes Sunday's games involving AFC North teams:


Steelers at Broncos:
Going into a difficult road game under the national spotlight is never easy, but I still like Pittsburgh to win this rematch of a 2011 wild card game. It's difficult to predict how Broncos quarterback
Peyton Manning
will look in terms of arm strength, but his mind will certainly be as sharp as ever, and Denver's offense will find a way to score points. It's the Broncos' defense that concerns me.
There's no question
Von Miller
-- my pick for 2012 Defensive Player of the Year -- and
Elvis Dumervil
will create havoc as pass-rushers, but there are major problems up the middle, and linebacker
D.J. Williams
is suspended for this game. Expect the Steelers to attempt to control the game early with their massive interior offensive linemen and physical running backs, which should lead to some deep shots down the field to
Mike Wallace
and
Antonio Brown
off play-action later on.


Philadelphia at Cleveland:
This might be the most lopsided game of the week. Philadelphia is simply far more talented overall, and we have no idea what to expect from nicked-up Cleveland rookie running back
Trent Richardson
. The Browns will need some big plays on special teams from
Josh Cribbs
, a big game from Richardson, and some bad plays from Eagles quarterback
Michael Vick
in order to have any chance.
I just don't see all that happening, though. Cleveland rookie quarterback
Brandon Weeden
doesn't deal with pressure well or move well in the pocket, and he will be under constant duress from Philadelphia's talented and deep defensive line as the Eagles play a lot of man coverage against unproven receivers. On the other side of the ball, Philadelphia could be primed for many big plays through the air, and on the ground with both Vick and running back
LeSean McCoy
. There really isn't one area in this matchup that favors the Browns.
May, 17, 2012
5/17/12
7:47
PM ET
The Eagles signed running back
LeSean McCoy
to a five-year, $45 million extension Thursday evening, $20.76 million of which is guaranteed. This continues to provide a framework of the market value for running backs, but this deal might not accelerate the signing of Ravens running back
Ray Rice
.
Rice
McCoy
The problem is the disparity between the tiers for running backs. McCoy's deal is in line with the second tier like the Texans'
Arian Foster (five years, $43.5 million, with $20.75 million guaranteed). But Rice could be shooting for the top tier that includes the Vikings'
Adrian Peterson (seven years with $36 million guaranteed) and the Titans' Chris Johnson (six years with $30 million guaranteed).
What will likely get a deal done is finding a middle ground. Rice doesn't belong at the top of the pay scale because he hasn't averaged 13 rushing touchdowns over five seasons like Peterson and he doesn't have a 2,000-yard rushing season on his resume like Johnson.
But, based on the statistics, Rice deserves to get paid more than Foster and McCoy. In his three seasons as the featured back, Rice has produced 5,885 total yards, an average of 1,962 yards per season. That tops the three-year total yards by Foster (4,411) and McCoy (4,241).
That's why a five-year extension with $25 million guaranteed would be a fair deal for Rice.
Rice is currently scheduled to make $7.7 million this season as the Ravens' franchise player. If the sides can't reach a new deal by July 16, Rice will have to play this season under the tag.
He has yet to sign his tender and could skip training camp. Keeping in shape while working out on his own is not a concern for Rice.
"Training is something that I never worried about," Rice told the
Carroll County (Md.) Times
last weekend. "It's something that you got to want. I actually have the burning to desire to come back, not only for myself, but to come back ready to play. My training has always been part of my routine."
Rice has been training with former
Philadelphia Eagles
running back Brian Westbrook.
"Nobody ever had to beat me in the head to get up and work out," Rice said. "Anybody who knows about my workout regimen, I've probably been through two before noon. Training has never been my issues but obviously, the team camaraderie, the lockout and all that stuff, that's the stuff that you kind of miss with the guys. But as far as being ready, I know I'll be ready."
April, 22, 2011
4/22/11
3:34
PM ET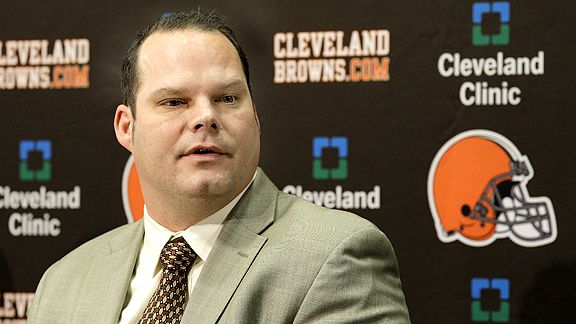 AP Photo/Amy SancettaBrowns GM Tom Heckert has built his reputation on doing solid work in the draft.
BEREA, Ohio -- When you think of the face of the 2011
Cleveland Browns
, high-profile president Mike Holmgren is the first person who comes to mind.
After Holmgren, quarterback
Colt McCoy
, receiver/kick returner
Josh Cribbs
and tailback
Peyton Hillis
might be next. They're among the few Browns players known on a national level. McCoy made his name at the University of Texas, Cribbs is a former Pro Bowler, and Hillis has a chance to become the
"Madden NFL 12" cover boy
next week following a breakout 2010 season in which he rushed for 1,177 yards and scored 13 touchdowns.
But as you continue down the list, eventually you will come across arguably the most important person in the organization: general manager Tom Heckert.
Holmgren has final say in Cleveland. But he is not the person laying the groundwork for the team behind the scenes.
Quietly, Heckert and his staff have worked hard to add talent to what was once a very thin roster. Last year, the Browns signed key veteran free agents such as tight end
Benjamin Watson
and linebacker
Scott Fujita
, in addition to completing a cunning trade with the
Denver Broncos
for Hillis in exchange for former Browns quarterback
Brady Quinn
.
But the draft is where Heckert has built his reputation.
Heckert joined the
Philadelphia Eagles
in 2001 as director of player personnel and worked his way up to general manager five years later. During his stint, Philadelphia went to four consecutive NFC championship games and made the playoffs in seven of Heckert's nine seasons in the front office. He had a major hand in the Eagles' acquisition of recent draft picks such as tailback
LeSean McCoy
, tight end
Brent Celek
, quarterback
Kevin Kolb
and receivers
DeSean Jackson
and
Jeremy Maclin
.
Heckert continued his draft success in Cleveland last season. The Browns acquired three starters in the first three rounds -- first-round corner
Joe Haden
, second-round safety
T.J. Ward
and McCoy in the third round.
Now the Browns have a young nucleus to build around as Heckert tries to work his magic in Year 2.
"I think last year we did a pretty good job," Heckert said in his pre-draft news conference Thursday. "Media-wise there were questions whether T.J. was worth the pick, and we said 'this guy is a good football player. He is going to come in here and start for us and he is worth that pick.' You can try to get cute and say maybe he'll be there later in the second round, so you try to trade down and you lose him. How stupid is that? If you like the guy, take him. Don't try to get too cute."
Getting cute is not what Heckert is about, and he definitely hasn't put himself out there to receive all the credit.
This week the Browns notified the local media that Heckert would hold a solo news conference, and people noticed that the charismatic Holmgren wasn't on the schedule. It was one of the few times since joining the Browns that Heckert addressed the media without the shadow of Holmgren looming over him, presumably to help raise Heckert's low profile.
Working in the shadows is nothing new for Heckert. Eagles head coach Andy Reid commanded the spotlight in Philadelphia while Heckert worked diligently behind the scenes to help find great players year after year.
Heckert's current boss has made it a point to express his appreciation.
[+] Enlarge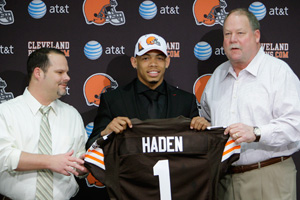 AP Photo/Mark DuncanTom Heckert, left, and Mike Holmgren, right, spent their first-round pick last year on corner Joe Haden, center, who had six picks as a rookie.
"Tom Heckert is the real deal," Holmgren said recently. "The people that work with him, our personnel department, they do their jobs and they do them very well. If I put on my coach hat for a moment, that's a real encouragement to Pat [Shurmur] and the coaches."
This year's draft may go down as one of the most important of the Holmgren-Heckert regime. Cleveland holds eight draft selections, including the No. 6 overall pick in the first round.
The Browns are coming off back-to-back 5-11 seasons, but there is optimism that Cleveland is finally heading in the right direction. If things go as planned for the Browns, this may be the highest draft pick for Heckert and Holmgren in the next several years. In what's considered a deep and talented draft, the Browns cannot afford to miss with their top pick.
"If we end up staying at where we're picking, we are going to get a good football player," Heckert said confidently. "There are six guys, and we are going to get a good football player. Obviously you don't want to be picking up there all the time, but that's the nice thing about it."
The mountain the Browns are trying to climb is steep.
The rival
Pittsburgh Steelers
and
Baltimore Ravens
are unrelenting within the division. They are well-run organizations, perennial contenders in the AFC, and they don't make many mistakes in personnel. That raises the bar for Cleveland to do the same when finding players.
After several front-office failures over the past dozen years, Heckert's track record and experience as general manager give the Browns their best chance. But to make up ground in the AFC North, Cleveland must have another solid draft for the second year in a row, which is not an easy task.
Any big mistakes next week could keep the Browns at the bottom of the pack. So the pressure is on.
"Just try to not force anything," Heckert said of his draft philosophy. "It's easier said than done. ... Once the board is set, I don't think anyone is going to sit there and start jumping guys off their draft board. It happens in the whole process where you may say 'whatever the position is we need this,' so you maybe make the guy better than he is. You just have to be careful of doing that. It happens. I've been guilty of it, just like everyone else. It's a tough thing to do, but you have to be smart about it."
February, 4, 2010
2/04/10
5:00
PM ET
The
Cleveland Browns
could certainly use
DeSean Jackson
on their team.

Heckert
What about tight end
Brent Celek
, or running back
LeSean McCoy
, or receiver
Jason Avant
?
These are all young players general manager Tom Heckert helped draft during his four-year tenure as general manager of the
Philadelphia Eagles
. Heckert jumped at the opportunity to work in a similar capacity with Browns president Mike Holmgren this year.
Heckert's history of finding good offensive players will be needed in Cleveland. The Browns were ranked last in the NFL offensively with 260.2 yards per game and have a lot of questions at quarterback, receiver, tight end, right guard and right tackle.
Perhaps the biggest credit to Heckert is that none of these aforementioned players were first-round picks. Jackson (2008) and McCoy (2009) were taken in the second round, while Avant (2006) was a fourth-round pick and Celek (2007) a fifth-rounder.
With Cleveland leaning towards a West Coast system that both Holmgren and Heckert strongly believe in, look for a major retooling of the offense. The Browns are hoping Heckert can work his draft magic once again in his first year with the team.