July, 31, 2014
Jul 31
4:59
PM ET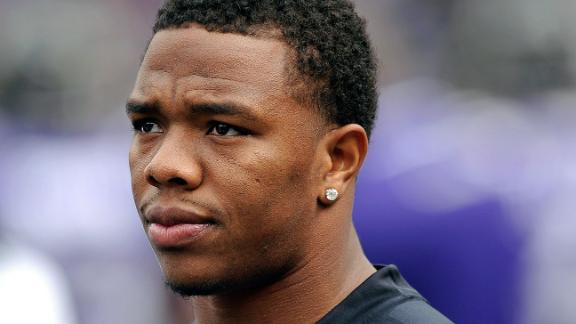 OWINGS MILLS, Md. -- In stark contrast to
Ray Rice
's awkward news conference in May, the
Baltimore Ravens
running back showed Thursday that he finally understood the weight of his actions from the alleged altercation with his then-fiancée in February.
He delivered the correct message, one the NFL failed to do last week with the two-game suspension, by not only apologizing to his wife, Janay Palmer, but also expressing a desire to become an advocate for domestic-violence causes.
Rice was compelling in his contrition, calling it the biggest mistake of his life. He stood in front of the microphone alone, without his wife standing by his side, and took full responsibility for the incident. Perhaps more importantly, Rice actually said the words "domestic violence," which weren't heard in his statement two months ago.
"My actions were inexcusable," Rice said. "That's something I have to live with the rest of my life."
Before anyone pats Rice on the back, this is what he should have said the first time when he broke his silence in May. Instead, Rice nervously fumbled through notes on his phone and apologized to team officials and his sponsors. That debacle of a news conference came across as damage control to his image.
His 17-minute news conference Thursday hit the right tones. He apologized to all women affected by domestic violence. He accepted the blame for losing the respect of fans. Rice came across as genuinely sorry.
"I let my wife down, I let my daughter down, I let my wife's parents down, I let the whole Baltimore community down," Rice said.
Rice's biggest misstep was not talking about what happened in the elevator. He was asked twice about it and declined to answer both times. His stance against domestic violence would have resonated stronger if he had explained his transgressions.
"I'll be honest: Like I said, I own my actions," Rice said. "I just don't want to keep reliving the incident. It doesn't bring any good to me. I'm just trying to move forward from it. I don't condone it. I take full responsibility for my actions. What happened that night is something that I'm going to pay for the rest of my life."
The only way Rice can move forward from this incident and show he's truly sincere is through his actions. It's not by his words. It's not by a hefty donation, which is merely a gesture. It's by proving this will remain a "one-time incident" and by supporting domestic-violence causes.
Thursday represented a small step forward for Rice. But it was an important one.
September, 26, 2013
9/26/13
7:10
PM ET
PITTSBURGH --
Brett Keisel
planned to stop at a Verizon store Thursday on his way to the airport.
The reason: the veteran defensive end wanted to make sure he will be able to use his phone in London.
To-do lists for players like Keisel --and especially for support staff such as the Steelers' trainers were – this week were probably longer than
Troy Polamalu
's hair. And most items better have been crossed off before the Steelers took off for London.
The normalcy that coach Mike Tomlin maintained through the first half of the Steelers' work week takes a 180-degree pivot when the team touches down at Gatwick Airport Friday morning.
After landing, the Steelers will ride a chartered train to a chartered bus that will take them to their London hotel. There they will almost immediately resume preparation for their game against the
Minnesota Vikings
Sunday at Wembley Stadium.
What effect the red-eye flight has on bodies that are highly calibrated -- and need to be highly functioning by 6 p.m. London time on Sunday -- is the biggest unknown with the Steelers desperate to end a three-game losing streak.
"The trip is going to be really tough," Steelers strong safety Polamalu said. "It's going to be unlike anything we've ever experienced. It's not like going from Oakland to New York. It's just not the same."
One advantage the Vikings, who have also opened the season 0-3, would appear to have is they should be adjusted to the time change by Sunday. The Vikings have been in London since Tuesday while Tomlin opted for a late arrival so he could keep the Steelers' routine as normal as possible.
The downside to that is the Steelers will be on 3 a.m. time Friday when they arrive in London at 8 a.m.
"There's nothing you can really do to prepare for jet lag," Steelers safety
Ryan Clark
said. "There's nothing you can really do to prepare for that time change."
Not that the Steelers won't do all they can to minimize he adverse effects on both fronts.
Clark is among a group of players who are paying their own money to fly massage therapists and acupuncturists to London. The Steelers' training staff, meanwhile, put together a list of places in London where players can get such treatment in advance of the game on Sunday.
"A lot of us are get our bodies worked on the day before the game, before the game," said Keisel, who regularly gets massages. "Those are little adjustments you have to make."
Another example of such adjustments could be seen in wide receiver
Antonio Brown
's outfit for the flight to London if you look hard enough.
Brown planned to wear compression socks, which ward off swelling in the calves and prevent cramping after a long flight. He also planned to use IVs provided by the Steelers' training staff to stay properly hydrated.
Dehydration after a long flight and a significant time change is one of the biggest travel concerns that the Steelers have.
Combatting it also produced something of a conundrum to players who wanted to drink enough water on the plane but not too much that they would not be able to sleep because they had to keep going to the bathroom.
"You've got plenty of time to hydrate on Friday," right guard
David DeCastro
said. "Once I got off the plane I'll just spend all day drinking water and Gatorade."
The Steelers won't have time to do much sightseeing and Tomlin has said the trip is strictly business, at least for him.
Clark told ESPN's NFL Live on Wednesday that he does not think the NFL putting a team in London full-time is a good idea -- and that he would retire before playing for it if he had to choose between the two.
But Clark said the change of scenery will probably be good for the Steelers, who are 0-3 for the first time since 2000.
"It gets us away from everyday hearing about what's going on," Clark said. "We can spend some time together, get some of that camaraderie and fellowship that you kind of lose when offense goes into meetings and defense goes into meetings.
"It gives us an opportunity to just play football, try win a game and that what's been our focus this week. And I think the way coach Tomlin's handled it has really helped us."