July, 7, 2014
7/07/14
10:00
AM ET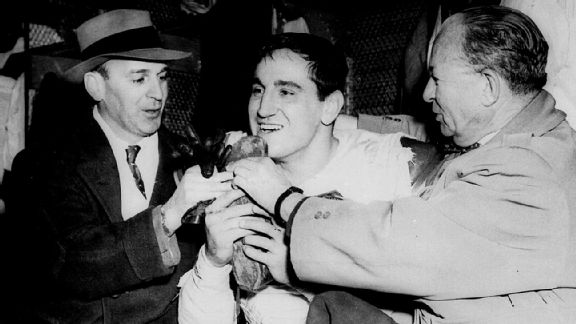 AP Photo
»
VOTE HERE
»
NFC Plays:
East
|
West
|
North
|
South
»
AFC:
East
|
West
|
North
|
South
This is one of three nominations for the most memorable play in
Cleveland Browns
history. In the next two days, we'll feature Gary Collins' touchdown reception from Frank Ryan in the 1964 championship game win against Baltimore and "The Fumble"(enough said). Please vote for your choice as the Browns' most memorable play.
Score:
Cleveland 30, Los Angeles 28
Date:
Dec. 24, 1950
Site:
Cleveland Municipal Stadium

It might surprise some, but Browns history goes back earlier than the Bernie Kosar days. Those who remember Kosar probably also remember the Kardiac Kids. But the team's true history, the tradition that became the Browns, was established by the greatest NFL coach in the '50s -- when Paul Brown and Otto Graham controlled the league. While there have certainly been many negative plays in team history that were more than memorable, there have also been some positive ones.
In 1950, the Browns were the object of smirks and derision when they entered the National Football League. Paul Brown's teams had done well in the All-America Football Conference, but it was, well, the AAFC, not the NFL. Never mind that Brown had perhaps his finest team in 1950 with Hall of Famers all over the field -- including Graham, Marion Motley, Dante Lavelli and Lou "The Toe" Groza. The Browns were not supposed to just walk in and own the league.
But they did just that, going 10-2 and reaching the title game against the Los Angeles Rams, who coincidentally started as the Cleveland Rams before moving West in 1945 (the AAFC started play in '46). Playing in hallowed old Municipal Stadium (moment of silence, please), the Browns were down eight heading into the fourth quarter, but Graham threw a touchdown pass and Groza made the extra point to cut the deficit to one. Graham moved the ball inside the Rams' 30 but fumbled with minutes left -- a turnover that seemed to doom the Browns.
Graham did not give up. The Browns got the ball back and moved to the 9, where Groza -- perhaps the greatest straight-on kicker in NFL history -- started a Cleveland celebration by making the 16-yard kick with less than 28 seconds left. Fans stormed the field and carried the goalposts out of the stadium. Even Brown was emotional, with tears in his eyes as he discussed the win.
In 1950, at least there was justice -- the Browns won the NFL title in their first year in the league by beating the team that had abandoned Cleveland five years before.
And Groza was the guy who provided the winning points.
@PatMcManamon One of the all-time best Browns player in his career defining kick. It's a memorable moment that crosses generations.

— Anthony Y (@hunkura) July 2, 2014
March, 21, 2013
3/21/13
2:58
PM ET
Phil Dawson
was a class act during his 14 years as the
Cleveland Browns
' kicker and he stayed that way as he left for the
San Francisco 49ers
. In a conference call that he requested to do with Cleveland-area media, Dawson chose not to stir up any trouble even though he probably could have done so.
Dawson
When asked if the Browns had made a contract offer to him, Dawson sidestepped the question by saying, "I appreciate the interest in that, but I'm 100 percent moving forward, and that's just how I'm going to roll with this."
This is what we know: Dawson signed a one-year deal with the 49ers worth $2.25 million, which includes a $1 million signing bonus. So, here are the likely scenarios: either the Browns didn't make him an offer or they severely low-balled the most productive player of the expansion era Browns. Either way, the Browns wouldn't look good if Dawson confirmed that to reporters and fans.
The old regime paid Dawson $3.81 million last season with the franchise tag, but the new regime led by chief executive officer Joe Banner never seemed interested in keeping Dawson. There's always a chance Dawson wouldn't return for any Browns offer because he knew he had a better shot at winning a Super Bowl with San Francisco. But I just can't see that being the case after listening to Dawson say he
wanted to finish his career
with the Browns just nine months ago. He even acknowledged his goal was to become the Browns' all-time leader scorer back when he was competing for the kicking job in 1999.
Dawson declined to address what would have happened if the Browns had matched the 49ers' offer. "If worms had guns, birds wouldn't eat 'em," Dawson said. "Once it became apparent San Francisco was legit, I got excited."
Dawson said he leaves with no regrets, even though he did come up 78 points shy of surpassing Lou Groza as the franchise's all-time leading scorer.
"He is Mr. Cleveland Brown," Dawson said of Groza. "It only seems right that he's going to be the all-time leading scorer there."
June, 5, 2012
6/05/12
6:15
PM ET
BEREA, Ohio --
Phil Dawson
spent his entire offseason away from the
Cleveland Browns
after being given the franchise tag for a second straight year.
Dawson
So, it came as a surprise when the kicker said he wants to end his career with the Browns.
"You know what, I'd like to. I really would," Dawson said after the first day of mandatory minicamp. "I'm not thinking about my career being over at this point, but it just doesn't make a whole lot of sense to go play somewhere else. So, we'll see what happens. I've told you guys before I'm not very good at predicting the future, but I'm just going to go to work like I always do and hope that things get worked out."
Dawson, 37, had previously expressed a desire to play closer to his family in Texas. But he seems committed to finishing up with the Browns.
When asked about if he thought about Lou Groza's all-time franchise points record, Dawson blurted out it would take two and a half years before the reporter was done asking the question. Dawson is 194 points behind Groza.
"
That was a goal I set in 1999 when
Danny Kight
and
Chris Boniol
were out here competing against me in training camp," Dawson said. "If I would had admitted back then that, that was one of my goals you guys would have laughed me out of town and I wouldn't have blamed you. So a lot of work, a lot of years and a lot of effort has taken place since then. To even be remotely on the horizon close to that is a pretty neat thing."
October, 17, 2010
10/17/10
2:19
PM ET
PITTSBURGH -- Two AFC North quarterbacks are making their 2010 debuts Sunday as the Steelers host the
Cleveland Browns
. Pittsburgh quarterback
Ben Roethlisberger
is coming off a four-game suspension and Cleveland rookie
Colt McCoy
is playing his first NFL game.


Here are some notes at intermission as the Steelers lead,
7-3
:
June, 23, 2010
6/23/10
12:30
PM ET
Notable players:
RB Jim Brown, WR Paul Warfield, K Lou Groza, G Gene Hickerson, RB Leroy Kelly, QB Frank Ryan, LB Jim Houston.
Analysis:
Jim Brown and Paul Warfield in the same offense.
Does any more need to be said?
[+] Enlarge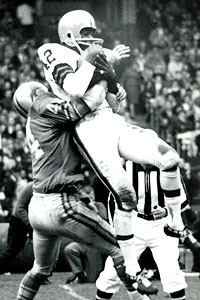 Malcolm Emmons/ US PresswirePaul Warfield averaged 17.7 yards per catch during his rookie season in 1964.
Often you hear Cleveland fans longing for the glory days, and this group led by Brown and Warfield -- perhaps the two best to play their respective positions -- tops the list.
This team was ahead of its time. Cleveland, which finished 10-3-1 in 1964, scored more than 400 points in an era when that was extremely difficult. For perspective, only eight teams scored more than 400 points in 2009 with two more regular-season games (16) and numerous advancements in the NFL game.
Brown, 28 and in his prime, rushed for 1,446 yards and averaged 5.2 yards per carry. He averaged more than 100 yards rushing per game. Warfield, then a 22-year-old rookie, had 920 receiving yards and nine touchdowns, as he was a key figure who helped revolutionize the vertical passing game. He averaged 17.7 yards per catch in '64, a stat that would still be impressive today.
To further prove Cleveland's dominance, they won the NFL Championship, 27-0, over the Baltimore Colts. The high-powered offense with Brown, Warfield and Ryan (25 touchdown passes) at quarterback was too advanced. Cleveland scored 30 points or more in half of its games that season.
Brown, Warfield, Groza, Hickerson and Kelly -- who was a rookie kick returner in '64 -- are all Hall of Famers from this group.
Most impressive win:
As mentioned earlier, Cleveland's 27-0 rout of the Baltimore Colts was the exclamation point of the '64 season.
Both teams had an amazing collection of talent. But Baltimore Hall of Famers such as quarterback Johnny Unitas, running back Lenny Moore and tight end John Mackey were stifled by Cleveland's defense, which forced four turnovers. Brown rushed for 114 yards for Cleveland and Ryan threw three touchdown passes in the blowout win.
Research room:
Groza had one of the most interesting careers in football history. He played 22 years in Cleveland and arrived as an offensive lineman. He made the Pro Bowl nine times as a left tackle and also played some right tackle, center, defensive tackle and kicker during his career. Groza was the kicker for the '64 team at age 40. He made 22 field goals and all 49 extra-point attempts.
Sudden retirement:
Following the championship in '64, Brown would play one more season before suddenly retiring to pursue a movie career.
Brown rushed for an astounding 1,544 yards and 17 touchdowns in his final season. Most of Brown's rushing records have been broken. But he's widely considered the best running back of all time.
Honorable mentions:
1950:
Another elite, championship team stacked with talented players such as Otto Graham and Marion Motley. This Browns team would give the '64 group a run for its money. But not having Warfield or Brown on this squad makes the difference.
1953:
The Browns, again led by Graham at quarterback, ran off 11 consecutive wins before losing a meaningless final regular-season game. But Cleveland lost to the Detroit Lions, 17-16, in the NFL Championship for a disappointing end to an otherwise dominant season.
1986:
This team is best known for falling victim to "The Drive" led by quarterback John Elway of the Denver Broncos. Elway orchestrated a 15-play, 98-yard drive in Cleveland to force overtime and Denver eventually won the game, costing a talented Browns team a shot at the Super Bowl. One year later, a chance at revenge against Denver in the AFC title game was thwarted by "The Fumble."