October, 11, 2012
10/11/12
10:57
PM ET
NASHVILLE, Tenn. --
Ben Roethlisberger
became the Steelers' all-time leading passer Thursday night, surpassing Hall of Fame quarterback Terry Bradshaw.
Roethlisberger
Bradshaw threw for 27,989 yards in 14 seasons. Roethlisberger broke the record before the halfway point of his ninth year and needed only 119 games to do so, 49 fewer than Bradshaw.
Roethlisberger set the record by converting a third down late in the third quarter. He stepped up in the pocket to complete a 17-yard pass to tight end
Heath Miller
to eclipse Bradshaw by 4 yards.
On what has been far from his best night to this point, Roethlisberger is still deserving of this record. While Bradshaw put up his numbers in an age where the rules made it tougher to throw the ball, Roethlisberger is the more talented quarterback. He's an accurate passer who can make all the throws and can carry his team.
Bradshaw had the luxury of throwing to two Hall of Fame wide receivers (John Stallworth and Lynn Swann). He had help from the ground game and Hall of Fame running back Franco Harris. He was protected by a good line and Hall of Fame center Mike Webster.
Roethlisberger passed the ball to Hines Ward, who might end up in the Hall of Fame, and the likes of
Mike Wallace
and
Antonio Brown
, who can't be mentioned in the same breath as Stallworth and Swann. Roethlisberger handed the ball off to Jerome Bettis for a couple of seasons, but for most of his career, he's been surrounded by an average running game. And, as far as pass protection, no quarterback has been sacked more often than Roethlisberger since he entered the league.
This was a record that Roethlisberger earned.
June, 20, 2012
6/20/12
2:00
PM ET
The Pittsburgh Steelers and Cleveland Browns made the mark on ESPN.com's list of the
top 25 individual playoff performances
of all time. This was voted upon by a trio of ESPN.com experts: senior writers John Clayton and Jeffri Chadiha and NFC West blogger Mike Sando.
Here's where the Steelers and Browns stand in the rankings:
16. Steelers wide receiver Lynn Swann
vs. Cowboys in Super Bowl X: In the Steelers' 21-17 victory, Swann caught four passes for 161 yards, including a 64-yard touchdown late in the fourth quarter that provided the winning margin. His juggling 53-yard reception while falling over a defender is one of the most memorable Super Bowl plays.
17. Browns quarterback Otto Graham vs. Rams in 1950 NFL title game: He completed 22 of 33 passes for 298 yards and four touchdowns and led all players with 99 rushing yards on 12 carries in a 30-28 victory. Down 28-27, Graham led the game-winning drive in the fourth quarter that ended with a Lou Groza field goal.
23. Steelers defensive end L.C. Greenwood
vs. the Cowboys in Super Bowl X: He has the unofficial Super Bowl record with four sacks (the stat wasn't recognized until 1982) in Pittsburgh's 21-17 win over Dallas. Greenwood sacked Cowboys quarterback Roger Staubach and forced a fumble on the first play of the game.
Let me know what you think of these performances and whether you agree where they are ranked. Also, tell us if you think there is a performance that should have been included on the list.
May, 11, 2011
5/11/11
1:00
PM ET
What key event significantly changed the fortunes of the Steelers -- for better or worse? Give us your take and we'll give you our definitive moment on May 18.
When you've won more Super Bowls (six) than any team in NFL history, there are a lot of great moments that can define a franchise. But which moment best defines the rich history of the
Pittsburgh Steelers
?
Was it the "Immaculate Reception" when Hall of Fame running back Franco Harris took an improbable catch the distance to beat the
Oakland Raiders
late in a 1972 playoff game? What about Pittsburgh's Super Bowl X victory over the
Dallas Cowboys
, which capped its first of two back-to-back title runs in the 1970s?
Pittsburgh's 1974 draft class to land linebacker Jack Lambert, center Mike Webster and receivers Lynn Swann and John Stallworth -- all Hall of Famers -- is often viewed as the best ever and led to four championships. Was that the defining moment in Steelers history? Or was it coach Chuck Noll's hiring in 1969?
There are tons of great moments for the Steelers. But using our SportsNation poll, we ask our community to pick the most defining moment in Pittsburgh history.
If you vote Other, give us your suggestion in the comments area below.
February, 4, 2011
2/04/11
5:53
PM ET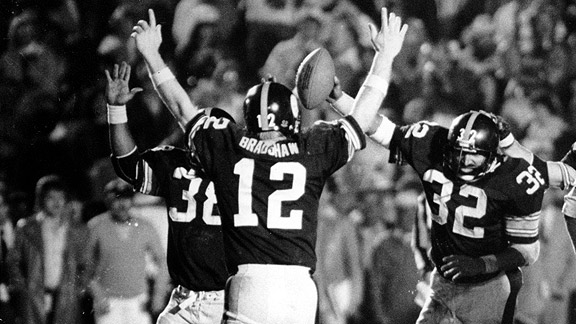 AP PhotoWill the current Pittsburgh team join the Steelers of the 1970s as an NFL dynasty?
FORT WORTH, Texas -- In his 50 years of experience with scouting, personnel and eventually media, Gil Brandt has seen all the football dynasties come and go in the NFL.
In Brandt's eyes, this current group of
Pittsburgh Steelers
can put its name into that elite category with a third championship in six seasons.
"You have to, yes," the former
Dallas Cowboys
player personnel executive said of considering Pittsburgh a dynasty. "We have some teams that have been in the NFL 45 years and haven't won a Super Bowl."
The Steelers have a lot on the line Sunday in Super Bowl XLV against the
Green Bay Packers
. Not only is Pittsburgh playing for another Lombardi Trophy, but the franchise can make a strong case to be the NFL's latest dynasty -- a term that applies only to teams winning multiple titles in a concentrated period of time.
Pittsburgh has all the ingredients for sustained success: good coaching, stellar defense, a franchise quarterback and future Hall of Famers. These are many of the same attributes of past dynasties, such as the old Steelers of the 1970s, the
San Francisco 49ers
of the 1980s, the Cowboys of the 1990s and, most recently, the
New England Patriots
of the past decade.
So where would Pittsburgh potentially fit?
"I think if we win this [Super Bowl], you have to put this organization down as being one of the dynasties of the 2000s," said Steelers 13-year receiver
Hines Ward
. "We know what's at stake. For us, it's another opportunity to win another Super Bowl. We're 2-0 in Super Bowls and we don't want to experience the other side."
What exactly counts as a dynasty in today's NFL, and how much has the definition changed?
Here is some food for thought: Since free agency began in the spring of 1993, only two teams (the
Denver Broncos
and Patriots) have won back-to-back Super Bowls. The Cowboys' Super Bowl titles bridged the start of modern free agency. They won Super Bowl XXVII to mark the end of the 1992 season. After the era began with
Reggie White
's departure from the
Philadelphia Eagles
to join the Packers in April 1993, the Cowboys still managed to win the Lombardi Trophy that season. Although the 49ers claimed the 1994 season's title, Dallas would later cement its dynasty status by winning a third championship in the modern free-agency era during the 1995 season.
The NFL landscape has changed dramatically in the past 15 or so years where players rarely play for one team. That makes it much harder to consistently stay on top.
"I think if you can get three in a decade, those teams are up for dynasties," Steelers safety
Ryan Clark
said. "So I think if you get three titles in six years, you have to be considered."
Even if Pittsburgh wins Sunday, the biggest knock on the Steelers would be this current group has never won back-to-back Super Bowls. But this is a league where parity rules. Eight different teams have represented the NFC in the Super Bowl in the past eight seasons.
"Back-to-back titles is obviously huge, because that to me is the hardest thing to do," said former tailback and Super Bowl champion
Ricky Watters
with the Niners. "But to stay up there is hard, too. We see teams that get there and then they're gone. Then they may get back up there, and they're gone again. So I think the staying power is important."
The Steelers have never won back-to-back titles the past six seasons, but they also never had a losing season. Including playoffs, Pittsburgh holds a 71-35 record over that span.
"Well, I don't know if it's necessary because it's really hard to win back-to-back," Brandt explained. "The reason it's hard to win is because the competitive balance in this league is so good."
Now more than ever, the NFL has become a coaching and quarterback league. This is a major reason Pittsburgh has been able to sustain its success.
[+] Enlarge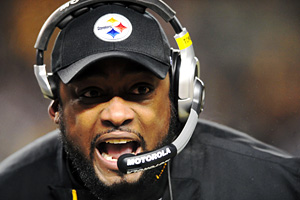 Andrew Weber/US PresswireMike Tomlin can win a second championship in just his fourth season as a head coach.
Quarterback
Ben Roethlisberger
doesn't put up gaudy numbers but is arguably the
most clutch quarterback
in the NFL. He is 10-2 in the playoffs and has a chance to improve to 3-0 in Super Bowls this Sunday. Earlier this week, the AFC North blog examined whether a third championship cements
his status as a future Hall of Famer.
Steelers head coach Mike Tomlin has a chance to win his second Super Bowl in just his fourth season. Tomlin could surpass his predecessor, Bill Cowher, who won one championship in Pittsburgh in 15 seasons.
Both are young for their respective positions. Roethlisberger, 28, and Tomlin, 38, will be stalwarts in Pittsburgh for a long time with a chance to win multiple championships together.
"We have a great relationship. He's a player's coach and I like playing for him," Roethlisberger said this week of Tomlin. "He's one of the reasons we want to win football games. We are blessed to have him as our coach."
The Steelers don't have to look far for motivation. Perhaps the greatest dynasty of all time was the dominant 1970s Pittsburgh teams that won four Super Bowls in a six-season span. That Steeler dynasty also had two back-to-back title runs.
This week several Pittsburgh veterans say they're trying to live up to that standard. On their way to meetings at Pittsburgh's complex, Steelers players and coaches must walk by their NFL-high six Lombardi Trophies, including those four won by Terry Bradshaw, Jack Lambert, Lynn Swann and Co.
"We have what you can't buy, which is legacy," Tomlin said. "[It's] an unbelievable standard and expectation and all those great things."
No dynasty lasts forever. That is why it's important for this proud, veteran group of Steelers to seize this moment.
There are aging veterans older than 30 such as Ward,
James Farrior
,
Casey Hampton
and
Brett Keisel
going for their third ring, and there are no guarantees any of these Steelers will get another chance to win another Super Bowl.
"We're not worrying about what happens afterwards. It's a whole bigger issue than us after this game," Ward said of potentially making history. "So is this the last run? Why would it be the last run? We have a huge opportunity to win our third Super Bowl, and we're trying to come down here and make the most of it and see if we can bring our seventh Super Bowl back to Pittsburgh."
When it comes to attaining dynasty status, consider Super Bowl XLV a "swing game" for the Steelers.
Beat the favored Packers at Cowboys Stadium and this Steelers group will forever be in the dynasty discussion. But lose to Green Bay, and that conversation abruptly ends.
January, 14, 2011
1/14/11
10:32
AM ET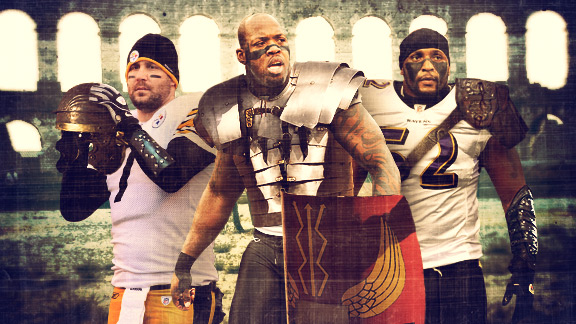 ESPN.com IllustrationAre you not entertained? The Steelers and Ravens split their two earlier meetings this season.
PITTSBURGH -- The Ravens-Steelers rivalry is easily the most intense in the NFL.
Baltimore defensive end/linebacker
Terrell Suggs
wasted little time after the Ravens defeated the
Kansas City Chiefs
on Sunday to start talking about the hated Steelers. He likened the teams' third meeting this season Saturday to "Armageddon" and even "World War III" and called the players "modern-day gladiators."
Why, of course.
The Steelers toned down the rhetoric this week, but they're just as eager for the divisional-round game at Heinz Field.
You know some of the basics -- each team defeated the other on the road this season, Pittsburgh leads the all-time series 20-12 (counting two playoff wins) and the Steelers defeated the Ravens in the AFC Championship Game two years ago in one of the hardest-hitting games I've seen.
Here are 10 things you may not know as Ravens-Steelers III looms:
1. Even old ladies despise Ravens
A fan's craft project hangs in the Steelers' locker room, in between the lockers of offensive tackle
Max Starks
and rookie center
Maurkice Pouncey
. Made of cotton and knitted with purple and black thread, it has a large "X" through the name "Ray" in the center.
A Steelers fan from Ohio created the piece and sent it to the team along with a lengthy letter explaining how much she despises the Ravens and Baltimore linebacker
Ray Lewis
.
"We thought it was funny because it was an elderly lady, like a grandma, but she had enough guts to knit that together," Steelers offensive lineman
Willie Colon
said. "That's a real tribute to her."
Former Pittsburgh starting center
Justin Hartwig
saw it, loved it, and put it up on the wall next to his locker. The Ray Lewis quilt has been in the vicinity of the offensive linemen's lockers for nearly two years, regardless of who the Steelers are playing that week. It serves as a nice little reminder all season of the Ravens' linebacker.
"That's been our rival and Ray Lewis is definitely the heart of that team and the heart of that organization," Colon said. "Any time you want to kill a monster you have to go for the heart."
[+] Enlarge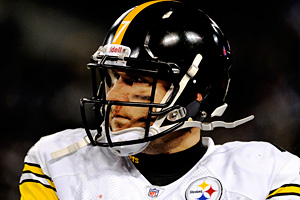 AP Photo/David DrapkinThe Ravens bloodied the nose of Steelers quarterback Ben Roethlisberger on Dec. 5.
2. Ben Roethlisberger 'hates' playing the Ravens
You would think that, with an 8-2 career record against Baltimore, Pittsburgh quarterback Ben Roethlisberger would love playing against the Ravens.
You would be wrong.
"I hate playing these guys because they are so good, especially on defense," Roethlisberger said.
And they hurt people, especially Roethlisberger.
Roethlisberger owns six straight wins over Baltimore, but the wins rarely come without a price. In the last meeting between the teams on Dec. 5, Roethlisberger suffered a broken nose after taking a shot to the face by Ravens Pro Bowl defensive lineman
Haloti Ngata
.
The NFL fined Ngata $15,000 for the hit. But Roethlisberger played through the pain and led the Steelers to a come-from-behind win in Baltimore, which helped secure the AFC North division title and a first-round bye.
[+] Enlarge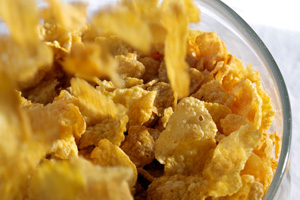 AP Photo/Carolyn KasterDoctors said the broken nose Ben Roethlisberger suffered against the Ravens looked like "Corn Flakes."
Roethlisberger did interviews after the game with a crooked nose that a doctor later said looked like "Corn Flakes." Roethlisberger had surgery to repair it the next day.
"He actually looks better now," Steelers receiver
Hines Ward
joked this week. "They broke his nose, but he's a warrior."
In 11 games against the Ravens, Roethlisberger has been sacked 38 times, by far the most times he has been sacked by any team in the NFL. In a Week 12 game at Baltimore in 2006, Roethlisberger was sacked a career-high nine times. In the second quarter of that game, then-Ravens linebacker
Bart Scott
ran around left end untouched and splattered Roethlisberger with a huge hit to the chest.
"That's probably the hardest I've ever been hit in my life," Roethlisberger told reporters afterward.
3. But look out, Ravens
Roethlisberger finished the season strongly, throwing for 600 yards in the final two games. According to Steelers offensive coordinator Bruce Arians, he's playing the best football of his career.
"He's as good as I've ever been around," Arians said this week. "He just continues to grow."
During his four-game suspension to start the season, Roethlisberger worked on several parts of his game, including improving his accuracy and throwing motion.
"He's shortened his delivery a little bit. … It's kind of like a golfer changing his stroke a little bit. It was minor, but it really gets the ball out of his hands faster," Arians explained.
The quicker delivery has contributed to Roethlisberger's reduced sack total. Last season, Roethlisberger was sacked 3.12 times per game. This season, he was sacked 2.66 times per game, almost a half of a sack less per game.
4. A rivalry within the rivalry
There will be a time when stalwarts such as Ward, Lewis,
Ed Reed
,
Aaron Smith
and
James Farrior
won't be a part of this great rivalry. But one matchup you can expect to see for the next 5 to 10 years involves Ngata, 26, and Steelers rookie center Pouncey, 21.
Both Pro Bowlers, Ngata and Pouncey will play a large role this weekend -- and beyond -- in which team controls the line of scrimmage in this series. Each is a first-round pick, Ngata in 2006 and Pouncey in 2010.
The 6-4, 305-pound Pouncey had a great rookie season, starting all 16 games, but Ngata was easily his stiffest test. In the first two meetings, Ngata was dominant with 15 tackles and 1.5 sacks. There's no shame in that because Ngata -- called "The NFL's version of the the Incredible Hulk" by
Carolina Panthers
center
Ryan Kalil
-- dominates a lot of players.
"The thing about Pouncey is I think his weakness today is big power guys," Scouts Inc.'s Matt Williamson said. "His movement skills are so good, and you have to remember few interior offensive linemen come out of school as a junior. So he's a very young person, and I don't think his strength and bulk have quite caught up with his frame and athleticism."
Williamson said that the 6-4, 350-pound Ngata is several years ahead of Pouncey in his development. But Williamson also said that he wouldn't be surprised if in two or three years Pouncey develops into the NFL's best center and catches up with Ngata, who may be the best interior lineman in football.
[+] Enlarge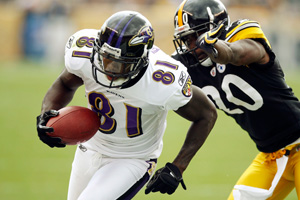 AP Photo/Keith SrakocicAnquan Boldin caught 12 passes for 184 yards and a TD in two games against the Steelers this season.
5. Looking for an X factor?
Ravens receiver
Anquan Boldin
is new to this rivalry, but he's always been a handful for the Steelers.
Boldin was acquired by Baltimore in an offseason trade with the
Arizona Cardinals
for key games like this. In four career games against Pittsburgh, Boldin has two 100-yard performances and 28 receptions for 388 yards and two touchdowns.
In the Super Bowl XLIII loss to the Steelers, Boldin had eight receptions for 84 yards. He caught 12 passes in two games against the Steelers this season.
Of the Steelers, Williamson said, "... quick stuff can be an issue for them," because of their coverages and blitzes. "Boldin is very smart, and he's often the hot receiver when opponents blitz. You can move him all over the formation, and he's especially good in the slot. He's the type of guy who can give the Steelers problems because he can nickel-and-dime you to death."
6. Once a Raven? Pffffft!
The Ravens once had a chance to pair 2008 Defensive Player of the Year
James Harrison
with future Hall of Famer Lewis at linebacker. Baltimore signed Harrison to a free-agent contract in 2003. But Baltimore had so much depth at linebacker with players such as Lewis, Peter Boulware, Adalius Thomas, Ed Hartwell and Scott, it cut the undrafted Harrison soon after.
Harrison
"He was just one of those guys who slowly developed," former Ravens coach Brian Billick said. "But he's developed and is obviously a great player. I think he fits [the Steelers'] scheme perfectly.
"We had a number of guys and he was a little bit one-dimensional in terms of what he did at the time. But he's obviously matured and grown in his game."
This week, Harrison scoffed at the idea that he was ever a Raven.
"Everybody has a misconception that I was there for a while; I was there for eight days," Harrison said. "Everything happens for a reason, whether it's good, bad or indifferent. There is a reason I was there, and there's a reason that I'm here now. … I'm happy."
7. The Professor says…
ESPN's John Clayton, who has covered the NFL for more than three decades, has seen his share of bad blood between teams. "The Professor" said he thinks Ravens-Steelers is the NFL's most heated rivalry, but said it doesn't measure up to the Raiders-Steelers rivalry of the 1970s.
"The Ravens-Steelers rivalry now is kind of like the Houston Oilers-Steelers rivalry of the 1970s," Clayton said. "There was truly animosity between the Oilers and Steelers, but there was always that respect. They wouldn't diss each other much because they knew there might be a punch coming back." The Steelers beat the Oilers in AFC Championship games in 1978 and 1979.
"The old Steelers' rivalry with the Raiders was simply brutal, some of the most physical football I have ever seen. Steelers receiver Lynn Swann used to get squashed in a Raiders secondary that included Jack Tatum and George Atkinson. Now, if they allowed defensive backs today to smack receivers all the way down the field the way they allowed them to back then, maybe Steelers-Ravens would approach that level of intensity."
8. This series is this close
Since 2003, Baltimore and Pittsburgh have played each other 17 times and each team has scored 302 points. During that span, Pittsburgh has nine wins, Baltimore eight.
According to ESPN Stats & Information, the Ravens and Steelers are the most dominant and consistent defenses over the past decade. Since 2000, Baltimore has allowed an NFL-low 2,992 points in the regular season (17 points per game). Pittsburgh is second in that span, allowing 3,011 total points (17.1 ppg). No other NFL teams have allowed fewer than 3,200 points since 2000.
9. Lewis, Ward don't cross trash-talking line
In an effort to spread the love in this rivalry, we asked Steelers veteran receiver Ward this week to name his favorite Ravens player.

Ward

Lewis
"Ha ha, I don't have a favorite Raven, to be honest with you," Ward said.
Not even a little bit, Hines?
"Nah," Ward responded. "I respect them. They're great ballplayers, and to say I played against Ray Lewis, Ed Reed and those guys, it's a huge honor because I know what type of competitors they are. But you won't see me and Ray texting each other before the game wishing him good luck."
OK, we tried. Ward and Lewis have been in the middle of a lot of confrontations over the years, and they usually involve hitting and trash-talking. Ever wondered what is said between these two Future Hall of Famers?
"I'm not going to talk about his mom, and he's not going to talk about my mom," Ward said. "Stuff like that we will keep in perspective, but it's heated. I'm not out there looking to start anything. But over the course of the game, I'm blocking him or somebody's blocking him and we're getting into scuffles where I'm kind of in the middle of things. He's still Ray Ray. People don't know him like we know him."
Lewis, of course, weighed in on the subject of the Steelers and Ward this week.
"Listen, I like pizza. I like a lot of things, and then there's a lot of things I don't like," he told reporters. "It's OK to use that word, 'like.' But it's always good when you don't get that other word. And that is, when you don't respect somebody. [Ward] gives us the same respect that we give them."
10. Hate to break it to you, but …
This rivalry isn't all bruises and trash-talking.

Oher

Wallace
Steelers wide receiver
Mike Wallace
is friendly with Ravens left tackle
Michael Oher
, whose life story was told in the hit movie "The Blind Side." Oher famously was adopted by a Memphis, Tenn., family and became a first-round pick of the Ravens in 2009.
Wallace and Oher both went to the University of Mississippi and instantly hit it off. In three of their four years together in college, Wallace visited Memphis to be with Oher and the Tuohy family for Thanksgiving. Unfortunately for Wallace, he wasn't portrayed in the movie.
"We ate some good food, but I think his mom bought it, though," Wallace said, laughing. "She may have bought it, but nevertheless, it was still good. We had chicken, mashed potatoes, stuff I wasn't really used to eating. Being from New Orleans, I ate gumbo and stuff, but this was different."
Still best friends, Oher and Wallace communicate regularly and spend time together during the offseason.
June, 23, 2010
6/23/10
11:00
AM ET
Notable players:
QB Terry Bradshaw, LB Jack Lambert, RB Franco Harris, DB Mel Blount, LB Jack Ham, WR Lynn Swann, DT Joe Greene, WR John Stallworth.
[+] Enlarge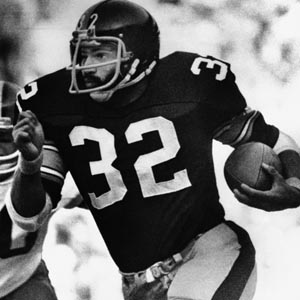 AP Photo/JJWFranco Harris posted career-high numbers during the 1975 season.
Analysis:
The '75 Steelers were the first Pittsburgh team to win back-to-back Super Bowls. It was also the best team from the famed Pittsburgh dynasty of the '70s, which included a bevy of Hall of Famers.
Led by the Bradshaw -- aka the "Blonde Bomber" -- Pittsburgh was able to win through the air and on the ground in an era when most teams were one-dimensional offensively and thrived on ground-and-pound football.
Pittsburgh's famed "Steel Curtain" defense was one of the best of all time and held seven opponents to single-digit scoring during the '75 season. In three playoff games, including the Super Bowl, offenses averaged only 12.3 points per game.
The '78 and '79 Pittsburgh title teams were also tremendous. But the '75 group had several key advantages.
For starters, every key member in '75 was in, or approaching, his prime. Hall of Famers Bradshaw (27), Blount (27), Ham (27), Lambert (23), Harris (25), Swann (23) and Stallworth (23) came into their own during this first run of back-to-back titles. By the time the second run of championships came at the end of the decade, this core group was four years older and some were approaching the end of their storied careers.
Further displaying their dominance, the '75 Steelers won by an astounding average of 15.1 points per game in the regular season, which led the NFL. It was also the highest margin of victory for any of Pittsburgh's championship teams. The '78 team won by an average of 10.1 points per game, while the '79 team won by 9.6 points per game.
Most impressive win:
The Steelers' 21-17 victory over the Dallas Cowboys in Super Bowl X was the team's crowning achievement. The Steelers won the turnover battle 3-0 to pull out a historic and close game. It completed the first of Pittsburgh's two back-to-back championships in the decade.
Research Room:
The Steelers allowed 17 touchdowns in 14 regular-season games in '75. In contrast, Pittsburgh scored 46 touchdowns, including two fumble returns for scores and one kickoff return.
Big Franco:
Harris is best known for the "Immaculate Reception" in '72 during a playoff win over the Oakland Raiders. But his best season rushing the football came three years later.
Harris recorded a career-high 1,246 yards rushing and 11 touchdowns during Pittsburgh's title run in '75. He averaged 4.8 yards per carry and also caught 28 passes out of the backfield. The nine-time Pro Bowler and Hall of Famer had eight 1,000-yard seasons.
Honorable mentions (in order):
1978:
A dominant group that won 14 games in the regular season and a Super Bowl. They scored at least 33 points in all three playoff victories.
1979:
The last championship team of the Steelers dynasty of the '70s. This group was No. 1 in total offense and No. 2 in total defense.
1974:
This team started the run of four championships in the '70s. But it wasn't until a year later that the core group of Hall Famers all blossomed and came into their own.
February, 3, 2010
2/03/10
12:54
PM ET
Hall of Famer Lynn Swann reminisces

about the great plays he made over his career.
April, 17, 2009
4/17/09
3:00
PM ET
| | |
| --- | --- |
| | |
| | Marlene Karas/US PRESSWIRE |
| | Receivers John Stallworth and Lynn Swann were part of the Pittsburgh Steelers' 1974 draft class that produced four Hall of Famers. |
Posted by ESPN.com's James Walker
ESPN Stats & Information recently determined the best draft class in history for each of the 32 NFL teams and ranked them. According to its research, the 1974 Pittsburgh Steelers were the runaway favorite.
Then ESPN.com's SportsNation let the fans decide -- and they agreed with the ranking.
NFL fans know the names: Lynn Swann, Jack Lambert, John Stallworth, Mike Webster. Four Hall of Famers taken in one draft class. Pittsburgh's championship run of four Super Bowl victories in the 1970s immediately followed, including the 1974 title during this draft class' rookie campaign.
Frankly, there was not another draft that came close in terms of impact and star power.
To be fair, the NFL drafts in the 1970s were much longer. Pittsburgh selected 21 players over 17 rounds in 1974. So the numbers give the Steelers an advantage over many modern draft classes.
But even if you reduced Pittsburgh's class of 1974 to the modern-day opening seven rounds, it still remains the all-time best. Swann, Lambert, Stallworth and Webster were all taken within the first five rounds.
Coming in second in our SportsNation poll was the 1985 Buffalo Bills. That draft class was highlighted by the selections of defensive end Bruce Smith and receiver Andre Reed. Smith will be inducted into the Hall of Fame this summer and Reed was a seven-time Pro Bowler.
October, 29, 2008
10/29/08
12:30
PM ET
| | |
| --- | --- |
| | |
| | Tom Hauck/NFL |
| | Peter Boulware retired as the Baltimore Ravens' all-time sack leader. |
Posted by ESPN.com's James Walker
Three years after his retirement from the NFL, former Baltimore Ravens linebacker Peter Boulware is tackling politics.
The four-time Pro Bowler and Ravens all-time sack leader is on the campaign trail this fall attempting to earn a seat in the Florida House of Representatives in Tallahassee, where he was once an All-American at Florida State University.
Boulware decided to enter politics about a year ago. Even his closest family members and friends were surprised Boulware wanted to make the jump into politics.
"I don't really like the public attention or the public spotlight, so it caught everybody off guard," Boulware said. "But I just felt like it was the right thing for me to do. If you would have asked me two and a half years ago if I thought I would be going into politics, I would have told you 'No way possible.'"
But Boulware is less than a week away from possibly obtaining his goal. He overwhelmingly won the Republican primary in August. Yet by most accounts Boulware is considered an underdog on Election Day against Democratic candidate Michelle Vasilinda, in part, because the Democratic ticket is more popular in Tallahassee.
Boulware believes his ability to bring people together will help cross party lines. His biggest platforms are continuing to improve his district's school system, featuring Florida State, Florida A&M and Tallahassee Community College. And he is passionate about home affordability and the economy, which are both major concerns locally and nationwide.
Boulware is studying these issues like he once did opposing offenses. He admits his popularity is a big boost to his campaign, but that alone is not enough to win a seat in the state house.
| | |
| --- | --- |
| | |
| | Submitted photo/Caleb Hawkes |
| | Former Baltimore Ravens linebacker Peter Boulware is now tackling politics. |
"In order to get somebody to vote, they want to know exactly who you are, what you stand for, and what are the issues that are close to your heart," Boulware said. "So the name recognition kind of gets you in the door, but after that you have to let people know that you're serious. You have some issues and concerns about them and that you want to help."
Boulware is not alone. He joins a growing list of former NFL athletes who have translated their natural love for competition into public service in government and politics.
Former Washington Redskins quarterback Heath Shuler and Hall of Fame receiver Steve Largent are among the former NFL players to enter the political arena. Boulware says he's studied some of those success stories and hopes he can add his name to that list.
When it comes to leadership, Boulware has a close confidant nearby in longtime Florida State head coach Bobby Bowden. By choice, Boulware is not parading the popular Bowden around Tallahassee to help him earn more votes in next week's election. But Bowden remains a calming influence in Boulware's life.
"He's kind of been in the background of it," Boulware said. "I don't want to drag coach Bowden into politics. But I talked to him before I got in and he encouraged me and said, 'I think you will do a good job and I'm here for you.'"
Retiring from football was one of the toughest things Boulware said he's ever had to do. Like many NFL players, playing was something he's done all his life and what was most natural to him.
Boulware felt he still had a few good years left, before his career was cut short after eight seasons by knee, toe and foot injuries. He tried to come back for about a year but was never the same player who registered 70 career sacks and was a cornerstone of one of the best defenses in NFL history.
Now Boulware's newfound passion for politics has helped the former linebacker move on from his first love and into the next phase in his life. Just like football, there are many challenges ahead in state government and Boulware hopes to have a chance to work through them.
"It's a great way for me to get involved with the community," Boulware said. "It's really kind of a way for me to tell the community and the state, 'Thank you.' I had a great opportunity to get a scholarship and do well here in Florida, and I want to give back and say, 'I'm here, and I'm here to help out and make this a better place.'"