April, 6, 2012
4/06/12
9:00
AM ET
Cleveland Browns
quarterback
Colt McCoy
knows it's been a bad few months when he can't toss a few passes without getting an entire school in trouble.
McCoy
In Springfield, Ill., last month to make an appearance at an annual Fellowship of Christian Athletes banquet, he threw balls to students of Sacred Heart-Griffin High School, including one football player. That prompted someone to submit a complaint to the Illinois High School Association about whether the workout represented an illegal practice, according to the
Springfield State Journal-Register
.
What? This is too late for April Fools'. I don't see Ashton Kutcher around so no one is getting punked. It's hard to believe that anyone thought anyone else was gaining an advantage because McCoy threw a few harmless passes before, let me stress this again, a
Fellowship of Christian Athletes
banquet.
Let me answer the complaint: No, this wasn't illegal. The only thing wrong about this situation is that someone submitted a complaint.
"He shared his faith and played with them and threw the ball around a little bit," Sacred Heart-Griffin football coach Ken Leonard told
Fox News
. "It was unbelievable experience. I'm sorry if any rules were broken, but in this instance, if I was wrong, I don't want to be right."
Marty Hickman, executive director of the Illinois High School Association, told the State Journal-Register that the matter is being reviewed.
This past year has been so difficult that McCoy has to wonder whether he was on the cover of the Madden video game.
His 2011 season ended with a concussion that knocked him out of the final three games. His starting job would've gone to either
Robert Griffin III
or
Sam Bradford
, if the Browns reportedly had their way this offseason.
Now, McCoy finds out that he can't throw a football without getting scrutinized.
December, 30, 2011
12/30/11
7:00
AM ET
Every morning, grab a cup of coffee and get your AFC North wake-up call here:
Peyton Hillis
acknowledged that he finally believes in the Madden curse after saying he didn't for nearly the entire season.
Hillis, who is on the cover of the "Madden NFL 12" video game, has struggled through a season that has included strep throat (which caused his agent to tell him to sit out a game), multiple injuries, trouble over the lack of a new contract and a reported intervention from his teammates.
So, does Hillis believe the Madden jinx now?
"Yeah, I heard about it," Hillis said, via
The Akron Beacon Journal
. "I really didn't think it would affect me. But I can tell you it's nagged at me a little bit this year. I can't argue that."
Hillis added, "Things haven't worked in my favor this year. There's a few things that happened this year that make me believe in curses."
Even though Hillis has run for 211 yards the past two games, Browns coach Pat Shurmur declined to say whether the team intended to re-sign the running back, who will be a free agent at the end of the season. "I think, as we look at our roster and we look at building our team ... we've got to consider everything," he said.
Hensley's slant
: Hopefully for Hillis, he believes in fresh starts. Some might think Hillis has returned to form with his strong finish. But the Browns can't forget all the drama in the first 14 weeks of the season and invest another contract into Hillis. The Browns need a fresh start at running back, too.
BENGALS
: The Bengals announced they are lowering ticket prices for more than 14,500 seats next season, which is about 27 percent of the capacity of Paul Brown Stadium. There won't be a price increase for the remaining seats, according to
The Cincinnati Enquirer
. This comes days after the Bengals sold out the regular-season finale with a special promotion of buy one ticket and get one free. Season tickets for 2012 can be purchased for as low as $40 per game. Before this week's sellout, 10 of the past 12 Bengals home games had been blacked out.
Hensley's slant
: The "buy one, get one free" decision was a nice gesture. The price decrease is a sign that the organization is committed to getting the fan base to show up again. It's hard not to be impressed by the Bengals' choices on and off the field over the past eight months. Mike Brown is the owner of the year in the AFC North this season.
RAVENS
: An unnamed opposing coach told
The Baltimore Sun
that linebacker
Ray Lewis
hasn't recovered from a toe injury, which has led to his lackluster play. "The toe is not ready," the coach said. "If you look back over Ray Lewis' career, one of his biggest assets was being able to get off blocks and run. Now, he can't get off blocks because he can't push off. He doesn't have the same juice in his legs. He can still go side to side, but if you run straight at him, he can't hold ground."
Hensley's slant
: This is why the Ravens should have rested Lewis for the final two weeks of the regular season and why Baltimore needs that first-round bye in the playoffs. The Ravens will need an effective Lewis if they face Denver or Houston in the playoffs. An ineffective one will lead to another 100-yard rushing game like the one Hillis had against Baltimore last Saturday.
STEELERS
: Despite nursing a high ankle sprain, Ben Roethlisberger remains on track to start against the Browns after his second full practice of the week. "I'd like to get to 75 (percent)," Roethlisberger said, via
The Pittsburgh Tribune-Review
. "I'd be really happy with that." Roethlisberger, who is also suffering from a head cold, is expected to wear a protective brace for the rest of the season, including the playoffs.
Hensley's slant
: If Roethlisberger does play, the Steelers had better call 75 percent run plays. Head coach Mike Tomlin and the Steelers would never live down this decision if the quarterback hurts his ankle further by playing in the regular-season finale. No matter what the Steelers players say, Roethlisberger is the team MVP.
June, 2, 2011
6/02/11
8:00
AM ET
Here are the most interesting stories Thursday in the AFC North: Morning take: Ward suggests flag football, which would do the trick but is too extreme. The league is doing all it can while remaining full contact, and the Steelers have to adjust.
Morning take: I agree with the article that offensive tackle Mike Adams and tailback Dan Herron would be the two to catch the Bengals' eye. Both play positions where Cincinnati could use depth.
Morning take: I don't know if he's ready, but Reid has a really good shot at right tackle. Free agency and Jared Gaither's future will be determining factors.
Morning take: Whether you believe in it or not, the "Madden curse" has been a factor with injuries. Hillis plays a very physical position and is certainly at risk in 2011.
May, 5, 2011
5/05/11
12:00
PM ET
This week I was curious to see Todd McShay's
2012 mock draft

, and then my jaw dropped after clicking the link.

With the No. 1 overall pick, the first team on the clock next year will be. ...
the Cleveland Browns?
Ouch!
The early projection from Scouts Inc. is that the Browns will be the NFL's worst team in 2011. Things will be so bad that Cleveland will draft Stanford quarterback Andrew Luck with the No. 1 overall pick, according to McShay's first mock draft.
If that's the case, second-year quarterback
Colt McCoy
will be a complete flop and
the "Madden curse"
will hit star tailback
Peyton Hillis
early and often. New head coach Pat Shurmur also will win about three fewer games than recently fired Eric Mangini, which would be disastrous.
It's early, but I don't see the Browns being the worst team in football. They have holes and young players thrust into key roles. But a lot has to go wrong for the Browns to finish 2-14 next season.
April, 27, 2011
4/27/11
6:20
PM ET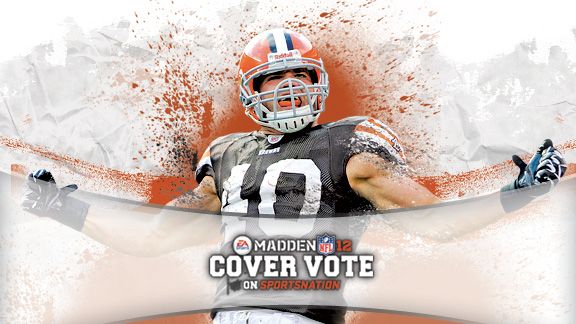 ESPN.com IllustrationPeyton Hillis does not believe in the Madden curse and says he's looking forward to bucking the trend.
Whether
you believe in the infamous "Madden curse"
or not, it's worth noting the popular video game series is undefeated when it comes to injuring players in the AFC North.
Cleveland Browns
running back
Peyton Hillis
received
a great honor Wednesday
by becoming the third AFC North player on the "Madden" cover. He capped
an amazing run
through the tournament by beating
Philadelphia Eagles
quarterback
Michael Vick
in the finals. But history suggests Hillis should beware, because once selected, players in this division have not been able to avoid injuries.
Pittsburgh Steelers
safety
Troy Polamalu
was the most recent AFC North player on the "Madden" cover in 2009. Coming off a Super Bowl victory, things immediately went downhill the following season as Polamalu injured his knee in Week 1 and missed 11 games. The Steelers imploded without their star safety by failing to defend their title and missing the playoffs.
In 2004
Baltimore Ravens
middle linebacker
Ray Lewis
was on the cover. He broke his wrist but only missed one game. He tried to play through the injury but it wasn't enough, as the Ravens missed the postseason. The following season Lewis injured his thigh and missed 10 additional games.
Will Hillis do what Lewis and Polamalu could not by avoiding injuries in 2011? Hillis believes he can.
"For people to believe in this so-called curse, I can't wait to prove people wrong," Hillis told ESPN.com Wednesday. "From what I believe and where I am in my spiritual life, it would be good to prove them wrong in that sense."
The Browns cannot afford to lose Hillis, who rushed for 1,177 yards last season. They do not have many weapons on offense and relied heavily on Hillis in both the running and passing game. Cleveland's 2010 season tanked towards the end when Hillis injured his ribs.
Cleveland is hoping second-year tailback
Montario Hardesty
can come back strong from a torn ACL. The team also will explore getting another running back in this week's NFL draft.
Based on the lengthy history
of the "Madden curse," adding insurance behind Hillis is probably a good idea.
September, 12, 2009
9/12/09
1:30
PM ET

Posted by ESPN.com's James Walker
With one game already in the books, let's dig into the weekend mailbag.
Parth from Baltimore and Matt from Philadelphia
want to know -- after Troy Polamalu's knee injury with the Pittsburgh Steelers -- what I think of the "Madden Curse."
James Walker:
It's real, Parth and Matt. The facts are there for all to see. If I were Arizona Cardinals receiver Larry Fitzgerald, I would stay in the house this weekend and ask out of Sunday's game. Just kidding. I think.
---
Greg from Maryland (Stand up!)
wonders why the Tennessee Titans stopped coming after Ben Roethlisberger in the fourth quarter and overtime.
James Walker:
The Titans are not a heavy-blitzing team, Greg. They're one of the few that do very well bringing just four players. But it also seemed when Tennessee brought five or six it usually worked. Titans coach Jeff Fisher is known as a conservative coach, and I agree that he trusted his four-man pass rush way too much late in the game. Ben Roethlisberger, like most great quarterbacks, will pick defenses apart with a lot of time in the pocket.
---
Zach from Chillicothe, OH
writes: I saw your predictions JW and I wanted to throw out my own: Bengals win 19-3, Titans win 20-17, Ravens win 31-14 and the Vikings win 24-9. I hope you see this and post it when I get all them right!
James Walker:
Well, you're 0-1 already, Zach.
Let me do the picks
in the AFC North from now on, OK?
---
War from Mentor, OH
wants to know if the Cleveland Browns plan to use both quarterbacks Brady Quinn and Derek Anderson.
James Walker:
Only if one is injured or benched. All indications are that Quinn will be the starter, and Browns head coach Eric Mangini already said that he's not interested in a two-quarterback approach. It's too confusing and more likely to hurt the team's continuity than help.
---
John from Baltimore, Md. writes:
James, I have never seen Ed Reed get as many penalties as Troy Polamalu did Thursday. Not to mention when Reed gets the ball he takes it to the house!
James Walker:
Our community just couldn't resist this week.
---
Jason Myers from Annapolis, Md.
is curious to get my take on potential blackouts.
James Walker:
My take is the NFL should temporarily lift the blackout rule this year due to historic economic circumstances. It would be a great statement by the league to reward its fans during this tough period. But the NFL is a business first and has every right to take a hard-line stance on a blackout rule that's been in place for a while.
---
Steven from Cincinnati
wants to know "where's the love" for his Bengals and their No. 24 rating in the latest power rankings.
Bug Genovese from San Jose, CA
also adds: "Cleveland No. 28 -- your knowledge is superficial at best."
James Walker:
Steve and Bud, I've been saying for weeks that ESPN.com streamlined the power rankings to four voters this year. Therefore, I am no longer a part of the process. Every week I will let readers know where AFC North teams rank. But your ire towards me is misdirected this year.
---
Nick from Portsmouth, NH
wants to know about the possibility of Lorenzo Neal returning to the Baltimore Ravens.
James Walker:
With the rapport between Neal and Ravens offensive coordinator Cam Cameron, it's always a possibility, Nick. Neal is on Baltimore's short list if needed. But the team is playing Le'Ron McClain more at fullback this year, and if that continues to work, Neal's services may not be needed at the moment.