AFC North:

Mangini fired 2011
January, 3, 2011
1/03/11
3:00
PM ET
BEREA, Ohio -- Although Cleveland Browns president Mike Holmgren left the door slightly open Monday, he has ruled himself out of the team's coaching search.
Holmgren says he doesn't consider himself a candidate for Cleveland's coaching job "at the present time." That small caveat provides the freedom to have a change of heart if necessary.
[+] Enlarge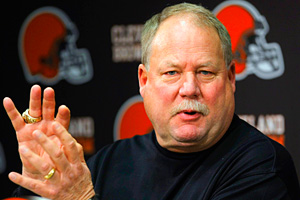 AP Photo/Tony DejakCleveland Browns president Mike Holmgren said he does not want to return to coaching.
But for now Holmgren says he's dedicated to finding a top-notch candidate to replace the
recently fired Eric Mangini
. Holmgren, 62, says he understands the amount of hours and commitment it takes to be a successful head coach, and Holmgren is not sure he's ready for that commitment again.
"At this stage in my life that's not what my first priority is. It really isn't," Holmgren said. "I am enjoying and relishing the role that [Browns owner] Randy Lerner in confidence has given me."
But Holmgren also was candid about the possibility of returning to coaching.
"To tell you right now that I will never coach again, here or anywhere, that probably wouldn't be honest," Holmgren said. "You know that and I know that. But as of right now I am the president of the Cleveland Browns, and my job is to find the best coach available for the job and the right coach available for the job."
Considering the pool of candidates, we believe
Holmgren is the best choice
. He can generate instant credibility and buzz with the Browns in ways other candidates such as Marty Mornhinweg, John Fox, etc., cannot. Coaching also is what Holmgren, who has been to three Super Bowls, does best.
Holmgren is probably the only A-list coach Cleveland (5-11) can land this year. Other top names like Jon Gruden will be a tough sell, considering more attractive vacancies are available.
Holmgren expressed concern Monday about the number of projected openings around the NFL this offseason. The best coaches all will be pursued by the same teams, and Holmgren faces a stiff challenge finding a way to push Cleveland to the top of that list.
"We're going to work very, very hard to get the right person, you can believe that," Holmgren said. "And I'm hopeful that we can. Am I positive? I can't say."
If Holmgren cannot find someone to meet his standards, it's possible he could rethink returning to the sidelines. When asked about that scenario Monday, Holmgren says it's "too premature."
Holmgren didn't provide names, but he says Cleveland's search will be wide-ranging.
This will be the most important decision Holmgren makes during his tenure in Cleveland. The stakes are raised even higher considering the next coach -- fair or unfair -- will be compared to what Holmgren may have accomplished had he coached the team.
January, 3, 2011
1/03/11
12:42
PM ET
BEREA, Ohio -- Although the
Cleveland Browns
fired
Eric Mangini on Monday
, the team doesn't have to look far for its best option to replace him.
"The Big Show" is already in the building.
[+] Enlarge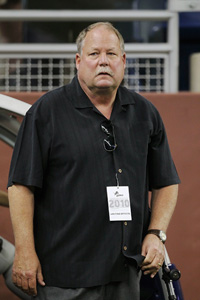 Leon Halip/Getty ImagesMike Holmgren has a 161-111 record in 17 seasons as a head coach.
With a so-so list of possible candidates that includes former
Carolina Panthers
head coach John Fox and
Philadelphia Eagles
offensive coordinator Marty Mornhinweg, there's only one person who can generate the type of buzz and instant credibility Cleveland desperately needs -- and that person is Browns president Mike Holmgren.
Cleveland's best chance to turn this struggling franchise around quickly is for Holmgren to get back to what he does best. He's been out of coaching for two years but never lost the itch to return to the sidelines. Holmgren is 161-111 (.592 percent) in 17 seasons as a head coach.
But at 62, it's now or never for Holmgren. With three Super Bowl appearances and one championship already on his résumé, Holmgren would be by far the most accomplished coach to roam the sideline for Cleveland since the franchise returned to the NFL in 1999.
Browns players -- although unsure about Holmgren's thought process -- seemed excited about the possibility as they cleaned out their lockers for the final time this season.
"I'd be excited," Browns Pro Bowl left tackle
Joe Thomas
said. "He's a proven winner."
"Obviously, yeah, because I've been with him in Seattle," said Browns quarterback
Seneca Wallace
, who played four years under Holmgren. "I know how he coaches. I know what he looks for and I know what he wants. But at the end of the day, I know he's going to make the right decision for us."
Before anyone mentions other big-name coaches such as Jon Gruden or Bill Cowher, here's the harsh reality about the Browns: It's not a very attractive job for A-list head coaches. Cleveland changes regimes every two or three years. It's an unstable organization that lacks talent and has trouble competing with AFC North heavyweights Baltimore and Pittsburgh.
A-listers will pass on Cleveland for better opportunities. Therefore, the only big-name coach the Browns have a chance to land this year is Holmgren.
Cleveland can maximize its investment with Holmgren returning to the sidelines. The Browns are heading in the direction of running a West Coast offense, and there's no better person than Holmgren to make a seamless transition.
"It would be great," Wallace said of implementing a West Coast offense. "I think in this division, it could be good. I've been in that system and went to a Super Bowl in that system, and we have the talent to do that on offense."
After firing Mangini on Monday, the grace period is officially over for Holmgren. There are no more scapegoats to pin a poor season on. Everything that happens, starting in 2011, is officially on Holmgren's watch.
Holmgren may very well choose to stay in the luxury suites and watch someone else like Mornhinweg or Fox coach the Browns in 2011. But it would be risky for Holmgren to stake his reputation on someone without nearly the same credentials as a head coach.
Browns general manager Tom Heckert is more than capable of running the full operation of the front office with input from Holmgren. The time is now for Holmgren to be more hands-on and call the shots from the sidelines.
January, 3, 2011
1/03/11
10:24
AM ET
BEREA, Ohio -- The
Cleveland Browns
fired head coach Eric Mangini Monday morning after two seasons.
Here is some reaction from the Browns organization:
Holmgren
Browns president Mike Holmgren
"This decision was not easy for me, and it was one into which I put a great deal of thought. Although we have made improvements this season, my responsibility is to ensure that we establish a program that will allow this team to compete at a championship level. That will continue to be our goal in everything we do. I want to thank Eric for all of his contributions to the Cleveland Browns and wish him and his family the best of luck in the future."

Mangini
Former head coach Eric Mangini
"The experience coaching the Cleveland Browns the past two years has been tremendous. I appreciate the opportunity that the Lerner family gave me. I have a deep respect for the players that I have coached the past two years and how they have made a profound difference in changing the culture. ...I feel strongly that the Cleveland Browns are headed in a very positive direction and greatly value the commitment and exceptional efforts of the coaches, players and everyone in the building that I've worked with in trying to help achieve our goals."
The AFC North blog is at Browns headquarters and will get additional reaction from Holmgren and the players as they clean out their lockers on Monday.
January, 3, 2011
1/03/11
10:08
AM ET
BEREA, Ohio -- The
Cleveland Browns
officially fired head coach Eric Mangini, the team announced Monday morning.
Mangini was 10-22 in two seasons in Cleveland, including a 2-10 mark in the AFC North. The Browns were embarrassed, 41-9, in Mangini's last game Sunday against the
Pittsburgh Steelers
.
We will have much more on Cleveland's coaching change coming up in the AFC North blog.