November, 14, 2013
Nov 14
10:00
AM ET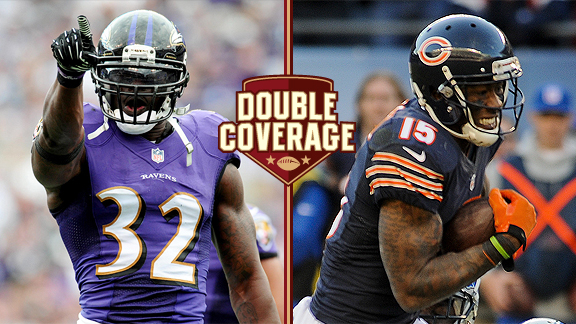 USA TODAY SportsJames Ihedigbo and the Ravens' secondary face a challenge in Bears receiver Brandon Marshall.
LAKE FOREST, Ill. -- If the playoffs started today, the
Chicago Bears
and the
Baltimore Ravens
would be out. There are still seven games left in the season, but none of them can be squandered, so this matchup Sunday will see both teams fighting to get into contention in their respective conferences.
The Bears enter the contest without quarterback
Jay Cutler
and two-time Pro Bowl cornerback
Charles Tillman
, while the Ravens are coming off their first victory in more than a month. ESPN.com Bears reporter Michael C. Wright and Ravens reporter Jamison Hensley break down the matchup.
Michael C. Wright:
Last weekend, Baltimore snapped a three-game losing streak. Does the win restore any faith in the defending Super Bowl champions' ability to return to the playoffs?
Jamison Hensley:
The Ravens believe Sunday's overtime win over the
Cincinnati Bengals
was a good start to getting back to the postseason for a sixth straight year. Even though the Ravens knocked off the AFC North leaders, no one is boasting that this is a playoff team because it was far from a statement game. The Ravens' offense can't run the ball, and the defense can't get opponents off the field late in the fourth quarter. The defending Super Bowl champions definitely have some serious flaws this season.
Baltimore's attitude would change if they can win in Chicago. The schedule suggests that this is a pivotal game. If the Ravens can change their fortunes on the road and beat the Bears, they will be at .500 entering a stretch of three straight home games against the Jets, Steelers and Vikings. The Ravens have had great success under head coach John Harbaugh in November and December, and things are set up for them to do it again this year. That is, if the Ravens can get the franchise's first victory in Chicago.
Speaking of attitude, how are the Bears dealing with losing Cutler again?
Wright:
Well, after all the second-guessing about when head coach Marc Trestman should've pulled Cutler or about whether the quarterback should have played in the first place, I'd say there's a fair amount of confidence in backup
Josh McCown
. Before being thrust into action on Oct. 20 at Washington when Cutler tore a muscle in his groin, McCown was already one of the favorites in the locker room. General manager Phil Emery has called McCown a "glue guy," and other players consider the 34-year-old quarterback a father figure.
In three games filling in for Cutler, McCown has completed 42 of 70 passes for 538 yards and four touchdowns, with no turnovers and a passer rating of 103.1. Obviously, in his first full start, McCown played a major role as the Bears upset the
Green Bay Packers
at Lambeau Field. He has demonstrated mastery of Trestman's offense, and the quarterback attributes that to the fact he learned the scheme from the ground up, and actually had some input in the implementation of it.
Joe Flacco
received the huge contract, but clearly hasn't been playing like a $120.6 million quarterback. What has been his biggest issue, and do you see him turning things around this season?
Hensley:
Flacco takes a lot of heat because he hasn't put up the expected numbers after signing one of the richest contracts in NFL history. But he is in a tough situation. He lost his two favorite targets when
Anquan Boldin
was traded and
Dennis Pitta
went down with a dislocated hip. Flacco has been sacked 30 times (only
Ryan Tannehill
and
Ben Roethlisberger
have been sacked more). Harbaugh applauded Flacco for making plays while scrambling. But Flacco is really running for his life.
While Flacco hasn't had the strongest supporting cast, he also hasn't been the same quarterback he was during the Ravens' championship run. The biggest change is his inability to connect deep. On Sunday, Flacco was 0-for-7 with an interception on throws at least 15 yards downfield, which qualifies as the most deep attempts without a completion he has had in his career. With all of the problems on offense, the Ravens desperately need more big plays out of Flacco.
What's the biggest concern for the Bears' pass defense?
Wright:
Where would you like to start? There are several. But the most significant right now is how the Bears will perform without one of their best players in Tillman, who on Monday was placed on the injured reserve/designated to return list. Tillman, with three interceptions and three forced fumbles, was one of the main reasons the Bears are tied for fifth in the league with 20 takeaways. Since coming into the league in 2003, Tillman ranks in the NFL's top 10 in interceptions (36), interception-return yards (675), defensive touchdowns (nine), forced fumbles (42) and passes defended (133). That level of production is difficult to replace. But the Bears are confident in backup
Zack Bowman
's ability to get the job done. Bowman started 12 games in 2009 and led the team with six interceptions. When Bowman has played this season, he has been adequate (one INT). He has size (6-foot-1, 196 pounds) similar to Tillman, which allows him to match up well with bigger receivers.
The Bears have struggled against the run, and you'd think they could be in for a long game against someone such as
Ray Rice
. But from what I've seen so far, he hasn't been the Rice I remember from last season. What's the deal with him?
Hensley:
Rice injured his hip in Week 2 and hasn't been the same since. He insists he's at full strength, but the numbers say otherwise. Rice's average of 2.5 yards per carry is worst among qualified running backs. But you can't put all of the blame for the NFL's 30th-ranked rushing attack on Rice. The Ravens' offensive line has struggled to open holes, and because Flacco can't throw the ball deep, defenses are stacking the box with eight players.
Getting some semblance of a running game is key to turning around the season, which is why the Ravens need to commit to the ground game against Chicago. Under Harbaugh, the Ravens are 45-12 when they gain more than 100 yards rushing. That's the fifth-best mark in the NFL, which shows how important a running game is to the Ravens.
Baltimore has been up and down in terms of run defense. In their five losses, the Ravens have given up an average of 124.4 yards rushing. The Bears'
Matt Forte
had good back-to-back games before he was shut down against the Lions. What's the key to him rebounding against the Ravens?
Wright:
The No. 1 key would be better blocking from the offensive line. For the first time all season, the Bears on Sunday probably lost the battle at the line of scrimmage on offense. At best, Trestman said he would call it a draw. The Bears know it's unacceptable for Forte to average 1.9 yards per carry on 17 attempts, and Trestman said one of the major contributors to the performance against the Lions was that several players missed assignments on key plays. Going into that game, the Bears knew they wouldn't put together a strong rushing game, but thought they'd have a chance to pop three or four explosive runs against Detroit's dominant front. Obviously that didn't happen. But if the Bears clean up some of the execution issues up front, Forte should be able to rebound. Going into Sunday's game, he was averaging 4.7 yards per carry. He'll have to get back on track if Chicago expects the offense to run smoothly because it is by establishing Forte that the Bears set up their play-action passing game.
January, 10, 2013
Jan 10
7:30
AM ET
The Ravens will head out to Denver tomorrow for Saturday's divisional playoff game, but they're not the only ones with travel arrangements. It looks like the NFL head-coach and general-manager searches could affect the rest of the teams in the division. I'll explain further in the wake-up call ...
RAVENS
: Slowed by injuries, linebacker
Terrell Suggs
has one sack in his past eight games and just one quarterback hurry in his past three games, including none against Denver last month. The Ravens, though, don't sound disappointed. "I'm marveled the guy has played at all this year," defensive coordinator Dean Pees said, via the
team's official website
. "So I think anything that we've gotten out of Terrell Suggs has been a positive. I don't look at it at all that he hasn't done something successful. I look at it as this has been a bonus that we ever had the guy."
BENGALS
: Cornerback
Terence Newman
, who played under defensive coordinator Mike Zimmer in Dallas and Cincinnati, gave a ringing endorsement to his coach. Zimmer interviewed with the Browns on Wednesday and has drawn interest from the Chargers. "I think he'd do great. It's kind of an enigma how he's not a head coach already," Newman told the
team's official website
. "His track record speaks volumes. It's just one of those things where you have to get an opportunity; you have to get a chance. If there's any coach right now that's deserving, I think it would be him. He's won Super Bowls. He's led great defenses. He's led great teams. So, with that being said, he's well deserving."
STEELERS
: Omar Khan, the Steelers' director of football and business administration, is interviewing for the Jets' GM job on Thursday, according to the
New York Daily News
. Khan is part of the Jets' growing list of candidates that includes former Bears general manager Jerry Angelo and Dolphins assistant general manager Brian Gaine. Losing Khan would be significant for a Steelers team that needs to do some maneuvering to get under the salary cap. Khan has been Pittsburgh's chief contract negotiator for more than a decade and is known for his cap expertise.
BROWNS
: Marv Levy and Bud Grant, two Hall of Fame coaches who worked in the Canadian Football League, believe Montreal Alouettes coach Marc Trestman would have no trouble making the transition back to the American game. Trestman was interviewed by the Browns earlier this week. "You do have to adapt a bit, but it's the same game," Levy told The
Plain Dealer
. "The same things that win in the U.S. win up there. If you run, throw, block, tackle, catch, kick better than your opponent, you're probably going to win. It's still about fundamentals and teaching. I have been very impressed with Marc. I know he's being considered for several jobs and I think he'd make a darn good NFL coach."
January, 9, 2013
Jan 9
8:00
AM ET
Just a friendly reminder that the AFC North chat will start at 2 p.m. and the weekly column will get posted around noon. Here's your wake-up call ...
RAVENS
: In his past five playoff games, running back Ray Rice has averaged just 70.6 yards rushing and has lost four fumbles. "You play the regular season, that's what you get paid for," Rice said, via
The Baltimore Sun
. "But in the playoffs, you are building a legacy. Obviously, I want to be a guy that's remembered for his playoff play. Playoffs are not about stats. Playoffs, for me, are about winning games."
BENGALS
: Offensive coordinator Jay Gruden is scheduled to interview for head-coaching jobs with the Cardinals and Eagles, but he doesn't sound like he is ready to leave anytime soon. "When you enter the coaching profession you necessarily don't do it to be an assistant your whole life. Eventually you'd like to be top dog and run your own ship, when the time's right," Gruden said, via
The Cincinnati Enquirer
. "Every team has their issues and their problems. That's why they're looking. Eventually when the time is right, hopefully I'll get a chance. If not this year, or next year, or the year after. I'll be happy here because it's a great place. There's still work to do."
STEELERS
: Former Steelers coach Bill Cowher
wants to coach again
at some point. "It would be a challenge," Cowher told Newsday, "but I think that's probably why I would get back into it, because of the challenge." Cowher, who has been a studio analyst since retiring in 2006, doesn't believe the game has passed him by. "I did it for 27 years. You don't just forget things overnight," Cowher said. "One thing about this job is it's been really good, because it allows me to study the game and do features on the game. I want to know what I'm talking about, so I'm watching tape. It's not like I'm out of it. I know how the game is changing."
BROWNS
: The
Plain Dealer
reported that the Browns interviewed CFL coach Marc Trestman on Tuesday and have requested permission to speak to Colts offensive coordinator Bruce Arians, who is expected to be released from the hospital Wednesday after dealing with an inner ear infection. Meanwhile, Alabama coach Nick Saban said Tuesday he's not leaving for the NFL. "How many times do you think I've been asked to put it to rest?" Saban said. "And I've put it to rest, and you continue to ask it. I kind of learned through that experience (with the Dolphins) that maybe this is where I belong, and I'm really happy and at peace with all that. So no matter how many times I say that, y'all don't believe it, so I don't even know why I keep talking about it."
January, 7, 2013
Jan 7
9:45
AM ET
The start of Phase Two of the
Cleveland Browns
' coaching search will have an international flair.

The Browns plan to interview Canadian Football League coach Marc Trestman in Chicago,
ESPN Radio in Cleveland
is reporting. The interview will occur in Chicago because Trestman is interviewing with the Bears on Monday.
In five seasons as the head coach of the Montreal Alouettes, Trestman has led the club to three appearances in the Grey Cup, including consecutive championships in 2009 and 2010 and has been named the league's coach of the year (2009). Trestman also has experience in the NFL, helping tutor such quarterbacks as
Steve Young
(49ers offensive coordinator and quarterbacks coach from 1995-96) and
Rich Gannon
(Raiders offensive coordinator and quarterbacks coach from 2001-03).
Trestman, who is also a quarterback consultant, has a connection with Browns quarterback
Brandon Weeden
. On Trestman's
official website
, he lists Weeden as one of the quarterbacks that he has helped prepare for the NFL combine and Pro Day. Other quarterbacks listed include
Jay Cutler
and
Tim Tebow
.
This is Weeden's quote on Trestman's website: "Marc is an extremely knowledgeable football mind, and with his obvious success everywhere, he has proven that he knows how to develop and teach quarterbacks."
In addition to Trestman, Colts offensive coordinator Bruce Arians is expected to be part of the Browns' rebooted coaching search, according to
Jason Cole
of Yahoo Sports.
January, 13, 2009
1/13/09
12:30
PM ET
Posted by ESPN.com's Tim Graham
Albert Haynesworth was not impressed. He played them twice and stopped them mostly, albeit not often enough to beat them when it mattered.
Haynesworth, the Tennessee Titans' all-world defensive tackle, couldn't believe the meager Baltimore Ravens were advancing to the AFC Championship Game.
| | |
| --- | --- |
| | |
| | Larry French/Getty Images |
| | Joe Flacco has run the Baltimore offense efficiently his first season in the league. |
"I think their offense is weak," he said after the Ravens ousted the Titans, 13-10, at LP Field in the divisional playoffs. "I don't think they have much of an offense. We shut down the run. We shut down pretty much the pass."
Bitterness stoked Haynesworth's comments. Boredom has done the same for many others.
Baltimore's offense doesn't exactly defibrillate the Sunday soul. It is based on such hardcore football tenets as ball control, field position and clock management.
"Nothing that'll make you put your seatbelt on and have a sweat towel off to the side for," said ESPN analyst and former Pro Bowl quarterback Kordell Stewart.
But the Ravens are more intricate than three runs and a visit from the long snapper. Although they'll never be described as prolific, the Ravens head into Sunday's showdown against the Pittsburgh Steelers with one of the NFL's more straightforward and efficient offenses.
Ravens offensive coordinator Cam Cameron has designed a system unassuming rookie quarterback Joe Flacco can handle mainly because a run play never is the wrong play.
Le'Ron McClain, Willis McGahee and Ray Rice propelled the Ravens to an average of 148.5 rushing yards a game, fourth-highest in the league. They ranked 28th in passing offense, trying the third-fewest throws.
The Ravens committed 21 turnovers, a decent figure. Yet when subtracted from their league-high 34 takeaways, their plus-13 turnover margin ranked third.
The Ravens came up with three takeaways deep in their own territory to beat the Titans.
"They had about two or three pass plays and that's about it," Haynesworth lamented. "We gave them a lot of stuff. The offense gave the ball away and kept them in the game."
With the Ravens' incandescent defense providing support, the need for Flacco to take chances is minimized. So often the Ravens' defense would steal the ball, perhaps score on its own and usually set up the offense with a short field.
Or, with the high likelihood of a three-and-out performance from Baltimore's defenders, a simple Sam Koch punt looked good enough that the Ravens would run on third down and be content to flip the field that way.
"It's doing all the right things to put your team in position to win," said Marc Trestman, a former offensive coordinator or quarterbacks coach for seven NFL teams and now head coach of the Montreal Alouettes.
"It would be just totally inappropriate for them to put all the weight on the shoulder of Joe Flacco at this point in his career. They don't have to because they have elements that are dynamic: Their ability to play defense, the ability to get the football, the ability to get to the quarterback, play special teams and run the football."