AFC North:

Marquis Flowers
August, 24, 2014
8/24/14
2:00
PM ET
CINCINNATI -- In no particular order, the following are six
Cincinnati Bengals
you'll want to pay attention to during Sunday night's preseason game at the
Arizona Cardinals
(8 p.m. ET).
Dalton
QB Andy Dalton:
Pay close attention to how much Dalton plays against the Cardinals in this "dress rehearsal" type of preseason game for him and other starters. Coach Marvin Lewis said this week that he wasn't going to cap the number of quarters Dalton would play. He instead wanted to see how quickly he hit a limit of snaps. It's likely we'll see Dalton late into the second quarter, and he might even sneak into the third quarter, too, if the snaps are within Lewis' range. More important to the Bengals than how much Dalton plays is how well he performs. The team is hopeful he can continue to showcase some of the impressive play that has defined his strong preseason start.
Hill
RB Jeremy Hill:
Lewis and offensive coordinator Hue Jackson have both said they believe their rookie running back can play with the Bengals' first-team offense, and they mentioned that they would like to get him more reps with that unit Sunday. That doesn't mean
Giovani Bernard
won't be getting first-team reps, too. It just means the starting tailback might end up getting a little extra rest this week so that Hill can share a few more opportunities earlier in a preseason game. In the first two preseason games, Hill was the third back on the field, replacing Bernard's previous replacement,
BenJarvus Green-Ellis
. With Green-Ellis battling a stomach virus and fellow backup
Rex Burkhead
trying to recover from a knee injury, Hill should have several chances to augment his running backs-leading rushing average of 5.8 yards per preseason carry.
C Russell Bodine:
With Dalton expected to be in the game a little longer, look for Bodine to have more reps with a less fluid offensive line. In the first two games, the rookie center remained on the field for a few series after Dalton exited, as he also snapped to backup quarterbacks
Jason Campbell
and
Matt Scott
. He also snapped with different rotations of linemen lined up next to him. In this game, he'll probably see more consistent action with the starting linemen dand Dalton as the group continues to fine-tune its timing and rhythm. He's been cleaner in recent weeks. The snap issues that bugged Bodine in training camp faded a bit last week.
Atkins
DT Geno Atkins:
The Bengals' Pro Bowl defensive tackle and heralded pass rusher will be making his 2014 debut against the Cardinals, trying to help put heat on Arizona quarterback
Carson Palmer
, a former Bengal. Atkins has gone through team drills all this week, according to coaches. He's also looked good in them. Lewis said Friday that the lineman has looked like his old self, exploding off the line and maneuvering his way into the backfield. Atkins will be playing for the first time since tearing his ACL last October at Miami. As the Bengals prepare for the regular season, it's important for Atkins to get steady reps in a preseason game in order to boost his confidence in the surgically repaired knee. Definitely keep an eye on how he looks, and how conditioned he appears to be.
LB Marquis Flowers:
Sunday's game will be a homecoming for Flowers, who will be playing his first professional game miles from where he grew up. The Phoenix native was drafted by the Bengals in the sixth round in May after starring at the University of Arizona. Also see how he responds to the defensive situations he'll be part of late in the ballgame. Although listed as a linebacker, Flowers also played safety in college and has been noted for his coverage skills. As the Bengals continue harping on the need to find quality backup players, don't be surprised if Flowers continues getting respectable minutes. He played 30 snaps on defense and 13 on special teams last week against the Jets.
CB Chris Lewis-Harris:
Lewis-Harris could play a sizable role this week as the Bengals fight through a few injuries in the defensive backfield. Rookie
Darqueze Dennard
doesn't seem likely to play after missing every practice this week with a hip injury. Had this been the regular season, he probably would end up gutting out the injury. With Dennard out and
Dre Kirkpatrick
an uncertainty after missing Friday's practice with a stomach virus, the Bengals might be giving a few reserve corners additional playing time. Lewis-Harris would be among those to benefit.
August, 7, 2014
8/07/14
9:35
AM ET
CINCINNATI -- In no particular order, here are five
Cincinnati Bengals
you'll want to pay attention to on the defensive side of the ball during Thursday night's preseason opener at the
Kansas City Chiefs
:
Thompson
1. DT Brandon Thompson.
A third-year player from Clemson, Thompson enters the Bengals' preseason opener as a starter at defensive tackle with Pro Bowler
Geno Atkins
continuing his slow return from ACL surgery last November. Although Atkins has been cleared medically to practice, he hasn't participated yet in any 11-on-11 drills and hasn't been part of any contact since his official return last week. Atkins won't play against the Chiefs, but Thompson will. The former backup ought to get his share of action in Thursday's game, too, likely playing deep into the game.
Larry Black
and
LaKendrick Ross
are among the players who could cycle in and replace him in the Bengals' base defense late, but don't be surprised if Thompson lasts into the second quarter.
2. CB Darqueze Dennard.
Of course you have to keep your eyes on the Bengals' first-round draft pick, right? With veterans
Leon Hall
,
Terence Newman
and
Adam Jones
likely to see very limited playing time, Cincinnati probably will be turning to Dennard early and often. The rookie could get in as early as the late first quarter. You may want to pay attention to Hall's few reps, too. This will be his first live, game-speed action since last October when he tore an Achilles. With the Bengals likely using a vanilla game plan on both sides of the ball, expect Dennard to be tasked with doing what he does best: attempt to shut down receivers with his patented man-press coverage. Dennard's man coverage skills made him a first-rounder. Since the Bengals have been running more man-cover defense in training camp, coaches have remarked about how much looser and better Dennard has played.
Stanford
3. CB R.J. Stanford.
Not expected to get quite the same early playing time as Dennard, Stanford still should see a large share of action when he dresses Thursday night. A fifth-year corner noted for his special-teams skills and versatility, Stanford has been a bit of a surprise addition in Bengals camp this year. The veteran has gotten his share of reps covering some of the team's best receivers, and he's handled his own. If Cincinnati's cornerbacks were ranked by how well they have performed in camp, Stanford could be among the top 3-4. Stanford's veteran coaching skills have been noteworthy. Since an afternoon when he surprised receiver
Cobi Hamilton
with a deflection on what had looked like a surefire first-down catch, Hamilton has performed better. Stanford was among those who gave the wideout a quick tutorial after the pass breakup. Before that, Hamilton had been going through a rough camp, dropping most everything that came his way. He's been much more impressive since.
4. LB Marquis Flowers
. An outside linebacker who played safety in college, Flowers might be best compared to fellow Bengals linebacker
Emmanuel Lamur
. They play the same position and will be asked to fulfill many of the same roles. When it comes to playing style, though, Flowers might be best compared to Bengals weakside linebacker
Vontaze Burfict
. Both talk a lot of trash Both can hit hard. Both are former Pac-12 defensive players who feel they have a lot to prove. While tackling might be a concern for some defenders who haven't done much of it in camp, there are no worries with Flowers. His very first play of preseason practices was a hard forearm shiver that leveled Hamilton in a non-contact 7-on-7 drill. They know he can hit. Keep an eye on his playing time. He figures to be on the field often in place of Lamur, whose playing time might be monitored somewhat closely these next four weeks. Lamur suffered a serious shoulder injury in the preseason finale last season.
DiManche
5. LB Jayson DiManche.
Back in a fight for a roster spot this year, DiManche is among the Bengals defenders who will want to perform well in these next four games. He made the team last year and was a valued addition to its specia- teams units, but the depth at his position keeps him in a true battle. Another linebacker in a fight for a job is local product
J.K. Schaffer
. The second-year player hasn't had the best luck so far. For more than a week he's been under concussion protocol, forcing him to miss valuable practice time. Like Flowers, DiManche ought to be on the field often. He'll primarily be playing the strongside linebacker position in relief.
July, 30, 2014
7/30/14
7:15
PM ET
CINCINNATI -- A daily review of the hot topics coming out of
Cincinnati Bengals
training camp:
There's only one place to begin Wednesday's practice report: with the fireworks. Twice, members of the offense and defense had to be pulled apart as emotions and tensions ran high outwardly for the first time. First, linebacker Emmanuel Lamur and offensive guard Clint Boling came to blows at the end of a goal-line drill. Lamur was seen grabbing Boling's face mask as pushing and shoving ensued around them. A.J. Green then came in, appearing to help calm and subdue Lamur in the back of the end zone. The linebacker misinterpreted the Pro Bowl wideout's actions and swung a punch at him. Fans who saw the blows started shouting, "No! Not on A.J.!" Later, linebacker Marquis Flowers and center T.J. Johnson exchanged words briefly, but that scuffle was stopped quickly before it became anything bigger.
After practice, Lamur walked up to a grinning Hue Jackson and gave the offensive coordinator a hug. Lamur also exchanged a jovial fist-bump with Boling as he walked off the practice fields. When Lamur was asked to comment on the near-brawl, he simply said: "It's over." Defensive end Wallace Gilberry said it's just a sign the Bengals are ready to get to their first preseason game next week at Kansas City. "We're ready to hit somebody else, but at the end of the day, we're a team first and foremost," Gilberry said. "Coach [Marvin Lewis] hates it, but it gets us fired up."
Flowers, a noted trash-talker, told me he doesn't want to rein in his on-field actions too significantly, but he added that he wants to monitor what he says and does a little better. In addition to all the smack he was talking to his offensive counterparts, the rookie began practice with a pop when he gave receiver Cobi Hamilton an unexpected forearm shiver as Hamilton ran out of the backfield in a low-speed drill. The hit was so hard, it sent Hamilton to the turf instantly, caused fans nearby to gasp and made noted hard hitter Vontaze Burfict holler his support. "I've got to watch it," Flowers said. "I thought the run was coming at me, but obviously I didn't want to do that. I just wanted to tag off. We don't want nobody on the ground, but at the same time, I was just trying to protect myself."
Flowers said that after his interview, he was headed straight to Hamilton's locker to apologize. Flowers' actions probably are best chalked up to first-day excitement. After beginning camp on the active physically unable to perform list, he was medically cleared along with defensive tackle Geno Atkins earlier in the day. While Flowers had a chance to mix into some of the team drills, Atkins was noticeably absent. The bulk of his work came just before practice, when the team walked through position-specific drills. For now, the Bengals plan on taking things slowly with Atkins.
Mohamed Sanu was the clear MVP of Monday's practice, passing the football, catching it and running with it out of the backfield. He didn't do all of that Wednesday, but he still began the workout in a unique way, taking the ball on a pitch from Green on a double reverse. The Bengals also tossed in a flea-flicker during their opening drills. Plays like that are all to show those watching that Jackson's offense has the potential to showcase several bells and whistles this season.
May, 29, 2014
5/29/14
12:15
PM ET
CINCINNATI -- So far seven of the
Cincinnati Bengals
' eight draft picks have signed contracts.
We've obtained the financial terms for four of them, including fifth-round quarterback
AJ McCarron
.
Like the rest of his new teammates McCarron was signed earlier this month to a four-year rookie deal that will pay him exactly what he was slotted to receive. Long before the draft, rookie salaries were determined as part of a scale based on where the players were picked. Naturally, the higher a player was drafted, the more money he will receive across the next four years. The rookie wage slotting system was part of the latest collective bargaining agreement.
According to ESPN Stats & Information, for the next four seasons, McCarron will receive about $2.4 million. He also will make nearly $182,000 across the next four years from his signing bonus. Since it will be paid over the life of the contract, McCarron is looking at more than $45,000 each year from his signing bonus.
Once he gets signed, Bengals first-round selection
Darqueze Dennard
is looking at more than $1 million each year in signing bonus money. As the No. 24 overall pick, he's slotted to receive a $4.1 million signing bonus on top of about $8 million for his first four seasons in the league. He's the only draft pick the organization has not signed, although he has practiced this week as organized team activities begin.
Dennard said Tuesday that he
wasn't worried about not getting paid
right now. He has faith that something will get done soon.
"Money's not a big thing on my mind," Dennard said. "The only thing on my mind is helping the team out and winning championships."
Second-round pick
Jeremy Hill
, third-round pick
Will Clarke
and fourth-round pick
Russell Bodine
have signed, just like the rest of the team's fifth- through seventh-round picks. We haven't yet obtained the contracts for Hill, Clarke and Bodine, but they are also expected to receive their previously slotted salaries.
As for the remainder of the rookie class, sixth-round linebacker
Marquis Flowers
signed a four-year deal that will pay him $439,670 in 2014. By the end of the deal in 2017, his yearly compensation will increase to just more than $709,000.
Seventh-round receiver
James Wright
will make $12,456 in signing bonus money each year, while seeing his cap value increase from $432,456 in 2014 to $702,456 in 2017. As the 252nd overall pick in the draft, seventh-round cornerback
Lavelle Westbrooks
will make nearly $2.3 million the next four years. He'll start by making $431,474 in 2014.
The four players will average the following each year: McCarron ($600,413), Flowers ($574,670), Wright ($567,456), Westbrooks ($566,474).
Here is a more detailed breakdown of what each player will be making between now and the expiration of their contracts in 2017:
May, 10, 2014
5/10/14
7:30
PM ET
»
NFC wrap-ups
:
East
|
West
|
North
|
South
»
AFC
:
East
|
West
|
North
|
South
CINCINNATI -- A wrap-up of the
Cincinnati Bengals
' draft.
Click here
for a full list of Bengals draftees.
[+] Enlarge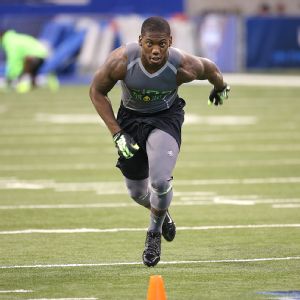 AP Photo/Ben LiebenbergDarqueze Dennard was rated near the top of the Bengals' board, and the team ended up pouncing in the first round.
Best move:
When the Bengals finalized their big board in the days leading up to the draft, they put cornerback
Darqueze Dennard
near the top of the list. Offensive coordinator Hue Jackson said Dennard was ranked among the team's top 10 overall players. Defensive coordinator Paul Guenther felt that rating was accurate and had few reasons to believe the man-press corner would actually fall to No. 24 where the Bengals were waiting for a defensive back. Once
Justin Gilbert
was scooped up by the Browns at No. 8 and
Kyle Fuller
came off the board to the Bears at No. 14, it started looking like a real possibility that Dennard -- rated the No. 2 cornerback on most draft boards -- would be available. That was especially the case when the Browns traded with the Eagles to move up to No. 22, taking a team with a cornerback need (Philadelphia) off the board before the Bengals' selection. As arguably the best player available when his pick was made, Dennard's selection was a wise one and deserved to be classified as the best of the Bengals' draft.
Riskiest move:
It's never easy for teams to evaluate draft hopefuls who come into the draft process with arrest records, let alone convictions. That was what the Bengals had to do with running back
Jeremy Hill
, though, as they tried to figure out whether two separate events -- one from when Hill was in high school and another from when he was at LSU -- ought to be enough to deter them from selecting him. After consultations with Hill's coaches and others around him, the Bengals felt Hill had experienced enough of a life transformation the past several months to warrant grabbing him in the second round. Hill's conviction was for a misdemeanor sexual assault charge from his senior year of high school. He didn't play his entire first season at LSU because school officials wanted to wait until the legal process ran its course. Last year, he was arrested after punching a man in a bar fight. The incident was caught on tape. Taking him in the first place was a risky move. Doing so in the second round might have been even riskier. Time will be the judge of that.
Most surprising move:
The biggest move of the Bengals draft was also its most surprising one. After four rounds went by without them selecting a quarterback, it started looking like the Bengals might end up not even entertain taking one. After all, based on their pre-draft chatter about having a firm belief in
Andy Dalton
, it seemed they might end up feeling so comfortable with their starter and the rest of their quarterback room that they might move beyond thinking about signing one. When quarterbacks started going off the board in the fourth and fifth rounds, though, it was time for the Bengals to act if they were going to act at all. What makes
AJ McCarron
's selection most surprising, though, was the fact that he was the one picked and not another quarterback. Target
Aaron Murray
could have been a possibility in earlier rounds.
Tom Savage
, too. It wasn't long after Murray's pick at 163rd overall that the Bengals did end up grabbing McCarron. They took him with the next pick.
File it away:
In case you haven't already, something you might want to remember for future drafts under coach Marvin Lewis is this: He likes drafting SEC players. Entering the draft, the Bengals had claimed 26 players from the conference since Lewis' arrival in 2003. The conference that had the next-highest draft representation was the Big Ten, which had 15 selections. This year, the Bengals took three players from the SEC, including two from LSU. Their first-round pick, Dennard, is the lone Big Ten representative in this class.