November, 27, 2013
Nov 27
10:00
AM ET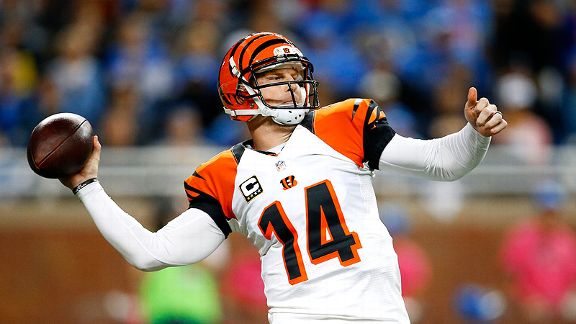 AP Photo/Rick OsentoskiThe Cincinnati Bengals are counting on Andy Dalton to return to the form that helped lead the team to a 4-1 record in October.
CINCINNATI -- Earlier this week,
Cincinnati Bengals
players like cornerback
Chris Crocker
were adamant in pointing out the urgency they need to play with throughout the
month of December
.
"It's all about winning in December," Crocker said. "Let's win out and see where the chips lay. Why can't we win out? I don't see why we can't."
If you ask some Bengals fans and most NFL analysts, they'll give you one big reason why they don't believe Cincinnati will be able to go 5-0 to close out the regular season: No. 14.
That's right. To some, the primary obstacle in the way of end-of-season perfection for the Bengals is
Andy Dalton
, the player who has quarterbacked the franchise into the playoffs each of the past two seasons, and who constantly is trying to prove himself to those who consider him just another member of a mostly failed 2011 quarterback draft class.
For that reason, as the Bengals gear up for a stretch run that could give them a first-round bye and home-field advantage in the playoffs, an important question has to be asked.
Can December Andy mimic October Andy?
As we've written countless times in the past month, October Andy was indeed a dandy. Through the first four games of that month, Dalton threw for 1,243 yards and 11 touchdowns. He also completed 67.9 percent of his passes, won four games, had a passer rating higher than 116.0 and a QBR above 83.0. He was, quite simply, brilliant. His play was so sharp back then that on the final day of the month, hours before the Bengals were set to take on the Dolphins in a road Thursday night game, he was named the AFC's Offensive Player of the Month.
And, yes, even though, comparatively speaking, he didn't look as good overall against the Dolphins and ended up taking the game-winning sack for a safety in overtime, Dalton still had a rather special performance in the 22-20 loss. Aside from not completing a touchdown pass and getting intercepted three times, he threw for 338 yards, marking the fourth straight game he had gone over the 300-yard passing mark.
Overall, October Andy was Good Andy.
But now here comes December with all of its postseason potency. If Cincinnati hopes to set itself up for the type of playoff seeding Crocker believes it deserves, then it will have to play its best ball across the next five weeks. That's especially the case for Dalton and a Bengals offense that has looked rather anemic in the past three games.
One look at Dalton's previous December stats and it doesn't appear the third-year star should have any problem showcasing even a sliver of the success that made him and his team so good about two months ago.
After a rocky December as a rookie in 2011, Dalton was among the difference-makers last season when the desperate Bengals were in need of a strong final month just to secure a playoff berth. One year after going 2-2 in the month, Dalton went 4-1 during December 2012. The lone loss came after the
Dallas Cowboys
made a field goal in the final seconds to win 20-19.
While the level of desperation may be different this December, the Bengals are looking for Dalton to thrive under similar pressure-packed moments during this one. This time around, the pressure on Dalton mainly stems from the fact that so many are fed up with his play from the past three games. In them, he's thrown eight interceptions and been sacked 10 times. Across the latter two of those games, he's completed fewer than 50 percent of his passes and hasn't posted a QBR higher than 18.0.
Weather factored heavily in Dalton's inability to move the ball in those two games. Windy conditions at Baltimore and windy and rainy conditions against the Browns sent some of his passes sailing and forced others into the hands of defensive backs.
Although weather shouldn't be a concern this weekend in San Diego (the forecast calls for partly cloudy skies and a delightful high of 71 degrees Sunday), it could be the rest of the season. Farmer's Almanac projects cold, damp conditions for all of December in the Ohio Valley. It should be noted that after Sunday's game, the Bengals are home three of the next four weeks. Their only remaining road game is at Pittsburgh.
Throughout his career, Dalton has performed better in warmer games. In games with temperatures 50 degrees or higher, he has a 20-14 record, an 85.1 passer rating and a 52.5 QBR. In games with temperatures at 49 and lower, he has a 5-5 record, a 75.4 passer rating and a 32.9 QBR. Dalton's last three sub-49-degree wins came last December, though; a sign that perhaps he's turning a corner in cold-weather contests.
Whatever the conditions and whomever their opponents are, when it comes to the next five weeks, the Bengals can only hope that Dalton turns into the same man who torched through this October.
June, 1, 2011
6/01/11
11:00
AM ET
The NFL lockout has put players and owners in limbo. The ripple effects are also felt by people whose lives or business touch their teams. Here are their stories:
[+] Enlarge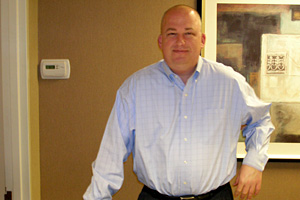 Courtesy of Bryan ShepherdBryan Shepherd is the general manager of Marriott hotel properties in Berea, Ohio. His hotels could lose revenue if the lockout eats into training camp.
According to Bryan Shepherd, the NFL lockout is tough. But the situation still has the potential to get worse.
The general manager of Marriott hotel properties in Berea, Ohio, where the
Cleveland Browns
train, lost his biggest business client for the spring because of the lockout. But Shepherd is hopeful he won't lose the substantial amount of revenue he receives from the Browns later this summer when the team fills up his hotels during training camp.
"The Browns are still holding the rooms but it keeps getting pushed back," Shepherd said. "Chances are rookie camp [will be lost]. So we've worked hard on replacing business we might not have from the Browns right now. But the toughest thing is to anticipate and be there for them when they need the rooms."
Marriott owns a Courtyard, TownePlace Suites and Residence Inn in Berea and has been a partner with the Browns since the team returned to the NFL in 1999. The practice facility is close by, making it easy for players to get to and from practice during the warm spring and summer months.
For offseason workouts and minicamps, the Browns rent an estimated 20 to 25 rooms at the Courtyard property for up to 45 days for drafted and undrafted rookies and a few veterans without residences in the Cleveland area. During training camp, which lasts about five weeks, the Browns have rented as many as 94 rooms depending, according to Shepherd. It is annually the hotel's most reliable source of revenue in an unstable economy.
Shepherd says he is fortunate the NFL lockout did not take place last year or two years ago, when the travel industry hit a major dry spell and the financial loss would have been tougher to absorb. Business travel is finally starting to show growth nationally and in the Cleveland area.
"In 2009 and 2010, most hotels saw anywhere between a 10-18 percent decrease in total occupancy and rate," Shepherd said. "In 2011, research is showing people are traveling more and companies are starting to let their associates travel more."
With the lockout reaching its 78th day and counting, it appears the start of training camp could be in jeopardy. Shepherd, like all NFL fans, hopes the players and owners can reach a timely agreement before it gets to that point.