AFC North:

Marshall Faulk
August, 1, 2013
8/01/13
8:00
AM ET
One week from today, the Cincinnati Bengals, Cleveland Browns and Baltimore Ravens will play their preseason openers. I'm not a big fan of the preseason, but this is just another sign that the regular season is getting closer. As for what's happening today, let's check out your wake-up call ...
RAVENS
: The Ravens haven't had a defensive lineman as imposing as Chris Canty, who stands 6-foot-7, since Trevor Pryce was on the roster. "It's pretty cool because you just kind of play off of him because he's so long," defensive tackle Haloti Ngata told
The Baltimore Sun
. "It's fun to watch him because he just stands up and blocks balls. I have to jump up to block balls. He's a great athlete."
BENGALS
: Left tackle Andrew Whitworth missed his third straight practice of training camp because he is trying to give his knee more time to strengthen, according to
The Cincinnati Enquirer
. Whitworth had surgery in late February to remove scar tissue from the knee, which had been hampering him the past couple of seasons. It is anticipated that he will be ready for the Sept. 8 opener at Chicago. "The thing you can't simulate is football. It's getting out there and doing football, and with something like this -- it's a tendon -- it has to do something and adjust and then do a little more and then adjust. That's what we will do," Whitworth said. "It's just like anything else, you have to develop the strength in it. This is kind of the first step in football. We'll progress through that."
STEELERS
: Outside linebacker LaMarr Woodley believes one reason he had only four sacks last season, which tied a career low, was because of the Steelers' scheme on defense. "I felt I dropped back a lot last year in coverage," Woodley told
The Pittsburgh Post-Gazette
before adding, "They pay me to rush. Hopefully, I'll be rushing and not covering receivers and tight ends down the field."
BROWNS
: It took a while for Jim Brown to get in running back Trent Richardson's corner. Richardson, though, has another fan who has Hall of Fame credentials -- Marshall Faulk. "It's in him to be great. He wants it," Faulk told
Cleveland reporters
while visiting Browns training camp. "You saw it in college. It's the reason that in a league that they're starting to kind of devalue the position, he gets drafted so early. He's never shied away from asking questions or letting you know what he don't know because he understands that the things that you don't know when you find them out, it makes it easier to become great."
February, 6, 2012
2/06/12
2:00
PM ET
Jerome Bettis' best shot at making the Hall of Fame so far comes next year.

In his first two years of eligibility, he had been blocked by other running backs -- Marshall Faulk in 2011 and Curtis Martin this past weekend. Bettis will have the best résumé of any running back among next year's candidates.

The former Steelers running back ranks sixth on the NFL's all-time rushing list, which seems to weigh heavily for voters. The top four (Emmitt Smith, Walter Payton, Barry Sanders and Martin) are all in the Hall of Fame, and LaDainian Tomlinson (who is fifth) is still playing.

So, unlike the logjam that exists at wide receiver, Bettis has the benefit of not competing against another running back. The only notable back added to the ballot next year is Priest Holmes, who put together three great years but finished 39th on the all-time rushing list.

This isn't to say that Bettis is a lock to make the Class of 2013. The ballot will add some big names next year: Larry Allen, Jonathan Ogden and Michael Strahan. If all three of them are elected, that would leave two spots. Another could be taken by one of the wide receivers (Andre Reed, Cris Carter and Tim Brown).

Under that scenario, Bettis would be fighting for the last spot. His competition would be Bill Parcells, Will Shields, Charles Haley and Warren Sapp.

Bettis was one of the 15 modern-era finalists for the Hall of Fame this year, but he failed to make the cutdown to 10. The Steelers did get two players, center Dermontti Dawson and defensive back Jack Butler, elected to the Hall of Fame on Saturday. That brings the number of Steelers in the Hall of Fame to 22.
August, 6, 2011
8/06/11
10:38
PM ET
CANTON, Ohio -- When was the last time you heard the name
Roland Williams
?
What about
Ernie Conwell
or
Ricky Proehl
?
[+] Enlarge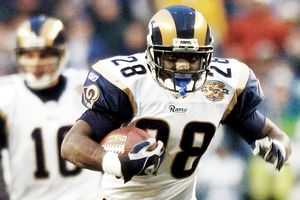 AP Photo/Paul SakumaMarshall Faulk finished his career with more than 19,000 yards from scrimmage and 136 touchdowns.
Even Mike Martz, who is under fire in Chicago, got some love during
Marshall Faulk
's Hall of Fame speech Saturday night at Fawcette Stadium. Faulk credited many people and former teammates. But the Rams of the late-1990s and early-2000s mostly defined Faulk's career.
Spending most of his career under the tutelage Martz and Dick Vermeil in St. Louis, Faulk (19,154 yards) finished fourth all-time in yards from scrimmage behind
Jerry Rice
,
Emmitt Smith
and Walter Payton.
Martz made Faulk into the secret weapon. Martz found ways to get Faulk the ball in the running game, out of the backfield and also lined up as a receiver. Faulk became the new gold standard for all-purpose backs.
"Before
Aaron Rodgers
threw the ball [39] times in the Super Bowl against a vaunted Steelers defense, and before his counterpart
Ben Roethlisberger
threw it [40 times]. ... we had Mike Martz," Faulk explained. "The 'Mad Scientist' is what they called him."
Faulk also thanked former Rams stars like
Kurt Warner
and
Isaac Bruce
. They are among the cogs that made the "Greatest Show on Turf" great and well ahead of its time.
Today most offenses will throw 40 times in a game at some point during the season. But none of those teams have another Marshall Faulk.
February, 4, 2011
2/04/11
2:00
PM ET
The NFL will announce its 2011 Hall of Fame class Saturday and former Steelers and Rams running back Jerome Bettis is on the list of 15 finalists.
[+] Enlarge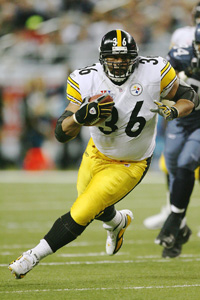 Harry How/Getty ImagesJerome Bettis finished his career with 13,662 rushing yards.
Here are some early thoughts on Bettis' chances this weekend:
Only five players get in, which means it could be a rough numbers game this year for Bettis, who is on the ballot for the first time. In my opinion, there are two first-ballot locks in this year's class: Deion Sanders and Marshall Faulk. Both likely will be voted in this weekend, which leaves just three slots open for 13 players.

I do not have a vote so it's hard to gauge the temperature of who's hot and who's not with the committee. Cases will be presented and opinions will be formulated. But from the outside looking in, it may be an either-or scenario between Bettis and Curtis Martin. Both were great running backs. But to elect Martin and Bettis this year would mean the 2011 class would have four first-ballot Hall of Famers, including Sanders and Faulk. That's not the norm and the committee may want to get in some great players who have waited their turn much longer to get inducted into Canton. There's also a chance neither Bettis nor Martin get in on the first ballot.

Also keep in mind longtime Steelers center Dermontti Dawson is a finalist. He's been on the ballot since 2005 and failed to make the cut each time. Similar to Bettis, this could be another tough year to get in with only three legitimate slots available.
February, 6, 2010
2/06/10
7:43
PM ET
One of the top centers of all-time will continue to play the waiting game.

Dawson
Thirteen-year
Pittsburgh Steelers
offensive lineman
Dermontti Dawson
, who made seven consecutive Pro Bowls from 1992-98, was once again passed over for the Hall of Fame. This was the sixth consecutive time he failed to make it to Canton since becoming eligible in 2005.
Dawson made the cut
from 15 to 10 finalists this year. But Dawson wasn't part of
the five inductees
that included
Jerry Rice
,
Emmitt Smith
, Russ Grimm,
John Randle
and
Rickey Jackson
. Senior nominees Dick LeBeau and Floyd Little also are part of the 2010 class.
This year was perhaps the closest Dawson came to making the Hall of Fame. He also was a finalist in 2008 and a semifinalist in 2005, 2006, 2007 and 2009.
There is an impressive backlog of players currently not in the Hall of Fame. In addition to Dawson, strong candidates such as
Cris Carter
,
Cortez Kennedy
,
Richard Dent
,
Andre Reed
,
Charles Haley
,
Tim Brown
and
Roger Craig
were all rejected this year alone.
Several more impressive candidates such as
Marshall Faulk
,
Deion Sanders
,
Jonathan Ogden
and
Jerome Bettis
also will be eligible very soon. That will further congest the Hall of Fame voting process, which doesn't help Dawson's candidacy.