AFC North:

Marshall Newhouse
April, 30, 2014
Apr 30
8:01
AM ET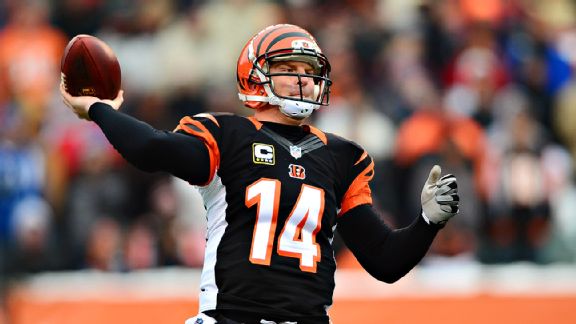 Andrew Weber/USA TODAY SportsNew Bengals offensive tackle Marshall Newhouse isn't surprised by the success quarterback Andy Dalton has had in the NFL.
CINCINNATI -- At the time, it was quite possibly one of the biggest days in TCU football history.
The fourth-ranked Horned Frogs, led by then-junior quarterback
Andy Dalton
, were 9-0 and rolling entering a nationally televised Saturday night contest against No. 16 Utah. With talk of an undefeated season beginning to take shape, ESPN's "College GameDay" crew traveled to Fort Worth, Texas, to let the rest of the country meet the possible BCS busters from the Mountain West Conference.
The day was Nov. 14, 2009.
Marshall Newhouse
, an offensive tackle from that team, remembers it well.
"We came out and knocked [Utah] in the jaw, and that was because of Andy to begin with," Newhouse, one of the newest
Cincinnati Bengals
, said earlier this week. "We ran the ball. He started it and the rest of the team finished it. That was when I was kind of like, 'Whoa.'"
Since that day, Newhouse has been amazed by Dalton's growth across his three years as the Bengals' starting quarterback. He sees even brighter days ahead for his longtime teammate.
As for that famed 2009 game, TCU won 55-28. Dalton's line wasn't his most impressive, but it was efficient. He ran nine times for 48 yards and completed 17 passes for 207 yards and a touchdown and interception. His passer rating was 123.1.
That night wasn't about stats, though, to Newhouse. It was about the way Dalton managed the game. Even though he had shared a locker room and huddle with Dalton for three seasons by that point, Newhouse had never seen his quarterback step up and lead the team for an entire game the way he did against Utah. That was when Newhouse believed the Horned Frogs had something special; something he was anxious for the NFL to see, too.
"I was done after that year, but I was like, 'They're going to win and do some big things next year because they've got him at the head of it,'" Newhouse said.
TCU finished the 2009 season 12-1, with its only loss coming to Boise State in the Fiesta Bowl. It was the program's first trip to a BCS bowl game. As a senior in 2010, Dalton led the Horned Frogs to their first undefeated season in more than 70 years. They went 13-0 and won the Rose Bowl.
[+] Enlarge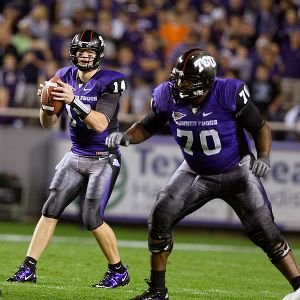 AP Photo/Donna McWilliamMarshall Newhouse (70) protected Andy Dalton during their college days at TCU.
Three months later, he was selected 35th overall by the Bengals in the 2011 draft and tasked with turning them around after a 4-12 season.
Taken in the fifth round of the 2010 draft by the Packers, Newhouse had mostly been watching his longtime teammate's career from afar. That was until earlier this offseason, when the Bengals signed him in free agency following
Anthony Collins
' departure for Tampa Bay. Much like Collins, Newhouse has experience playing both left and right tackle. It's that versatility that most attracted the Bengals to him, even though chances are high they'll be taking a similarly versatile lineman in next week's draft.
While in Green Bay, Newhouse had a greater appreciation for Dalton's accomplishments.
"You learn stuff about guys being close to them, and I've been close to him for a long time," Newhouse said. "You [also] get a different perspective when you're on another team. You see the success and what he can bring, and then you come here and you're like, 'All right. That's for real.' It's for real and then some. There's a lot of stuff to be excited about."
Bengals fans have been excited at times during Dalton's career -- namely when he scorched through last October, going 4-1 with four straight 300-yard passing games -- but they've seen their share of disappointment, too. Despite leading the team to three straight playoff berths, he has factored heavily in the Bengals' three straight first-round playoff losses. He has six interceptions and just one touchdown pass in those three games.
It's performances such as those that have many questioning whether Dalton ought to lead the franchise past the 2014 season once his rookie contract expires. Dalton confirmed last week, though, that his representatives and Bengals officials are currently discussing a contract extension. Bengals coach Marvin Lewis has said he hopes a deal gets done soon so Dalton isn't distracted by questions in the preseason about his contract status.
Newhouse, who will mostly be backing up Pro Bowl left tackle
Andrew Whitworth
and right tackle
Andre Smith
, thinks there are good reasons for Dalton to be in stripes long term.
"As long as things are progressing upward, which they very obviously are, Bengals fans and members of the organization should have nothing but positivity to feel," Newhouse said. "You see where the organization is going with him at the helm. He's got all the tools you need. All the tools you're desiring at quarterback."
Among those tools is an apparent ability to be unaffected by criticism, Newhouse said.
"I know he was self-motivated before he ever got here," Newhouse said. "Whether it was with the Bengals or another team, he knows what he's got in the tank and he knows what he can provide. He's confident in that. Having that confidence when you walk out of the tunnel and you look at the rest of the 46 or however many other people that are dressed on Sundays, that's all that matters. He's going to get it for us. He goes and gets it.
"I know that."
April, 22, 2014
Apr 22
10:30
AM ET
CINCINNATI -- By showing up to Paul Brown Stadium these next few weeks, several
Cincinnati Bengals
could collectively earn more than $3.2 million in bonus money, according to ESPN's Stats & Information.
Twenty-seven Bengals have workout bonuses provisions in their contracts related to their attendance at strength and conditioning workouts and voluntary OTAs. Combined, the group has $3,205,000 at stake just for appearing and participating in the optional practices. The latest collective bargaining agreement places stipulations on the types of team-sanctioned practices and the number of them that players can take part in during the offseason. Participation, in many cases, still can lead to additional compensation.
Defensive linemen
Carlos Dunlap
and
Geno Atkins
have the most at stake when it comes to the bonuses. They both stand to earn $300,000 in 2014 for participating in the workouts.
Both were spotted Monday when the locker room was opened to reporters. There are other workouts continuing this week, but the media are only permitted to meet with players on Monday. Players won't be available again until next Monday.
As a result, it's hard to tell who has made it back for voluntarily workouts. Players were in and out of the locker room during the time it was open, but many who weren't seen could have been in other parts of the building.
It should be noted that even players who don't have bonus provisions in their contracts will still show up just to work out. For example, receivers
A.J. Green
,
Marvin Jones
and
Mohamed Sanu
aren't due workout bonuses this year, but each was at the stadium Monday.
March, 22, 2014
Mar 22
8:00
AM ET
Welcome to the weekend. If the temperatures in Cincinnati on Friday were any indication, the next few days in this part of the Ohio Valley ought to be quite pleasant. Spring appears to have finally arrived.
A few people some in the region have been waiting most of the month for are finally starting to arrive, too. After relative inactivity through the first week of free agency, the
Cincinnati Bengals
have begun closing out Week 2 by signing a couple of players who are expected to aid their offensive depth. It once looked like the Bengals might be completely quiet when it came to signing free agents who weren't already on their roster. Now, they have a couple of key additions and continue looking for a few more.
In the immediate wake of the signings of
Jason Campbell
and
Marshall Newhouse
, we open up the mailbag to answer your questions about the Bengals' free agency efforts so far: