August, 26, 2014
8/26/14
3:30
PM ET
Most significant move:
Few of the
Cincinnati Bengals
' cuts were very surprising, but quarterback
Matt Scott
's release might have been the most significant because he had been viewed as the No. 3 quarterback on the roster behind
Andy Dalton
and
Jason Campbell
.
Tyler Wilson
, fresh off concussion protocol, reverts into that role. When Wilson was signed after an injury to Campbell two weeks ago, it appeared the writing was on the wall for Scott, a mobile quarterback who doesn't fit the Bengals' scheme as well as the others. Although he played well during the Week 1 loss at Kansas City, Scott completed only 45.5 percent of his passes and was sacked five times in the three games he played.
Sharp should find a home:
Kicker
Quinn Sharp
's release had been expected after he was signed in the offseason to help keep starter
Mike Nugent
's leg fresh throughout training camp and offseason workouts. While Nugent is the starter and has the more accurate leg of the two, Sharp's power is one of his more impressive traits. In Sunday night's preseason game, hours before he was cut by the Bengals, Sharp went 2-for-2 on field goals with one of them a 51-yarder. The Oklahoma State product should help someone's team this season desperate for a kicker.
What's next?
The Bengals aren't technically done with this round of moves. They could end up sending two of their Tuesday cuts, J.K. Schaffer and
Lavelle Westbrooks
, to injured reserve Wednesday. Both were cut via the waived/injured designation and have until Wednesday to be claimed by another team. If neither is claimed and they clear waivers, they will be added to Cincinnati's IR. It's also worth keeping an eye on safety
Taylor Mays
, rookie linebacker
Marquis Flowers
, stand-up defensive ends
Sam Montgomery
and
Dontay Moch
, receivers
Cobi Hamilton
and
James Wright
and running back
BenJarvus Green-Ellis
as the Bengals cut to 53 on Saturday.
Bengals' cuts:
QB Matt Scott, DT
Larry Black
, S
Isaiah Lewis
, K Quinn Sharp, WR
Ryan Whalen
, CB R.J. Stanford, TE
Kevin Brock
, WR
Jasper Collins
, LB J.K. Schaffer, CB Lavelle Westbrooks, LB
James Davidson
, WR
Alex Neutz
, WR
Jeremy Johnson
, OT Curtis Feigt, WR
Conner Vernon
, P T.J. Conley, DT
Zach Minter
, OG
Chandler Burden
.
August, 20, 2014
8/20/14
8:00
AM ET
CINCINNATI -- It was rather surprising to me that on Tuesday, some four days after the
Cincinnati Bengals
' backup offenses first took blitz after first-team
New York Jets
blitz, we were still discussing the issue.
Scott
Was it really that big of a deal? Did the blitzes that came long after starting quarterback
Andy Dalton
was out of the game help fluster third-string-turned-second-string quarterback
Matt Scott
? Is it possible they played a big role in the Bengals' lack of offensive firepower after Dalton's departure and the eventual
25-17 loss
Saturday night?
No, yes and most definitely yes.
I mean, this is the NFL. Teams blitz. Teams try to win by exploiting opposing teams' weakest links. Teams also talk trash -- even in the preseason -- and play extremely physical -- even in the preseason. It happens. So why then did this storyline take on such a life of its own early this week?
The answer to that question is unclear, but what is evident is the fact Bengals offensive line coach Paul Alexander didn't like the continued blitzing on his reserve-filled offensive line after the first quarter. It's also clear Jets head coach Rex Ryan isn't too apologetic for bum-rushing the Bengals' young backup quarterback and trying to intimidate Cincinnati's overall offense.
"We weren't going to be a punching bag," Ryan told reporters in New York on Monday.
Ryan's defenses have long been known for their physicality and probably had a point to prove after last October's 49-9 loss in Cincinnati. Defensive tackle
Sheldon Richardson
even said the week before he and his teammates "owed" the Bengals for the blowout. He vowed aggressive play from his team when it visited Paul Brown Stadium for the preseason game.
The Jets did just that. They were flagged 12 times for 133 yards, including a whopping six penalties that were the result of personal fouls. The most egregious came when the Jets were on offense after offensive lineman
Willie Colon
roughed up Bengals cornerback
Terence Newman
after Newman intercepted a pass. Colon contended he didn't hear a whistle and wanted to make sure Newman was down after he got up off the turf possibly untouched. Newman's helmet came off with Colon's shove, resulting in Bengals defensive end
Margus Hunt
violently shoving away another Jets lineman.
The two New York linemen were tagged with personal foul penalties early in a game that was filled with them.
When the Bengals were on offense, they were given similar rough treatment by a blitz assault that annoyed Alexander.
"Notice he didn't bring that stuff when our starters were out there," Alexander said Monday. "We'd have scored quicker. If he wants to put his starting defense out there and blitz all that garbage against our third-stringers, if he feels good about it, then all the power to him."
Jets defensive starters remained in the game well into the second quarter, and kept coming after Scott. Dalton and the starting offense left the field after just three series and an 8-for-8 performance from Dalton that included a 21-yard pass to
A.J. Green
in the flat as the Jets brought one blitz. As injured backup
Jason Campbell
pointed out Monday, once the Bengals beat that blitz, the Jets didn't bring another one on Dalton's crew.
The Bengals also shouldn't worry about the blitzing because it did nothing but prepare the line for what's coming in less than three weeks. Even if rookie center
Russell Bodine
wasn't on the field for the most intense rushes, other backups such as
Mike Pollak
,
Trey Hopkins
and
Tanner Hawkinson
were. On the off-chance that something happens to Cincinnati's starting linemen this season, the reserves need to be ready to communicate through such blitzes together.
"You try to think all preseason is going to be so vanilla, and then you get in a game like that where you really have to make sure you know who you're responsible for and who the other guys are going to," Pollak said. "It's just a good awakening experience to see those younger guys go through."
August, 15, 2014
8/15/14
9:15
AM ET
CINCINNATI -- In no particular order, the following are five
Cincinnati Bengals
you'll want to pay attention to on the offensive side of the ball during Saturday night's preseason home opener against the
New York Jets
(7 ET).
Be on the lookout for five defensive players to watch in the Bengals' second preseason game, coming soon.
Scott
1. QB Matt Scott.
One week after dominating the headlines in the Bengals'
Week 1 preseason loss
at Kansas City, Scott has a chance to turn more heads this weekend when he likely receives more playing time. With No. 2 backup
Jason Campbell
still nursing an elbow bruise, the Bengals will turn to Scott a little earlier than they did last week. Against the Chiefs, Scott jogged onto the field midway through the third quarter after Campbell's throwing arm was struck by a defender's helmet. Scott went on to pass for 66 yards and two touchdowns, and rush for a game-high 68 yards. It was what he considered the combination of a pre-game sinus infection, high humidity and exhaustion that turned him into an unexpected Internet star last week. On multiple occasions during a fourth-quarter drive, he vomited a la Willie Beamen, the fictional quarterback in the movie "Any Given Sunday." The
clip made its rounds on the Web
in the days that followed. Scott, who will be playing through a sore shoulder, hopes he'll be remembered more for his play this week.
2. QB Tyler Wilson.
Since Scott does have a minor injury that could affect his throwing, the Bengals might have to turn to Wilson a little earlier than perhaps they would have anticipated, too. Starter
Andy Dalton
probably won't go any deeper than the two first-quarter series before Scott enters the game. From there, Scott probably won't make it all the way to the fourth quarter. Whenever Wilson does come in, watch for how well he connects with the existing receivers still in the game. If
Cobi Hamilton
is still playing, the two could be a good combination to watch. Hamilton was one of Wilson's top targets in college when they both played at Arkansas. Otherwise, Wilson will be intriguing to watch because he's playing after only one week of practices with the Bengals, and he's playing for his professional career.
Burkhead
3. RB Rex Burkhead.
You may be noticing a trend here. We're focusing on reserve players in this week's "Bengals to watch," primarily because we are arriving at that point in camp when players down on the depth chart are truly fighting for roster spots. Burkhead is among those running backs involved in arguably the team's most interesting position battle. He's gotten his share of touches with the second-team offense in recent weeks and probably will see some opportunities with a mix of that group Saturday night. Be on the lookout for how often Burkhead carries the ball in what could be a ground-and-pound kind of preseason contest. The Jets have already said they expect a physical game. With the Bengals in a bit of a quarterback quandary, there are compelling reasons for them to give New York the physical showdown it is anticipating.
4. WR Dane Sanzenbacher.
The position battle at receiver is another one to keep an eye on. Much like running back where the first two positions appear set, the top three spots are squared away on the Bengals' depth chart at receiver. Sanzenbacher is among a group of wideouts trying to crack the bottom portion of the pass-catching roster. With his versatility and wealth of playmaking opportunities both on offense and special teams, he will have his share of chances to prove he belongs in these next three games. After having a few long punt and kick returns in last week's game and catching a 26-yard touchdown pass that ended when he dove for a pylon, Sanzenbacher made a strong case for being included on the 53-man roster. Watch to see if he impresses Saturday.
5. H-back Ryan Hewitt.
This will be the second straight week we've listed Hewitt among the Bengals to watch, and with good reason. Earlier this week, coach Marvin Lewis lauded the undrafted rookie free agent for how well he has played throughout this camp. Hewitt has brought his own measure of versatility to the backfield by being used as a blocker, flanking off the line as a tight end and catching passes. It certainly appears he has won the position battle over
Orson Charles
, the former tight end who was converted to H-back last preseason. Hewitt caught two passes last week. Look for how much he gets involved in the passing game this week.
August, 9, 2014
8/09/14
8:30
PM ET
CINCINNATI -- Very rarely does the third-string quarterback create more buzz in a game than the starting quarterback -- even in the preseason.
But that's exactly what happened all day Friday as websites from the most obscure to the most read turned
Cincinnati Bengals
backup
Matt Scott
into an Internet star.
He wished they focused on his 66 yards passing and 68 yards rushing, but he knew from the moment cameras caught him vomiting three times while walking on the field late in Thursday night's preseason opener at Kansas City that he was going to be remembered this weekend for a far different reason.
"The way social media is nowadays, it's kind of expected, I guess," Scott said Saturday.
Technically, this isn't the first time he's gotten attention for having what his teammates instantly began calling a "Willie Beamen moment." Beamen was the fictitious star quarterback in the football movie "Any Given Sunday" who threw up inside a huddle because of first-game nerves.
[+] Enlarge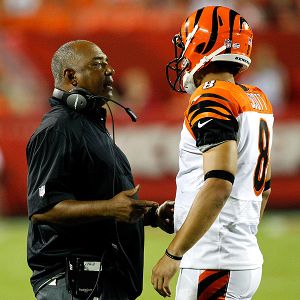 AP Photo/Colin E. BraleyCincinnati Bengals coach Marvin Lewis praised the effort of quarterback Matt Scott against the Chiefs.
Scott has thrown up on the field before, but for what seem to be much more serious reasons. The Bengals certainly hope Scott's pattern of potential concussion-related college instances of vomiting have nothing to do with this latest episode.
This incident came during a hopeful comeback drive against the Chiefs that ultimately resulted in a touchdown and two-point conversion that Scott ran in himself. The drive cut a double-digit lead to two, and had the Bengals feeling inspired late.
"We wanted to come back in that game. That's the objective," Scott said. "Especially going in with the threes at the end of the game with the team down. That's what you want to show the coaches, that you're willing to get in there and claw your way back up."
Coach Marvin Lewis said Saturday that the sequence was one all his players ought to pay attention to.
"He taught the whole football team a very valuable lesson of a guy busting his tail to make a football team," Lewis said. "When you get an opportunity to go out there, you've got to play your tail off, play your very best football every chance you get, because that earns the next opportunity. He proved that."
Exactly how did he?
One play after the Bengals were forced into taking a timeout to see about Scott's condition, he settled under center and fired a strike to the since-waived
Conner Vernon
on a 12-yard touchdown pass that preceded the two-point conversion. The vomiting seemed to barely faze Scott.
"The thing I like about him was he was calm; he was cool," offensive coordinator Hue Jackson said. "Even in the midst of all the throwing up and all that, he never wavered. He just looked at me like, 'OK, coach, what's the next play?' And I gave it to him and he executed it."
Scott attributed his sick stomach to the combination of a sinus infection he had throughout the week, his lifelong asthma, humid conditions that night and being worn out after playing parts of the last two quarters at a high tempo. The Bengals were in a no-huddle pace as they were playing catch-up in those final minutes. Twice on the drive Scott scrambled, including once on a 19-yard run that picked up a first down.
Those are all plausible reasons for the vomiting.
In his senior season for the Arizona Wildcats, he threw up in three different games. Some thought those instances stemmed from concussions that came after hits he took while showcasing his wild, kind of reckless style of running. He exposed himself to hard tackles often and was known to take blows to the upper body even when he did slide.
Scott was only formally diagnosed with one concussion after those three games, in November 2012 against UCLA. The week before, he didn't receive a concussion diagnosis after he threw up on the sidelines in a game against conference-rival Southern Cal. That incident came during a timeout that followed an apparent double helmet-to-helmet hit at the end of a scramble. Three plays out of the timeout, he threw a touchdown pass. That score helped Arizona hold on for a big upset of the nationally-ranked Trojans.
Arizona's training staff was later criticized for not taking Scott out of the game. Some thought he was exhibiting concussion-like symptoms.
Scott still believes those criticisms were off base. Of exhibiting purported concussion-like symptoms, he said Saturday, "I didn't think [that] was the case."
Thursday's incident might not have been the product of a blow to the head, but it still could bear monitoring.
Take the concussion history out of the equation and the Bengals think the "Willie Beamen moment" taught them a valuable lesson about Scott: He's a relentless competitor, even if he ranks low on the depth chart.
"The guy has true guts," offensive coordinator Hue Jackson said. "It got a little rough, but he's a tough guy. I appreciate what he did. He played extremely well. Guy had a heck of a game."
Defensive end
Wallace Gilberry
took the praise a step further.
"He left it all out there -- literally," Gilberry said.
April, 10, 2013
4/10/13
10:10
AM ET
By
ESPN.com staff
| ESPN.com
Baltimore Ravens
The Baltimore Ravens and linebacker Rolando McClain
are working toward a contract
, sources told NFL.com's Albert Breer on Wednesday. McClain was the No. 8 overall pick in 2010, but was recently cut by the Oakland Raiders. He had 99 tackles and five sacks in 2011. McClain's strength always has been stopping the run, but off-the-field issues played a role in his release. He is still just 23, and the Ravens don't have a replacement for Ray Lewis. McClain would join fellow Alabama products Courtney Upshaw and Terrence Cody on the Ravens' roster.
The next investment for the Ravens
should be on the offensive line
, writes Mike Preston of the Baltimore Sun.
Matt Vensel of the Sun unveils
his latest mock draft
.
Third-year defensive lineman Pernell McPhee, who battled through several injuries last year,
has high expectations
of himself for the coming season, writes Garrett Downing of the team's website.
Cincinnati Bengals
With offseason conditioning to begin on Monday, the Bengals
are exploring signing another veteran or two
. The team hosted linebacker Akeem Jordan on Tuesday, and according to reports, will have tight end/fullback Alex Smith in for a visit later this week, writes Joe Reedy of the Cincinnati Enquirer.
Cleveland Browns
Missouri defensive tackle Sheldon Richardson, LSU outside linebacker/defensive end Barkevious Mingo and Arizona quarterback Matt Scott
have pre-draft visits scheduled with the Browns
on Wednesday, league sources confirmed for Nate Ulrich of the Akron Beacon Journal. Alabama cornerback Dee Milliner and USC quarterback Matt Barkley had visits with the Browns on Tuesday, sources said.
Former Browns safety Usama Young
signed with Oakland
. Young, 27, spent the past two seasons with the Browns before being cut April 2. The Browns signed Young as an unrestricted free agent in 2011, but he never secured the starting free safety job on a full-time basis like the organization had hoped.
Inside linebacker D'Qwell Jackson
says he's excited about the new coaching staff
. "They're definitely creating a different vibe around here, and it's a winning vibe that I haven't been a part of since I've been here," said the eight-year veteran.
Pittsburgh Steelers
NFL commissioner Roger Goodell on Tuesday
named coach Mike Tomlin
to the powerful NFL competition committee, a group of coaches and administrators who recommend playing rules and policy changes to the NFL owners for a vote. Tomlin replaces former Arizona Cardinals coach Ken Whisenhunt.
March, 27, 2013
3/27/13
8:30
AM ET
The Browns signed quarterback
Jason Campbell
to compete with
Brandon Weeden
for the starting job (
a good move for Cleveland
) and Ravens receiver-returner
Jacoby Jones
advanced past the first round in "Dancing With The Stars." You can say that it wasn't a typical Tuesday night for the AFC North blog. If you're not in the mood to chat about contemporary jazz moves, you'll be happy to move to the wake-up call ...
RAVENS
: Raiders free-agent safety
Michael Huff
is scheduled to visit Baltimore later this week, according to the
Fort Worth Star-Telegram
. Huff visited Dallas on Monday but left without an offer from the cap-strapped Cowboys. The Ravens are looking for a replacement for
Ed Reed
, who signed with Houston last week, and team officials were impressed with Huff coming out of college. If Huff doesn't get a deal done with Baltimore, he'll head to Green Bay for a visit.
BENGALS
: Based on the recent offensive-tackle signings, Joe Reedy of the
Cincinnati Enquirer
projects
Andre Smith
will sign a four-year deal in the $26 to $27 million range that includes between $7 million to $8 million in guaranteed money. Smith was reportedly looking for a deal that averaged $9 million per season. But he won't get that type of money now that the first wave of free agency is over. No one expected Smith to last this long on the open market.
STEELERS
: Giants free-agent running back
Ahmad Bradshaw
is scheduled to visit the Steelers on Wednesday, according to
ESPN NFL Insider Adam Schefter
. Bradshaw, 27, has been waiting to take a physical with teams because he had surgery to replace a screw in his right foot in late January. He told ESPN Radio that the Packers and Jets are also interested in him. The Steelers can't offer much because they're $2.5 million under the salary cap, but running backs are generally among the cheapest positions in free agency.
BROWNS
: Oregon outside linebacker
Dion Jordan
and Oklahoma wide receiver
Kenny Stills
are among the prospects who have pre-draft visits lined up with the Browns, according to the
Akron Beacon Journal
. Jordan is considered a top-five prospect in the draft, and Stills is projected to go in the third or fourth round. Also, Arizona quarterback
Matt Scott
is set to visit the Browns in early April, the paper reported. Scott is expected to go in the fifth round or later.