November, 27, 2013
Nov 27
10:00
AM ET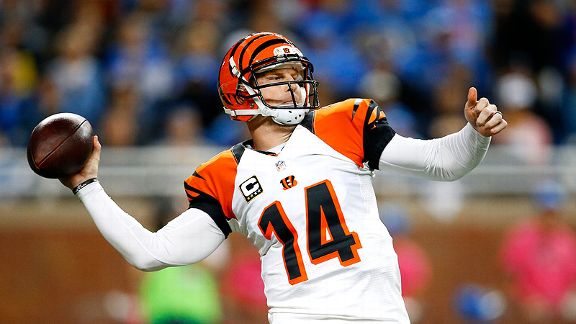 AP Photo/Rick OsentoskiThe Cincinnati Bengals are counting on Andy Dalton to return to the form that helped lead the team to a 4-1 record in October.
CINCINNATI -- Earlier this week,
Cincinnati Bengals
players like cornerback
Chris Crocker
were adamant in pointing out the urgency they need to play with throughout the
month of December
.
"It's all about winning in December," Crocker said. "Let's win out and see where the chips lay. Why can't we win out? I don't see why we can't."
If you ask some Bengals fans and most NFL analysts, they'll give you one big reason why they don't believe Cincinnati will be able to go 5-0 to close out the regular season: No. 14.
That's right. To some, the primary obstacle in the way of end-of-season perfection for the Bengals is
Andy Dalton
, the player who has quarterbacked the franchise into the playoffs each of the past two seasons, and who constantly is trying to prove himself to those who consider him just another member of a mostly failed 2011 quarterback draft class.
For that reason, as the Bengals gear up for a stretch run that could give them a first-round bye and home-field advantage in the playoffs, an important question has to be asked.
Can December Andy mimic October Andy?
As we've written countless times in the past month, October Andy was indeed a dandy. Through the first four games of that month, Dalton threw for 1,243 yards and 11 touchdowns. He also completed 67.9 percent of his passes, won four games, had a passer rating higher than 116.0 and a QBR above 83.0. He was, quite simply, brilliant. His play was so sharp back then that on the final day of the month, hours before the Bengals were set to take on the Dolphins in a road Thursday night game, he was named the AFC's Offensive Player of the Month.
And, yes, even though, comparatively speaking, he didn't look as good overall against the Dolphins and ended up taking the game-winning sack for a safety in overtime, Dalton still had a rather special performance in the 22-20 loss. Aside from not completing a touchdown pass and getting intercepted three times, he threw for 338 yards, marking the fourth straight game he had gone over the 300-yard passing mark.
Overall, October Andy was Good Andy.
But now here comes December with all of its postseason potency. If Cincinnati hopes to set itself up for the type of playoff seeding Crocker believes it deserves, then it will have to play its best ball across the next five weeks. That's especially the case for Dalton and a Bengals offense that has looked rather anemic in the past three games.
One look at Dalton's previous December stats and it doesn't appear the third-year star should have any problem showcasing even a sliver of the success that made him and his team so good about two months ago.
After a rocky December as a rookie in 2011, Dalton was among the difference-makers last season when the desperate Bengals were in need of a strong final month just to secure a playoff berth. One year after going 2-2 in the month, Dalton went 4-1 during December 2012. The lone loss came after the
Dallas Cowboys
made a field goal in the final seconds to win 20-19.
While the level of desperation may be different this December, the Bengals are looking for Dalton to thrive under similar pressure-packed moments during this one. This time around, the pressure on Dalton mainly stems from the fact that so many are fed up with his play from the past three games. In them, he's thrown eight interceptions and been sacked 10 times. Across the latter two of those games, he's completed fewer than 50 percent of his passes and hasn't posted a QBR higher than 18.0.
Weather factored heavily in Dalton's inability to move the ball in those two games. Windy conditions at Baltimore and windy and rainy conditions against the Browns sent some of his passes sailing and forced others into the hands of defensive backs.
Although weather shouldn't be a concern this weekend in San Diego (the forecast calls for partly cloudy skies and a delightful high of 71 degrees Sunday), it could be the rest of the season. Farmer's Almanac projects cold, damp conditions for all of December in the Ohio Valley. It should be noted that after Sunday's game, the Bengals are home three of the next four weeks. Their only remaining road game is at Pittsburgh.
Throughout his career, Dalton has performed better in warmer games. In games with temperatures 50 degrees or higher, he has a 20-14 record, an 85.1 passer rating and a 52.5 QBR. In games with temperatures at 49 and lower, he has a 5-5 record, a 75.4 passer rating and a 32.9 QBR. Dalton's last three sub-49-degree wins came last December, though; a sign that perhaps he's turning a corner in cold-weather contests.
Whatever the conditions and whomever their opponents are, when it comes to the next five weeks, the Bengals can only hope that Dalton turns into the same man who torched through this October.
April, 10, 2013
Apr 10
10:10
AM ET
By
ESPN.com staff
| ESPN.com
Baltimore Ravens
The Baltimore Ravens and linebacker Rolando McClain
are working toward a contract
, sources told NFL.com's Albert Breer on Wednesday. McClain was the No. 8 overall pick in 2010, but was recently cut by the Oakland Raiders. He had 99 tackles and five sacks in 2011. McClain's strength always has been stopping the run, but off-the-field issues played a role in his release. He is still just 23, and the Ravens don't have a replacement for Ray Lewis. McClain would join fellow Alabama products Courtney Upshaw and Terrence Cody on the Ravens' roster.
The next investment for the Ravens
should be on the offensive line
, writes Mike Preston of the Baltimore Sun.
Matt Vensel of the Sun unveils
his latest mock draft
.
Third-year defensive lineman Pernell McPhee, who battled through several injuries last year,
has high expectations
of himself for the coming season, writes Garrett Downing of the team's website.
Cincinnati Bengals
With offseason conditioning to begin on Monday, the Bengals
are exploring signing another veteran or two
. The team hosted linebacker Akeem Jordan on Tuesday, and according to reports, will have tight end/fullback Alex Smith in for a visit later this week, writes Joe Reedy of the Cincinnati Enquirer.
Cleveland Browns
Missouri defensive tackle Sheldon Richardson, LSU outside linebacker/defensive end Barkevious Mingo and Arizona quarterback Matt Scott
have pre-draft visits scheduled with the Browns
on Wednesday, league sources confirmed for Nate Ulrich of the Akron Beacon Journal. Alabama cornerback Dee Milliner and USC quarterback Matt Barkley had visits with the Browns on Tuesday, sources said.
Former Browns safety Usama Young
signed with Oakland
. Young, 27, spent the past two seasons with the Browns before being cut April 2. The Browns signed Young as an unrestricted free agent in 2011, but he never secured the starting free safety job on a full-time basis like the organization had hoped.
Inside linebacker D'Qwell Jackson
says he's excited about the new coaching staff
. "They're definitely creating a different vibe around here, and it's a winning vibe that I haven't been a part of since I've been here," said the eight-year veteran.
Pittsburgh Steelers
NFL commissioner Roger Goodell on Tuesday
named coach Mike Tomlin
to the powerful NFL competition committee, a group of coaches and administrators who recommend playing rules and policy changes to the NFL owners for a vote. Tomlin replaces former Arizona Cardinals coach Ken Whisenhunt.
March, 27, 2013
Mar 27
8:30
AM ET
The Browns signed quarterback
Jason Campbell
to compete with
Brandon Weeden
for the starting job (
a good move for Cleveland
) and Ravens receiver-returner
Jacoby Jones
advanced past the first round in "Dancing With The Stars." You can say that it wasn't a typical Tuesday night for the AFC North blog. If you're not in the mood to chat about contemporary jazz moves, you'll be happy to move to the wake-up call ...
RAVENS
: Raiders free-agent safety
Michael Huff
is scheduled to visit Baltimore later this week, according to the
Fort Worth Star-Telegram
. Huff visited Dallas on Monday but left without an offer from the cap-strapped Cowboys. The Ravens are looking for a replacement for
Ed Reed
, who signed with Houston last week, and team officials were impressed with Huff coming out of college. If Huff doesn't get a deal done with Baltimore, he'll head to Green Bay for a visit.
BENGALS
: Based on the recent offensive-tackle signings, Joe Reedy of the
Cincinnati Enquirer
projects
Andre Smith
will sign a four-year deal in the $26 to $27 million range that includes between $7 million to $8 million in guaranteed money. Smith was reportedly looking for a deal that averaged $9 million per season. But he won't get that type of money now that the first wave of free agency is over. No one expected Smith to last this long on the open market.
STEELERS
: Giants free-agent running back
Ahmad Bradshaw
is scheduled to visit the Steelers on Wednesday, according to
ESPN NFL Insider Adam Schefter
. Bradshaw, 27, has been waiting to take a physical with teams because he had surgery to replace a screw in his right foot in late January. He told ESPN Radio that the Packers and Jets are also interested in him. The Steelers can't offer much because they're $2.5 million under the salary cap, but running backs are generally among the cheapest positions in free agency.
BROWNS
: Oregon outside linebacker
Dion Jordan
and Oklahoma wide receiver
Kenny Stills
are among the prospects who have pre-draft visits lined up with the Browns, according to the
Akron Beacon Journal
. Jordan is considered a top-five prospect in the draft, and Stills is projected to go in the third or fourth round. Also, Arizona quarterback
Matt Scott
is set to visit the Browns in early April, the paper reported. Scott is expected to go in the fifth round or later.