June, 14, 2014
Jun 14
11:25
AM ET
PITTSBURGH – Mel Blount remembered Chuck Noll as much more than just a football coach, a day after Noll died at the age of 82 in his Pittsburgh-area home.
What stood out most about Noll, the only coach to
win four Super Bowls
, was his consistency, Blount said Saturday morning.
"What you saw one day, you saw it the next day," said Blount, a game-changing cornerback who played for Noll and the Steelers from 1970-83. "He was just a guy who was very focused. He was something special, and nothing ever really fazed him. He was a teacher, and his methods weren't a lot of rah-rah speeches. He was systematic in what it was he was doing, and his emotions he kept within."
Blount, one of nine players from the Steelers' 1970s teams who is in the Pro Football Hall of Fame, said the lessons he learned from Noll guided him after he retired from football.
"Chuck wasn't the kind of guy that gave you a big hug or carried on a conversation with you," Blount said. "He told you what he wanted done, how we were going to get it done and what he expected, and we went out and responded accordingly. He was different, and the older I get the more I appreciate and cherish the opportunity to have played for him."
Blount became a successful businessman after football, and one of his enduring legacies is the eponymous group home that he runs for disadvantaged kids in the Pittsburgh area. Blount said Noll's emphasis on family always put football in its proper perspective.
"You put your family first," Blount said of what Noll taught his players. "You provide for your family, try to protect and educate your family, and winning was a part of that. I think Pittsburgh was blessed to have had a guy like Chuck."
June, 23, 2010
6/23/10
11:00
AM ET
Notable players:
QB Terry Bradshaw, LB Jack Lambert, RB Franco Harris, DB Mel Blount, LB Jack Ham, WR Lynn Swann, DT Joe Greene, WR John Stallworth.
[+] Enlarge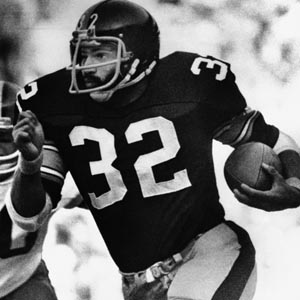 AP Photo/JJWFranco Harris posted career-high numbers during the 1975 season.
Analysis:
The '75 Steelers were the first Pittsburgh team to win back-to-back Super Bowls. It was also the best team from the famed Pittsburgh dynasty of the '70s, which included a bevy of Hall of Famers.
Led by the Bradshaw -- aka the "Blonde Bomber" -- Pittsburgh was able to win through the air and on the ground in an era when most teams were one-dimensional offensively and thrived on ground-and-pound football.
Pittsburgh's famed "Steel Curtain" defense was one of the best of all time and held seven opponents to single-digit scoring during the '75 season. In three playoff games, including the Super Bowl, offenses averaged only 12.3 points per game.
The '78 and '79 Pittsburgh title teams were also tremendous. But the '75 group had several key advantages.
For starters, every key member in '75 was in, or approaching, his prime. Hall of Famers Bradshaw (27), Blount (27), Ham (27), Lambert (23), Harris (25), Swann (23) and Stallworth (23) came into their own during this first run of back-to-back titles. By the time the second run of championships came at the end of the decade, this core group was four years older and some were approaching the end of their storied careers.
Further displaying their dominance, the '75 Steelers won by an astounding average of 15.1 points per game in the regular season, which led the NFL. It was also the highest margin of victory for any of Pittsburgh's championship teams. The '78 team won by an average of 10.1 points per game, while the '79 team won by 9.6 points per game.
Most impressive win:
The Steelers' 21-17 victory over the Dallas Cowboys in Super Bowl X was the team's crowning achievement. The Steelers won the turnover battle 3-0 to pull out a historic and close game. It completed the first of Pittsburgh's two back-to-back championships in the decade.
Research Room:
The Steelers allowed 17 touchdowns in 14 regular-season games in '75. In contrast, Pittsburgh scored 46 touchdowns, including two fumble returns for scores and one kickoff return.
Big Franco:
Harris is best known for the "Immaculate Reception" in '72 during a playoff win over the Oakland Raiders. But his best season rushing the football came three years later.
Harris recorded a career-high 1,246 yards rushing and 11 touchdowns during Pittsburgh's title run in '75. He averaged 4.8 yards per carry and also caught 28 passes out of the backfield. The nine-time Pro Bowler and Hall of Famer had eight 1,000-yard seasons.
Honorable mentions (in order):
1978:
A dominant group that won 14 games in the regular season and a Super Bowl. They scored at least 33 points in all three playoff victories.
1979:
The last championship team of the Steelers dynasty of the '70s. This group was No. 1 in total offense and No. 2 in total defense.
1974:
This team started the run of four championships in the '70s. But it wasn't until a year later that the core group of Hall Famers all blossomed and came into their own.
August, 7, 2009
8/07/09
11:00
AM ET
Posted by ESPN.com's James Walker
On Friday ESPN.com has a well-written article (forgive my bias) on the Hall of Fame career of Rod Woodson and where he fits among all-time great cornerbacks.
One of the NFL experts who chimed in on the subject was Cincinnati Bengals head coach Marvin Lewis, who provided ESPN.com with his top-five list of corners in no particular order:
Rod Woodson
Lewis quote: "I don't know if you could ask for a better player with both physical talent and mental ability."
Deion Sanders
Lewis quote: "Just the overall smoothness of his coverage skills. No matter what the other 10 guys on defense were doing, you knew Deion was shutting down his man."
Darrell Green
Lewis quote: "The quickness, the speed. Out of the break, [he's] always in step with his man."
Mel Blount
Lewis quote: "Physical. Great at playing the ball in the air. One of the greatest bump-and-run corners."
Willie Brown
Lewis quote: "Willie [is in this group] for what he did and when he did it."
A special thanks to Marvin Lewis for providing his picks to the AFC North blog. So who makes your list of top five cornerbacks?