April, 29, 2014
Apr 29
3:30
PM ET
The fifth mock drafts are out for ESPN draft experts
Mel Kiper Jr.

and
Todd McShay

, and their first-round picks for the
Baltimore Ravens
have a familiar ring.

Kiper has the Ravens taking North Carolina's
Eric Ebron
, the consensus best tight end in the draft. The Ravens would be thrilled to land a playmaker like Ebron at No. 17. Ebron was Kiper's pick for the Ravens in his first two mock drafts.
McShay stuck with the offensive theme as well, sending Notre Dame offensive lineman
Zack Martin
to the Ravens. This is the second straight mock draft where McShay has linked the Ravens to Martin. The Ravens are looking to upgrade at right tackle, and Martin is considered the fourth-best tackle in this draft.
History of Kiper's picks for Ravens
Mock 1.0: Eric Ebron, TE, North Carolina
Mock 2.0: Eric Ebron, TE, North Carolina
Mock 3.0:
Brandin Cooks
, WR, Oregon State
Mock 4.0:
Calvin Pryor
, S, Louisville
History of McShay's picks for Ravens
Mock 1.0:
Mike Evans
, WR, Texas A&M
Mock 2.0: Eric Ebron, TE, North Carolina
Mock 3.0:
C.J. Mosley
, LB, Alabama
Mock 4.0: Zack Martin, OL, Notre Dame
Mock 5.0: Zack Martin, OL, Notre Dame
April, 17, 2014
Apr 17
12:15
PM ET
The NFL draft is exactly three weeks away. When the
Cincinnati Bengals
make their first pick, they'll do so late in the first round at No. 24 overall.
They have needs at cornerback, quarterback, outside linebacker, safety, defensive end and on the offensive line. They also could add a running back or receiver at some point during the draft. Just whom will they wind up selecting with their picks in the first two rounds? ESPN's Mel Kiper has made his predictions. His second-round pick is a player who once had a first-round projection.
April, 4, 2013
4/04/13
7:30
AM ET
I'm heading back to AFC North headquarters this morning after a productive day-long NFL summit at ESPN on Wednesday. From the discussions and feedback, I came away encouraged about the continuing evolution of the blogs. We'll talk more about that as we get closer to the season. For now, it's time for your wake-up call ...
RAVENS
: Early last month, ESPN's
Todd McShay
had Notre Dame linebacker Manti Te'o falling to the Ravens at the bottom of the first round. ESPN draft analyst Mel Kiper Jr. doesn't see that happening. In
a conference call
, Kiper said there's "no way" Te'o will last until the last pick of the first round. Kiper doesn't see Te'o getting past the Giants, Bears or Vikings. He thinks LSU linebacker Kevin Minter would be a "nice pick" for the Ravens.
BENGALS
: Texas safety Kenny Vaccaro and North Carolina running back back Giovani Bernard have pre-draft visits with the Bengals this week, according to
The Cincinnati Enquirer
. Both players have been linked to the Bengals, who have three picks in the first two rounds of the draft. Cincinnati is looking for a starting strong safety and a speedy change-of-pace running back. Bernard reportedly drew the attention of head coach Marvin Lewis at his pro day and had dinner with team officials in Cincinnati on Wednesday night.
STEELERS
: Running back-returner LaRod Stephens-Howling was among three unrestricted free agents to visit the cap-strapped Steelers on Wednesday, according to
The Pittsburgh Tribune-Review
. Before the start of free agency, I
linked Stephens-Howling to the Steelers
because he can fill the role of Chris Rainey. A free agent out of Arizona, Stephens-Howling is an elusive back who can provide a big-play spark, whether it's as a runner or receiver out of the backfield. Two backups, 49ers linebacker Tavares Gooden and Texans center-guard Antoine Caldwell, also met with the Steelers.
BROWNS
: Brigham Young defensive end-linebacker Ezekiel "Ziggy" Ansah, who has been linked to the Browns with the No. 6 pick, is scheduled to go to Cleveland for a pre-draft visit. He is also visiting the Eagles and Cardinals. Ansah is a raw pass-rushing prospect who played football for only three years. Last season, he had 62 tackles, including 13 for loss and 4.5 sacks. "Ziggy Ansah is going to be a top-five guy," Kiper said, via
The Akron Beacon Journal
. "At the worst, top-10."
September, 4, 2012
9/04/12
11:00
AM ET
While I'm still taking heat for picking the Ravens to finish third in the AFC North in
my predictions
, I wanted to pass along a differing opinion. Former NFL general manager Bill Polian, who is now an ESPN analyst, is picking the
Ravens to win the Super Bowl
by defeating the Falcons.
This Super Bowl matchup would create an intriguing storyline at quarterback with
Joe Flacco
and
Matt Ryan
, who were both drafted in the first round in 2008. Ryan has thrown for more yards and touchdowns, but Flacco has won more games in the playoffs. A Super Bowl would settle the debate on whether Flacco or Ryan is the better quarterback.
Here's what Polian had to say about his prediction:
The injury to Terrell Suggs may have deprived the Ravens of the label of AFC favorites, but they can withstand the loss. In their defense, they can scheme rush as long as they have cover corners -- which they do -- and their young linebackers will grow over the course of the season. In a one-game situation, it's a flip of the coin between these two teams. But if this game is serving as Ray Lewis' farewell party, I think Baltimore gets the emotional edge.
ESPN's Ron Jaworski also had the Ravens in the Super Bowl but he has Baltimore losing to Green Bay. Jaworski believes the Ravens will reach the Super Bowl on the strength of Flacco and running back
Ray Rice
and not their defense.
In terms of the
AFC North champion
, Polian and Mel Kiper Jr. picked the Ravens while Herm Edwards went with the Bengals. Kiper did select the Bengals as one of his dark horses, saying it wouldn't surprise him if Cincinnati won 11 games.
May, 1, 2012
5/01/12
5:00
PM ET
ESPN draft analyst Mel Kiper Jr. took a look at the early impact players in the second and third round of the draft. The AFC North was represented on the offense and the defense.
You'll need a subscription to view the
entire Insider blog
,

but here's a portion of what Kiper had to say about two players in the division:
MOHAMED SANU
Team, position
: Bengals wide receiver
Round
: Third
Kiper's comment
: While Sanu isn't much of a home run threat because he lacks top-end speed, he's crafty and will work zones and the middle of the field to get open. You never know, but I can see him and
Andy Dalton
developing chemistry.
Hensley's comment
: Sanu will have the opportunity to make an impact because the Bengals' No. 2 receiver job is open. But I also like wide receiver
Marvin Jones
, who was picked in the fifth round.
COURTNEY UPSHAW
Team, position
: Ravens outside linebacker
Round
: Second
Kiper's comment
: He won't go into camp as a starter, but look for Upshaw to gain trust early. He's experienced and has the size and discipline to seal the edge in the run game in this system.
Hensley's comment
: I would agree that Upshaw probably won't begin camp as the starter, but I would be surprised if he didn't begin the regular season as one. He should beat
Paul Kruger
out as the starting outside linebacker.
April, 25, 2012
4/25/12
1:29
PM ET
ESPN's Mel Kiper Jr. produced his final mock for the 2012 draft. You'll need a subscription to view the entire
Insider piece

, but here's the AFC North part of it:
4. Cleveland Browns
Pick
: RB
Trent Richardson
, Alabama
Hensley's comment
: This should be a no-brainer for the Browns. Cleveland can instantly improve its offense by giving the ball 20 to 25 times to Richardson. There are options that would address need at quarterback (
Ryan Tannehill
) and wide receiver (
Justin Blackmon
). But Richardson fills a need and is the best player available.
17. Cincinnati Bengals
Pick
: G-T
Cordy Glenn
, Georgia
Hensley's comment
: The Bengals want Stanford guard
David DeCastro
to fall to them, but it's looking like that won't happen. Glenn is a very solid fallback pick who will start immediately at guard and provide a punch in the running game. He is a physically dominating lineman.
21. Cincinnati Bengals
Pick
: WR
Stephen Hill
, Georgia Tech
Hensley's comment
: The pairing of Hill to the Bengals is becoming very popular now. Hill has tremendous potential, but I'm not sure how much the Bengals will get out of him right away. He is an unpolished route runner. Still, the Bengals need a No. 2 wide receiver after losing
Jerome Simpson
and
Andre Caldwell
this offseason.
22. Cleveland Browns
Pick
: QB
Brandon Weeden
Hensley's comment
: Weeden is one of the few quarterbacks in this draft class who can start right away. But taking Weeden here is a reach. The Browns would be better served by using this first-round pick on an offensive tackle like Stanford's
Jonathan Martin
or wide receiver like
Rueben Randle
.
24. Pittsburgh Steelers
Pick
: NT
Dontari Poe
, Memphis
Hensley's comment
: The buzz has apparently died down on Poe, who could slide down to the Steelers. In Kiper's mock, Alabama linebackers
Dont'a Hightower
and
Courtney Upshaw
are still available at this spot. Under this scenario, I agree with Kiper the Steelers take Poe.
29. Baltimore Ravens
Pick
: ILB Dont'a Hightower, Alabama
Hensley's comment
: There are more pressing needs at guard and outside linebacker, but the Ravens couldn't pass on Hightower. Baltimore has to think about the future and the eventual replacement for
Ray Lewis
. The Ravens would be thrilled to land the two-time captain at Alabama.
April, 19, 2012
4/19/12
9:45
AM ET
In the latest mock draft by Mel Kiper Jr., the ESPN draft analyst goes three rounds. It's an
Insider piece
,

but I can give you a glimpse of the AFC North part of it along with my commentary:
CINCINNATI BENGALS
Rd 1 (17)
CB
Stephon Gilmore
, South Carolina
Rd 1 (21)
G
David DeCastro
, Stanford
Rd 2 (53)
CB
Jayron Hosley
, Virginia Tech
Rd 3 (83)
G
Tony Bergstrom
, Utah
Hensley's comment
: Not sure if the Bengals will pass on DeCastro with the 17th pick because there's no guarantee he'll be there at No. 21. DeCastro is one of the best guard prospects in a long time, and Cincinnati has more of a need at that position than cornerback. I agree the Bengals will address cornerback in the first three rounds, but I'm not sold on them taking two with their first three picks. I can see the Bengals taking a wide receiver like Baylor's Kendall Wright early, too.
CLEVELAND BROWNS
Rd 1 (4)
RB
Trent Richardson
, Alabama
Rd 1 (22)
T/G
Cordy Glenn
, Georgia
Rd 2 (37)
QB
Brandon Weeden
, Oklahoma St.
Rd 3 (67)
CB
Dwight Bentley
, Louisiana-Lafayette
Hensley's comment:
The Browns should be ecstatic if they can get Richardson and Glenn. Richardson is the top running back in the draft, and Glenn is the most versatile offensive lineman. The selection of Weeden in the second round has become a popular one for the Browns, although I think it's a mistake to take a 28-year-old rookie. Wait, where's the wide receiver? If the Browns can't upgrade at wide receiver with four picks in the first three rounds, that would be a major disappointment.
BALTIMORE RAVENS
Rd 1 (29)
C
Peter Konz
, Wisconsin (or trade down)
Rd 2 (60)
OLB
Terrell Manning
, N.C. State
Rd 3 (91)
WR
Joe Adams
, Arkansas
Hensley's slant:
I could be way off on this, but I haven't gotten the impression that the Ravens are enamored by Konz. Picking him makes sense, though. He could start at guard and eventually replace Matt Birk at center. Manning can immediately help as a pass rusher and on special teams. But he projects more as a 4-3 outside linebacker. Adams would make an immediate impact as a returner.
PITTSBURGH STEELERS
Rd 1 (24)
ILB
Dont'a Hightower
, Alabama
Rd 2 (56)
G/T
Jeff Allen
, Illinois
Rd 3 (86)
DT
Brandon Thompson
, Clemson
Hensley's slant:
Everyone expects the Steelers to take Hightower, so you know Pittsburgh is going to surprise and go elsewhere. I can see the Steelers taking a guard or outside linebacker in the first round. Allen would be a smart pick in the second round because he can play guard or tackle. Thompson would be a steal because he's a top-50 prospect.
March, 30, 2012
3/30/12
10:00
AM ET
ESPN draft analysts Todd McShay and Mel Kiper Jr. both agree that Texas A&M quarterback
Ryan Tannehill
will get drafted in the top 10.
Whether he deserves to be taken that high in the draft is another matter.
"To me, he's being overdrafted," Kiper Jr. said. "We saw it last year with
Christian Ponder
. He should've been a second-round pick. Overdrafting is taking place at quarterback, and it's going to happen again with Ryan Tannehill."

McShay disagrees with Kiper Jr.'s assessment of Tannehill.
"He's not RG3 [
Robert Griffin III
] or
Andrew Luck
, I'll give you that," McShay said. "But he's a notch below, and he's certainly better than all of those other quarterbacks. He belongs in the top 10."
Kiper Jr. doesn't rule out the Browns (No. 4) or the Dolphins taking Tannehill in the top 10, and he agrees that Tannehill has talent.
"It's obvious that he's got ability," Kiper said. "You can watch him throw the ball on the move. He's a cerebral, smart kid. But how he's handled in the NFL will go a long way in determining what kind of career he has."
I don't think the Browns will take Tannehill at No. 4. They tipped their hand Thursday, when coach Pat Shurmur and general manager Tom Heckert went to
Trent Richardson
's pro day and not the one for Tannehill. Offensive coordinator Brad Childress attended Tannehill's pro day. This says to me that the Browns are leaning toward Richardson over Tannehill.
In McShay's breakdown of
Tannehill's pro day
, McShay brought up a scenario for the Browns that I hadn't previously heard. He speculated that the Browns could pass on Tannehill with the No. 4 pick and then use the No. 22 pick (which they received from Atlanta in the
Julio Jones
trade last season) to make a deal with the
Jacksonville Jaguars
to move to No. 7. That would allow the Browns to jump ahead of the Dolphins and get Tannehill there.
According to McShay, a move like that would probably mean Cleveland offering up something in the ballpark of the No. 22 pick this year paired with next year's first-rounder, or No. 22 and a combination of second-rounders from this year and next. I don't see the Browns making such a move, but you can't discount anything in the NFL when it comes to quarterbacks and the draft.
March, 9, 2011
3/09/11
11:00
AM ET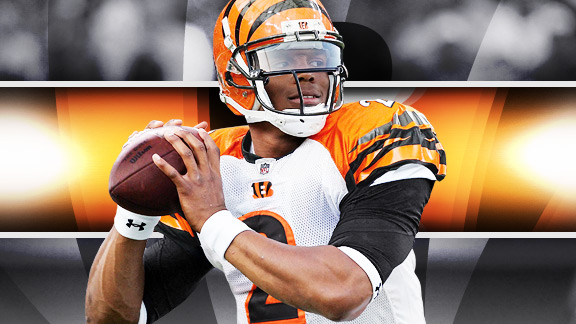 ESPN.com IllustrationWith Carson Palmer wanting out of Cincinnati, Mel Kiper projects the Bengals to take Cam Newton.
The NFL draft is getting closer, and this week ESPN's Mel Kiper Jr. provided
his third installment

in a popular series of mock drafts.
Let's examine how Kiper views the AFC North.

Cincinnati Bengals (No. 4)
Kiper's pick:
Cam Newton
, QB, Auburn
Analysis:
Newton is
the most polarizing player
in the NFL draft, and Kiper believes the Bengals will take him at No. 4.
Cincinnati's quarterback position is in turmoil
with starter Carson Palmer demanding a trade and threatening to retire. But is Newton the right replacement? He has tremendous athleticism but also comes with boom or bust potential. Because of his athleticism and one year of starting experience,
some have compared
Newton to Akili Smith. Right or wrong, those comparisons will only increase if he goes to Cincinnati.

Cleveland Browns (No. 6)
Kiper's pick:
A.J. Green
, WR, Georgia
Analysis:
The best receiver in the draft goes to Cleveland, according to Kiper. The Browns' receivers desperately need help, and Green would give them a legitimate No. 1 option in their new West Coast offense. I'm not against this pick, but there is a lot of debate in Cleveland about whether this team should address its defensive line in the first round. I think the Browns are leaning more in that direction. Cleveland is going to a 4-3 scheme in 2011 and need help at both defensive end and defensive tackle. There should be some good prospects there at No. 6.

Baltimore Ravens (No. 26)
Kiper's pick:
Jimmy Smith
, CB, Colorado
Analysis:
Kiper remains steadfast in believing the Ravens will take a cornerback in the first round. In his second mock draft, the pick was corner
Aaron Williams
of Texas. In this mock draft, it's Smith. The Ravens do have the propensity to take the best available player, but I think they will address a need in the first round. Baltimore definitely could use help at offensive tackle and also with its pass rush. According to Kiper's mock, Colorado offensive tackle
Nate Solder
would be available at No. 26, and that would be a great value pick for Baltimore. With starting cornerback Domonique Foxworth returning, I would be surprised if Baltimore takes a corner early.

Pittsburgh Steelers (No. 31)
Kiper's pick:
Danny Watkins
, G, Baylor
Analysis:
With Florida guard
Mike Pouncey
long gone in this mock, Kiper says Watkins is the pick. The Steelers need depth and youth on their offensive line. But I believe Pittsburgh is the most likely AFC North team to trade up in this draft. The Steelers are coming off a Super Bowl appearance and were very close to winning a championship. They only need a few pieces, and if the right cornerback or offensive lineman is available, the Steelers shouldn't be afraid to part ways with some of their picks.
February, 25, 2011
2/25/11
5:00
PM ET
Here are the latest news and notes from around the AFC North:
April, 8, 2010
4/08/10
10:00
AM ET
NFL draft gurus Mel Kiper Jr. and Todd McShay posted their
latest mock drafts

on ESPN.com. With the 2010 draft exactly two weeks away, let's examine what they have in store for the AFC North.

Cleveland Browns (No. 7 overall)
Kiper's pick:
Dez Bryant
, WR, Oklahoma State
McShay's pick:
Dan Williams, DT, Tennessee
Analysis:
Both Kiper and McShay whiffed on these two picks, in my opinion. Williams would be a significant reach for the Browns at No. 7, and Bryant is a player reportedly falling on most team's draft boards because of inconsistent workout and character concerns. Teams that draft receivers with a top-10 pick often regret it. The Browns recently did that in 2005 with
Braylon Edwards
at No. 3, and I don't see new team president Mike Holmgren taking the same risk. Perhaps McShay was overreacting to
Shaun Rogers
' recent arrest at a Cleveland airport and figured the Browns need to take a big plugger immediately at No. 7 overall. But unless that defensive tackle's last name is "Suh" or "McCoy," I don't see that happening, either.
Here are my options
for the Browns at No. 7.

Pittsburgh Steelers (No. 18)
Kiper's pick:
Maurkice Pouncey, C, Florida
McShay's pick:
Pouncey
Analysis:
I'm having a hard time finding fault with most of the potential targets with Pittsburgh. If the Steelers get help on the interior offensive line by drafting Pouncey -- the top-rated center -- it makes sense. If they get an offensive tackle to help with the team's shaky pass protection and possibly move
Willie Colon
inside to guard, it makes sense. If Pittsburgh drafts a cornerback in the first round or a nose tackle to be the eventual successor to
Casey Hampton
, that makes sense, too. In general, I think the Steelers are very fortunate to hold a mid-round pick this year in an extremely deep draft. Ideally, I believe Florida cornerback Joe Haden would be the perfect fit for the Steelers. But he may not be available unless they move up a few spots.

Cincinnati Bengals (No. 21)
Kiper's pick:
Jermaine Gresham
, TE, Oklahoma
McShay's pick:
Bryant
Analysis:
Both Kiper and McShay are precise with these two picks. The Bengals need help in the passing game, and Gresham and Bryant are the two top-rated players at their respective positions. With Cincinnati thin at tight end, Gresham has the potential and ability to start for the Bengals in Week 1. Blocking is his biggest concern. After signing
Antonio Bryant
in free agency to a $28 million contract, receiver is no longer a desperate need for Cincinnati. But if Bryant falls into the Bengals' lap at No. 21, he would be a great value pick in this spot and perhaps too hard for Cincinnati to pass up.

Baltimore Ravens (No. 25)
Kiper's pick:
Demaryius Thomas
, WR, Georgia Tech
McShay's pick:
Thomas
Analysis:
After the blockbuster deal to land three-time Pro Bowl receiver
Anquan Boldin
, signing
Donte' Stallworth
and re-signing
Derrick Mason
, I just about scratched receiver off my list for Baltimore in the first round. There are several more immediate needs for the Ravens, such as cornerback, an extra pass rusher and tight end. But with that said, Thomas is a decent pick. He's a physical specimen whose stock fell a little because of a recent foot injury. Going to Baltimore would give him time to learn the NFL game and eventually grow with quarterback
Joe Flacco
.
January, 23, 2010
1/23/10
4:30
PM ET
Let's see what's in our
AFC North inbox
this week.
Ken from Elizabethtown, Ky.,
wants to know if
Ed Reed
retires, would he stick around on the
Baltimore Ravens
' coaching staff?
James Walker:
That's a tough question, Ken, because Reed would make for a great coach and he does have some interest in the field. But I think staying with the Ravens would be a little too close to his heart--at least right away. Let's say his safeties blow an assignment. How could a great player like Reed, who is only 31, not get the itch the following week to sign a one-year deal with Baltimore and show his players how it's done? I don't think Reed wants to create that type of situation for himself or the team. If Reed decides to go into coaching at some point, my guess is it would start at the collegiate level.
---
Todd from Westerville, Ohio,
writes: I was just wondering with the issues the
Cleveland Browns
have at QB, do you think there would be any interest in trying to land Ravens quarterback
Troy Smith
?
Walker:
Todd, Smith would love to come home to Cleveland, but I don't see that happening. The Browns have 11 draft picks, and I get the sense new president Mike Holmgren and general manager Tom Heckert covet them very much. Plus, I don't see Smith's skills fitting into the type of precision offense Cleveland wants to run.
---
John from Cincinnati
wants to know why the word "czar" is the new catchphrase in the NFL.
Walker:
The term "czar" by definition means a person of absolute power. In the cases of Mike Holmgren in Cleveland and Bill Parcells with the
Miami Dolphins
, it fits the description because they have final say in everything.
---
Eddie Kilroy from Kent, Ohio,
writes: I've been reading several mock drafts, and it seems everybody is set on the Browns taking a quarterback with the No. 7 pick in the draft (usually Sam Bradford). Wouldn't it make more sense to try to upgrade the trenches or find help in the secondary?
Walker:
Not everyone, Eddie.
ESPN draft expert Mel Kiper
has the Browns taking Florida cornerback Joe Haden. Mock drafts are fun to talk about, but I wouldn't get too worked up about it in January. A lot will change in the next three months. Of any team in the AFC North, I think the Browns are in the best situation to take the best available player, regardless of position.
---
Mike from Ewa Beach, Hawaii,
writes: Bryan Bulaga=
Robert Gallery
?
Walker:
That's pretty funny, Mike. But it's way too early to start making those comparisons. Yes, similar to Gallery, Bulaga is a highly rated offensive tackle from the University of Iowa. But that doesn't automatically mean Bulaga is going to be a bust in the NFL.
---
Ron Coffey from Cincinnati
wants an update on Bengals defensive end
Antwan Odom
.
Walker:
Odom is still working to get back from an Achilles injury, Ron. Geoff Hobson of Bengals.com
recently caught up with Odom
. He was on pace to have a monster season. So if Odom comes back healthy, he will be a good addition to an already solid defense.
---
Gallas from West Jefferson, Ohio,
writes: Just for Nostradamus purposes, I think it's Cincinnati and Cleveland No. 1 and No. 2 next year, quote me.
Walker:
You've been quoted. But I'm warning you, Gallas,
we hold everyone accountable
in the AFC North blog.
---
Gabby from Baltimore
writes: Hey James, please answer! Could the Ravens sign any free agents this year: Restricted and unrestricted?
Walker:
Yes, Gabby, the Ravens will be able to sign both types of free agents. But there are complicated restrictions with Baltimore, because it was one of the final eight teams to advance to the divisional round before an uncapped year. Earlier this week, we provided a
full explanation from the NFL
on the Ravens' outlook in free agency.
January, 22, 2010
1/22/10
12:30
PM ET
ESPN NFL draft guru Mel Kiper has his first
mock draft

of the offseason.
Here is how Kiper sees the 2010 draft so far for the AFC North:

Cleveland Browns
Pick:
No. 7
Kiper's selection:
Joe Haden, CB, Florida
Analysis:
Cleveland's draft direction is very unpredictable at this point with new president Mike Holmgren and general manager Tom Heckert stepping into new roles. However, Haden is the highest-rated cornerback in the draft. The Browns have a lot of needs and a shutdown defensive back is one of them. Haden would allow Eric Wright to become Cleveland's second cornerback and move Brandon McDonald to the nickel, where McDonald played well earlier in his career.

Pittsburgh Steelers
Pick:
No. 18
Kiper's selection:
Bryan Bulaga, OT, Iowa
Analysis:
If no worthy cornerbacks are available, the Steelers could take a hard look at their offensive line. Pittsburgh quarterback Ben Roethlisberger takes a ton of sacks, and some (not all) of the blame can be put on the players up front. The Steelers have passed up taking offensive lineman high in the draft recently. Kiper believes they are due in 2010.

Cincinnati Bengals
Pick:
No. 21
Kiper's selection:
Aaron Hernandez, TE, Florida
Analysis:
A big-play receiver would help Cincinnati's offense more. But unfortunately for the Bengals, this is not a deep year for receivers. So they may have to settle for another position, and tight end also is an area of need. Hernandez is arguably the best pass-catching tight end in the draft. I'm also told there's a good chance Hernandez will wow some teams at the NFL combine with his athleticism. So while his stock may be late-first round now, it could rise out of Cincinnati's reach in the next several months.

Baltimore Ravens
Pick:
No. 25
Kiper's selection:
Jermaine Gresham, TE, Oklahoma
Analysis:
I'm surprised Kiper sees two AFC North teams taking tight ends in the first round. Similar to the Bengals, I think receiver is Baltimore's biggest need on offense. Ravens starting tight end Todd Heap had a solid season in 2009. So Gresham would likely start next year as a backup if he joined the team. I think Baltimore's first-round pick could be better used at another position if the Ravens want an instant impact.