March, 19, 2014
Mar 19
1:07
PM ET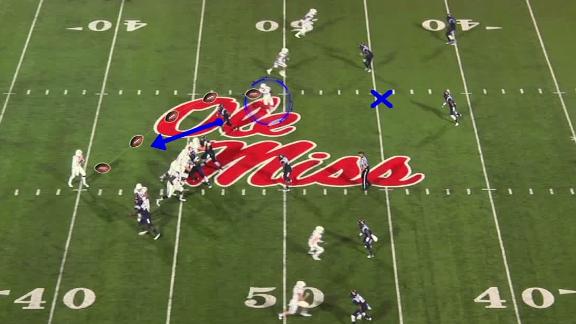 Johnny Manziel
's skill set "does not transition" to the NFL, and drafting him high is "a big, big risk."
That's the analysis of ESPN's Merril Hoge, who minced no words when he discussed Manziel Wednesday on "SportsCenter."
"I see bust written all over him," Hoge said. "Especially if he's drafted in the first round."
Manziel is considered among the three best quarterbacks in this year's draft. He,
Blake Bortles
and
Teddy Bridgewater
are projected to go in the first round -- though when it comes to quarterback predicting, it's getting tougher and tougher.
Hoge has been breaking down film and video for years for ESPN, including regularly with Ron Jaworski. Unlike some, neither make comments for effect. They do so honestly. Among NFL folks, Hoge is one of the more respected analysts. Hoge's issue with Manziel is his propensity to leave the pocket, and the risks that brings in the NFL against bigger, stronger defenders.
"He has absolutely no instinct or feel for pocket awareness," Hoge said. "He has an instinct to run. That's a bad instinct if you're going to have that in the National Football League. You have to play in the pocket with traffic around you and throw it. When traffic comes around him he runs, and that's dangerous in the National Football League."
Hoge continued.
"(Manziel's) skill set does not transition to the National Football League," he said, "and it's a big, big risk."
Manziel no doubt will continue to be among the most discussed players in this draft.
August, 3, 2012
8/03/12
12:00
PM ET
Dermontti Dawson
becomes the 12th center enshrined in the Pro Football Hall of Fame and the first since Dwight Stephenson in 1998.
This solidifies his legacy as one of the best centers to play in the NFL. But is he
the
best?
[+] Enlarge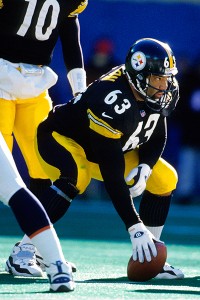 US PresswireSome football minds, like Steelers coordinator Dick LeBeau, say Dermontti Dawson was the best to ever play center in the pros.
It's a difficult argument for me because I never saw Jim Otto (1960-74) play and remember Mike Webster (1974-90) at the end of his career. My two thoughts on Dawson are: he's the best center over the past two decades and he revolutionized the position.
Dawson, the Steelers' center from 1989 to 2000, had a unique combination of being tough and athletic -- something that had never been seen before at that position. He was durable, playing 170 consecutive games, the second-longest streak in Steelers history. He was also agile enough to get to the outside after snapping the ball and fast enough to get downfield to block safeties.
"To me he was the best athlete to ever play that position," Steelers defensive coordinator Dick LeBeau said. "He was very powerful and explosive, just a rare combination of quickness, explosion, and he was a very dependable player."
Dawson was named to seven straight Pro Bowls (1992 to 1998) and was a six-time first-team All-Pro.
"He redefined the position," former Steelers coach Bill Cowher said. "When you look at the numbers we had in the running game, everything we did worked from the inside out, and to have a guy like Dermontti and such stability, that was a staple of every offense we had."
Even before Dawson was voted into the Hall of Fame, his legacy has been honored by Pittsburgh. While the Steelers don't officially retire numbers, they haven't given out Dawson's No. 63 since he left in 2000, according to the
Pittsburgh Post-Gazette
.
"You never had a center pull until Dermontti Dawson," said
Merril Hoge
, a former Steelers running back who is now an ESPN analyst. "He revolutionized and changed how teams ran the football in the NFL. ... Who knows if the Steelers would have evolved to where they are today in terms of running the football? It was because of him."
The one thing Dawson was unable to accomplish was winning a championship. In fact, none of this weekend's enshrinees won a Super Bowl.
"I think people put too much emphasis on winning championships as far as being validated and being selected to the Pro Football Hall of Fame," Dawson told
Pro Football Weekly
. "I don't think that should even be in the criteria. I think it should be what a person brings to the game, how they play the game and how consistent he was. I think it should be based on those factors as opposed to winning championships. A person makes a difference in a game, changes a game in a certain way, he's contributed to the game. But, yeah, I think too much emphasis is put on winning championships to make that a validation for being considered for the Pro Football Hall of Fame."
July, 13, 2011
7/13/11
2:45
PM ET

According to former Pittsburgh Steeler and ESPN analyst
Merril Hoge
, Steelers quarterback
Ben Roethlisberger
spoke with teammate
James Harrison
this morning and is "fine" with the linebacker's recent comments.
Here is the latest
via ESPN's Adam Schefter.
Harrison bashed Roethlisberger's
Super Bowl performance in an
explosive interview with Men's Journal
, saying he's not
Peyton Manning
but gets paid like it. Roethlisberger threw two costly interceptions in February's loss to the
Green Bay Packers
.
According to Hoge, Harrison told Roethlisberger in their conversation that
his words were misconstrued
and he didn't mean to be critical of the quarterback.
October, 7, 2010
10/07/10
6:00
PM ET

AFC NORTH SCOREBOARD
Saturday, 8/16
Monday, 8/18