March, 21, 2012
3/21/12
4:10
PM ET
The Cincinnati Bengals added youth, security and some punch around the goal line Wednesday when they
reached a three-year agreement
with former New England Patriots running back
BenJarvus Green-Ellis
, a free agent.
What stands out about Green-Ellis?
His age. He's 26 years old, three years younger than the running back he's replacing,
Cedric Benson
.
His dependability. Green-Ellis has not turned the ball over in a span of four NFL seasons, which covers 53 games played and 510 rushing attempts. But you probably should expect such reliability from a running back nicknamed "The Law Firm." This is an improvement over Benson, who fumbled five times in two December games last season.
His ability to hammer the ball across the goal line. Green-Ellis led the Patriots with 24 rushing touchdowns over the past two seasons. As a team, Cincinnati totaled 18 rushing touchdowns over that same span.
When free agency began, the favorite to go to the Bengals was Oakland running back
Michael Bush
, a Louisville native who offers more versatility than Green-Ellis because he is a weapon in the running and passing games. The Bengals instead went with Green-Ellis, who visited the team a day before Bush. The Patriots and the
New York Jets
both had expressed interest in Green-Ellis.
There's also little wear-and-tear with Green-Ellis, who has never carried the ball more than 229 times in a season. And he's not expected to be a workhorse for the Bengals. He will likely share carries with backup
Bernard Scott
and perhaps a rookie draft pick in a running back by committee. One reason the Bengals parted ways with Benson was his reluctance to split carries.
For the best scouting report on Green-Ellis, I defer to the Patriots expert,
ESPN Boston's Mike Reiss
, who provided this analysis to the AFC North blog:
"Green-Ellis was a reliable player for the Patriots. Ball security was never a concern -- he simply doesn't fumble -- and his hard-charging running inside the red zone was another top asset. He isn't a breakaway threat, but offensive linemen often talked about how much they liked having him behind them because he's efficient, patient and takes what is there for him.

"Green-Ellis is an excellent locker-room presence who worked his way up from rookie free agent, to special teams contributor, to lead back. He played 34 percent of the team's offensive snaps last season, teaming with Danny Woodhead (33 percent) to form a 1-2 combination in an offense that skewed heavier to the pass. The Patriots drafted Shane Vereen (second round) and Stevan Ridley (third round) last year, so they're ready to turn a big part of the position over to the youngsters. One other thought: This isn't a player who will get comfortable now that he has signed a new contract. If anything, it will drive him harder to prove he's worth the investment."
March, 21, 2012
3/21/12
11:40
AM ET
Just a look at what's happening around the AFC North, which appears to be having another quiet day:
BENGALS
: No news on the Bengals' search for a new starting running back. Michael Bush wrapped up his free-agent visit Tuesday without a contract, and BenJarvus Green-Ellis met with the Bengals on Monday. The free-agent market has been slow for running backs. The only notable signings have been Peyton Hillis (Chiefs) and Mike Tolbert (Panthers).
BROWNS
: The
Cleveland Plain Dealer
is disputing a report that says the Browns are interested in Bengals free-agent linebacker Manny Lawson. This is surprising because I thought Lawson's ability to stop the run would help the NFL's 30th-ranked run defense.
RAVENS
: Baltimore free-agent wide receiver Lee Evans is visiting the Jaguars today, according to the
Florida-Times Union
. In other words, the Jaguars are really desperate at wide receiver. ... Also,
the three-year deal
for center Matt Birk is worth $8.52 million and includes a $2.1 million signing bonus.
STEELERS
: The team announced it has signed tight end Wes Lyons and fullback Will Johnson, who were teammates at West Virginia from 2007 to 2009. Lyons was cut after training camp last year, and Johnson
worked three jobs
last year when he was out of football.
March, 19, 2012
3/19/12
10:45
AM ET
The Bengals take their first step in replacing
Cedric Benson
on Monday, when they host two free-agent running backs,
Michael Bush
and
BenJarvus Green-Ellis
.
Green-Ellis
Bush
It's interesting to note that Bush is visiting Cincinnati on Monday, but he
already met coach Marvin Lewis
last week at Arizona, where Lewis was attending Arizona State's pro day.
My read on the situation is that the Bengals want Bush and could be using Green-Ellis as leverage to get the
Oakland Raiders
running back. Bush, 27, seems to be the better fit for Cincinnati. The Bengals aren't the only team interested in Bush, who visited the Bears last week and could be headed next to Seattle, according to
ESPN NFL Insider Adam Schefter
.
While Bush's average (3.8 yards per carry) will remind some of Benson, he is more dynamic than Benson. He caught 37 passes for 418 yards last year, which would bring another look to the Bengals offense. Benson averaged 20 receptions in his four seasons in Cincinnati.
Bush doesn't have the breakaway speed that the Bengals could use (seven runs over 20 yards in four years), but neither does Green-Ellis. The Bengals wouldn't be wrong in signing Green-Ellis, who is young (26), durable (hasn't missed a game in the past two years), reliable (has never fumbled in his NFL career) and strong in the red zone (24 touchdowns in two seasons).
Green-Ellis, though, could be using the Bengals as well. He is currently in talks to stay with the Patriots."I don't know what's going to happen," Green-Ellis told
MassLive.com
on Friday. "I just have to sit back and wait for things to unfold."
Whether the Bengals sign Bush, Green-Ellis or another veteran free agent, Cincinnati is still planning to go with a running back by committee with backup
Bernard Scott
and perhaps a rookie draft pick.
March, 18, 2012
3/18/12
8:04
PM ET
The Bengals made the AFC North's biggest move in free agency so far, re-signing safety
Reggie Nelson
, according to
ESPN NFL Insider Adam Schefter
.
Nelson
Why is it so big? Cincinnati pointed to Nelson as its top priority in free agency and didn't lose him in a battle with the
New York Jets
. The Bengals also kept Nelson at a time when it would be hard to replace him (the safety position is weak in free agency and the draft) and didn't let him leave like cornerback
Johnathan Joseph
a year ago.
Nelson, 28, has gone from a first-round bust with Jacksonville to an coveted defensive back in Cincinnati. He was considered the second-best safety in free agency, and that's why the Jets tried to lure him there in a two-day visit.
Even though he isn't a Pro Bowl defender, Nelson made his presence known. He led the Bengals with four interceptions and ranked third in tackles. Nelson also broke up eight passes, forced two fumbles and recorded two sacks.
Keeping Nelson was a solid move considering the Bengals didn't take the easy way out and use the franchise tag on him. Although the details for Nelson's deal weren't immediately available, using a $6.2 million tag on Nelson would have been overspending for him (this wasn't a case of the Bengals being frugal).
After a slow start to free agency, the Bengals have been heating up this weekend in using the second-most salary-cap space in the NFL. Cincinnati agreed to terms with guard
Travelle Wharton
, cornerback
Jason Allen
and now Nelson.
Monday will be an important day for the Bengals, who host running backs
Michael Bush
and
BenJarvus Green-Ellis
. Signing one of them would cross another item off the free-agent list for Cincinnati, which is parting ways with
Cedric Benson
.
March, 14, 2012
3/14/12
1:51
PM ET
So, I took a shot at the Bengals for shopping at the dollar store for their initial list of scheduled visits (Giants cornerback
Aaron Ross
, Bears tight end
Kellen Davis
and Rams guard
Jacob Bell
). Well, I apologize for speaking too early.
The Bengals have certainly sprung to life on the second day of free agency. They are looking to make a push to upgrade the running back position, scheduling meetings with Oakland's
Michael Bush
and New England's
BenJarvus Green-Ellis
, according to
ESPN NFL Insider Adam Schefter
. Cincinnati will also host Dolphins defensive lineman
Kendall Langford
on Thursday, according to
the Cincinnati Enquirer
. There is also a possibility that Cowboys free-agent cornerback
Terence Newman
could visit Cincinnati, per
ESPN Dallas' Bryan Broaddus
.
These are the most significant visits for the Bengals so far in free agency, but Cincinnati isn't the only team interested in these running backs. Bush is sitting down with the Bears today before traveling to Cincinnati on Monday, according to Schefter. Green-Ellis reportedly
has another visit elsewhere
, too.
The Bengals are expected to part ways with
Cedric Benson
but they likely will have a running back-by-committee with backup
Bernard Scott
. Bush and Green-Ellis are both powerful backs who would complement Scott. Considering the Bengals' salary-cap space -- the most in the NFL right now after Tampa Bay's spending spree -- they should get the running back that they want the most.
As far as Newman, the Bengals are needing to add depth because
Leon Hall
is coming off a season-ending Achilles injury and
Kelly Jennings
and
Adam Jones
are free agents. That's why Cincinnati has scheduled a visit with the Giants' Aaron Ross.
Newman, who turns 34 in September, is a two-time Pro Bowl player who recorded 32 interceptions in nine seasons with the Cowboys. But quarterbacks started picking on Newman late in the season. Bengals defensive coordinator Mike Zimmer has a familiarity with Newman during his time running the Cowboys' defense.
I will take a closer look at the Bengals' running back situation tomorrow. Until then, I leave you with a parting shot involving Green-Ellis. Yes, the player known as "The Law Firm" is talking to the Bengals. Insert your own punch line here, and don't act like you weren't thinking the same thing.
March, 2, 2012
3/02/12
2:00
PM ET
Raiders running back
Michael Bush
is now expected to hit the free-agent market on March 13 after Oakland used its franchise tag on strong safety
Tyvon Branch
.
Bush
The only way the cap-strapped Raiders would've kept Bush was putting the franchise tag on their backup running back. Now, Bush can look for a starting job elsewhere because he won't be the top back with
Darren McFadden
in Oakland.
I can see Bush coming to the Cincinnati. The Bengals want to improve over last year's starter,
Cedric Benson
. They have the salary-cap room to lure the free agents that they want. They offer Bush a chance to play near his hometown of Louisville. And they have new assistant Hue Jackson, who was Bush's head coach last season in Oakland.
Bush would become the Bengals' No. 1 back, but he wouldn't carry the entire load. Offensive coordinator Jay Gruden is leaning toward using a running-back-by-committee, which should suit Bush. After running for 100 yards in back-to-back weeks, he seemed to wear down in his final six games, averaging 63 yards on the ground.
At 27, Bush doesn't have the usual wear-and-tear of other free-agent running backs because he's been a backup for most of his career. He's a bruising runner who can gain the tough yards. He's also an above-average receiver, which would add another element to the Bengals' passing game.
"He's big, he runs hard, he's fast, and when you get him to the second level he's extremely hard to tackle," Chiefs coach Romeo Crennel said of Bush last year. "He can catch also. I forgot to mention that. He's the total package."
The other division team who could show interest in Bush is Cleveland. But it appears like the Browns will first attempt to re-sign
Peyton Hillis
at a reasonable price.
February, 27, 2012
2/27/12
7:30
AM ET
Every morning, grab a cup of coffee and get your AFC North wake-up call here:
The Ravens and Joe Flacco's agent had a "productive" first meeting Saturday at the NFL combine, the quarterback's representative Joe Linta told the
Annapolis (Md.) Capital
.
Flacco, who is entering the final year of his contract, is seeking an extension that averages $15 million per season, the Capital reported. Linta told the
Baltimore Sun
that contractual terms weren't discussed, and the meeting was to gauge the interest in getting a deal done.
"It's very clear that Joe is an important part of the Ravens team," Linta told the Capital. "We'll keep working away. I'm optimistic that we can work something out."
Ravens officials have been equally optimistic.
"Sometimes in negotiations, it can be done in two days or it can take 12 months," general manager Ozzie Newsome said. "I think there is a willingness with Joe Linta and Joe Flacco's part, and Steve [Bisciotti, Ravens owner] and the organization to try and get the deal done. We're going to push toward that."
Hensley's slant
: The tone so far suggests a deal will get done this year, but my guess is it won't get done until mid-July. I don't think the Ravens or Flacco want to enter the regular season with this hanging over their heads. My other guess is his new contract will average $13 million per season.
BENGALS
: The Bengals have a projected $60 million in salary-cap space but they have a reputation for being frugal with their money. Cincinnati coach Marvin Lewis agreed that the Bengals have to be aggressive in free agency because they only have 42 players under contract. But he said there is a difference between being aggressive and being foolish. "You win by developing your own players and not overpaying for a guy who you're not sure is going to work out until 6-10 games down the road and maybe not then," Lewis told the
Cincinnati Enquirer
. "We have to continue to draft. Do we need to supplement that with players? Yes and we're going to try and do that. Aggressive doesn't mean overpay and get stuck with both a bad contract and an average player. We need to have a guy who fits what we do."
Hensley's slant
: The Bengals have to be proactive in order to keep winning back a skeptical fan base. My wish list for the Bengals include wide receiver Robert Meachem, guard Ben Grubbs (if he doesn't re-sign with the Ravens) and running back Michael Bush.
BROWNS
: The Browns will try to sign a wide receiver in free agency, according to head coach Pat Shurmur. "I think it's important if you can add leadership and experience to the team, but he's also got to be a guy who can play," Shurmur told reporters at the NFL combine, via the
Chronicle-Telegram
. "I think that's the thing you've gotta look at, especially with guys that are free agents." The last two "big name" receivers signed in free agency -- Joe Jurevicius in 2006 and Donte Stallworth in 2008 --were disappointments.
Hensley's slant
: The Browns desperately needs to add a wide receiver with speed. Because this wide receiver group is among the worst in the NFL, the Browns should address this position in free agency and the draft. I still see Pierre Garcon as the best fit, especially if Mario Manningham is
going to the Buccaneers
.
STEELERS
: Pittsburgh general manager Kevin Colbert said there is a shallow talent pool for tight ends this year. Only 14 of them were invited to the NFL combine, making tight end the smallest group other than centers. "We have to dig a little deeper and make sure we don't miss guys who aren't playing in a pro-style offense but have the ability to do so from a size and athleticism standpoint," Colbert told the
Pittsburgh Post-Gazette
. "We have to make sure we try to unearth all those guys and give them their due, even though you're not seeing them do the same thing you're going to ask them to do."
Hensley's slant
: The lack of tight ends is not good news for the Steelers. It would benefit Pittsburgh to find an athletic, pass-catching one because Heath Miller is entering the final year of his contract and third-stringer Weslye Saunders is facing a four-game suspension from the NFL. Teams have found quality tight ends in the middle rounds recently: the Saints' Jimmy Graham (third round), the Ravens' Ed Dickson (third round) and the Patriots' Aaron Hernandez (fourth round).
February, 19, 2012
2/19/12
10:00
AM ET
There's no football games on this Sunday, but there's always mail to be opened ...
Charlie from Centerville, Ohio, writes:
How interested are the Bengals in
Michael Bush
? I think he would fit in their lineup really nice.
Jamison Hensley, from AFC North headquarters
: The only way the Bengals or any other team can bid on Bush in free agency is if the
Oakland Raiders
decide not to put the franchise tag on him. It was considered a good bet that the Raiders were going to do that based on
Darren McFadden
's injury history. Now there's reports suggesting that Oakland won't use the tag, which would allow Bush to hit the market.
There will be several teams interested in Bush, but the Bengals have more salary cap room ($60 million) than most teams. This would be a homecoming of sorts for Bush, who grew up down the road in Louisville. His power running style would compliment the quicker
Bernard Scott
. Signing a runner like Bush doesn't preclude the Bengals from drafting another running back as well.
---
Michael from Cleveland writes:
If the Browns bring in
Matt Flynn
, does that mean
Colt McCoy
won't get the chance to compete for the starting job?
Jamison Hensley
: Assuming the Browns get Flynn, the job would be given to him, even though Flynn has only two career starts and the Browns previously said McCoy would have be given a chance to battle for the job. The biggest reason why the Browns would go with Flynn is the financial commitment that comes with signing him. While Flynn remains an unknown in terms of being a full-time starter, there will be teams fighting for him, which will drive up the price. Flynn should end up with a contract in the same neighborhood as the one signed by Arizona's
Kevin Kolb
($63 million over five years). You don't give that type of money to a quarterback without handing him the starting job, too.
---
Drew from Baltimore writes:
The Ravens have a ridiculous amount of free agents this offseason. Obviously,
Joe Flacco
and
Ray Rice
have to stay. Would you agree that signing guard
Ben Grubbs
and linebacker
Jameel McClain
both need to become necessities as well? Don't they seem more important than going after a receiver or drafting their replacements?
Jamison Hensley
: I believe the Ravens will make adding a wide receiver a bigger priority than Grubbs and McClain. Grubbs certainly proved his importance when the offensive line struggled during the six games he was sidelined with a toe injury. But his chances of staying with the Ravens was significantly reduced when Baltimore invested a $32.5 million contract in the other starting guard,
Marshal Yanda
, last season.
As far as McClain, the Ravens' track record says he will go elsewhere and will make a lot of money in the process. From Ed Hartwell to
Bart Scott
, inside linebackers who have started next to
Ray Lewis
have garnered a lot of interest from other teams. McClain is expected to be the next one to do so. It won't be easy to replace Grubbs and McClain, but both will probably receive contracts that the Ravens won't be able to match.
---
Ian from Charlotte, N.C., writes:
With
Casey Hampton
's future uncertain, there are early rumblings of
Ziggy Hood
sliding to nose tackle. Does Hood have the tools to be a 3-4 tackle in the NFL? He's listed at 300 pounds which seems a little light to be absorbing double teams like Hampton did. What's your take?
Jamison Hensley
: Moving Hood to nose tackle wouldn't be the first choice. That's why you're seeing Memphis defensive tackle Dontari Poe linked to the Steelers in the first round. But I don't see Hood playing totally out of his comfort zone at nose tackle. He doesn't have the size of the 325-pound Hampton but Hood is about the same size as longtime backup nose tackle
Chris Hoke
(305 pounds). Hood took snaps at that spot last season in obvious passing situations, and I saw him handle double teams when he lined up at defensive end last year.
The one reason why you don't want to move Hood is because he's improved so much the past two seasons. But this looks like the best option at this point. The Steelers can't count on Hampton, who had ACL surgery at the end of January, and they have to get first-round defensive end
Cameron Heyward
on the field more.
---
Justin from Syracuse, N.Y., writes:
What do you think the chances are that the Bengals will trade up to get Alabama running back Trent Richardson?
Jamison Hensley
: The Bengals need a running back, and Richardson is the best one in the draft. He is one of the best athletes at any position in this draft class, too. But it would be a mistake for the Bengals to trade up to get him. It probably would take both of their first-round picks in this year's draft to do so, and it's not worth the cost.
Even if Richardson doesn't fall to the Bengals, they can use the first-round picks on a guard and cornerback. Two impact players are more valuable than a very good running back, who might only give you five outstanding seasons. Cincinnati can address running back in free agency with all of that salary-cap room and can take one in the second or third rounds.
---
Brad from Atlanta writes:
You raised the possibility of Matt Flynn becoming this year's Kevin Kolb. Can you post the stats of Kolb at Philadelphia and Flynn at Green Bay? Did Kolb ever have the kind of performances Flynn had against New England or Detroit?
Jamison Hensley
: Like Flynn, there was a small body of work with Kolb, who started just seven games in four seasons with the Eagles. He generated buzz in 2009, when he became the first quarterback in NFL history to throw for 300 yards in his first two starts. He was also outstanding filling in for an injured
Michael Vick
in October 2010, completing 23 of 29 passes for 326 yards, three touchdowns and one interception in a victory over Atlanta.
Flynn has only two starts but both have been spectacular. He totaled 731 yards passing, nine touchdowns and two interceptions. Until Flynn can duplicate his success as a full-time starter, there are going to be concerns that he'll disappoint like Kolb, who went 2-6 in his first season with Arizona last season.
February, 14, 2012
2/14/12
12:00
PM ET
With the offseason in full swing, let's take a look at one major question facing each AFC North team as it begins preparations for the 2012 season:

CINCINNATI BENGALS
For the Bengals, this is not just a leading question but a yearly one:
Will Cincinnati spend money in free agency?
The Bengals have made several right moves to win back the city's football fans. They're coming off a successful draft and have two first-round picks this year. They didn't raise ticket prices and lowered several of them. Now, Cincinnati has to be aggressive in filling holes on last season's playoff team, which is the most convincing way to show everyone that the organization is committed to winning.
The incentive and opportunity are there for the Bengals to be proactive in free agency. Cincinnati carried more than $15 million of unused cap money from last year and has $60 million to spend. Only three teams (the
Jacksonville Jaguars
,
Kansas City Chiefs
and
Tampa Bay Buccaneers
) have more cap space. With 20 players headed to free agency, the Bengals can keep the ones they want and upgrade at running back, wide receiver and guard.
If the Bengals do decide to spend, they could come away with several notable free agents, such as Raiders running back
Michael Bush
(if he isn't given the franchise tag), Saints wide receiver
Robert Meachem
and Ravens guard
Ben Grubbs
. Cincinnati also has the cap room to re-sign kicker
Mike Nugent
(or put the tag on him), safety
Reggie Nelson
and defensive end
Frostee Rucker
. All signs point to the Bengals building on last season's surprising success.
CLEVELAND BROWNS

Who will be the starting quarterback in 2012?
This is a leading question that's been asked before nearly every season since the Browns returned to the NFL in 1999. This represents a big offseason for team president Mike Holmgren to back up his reputation for being an astute evaluator of quarterbacks. The names that would bring the most hope to the struggling franchise are first-round prospect Robert Griffin III and intriguing free agent
Matt Flynn
. It would be deflating if the Browns' top choice at quarterback ended up being
Colt McCoy
once again.
The Browns can get RG3 if they want him, but it likely will come at a hefty price. The only way to ensure getting the consensus No. 2 quarterback in the draft is trading up from No. 4 to the
St. Louis Rams
' spot at No. 2. RG3 is a tantalizing talent because he's smart, fast, strong-armed and highly competitive. Another option is signing Flynn in free agency, although there will be other teams interested in him (namely the
Miami Dolphins
). Flynn wouldn't have much transition with the Browns, who run a similar system as the Packers. The concern is whether Flynn is this year's version of
Kevin Kolb
or
Scott Mitchell
.
Cleveland could wait to address the quarterback position with its second first-round pick (22nd overall) or in the second round, where Texas A&M's Ryan Tannehill might be available. The fallback option is McCoy, who failed to win the starting job in his first full season as a starter. He will be given a chance to compete for the starting spot, but he seems pegged for the backup position. Until the Browns find a franchise quarterback, they will always be looking up at the Steelers and Ravens from the bottom of the division.

BALTIMORE RAVENS
What will the linebacker group look like next season?
Linebackers have long been the foundation of the Baltimore defense, from
Ray Lewis
to
Peter Boulware
to
Adalius Thomas
to
Bart Scott
to
Terrell Suggs
. Age and free agency will force some important decisions about the future of this group. Only Suggs is assured of being with the Ravens beyond the next couple years.
Two starters -- outside linebacker
Jarret Johnson
and inside linebacker
Jameel McClain
-- are unrestricted free agents. The Ravens had hoped
Sergio Kindle
, their top pick in the 2010 draft, would have been ready to take over Johnson's starting spot by now. But a fractured skull during his rookie season (he fell down two flights of stairs) has made him a nonfactor. Baltimore has to decide whether
Paul Kruger
can hold up against the run so the team doesn't have to re-sign Johnson, who turns 31 before the start of the season. McClain might be another Scott, a former undrafted rookie who establishes himself as a starter and goes on to land big money elsewhere. It could be a risk to replace McClain with
Dannell Ellerbe
, a career underachiever.
While Lewis plans on coming back for his 17th NFL season, the Ravens have to start thinking about the eventual replacement for the soon-to-be 37-year-old linebacker. Baltimore has been heavily linked in the first round to Arizona State's Vontaze Burfict, whose intensity reminds many of Lewis, but he comes with character issues. Finding the heir apparent to Lewis is key for what should be a new-look linebackers group.

PITTSBURGH STEELERS
How much of an impact will new offensive coordinator Todd Haley make?
The initial impact has been drama, and it goes beyond who actually hired Haley to replace Bruce Arians. Haley said the Steelers are going to start with "a clean slate," and quarterback
Ben Roethlisberger
expressed his concerns about starting over. This is before Haley and Roethlisberger even met. Ultimately, Haley will be judged in two areas: putting up points and protecting Roethlisberger.
The biggest criticism of Arians' offense was the lack of scoring. The Steelers' rankings in terms of points scored the past three seasons were 12th (2009), 12th (2010) and 21st (2011). Where Haley has to elevate the Steelers is inside the red zone. In his two seasons as the Cardinals' offensive coordinator, Arizona's red zone offense ranked third in 2007 and ninth in 2008. Too often, Arians forgot about running the ball and throwing to tight end
Heath Miller
when Pittsburgh got inside the 20-yard line.
The Steelers' ability to score points is reliant on the health of Roethlisberger. It was evident last season that Pittsburgh's offense was sluggish when injuries slowed down Roethlisberger. Haley won't fix the Steelers' offensive line in one season, but he can tweak the timing of the passing game. His offense in Arizona relied heavily on three-step drops and getting rid of the ball quickly. This will reduce the amount of hits on Roethlisberger, who showed he can work in a quick-hitting passing game when he played New England this past season. The Steelers can't make a Super Bowl run if Roethlisberger is limping again.
February, 9, 2012
2/09/12
2:00
PM ET
If there is an AFC North-wide trend heading into free agency, it's the need for a running back. Everyone in the division has to address this position whether it's re-signing someone, finding a new starter or adding a backup.
BENGALS
: Cincinnati should be in the market for a new starter.
Cedric Benson
is a free agent, and this looks like a mutual parting of the ways. The Bengals need to find a running back that can generate big runs.
Bernard Scott
will return, but the Bengals have never trusted him with a starter's workload.
[+] Enlarge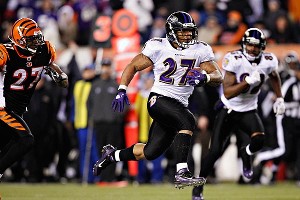 Frank Victores/US PresswireRay Rice is the only AFC North starter guaranteed to return to his team for the 2012 season.
BROWNS
: Count the Browns among those looking for a starter. That's assuming Cleveland isn't going to pursue
Peyton Hillis
, who produced more drama than touchdowns last year. The Browns still have
Montario Hardesty
, but he can't stay healthy.
Brandon Jackson
, who missed all of last season with a toe injury, is expected to be the team's third-down back.
RAVENS
: This is the only AFC North team that knows its Week 1 starter at running back.
Ray Rice
is an unrestricted free agent, but the Ravens will put the franchise tag on him before he can reach the open market. The Ravens' need is at backup running back after
Ricky Williams
announced his retirement. Baltimore is looking for an experienced power back to compliment Rice.
STEELERS
: Pittsburgh will need a new starting running back to open the season after
Rashard Mendenhall
tore his ACL in the regular-season finale. He likely will start the season on the Physically Unable to Perform list. While
Isaac Redman
has shown promise, it wouldn't be smart for the Steelers to put the weight of the running game on his shoulders. Pittsburgh needs a more reliable alternate plan.
While there will be others released for salary-cap reasons, here are the top-10 running backs who are scheduled to become unrestricted free agents in March (listed in alphabetical order):
Cedric Benson, Bengals (1,067 yards rushing, six TDs in 2011)
Michael Bush
, Raiders (977 yards rushing, seven TDs)
Matt Forte
, Bears (997 yards rushing, three TDs)
Ryan Grant
, Packers (559 yards rushing, two TDs)
BenJarvus Green-Ellis
, Patriots (667 yards rushing, 11 TDs)
Peyton Hillis, Browns (587 yards rushing, three TDs)
Steven Jackson
, Rams* (1,145 yards rushing, five TDs)
Marshawn Lynch
, Seahawks* (1,204 yards rushing, 12 TDs)
Ray Rice, Ravens (1,364 yards rushing, 12 TDs)
Kevin Smith
, Lions (356 yards rushing, four TDs)
* -- Could void contract at the end of the 2011 league year
July, 18, 2011
7/18/11
12:00
PM ET
Up until Sunday, the
Cincinnati Bengals
were a lock to make a very strong run to keep pending free-agent tailback
Cedric Benson
. The proposed 72-hour window for teams to re-sign their own free agents made Benson to the Bengals an even stronger possibility.

But
Benson's arrest this past weekend
for alleged assault of a family member puts his status with Cincinnati in doubt. If guilty, Benson could be facing an early season suspension from the NFL and, thus, wouldn't be able to help the Bengals to start the season.
As Bengals ownership and head coach Marvin Lewis re-evaluate their tailback situation behind closed doors, here is a look at other top free-agent running backs:
Michael Bush, 27, Oakland Raiders
Skinny:
Bush is one of the NFL's top backups who is now looking for a starting job. He rushed for 655 yards and eight touchdowns for Oakland last season with limited opportunities. Unlike many free-agent tailbacks, Bush will come to his new team with fresh legs.
Ronnie Brown, 29, Miami Dolphins
Skinny:
With just one 1,000-yard season in six years, the former No. 2 overall pick has been a draft bust for Miami. Brown is hitting the open market coming off arguably his worst season, averaging just 3.7 yards per carry in 2010.
DeAngelo Williams, 28, Carolina Panthers
Skinny:
Williams is a very good running back. But he's coming off a major foot injury and is nearing the age when players decline at that position. Teams looking to sign Williams to a huge, long-term deal need to take that into consideration.
Ahmad Bradshaw, 25, New York Giants
Skinny:
Bradshaw is arguably the most dangerous and versatile running back in free agency. The Giants are expected to make a strong push to keep their home-run hitter off the market.
Unless the Bengals are confident in backup
Bernard Scott
, they will need to find a starting running back in free agency. If Cincinnati now decides to stay away from Benson, will the team sign any of these aforementioned players?
December, 9, 2010
12/09/10
4:07
PM ET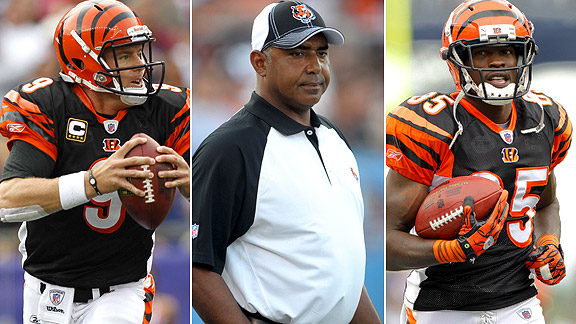 US PresswireWith the Bengals in need of a major makeover, it may be time for Carson Palmer, Marvin Lewis and Chad Ochocinco to find new homes.
Last month the AFC North blog said it was
time to blow up
the
Cincinnati Bengals
.
Now we will explain how to rebuild this struggling franchise.
Coming off a division title and playoff appearance in 2009, Cincinnati is having its most disappointing season in recent memory. The Bengals are 2-10 and headed toward one of the top picks in the draft.
It will be a very interesting offseason in Cincinnati. The Bengals have key decisions to make on their coaching staff, as well as positions such as quarterback, running back and receiver.
The AFC North blog put on its general manager hat and spent this week sifting through the Bengals' roster to determine who stays and who goes. We came up with a blueprint that will get this team headed in the right direction.
Keep in mind, this is not a prediction of what the Bengals
will
do. It's our guide to what we believe the Bengals
should
do.
Head coach
Analysis:
Bengals coach Marvin Lewis has four games left on his contract, and to our knowledge there have been no recent negotiations. It's a good time for Lewis to step away. He has fought battles against heavy-handed ownership for eight seasons and done all he could, leading the downtrodden Bengals to two playoff appearances. There is already speculation Lewis may have interest in the head-coaching opening at the University of Pittsburgh, where he has local ties.
He dodged that question earlier this week
. Don't expect a big-name hire in Cincinnati. The Bengals don't want to pay the kind of money it takes to land someone like Bill Cowher or Jon Gruden, and big-name coaches wouldn't go to a team that doesn't have a GM, ownership makes the football decisions, and there are average facilities and very few scouts. Our best pick is Hue Jackson. He's a former receivers coach in Cincinnati and has done a great job in stops with Baltimore, Atlanta, Washington and Oakland. As offensive coordinator in Oakland this season, he has helped make the Raiders a playoff contender and is very familiar with the AFC North. Jackson is a rising star and would be an excellent choice. Mike Zimmer remains the best in-house candidate. He has the respect of the locker room and helped turn around the defense in recent seasons. Perhaps a Jackson (HC) and Zimmer (DC) tandem would infuse much-needed energy into this team.
Quarterback
Analysis:
This is probably the toughest decision the Bengals will make this offseason, but it wasn't difficult for the AFC North blog. We're convinced it's time to part ways with quarterback
Carson Palmer
. The QB, who is in the middle of a $118.75 million contract, will be one of the NFL's highest-paid players next season with a base salary of $11.5 million. We can't justify paying Palmer that type of money based on his production the past few seasons. The Bengals have a good shot at the No. 1 overall pick, and that's the perfect spot to draft a quarterback. We think Andrew Luck from Stanford is the best of the group. If the Bengals do not have the top pick, maybe Auburn's
Cam Newton
is another possibility later in the first round. If the Bengals can't land either, our next step would be sticking with Palmer and seeing whether he's willing to take a pay cut. It's a tough business.
Running back
Analysis:
We like second-year running back
Bernard Scott
. But there are still questions about whether he can be a feature tailback. With
Cedric Benson
's contract expiring, it's time to search for a new running back. The Bengals got solid production out of Benson the past two years at little cost. But he's only averaging 3.5 yards per carry this year, and we need more from that position. We would find a bruising back and pair him with the quicker Scott . Pending free agent
Michael Bush
, 26, would be a good fit. He's the backup tailback to
Darren McFadden
and one of Jackson's main weapons in Oakland. The Bengals rarely spend a lot of money in free agency, but this signing would be worth it. Also, we would re-sign backup running back
Brian Leonard
, who is very good on third down.
Wide receivers
[+] Enlarge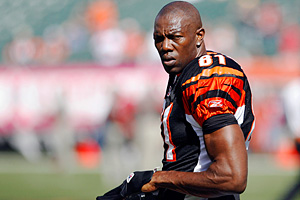 Mark Zerof/US PresswireWide receiver Terrell Owens is having a great season, but he's 37 and not a player the Bengals can build around for the future.
Analysis:
We like
Chad Ochocinco
-- but not at the price the Bengals would have to pay him. A $6 million team option is a bit much for a 32-year-old receiver who's had two bad seasons in three years. We would let Ochocinco walk, but the Bengals will consider keeping him. Teammate and pending free agent
Terrell Owens
is an interesting case. He's having a great year, but he's 37 and probably wants the security of a multiyear extension. Another team may give it to Owens, but we're looking to get younger at receiver. This is a position we would attack in the draft, probably in the second or third rounds. This also gives
Jordan Shipley
, who is solid, a bigger role in the offense next year. You can't be strong everywhere when rebuilding.
Tight end
Analysis:
No questions here. The Bengals drafted
Jermaine Gresham
in the first round this year and he has produced (47 receptions for 409 yards and three touchdowns). He's only going to get better next season and beyond.
Offensive and defensive lines
Analysis:
The offensive line needs work. Tackle
Andrew Whitworth
and guard
Bobbie Williams
are mainstays, but the other three positions could use depth.
We would not
extend
Andre Smith
's contract to six years. We're keeping his deal at four years to see whether we can get anything out of him at right tackle in the final two seasons. Some have suggested moving Smith,
who broke his foot
for the second straight year, to guard. But we're already paying Smith left tackle money to play right tackle. So we definitely wouldn't pay Smith left tackle money to play guard. We would upgrade center and one guard position via the draft and free agency. The defensive line must be more productive, but there are some good young players there. We like
Carlos Dunlap
's recent production and would start him at defensive end in 2011. He's earned it with his play down the stretch.
Geno Atkins
has shown flashes and also would be in competition to start at defensive tackle next to veteran
Domata Peko
. End
Robert Geathers
hasn't been the same since micro-fracture surgery, and it's time to find his replacement. If the Bengals don't draft a quarterback in the first round, another pass-rushing defensive end would be the logical choice.
Linebackers
Analysis:
Bengals outside linebacker
Rey Maualuga
has played out of position his entire pro career, and it's time to move him to his natural spot at middle linebacker next season. He will be a better player when he can use his best attribute -- his physicality -- instead of constantly chasing tight ends in coverage.
Dhani Jones
, 32, will be a free agent, and it's time to cut ties with him.
Keith Rivers
stays outside, but we need another outside linebacker. Maybe
Michael Johnson
can step into that role. He's not a natural linebacker, but he's athletic enough to play the position. We're also not sure we can trust his consistency for 16 games. We'd probably add someone else via the draft or free agency to compete with Johnson for the starting job.
Secondary
Analysis:
The Bengals' secondary had a down year with a lot of injuries, but we still think it's in pretty good shape. Cornerback
Johnathan Joseph
is the one free agent we believe the Bengals must re-sign. He's the Bengals best cornerback, and the secondary doesn't look the same when he's not playing. Joseph makes corner
Leon Hall
and the safeties better. There were some negotiations before the season between Joseph and the Bengals, but nothing came to fruition.
Adam Jones
will return from a season-ending neck injury and is a solid third cornerback. Starting safety
Chris Crocker
also had a season-ending knee injury and remains under contract.
Chinedum Ndukwe
, a pending free agent, plays hard and would be a good safety to keep for depth. Roy Williams is often injured and too one dimensional for our liking. So we would let Williams go and try to add another starting safety.
Specialists
Analysis:
Punter
Kevin Huber
stays, although he hasn't had a great year. But the Bengals must find a dependable kicker.
Mike Nugent
did fine before he was injured, so maybe he's a candidate for training camp when he gets healthy.
Whew! Now that was a major reconstruction.
It's time for the Bengals to rebuild and turn the franchise over to younger players. It's not going to be a quick fix. But if the Bengals follow these moves, they will be better than they were this season and in solid position for long-term success.