January, 24, 2014
Jan 24
12:00
PM ET
PITTSBURGH -- Aaron Donald has continued at the Senior Bowl what he did during a storied a career at Pitt.
[+] Enlarge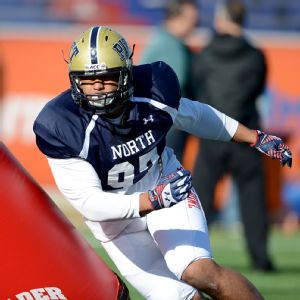 AP Photo/Johnny VyThe Steelers have the advantage of familiarity with Pitt's Aaron Donald but have to wonder whether he fits into their defensive scheme.
The Penn Hills High School graduate has been the hardest player to block during practices, according to anyone within three zip codes of Mobile, Ala. No less an NFL draft authority than the NFL Network's Mike Mayock has compared Donald to Bengals defensive tackle
Geno Atkins
.
Whoa.
ESPN's NFL draft experts on the ground are similarly impressed with Donald. Here is
one item from a story
that Todd McShay, Steve Muench and Kevin Weidl collaborated on after watching the Senior Bowl practices: "Donald showed the ability to beat offensive linemen with quickness, power and active hands, and his ability to do it so many different ways make it that much harder to keep him off the quarterback."
Sounds like a player who will really help a team.
And the Steelers should know as much if not more about Donald than any other team by the time the NFL draft rolls around in May.
Pitt shares a practice facility with the Steelers, and general manager Kevin Colbert has said the team does more homework on local prospects because proximity provides that advantage -- and because the Steelers don't want to let a potential great player get away.
The problem with Donald: He clearly is a better fit in 4-3 defense as an attacking tackle rather than a hold-the-point-of-attack end in a 3-4 scheme.
The 6-foot, 288-pound Donald is probably too small to play nose tackle in a 3-4 defense and would likely be miscast in that role, too.
But he also seems like a classic case of player who transcends measurables and can play regardless of scheme. The Steelers, I'm guessing, would love to keep Donald in Pittsburgh but their top picks will be used on players who are better fits for them and fill a need.
And since it is unlikely that Donald lasts beyond the second round of the draft, he will probably continue his football career outside of Pittsburgh.
March, 30, 2012
3/30/12
8:00
AM ET
Every morning, grab a cup of coffee and get your AFC North wake-up call here:
The Bengals and coach Marvin Lewis are at a standstill in contract talks, according to the
Cincinnati Enquirer
.
Lewis is entering the final year of a previous two-year extension. The Enquirer reported that there isn't any movement in negotiations because Lewis and Brown have yet to talk about it.
"The way I would answer that is when we get to the point that we have something to announce we will announce it," Brown said at the NFL owners meetings. "I'm not going into a blow by blow description of how we're making sausage."
Hensley's slant
: There's two things I don't understand about this: Why isn't Lewis talking to the Bengals yet about a new deal, and when did the Bengals start making sausage? OK, I'm joking on the latter but not the Lewis part. Lewis said last month that
Brown had already approached him
two or three times about a new deal. At this point, the Bengals are the ones who want to get negotiations started and Lewis does not.
BROWNS
: NFL Network draft analyst Mike Mayock said the Browns would be crazy not to draft quarterback Ryan Tannehill. "I think Cleveland has to take him at No. 4," Mayock said after Tannehill's pro day Thursday, via the
Cleveland Plain Dealer
. "He's not ready to play Day 1, but to me, he's a franchise quarterback, and I wouldn't be surprised to see him go at No. 4 and maybe even 3 [in a trade]." He said Tannehill would give the Browns an upgrade over Colt McCoy in both athletic ability and arm strength.
Hensley's slant
: It was at this time last year when Mayock said Blaine Gabbert should be taken over Cam Newton. "Bottom line, he's the first quarterback off the board," Mayock said
after Gabbert's pro day
. From my viewpoint, the Browns' choice at No. 4 should be between running back Trent Richardson and wide receiver Justin Blackmon.
RAVENS
: Owner Steve Bisciotti said the team will survive without linebacker Ray Lewis and safety Ed Reed when they decide to retire. Lewis, 36, is entering his 17th year. Reed, 33, is going into his 11th. "I saw Ed sit out the first six games in 2010 and we went 12-4. Then I saw Ray Lewis go down for four games last year and we went 12-4 and 4-0 in those specific games," Bisciotti told the
team's official website
at the NFL owners meetings. "So no, I don't [have concern]."
Hensley's slant
: Bisciotti and the Ravens will face a decision about Reed's future next season, when he becomes an unrestricted free agent. I addressed this issue in
a blog post last night
.
STEELERS
: The Steelers aren't interested in discussing next year's situation at wide receiver quite yet. Mike Wallace will be an unrestricted free agent next year, and Antonio Brown will be a restricted free agent after this season. "You are looking way into the future there," Steelers general manager Kevin Colbert said, via the
Pittsburgh Tribune-Review
. "I don't know what we will be able to do this week or next. We look at our situation as it stands today."
Hensley's slant
: The Steelers' track record shows they don't keep their own wide receivers when they become free agents. But Wallace and Brown should be the exceptions. It could take some more creative bookkeeping to get Wallace signed to a long-term deal next year, but the expected spike in the 2014 salary cap should help the Steelers' chances of retaining Brown.
AFC NORTH SCOREBOARD
Sunday, 10/19
Monday, 10/20