AFC North:

Mike McCormack
November, 15, 2013
11/15/13
2:12
PM ET
The Cleveland Browns lost a member of their Hall of Fame family Friday when Mike McCormack died at the age of 83.
McCormack's most recent history was in the front office of the
Carolina Panthers
, but Browns followers remember him as a stalwart of the offensive line for Paul Brown's standout teams of the '50s and '60s.
Brown actually called McCormack the finest offensive lineman he ever coached. Brown also respected McCormack's professionalism and leadership; McCormack was captain of Brown's teams from 1956 through the end of his career in 1962.
[+] Enlarge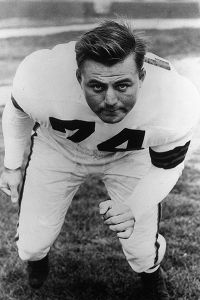 AP Photo/NFL PhotosMike McCormack was a six-time Pro Bowler and was enshrined in the Hall of Fame in 1984.
McCormack was the main piece in a 15-player trade Brown made with the Baltimore Colts in 1953. Among the players the Browns sent to Baltimore was Don Shula, a Cleveland-area native who would go on to coach the Colts and
Miami Dolphins
. McCormack spent his rookie season with the New York Yanks, then was in the Army for two years before the trade, which is tied for the second-largest in NFL history.
McCormack initially was tabbed to replace Hall of Famer Bill Willis at middle guard on defense, and he stepped right in. In the 1954 Championship Game he set the tone for an easy win over Detroit by stealing the ball from Bobby Layne.
"I'll never forget the play," quarterback Otto Graham told longtime Browns writer Chuck Heaton for the book "Browns Scrapbook: A Fond Look Back at Five Decades of Football." "Quarterback Bobby Layne was dropping back to throw a quick slant. Mike just reached across and took the ball right out of Layne's hands."
McCormack then moved to right tackle, where he made five more Pro Bowls and blocked for Otto Graham. Strong, tough as nails and durable, McCormack was the prototype Paul Brown tackle, and played on the side opposite Lou Groza.
"We could have played Mike at middle linebacker or on the offensive line," Paul Brown said, according to
the Hall of Fame
. "But his number one niche was offensive right tackle. He was an excellent pass protector but he could also blow people out of there. He was stabilizing factor throughout the period that he played for us."
McCormack also blocked for Jim Brown. Twice with McCormack at tackle, Brown ran for 237 yards in a game.
"His contributions to game as a player for the great Browns teams of the 1950s and early '60s are etched in history with his place in the Hall of Fame," Hall of Fame president and director Steve Perry said in a statement of the 1984 inductee.
Photos of him playing with a single bar on his facemask bring back a different era in pro football, an era that was probably the greatest in Browns history.
July, 15, 2013
7/15/13
12:00
PM ET
By
ESPN.com staff
| ESPN.com
Baltimore Ravens
Where does Tyrod Taylor, the third-year veteran out of Virginia Tech,
rank among the league's backup quarterbacks
?
Rookie safety
Matt Elam has his eyes on a Super Bowl ring
, "I've got to get me one of those."
Peter Schmuck, of the Baltimore Sun,
says this week is going to be just plain boring for the Ravens
. "Not bad boring. Not the kind of boring that means there's no reason to pay attention, of course. Certainly not the snooze-because-you-always-lose kind of boring that will infect some of the training camps at the other end of the NFL pecking order."
Ravens tackle
Bryant McKinnie tweets how working out
is more important than attending an awards show.
What was the reaction
among Ravens players to the George Zimmerman case
? The Baltimore Sun compiles the list.
Cincinnati Bengals
Cincinnati's
Adam "Pacman" Jones was invited to speak to inner-city kids
at the Cathedral City's All American Youth Football League Kickoff Event on Friday. Jones told USA Today's For The Win: "The only thing I can talk about are true life experiences. I'm going to be honest with them and whatever questions they ask me, I'll answer. Be accountable and responsible for all your actions. School is cool, guns are not. Just keep working hard, enjoy your childhood."
Bengals writer Joe Reedy continues his position-by-position analysis leading into the first training camp practice
with a look at the receiver position
.
Bengals cornerback
Dre Kirkpatrick has started a foundation
called 21 Kids.
Cleveland Browns
Craig Robertson's speed and coverage skills
have helped him position himself in the driver's seat for a starting inside linebacker role, writes Nate Ulrich of the Akron Beacon Journal.
The Cleveland Plain Dealer continues its countdown of the Browns' 100 best all-time players, including
No. 15 Gary Collins
,
No. 14 Bob Gain
and
No. 13 Mike McCormack
.
Can the Browns go 4-2 in the division this season? The Plain Dealer's
Mary Kay Cabot answers this question
and more in her mailbag.
Pittsburgh Steelers
The
Steelers are not commenting on the photos
of the Pouncey brothers wearing "Free Hernandez" hats, but John Clayton reports the team plans to talk to Maurkice Pouncey.
In case you were wondering,
Steelers quarterback Ben Roethlisberger reveals to The London Mirror
which team he thinks will win the Premier League.
Coach
Mike Tomlin's camp for kids is about more than just football
, reports Teresa Varley of the team's official website.
Former wide receiver Mike Wallace predicts his experiences in Miami
will be different than his time in Pittsburgh
. "Out there [in Pittsburgh] we had so many great leaders that I really didn't have to say too much, I really didn't have to do too much, just go out and do my job. But here, I have to do my job and motivate at the same time."