June, 18, 2014
Jun 18
12:30
PM ET
CINCINNATI --
Russell Bodine
has yet to send back a snap in an NFL game, but the
Cincinnati Bengals
rookie center has already learned an important lesson about playing his position: Avoid drawing too much attention.
[+] Enlarge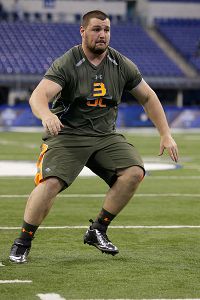 AP Photo/Michael ConroyThe Bengals like what they see in their fourth-round pick, center Russell Bodine.
"If they don't even know my name, that's all right," Bodine said. "Don't mess anything up. That's about the only way they figure out who you are."
Bodine has nonetheless drawn his share of attention in the month that he's spent in Cincinnati. A fourth-round draft pick out of North Carolina, the young center had his share of eyeballs during this spring's organized team activities and minicamp practices. With veteran
Mike Pollak
nursing a knee injury, Bodine made an early push to win the team's starting center position battle.
Since the Bengals concluded their on-field practices Tuesday, Bodine and other possible starting centers have to wait until sometime in August before they figure out exactly where they stand in the coaches' minds. For now, we at least know that offensive coordinator Hue Jackson believes Bodine is a good prospect who has all the potential in the world to factor into the Bengals' offensive future.
"He has the characteristics we are looking for in a center," Jackson said.
Among the areas that Bodine struggled at times with this spring was his ability to snap the ball cleanly to quarterbacks
Andy Dalton
and
Jason Campbell
, the two signal callers he spent the most time snapping to during OTAs and minicamp. During Monday's open OTA, Bodine sailed one snap over Dalton's head and sent another to the quarterback's feet. After talking through the miscues with Dalton and offensive line coach Paul Alexander, Bodine finished the practice much cleaner.
"He's got to get the ball to the quarterback right," Jackson said. "He can't play center if you don't snap the ball correctly. He's working at it and he's done a good job. But he's got to become a little more consistent on an everyday basis."
Bodine, a member of NFL Draft Report's All-American Sleeper Team earlier this year, agreed with Jackson's assessment. Part of the problem, Bodine said, has been the fact that he's still learning the audible calls and line checks that will be unique to the Bengals' new offense under Jackson. As an offense that wants to get plays called quickly and to the line of scrimmage early in the play call, the Bengals' scheme will rely on a bevy of pre-check reads and the quarterback and center's ability to make sure the play is perfectly set up before it gets run.
That's a little different than what Bodine is used to. In college, Bodine's Tar Heels liked to get to the line quickly, too, but they often snapped the ball right away and ran a play. There weren't as many pre-check assignment reads and changes as he's been dealing with since getting drafted.
"In the offense I ran in college, we didn't change plays. We'd call a play, we'd get up there and our goal was to run a play every 12 seconds," Bodine said. "So there wasn't a whole lot of checking and audibiling at the line of scrimmage or anything like that. Handling those checks is big for me. It's definitely the most difficult aspect right now. When that play changes, all my calls change and I've got to get everybody on the same page, and that's been the most difficult thing."
When Jay Gruden was still the Bengals' offensive coordinator, he used to regularly say that one of the more underrated aspects of longtime Bengals center
Kyle Cook
's game was his ability to see the field and to make the proper pre-snap calls. Cook may not have been the best center physically speaking -- which led to his release earlier this offseason -- but from a cerebral standpoint, he was considered a star among his peers.
The Bengals are hoping that Bodine, who has been praised for his brute strength and savage physicality, will become even sharper at the mental aspects of the position.
"I don't think anything's jarring to him. He's doing well," said right guard
Kevin Zeitler
, who lined up next to Bodine often this spring. "He's got the basics down. A lot of offenses are very similar from college to the NFL, it's just different terminology. Sometimes it's just making the right call, or if there isn't the right call to make, it's just communicating."
For Zeitler, a lineman not known for being verbal at the line, having the rookie next to him had an unintended positive impact. Zeitler was forced to open his mouth and talk more.
"It was Whit who was saying it's given Zeitler a chance to come out of his shell because he was having to make some calls," Pollak said. "The last couple of years he's had Cook to rely on. Now he has to make sure Bodine is doing the right thing, which is good for Zeit."
Pollak expects to be at full health late next month when training camp starts, but he knows he'll have a real position battle if coaches put him at center. For now, the recently re-signed lineman isn't sure whether he'll be called upon to play center or guard. He has experience at both positions, although he's never made a starting snap from center. With
Clint Boling
possibly out for most if not all of training camp, Pollak could find himself at left guard when the Bengals return to Paul Brown Stadium.
"I'm just ready to come wherever they need me to go," Pollak said. "They brought in Bodine and he's doing a great job, and if they want to go with him at center, great. But I'm going to be ready to go at center or guard, wherever they need me."
When Bodine practices next month, he doesn't want to be coddled like a first-year player.
"My goal is not to be a good rookie," Bodine said. "My goal is to be a good player. The rookie thing doesn't really mean anything to me. I'm going to go out there and I'm going to try and make strides in the right direction. I'm going to learn everything there is to learn as quickly as I can learn it."
June, 11, 2014
Jun 11
10:00
AM ET
CINCINNATI -- Since Tuesday ended up being a more news-filled day on the
Cincinnati Bengals
beat than anticipated, the following observations from the first day of the Bengals' minicamp are coming a little later than anticipated, too.
But here they are, in all their glory. In no particular order, a few observations from Cincinnati's first minicamp practice:
As Leon Hall enters the final stage of the rehab process, tight end Jermaine Gresham was at the workout, albeit as a spectator. According to our Field Yates, Gresham has been missing the past few weeks because he's been recovering from hernia surgery performed earlier this offseason. He had previously missed the first two organized team activities, both open and voluntary, with an injury coach Marvin Lewis declined to give specifics on. His sighting at the minicamp was his first since he was spotted during voluntary workouts in early May.

[+] Enlarge

Al Behrman/AP PhotoBengals tight end Tyler Eifert runs through drills on the sideline during Tuesday's minicamp.

Fellow tight end Tyler Eifert returned to practice after missing the last open OTA with a shoulder injury. He was limited for part of Tuesday's workout, though. After beginning the session in uniform, he shed his jersey in the final hour to conduct conditioning exercises off to the side. Along with him, Hall went through a conditioning circuit. Injured left guard Clint Boling also went through his share of rehab exercises to help his ACL get back to 100 percent.

Another tight end, unrestricted Bengals free agent Alex Smith, not only re-signed Tuesday, but he practiced. It was his first practice since December, when he dislocated his wrist during a start he made for both Gresham and Eifert who were out with injuries.

The only absence was defensive tackle Devon Still, who was cleared to leave last week to attend to personal matters. Still announced via social media last week that his young daughter was recently diagnosed with cancer.

As far as on-field notes, the phrase of the day was "Dalton to Green" (or "Dalton to Jones," worked, too). Showing off what offensive coordinator Hue Jackson says are real improvements, quarterback Andy Dalton was right in sync with receivers A.J. Green and Marvin Jones. He completed several difficult passes to them in one-on-one, seven-on-seven and 11-on-11 drills. Arguably his best throw of the day was a cross-field bomb to Green that was thrown from the left hashmark to the right sideline. He had a couple of other deep passes to Green that turned heads, too.

The moment when Dalton caused the most audible "ohhs" and "ahhs" among his teammates, though, came during the rushing portion of an 11-on-11 drill. Dalton faked an option pitch that completely duped the nearby defender, and the quarterback kept going through the hole untouched. In addition to all the running the Bengals are going to do this year, read options and other quarterback runs could be part of the arsenal, too. As much as his arm gets criticized, Dalton does have mobility that was seldom used the past three years. Late last season they started running more zone read for him. When they did, the offense more times than not, picked up big yards whether he kept the ball or not.

Along with Green and Jones, rookie James Wright seemed to catch his share of attention from the coaches. His cuts looked crisp, and his moves in single coverage drew regular praise from Jackson. If there's a first-year player on offense to watch during training camp, it could be him. The Bengals already are loaded at receiver, but the seventh-round pick stands a good chance to shake up the lower reaches of the depth chart.

Brandon Tate also had a strong showing during the practice, catching most everything thrown his way. Often he was matched against cornerback Dre Kirkpatrick, who struggled to break up passes both deep and short against him. Kirkpatrick also seemed to struggle with figuring out exactly where Tate was going when he made a move. Perhaps it's simply springtime adjustments, but Kirkpatrick certainly will be one to keep an eye on as Cincinnati continues tweaking its deep cornerback group. Rookie Darqueze Dennard continues to receive action both in the slot and on the outside.

Center Russell Bodine will be another rookie to track during training camp. He received first-team snaps Tuesday, getting an opportunity to play as veteran Mike Pollak continues rehabbing from a knee injury that he said flared up earlier in the offseason. We'll have more on Bodine later in the week, but Jackson, Pollak and others credited the way he's adapted to the offense so far.

During the two open OTAs the past two weeks Carlos Dunlap was primarily lining up at the right defensive end position. During Tuesday's minicamp, he switched a little more than he had between the left and right end spots. He'll likely end up playing his share of both positions during the season, although it seems he primarily is in line to take over Michael Johnson's duties at right end. We'll have more on just how he's embracing that role change later this week, too.
June, 3, 2014
Jun 3
8:30
AM ET
CINCINNATI -- After closing their last two organized team activity practices to the media last week, the
Cincinnati Bengals
are back open Tuesday morning as they begin the second week of voluntary OTAs.
There was a lot gleaned from the lone open practice last week, and there ought to be even more learned this week as the team starts finally settling into the flow of the workout schedule. Following this week's three practices, the team will convene again three times next week for a mandatory minicamp before meeting for one final three-day stretch of OTAs the week of June 16. After that players are released until July 24, when they begin training camp at Paul Brown Stadium.
Ahead of this week's lone day of open practice, here are a few items to watch for:
Gresham's status. Tight end Jermaine Gresham was the lone holdout during last week's workouts. According to Bengals.com, he has an injury he suffered earlier this offseason, but isn't believed to be in jeopardy of missing training camp. We'll see if more official word will be provided by the team Tuesday, and if he ends up making at least a sideline appearance. Last week, other injured players, Leon Hall, Geno Atkins, Clint Boling and Mike Pollak showed up but did not go through the full practice. Pollak didn't go through stretching like the other three.
Offensive line rotations. With Pollak presumably still out, we'll be keeping an eye on the Bengals' offensive line rotation. Last week they subbed Trevor Robinson and rookie Russell Bodine in at center. With Boling still out rehabbing from his ACL injury, Pro Bowl left tackle Andrew Whitworth got a few snaps at left guard just as he did at the end of last season. Others played the position with the first-team unit, as well, though, including undrafted free agent Trey Hopkins. At this stage in the offseason, it's all about getting reserves some meaningful snaps and figuring out who might be able to play where in the event an emergency insertion is needed.
Rookie learning curve. Along with Bodine and Hopkins, the Bengals have 18 other first-year players who are trying to pick up their offensive and defensive schemes and acclimate themselves to the terminology both playbooks have. Cornerback Darqueze Dennard addressed his steep learning curve in interviews last week. He said he's been helped by many of the veterans on the defense, including third-year linebacker Vontaze Burfict. Two other rookies to watch this week are running back Jeremy Hill and quarterback AJ McCarron. Both missed part of last week while attending the NFLPA's "Rookie Premiere" event in Los Angeles. After practicing last Tuesday, they were at the event Wednesday and Thursday, meaning they will be a bit behind their peers now that they are back this week.
Defensive line rotations. Much like the offensive line with its changes due to injuries, the Bengals experimented with defensive line rotations last week and ought to continue to do so. Second-year defensive end Margus Hunt got some playing time at left end, although that was the position Carlos Dunlap occupied much of last season. Dunlap played some at right end, as well, as the Bengals started tinkering with possible switches along the front based upon the packages they're playing. Several of the ends could see action on the line's interior as part of pass-rush details in Cincinnati's nickel defense.
Lamur's place. After missing the entire 2013 regular season, outside linebacker Emmanuel Lamur is back. More of a cover linebacker, the Bengals would like to see if he can stay on the field often as their linebacker rotation takes shape. With his size and length, the 6-foot-4 Lamur matches up well with tight ends. In a division that has some good ones, it'll be important the Bengals have such a healthy defender of Lamur's make up this year.
Tempo, tempo. It wasn't hard to notice the Bengals' stepped up offensive tempo during last week's practices. It probably won't change this week, either. Again, it's not so much that the Bengals are getting into hurry-up mode, it's just that they're getting out of the huddle and to the line a lot quicker.
March, 8, 2014
Mar 8
2:45
PM ET
CINCINNATI -- Chalk up a win for Hue Jackson and his plans of establishing a more physical
Cincinnati Bengals
offense.
From the time the new offensive coordinator was introduced in mid-January until now, the talk surrounding his unit has centered around his desire to make the Bengals more intimidating offensively by running powerfully and efficiently, while using a punch-first mentality to open up play action and other passing options downfield. The news Saturday that the Bengals have re-signed guard
Mike Pollak
was a clear sign that Jackson's plans are beginning to take shape.
Rule No. 1 in structuring a physical offense: take care of your offensive line.
Pollak's re-signing begins what will be a tedious, rumor-filled next few weeks. With a three-day window this weekend in which teams are permitted to talk to certified agents of free agents, the NFL's signing season has unofficially started.
While defensive end
Michael Johnson
and offensive tackle
Anthony Collins
will dominate the Bengals' free agency news cycle, there are other meaningful signings that deserve attention, too. Namely, those like Pollak's, that have to do with building depth on Cincinnati's front lines. One of three free agent offensive linemen, Pollak had been considered one of the Bengals' more important unsigned players. Offensive tackle
Dennis Roland
also is up for a new contract, and could get one as the Bengals continue strengthening their line.
Pollak, a six-year veteran, missed nearly half the 2013 season because of a knee injury, but returned just in time to contribute to some of the Bengals' better offensive performances of the year. He either started or received significant action in each of the final six games of the regular season, originally coming in off the bench to relieve starting right guard
Kevin Zeitler
who hurt a foot at Baltimore in Week 10.
Even when Zeitler was healthy enough to return, Pollak remained in the starting rotation. He averaged 49 snaps per game across the final six games, and gave the Bengals a relatively fresh extra blocker as the season came to an end.
"Very simply, we are just glad to have Mike back," Bengals offensive line coach Paul Alexander said in a news release. "He's a veteran you can count on. When some injuries provided him an opportunity last year, he came through with flying colors for us."
The insertion of Pollak into the primary rotation coincided with some of the Bengals' best rushing performances and most prolific scores of the season. In the six games when Pollak saw significant action, they rushed for more than 100 yards four times, including the 164-yard effort in a win at San Diego, and the 155-yard showing in a win the next week against Indianapolis. That win over the Colts was one of three in the end-of-year stretch that saw Cincinnati scoring 40 or more points. The Bengals also scored 49 in a 40-point win over the Jets in Week 8. Pollak played just six snaps in a backup capacity during that game.
The point here is that Pollak's bump in playing time overlapped with the contests in which the Bengals' offense played some of its most physical and complete games last season. Other offensive line changes came around that time, too, including Pro Bowl tackle
Andrew Whitworth
's move to left guard to replace an injured
Clint Boling
, and Collins' addition from the bench as the starter at Whitworth's old left tackle spot. Each of those changes came early in Week 13's 17-10 win over the Chargers.
If the Bengals are to institute the type of aggressive offense that Jackson envisions, they'll need to mimic much of what went right in the last six weeks of the regular season. Few games provide the type of blueprint Cincinnati is seeking than that late-season Bengals-Chargers game. The Bengals had their most balanced offensive attack of the year in that game, and prominently featured a heavy dose of their rushing offense.
When asked earlier this offseason about Jackson's plans on offense, Whitworth praised his new coordinator's wishes. Yes, he knows that putting a greater emphasis on the run is important to Jackson, but the veteran lineman also believes that attitude and willpower are at the heart of what Jackson will soon be asking his players to do.
"It's more about an attitude and a confidence and about imposing your will on another team," Whitworth said. "That could be done in the air or on the ground. That's more of what [Jackson] is talking about. He knows to be able to do that, you're going to have to run the ball successfully."
He also knows that a team will need a strong and deep offensive line to get that done.
With Pollak back on board, the framework of Jackson's looming physical system has started taking shape.
February, 25, 2014
Feb 25
8:30
AM ET
Last week, in the days leading up to the start of on-field workouts at the NFL combine, we counted down five of the top position needs for a
Cincinnati Bengals
team that will go into May's draft looking to build depth instead of trying to find immediate starters.
As part of the countdown, I listed three players from each position who I said I would have my eyes on during the interview and testing portions of the event. Now that the combine is concluding, wrapping up Tuesday with defensive back workouts, I figured this would be a good time to go back and look at the numbers posted by the players who were part of the countdown. Each day this week, we'll be doing a rewind of the countdown, analyzing how well the players who were in it worked out.
After
running backs
Monday, up next:
Offensive line
Questions still loom with respect to the Bengals' plans about their rotations at left guard and left tackle. They likely won't be answered until free agency begins in two weeks, and some resolution begins to occur regarding tackle
Anthony Collins
' ability to either re-sign or ink a contract elsewhere. Guard
Mike Pollak
also is an unrestricted free agent and might not be in Cincinnati next season, although the odds are more favorable for him to stay. Until any type of resolution is made with respect to these two rather important free agents, there will continue to be some uncertainty about what the Bengals might do as far as drafting an offensive lineman or multiple linemen.
The age of some of the Bengals' current linemen also gives the organization reason to want to add to their depth on the line. Offensive coordinator Hue Jackson's push for a more physical, run-based scheme this fall certainly would warrant more depth on the line to account for any injuries that might occur. At this point, though, who the Bengals draft on the offensive line depends solely on the types of players who are around when they make their selections. Body size, ability and a previous understanding of Bengals line techniques are factors that could influence draft decisions here. Versatility has always been key for Cincinnati offensive line coach Paul Alexander, too. He'll be looking for players who can fill multiple roles and play multiple positions in times of need.
Two of the three linemen I looked at last week, Clemson's
Brandon Thomas
and Alabama's
Anthony Steen
, are those types of versatile players. Thomas played tackle in college, but may be making the move to guard in the NFL. His shorter arms (34 3/4 inches) project better for playing guard than tackle at the next level. His experience at both positions, though, could make him attractive to teams in the middle rounds of the draft. Steen was a guard throughout his time with the Crimson Tide, but he has been told that teams are interested in moving him to center at the next level. While the Bengals seem comfortable with
Kyle Cook
's ability as their starting center, they also have
Trevor Robinson
and
T.J. Johnson
who are listed as backup centers. Pollak could play the position in a pinch, too. Either way, Steen's desire to play either center or guard could make him attractive.
The other lineman,
Morgan Moses
(Virginia), is a bigger bodied tackle who projects into the first two rounds. He might be gone before the Bengals are ready for him, but he could be a solid enough addition for an offense trying to run more efficiently.
Here are numbers (per NFL.com) from the trio's workout Saturday:
Morgan Moses (Virginia)
40-yard dash: 5.35 seconds
Vertical: 21.5 inches
Broad jump: 106 inches
3-cone drill: 7.93 seconds
-- Moses was included on the pre-combine list mainly because I just liked him. He has good size, good arms and really made a name for himself at the Senior Bowl. He looked rather clean in run- and pass-block situations during that game. If the Bengals decided to go offensive lineman with their late first-round pick, he'd likely be there. Overall, he didn't test well Saturday. His 40 time wasn't one of the best among offensive linemen, his vertical was tied for the worst and his broad jump and cone drill numbers didn't wow, either.
Brandon Thomas (Clemson)
40-yard dash: 5.09 seconds
Bench: 35 reps (at 225 pounds)
Vertical: 29 inches
Broad jump: 98 inches
3-cone drill: 8.13 seconds
-- Compared to Moses, Thomas had a better day of on-field testing, turning in the 10th-fastest 40-yard time among linemen, having the sixth-most bench reps and a vertical that tied with others for the fifth highest. The mid-round projection may have boosted his draft stock slightly with those numbers. His greatest asset moving forward, though, will be his versatility.
Anthony Steen (Alabama)
40-yard dash: N/A
Bench: N/A
Vertical: N/A
Broad jump: N/A
3-cone drill: N/A
-- A shoulder injury that was finally operated on late in Alabama's season forced Steen to sit out the physical portion of the combine. He participated in interviews and met with teams, but didn't bench or run. He expects to be healthy enough for Alabama's pro day in April. Another mid-round projection, his versatility will be his biggest asset this spring.
January, 25, 2014
Jan 25
12:00
PM ET
With the offseason here, we've been spending the last week taking a position-by-position review of the
Cincinnati Bengals
' 2013 season and give a sneak peek at what may lie ahead in 2014.
After
quarterbacks Monday
,
running backs Tuesday
,
receivers Wednesday
,
tight ends Thursday
and
offensive tackles Friday
, up next:
OFFENSIVE GUARDS/CENTERS
2014 free agents:
Mike Pollak
The good:
Much like the Bengals' tackles, the centers and guards also had strong showings in 2013. When it came to pass protection, Pro Football Focus rated the Bengals as having the NFL's best offensive line during the regular season. Run blocking wasn't as good, but the Bengals still were able to move piles at times when they attacked the interior of the line of scrimmage. The deeper into the season, the better the line's interior was at providing enough push for running backs
BenJarvus Green-Ellis
and
Giovani Bernard
. When left tackle
Andrew Whitworth
moved from left tackle to left guard, the Bengals' inside running game made certain strides, as well. Whitworth's versatility was a good thing for both the interior and exterior portions of the line. There were times late in the season when he played both tackle and guard in the same game.
Zeitler
The bad:
Even though the Bengals were rated as having the best pass protection in the league, some of their occasional issues with respect to sacks and stunts and missed blitz pickups came from their guard positions. One of the more notable sacks of the season came on the final play of the Bengals' 22-20 overtime loss at Miami on Halloween. Right guard
Kevin Zeitler
wasn't prepared for Dolphins defensive end
Cameron Wake
to stunt inside. When Wake did, he pushed easily past Zeitler and tackled quarterback
Andy Dalton
in the end zone for a rare walk-off safety. While the sacks weren't a glaring issue for the centers and guards, injuries were. Zeitler missed multiple games in the second half of the season with a foot injury, and Pollak was unable to play the first half of the season because of a knee issue. Left guard
Clint Boling
went down for the year in the Week 13 win over the Chargers, forcing Whitworth to be moved to his spot the remainder of the season.
The money (2014 salary-cap numbers):
Cook ($3.3 million), Zeitler ($2.1 million), Boling ($765,362),
Trevor Robinson
($572,000),
Tanner Hawkinson
($540,606). Cook will be returning as the team's starting center in 2014, but Robinson's rather solid, meaningful snaps in place of the injured Cook during the regular-season finale make him a good enough backup. Robinson will be playing the final year of his contract this coming season and could be playing for a chance to remain with the team more long term. Cook turns 31 just before the start of the season. Robinson will be 24 in May. Pollak's strong play in relief of Zeitler, as well as his ability to play center and guard make him a real candidate for being re-signed this offseason. If Pollak remains with the team, the Bengals could have a real logjam at guard with Zeitler scheduled to return for his third season, and Boling due to come back from an ACL injury at some point next season. If Whitworth is in the mix at left guard -- which is a distinct possibility -- the Bengals could have some tough decisions to make regarding which interior linemen they want to keep going forward.
Draft priority:
Moderate. Just like offensive tackles, a team can never have too many guards or centers. It's possible that at least one interior lineman gets drafted to keep the Bengals' depth strong, but that decision is partially dependent upon what the Bengals do about Whitworth and Pollak. Cincinnati has spent the last three drafts shoring up their offensive line. So far, it's paid off.
April, 15, 2013
4/15/13
11:15
AM ET
Not sure if this equates to a two-minute drill, but this is my way of playing catch-up on the latest news and happenings around the division ...
Headline
: The
Cincinnati Bengals
are aiming to sign former Steelers linebacker
James Harrison
this week.
Bottom line
: Cincinnati would get more of an every-down impact out of
Karlos Dansby
, who also visited the team last week. Still, the Bengals would be getting an extremely motivated Harrison. Based on that, it would be a good move for Cincinnati.
Headline
: The
Baltimore Ravens
signed inside linebacker
Rolando McClain
.
Bottom line
: He fills a major need at inside linebacker and he comes at a bargain price (one year, $700,000). If McClain gets in trouble, the Ravens can release him because they've invested nothing. If he proves he can play, Baltimore can make a bigger commitment to him. This doesn't rule out the Ravens drafting an inside linebacker. But, with McClain, they aren't forced to draft one.
Headline
: Alabama prospect Dee Milliner says he and
Joe Haden
would form the best cornerback tandem in the NFL if the Cleveland Browns selected him in the draft.
Bottom line
: This shows that Milliner has the confidence needed to play corner in this league. The Browns have a major need at cornerback after failing to aggressively improve this position in free agency. Whether they draft Milliner remains to be seen. I plan to address the Browns' draft options in Wednesday's weekly column.
Headline
: The Browns signed wide receiver David Nelson.
Bottom line
: With all of their cap space, the Browns could have made a bigger free-agent addition to the wide receiver group in free agency. But this has the chance to be a deft move if Nelson plays like he did in Buffalo in 2011, when he caught 61 passes. Nelson is a good option for the slot and brings experience to the Browns, who also looked at Dominik Hixon before he signed with the Carolina Panthers.
Headline
: Ravens cornerback
Lardarius Webb
said he is making steady progress from his second torn ACL in four years.
Bottom line
: After Webb's last ACL surgery, he didn't start any games the following season. That can't be the case this year. The Ravens need him to return to his starting role after losing
Cary Williams
in free agency.
Headline
: The Bengals released backup cornerback
Jason Allen
.
Bottom line
: The Bengals have a lot of salary-cap space, but they aren't going to pay unproductive players just because they have the room. Allen was injured for most of the season and managed to play in four games, including no starts. The Bengals made a lot of good moves in the secondary last offseason, but Allen wasn't one of them. The move freed up $3.2 million in cap space.
Headline
: The Browns acquired backup running back
Dion Lewis
by trading linebacker
Emmanuel Acho
to the
Philadelphia Eagles
.
Bottom line
: This is another instance of getting rid of player from the old regime (Acho was a sixth-round pick by the Browns last year). In doing so, the Browns picked up a player who has ties with chief executive officer Joe Banner. Lewis was a fifth-round draft pick in 2011 by Philadelphia, where Banner was president at the time. While
Travis Benjamin
should handle punt returns, Lewis will get a chance to return kickoffs.
Headline
: The Steelers plan to bring in free-agent running back
Ahmad Bradshaw
for a second visit before the draft.
Bottom line
: It's no secret that the Steelers want to sign Bradshaw when he checks out medically. He had surgery on his right foot this offseason, and based on his original timetable, he is expected to participate in offseason camps. But it's not a slam dunk that Bradshaw is coming to Pittsburgh. The Bengals, Packers and Broncos have all expressed interest in him.
Headline
: Steelers coach Mike Tomlin was named to the NFL competition committee, which is a group of coaches and administrators who recommend playing rules and policy changes to the NFL owners for a vote.
Bottom line
: I'm sure Tomlin will have some strong views, especially when it comes to rules on safety. Steelers players have been very vocal on those issues in the past. It's interesting to note that one-third of the competition committee is now comprised of officials from the AFC North: Tomlin, Bengals coach Marvin Lewis and Ravens general manager Ozzie Newsome.
Headline
: The Bengals signed offensive lineman
Mike Pollak
.
Bottom line
: Not sure about this addition. The Bengals are set as far as depth at guard and center. Pollak did make 41 starts for the Colts from 2008 to 2011 but he was also benched twice.
Headline
: Ravens quarterback
Joe Flacco
has agreed to portray the late Johnny Unitas in an upcoming film called "Unitas We Stand."
Bottom line
: Flacco will play Unitas in scenes showing Baltimore's 1958 championship game against the Giants. This is a nice gesture by Flacco to honor a Baltimore football legend. And playing a quarterback isn't exactly out of Flacco's comfort zone. This isn't like Shaquille O'Neal playing a military scientist. If you think I made that last line up, check out "Steel,"
a 1997 movie
that surprisingly got a 2.7 out of 10 in the fan rating.
January, 16, 2010
1/16/10
6:59
PM ET