November, 27, 2013
Nov 27
10:00
AM ET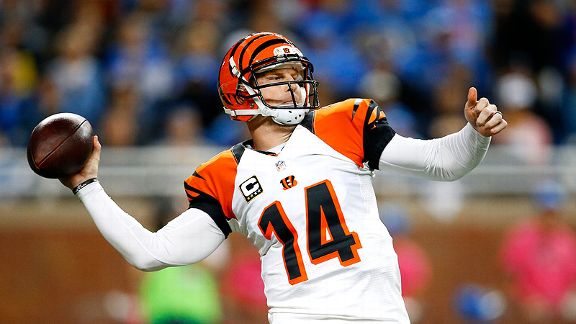 AP Photo/Rick OsentoskiThe Cincinnati Bengals are counting on Andy Dalton to return to the form that helped lead the team to a 4-1 record in October.
CINCINNATI -- Earlier this week,
Cincinnati Bengals
players like cornerback
Chris Crocker
were adamant in pointing out the urgency they need to play with throughout the
month of December
.
"It's all about winning in December," Crocker said. "Let's win out and see where the chips lay. Why can't we win out? I don't see why we can't."
If you ask some Bengals fans and most NFL analysts, they'll give you one big reason why they don't believe Cincinnati will be able to go 5-0 to close out the regular season: No. 14.
That's right. To some, the primary obstacle in the way of end-of-season perfection for the Bengals is
Andy Dalton
, the player who has quarterbacked the franchise into the playoffs each of the past two seasons, and who constantly is trying to prove himself to those who consider him just another member of a mostly failed 2011 quarterback draft class.
For that reason, as the Bengals gear up for a stretch run that could give them a first-round bye and home-field advantage in the playoffs, an important question has to be asked.
Can December Andy mimic October Andy?
As we've written countless times in the past month, October Andy was indeed a dandy. Through the first four games of that month, Dalton threw for 1,243 yards and 11 touchdowns. He also completed 67.9 percent of his passes, won four games, had a passer rating higher than 116.0 and a QBR above 83.0. He was, quite simply, brilliant. His play was so sharp back then that on the final day of the month, hours before the Bengals were set to take on the Dolphins in a road Thursday night game, he was named the AFC's Offensive Player of the Month.
And, yes, even though, comparatively speaking, he didn't look as good overall against the Dolphins and ended up taking the game-winning sack for a safety in overtime, Dalton still had a rather special performance in the 22-20 loss. Aside from not completing a touchdown pass and getting intercepted three times, he threw for 338 yards, marking the fourth straight game he had gone over the 300-yard passing mark.
Overall, October Andy was Good Andy.
But now here comes December with all of its postseason potency. If Cincinnati hopes to set itself up for the type of playoff seeding Crocker believes it deserves, then it will have to play its best ball across the next five weeks. That's especially the case for Dalton and a Bengals offense that has looked rather anemic in the past three games.
One look at Dalton's previous December stats and it doesn't appear the third-year star should have any problem showcasing even a sliver of the success that made him and his team so good about two months ago.
After a rocky December as a rookie in 2011, Dalton was among the difference-makers last season when the desperate Bengals were in need of a strong final month just to secure a playoff berth. One year after going 2-2 in the month, Dalton went 4-1 during December 2012. The lone loss came after the
Dallas Cowboys
made a field goal in the final seconds to win 20-19.
While the level of desperation may be different this December, the Bengals are looking for Dalton to thrive under similar pressure-packed moments during this one. This time around, the pressure on Dalton mainly stems from the fact that so many are fed up with his play from the past three games. In them, he's thrown eight interceptions and been sacked 10 times. Across the latter two of those games, he's completed fewer than 50 percent of his passes and hasn't posted a QBR higher than 18.0.
Weather factored heavily in Dalton's inability to move the ball in those two games. Windy conditions at Baltimore and windy and rainy conditions against the Browns sent some of his passes sailing and forced others into the hands of defensive backs.
Although weather shouldn't be a concern this weekend in San Diego (the forecast calls for partly cloudy skies and a delightful high of 71 degrees Sunday), it could be the rest of the season. Farmer's Almanac projects cold, damp conditions for all of December in the Ohio Valley. It should be noted that after Sunday's game, the Bengals are home three of the next four weeks. Their only remaining road game is at Pittsburgh.
Throughout his career, Dalton has performed better in warmer games. In games with temperatures 50 degrees or higher, he has a 20-14 record, an 85.1 passer rating and a 52.5 QBR. In games with temperatures at 49 and lower, he has a 5-5 record, a 75.4 passer rating and a 32.9 QBR. Dalton's last three sub-49-degree wins came last December, though; a sign that perhaps he's turning a corner in cold-weather contests.
Whatever the conditions and whomever their opponents are, when it comes to the next five weeks, the Bengals can only hope that Dalton turns into the same man who torched through this October.
October, 4, 2013
Oct 4
12:00
PM ET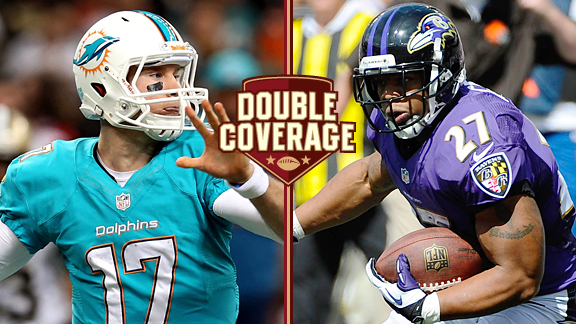 USA TODAY SportsMiami's Ryan Tannehill, left, and Baltimore's Ray Rice hope to help their teams get back on track.
The defending Super Bowl champion
Baltimore Ravens
are steaming after an upset loss to the
Buffalo Bills
, and the
Miami Dolphins
are coming off a 21-point drubbing against the
New Orleans Saints
on "Monday Night Football."
Someone has to rebound in Week 5 when the Ravens travel to face the Dolphins at Sun Life Stadium. Both teams -- and their quarterbacks -- will be looking to get back on track following a poor showing in Week 4.
Who will prevail? ESPN.com Ravens reporter Jamison Hensley and Dolphins reporter James Walker examine the key topics.
James Walker:
Jamison, a week ago this game looked like a stellar matchup of two teams that had things figured out. The Ravens were 2-1 and coming off a blowout win against the
Houston Texans
, and the Dolphins were 3-0. But a couple of bad losses last week have taken some shine off this game. The Dolphins proved they were not ready for the spotlight or upper-echelon teams in a 38-17 loss to New Orleans. That loss has brought the Dolphins back to earth and made them regroup. Several Dolphins players have told me they look at this week's game as a character test to see how well they bounce back, and I agree. The Dolphins were embarrassed on a national stage, and this is the first hint of adversity this season's team has faced.
Jamison, the Ravens are coming off an unexpected loss to Buffalo. What's the mood of the team?
Jamison Hensley:
Baltimore is a team that's taking a hard look at itself after taking one on the chin in Buffalo. All the talk this week is about what the Ravens can do to get better. They know they can't play like they did last week and beat anyone in the league. The Ravens need to open holes for Pro Bowl running back
Ray Rice
(3-yard average) and protect Super Bowl MVP
Joe Flacco
(hit 12 times last Sunday). They have to play more physical on run defense (203 yards rushing allowed to the Bills).
No one has accepted the blame for the loss more than Flacco. He threw a career-worst five interceptions, including one that ended the Ravens' last-minute comeback. Flacco has a history of rebounding well from losses. In games following a defeat, he is 20-7 with a 95.2 passer rating. In those bounce-back games, he has completed 64.2 percent of his passes with 15 touchdowns and four interceptions. How do you think
Ryan Tannehill
will fare after his poor outing on national television?
Walker:
This is Tannehill's first bad game of the season. He was playing close to an MVP level in his first three games, but no one expected that to last the entire season. Tannehill laid his first egg against the Saints, and there's such a small sample size on how he will respond in just his second season. He had two, three-interception games as a rookie, and his bounce-back efforts were mixed. In Week 2 last season, Tannehill had a 91.0 passer rating, and in Week 12 he had a 46.9 passer rating. I asked Miami head coach Joe Philbin and offensive coordinator Mike Sherman how to coach a young quarterback to have a short memory. They both feel Tannehill's even-keeled mentality will keep him off the roller coaster, but you never know with inexperienced quarterbacks. This will be a terrific litmus test playing against the Ravens' defense.
Speaking of Baltimore's defense, this is a group that has lost a lot of key players in free agency. One of them, linebacker
Dannell Ellerbe
, is in Miami. What kind of defense will Tannehill and the Dolphins see Sunday?
Hensley:
The Dolphins will face a Ravens defense that wants to come after Tannehill. The Ravens have 13 sacks this season, which is tied for eighth-most in the NFL. Six players have at least one sack this season. Defensive coordinator Dean Pees loves to come from all angles.
Haloti Ngata
and
Arthur Jones
collapse the pocket from up the middle, and
Terrell Suggs
and
Elvis Dumervil
come off the edges. Dumervil is coming off his worst game with the Ravens, but he has two sacks and 10 quarterback hurries this season.
The defense is taking its cue from Suggs this season, just like it did with Ray Lewis for so many years. Suggs is sort of like a new player this season because he is coming off a season that was marred by an Achilles injury. He has a sack in every game this season, and leads the NFL with six quarterback hits. In last Sunday's game at Buffalo, Suggs recorded 17 tackles. He looks like an NFL Defensive Player of the Year candidate again. Can the Dolphins hold off Suggs and Dumervil coming from the outside?
Walker:
I expect the Dolphins to have a lot of trouble with Baltimore's edge rushers. Miami has allowed the most sacks (18) of any team in the NFL. The odd thing is it's not only the offensive line struggling; every facet of Miami's pass protection is shaky. The Dolphins don't have good blocking tight ends or running backs. Tannehill also has a tendency to hold the ball too long. Add in an average or below-average offensive line and you have major problems. Every week, Miami's players and coaches say they will fix the protection issues. But I haven't seen a game this season when it wasn't a problem. There is no reason to believe it won't be an issue again versus Baltimore.
Finally, Jamison, the Ravens are 0-2 on the road and appear to be a much different team away from M&T Bank Stadium. Can that change this week?
Hensley:
The road struggles have been an unexpected development. In last season's playoffs, the Ravens went through Denver and New England to reach the Super Bowl. This season, the Ravens have looked bad in losing at Denver and Buffalo. Penalties (15 in two road games) and turnovers (Flacco has thrown a league-high seven interceptions away from home) have been Baltimore's biggest downfall, and those are signs of a team that lacks poise. What the Ravens have to avoid is another slow start. Baltimore hasn't scored in the first quarter for the past three games. The Ravens were able to overcome deficits at home, but they couldn't do it at Buffalo. A strong opening quarter is key to getting the Ravens back on track on the road. Plus, Ravens fans traditionally travel well in games in South Florida. So it could turn into a home game in Miami.
.
January, 27, 2012
1/27/12
9:30
AM ET
The Browns made the right call when they decided to add an offensive coordinator, and they needed to hire someone with experience.
Childress
But hiring Brad Childress -- who was
named offensive coordinator
, according to a league source -- is not the answer. The Browns really needed to push to get Mike Sherman, who appears to be headed to the
Miami Dolphins
to be their offensive coordinator.
The problem with Childress is his track record with offenses. In the eight years Childress has been a head coach or offensive coordinator in the NFL, his offenses have ranked in the bottom half of the league five times.
The disturbing part is he's been an NFL playcaller for only one season. The result? The Vikings finished 23rd in yards and 26th in points (17.6 per game) in 2006 before Childress passed those duties over to offensive coordinator Darrell Bevell the next season. Childress didn't call the plays in his three seasons as the Eagles' offensive coordinator (Andy Reid held that role), and he didn't call the plays in his final four seasons with the Vikings.
That résumé doesn't inspire confidence that he will turn around a Browns offense that scored more than 17 points twice last season. Then again, it's hard to imagine any coordinator could really affect an offense that has major question marks at quarterback and running back as well as a void of playmakers at wide receiver.
Hiring Childress isn't the worst move. The team could have simply promoted quarterbacks coach Mark Whipple, but that wouldn't have accomplished anything.
Pat Shurmur was overwhelmed in his first season as the Browns' head coach, and he needed to have the responsibility of running the offense taken away. The only way an inexperienced head coach will succeed is if he has experienced coordinators supporting him. The Browns will have veteran voices with Childress and defensive coordinator Dick Jauron.
If I were Shurmur, I would rely on Childress' advice but not his play-calling ability.
January, 24, 2012
1/24/12
10:00
AM ET
While two defensive coordinators from the AFC North (Cincinnati's Mike Zimmer and Baltimore's Chuck Pagano) are being interviewed for head-coaching jobs, it was a disappointing season for those calling the plays for the division's offenses.
That's why the Steelers' Bruce Arians says he
was pushed out
, why the Browns are adding an offensive coordinator to Pat Shurmur's staff and why the Ravens' Cam Cameron is currently
in contract limbo
.
There is a chance that three new offensive coordinators could in place by next season. The only one who is safe is the Bengals' Jay Gruden, who signed a
three-year, $3.6 million extension
.
No AFC North offense ranked in the top 9 in the NFL in total yards, rushing, passing or points scored. There were only two areas where a division offense ranked in the top 10 -- the Ravens' rushing attack and the Steelers' passing game.
The Steelers' search to replace Arians could heat up this week at the Senior Bowl. Pittsburgh, which ranked 12th overall in offense, has a history of promoting from within at this position. That means quarterbacks coach Randy Fichtner and offensive line coach Sean Kugler could have the best shot at the job. Running backs coach Kirby Wilson was considered to be next in line, but he was badly burned in a fire at his home and might not return to the team anytime soon.
The Browns are adding an offensive coordinator after first-year head coach Pat Shurmur served that role in 2011 and Cleveland's offense finished 29th. Shurmur is still interviewing candidates and could continue to do so at this week's Senior Bowl, according to the
Cleveland Plain Dealer
. Two coaches who are considered to be on the Browns' radar -- Mike Sherman and Brad Childress -- could take jobs elsewhere. Sherman is the first candidate to get a second interview for the Tampa Bay head-coaching position and is a candidate to become the Dolphins' offensive coordinator. Childress has been linked to the head-coaching searches in Tampa Bay and Indianapolis.
It's uncertain what the Ravens will do with Cameron after the offense finished 15th overall. Cameron's contract is set to expire and there's no extension on the table, ESPN's
Chris Mortensen
reported Sunday. He is one of the highest-paid coordinators in the NFL, making $2 million per season, according to a league source. Ravens coach John Harbaugh hasn't met with reporters since his postgame session following the AFC Championship Game. If Cameron doesn't return, the Ravens would probably consider former Raiders head coach Hue Jackson, who was the Ravens' quarterbacks coach in
Joe Flacco
's first two seasons in the NFL.
January, 19, 2012
1/19/12
7:00
AM ET
Every morning, grab a cup of coffee and get your AFC North wake-up call here:
Offensive coordinator Bruce Arians might not return to the Steelers for the 2012 season, according to
The Pittsburgh Post-Gazette
.
It's unclear whether Arians is retiring or his contract is not being renewed, the paper reported. Arians, 57, is finishing the final year of his contract with Pittsburgh.
Steelers coach Mike Tomlin indicated that Arians would return a day after the Steelers' playoff loss at Denver. But team president Art Rooney II said this week that some members of the coaching staff were considering retirement, and Arians contemplated doing so after the 2010 season because of health problems.
Hensley's slant
: Arians has taken some heat for transitioning the Steelers from a run-first offense to a pass-heavy one. His play-calling has been questionable at times but his results have been solid. The Steelers have ranked in the top half of the NFL in offense for three straight seasons. If this report is correct, it will be interesting to hear
Ben Roethlisberger
's reaction.
BENGALS
: Cornerback
Adam "Pacman" Jones
pleaded guilty to a misdemeanor charge of disorderly conduct in Ohio and was ordered to serve a year of probation, complete 50 hours of community service and pay a $250 fine plus court costs. Jones, 28, was accused in court documents of being disorderly, shouting profanities and trying to pull away as officers arrested him at a downtown bar in July. According to
The Cincinnati Enquirer
, the league's official statement is that they will review it as it relates to the Personal Conduct Policy even though it took place during the lockout.
Hensley's slant
: My guess is this won't affect the Bengals because Jones will be elsewhere next season. He is a free agent, and the Bengals will probably want to upgrade this position through the draft. It doesn't help Jones that the lasting image is him getting beat by
Andre Johnson
in the playoff loss at Houston.
BROWNS
: The
Cleveland Plain Dealer
insinuated that the hiring of Nolan Cromwell as a senior offensive assistant could be an indication of the team's next offensive coordinator. Before Cromwell was the Rams receivers coach, he was the offensive coordinator for two years at Texas A&M under Mike Sherman, who is a "presumed candidate" for the Browns' offensive coordinator position.
Hensley's slant
: Sherman would be a strong hire as offensive coordinator, but he would only be available if he loses out on the
Tampa Bay Buccaneers
' heading coaching position. That could be a big "if." Sherman would be a logical hire in Tampa because his disciplinarian style would be opposite to the one of former coach Raheem Morris.
RAVENS
: There will continuing coverage of the Ravens as they prepare for Sunday's AFC championship game. On Wednesday, there was
a column
on
Joe Flacco
and a blog on
Terrell Suggs
saying he has
moved past his feud
with
Tom Brady
.
January, 13, 2012
1/13/12
7:00
AM ET
Every morning, grab a cup of coffee and get your AFC North wake-up call here:
Bengals offensive coordinator Jay Gruden signed a three-year, $3.6 million extension to remain with the team, a league source confirmed to
The Cincinnati Enquirer
. The extension was first reported by an
Orlando television station
.
The Enquirer reported that the terms of the extension are similar to what defensive coordinator Mike Zimmer received when he stayed with the team two years ago.
This extension comes a day after Gruden declined an interview request from the Rams for their head-coaching position. Gruden made an impact in his first season as the Bengals offensive coordinator with his work with rookie quarterback
Andy Dalton
.
Hensley's slant
: Perhaps the biggest key in developing a quarterback is continuity. Keeping Gruden means keeping Dalton in the same system with the same coaching. The next step for the Bengals' passing game is finding a more reliable No. 2 wide receiver.
BROWNS
: The Browns' timeline for hiring an offensive coordinator could be affected by other teams filling their head-coaching vacancies, according to
The Akron Beacon Journal
. Cleveland coach Pat Shurmur has been talking to offensive coordinator candidates, but it's unclear whether any formal interviews have occurred. "Candidates with options and deadlines" have been communicating with the organization, a league source told the paper.
Hensley's slant
: The biggest splash the Browns can make is hiring either Brad Childress or Mike Sherman. But this unaggressive approach suggests the Browns might just promote from within. Quarterbacks coach Mark Whipple, a former offensive coordinator at the University of Miami, would be the top candidate currently on staff.
RAVENS
:
Ed Reed
isn't concerned that he finished the regular season with three interceptions, the lowest total for a full season in his 10-year career. "They're not throwing my way. What do you want me to do?" Reed said, via
The Baltimore Sun
. "They're not throwing my way. I can remember two interceptions that really touched my hands, and I didn't make the play, but I'm not getting action. So this question is for the other teams and the other quarterbacks."
Hensley's slant
: Don't be surprised if Reed makes an impact in the playoffs after a quiet regular season. He has seven interceptions in nine postseason games. And remember that two picks were taken away two years ago in Indianapolis by penalty. Reed won't drop a pass thrown at him like Cincinnati's
Chris Crocker
did last week in Houston.
STEELERS
: Pro Bowl safety Troy Polamalu won his appeal of a $10,000 fine for using a cell phone on the sideline of a game, a league source told
the NFL Network
. The league fined Polamalu on Oct. 16 because he used his cell phone near the Steelers' bench during a game against Jacksonville. He reportedly made a brief call to his wife after leaving the game with concussion-like symptoms.
Hensley's slant
: This is no surprise because it was a
bad call
by the league in the first place. Remember the NFL had fined Polamalu more than Texans defensive end
Antonio Smith
(who has to pay $7,500 for pulling off the helmet of Ravens guard
Andre Gurode
) and Lions tight end
Brandon Pettigrew
(who has to pay $7,500 for a chop block). That just didn't make sense.