AFC North:

Mohamed Massoquoi
July, 13, 2010
7/13/10
2:00
PM ET
Every year teams have tough decisions to make to trim their rosters to 53 players. Sometimes the coaching staff and front office can't agree on who stays and who goes, and the debates get pretty heated.
With training camp approximately two weeks away, here are eight AFC North players who could be heavily debated and on the roster bubble this summer:
1. Adam Jones, CB, Cincinnati Bengals
[+] Enlarge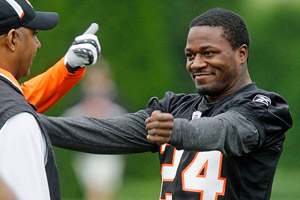 AP Photo/Al BehrmanBengals cornerback Adam Jones looked good in training camp.
Case for:
There is no denying Jones' talent. The former first-round pick looked quick and athletic playing cornerback and returning kicks during last month's mandatory minicamp. What's interesting is Jones is still working himself back into football shape after sitting out the 2009 season. The Bengals lacked a reliable third cornerback to go with starters
Johnathan Joseph
and
Leon Hall
. So there is a role available.
Case against:
Jones sat out last season for off-field reasons. He has
said and done the right things so far in Cincinnati
, but he's on a very short leash with the league office. One mishap and Jones could be off the team and out of the league for the rest of the year. But if he stays clear of trouble, he has enough ability to make the team and contribute.
Chances of making team:
80 percent
2. Matt Jones, WR, Bengals
Case for:
Jones has good size and experience. The former first-round pick had 166 career receptions and 15 touchdowns during his stint with the
Jacksonville Jaguars
. Outside of starters
Chad Ochocinco
and
Antonio Bryant
, Cincinnati has a pretty young group of receivers. That could give Jones a chance to earn roster spot if he's polished enough to contribute now for the defending AFC North champs.
Case against:
After sitting out all of 2009 because of off-field issues, Jones appears to have lost a step. This spring he hasn't looked nearly as explosive as the freakish athlete who impressed at the NFL combine in 2005. Similar to Adam Jones, it's possible that Matt Jones can regain some of his form in the process of a grueling training camp. Jones also has an inexpensive, team-friendly contract, which the Bengals can easily terminate if they don't like what they see.
Chances of making team:
40 percent
3. Jerome Simpson, WR, Bengals
Case for:
Despite a lack of production, Simpson has stuck around for two reasons: draft status and lack of receiver depth. It's hard for teams to give up on second-round picks. The Bengals invested a lot in Simpson and still want to get a return on their high pick, even if it means an extended wait. In the past, the Bengals haven't had a lot of receiver depth, which has allowed Simpson to make the 53-man roster. But that has changed this year, as Cincinnati's receiving corps has a lot of competition.
Case against:
The Bengals appear tired of waiting on Simpson, who has one reception in two seasons. They drafted two rookie receivers to compete for roster spots,
Jordan Shipley
and
Dezmon Briscoe
. This is a make-or-break training camp for Simpson. He showed occasional flashes in practice but not nearly enough to earn the trust of the coaching staff when it matters in the regular season. Entering his third NFL season, there are no more excuses for Simpson not to produce.
Chances of making team:
50 percent
4. Demetrius Williams, WR, Baltimore Ravens
[+] Enlarge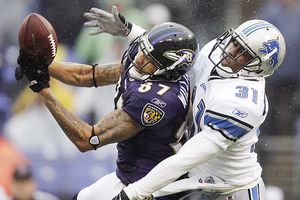 AP Photo/Rob CarrRavens receiver Demetrius Williams could be the team's deep-threat option.
Case for:
With his speed and athleticism, a case can be made that Williams potentially is Baltimore's most dangerous deep threat.
Anquan Boldin
and
Derrick Mason
are more savvy, consistent receivers, while
Donte' Stallworth
is trying to get his legs under him after sitting out a year. Williams has averaged an impressive 16 yards per catch in his career, including two touchdown receptions of 70 yards or more. There is an open role for someone to get deep in Baltimore's high-powered offense, and Williams has a chance to be that player.
Case against:
Health has always been an issue for Williams. He has played in 16 games once in his four-year career. Baltimore has kept Williams because of his potential, but at some point the Ravens would like to see consistency. To do that, Williams must stay healthy to find a role on a Ravens team with
very high expectations.
Chances of making team:
70 percent
5. John Beck, QB, Ravens
Case for:
Beck knows offensive coordinator Cam Cameron's system well from their days together with the
Miami Dolphins
. Beck's future in Baltimore
could come down
to
Troy Smith
's situation. There have been rumors of interest in Smith from the
Philadelphia Eagles
. Quarterback injuries in training camp and preseason could also increase Smith's trade value this summer, which would gift wrap the No. 3 quarterback job for Beck.
Case against:
If nothing happens on the trade front, the Ravens have an interesting decision to make between Smith and Beck. With
Joe Flacco
,
Marc Bulger
and Smith, Beck is probably the team's fourth quarterback right now, which naturally makes him the odd man out. If Smith is still on the roster, Beck will have to make up ground the old-fashioned way and outperform Smith in the preseason to win a roster spot.
Chances of making team:
40 percent
6. Bobby Engram, WR, Cleveland Browns
Case for:
The Browns have
little depth and little experience at receiver
. Engram potentially could provide both. The 14-year veteran played for Cleveland president Mike Holmgren when both were with the
Seattle Seahawks
and knows what to expect. Engram recently had a big year in 2007, when he had 94 receptions for 1,147 yards and six touchdowns. He also can serve as a mentor to young receivers such as
Mohamed Massaquoi
and
Brian Robiskie
.
Case against:
It's questionable what Engram, 37, has left. Last season he had only five receptions in five games for the
Kansas City Chiefs
. Holmgren is hoping Engram has one more decent year left in him to help Cleveland's struggling offense, which finished last in the NFL in 2009. But if there's any team Engram can make this year, it's the Browns.
Chances of making team:
60 percent
7. James Davis, RB, Browns
Case for:
Davis was arguably Cleveland's biggest rookie surprise last summer when he led the team in rushing during the preseason. But high expectations were crushed when a season-ending shoulder injury limited Davis to only two games. Now he's back for his second season and looks healthy.
Case against:
Cleveland's situation at running back is very crowded. One of the best things Holmgren and new general manager Tom Heckert did this offseason was put together a solid group of rushers. The Browns traded up to draft tailback
Montario Hardesty
in the second round and got
Peyton Hillis
from the
Denver Broncos
in the
Brady Quinn
trade. Last year's leading rusher,
Jerome Harrison
, also returns to make for a versatile group of ball carriers. All three running backs are ahead of Davis on the depth chart. So barring injury, Davis looks like a strong candidate for the practice squad.
Chances of making team:
35 percent
8. Jonathan Dwyer, RB, Pittsburgh Steelers
[+] Enlarge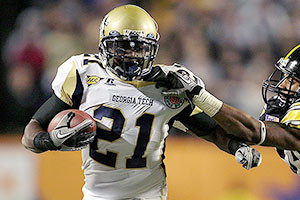 Doug Benc/Getty ImagesPittsburgh sixth-round pick Jonathan Dwyer might be headed to the practice squad.
Case for:
Despite being a sixth-round pick, Dwyer has a chance to contribute early for the Steelers. He displayed strong legs and good power in college, and that could translate into a short-yardage option for Pittsburgh. The Steelers struggled in the red zone and in short-yardage situations. If Dwyer proves he can move the chains, that would be more than enough to earn a roster spot.
Case against:
Although the Steelers may end up with a bargain, no team is afraid to put a sixth-round pick on the practice squad. Dwyer played in a triple-option offense at Georgia Tech, which means he may need some time to learn a pro-style offense. But Dwyer could pan out in a limited role.
Chances of making team:
75 percent
July, 23, 2009
7/23/09
11:10
AM ET
Posted by ESPN.com's James Walker
The rookie class of the Cleveland Browns will be among the first groups to report to training camp Friday for the 2009 season.
So far, as of Thursday morning, several unsigned draft picks remain. First-round pick Alex Mack, and second-rounders Brian Robiskie, Mohamed Massoquoi and David Veikune are all working on deals before Friday's rookie report date.
The Browns have reached deals with all of their second-day picks, who will be present and on time Friday for the first training camp in Cleveland under new head coach Eric Mangini.
The veterans will join the Browns in Berea, Ohio on Aug. 1.
May, 20, 2009
5/20/09
11:21
AM ET
| | |
| --- | --- |
| | |
| | Joe Robbins/Getty Images |
| | Brady Quinn and Derek Anderson will compete for the starting quarterback job during Cleveland's training camp. |
Posted by ESPN.com's James Walker
As the weather heats up, it's time to start looking ahead to this summer's NFL training camps.
The AFC North should be very interesting as several key position battles could make or break a team's 2009 season. Here is a look at the seven most intriguing competitions from around the division:
7. Cornerback: William Gay vs. field
Team: Pittsburgh Steelers
Why it's important: With a veteran-laden team that returns 20 of 22 starters, Gay is the only projected starter in any real danger of losing his job in training camp. All indications are that the job is his to lose. The Steelers signed veteran cornerback Keiwan Ratliff and drafted rookies Keenan Lewis and Joe Burnett to provide depth and possibly be there in case Gay falters. But the organization has shown a lot of confidence in Gay since last season when he filled in for former Steeler Bryant McFadden, who signed a two-year deal with the Arizona Cardinals. Gay worked exclusively with the first team in Pittsburgh's full-squad minicamp.
Early favorite: Gay
6. Kicker: Steve Hauschka vs. Graham Gano
Team: Baltimore Ravens
Why it's important: According to Ravens coach John Harbaugh, this kicking competition in Baltimore is going to be "very interesting." Perhaps Harbaugh, a former special-teams coach, is overhyping this battle. But what is interesting is Baltimore is looking for just its second full-time kicker in franchise history. The position was held since the Ravens' inception in 1996 by veteran kicker Matt Stover. But Stover's age (41) finally started to show last season and opened the door for Hauschka and Gano to compete this year. Both young kickers have strong legs, but so far this offseason Hauschka and Gano haven't displayed Stover-type accuracy. If neither kicker comes into his own this summer, things might get "very interesting," as Harbaugh promised.
Early favorite: Even
5. Center: Alex Mack vs. Hank Fraley
Team: Cleveland Browns
Why it's important: This is a classic battle between a first-round pick and an experienced veteran who's started for winning teams and played in the postseason. Mack comes to Cleveland with lofty credentials and expectations. He's strong, smart and expected to be a starter from Day 1. The only person standing in his way is Fraley, 31, who's done a solid job in his two stops with the Browns and Philadelphia Eagles. That Cleveland's new regime, led by coach Eric Mangini, took a center in the first round is a sign that Mack is the favorite to win the job. But if Fraley finds a way to hold the rookie off in training camp, Mack has the versatility to play guard, most likely on the right side.
Early favorite: Mack
4. Linebacker: Rey Maualuga vs. Brandon Johnson
Team: Cincinnati Bengals
Why it's important: Cincinnati's defense, which was ranked No. 12 in 2008, is trying to take another step forward. In order to do this, dynamic linebacker play will be crucial. Maualuga fell to the Bengals in the second round because of several off-the-field questions surrounding the former USC linebacker. But no one questions that Maualuga is a first-round talent on the field. The issue with the Bengals is that Maualuga, a natural middle linebacker, cannot supplant leading tackler and defensive leader Dhani Jones this year. So Maualuga needs to supplant Johnson, the outside linebacker, if he wants to play right away as a rookie. Johnson is no slouch, either. He recorded 83 tackles, two interceptions and came on late last season. Rashad Jeanty, who started 15 games last year, also is a possibility at the other outside linebacker spot. Regardless, the trio of Jones, Keith Rivers and Maualuga/Johnson/Jeanty should make for a solid group of linebackers in Cincinnati.
Early favorite: Even

3. No. 2 receiver
Team: Browns
Why it's important: Someone needs to help No. 1 receiver Braylon Edwards. The long list of candidates includes veterans David Patten, Mike Furrey, and rookies Brian Robiskie and Mohamed Massaquoi. Donte' Stallworth also remains on the roster. But based on Cleveland's roster moves, it appears the Browns expect Stallworth's legal situation to keep him out this season. With the loss of former Pro Bowl tight end Kellen Winslow Jr., Edwards is Cleveland's only real receiving threat and he likely will see a lot of double teams. That will provide plenty of opportunities for Patten, Furrey, Robiskie or Massaquoi to make plays. But it remains to be seen if these players have the ability to step up.
Early favorites: Patten and Robiskie
2. ILB: Tavares Gooden vs. Jameel McClain
Team: Ravens
Why it's important: The "bodyguard" role in Baltimore's defense is underrated but very important. There is a reason safety Ed Reed and linebackers Ray Lewis and Terrell Suggs are able to fly around the field and make plays. It's because the inside linebacker opposite Lewis, formerly the ultra-physical Bart Scott, takes on fullbacks and pulling offensive linemen at every chance. Now the Ravens are looking at Gooden or McClain as Scott's replacement. Both young players have good athleticism. But ultimately, the player who is the most physical will win this job. Gooden opened veteran minicamp as the starter, so you have to give him the edge heading into this summer.
Early favorite: Gooden
1. QB: Brady Quinn vs. Derek Anderson
Team: Browns
Why it's important: The Mangini era in Cleveland, in large part, will depend on his decision at quarterback. An antsy fan base in Cleveland is tired of waiting for a winner and will not give Mangini four years to turn it around. Therefore, the best thing Mangini can do is figure out quickly which player is the better quarterback. It's been three seasons and the Browns still haven't settled this debate. Anderson showed flashes with his Pro Bowl campaign in 2007, but his struggles last year left many questions. Quinn, a former first-round pick, looked up and down in limited playing time. Ironically, the two never directly competed against each other -- until now. According to the coaching staff, both players will be given a fair opportunity. But Cleveland's offensive system under Mangini is being built around a power running game and an efficient and conservative passing game, which seems to favor Quinn.
Early favorite: Quinn