AFC North:

NFL culture reaction 131106
November, 7, 2013
11/07/13
1:40
PM ET
With the mess in Miami, and whatever actually went on with the Dolphins,
our NFL Nation went to locker rooms across the land to find out where the responsibility lies in stopping hazing
.
I checked in with a few Texans players about their thoughts on the matter. I will post some thoughts from left tackle
Duane Brown
later. Remember, Brown defended Dolphins guard
Richie Incognito
after his most recent spat with Texans defensive end
Antonio Smith
. Incognito and Brown played alongside each other at the Pro Bowl in January.
First, though, let's look at what life is like for a Texans rookie.
Defensive lineman
Jared Crick
was a fourth-round pick in the 2012 draft.
How do you view hazing in the NFL?
[+] Enlarge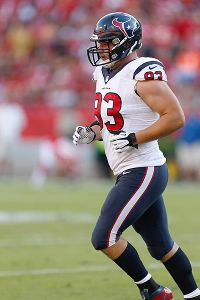 AP Photo/Scott BoehmJared Crick says life is good for rookies with the Texans.
JC:
Well, here ... I wouldn't describe it as hazing. It's more kind of, not even initiation really, just more kind of something rookies are expected to do. It's really nothing that's going to cause physical or emotional harm. At the most it's going to be carrying the vets' helmets after practice, or when it comes your time to foot the bill, you foot the bill when you go out to eat. Other than that, we don't really have any traditions -- we don't shave your head or do anything of that nature. I can't speak for anywhere else. Rookies got it good here. When they get here, if they prove they work hard and deserve to be on this team, they're treated as veterans. We got a good thing here for the rookies.
So it feels inclusive?
If you're a rookie and you know that all the other rookies are getting the same treatment you are, none of it's really bad. We'll never put a rookie in the position where he's uncomfortable to come to work every day. As long as you go along with it and have fun with it, that's all part of it. We try and have fun with the rookies instead of try and separate them from the rest of us. There's nothing that any rookie should be afraid to come to work every day.
The idea of excessive restaurant tabs has come into the spotlight a bit. Have you ever seen that be a problem?
Yeah, I mean I've never heard of anything like that. If a bill does get a little high, which it really hasn't, a veteran will help him out. That came last year, the rookie guys who obviously weren't making a whole lot of money, they gotta buy it together instead of just one dude -- $30,000 bill is outrageous no matter who's going out to eat. And I don't think you should have to pin that on a rookie no matter what. Fortunately here, we wouldn't expect a rookie to do that.
From the get-go, if we know a rookie's going to be taking us out to eat, we're not going to the most expensive restaurant in Houston. We take precautions. It's kind of a standard thing where if you're a rookie and obviously you're not first-round money or anything like that, you have someone else to help you out. And if it ever gets outrageous, the vets will pay for their own meal. That's happened last year when I went to a nice restaurant. We know what it's like to be a rookie. We know it can be tough at times being in a new city, stuff like that, so we got a good group of guys. I can't speak for other teams, but for the most part, as long as you have fun with it, it's all right.
What kinds of experiences have your friends on other teams had?
Lot of guys I went to college with, when they talked about things they had to do as a rookie, a lot of guys it was a little something; they had to shave their heads or do stuff like that. Get snacks every night for vets. If that's all you have to do, that's all right. As long as you have fun with it. When you're a veteran, you're going to look forward to a rookie buying you wings after a Thursday practice or something like that. Rookies are paid well in this league, but at the same time you don't want to ask too much, because it does get a little excessive sometimes.
How far is too far?
We get a good feel through OTAs and the summer and see if they can joke around a little. Some of them are really shy. Obviously, you're not going to go out and try and pick on them. If a rookie doesn't feel comfortable going to a certain restaurant because it's going to be expensive, we won't make him do that. We'll take him somewhere they want to go. As long as the rookie's having fun with it, not anything goes, but we'll roll along with it, but if they get a little more on the uncomfortable side, they'll cut it out or anything like that. We treat them as if they're a teammate, they're a Houston Texan and they're an integral part of this team.
What were you like as a rookie?
I was pretty shy when I first got here. I didn't talk to too many people, so they didn't really have a good feel for me yet. As the year went on, I went with everything they wanted me to do. Obviously, they're not going to not do it. I just had fun with it. I think if you have fun with it and you're willing to do the things, they don't ask too much of you. They kind of want to ... if you just say, "Yeah I'll do that, I'll get wings today," it's fine. Their eye isn't on you as much. I just rolled with it. At the end of the day, it's not a whole lot they're asking of you. They just want more entertainment than anything.
November, 7, 2013
11/07/13
10:00
AM ET
OWINGS MILLS, Md. --
Baltimore Ravens
wide receiver
Torrey Smith
says hazing and bullying doesn't exist on the team, even though he didn't believe it at first.
After watching the rough initiations on HBO's Hard Knocks, Smith prepared for the worst when he reported to training camp two years ago.
"To my surprise, I came in and
Ray Lewis
,
Ed Reed
, [Terrell] Suggs, Haloti [Ngata] took us right in [saying], 'Alright, we need you to be ready to play. We don't have time to haze. You've got to sing, buy Popeye's, but that's it,'" Smith said. "It's more so about a family atmosphere and welcoming you in instead of tearing you down and trying to isolate you. I don't get how hazing even brings a team closer. It's stupid to me."
Hazing and bullying has become hot topics in NFL locker rooms since
Miami Dolphins
guard
Richie Incognito
was suspended Sunday amid allegations he bullied a younger teammate,
Jonathan Martin
, who left the team and recently
checked himself into a South Florida hospital
to be treated for emotional distress.
Multiple sources confirmed to ESPN on Monday that Incognito used
racial epithets and profane language
toward Martin on multiple occasions.
"It's surprising for me to see any player using these kinds of remarks and these kind of attacks in this day and age; even going back to the
Riley Cooper
thing back in the beginning of the season," defensive end
Chris Canty
said. "It's unfortunate this is continuing to take place. I do want to commend the Miami Dolphins for setting the precedent in the course of action they've taken as opposed to what the
Philadelphia Eagles
decided to do, giving Riley Cooper a slap on the wrist. I think that emboldens people to continue to use those kind of slurs, make those kind of remarks and have those kind of texts."
Does Canty believe there's a place in the NFL for Incognito?
"Playing in the NFL is a privilege, not a right and I think it should be treated as such, and I don't think there's any place for racism, racially charged attacks," Canty said. "I don't think there's a place for it."
Smith was among those Ravens who defended Martin's actions for coming forward.
"Guys are going to say that (blame the victim) because football's a manly sport, a sport that's typically about dominance and you're going to hear guys react that way -- stand up for yourself, fight back," Smith said. "But at the same time, if he did that, where would it have gotten him? We don't know if it would've worked."
Smith added, "People don't bully the strong links. So clearly there was something that he saw that he took advantage of. You don't just bully anyone, and it's very unfortunate. I'm not going to disrespect their locker room, I don't know anything about it. But if you have great leadership in there, you can see what's clearly a problem where it goes from being fun to a problem, which it escalated to and hopefully they'll get it right."
November, 6, 2013
11/06/13
2:50
PM ET
PITTSBURGH --
Ryan Clark
applauded the restraint
Jonathan Martin
showed in dealing with alleged harassment from a
Miami Dolphins
teammate.
But the outspoken Pittsburgh Steelers free safety would not have faulted Martin had he reacted in an extreme manner after enduring bullying from
Richie Incognito
.
"I honestly wouldn't have had any problem with Jonathan Martin hitting Richie Incognito in the head with a weight," Clark said, "but that's illegal and he'd go to jail and he shouldn't do that. I think he handled it the right way by not being physical, by not causing more trouble by making a rash, emotional decision to retaliate with physical action."
Martin abruptly left the Dolphins last week, setting in motion a story that has transfixed the nation because of its many layers, including NFL locker-room conduct and the issue of bullying happening in the most unlikely of places.
Steelers right guard
David DeCastro
is good friends with Martin -- the two started on Stanford's offensive line for three seasons together -- and he said he has talked to his former Cardinal teammate.
"I just called him to make sure he was alright," DeCastro said. "I could care less about football. I just wanted to make sure he was OK as a person and he is so that's good, that's what's important."
When asked if he thinks Martin still has the desire to play football, DeCastro said, "That's up to him."
Clark said the atmosphere that caused Martin to leave the Dolphins -- and put his football future in question -- needs to be addressed with some sort of league guidelines.
But, Clark conceded, a uniform policy is tricky since there can be such a fine line between what is considered a rite of passage for a young player and hazing -- or bullying in the extreme case that the NFL and Dolphins are sorting through right now.
"It's not like a helmet-to-helmet hit that's obvious where something like this you have to look subjectively and say, 'Ah, this is how egregious I think this is,' and that's extremely hard," Clark said. "I think some guidelines should be set in place. No one should have to endure that in their workplace whether they work for IBM or for the Miami Dolphins."
Bills wide receiver Stevie Johnson agreed.
"It's a tough issue but at the end of the day you've got to respect each other man," Johnson said Wednesday during a conference call with Pittsburgh reporters. "That's what it comes down to."
November, 6, 2013
11/06/13
12:00
PM ET
As the
Miami Dolphins
situation unravels, two Browns players were clear about one element of the story.
The ugly racial epithet Dolphins guard
Richie Incognito
reportedly used to refer to
Jonathan Martin
(the N-word) is not appropriate. Even if it's used as slang or in a purportedly friendly manner.
"It's not appropriate for anybody," said wide receiver
Davone Bess
said.
"Not at all [appropriate]," linebacker
D'Qwell Jackson
said. "I don't say the word myself. It should not be used at all."
Jackson and Bess are both veterans and team leaders, and both are African-American.
November, 5, 2013
11/05/13
8:03
PM ET
Garrett Gilkey
has been bullied.
He knows what it's like and he's talked about in great detail and with great eloquence in this story
by ESPN.com's Liz Merrill.
He's also dedicated himself to help make sure another kid is not bullied the way he was his freshman year in high school, when things got very, very ugly.
A rookie Browns lineman from Chadron State, Gilkey read about
Jonathan Martin
allegedly being bullied by his
Miami Dolphins
teammate
Richie Incognito
. And he empathized.
"It's Martin's Year 2 in the NFL," Gilkey said today, discussing the issue from what he's read and from long distance. "The problems have obviously been persisting for a very, very long time. Knowing the mental toll that bullying in general takes on a person, I can't imagine what he's gone through the past year and a half."
As for the thinking that the NFL is a macho world and hazing is part of what you sign up for, Gilkey said some hazing can be fun, but bullying is not the same as hazing or rites of initiation (like buying a veteran's dinner).
"I don't care if you're a 24-year-old NFL lineman," Gilkey said. "It doesn't matter. Bullying is the same if you're a 24-year-old lineman as if you were a nine-year old girl. There's just a level of empathy that didn't exist in that context. I cant help but feel for Martin knowing that it's a very real battle."
Gilkey recently spoke at a middle school in suburban Peninsula, Ohio, and talked to kids about the importance of supporting each other. "The importance of community and leaning on each other," he said.
Which is what he said appeared to be missing in Martin's case -- support and the feeling of family.
"I just can't help but have empathy for Martin knowing that the team is supposed to be a unit," Gilkey said. "It's supposed to function together as one. Those feelings of separation can be very damaging. Evidently it's just a matter of time before that sponge has to release like it did."
Gilkey understands that rituals are part of life in NFL. Linebacker
D'Qwell Jackson
called it "part of the initiation of the brotherhood." But Gilkey said hazing or ritual without a relationship can create bullying.
"When you have relationship embedded in the context, it's going to make things much different," he said. "Clearly with grown men you have to be able to distinguish that well. Clearly in this case I feel that it was a one-sided relationship."
And it doesn't matter that adults were involved, or that they're part of a certain "manly" culture.
"It doesn't matter how old you are or how big you are," Gilkey said. "No one should have to go through that."
November, 5, 2013
11/05/13
5:50
PM ET
PITTSBURGH -- If the disturbing story that has emerged from the inner workings of the Dolphins' locker room seems so far away to the Steelers, that is because it is.
And not because Miami is a thousand miles south of Pittsburgh.
The Steelers have long cultivated a family-type atmosphere among their players and employees, and they rarely have anything that remotely qualifies as a locker room problem.
Troy Polamalu
talked about that culture on ESPN's "The Herd with Colin Cowherd" on Tuesday, and the Steelers' strong safety provided an illuminating look at it.
"I was actually worried coming out of college [in 2004] because you hear about stories, people getting their hair shaved or what not and I thought they would cut my hair when I came it Pittsburgh, but it was the exact opposite here," Polamalu said on "The Herd." "Guys accepted me with open arms. Anything I needed whether it was a car, whether it was to sleep at their house and we only return that favor now that I'm a veteran on the team. Any young guy, whether they need a car or a house or some extra spending cash, whatever it may be we try our best to help them."
Polamalu said that ethos starts at the top with chairman emeritus Dan Rooney and president Art Rooney II.
"They've really instilled a family environment that's permeated our locker room so whenever a rookie comes in we accept them with open arms," Polamalu said. "We teach them the best way we know on how to be professional, how to take care of your body, how to train, how to learn the defense, the offense, whatever it may be.
"Coach [Mike] Tomlin says all the time if you're willing to help us win and put your hand in the pile then you're family around here. That's really something we preach to anybody comes in, whether they're a veteran from another team or whether they're a young guy that's drafted."
Tomlin echoed similar sentiments during his weekly news conference.
"We take a simple approach in that young players can be quality reasons why we're successful so if they're capable and willing to help us in terms of what we desire to get done as a football team then we're all committed to helping them help us," the seventh-year coach said. "I think our veteran players embrace that and have mentor-like relationships with our young guys, but I'm sure that's the approach most teams take in terms of how they handle young people and raise them."