August, 16, 2011
8/16/11
9:00
AM ET
Here are the most interesting stories Tuesday in the AFC North: Morning take: This was a wise move by McCoy. He couldn't learn the offense from coaches during the lockout, so McCoy sought help from someone who played under Browns president Mike Holmgren.
Morning take: Usually, a coach doesn't need to stand up for their group in the preseason. But there's so much early concern in Cincinnati that Zimmer felt it was necessary.
Morning take: Pitta's playing style looks fairly similar to a young Heap. Tight end is important in Baltimore's offense. Therefore, Pitta and Ed Dickson will get opportunities to make plays.
Morning take: This should be the focus. The Steelers do not have many position battles or much to prove in the preseason. These next few weeks should be all about preparing for their biggest rival.
July, 25, 2011
7/25/11
3:29
PM ET
»
NFC
:
East
|
West
|
North
|
South
»
AFC
:
East
|
West
|
North
|
South
»
Unrestricted FAs
A look at the free-agent priorities for each AFC North team:
Baltimore Ravens

1. Sign guard Marshal Yanda:
The Ravens are already struggling on the offensive line, and losing Yanda at right guard would be a big blow. Baltimore doesn't have quality backups behind Yanda, and the right tackle spot is wide open as well. Yanda will not come cheap. He is versatile and played guard and tackle for the Ravens, which will help his stock on the open market.
2. Find a pass-rusher:
Baltimore has many strengths on defense, but
rushing the passer isn't one of them
. The Ravens registered just 27 sacks last regular season. Pass-rushing help most likely will be needed at outside linebacker in Baltimore's hybrid defense. The problem is that teams do not let go of players who can get to the quarterback, so it's a very thin crop this year. If the Ravens can just get a player who can add six-to-eight sacks to the pile to help Pro Bowl linebacker/defensive end
Terrell Suggs
, that would help tremendously.
3. Extend defensive lineman Haloti Ngata's contract:
Make no mistake, this is the top priority for the Ravens this summer. But the reason this is listed third is that the Ravens put the franchise tag on Ngata before the lockout, which buys them time to get to these negotiations once a fast and furious free agency is complete. Hundreds of players without contracts will be signed in a matter of days. So the Ravens need to focus on those players first before they are left behind. Ngata will get his money before the regular season -- and plenty of it.
Top five free agents:
G Marshal Yanda, S
Dawan Landry
, OT Jared Gaither, CB
Josh Wilson
, FB
Le'Ron McClain
Cincinnati Bengals

1. Determine the futures of RB Cedric Benson and CB Johnathan Joseph:
The Bengals have two important starters set to hit the open market in Benson and Joseph. Benson was expected to be a big part of the Cincinnati's new West Coast offense until his recent arrest for alleged assault put his future with the team in question. First year offensive coordinator Jay Gruden wants to implement a power running game, which fits Benson's style. But if Benson is facing a suspension to start the season, it would make more sense for Cincinnati to spend money on a player who can help them for all 16 games. With Joseph, the Bengals didn't seem interested in paying the cornerback market value, which can range between $8-$10 million per season. The new collective bargaining agreement may include mandatory spending to the salary cap, which will force Cincinnati to spend big in free agency. If that's the case, Joseph becomes a much better possibility to return.
2. Find a veteran quarterback:
Franchise quarterback
Carson Palmer
said he's not returning. So the Bengals must find a veteran free agent at the position. Cincinnati would be
skating on very thin ice
if it went into the season with rookie
Andy Dalton
as starting QB and
Jordan Palmer
and
Dan LeFevour
as backups. The trio has zero NFL starts. Don't expect the Bengals to search for an expensive, big-name starter. Most likely the team will get a career backup with some starting experience to support Dalton. A couple of names to consider are
Bruce Gradkowski
and
Jim Sorgi
.
3. Make roster cuts:
The Bengals have plenty of cap room, so they don't have to slash salaries right away. But there are several players on the chopping block whose production no longer matches their big contracts. Receiver
Chad Ochocinco
, 33, is making $6.5 million and is coming off his second poor season in three years. The Bengals are also getting younger at the position and drafted
A.J. Green
as his replacement. Defensive linemen
Robert Geathers
and
Antwan Odom
have high salaries in 2011, but have been plagued by injuries and poor production. Look for Cincinnati to cut at least one of these players, because second-year defensive end
Carlos Dunlap
looks poised to take over a starting role permanently.
Top five free agents:
CB Joseph, RB Benson, LB
Dhani Jones
, WR
Terrell Owens
(injured), RB/FB
Brian Leonard
Cleveland Browns

1. Sign a defensive end:
The Browns will have a very young defensive line, probably including rookie starters Phil Taylor, a first-round pick, and
Jabaal Sheard
, a second-rounder. Therefore, it's important that Cleveland adds experience up front to relieve some of the pressure. Two very good free agents who can help are
Ray Edwards
and
Charles Johnson
. Both have starting experience and ability to get to the quarterback.
2. Find a starting safety:
The Browns have two good, young pieces in the secondary in cornerback
Joe Haden
and safety
T.J. Ward
. But they're missing another safety to help fill out the back end.
Abram Elam
, a favorite of former Browns head coach Eric Mangini, has been average. Now that Pat Shurmur has taken over, don't expect Elam to return. Fortunately for Cleveland, safety is one of the
deeper positions in free agency
. Quality candidates include
Quintin Mikell
,
Donte Whitner
and
Eric Weddle
.
3. Cut QB Jake Delhomme:
The Browns are on
the hook for $5.4 million
if they keep Delhomme this season. Cleveland likes his leadership in the locker room, but he's too expensive for a third-string quarterback. The Browns made their choice for backup quarterback before the lockout when they signed
Seneca Wallace
to a three-year extension. Wallace knows the West Coast offense better than anyone on the team, and the Browns believed that knowledge was more valuable behind second-year quarterback
Colt McCoy
.
Top five free agents:
FB
Lawrence Vickers
, LB
Matt Roth
, S Elam, CB
Eric Wright
, DL
Robaire Smith
Pittsburgh Steelers

1. Make roster cuts:
The Steelers are expected to be
well over the cap
when the final numbers are determined. So their first priority will be to free up space to sign free agents and draft picks. Some solutions could include cutting veteran tackle
Flozell Adams
($5 million) and receiver
Antwaan Randle El
($2 million). Restructuring the contract of defensive end
Aaron Smith
is another possibility. The Steelers must free up money first before they make other tough calls.
2. Sign a starting corner
: This could mean re-signing
Ike Taylor
or signing a player from outside the organization (
Carlos Rogers
or
Richard Marshall
). But it's important for the Steelers to land a starting-caliber corner in free agency. Pittsburgh's secondary struggled against good quarterbacks last season. Teams will continue to attack Pittsburgh through the air until the team proves it can slow multiple-receiver sets. To do this, the Steelers must have at least three solid corners.
Bryant McFadden
is the only corner under contract with starting experience.
3. Sign a kicker:
No one cares about kickers until you need one in an important spot. The Steelers are in the market for a kicker after cutting
Jeff Reed
last season.
Shaun Suisham
filled in last season and did a decent job, but he's also a free agent. Kicking in Heinz Field can be tough, especially late in the season when inclement weather and soggy field conditions play major roles. Pittsburgh must make sure its new kicker can handle it.
Top five free agents:
CB Taylor, OL
Willie Colon
, CB
William Gay
, RB
Mewelde Moore
, DL
Chris Hoke
July, 12, 2011
7/12/11
4:00
PM ET
With the NFL lockout possibly reaching its conclusion, it's time to look ahead to what should be a very wild period in free agency.
Part of it will consists of rookie free agents who went undrafted this past April. Every year, several college players who were overlooked surprise and contribute during their rookie seasons.
Here are five rookie free agents to keep an eye on:
[+] Enlarge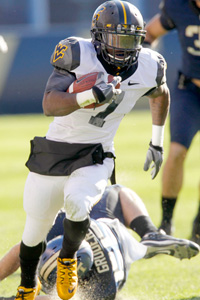 AP Photo/Keith SrakocicNoel Devine amassed 936 yards on 209 carries and scored six touchdowns for the Mountaineers last season.
Noel Devine, RB, West Virginia
Skinny:
Devine is a small (5 foot 8, 180 pounds), shifty back with good acceleration. He displays good vision and runs through a surprising amount of tackles for a player his size. Devine is scary in the open field and may be able to help a team on third down.
Possible AFC North fits:
Pittsburgh Steelers
,
Cleveland Browns
Jeron Johnson, S, Boise State
Skinny:
A hard-hitting safety with a lot of college experience, Johnson was projected to go in the fifth or sixth round but was overlooked. He is a solid tackler who has a chance to earn a backup job and help right away on special teams.
Possible AFC North fit:
Cincinnati Bengals
Dane Sanzenbacher, WR, Ohio State
Skinny:
Size and speed are question marks, but Sanzenbacher displays good hands and is reliable. He is more quick than fast and he has the ability to separate with good routes. Sanzenbacher is a natural leader and was a captain at Ohio State.
Possible AFC North fit:
Browns
Mark Herzlich, LB, Boston College
Skinny:
High-character player who survived cancer and long odds to earn a shot at the NFL. Herzlich has a good motor, size and toughness to play the linebacker position and was once a sure prospect before major health issues hindered his chances.
Possible AFC North fits:
Steelers, Browns,
Baltimore Ravens
Jeremy Ross, WR/KR, Cal
Skinny:
Ross played receiver, running back and returned kicks at Cal. He needs to find a natural position in the NFL, but has good speed (4.4 to 4.5) and his return ability gives Ross a chance to make a team.
Possible AFC North fit:
Ravens
July, 11, 2011
7/11/11
11:00
AM ET
Lost in the recent
arrest for disorderly conduct
of
Cincinnati Bengals
cornerback
Adam Jones
is what this potentially means for pending free agent
Johnathan Joseph
.
Joseph
With Jones adding to his lengthy list of run-ins with the law over the weekend, this could up the ante for the Bengals to re-sign Joseph, who has been their starting cornerback the past five seasons.
Cincinnati signed Jones to a two-year deal last season for insurance in case Joseph bolts in free agency. The Bengals were counting on Jones to stay out of trouble, which is something he has failed to do his entire career.
But Jones contests that he did nothing wrong. At the very least, he's put himself in a bad spot, as the NFL will pay close attention to the details of this case once a new collective bargaining agreement is reached.
The Bengals could possibly lose two starting-caliber corners this summer if they don't pay Joseph and Jones is suspended. As an unrestricted free agent, Joseph will get market value either way. And after Jones' latest off-the-field incident, it would be smart for the Bengals to make a strong push for one of their better in-house players.
July, 11, 2011
7/11/11
9:00
AM ET
Recent off-the-field trouble for
Pittsburgh Steelers
receiver
Hines Ward
and
Cincinnati Bengals
cornerback
Adam Jones
could present a pair of interesting cases for the NFL. Both players
were arrested
over
the weekend
in separate incidents.
But the NFL is in the midst of the lockout where the league's collective bargaining agreement and personal conduct policies are not active. Still, commissioner Roger Goodell said the league plans to hold players accountable for getting in trouble this offseason, and it's unknown if this is something the players' union would care to contest.
But it appears Ward and Jones have the potential to land in hot water this summer. Still, both players find themselves in different spots.
This is the first brush with the law for Ward, who was arrested and charged with driving under the influence early Saturday in Georgia. Ward's clean record helps his case tremendously, and it's rare that the league comes down hard on first-time offenders. Therefore, it would be surprising if Ward is forced to miss any games.
Jones, on the other hand, could be in big trouble if found guilty of disorderly conduct. He was already suspended by the NFL for the entire 2007 season and part of the 2008 season for prior incidents. Jones also has been arrested six times the past several years and is down to his last strike. Another conviction could lead to the end of Jones' career in the NFL.
Another interesting wrinkle is Ward and Jones believe they were not in the wrong. It could take a while for all the details to be released in both cases. So this may not be settled overnight.
July, 9, 2011
7/09/11
11:53
AM ET
Ward
Pittsburgh Steelers
receiver
Hines Ward
was
arrested and charged
with drunken driving early Saturday morning in Georgia. Ward was released on $1,300 bond.
Here are some thoughts on Ward's arrest:
This was a surprisingly irresponsible move by Ward, who is 35 and has been a consummate professional with the Steelers. Ward is entering his 14th season and has stayed out of trouble during his career. Ward recently gained a lot of popularity for his success winning "Dancing With The Stars." Now, his name is in the news for the wrong reasons.
It's too early to speculate whether the NFL will come down on Ward. The league is in the middle of a lockout and may look into Ward's case once it reaches a new collective bargaining agreement. Ward does not have prior off-the-field incidents, which helps his case.
For the third year in a row, the Steelers fail to make it through the offseason without an off-the-filed incident involving a star player. Pittsburgh quarterback Ben Roethlisberger was accused of sexual assault two years in a row in 2009 and 2010. This year Ward is being charged for driving under the influence. Ward's situation does not compare to Roethlisberger's, but it still puts a bad light on the Steelers and their team captain.
July, 8, 2011
7/08/11
8:00
AM ET
Here are the most interesting stories Friday in the AFC North: Morning take: Last year Baltimore made a blockbuster trade to acquire receiver Anquan Boldin. But look for the Ravens to take care of their own this year before making any moves for outside free agents.
Morning take: Woodley was ranked No. 82 and should only get better. The tandem of Woodley and James Harrison will continue to punish offenses for the next several years.
Morning take: The Browns have a ton of ground to make up trying to install a new offense and defense. Do not be surprised Cleveland gets off to a slow start, as a result.
Morning take: With quarterback Carson Palmer's situation in doubt, tailback Cedric Benson could be a decent pick if he returns to Cincinnati. The Bengals plan to have a power running game, and Benson would get a lot of carries.
June, 10, 2011
6/10/11
2:00
PM ET
The heated rivalry continues between the
Pittsburgh Steelers
and
Baltimore Ravens
-- even during the NFL lockout.
This latest chapter involved some interesting comments made this week by Steelers outside linebacker
LaMarr Woodley
, who told the NFL Network Baltimore Ravens quarterback
Joe Flacco
will
never win a Super Bowl
"in this lifetime."
Ouch!
"No, not at all because they have to go through one team -- that's the Pittsburgh Steelers in that AFC Championship," Woodley said. "So in order for them to get to the Super Bowl, they have to beat us, and we're not gonna let that happen once we get that close. So that's not gonna happen in this lifetime."
Woodley's trash-talking is not without merit. Flacco is just 2-6 against the Steelers in his career and 0-6 in games Pittsburgh quarterback
Ben Roethlisberger
was the starter. The Steelers also knocked Flacco and the Ravens out of the playoffs in two of the past three seasons.
Flacco, for the most part, has played poorly in big games, and Woodley wasn't bashful in piling on. Woodley likely knows Flacco has received a ton of criticism this offseason, and it was a chance for the Steelers to take another jab at their biggest rival.
No doubt the Week 1 meeting between Baltimore and Pittsburgh just got a little more interesting.
June, 6, 2011
6/06/11
8:00
AM ET
Here are the most interesting stories Monday in the AFC North: Morning take: Not likely. The Ravens have enough receivers over the age of 30 in Derrick Mason and Anquan Boldin. They need to get younger and faster at the position, not older and slower.
Morning take: Roth likely isn't returning. He was unhappy with the Browns last year after not receiving a long-term extension and doesn't want to go through another rebuilding process.
Morning take: Rooney has been a key figure in labor piece for about two decades. But he has plenty of work on his hands now as the U.S. Ambassador to Ireland.
Morning take: The Bengals are hard at work and need to be during this NFL lockout. Time will tell whether these players workouts will help, but it certainly doesn't hurt.
May, 31, 2011
5/31/11
8:00
AM ET
Now I'm back from my brief vacation, here are the most interesting stories Tuesday in the AFC North: Morning take: This feels low, but it's difficult to say for sure until the other 55 players above Rice are revealed. Rice is one of the most dynamic and versatile running backs in the NFL.
Morning take: It's an interesting approach for an older team that has it together. Pittsburgh (along with Green Bay) had the longest season in 2010 and hopes the extra off period helps.
Morning take: Nugent arrived at Ohio State the same year as Tressel in 2001. Nugent turned out to be the most reliable kicker during Tressel's tenure.
Morning take: The Browns aren't thinking that way. In their minds, they acquired more picks with the intention of getting good players in lower draft slots. It comes down to the confidence of the front office to get the job done.
March, 12, 2011
3/12/11
1:30
PM ET
Pittsburgh Steelers
president Art Rooney II released a statement Saturday afternoon on the NFL lockout:

Rooney II
"I am very disappointed that we were not successful in reaching an agreement with the Players Association in the round of mediation that the Players Association walked away from on Friday. The NFL Owners put a very fair offer on the table that we felt provided the framework for completing an agreement. The NFL is willing to negotiate an agreement that is fair to the players, our teams and our fans. We do not believe the decertification of the Players Association is a legitimate bargaining tactic, and we have asked the National Labor Relations Board to review the conduct of the Players Association. I can assure our fans that we are committed to negotiating an agreement that will allow us to get back to football as soon as possible. I remain optimistic that eventually cooler heads will prevail and we will be back at the bargaining table in the near future."
March, 3, 2011
3/03/11
5:54
PM ET
Here are the player reps for each AFC North team,
according to the NFLPA
:
Baltimore Ravens:
WR
Derrick Mason
Alternates:
CB
Chris Carr
, C
Matt Birk
Skinny:
Mason is one of the most experienced and outspoken players on the Ravens. Therefore he fits great in this role. Carr and Birk are also two great alternatives from Baltimore.
Cincinnati Bengals:
LT
Andrew Whitworth
Alternates:
G
Bobbie Williams
, TE
Reggie Kelly
Skinny:
This trio comprises Cincinnati's locker room leaders. Whitworth has taken an increased role and is usually the one who briefs the rest of the Bengals on player issues. Williams and Kelly are both elder statesmen and combine for 25 years of NFL experience.
Cleveland Browns:
TE
Robert Royal
Alternates:
OT
Tony Pashos
, CB
Sheldon Brown
, TE Ben Watson
Skinny:
Lately the Browns have been a strange team when it comes to union reps. With three regime changes the past few years, it's been a rotating door. Royal was
recently released by the Browns
, meaning Cleveland will have another player rep next season. All the alternatives spent their first year with the Browns in 2010.
Pittsburgh Steelers:
S
Ryan Clark
Alternates:
WR
Antwaan Randle El
, LT
Max Starks
Skinny:
Like Mason, Clark is never afraid to speak his mind. He recently had a lot to say on the pending NFL lockout during Super Bowl week. Randle El and Starks are both intelligent alternatives, as well.
March, 3, 2011
3/03/11
12:46
PM ET

Rookie head coach? Check.
A switch to a 4-3 defense? Check
A young quarterback and new West Coast offense? Check and check.
The
Cleveland Browns
have plenty of reasons to be concerned about an NFL lockout. The current collective bargaining agreement expires Thursday night.
Cleveland is a team in major transition in 2011 and would be one of the biggest lockout losers. ESPN.com's NFL team, led by NFC West blogger Mike Sando, took a look around the league to see
who is impacted the most
.
Also
check out Lester Munson's piece
on the NFLPA's decertification.