AFC North:

NFL scenarios 2012
November, 27, 2013
Nov 27
10:00
AM ET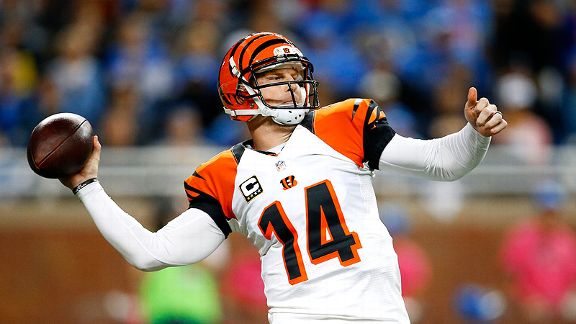 AP Photo/Rick OsentoskiThe Cincinnati Bengals are counting on Andy Dalton to return to the form that helped lead the team to a 4-1 record in October.
CINCINNATI -- Earlier this week,
Cincinnati Bengals
players like cornerback
Chris Crocker
were adamant in pointing out the urgency they need to play with throughout the
month of December
.
"It's all about winning in December," Crocker said. "Let's win out and see where the chips lay. Why can't we win out? I don't see why we can't."
If you ask some Bengals fans and most NFL analysts, they'll give you one big reason why they don't believe Cincinnati will be able to go 5-0 to close out the regular season: No. 14.
That's right. To some, the primary obstacle in the way of end-of-season perfection for the Bengals is
Andy Dalton
, the player who has quarterbacked the franchise into the playoffs each of the past two seasons, and who constantly is trying to prove himself to those who consider him just another member of a mostly failed 2011 quarterback draft class.
For that reason, as the Bengals gear up for a stretch run that could give them a first-round bye and home-field advantage in the playoffs, an important question has to be asked.
Can December Andy mimic October Andy?
As we've written countless times in the past month, October Andy was indeed a dandy. Through the first four games of that month, Dalton threw for 1,243 yards and 11 touchdowns. He also completed 67.9 percent of his passes, won four games, had a passer rating higher than 116.0 and a QBR above 83.0. He was, quite simply, brilliant. His play was so sharp back then that on the final day of the month, hours before the Bengals were set to take on the Dolphins in a road Thursday night game, he was named the AFC's Offensive Player of the Month.
And, yes, even though, comparatively speaking, he didn't look as good overall against the Dolphins and ended up taking the game-winning sack for a safety in overtime, Dalton still had a rather special performance in the 22-20 loss. Aside from not completing a touchdown pass and getting intercepted three times, he threw for 338 yards, marking the fourth straight game he had gone over the 300-yard passing mark.
Overall, October Andy was Good Andy.
But now here comes December with all of its postseason potency. If Cincinnati hopes to set itself up for the type of playoff seeding Crocker believes it deserves, then it will have to play its best ball across the next five weeks. That's especially the case for Dalton and a Bengals offense that has looked rather anemic in the past three games.
One look at Dalton's previous December stats and it doesn't appear the third-year star should have any problem showcasing even a sliver of the success that made him and his team so good about two months ago.
After a rocky December as a rookie in 2011, Dalton was among the difference-makers last season when the desperate Bengals were in need of a strong final month just to secure a playoff berth. One year after going 2-2 in the month, Dalton went 4-1 during December 2012. The lone loss came after the
Dallas Cowboys
made a field goal in the final seconds to win 20-19.
While the level of desperation may be different this December, the Bengals are looking for Dalton to thrive under similar pressure-packed moments during this one. This time around, the pressure on Dalton mainly stems from the fact that so many are fed up with his play from the past three games. In them, he's thrown eight interceptions and been sacked 10 times. Across the latter two of those games, he's completed fewer than 50 percent of his passes and hasn't posted a QBR higher than 18.0.
Weather factored heavily in Dalton's inability to move the ball in those two games. Windy conditions at Baltimore and windy and rainy conditions against the Browns sent some of his passes sailing and forced others into the hands of defensive backs.
Although weather shouldn't be a concern this weekend in San Diego (the forecast calls for partly cloudy skies and a delightful high of 71 degrees Sunday), it could be the rest of the season. Farmer's Almanac projects cold, damp conditions for all of December in the Ohio Valley. It should be noted that after Sunday's game, the Bengals are home three of the next four weeks. Their only remaining road game is at Pittsburgh.
Throughout his career, Dalton has performed better in warmer games. In games with temperatures 50 degrees or higher, he has a 20-14 record, an 85.1 passer rating and a 52.5 QBR. In games with temperatures at 49 and lower, he has a 5-5 record, a 75.4 passer rating and a 32.9 QBR. Dalton's last three sub-49-degree wins came last December, though; a sign that perhaps he's turning a corner in cold-weather contests.
Whatever the conditions and whomever their opponents are, when it comes to the next five weeks, the Bengals can only hope that Dalton turns into the same man who torched through this October.
May, 24, 2012
5/24/12
12:00
PM ET
Yes, the start of training camps is two months away, but it's never too early to consider the coming season. A look at the best-case and worst-case scenarios for the Steelers in 2012.

Dream scenario (13-3)
: Losing a handful of veterans this offseason won't impact the Steelers' play on the field. The Steelers show last year's division champion (the Ravens) and the division's upstart team (the Bengals) that they still own the division as long as
Ben Roethlisberger
is healthy and the defense is at full strength. A return trip to the Super Bowl would follow their pattern (Pittsburgh went in the 2008 and 2010 seasons).
Roethlisberger thrives in Todd Haley's offense much like Kurt Warner did. The biggest change is a quicker release, which will allow
Mike Wallace
,
Antonio Brown
and
Emmanuel Sanders
to show off their elusiveness and make yards after the catch. The offensive line becomes the best in the AFC North with center
Maurkice Pouncey
staying healthy, right tackle
Marcus Gilbert
continuing to develop and rookies
David DeCastro
and
Mike Adams
living up to expectations.
The Steelers' pass rush is even stronger this season because
James Harrison
and
LaMarr Woodley
will be on the field together for more than a handful of games this year. The run defense is bolstered by the return of nose tackle
Casey Hampton
, who is able to start the season despite having knee surgery in January. The combination of
Larry Foote
and
Stevenson Sylvester
makes up for the loss of inside linebacker
James Farrior
.
Nightmare scenario (7-9)
: Pittsburgh underestimates the loss of leadership after parting ways with Farrior,
Hines Ward
,
Aaron Smith
and
Chris Hoke
. The Steelers also struggle more than expected with the injuries to Hampton and running back
Rashard Mendenhall
(knee surgery in January). It's tough to win in one of the top divisions in football when you're not at full strength.
The key to any Steelers season is the health of Roethlisberger. While the Steelers' offensive line has the potential to rank among the best, this year could be a transitional one as well. Roethlisberger could take a good number of hits behind a line that starts two rookies and moves tackle
Willie Colon
to guard. Losing Roethlisberger will result in a losing season. Pittsburgh would then have to depend more on a running game without Mendenhall.
Isaac Redman
has shown flashes, but he is a question mark as a featured back.
Defensively, the run defense becomes vulnerable in the middle with the injury to Hampton and the loss of Farrior. Hampton starts the season on the physically unable to perform list, and
Steve McLendon
and rookie
Alameda Ta'amu
can't fill the void. The pass defense takes a step back if one of the young cornerbacks (
Keenan Lewis
,
Cortez Allen
and
Curtis Brown
) can't replace
William Gay
.
May, 24, 2012
5/24/12
11:30
AM ET
»
AFC Scenarios
:
East
|
West
|
North
|
South
»
NFC
:
East
|
West
|
North
|
South
Yes, the start of training camps is two months away, but it's never too early to consider the coming season. A look at the best-case and worst-case scenarios for the Ravens in 2012.
Dream scenario (13-3)
: The Ravens come back more motivated after falling a couple plays short of getting to the Super Bowl. Baltimore takes care of its biggest distractions before the season by signing quarterback
Joe Flacco
and running back
Ray Rice
to long-term deals. The Ravens go on to produce the best record in the AFC and have home-field advantage throughout the playoffs.

Flacco backs up his claim of being an elite quarterback and finally takes control of the offense. He has a reputation makeover similar to the one
Eli Manning
had. Flacco gets help in the passing game with wide receiver
Torrey Smith
and tight end
Ed Dickson
, who stretch the field even more in their second seasons as starters. Rookie second-round pick
Kelechi Osemele
is able to make the transition from college tackle to left guard, which is the biggest question mark on the Ravens' offensive line.
Outside linebacker
Terrell Suggs
gives the defense a big boost when the NFL's reigning defensive player of the year is able to return in early November from an Achilles injury. Rookie second-round pick
Courtney Upshaw
steps up to replace
Jarret Johnson
as the team's edge-setter on run defense. And Baltimore shuts down some of the best wide receivers in the NFL with the league's most impressive pair of cornerbacks in
Lardarius Webb
and
Jimmy Smith
.
Nightmare scenario (7-9)
: Baltimore can't shake the crushing loss in the AFC Championship Game and fails to make the playoffs for the first time in the John Harbaugh era. The injury to Suggs is too tough to overcome, and Rice isn't the same player after skipping offseason workouts and training camp. Not being at the top of their game hurts the Ravens, who have the fourth-toughest schedule in the NFL.
The offensive line shows some cracks with declining left tackle
Bryant McKinnie
and overhyped right tackle
Michael Oher
. Center
Matt Birk
begins to show his age (he turns 36 in July), and Baltimore fails to adequately replace Pro Bowl left guard
Ben Grubbs
. The lack of consistency up front puts more pressure on Flacco, who is forced to rush and throws more interceptions than he has in the past.
Anquan Boldin
watches his receptions decrease for a third straight season, and Torrey Smith drops more deep passes than he catches.
Defensively, Suggs is able to return late in the season but he doesn't have the explosiveness to be effective. The Ravens drop out of the top 10 in defense for the first time since 2002 because
Paul Kruger
can't replace Suggs,
Ray Lewis
' play slows down with his age (37) and
Ed Reed
stays in a funk because he's unhappy with his contract.
May, 24, 2012
5/24/12
11:00
AM ET
»
AFC Scenarios
:
East
|
West
|
North
|
South
»
NFC
:
East
|
West
|
North
|
South
Yes, the start of training camps is two months away, but it's never too early to consider the coming season. A look at the best-case and worst-case scenarios for the Browns in 2012.

Dream scenario (8-8)
: The Browns reap the rewards of a third straight successful draft and produce their first non-losing season since 2007. Team president Mike Holmgren and general manager Tom Heckert are vindicated for making the right moves, and head coach Pat Shurmur shows what he can do when he has a full offseason with a team. While this isn't a playoff team yet, this season proves that the team is headed in the right direction.
First-round running back
Trent Richardson
becomes the centerpiece of the Browns' offense, providing a tough and mean attitude. He lives up to expectations of being the No. 3 overall pick and is the NFL Offensive Rookie of the Year. First-round pick
Brandon Weeden
makes an immediate impact with his big arm, convincing everyone that he is a franchise quarterback. He is also the mature leader that the offense needs.
On defense, tackle
Phil Taylor
returns earlier than expected from his pectoral muscle injury and misses only a handful of games. Middle linebacker
D'Qwell Jackson
proves he's worth his new five-year, $42.5 million deal and leads the NFL in tackles. Linebacker
Scott Fujita
wins the appeal of his three-game suspension from the Saints' bounty scandal and starts the season opener. The addition of defensive end
Frostee Rucker
significantly improves a run defense that ranked 30th in the NFL last season.
Nightmare scenario (3-13)
: The Browns hit rock bottom, struggling against the NFL's third-toughest schedule. The hot seat is scorching for Shumur, and there are constant questions whether Holmgren and Heckert will be around when the Browns select first in the 2013 draft.
The biggest problem is a lack of playmakers on offense. Richardson is a physical runner but he can't break tackle after tackle. Defenses load the box with eight and nine players because they don't fear any of the wide receivers.
Greg Little
continues to drop passes and
Mohamed Massaquoi
continues to underachieve. Rookie
Travis Benjamin
brings speed but doesn't have the size to get off the line. That is all compounded by Weeden making too many mistakes when pressured, which was the knock on him coming out of college.
The defense's biggest weakness -- run defense -- gets exploited even more when Taylor takes longer than expected to recover. Rookie defensive linemen
John Hughes
and
Billy Winn
play like rookies in trying to replace him. Defensive end
Jabaal Sheard
isn't as disruptive as he was as a rookie, and Rucker is a disappointment as the team's top free-agent signing.
May, 24, 2012
5/24/12
10:30
AM ET
»
AFC Scenarios
:
East
|
West
|
North
|
South
»
NFC
:
East
|
West
|
North
|
South
Yes, the start of training camps is two months away, but it's never too early to consider the coming season. A look at the best-case and worst-case scenarios for the Bengals in 2012.

Dream scenario (11-5)
: The Bengals end their three-decade-long streak of inconsistency and put together back-to-back winning seasons for the first time since 1981-82. Cincinnati wins its second division title in four years and hosts a playoff game at a sold-out Paul Brown Stadium.
The offense takes another step forward in coordinator Jay Gruden's second season.
A.J. Green
becomes a top-five receiver in the NFL and turns in a
Calvin Johnson
-like season (Johnson produced 1,331 yards and 12 touchdowns in his second season). Wide receiver
Brandon Tate
and rookie third-round pick
Mohamed Sanu
make surprising impacts and fill the void left by
Jerome Simpson
and
Andre Caldwell
. The running game goes from plodding to productive with
BenJarvus Green-Ellis
and two new run-blocking guards in veteran
Travelle Wharton
and first-round pick
Kevin Zeitler
.
The defense remains top 10 in the NFL and avoids a second-half swoon like last season.
Rey Maualuga
becomes a force in the middle now that he is healthy and adjusted to playing inside linebacker again. Cornerback
Leon Hall
is able to start the season after making a full recovery from last season's Achilles injury. The rest of the cornerbacks (
Adam Jones
,
Jason Allen
and
Terence Newman
) show they still have first-round talent. Safety
Reggie Nelson
lives up to his new four-year, $18 million contract.
Nightmare scenario (6-10)
: New players, same result. Even with an influx of young talent, the Bengals once again show they can't follow up a successful season, which crushes the momentum built from last year's surprising playoff season and productive offseason. This would follow the Bengals' pattern. Cincinnati had a four-win season after the last time it had gone to the playoffs in 2009.
Quarterback
Andy Dalton
suffers from a sophomore slump and regresses after defenses have had a full offseason to dissect him. Green also can't put up the same numbers from a year ago, although it's not his fault. Defenses clamp down on him because the Bengals don't have anyone to step up to become the No. 2 wide receiver. Green-Ellis, who averaged 3.7 yards per carry, doesn't upgrade the running back position over
Cedric Benson
.
Defensively, the Bengals start the season without Maualuga, who receives a suspension for violating the personal conduct policy. Hall doesn't heal as fast as expected and begins the season on the physically unable to perform (PUP) list, meaning he misses the first six weeks of the season. His replacements prove to be either too old (Jones, Allen and Newman) or too young (first-round pick
Dre Kirkpatrick
). New starting safety
Taylor Mays
becomes a liability in pass coverage.