February, 7, 2014
Feb 7
11:00
AM ET
The
Baltimore Ravens
need a free safety. General manager Ozzie Newsome acknowledged it last month when he mentioned that adding "a more athletic safety" is among the team's priorities.

So, when a free safety makes some news, it's going to generate interest with Ravens fans. Case in point: emails and tweets starting coming in after former
Green Bay Packers
Nick Collins
told
ESPN.com's Rob Demovsky
that he was "optimistic" about a comeback.
Collins hasn't played since he sustained a neck injury in Week 2 of the 2011 season and has been out of football since being released in April 2012. While bringing in a former three-time Pro Bowl defender is intriguing, no one knows what a nearly three-year absence from the game has done to him. The Ravens wouldn't sign him as a starter because of that. If he's willing to come cheap and earn a job, that's a different story.
Here are some potential options for a veteran free safety this offseason (and the Ravens typically prefer salary-cap cuts because they don't count against them in terms of compensatory picks) ...
POSSIBLE SALARY-CAP CASUALTIES
Michael Griffin, Titans
: He seems more suited to playing centerfield. As ESPN's Paul Kuharsky put it, Griffin has had an up-and-down career, playing his best when surrounded by a good secondary, and struggling when he has not been. He will count $8 million against the cap in 2014, so the Titans could look to part ways.
Louis Delmas, Detroit Lions
: What stands out is he's 26, comes up with big plays and has graded out as a top-25 safety by Pro Football Focus. The drawback is his history with knee injuries. He's due $6 million in salary and bonuses, and the Lions need to create salary-cap room.
Thomas DeCoud, Atlanta Falcons
: There's a question on which DeCoud will show up. In 2012, DeCoud went to the Pro Bowl after making six interceptions, which ranked second among NFL safeties. Last season, defensive coordinator Mike Nolan called out DeCoud for slumping. The Falcons can clear $3 million off their cap by cutting him.
Pat Chung, Philadelphia Eagles
: He's failed to match his breakout 2010 season. Chung was burned often last season and didn't force a turnover. He may have more value on special teams.
UNRESTRICTED FREE AGENTS
Jairus Byrd, Buffalo Bills
: Too expensive. Move along.
Chris Clemons, Miami Dolphins
: He's a very underrated defender. Not many knew Clemons was the ninth-best safety in coverage, according Pro Football Focus. That's one spot behind the more well-known Byrd. Only 11 completed passes were credited against Clemons all season. The Dolphins will likely try to keep him.
Stevie Brown, New York Giants
: He's a big question mark in free agency. Brown missed all of last season with an ACL injury. The year before, he went from a journeyman to a ballhawking defender with eight interceptions. Brown should come relatively cheap given that he's coming off injury and made very little impact in his first two seasons.
Malcolm Jenkins, New Orleans Saints
: Former first-round pick has always shown great potential as a playmaker, but he has also been inconsistent at times in pass coverage and as an open-field tackler. The Saints may let him go elsewhere because of their cap troubles.
May, 3, 2011
5/03/11
1:00
PM ET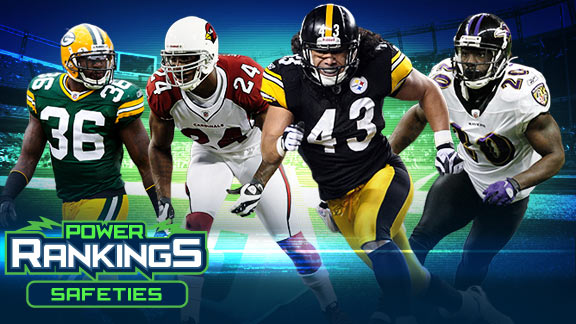 ESPN.com IllustrationPittsburgh's Troy Polamalu (43) and Baltimore's Ed Reed (20) were the consensus top picks in the ESPN.com safety Power Rankings.
ESPN.com's NFL writers rank the top 10 safeties in the league today. Next week: top 10 owners.
When it comes to rating NFL safeties, there's
Troy Polamalu
and
Ed Reed
followed by a huge gap before everyone else.
As expected, the star safeties for the
Pittsburgh Steelers
and
Baltimore Ravens
dominated ESPN.com's positional Power Rankings this week. No other safety received a vote higher than third place.
But what is surprising is that Polamalu -- the reigning NFL Defensive Player of the Year -- became the first player in this year's series to sweep all eight first-place votes. Bill Belichick of the
New England Patriots
did the same
among head coaches
.
This should finally put to rest the
"Troy Reed" debate
that has been raging for years between these two great safeties. According to our panel, there is a clear separation between the two. Reed received all second-place votes to finish with 72 points.
"Polamalu and Reed are the secondary's version of
Tom Brady
and
Peyton Manning
. They are the gold standard of safety play," AFC West blogger Bill Williamson said. "While Reed is great, Polamalu is stunning. I've never seen him play and not make a jaw-dropping play."
Both safeties have different styles. But our panel preferred Polamalu's versatility to play closer to the line of scrimmage. Steelers defensive coordinator Dick LeBeau uses Polamalu all over the field to help defend both the run and the pass.
Reed is more of a ballhawking safety who defends the deep portion of the field. He led the NFL with eight interceptions last season despite missing six games because of offseason hip surgery.
"Taking nothing away from Ed Reed, who is a great player in his own right, but Troy Polamalu is the first guy I think of when I think of safeties," NFC South blogger Pat Yasinskas said. "He's been a huge force in Pittsburgh's recent championships. He's just a great all-around player and still in the prime of a career that's going to land him in the Hall of Fame on the first ballot."
Don't fret, Reed supporters. Someone is in your corner.
Earlier this year I interviewed
former five-time Pro Bowl safety and current ESPN analyst
Darren Woodson
, who said he would choose Reed over Polamalu.
"As far as changing the game, I would probably start my defense with Ed Reed, to be honest with you," Woodson explained. "I know I can put him in any situation. I know I can put him on any team, and he will be the free safety in the middle of the field who makes plays on the ball. Now, Troy, it will be a little different. If you put him in a conventional defense, he's probably not going to be the same guy."
The best of the rest:
There wasn't much of a consensus after Polamalu and Reed.
Fresh off a big interception return for a touchdown in Super Bowl XLV,
Nick Collins
of the
Green Bay Packers
finished third with 56 points. But Collins received votes as high as third and as low as seventh. He was a distant 24 points behind Polamalu and 16 points behind Reed.
Adrian Wilson
of the
Arizona Cardinals
finished fourth, but he drew the widest range of votes among safeties in the top 10. ESPN.com senior writer John Clayton and Bill Williamson ranked Wilson No. 3, and NFC North blogger Kevin Seifert ranked Wilson No. 10.
In the final tally,
Kansas City Chiefs
upstart
Eric Berry
was fifth,
Michael Griffin
of the
Tennessee Titans
placed sixth and
Donte Whitner
of the
Buffalo Bills
finished seventh. New England Patriots safety
Brandon Meriweather
was eighth,
Antrel Rolle
of the
New York Giants
was ninth and the
Indianapolis Colts
'
Antoine Bethea
and
LaRon Landry
of the
Washington Redskins
tied for 10th.
"There is a pretty wide gap for sure after the top two," said Matt Williamson of Scouts Inc. "Nick Collins would be my third safety, but the gap is pretty large. I think it is because Troy and Reed are just so good."
Seventeen safeties received votes, which was the second-highest total to date in our Power Rankings. Last month, 23 cornerbacks received votes for our top 10.
In addition, every voter had at least one player on his ballot who failed to make the cut. For example, NFC West blogger Mike Sando and I both voted for longtime
St. Louis Rams
safety and current Redskin
Oshiomogho Atogwe
, who finished 14th.
"I really struggled putting together the list after Polamalu and Reed," Sando said. "I kept shuffling around names and eliminating various guys, only to revive them out of necessity. This wasn't a list to feel good about."
What about Bob?
It was not long ago when
Bob Sanders
was mentioned in the same sentence as Reed and Polamalu. When healthy, Sanders was a game-changing safety and helped lead the Indianapolis Colts to a Super Bowl title after the 2006 season.
But for the past three seasons, Sanders has been injured and spent more time off the field than on it. The Colts cut Sanders, and he was picked up this offseason by the
San Diego Chargers
.
It's dramatic how fast and how far Sanders has fallen out of the conversation. He didn't receive a single vote from our panel.
"Sanders just hasn't played," AFC South blogger Paul Kuharsky explained. "In his prime and healthy, he's fantastic. But who knows if we will see that again. He's played nine games in the last three years. There is no reason to even consider him for a list like this at this point."
The next generation:
Polamalu (30) and Reed (32) will not play forever. Therefore, someone needs to step up as the next great safety to carry the torch Polamalu and Reed will leave behind.
Berry, 22, is the most likely candidate. The 2010 first-round pick was voted in the top five after helping lead the Chiefs to the postseason. Berry recorded 92 tackles, two sacks and four interceptions his rookie season.
"I think it's safe to project that Berry will be the premier safety in the NFL in the second half of this decade," Bill Williamson said. "He became the signature player on a surprise playoff team as a rookie. Soon, he will be the face of a rising organization."
Other up-and-coming candidates include Whitner (25), Bethea (26) and Landry (26).
Seattle Seahawks
safety
Earl Thomas
, 21, also garnered votes from two panelists.
"Eric Berry and Earl Thomas should lead the next wave of top safeties," Sando said. "Berry's peers voted him among the top 100 players in the game for 2011, but I think it's premature to say Berry or any other second-year player is going to become the next Polamalu or Reed. Those guys have set such a high standard."
February, 9, 2011
2/09/11
12:00
PM ET
This week's "Take your pick
" in the AFC North blog involved two of the biggest turnovers in Super Bowl XLV.
We asked which play hurt the
Pittsburgh Steelers
the most:
Ben Roethlisberger
's interception that was returned for a touchdown or
Rashard Mendenhall
's fourth-quarter fumble?
Here are responses from our
AFC North inbox
:
The Fumble!
JD from Mt. Lebanon, Pa.,
writes: I honestly believe that Rashard's fumble was way more pivotal in the outcome of the game. This is nothing against Mendenhall, because he had the ball in tight, but the hit was picture perfect to knock out the ball. That being said, we showed that we were able to fight back from Ben's two picks, and we had all of the momentum going into that drive.
Max R. from Cincinnati
writes: The interception put the Steelers in a huge hole early, but throughout the game it felt like they were coming back to steal the lead. But when the fumble happened, that was pretty much the dagger when it came to momentum. All the wind in Pittsburgh's sails left and it was officially the
Aaron Rodgers
show from that point forward. I was rooting for the Packers so I was happy about this.
Michael from Washington, D.C.,
writes: The Mendenhall fumble was bigger. The Steelers had momentum, were establishing the run and were driving for a score at the start of the fourth quarter. That killed the momentum, and Green Bay drove for a touchdown and a commanding lead.
Scott from Utah
writes: The Mendenhall fumble was the biggest turnover of the three. Steelers had all the momentum on their side starting the fourth quarter and the Packers were sputtering big time on offense. The fumble rejuvenated the Packers and sent them on their way.
Alan from Pittsburgh
writes: Mendenhall's fumble was definitely more costly. One of Roethlisberger's interceptions came when he was hit as he was throwing and the defensive back made a great play on the other. I've always had issues with the way Mendenhall held the ball. We started that drive off in great field position for a chance to take the lead, but the ball went the other way thanks to Mendenhall's fumble.
The Interception!
Rich from Collegeville, Pa.,
writes: Although the Mendenhall fumble was a big shift in momentum, I still believe the key turnover was
Nick Collins
' interception of Big Ben. It directly resulted in points and put the Steelers in a big hole very quickly and put them in an insurmountable deficit.
Anthony from Princeton, N.J.,
writes: I gotta go with Ben's pick for sure. The pick six wasn't entirely his fault as he was hit on the play but the other INT he threw was forced into double coverage. Both of the INT's resulted in touchdowns which put my boys in an early deep hole. Mendenhall's fumble wouldn't have mattered that much if we weren't down because of Ben.
Brad from ATL
writes: Mendenhall's turnover provided Pitt's defense an opportunity to stop Green Bay's offense. Ben actually handed over a touchdown. No comparison.
Bill from Washington, D.C.,
writes: Pick six. Mendenhall fumble was bad, but I'll give some credit to
Clay Matthews
for sniffing out the play and getting his helmet to the forearm. Rothlisberger's pick was almost a blind throw -- he didn't read the defense and never looked off the route, but simply pumped and threw. It was a horrible decision and even worse execution, given the pressure in his face.
Milan from Canton, Ohio,
writes: Roethlisberger, and not a second thought about it. He touches the ball every play. He has the most responsibility in wins, he has the most responsibility in losses. That is just the dynamics of the game.
AFC North final say
James Walker:
Roethlisberger's interception led directly to points, but I think the timing of both plays is important. A fourth-quarter turnover is always bigger than a first-quarter turnover. So Mendenhall's fumble was more important for the Steelers. Down four points, Pittsburgh could have potentially taken the lead if Mendenhall doesn't lose the ball. A fourth-quarter lead for the Steelers may have resulted in a different outcome. Instead, they fell behind by 11 and couldn't get any closer.
If you have any future ideas for "Take your pick" in the AFC North, send them to
our division inbox
.
February, 6, 2011
2/06/11
8:00
PM ET


ARLINGTON, Texas -- The
Green Bay Packers
lead the
Pittsburgh Steelers
21-10 at intermission
of Super Bowl XLV.
Here are some notes at halftime:
September, 20, 2009
9/20/09
2:39
PM ET

Posted by ESPN.com's James Walker
GREEN BAY, Wis. -- The Packers and
Cincinnati Bengals
are tied in a shootout, 21-21, at intermission.

Here are some halftime notes:
Cincinnati tailback Cedric Benson is playing some of his best football as a Bengal. He is breaking tackles on first contact and often getting to the next level. Benson has 78 rushing yards in the first half.
Bengals quarterback Carson Palmer doesn't seem to have all of his timing back at this point in the season. Some of his throws are great and some are baffling, such as his two picks to Packers cornerback Charles Woodson. On the first turnover, Woodson played under receiver Chad Ochocinco and Palmer failed to read it properly. On the second pick, Woodson baited Palmer and broke on the football for a pick six.
Cincinnati's defense has been decent against Green Bay's high-powered offense. Palmer's picks have accounted for 14 of Green Bay's 21 points so far. But the Packers have only notched one lengthy drive in the first half.
Both teams played a sloppy first half. For Cincinnati, the team continues to have patches of mental errors on offense. There have been a rash of false start penalties and holding calls negating big plays.
Packers safety Nick Collins injured his shoulder late in the second quarter and didn't return. He walked off the field on his own and went into the locker room early. His return is questionable for the second half.