December, 13, 2013
12/13/13
12:00
PM ET
The
Baltimore Ravens
have given the
Detroit Lions
enough bulletin board material after safety
Matt Elam
made headlines by calling wide receiver
Calvin Johnson
"pretty old."
So check out how running back
Ray Rice
deftly handled himself when asked about the Lions' reputation for being physical and perhaps dirty.
"Their reputation, they definitely live up to it," Rice said.
Before you think Rice just pulled "another Elam," listen to how Rice explains himself.
"I don't know if you want to call it physical or dirty," Rice said. "Whatever the refs see, that's what they see. But needless to say, I'm not going to spark any fire."
The Lions are tied for 10th in the NFL in penalties this year. In fact, the Ravens have been penalized one more time than the Lions.
Defensive tackle
Ndamukong Suh
, who was voted the NFL's dirtiest player last year, has said he wants to
change the perception
about him. He has been flagged seven times this season (low block, tripping, two neutral zone infractions, face mask and holding) but hasn't received a personal foul.
Nick Fairley
, the Lions' other defensive tackle, has been the one who has been penalized twice for roughing the passer and twice for unnecessary roughness.
"We're looking forward to getting the best Ndamukong Suh and Nick Fairley on Monday night," Rice said. "If they're aggressive, they're going to be aggressive. You can't take that away from a guy. But now, you'll see now they're playing smart aggressive. They are not being penalized as much for the unsportsmanlike conducts. I watched on Thanksgiving when they played Green Bay; Ndamukong Suh gets a sack in the end zone and helps the guy up. That shows that he is becoming a very mature guy. The old him probably would have stepped over him and done some things, taunting him a little bit."
November, 21, 2013
11/21/13
5:48
PM ET
PITTSBURGH -- The
Cleveland Browns
defense is apparently as impressive on film as it is on paper.
Offensive coordinator Todd Haley said he thinks Phil Taylor and
Ahtyba Rubin
are even better than the
Detroit Lions
' defensive tackles
Ndamukong Suh
and
Nick Fairley
.
The
Pittsburgh Steelers
couldn't run on Suh and Fairley last Sunday as they mustered just 40 rushing yards in a 37-27 win over the Lions.
Next up for the Steelers are the Browns, who are yielding just 98.5 rushing yards per game and are fifth in the NFL in total offense. The Browns are one of three teams this season that have not allowed a 300-yard passer or 100-yard rusher in a game.
"I thought Detroit was real good but I think this team's better," Haley said on Thursday. "The front seven in general, I think, is probably the best front seven we've seen. We've got our work cut out for us because as we move into late November and December you've got to be able to run the ball effectively when they know you're running it."
Weather could be an issue in Cleveland as snow has been forecast for late Saturday night and early Sunday morning. Snow and that wind that always seems to swirl off nearby Lake Erie could limit how much the Steelers throw the ball -- and run the no-huddle offense that worked so well against the Lions.
The Lions held
Le'Veon Bell
to 36 yards last Sunday, and the rookie running back is averaging just 3.1 yards per carry. Haley said he is pleased with the progress Bell has made, citing his contributions in the passing game as well as some timely runs the former Michigan State star has made.
Haley said the Steelers need more big plays to improve a rushing attack that averages 76.5 yards per game.
"I want to see one of those breakout runs here pretty quick," Haley said. "We've had to work for every yard but I do feel like we're making progress even with some of the moving parts and different people we've had to plug in. What we need is a few of breakout runs. We're going to keep working, keep working technique and I think it will happen and hopefully it's happening at the right time."
November, 14, 2013
11/14/13
12:00
PM ET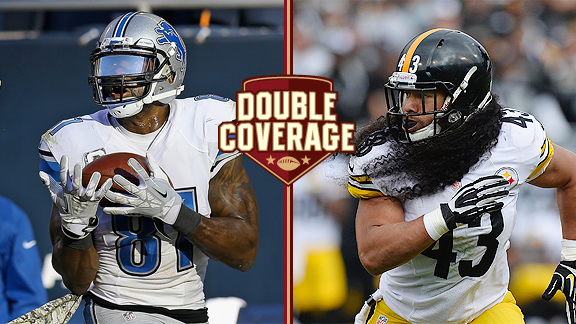 Getty ImagesCalvin Johnson's Lions look to continue their success against Troy Polamalu's struggling Steelers.
The respective histories of the
Detroit Lions
and
Pittsburgh Steelers
suggest that the latter would be 6-3 and the former 3-6 heading into their game Sunday at Heinz Field.
But it is the Steelers who have scuffled this season, and they are still trying to dig out from an 0-4 start. The Lions, meanwhile, sit atop the NFC North and have the pieces to make a lengthy postseason run assuming they can keep up their winning ways.
The Steelers have little margin for error as they try to stay on the fringes of the AFC playoff picture, and the Lions will try to maintain their grip in first place in the NFC North when the teams meet at 1 p.m.
ESPN.com NFL Nation reporters Michael Rothstein (Lions) and Scott Brown (Steelers) take a closer look at the first matchup between the two teams since 2009.
Brown:
Michael, I'm not surprised that the Lions are playing so well this season, and my question for you is, what has the signing of running back
Reggie Bush
done for the offense?
Rothstein:
It's been huge, Scott. Bush's signing in the offseason spreads defenses out and forces teams to make a choice. Either double
Calvin Johnson
or continuously roll safety coverage Johnson's way or bring a defender down into the box to stop Bush -- but that leaves things open for
Matthew Stafford
to find Johnson. He has the ability to take a dump-off play and turn it into a massive touchdown -- something he has done twice on screens this season. While he doesn't change the offense the way it would if Stafford or Johnson were missing, he's a massive cog there.
Speaking of that -- and I feel as if I've asked this question weekly -- how do you think Pittsburgh handles that matchup against the Detroit offense?
Brown:
Michael, it's hard to like the matchup if you are the Steelers. Speed in their secondary has been an issue this season, particularly at safety, and I'm not sure anyone can run with Bush if the Lions isolate him on linebacker or safety as a receiver.
The Steelers are going to have to pay Johnson the extra attention he demands, and last I checked they will only be allowed to have 11 defensive players on the field. Assuming the Steelers use a combination of double and bracket coverage on Johnson, there are going to be some one-on-one matchups that the Lions may be able to exploit.
The Steelers haven't generated a consistent pass rush this season, but it will be absolutely essential that they do so against Stafford. If he is allowed to get comfortable in the pocket Sunday it will be a long day for the Steelers.
The best thing the Steelers can do for their defense is to control the clock, but it won't be easy to run on Detroit's front seven. Does it start on the Lions' defense with tackles
Ndamukong Suh
and
Nick Fairley
, and how have other teams tried to neutralize those two?
Rothstein:
Yes, most of what Detroit does defensively starts with Suh, and to a lesser extent, Fairley. Suh is having one of the most consistent seasons of his career, this despite the constant presence on double teams each week. The attention Suh is given opens rush lanes for Fairley, but he hasn't been completely consistent taking advantage of them.
For every game he has like Sunday's against Chicago, he has a game where he disappears. But the pressure Suh, Fairley and the defensive line put on quarterbacks has led to incomplete passes and interceptions often.
If there is a concern with the Detroit defense, it is with its cornerbacks, who have been inconsistent. Can
Ben Roethlisberger
take advantage of this with his current crop of receivers?
Brown:
Antonio Brown
has really emerged as a No. 1 receiver and made the Steelers look smart for not overpaying for
Mike Wallace
. That said,
Emmanuel Sanders
has not been consistent enough to give the Steelers a receiving option to pair with Brown.
Sanders has a ton of talent, and he is a big-play threat. I keep waiting for him to break out. This could be the week for him to do it as the Steelers are going to have to score their share of points to keep up with the Lions. Lost in the Steelers' 55-31 loss at New England a couple of weeks ago is how much success the Steelers had attacking the Patriots' cornerbacks.
If the Lions' cornerbacks are vulnerable, the Steelers will go after them, and Detroit has to be mindful of the middle of the field where tight end
Heath Miller
and
Jerricho Cotchery
work and are trusted by Roethlisberger.
Michael, I don't see the Steelers winning this game unless they score a lot of points. What needs to happen for the Lions to lose?
Rothstein:
That's an interesting question, Scott, and with the Lions you just never know. I'd probably start with if any of the Lions' starters in the secondary went down with injury. That would necessitate playing either an inexperienced safety or rookie
Darius Slay
if one of the corners goes down. Roethlisberger is good enough that he'd pick on that side of the field consistently.
Another would be to force turnovers. Stafford has been quite good this season, essentially throwing less than two interceptions per 100 attempts (he has a 1.9 percent rate), which is in the top 10 of the league and tied with
Drew Brees
. If Detroit's offense can hold on to the ball and everyone is healthy, it'll score points.
I'll close out with this: You mentioned Pittsburgh trying to establish the run first. What's been going on there? It seems as if there has been a rotating cast of players because of injuries and other issues. Do the Steelers even have a reliable running attack?
Brown:
Depends on the week, it seems, when it comes to the Steelers' running game. It has gotten a lot better since
Le'Veon Bell
became the feature back, and the Steelers have rushed for over 100 yards in their last two games.
To put into perspective how important it is for the Steelers to establish the ground game, they have run the ball just over 51 percent of the time in their three wins and around 30 percent of their time in six losses.
The Steelers have to run the ball against the Lions, and a big component of that is not falling behind early, something that has been a problem this season.
November, 12, 2013
11/12/13
8:00
AM ET
Steel City wake-up: morning links
Dick LeBeau talked about the Steelers simplifying things on defense prior to their 23-10 win over the Bills, and that approach held Buffalo's formidable running game in check.
The Steelers allowed just 95 yards rushing in a win that they desperately needed, and they contained
C.J. Spiller
and
Fred Jackson
by staying in
their base defense
more than they had done since inside linebacker
Larry Foote
went down in the opener with a season-ending injury.
Young players such as nose tackle
Steve McLendon
and
Vince Williams
, Foote's replacement, were
stout against the run
while defensive end
Cameron Heyward
recorded a sack for the second game in a row.
Jarvis Jones
joined Heyward in the sack column, and his takedown of Bills quarterback
EJ Manuel
is not one he will soon forget. It was Jones'
first NFL sack
, and it at least puts to rest questions of when he is going to break through in that department.
The Steelers rushed for 136 yards in the win, but they are still
without a 100-yard rusher
in a game in more than a year. They did stay patient with the run against Buffalo, something they haven't done often this season in part because of their tendency of falling behind early in games.
The Steelers are still throwing considerably more than they are running it and that punctures
one of the myths
about how quarterback
Ben Roethlisberger
has been used since Todd Haley replaced Bruce Arians as the offensive coordinator.
Running the ball Sunday against the Lions won't be easy as Detroit has a pair of premier tackles in
Ndamukong Suh
and
Nick Fairley
. What won't make the task of blocking them any easier is yet another injury sustained by an offensive lineman.
Left guard
Ramon Foster
reportedly sustained a high-ankle sprain
against the Bills, and he is unlikely to play Sunday.
Detroit will bring
plenty of momentum
with it to Heinz Field. The Lions are 6-3 and sit atop the rugged NFC North after beating the Bears last Sunday.
April, 25, 2011
4/25/11
12:00
PM ET
ESPN.com has completed its annual blogger mock draft, and the picks for the AFC North were made in part by our community.
We put
together a draft board
last week, and like a good general manager, I stayed true to our board with every pick. Here were the results for the AFC North:
Cincinnati Bengals (No. 4 overall)
Pick:
LSU CB
Patrick Peterson

Peterson
Analysis:
The Bengals can be unpredictable with personnel decisions, and I have my doubts they will follow our draft strategy. But "Bengaldom" agreed that Peterson is the safest pick and perhaps the best player in this draft, and Cincinnati cannot afford to take any huge risks at No. 4. Peterson was the highest-rated player on our board. Thanks to the early run on quarterbacks --
Cam Newton
went No. 1 to Carolina and
Blaine Gabbert
No. 3 to Buffalo -- Peterson was there for the taking. The Bengals should have a feel by now if No. 1 corner
Johnathan Joseph
can be re-signed in free agency. An educated guess is several teams will be ready to offer Joseph more money on the open market. So Peterson could step right in and make an immediate impact on defense and special teams.
Cleveland Browns (No. 6)
Pick:
Georgia WR
A.J. Green

Green
Analysis:
This was the pick that made me cringe. I think Green is a tremendous talent, but I'm against taking receivers in the top 10. Yet Browns scouts in our community voted Green as their top choice, moving the receiver to No. 2 overall on our draft board. Alabama defensive lineman
Marcell Dareus
went No. 2 to Denver. So I saw this coming as the draft was unfolding. I would have gone defense here, either with North Carolina defensive end
Robert Quinn
or Auburn defensive tackle
Nick Fairley
, but majority ruled. As GM, I have to answer to the media if this pick doesn't pan out. So Green better be a star in Cleveland, Browns scouts, or I'm handing out pink slips.
Baltimore Ravens (No. 26)
Pick:
Ohio State DE
Cameron Heyward

Heyward
Analysis:
Players were flying off the board for Baltimore more than any team in the division. Is this a preview of what's going to take place on Thursday? Out of our top-five choices, three were gone by the time the Ravens were up with the No. 26 pick. Heyward was our fourth choice, but it's still a solid selection. He adds youth to the defensive line and also has the ability to get to the quarterback. Florida center
Mike Pouncey
(No. 15 to Miami), Colorado corner
Jimmy Smith
(No. 23 Philadelphia) and Purdue defensive end
Ryan Kerrigan
(No. 16 to Jacksonville) were all taken several picks earlier.
Pittsburgh Steelers (No. 31)
Pick:
Texas CB
Aaron Williams

Williams
Analysis:
The Steelers were probably the most fortunate AFC North team in this blogger mock draft. Four of their top-five players were still available at No. 31, which was unexpected. That included their two cornerbacks in Williams and Miami's
Brandon Harris
. Both corners can help Pittsburgh immediately. But Williams' versatility and physicality gave him an edge. If this scenario played out later this week, Pittsburgh would be more than happy to have to choose between these two corners.
Do you agree or disagree with this year's blogger mock draft picks? Voice your opinion in the comment section below.
March, 28, 2011
3/28/11
6:11
PM ET
Here are the latest happenings Monday evening in the AFC North:
March, 24, 2011
3/24/11
9:41
AM ET
By
ESPN.com staff
| ESPN.com
March, 11, 2011
3/11/11
4:00
PM ET
Here are the latest happenings Friday in the AFC North:
March, 9, 2011
3/09/11
8:00
AM ET
Here are the most interesting stories Wednesday in the AFC North: Morning take: Peyton Hillis is the starter in Cleveland, and the team is hoping for a healthy return of Montario Hardesty (knee). With the Browns trying to get younger, I don't see a 36-year-old Barber fitting in the equation.
Morning take: The Bengals are getting another look at quarterback Cam Newton, while both Ohio teams were checking out defensive lineman Nick Fairley.
Morning take: Taylor, a pending free agent, is still doing features on the Steelers' team website. Good sign?
Morning take: Cornerback Josh Wilson and guard Marshal Yanda are the two biggest free agents the Ravens want to retain. Baltimore has a chance to keep both.