August, 21, 2014
Aug 21
11:00
PM ET
PHILADELPHA -- Steelers coach Mike Tomlin suddenly has a lot more to worry about than his top two running backs facing citations for marijuana possession.
The Steelers' third preseason game turned out about as well as the infamous car ride that landed
Le'Veon Bell
and
LeGarrette Blount
in trouble and in unflattering headlines a day earlier.
The Steelers struggled in every aspect Thursday night at Lincoln Financial Field, and they were dominated when it mattered most in a
31-21 loss
to the
Philadelphia Eagles
.
The Eagles, crisper and more physical than their in-state rivals, raced to a 17-0 halftime lead when starters from both teams were in the game, and it could have been worse for the Steelers.
Philadelphia quarterback
Nick Foles
just missed on a few throws that would have netted big gains, but he still completed 19 of 29 passes for 179 yards and a touchdown before calling it a night.
Ben Roethlisberger
played two series in the second half, and he salvaged something from an otherwise forgettable night by leading a six-play, 79-yard touchdown drive in the third quarter.
Roethlisberger, who struggled with his accuracy and threw a bad interception in the first half, capped the drive with a 27-yard touchdown pass to tight end
Heath Miller
.
That march wasn't nearly enough to offset the ineptitude that the Steelers showed at times in all three phases of the game.
Some other thoughts from the Steelers' third preseason game:
Blount's play, ironically enough, was among the few positives that the Steelers could take away from the thorough beating they received from the Eagles. Blount, who alternated with Bell, rushed for 32 yards on seven carries and showed the nifty footwork that is unique for such a big back. Bell started the game and Blount also played on the first series.
If the preseason is any indication, the Steelers still haven't fixed a run defense that yielded 115.6 rushing yards per game last season. The Eagles repeatedly gashed the Steelers in the running game even though LeSean McCoy played just two series because of a thumb injury. The Eagles have one of the best offensive lines in the NFL, but Tomlin won't be happy with how they pushed around the Steelers. Defensive end Brett Keisel, who re-signed with the Steelers on Wednesday but didn't play against the Eagles, should help the defensive line. Improvement must be made across the board.
Wide receiver Justin Brown has faded and his hold on a roster spot should be tenuous after he failed to catch a pass despite getting extended work with the first-team offense as the No. 3 wide receiver. Brown, playing in place of Lance Moore, drew Roethlisberger's ire early when he ran a comeback route and had a pass sail over his head. The 2013 sixth-round pick was later flagged for offensive holding. In three preseason games Brown has three catches for 15 yards. Darrius Heyward-Bey, meanwhile, caught a 33-yard touchdown pass in the fourth quarter.
The Steelers didn't sustain a lot of injuries, but the two that were announced are worth watching. Linebacker Sean Spence left the game in the third quarter with a right knee injury and outside linebacker Jason Worilds didn't play again after hurting his right knee in the same quarter. Worilds may have been the Steelers' best defensive player before getting hurt. Of course that's not saying much considering that the Steelers gave up just under 500 yards of total offense.
There has to be some concern over Shaun Suisham, who has already missed two field goals in the preseason, the same number he missed all of last season. The 10th-year veteran has also missed a 33-yard extra point in preseason play.
December, 14, 2012
12/14/12
2:29
AM ET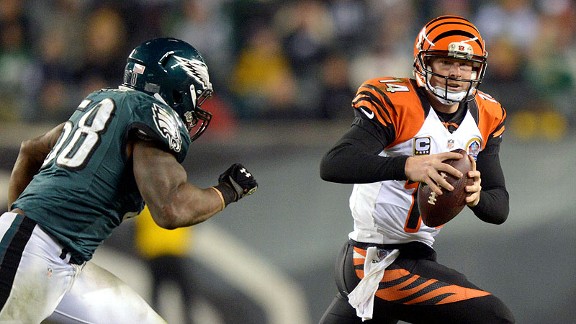 Kirby Lee/Image of Sport/USA TODAY SportsBengals QB Andy Dalton was harrassed all night by the Eagles defense, taking six sacks.
PHILADELPHIA -- The scoreboard reads that the Cincinnati Bengals won convincingly. The standings say the Bengals (8-6) are in the thick of the playoff hunt.
But, based on the Bengals' play in the
34-13 victory
over the Philadelphia Eagles, no one can take Cincinnati seriously as playoff contenders. A national television audience watched the Bengals commit too many penalties, allow too many sacks and make too many bone-headed plays to fill a gag reel and not a highlight reel.
Maybe you can chalk up the mistakes to the Bengals' youth. Maybe this team can turn it around and be the same team that beat the defending Super Bowl champion New York Giants. But if you're a team already in the playoffs, you want to play the Bengals after seeing them Thursday night. And if you're coach Marvin Lewis, you have to be concerned about what you witnessed at Lincoln Financial Field.
"I like our football team," Lewis said after the game. "I don't like how we play sometimes."
This is the time of year when teams need to start separating themselves from the pack. This is the time of season when teams need to show urgency. And this was the Bengals' best shot with the football world watching? Really?
Bengals quarterback
Andy Dalton
threw behind receivers and held onto the ball too long, which resulted in two fumbles with his arm cocked back. Cincinnati failed to protect him, allowing Dalton to get sacked six times. The Bengals committed 11 penalties for 94 yards, some of which were careless (offsides on defense) and others were head-scratchers (
Adam Jones
head-butting a receiver and
Carlos Dunlap
hitting quarterback
Nick Foles
when the play was blown dead). And what was
Brandon Tate
thinking when he fielded a punt at the 1-yard line?
The Bengals didn't win this game. They leave with a victory because they were lucky enough to run into a team that played sloppier than they did. This was was an early holiday present from a dysfunctional Eagles team. Philadelphia turned the ball over four times in five minutes. The Eagles turned the ball over on three consecutive touches. This paved the way for the Bengals to score 24 points in 3 minutes, 23 seconds, which turned a three-point deficit (13-10) into a 21-point lead (34-13). In fact, all of the Bengals' 34 points came off Eagles mistakes (five turnovers and one blocked punt).
Now, the Bengals finish the season with the biggest obstacle of the past two years: the Steelers and Ravens. In the Dalton era, Cincinnati is 0-6 against Pittsburgh and Baltimore. It's true that the Bengals are getting two teams that are hurting. But the Bengals can't believe they can beat their division rivals if they continue to hurt themselves.
"Why can't we? We need the games, period and point blank," Jones said. "We have to bring two chin straps. Hopefully we can bring our 'A' game."
Still, if the Bengals play like they did Thursday night, will they be in trouble? "Yeah, we will be," Jones said.
It was not too long ago that the Bengals had won four straight and made me believe they were primed to make a run. Now, there's a big question mark over the Bengals after a five-day stretch in which they lost in the final seconds to Dallas and played down to the level of the four-win Eagles.
The biggest concern is on the offensive side of the ball. This didn't resemble the same offense that averaged 28 points in the recent four-game winning streak.
Dalton finished 13-of-27 for 127 yards, which is a poor performance in itself. In the final three quarters, Dalton was 9-of-19 for 86 yards. Part of the problem was each offensive lineman took turns getting beat, allowing the Eagles to get clean shots on Dalton. There were so many Eagles there that they could have held a defensive-line meeting around Dalton.
But there were times when Dalton waited too long to get rid of the ball. On his second fumble, Dalton stood there so long that 305-pound defensive tackle
Cullen Jenkins
had enough time to start from the right of the center and run all the way around the left tackle to strip the quarterback.
The Bengals turned the ball over twice to an Eagles team that hadn't forced a turnover in six games. They gave up six sacks to an Eagles team that averaged less than two over the first 13 games. The defense jumped offsides three times. The offense had a delay of game at the Eagles' 6-yard line. The Bengals didn't produce a drive longer than 48 yards. One scoring drive was four plays for minus-1 yard. The embarrassing numbers can go on and on.
"We have to keep playing smart. I believe we caught a punt on the 1-yard line," Lewis said. "We try so doggarned hard that we sometimes get in our own way. Those are the types of things that you don't want to do. We have a lot to coach off of, obviously, and a lot of corrections to make. We have to keep going. We are who we are. We're going to fight, fight and scratch every time we come out here."
The penalties on Jones and Dunlap show a lack of discipline. "You got to be smarter than that. We know better than that," Lewis said. "Those are the things that going forward that will get us beat. We can't do those things."
If those things continue, the Bengals know the end result.
"You really can't have that if you really want to be a factor in the playoffs," said cornerback
Leon Hall
, who made the game-turning interception on a pass that hung up so high he could've called for a fair catch.
The Bengals also know what the next two games hold. If they can win at Pittsburgh and home against Baltimore, they are assured of back-to-back playoff appearances. There's also a chance of winning the AFC North if the Ravens stumble down the stretch.
"I like the situation is the fact that we control us," Lewis said. "That's all you can ask for here in December. We can control what we can do. If we take care of our business, we'll be where we want to be."
But after watching the Bengals on Thursday night, they are far away from being the team they want to be.
December, 12, 2012
12/12/12
3:00
PM ET
A team in the playoff hunt gets a rookie quarterback starting his fifth career game. Sounds like a gimme, right? Not when it comes to the Bengals.
In a statistic that will likely surprise you, the Cincinnati defense has performed better against veteran quarterbacks than rookie ones this season. Rookie quarterbacks have a passer rating of 98.5 in four starts against the Bengals while veteran quarterbacks have produced a 79.5 rating in nine starts.
The Bengals will try to reverse that trend Thursday night, when they play the Eagles and rookie quarterback
Nick Foles
. Cincinnati is 2-2 against rookie quarterbacks this season, losing the last two games against them. The Bengals have beaten
Brandon Weeden
and
Robert Griffin III
but have lost to
Ryan Tannehill
and Weeden (the second meeting with the Browns).
Rookie quarterbacks have completed 64.2 percent of their throws against Cincinnati this season for an average of 249.2 yards per game. They have thrown five touchdowns and one interception.
Veteran quarterbacks have connected on 63.5 percent of their passes against the Bengals with nine touchdowns and nine interceptions. They average 242.3 yards passing per game.
Now the Bengals get Foles, who won his first NFL game in dramatic fashion. He threw two touchdowns in the final four minutes of a 23-21 win over Tampa Bay, including the winning, one-yard touchdown pass as time expired. Foles finished 32-of-51 for 381 yards.
"Nick Foles has come in and been productive with what they're doing," coach Marvin Lewis said. "The thing that he's doing is giving them the opportunity to move the ball consistently."
April, 24, 2012
4/24/12
2:00
PM ET
It would be surprising to see the
Cleveland Browns
select Texas A&M's
Ryan Tannehill
with the fourth overall pick, but the team will have plenty of opportunities to take another second-tier quarterback one with their next three picks (Nos. 22, 37 and 67).
The Browns' options are: Oklahoma State's
Brandon Weeden
, Arizona State's
Brock Osweiler
, Arizona's
Nick Foles
and Michigan State's
Kirk Cousins
. I'm against the Browns drafting a quarterback in the first three rounds because
none are a significant upgrade
over what they already have in
Colt McCoy
.
Gary Horton of Scouts Inc. analyzed the secondary market and the best fits for teams around the league. You'll need a subscription to read the entire
Insider piece
,

but here are the highlights regarding the Browns:
Kirk Cousins, Michgan State
Ht/Wt
: 6-2/209.
Projection
: Second or third round.
Horton's comment
: Kirk Cousins would fit Brad Childress' West Coast offense well and they might be able to get him at No. 67. The question is: How much of an upgrade would he be over McCoy? Would he solidify the position, but not necessarily improve it?
Nick Foles, Arizona
Ht/Wt
: 6-5/244.
Projection
: Third or fourth round.
Horton's comment
: Foles could be an interesting guy because he may be a little more NFL-ready, plus he could grasp the offense fairly quickly. However, the Browns would likely have to use their second-round pick to get him.
Brandon Weeden, Oklahoma State
Ht/Wt
: 6-3/219.
Projection
: Late first round or early second round.
Horton's comment
: Cleveland could take Weeden at No. 22, as he would potentially be a good fit in this scheme, but it's more likely that they would look to take him at No. 37.