July, 31, 2014
Jul 31
4:59
PM ET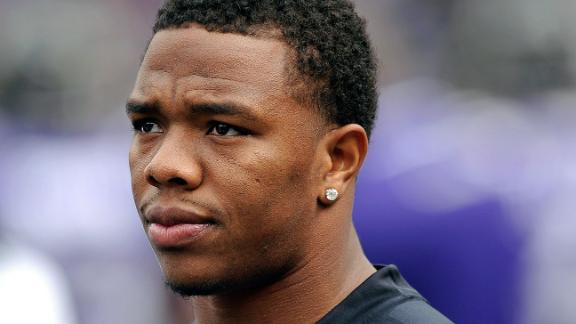 OWINGS MILLS, Md. -- In stark contrast to
Ray Rice
's awkward news conference in May, the
Baltimore Ravens
running back showed Thursday that he finally understood the weight of his actions from the alleged altercation with his then-fiancée in February.
He delivered the correct message, one the NFL failed to do last week with the two-game suspension, by not only apologizing to his wife, Janay Palmer, but also expressing a desire to become an advocate for domestic-violence causes.
Rice was compelling in his contrition, calling it the biggest mistake of his life. He stood in front of the microphone alone, without his wife standing by his side, and took full responsibility for the incident. Perhaps more importantly, Rice actually said the words "domestic violence," which weren't heard in his statement two months ago.
"My actions were inexcusable," Rice said. "That's something I have to live with the rest of my life."
Before anyone pats Rice on the back, this is what he should have said the first time when he broke his silence in May. Instead, Rice nervously fumbled through notes on his phone and apologized to team officials and his sponsors. That debacle of a news conference came across as damage control to his image.
His 17-minute news conference Thursday hit the right tones. He apologized to all women affected by domestic violence. He accepted the blame for losing the respect of fans. Rice came across as genuinely sorry.
"I let my wife down, I let my daughter down, I let my wife's parents down, I let the whole Baltimore community down," Rice said.
Rice's biggest misstep was not talking about what happened in the elevator. He was asked twice about it and declined to answer both times. His stance against domestic violence would have resonated stronger if he had explained his transgressions.
"I'll be honest: Like I said, I own my actions," Rice said. "I just don't want to keep reliving the incident. It doesn't bring any good to me. I'm just trying to move forward from it. I don't condone it. I take full responsibility for my actions. What happened that night is something that I'm going to pay for the rest of my life."
The only way Rice can move forward from this incident and show he's truly sincere is through his actions. It's not by his words. It's not by a hefty donation, which is merely a gesture. It's by proving this will remain a "one-time incident" and by supporting domestic-violence causes.
Thursday represented a small step forward for Rice. But it was an important one.
September, 13, 2012
9/13/12
12:44
PM ET
Cleveland Browns
rookie quarterback
Brandon Weeden
was bad. Very bad. The worst quarterback in the NFL after one game.
That doesn't mean Weeden should be benched. The notion that the Browns should sit him for Sunday's game against the
Cincinnati Bengals
is short-sighted.
Let's be honest, making the playoffs isn't a realistic goal for Cleveland. The main objective is to figure out whether Weeden can be a franchise quarterback. The Browns need to start him for 16 games because they can't go into next season with any questions about Weeden.
It's not going to be easy or pretty at times. Case in point: Sunday's season opener when Weeden posted a quarterback rating of 5.1. According to ESPN Stats & Information, that's the lowest passer rating by a rookie in a season opener since 1960. Washington's Norm Snead previously held that distinction (7.5 in 1961).
I admit that I didn't break down any film of Snead, but I did see Weeden's disastrous debut.
Greg Little
continues to drop passes.
Trent Richardson
couldn't keep the Eagles honest with 39 yards rushing on 19 carries.
Where the supporting cast really let down Weeden is pass protection. He threw under duress 11 times. Only
Michael Vick
and
Andrew Luck
faced more consistent pressure. Staying poised in a collapsing pocket is where Weeden needs the biggest improvement. Three of his four interceptions came under pressure. This shouldn't come as a surprise. Shortly after the Browns drafted Weeden in the first round, two college defensive coordinators who beat Weeden say
he got rattled
when pressured.
"It's one bad game," Weeden told reporters Wednesday. "If I continue to do bad things, that's on me. I think they (the Browns) have a lot of confidence in me and my abilities and they wouldn't have named me the starter if they didn't. I've just got to prove to them that I'm the guy. When it's all said and done and you drop the helmet, you've got to play better."
It didn't help matters for the Browns or Weeden that his dismal outing came during the same time
Robert Griffin
III (the quarterback the Browns failed to land in a pre-draft trade) was lighting it up for the Redskins. RG3 is the first quarterback in league history to throw for 300 yards, two touchdowns and no interceptions and win in his NFL debut. So, Weeden had one of the worst debuts ever for a rookie quarterback and RG3 had one of the best.
But no one expected Weeden to be RG3. They do, however, expect Weeden to solidify the Browns' quarterback position. That's why the Browns drafted him with the No. 22 pick. That's why they can't even think about benching him after one game.