September, 26, 2014
9/26/14
2:45
PM ET
OWINGS MILLS, Md. -- The entire
Baltimore Ravens
organization celebrated O.J. Brigance's 45th birthday after Friday's practice.
Brigance, the Ravens' senior adviser to player development, was told he had five years to live when he was diagnosed with amyotrophic lateral sclerosis. That was seven years ago.
[+] Enlarge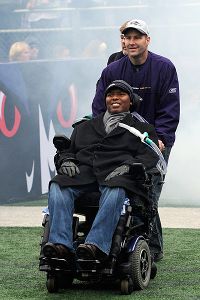 AP Photo/Steve RuarkO.J. Brigance, the Ravens' senior adviser of player development, in February 2013. Brigance celebrated his 45th birthday with the team Friday.
Each passing birthday for Brigance has been more than celebrating a day. It's celebrating his fight against the debilitating disease.
Before bringing Brigance into the cafeteria, coach John Harbaugh told the players about how Brigance kicked his team's butt on special teams and called him "the strongest man in the building."
The players and coaches gave Brigance a standing ovation when he arrived in a wheelchair and sang "Happy Birthday" to him.
"Even though he doesn't stand on his two legs, he stands above all of us," Harbaugh told reporters. "We think he's a great leader and we look to him everyday for strength and encouragement. I think he's the heart and soul of what we're about with the Ravens."
Brigance has become an ambassador for the battle against ALS, a progressive and fatal disease that shuts down nerve cells responsible for movement but doesn't impair the brain or any of the senses.
No long-term prognosis on Pitta
: Harbaugh was told that tight end
Dennis Pitta
's hip surgery was successful but he didn't have many details. When asked about Pitta's long-term future, Harbaugh said. "I have no information on that." Pitta was placed on injured reserve this week after injuring his hip Sunday in Cleveland. It's the same right hip he had surgery on last year.
Guy fits Ravens defense
: The Ravens believed defensive end
Lawrence Guy
would work well in their defense after seeing the physicality he played for the
San Diego Chargers
on tape. "We got final confirmation from Double J [former linebacker
Jarret Johnson
, who now plays for the Chargers]," Harbaugh said. "We texted him and he gave us his stamp of approval. He said, 'He's got Ravens-like qualities.' So, that was all we needed to hear at the end." Guy was signed by the Ravens to provide depth at defensive end because
Chris Canty
has missed practice all week with a knee injury.
No change in Steve Smith
: There has been no difference in wide receiver Steve Smith in practice this week compared to his previous ones, according to Harbaugh. Smith is playing the
Carolina Panthers
on Sunday after spending 13 seasons with that organization. "He's been the same. He's worked hard. He's been in great spirits," Harbaugh said. "Obviously, the game means something to him. It means a lot to him. It would anybody. But he's in a positive state and he's got good feelings about those guys over there. He wants to do well."
Ravens thinking of Bengals' Still
: Harbaugh acknowledged the 4-year-old daughter of Bengals defensive lineman
Devon Still
at the start of his news conference. Still's daughter had a cancerous tumor removed Thursday. "We wanted to wish her all of our prayers and all of our thoughts," Harbaugh said. "We pray for healing from this disease. She's going to make it."
August, 21, 2014
8/21/14
9:00
AM ET
OWINGS MILLS, Md. -- Long before the ALS ice bucket challenges dominated social media, the
Baltimore Ravens
have been reminded of the courage it takes to fight the devastating disease every time linebacker
C.J. Mosley
steps onto the field.
Mosley, the team's first-round pick, is wearing No. 57, a privilege not bestowed upon a Ravens player for the past six years.
It's more than a uniform number for the Ravens organization. It has become a symbol of O.J. Brigance, a member of the 2000 Super Bowl champions and the team's senior adviser of player development who has been battling amyotrophic lateral sclerosis for seven years.
[+] Enlarge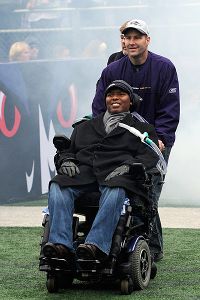 AP Photo/Steve RuarkO.J. Brigance, senior adviser of player development, shown Feb. 5, 2013, at a celebration for the Ravens' latest Super Bowl win.
Ravens coach John Harbaugh came up with the idea of letting Mosley wear No. 57 after the team selected him with the No. 17 overall pick in the draft.
"The time is right now because of what O.J. has meant to us here," Harbaugh said. "The timing was right to bring his legacy -- and he's living it still -- back to the forefront."
Harbaugh would only give that jersey number with Brigance's blessing and asked him about it in an email.
Wheelchair-bound and unable to use his voice, Brigance communicates through eye-recognition software, which allows him to choose a letter when he blinks at it.
"I was initially surprised when Coach Harbaugh asked about C. J. wearing 57," Brigance wrote. "It was such a great honor that he removed the number from circulation. Once he explained the character and tenacity of the man that he would like to wear it, I was honored to have him wear 57."
Brigance was an undersized but overachieving linebacker and special-teams player in the CFL and NFL. Wearing No. 57, he charged down the field on the opening kickoff to make first tackle in the Ravens' 2000 Super Bowl win.
In May 2007, when he was the team's director of player development, he was diagnosed with ALS, a progressive and fatal disease that shuts down nerve cells responsible for movement but doesn't impair the brain or any of the senses.
Told he had five years to live, Brigance is outliving the prognosis with each passing day.
Mosley
Brigance, who will celebrate his 45th birthday next month, frequently comes to the Ravens' facility. He attends the linebacker meetings, watches practice and remains connected with the organization.
He has dedicated himself to being a guiding hand to the Ravens' players, preaching to them that adversity makes you stronger.
"I think we can all learn something from O.J.," said linebacker Bart Scott when he wore No. 57 for the Ravens from 2002 to 2008. "If I can be half the man, player and husband he is, I think I will accomplish a lot in my life."
No Ravens player had worn No. 57 after Scott left the Ravens. Like three others -- Ray Lewis' No. 52, Jonathan Ogden's No. 75 and
Ed Reed
's No. 20 -- Brigance's jersey number had unofficially been retired.
Though all those numbers are associated with greatness, the No. 57 is an inspirational touchstone. It's important for everyone to see it, a tribute to Brigance and his ongoing work through his ALS research foundation,
the Brigance Brigade
.
It was also important that the number was given to the right person.
"It makes me very proud to see not just someone wearing 57, but somebody wearing 57 who is a humble leader, who will strive for excellence in all he does," Brigance wrote. "Being a NFL player is a difficult undertaking. Talent might get you in the door, but character, discipline and fortitude will keep you there. From what I have seen and heard of C.J., he will have a bright future and will honor the 5-7."
Mosley, a starting inside linebacker for the Ravens, immediately tweeted that it was an honor when he was given Brigance's number in May.
"When I realized what this number meant to this community and to this team, it made me feel special," said Mosley, who knew he wouldn't be allowed to wear his college No. 32 as an NFL linebacker. "It's keeping his legacy going on. It's my job to keep that legacy going up."
June, 17, 2014
6/17/14
12:00
PM ET
The terms "hero" and "warrior" get used too often in football these days. But, when you come across a true one, you know it. And that happens nearly every day when you pass O.J. Brigance at the
Baltimore Ravens
' headquarters.
Brigance, the team's senior adviser of player development, is battling amyotrophic lateral sclerosis (ALS), also known as Lou Gehrig's disease. Told he had five years to live when diagnosed in May 2007, Brigance is outliving the prognosis with each passing day.
His fight and inspiration was honored by the Pro Football Writers Association on Monday, when Brigance received
the George Halas Award
for overcoming adversity to succeed.
Brigance, 44, has lost the use of his arms, legs and voice and is confined to a wheelchair. The disease, however, doesn't impact a person's mental capacity. He speaks through a computerized device that transmits sentences he types using eye movement, and he emails every player on the roster to motivate or just connect with them.
"O.J. Brigance is the most influential person in our organization," coach John Harbaugh said. "In a building of strong men, he is the strongest we have. You are energized each and every day to see how he attacks every day with an enthusiasm unknown to mankind, and we are blessed to have such an inspiring man with us every day."
Brigance's foundation, which is called the
Brigance Brigade
, has raised over $1 million for ALS research.
January, 6, 2013
1/06/13
12:25
PM ET

Former Ravens linebacker O.J. Brigance inspires the Baltimore Ravens and shows strength every day as he battles ALS while continuing to work in the front office.
October, 3, 2011
10/03/11
2:34
AM ET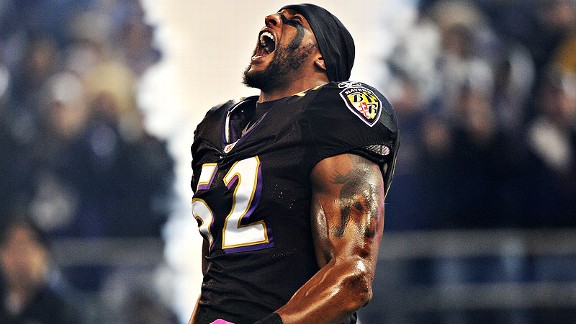 Patrick Smith/Getty ImagesRay Lewis and the Ravens' defense limited the Jets to only seven first downs and 150 yards of offense.
BALTIMORE -- The scariest part about the
Baltimore Ravens
' defense is that it doesn't fear anything.
The Ravens aren't afraid of blitzing on every play. They're not afraid of sending a safety or a nickelback after the quarterback. They're not afraid of leaving a cornerback one-on-one with a receiver.
After a couple of years of playing it safe, the Baltimore defense showed a national television audience and its former boss that the Ravens haven't just dusted off their old, aggressive game plan. They've expanded it.
Three defensive touchdowns in the Ravens'
34-17
victory over the
New York Jets
at M&T Bank Stadium came as the result of relentless pressure. Past Baltimore defenses prided themselves on leading the NFL in fewest yards given up or setting the record for fewest points allowed.
This Baltimore defense wants turnovers, and wants to turn them into touchdowns. The Ravens' defense outscored the Jets' offense 21-3. Actually, Baltimore's defense outscored its own offense.
So, how great can this defense become?
"We can be special," Ravens linebacker
Terrell Suggs
said. "It all depends on where we go from here."
Defenses in Baltimore are defined by championships, which means there is a ways to go before you can rank this group. All you can say is that Baltimore is on the right path.
The Ravens are relentless, and it started with the defense's first snap. Baltimore safety
Ed Reed
came unblocked and stripped Jets quarterback
Mark Sanchez
from the blind side, which led to
Jameel McClain
's 6-yard fumble return for a touchdown.
In the second quarter, defensive tackle
Haloti Ngata
crashed into Sanchez's back, forcing the ball loose and leading to a 26-yard fumble return by
Jarret Johnson
. In the third quarter, Suggs' pressure caused Sanchez to hurry a throw to the outside, where cornerback
Lardarius Webb
jumped in front of
Santonio Holmes
and ran back the interception 73 yards for a touchdown.
"It reminded me of the 2000 and 2006 defenses," said Jets coach Rex Ryan, who was on the Ravens' staff for both of those defenses. "They were coming after us."
This defense, though, accomplished something the defenses in 2000 (which set the NFL record for fewest points) and 2006 (which is the only Ravens defense that finished No. 1 in a season) never did -- score three touchdowns in one game. The 2000 team won Super Bowl XXXV.
It didn't matter that the special teams allowed a 107-yard kickoff return or that quarterback
Joe Flacco
had an interception returned for a score. What made the Baltimore defense's effort amazing was how it carried the team.
In 2000, the Ravens' defense remained strong through a five-game touchdown drought. On Sunday night, the defense didn't bend despite a 35½-minute drought for Flacco, who didn't complete a pass in the second or third quarters.
With the Ravens holding a 28-17 lead in the third quarter, Flacco fumbled to give the ball to the Jets at the Baltimore 27-yard line. On the next play, Webb once again showed there was no panic on defense when he delivered his interception return for a touchdown.
[+] Enlarge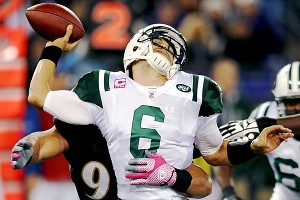 Mitch Stringer/US PresswireThe Ravens were able to pressure Mark Sanchez all night and forced the Jets to cough up three fumbles.
"Any defense that can create turnovers and score touchdowns is pretty much unstoppable," Ngata said.
This is a drastically different look from last season, when the Ravens had a more conservative approach under defensive coordinator Greg Mattison. They didn't give up many points (third-fewest in the NFL). But they didn't put much pressure on the quarterback (the 27 sacks were a franchise low).
When Mattison left to become the defensive coordinator at the University of Michigan, Baltimore promoted secondary coach Chuck Pagano, who said the Ravens would "wreak havoc" in his first news conference.
He has lived up to those words, especially against the Jets. According to ESPN Stats & Information, the Ravens blitzed at least one defensive back on 13 of Sanchez's 38 drop-backs. Only twice this season had a quarterback taken more snaps against blitzing defensive backs (
Jay Cutler
and
Sam Bradford
, both in Week 2).
Those blitzes resulted in nearly as many turnovers (two) as completions (three).
"He's not afraid of anything," linebacker
Ray Lewis
said of Pagano.
The real fear must be for quarterbacks when they watch the Ravens' defense get announced before the game. You get the sense that's what pitchers must have felt when they went against the Yankees' Murderers' Row in 1927. Out of the Ravens' tunnel comes Ngata. Then Suggs. Then Reed. And of course, Lewis.
What must quarterbacks think when they watch film of the Ravens hammering Sanchez,
Ben Roethlisberger
and Bradford?
"Get the ball out quick or you're going to get hit," Suggs said with a laugh.
But quarterbacks aren't getting the ball out quickly enough. Last week in St. Louis, Baltimore recorded 11 quarterback hits. On Sunday night, 10 quarterback hits were delivered by seven Ravens players.
The performance was more special because it was against Ryan, the Ravens' defensive coordinator from 2005 to 2008.
"He created us," Johnson said. "Now he had to deal with us."
Baltimore's defense could become stronger after this week's bye with the return of two injured cornerbacks, rookie first-round pick
Jimmy Smith
and veteran
Chris Carr
.
"I do sense something special with this defense and with this team," Baltimore head coach John Harbaugh said. "I think there's a spirit in this team that's hard to describe and I wish I could put it into words for you. I saw it the first day the guys came back. We'll see where it takes us."
Note:
Harbaugh handed out game balls to Pagano;
O.J. Brigance
, the team's director of player development who celebrated his birthday last week while still battling ALS; and Pat Modell, the wife of former majority owner Art Modell. Pat Modell is seriously ill.
August, 19, 2009
8/19/09
8:22
AM ET
Posted by ESPN.com's James Walker
Here are the most interesting stories Wednesday in the AFC North:
Morning take: Kruger called the remarks "childish," while Harbaugh explained that O.J. Brigance's No. 57 is the only jersey held back this season. Ryan later said he got too carried away.
Morning take: This was never a major concern. But after a mostly inactive offseason, Roethlisberger struggled with deep throws early in training camp. Throwing every day for three weeks certainly helped.
Morning take: It's kind of sad when a 20-day (and counting) holdout is not a surprise. It's looking more and more doubtful Smith plays in Week 1 against the Denver Broncos.
Morning take: Mangini's hard-line approach will be something to monitor closely this season. So far, the players are not responding and playing good football.
January, 10, 2009
1/10/09
4:48
PM ET
Posted by ESPN.com's Tim Graham
NASHVILLE, Tenn. -- It was great to see Baltimore Ravens director of player development O.J. Brigance in the LP Field press box for Saturday afternoon's playoff game against the Tennessee Titans.
Brigance is fighting Lou Gehrig's disease. His condition has deteriorated since I wrote a story on him in March for the Palm Beach Post. He can't lift his hands. His speech is soft and labored. But his smile is as big as ever.
Brigance was a Miami Dolphins captain and won a Super Bowl with the Ravens in 2000. His arrival created a stir in the press box from well-wishers. Flashbulbs were popping because he will be the subject of upcoming features on ESPN and in the Baltimore Sun.
The feature I wrote on Brigance is no longer on the Palm Beach Post site, but it was picked up a few other places if you'd care to read an inspirational tale about a special man.