June, 6, 2011
6/06/11
4:00
PM ET
Can the
Cleveland Browns
pay a projected third-string quarterback a reported $5.4 million this season?
That probably says all you need to know about
Jake Delhomme
's shaky future in Cleveland.
The Browns like Delhomme's veteran presence and leadership. But the past two years -- including the 2010 season in Cleveland -- proved Delhomme, 36, is no longer a starting NFL quarterback. The Browns paid Delhomme $7 million last season to throw for 872 yards, two touchdowns and seven interceptions in five games. Comparing dollars and production, it was one of the worst investments last year in free agency.
After signing a two-year deal last offseason, Delhomme is now one of the AFC North's prime candidates to be released whenever a new collective bargaining agreement is reached. Delhomme said immediately after the season that he wasn't sure he will be back, and Cleveland's front office has been elusive on the topic.
The Browns are going all-in with second-year quarterback
Colt McCoy
this season and recently signed backup
Seneca Wallace
to a three-year extension. The Browns did not select a developmental quarterback in the NFL draft this year. That leaves a roster spot open for Delhomme, but only if he's willing to take a very significant pay cut to stay in Cleveland.
April, 20, 2011
4/20/11
7:00
AM ET
Here are the most interesting stories Wednesday in the AFC North: Morning take: This is cunning for the NFL to promote a sibling rivalry on Thanksgiving. Both brothers are fiery and competitive. So don't expect either to hold back in this one.
Morning take: Credit Jordan Palmer for taking a leadership role, but he likely won't be the Week 1 starter in Cincinnati. The Bengals are looking for Carson Palmer's replacement in the draft or free agency.
Morning take: Browns president Mike Holmgren and Gruden, two West Coast proponents, both like McCoy's potential in the offense. This will be a big second season for McCoy to show what he can do.
Morning take: Smith is the good prospect. But he comes with character concerns, which likely could scare off the Steelers for a safer draft pick.
April, 17, 2011
4/17/11
9:00
AM ET
Will the Dawgpound have reason to celebrate Monday or suffer another disappointment?

Cleveland Browns
running back
Peyton Hillis
continues his improbable run through the "Madden NFL 12" cover tournament, and Final Four results will be announced tomorrow. Although numbers could not be revealed,
as of last Thursday Hillis led No. 1 seeded
Green Bay Packers
quarterback
Aaron Rodgers
, who is the favorite to win the tournament.
With a 64-128 record
since returning to the NFL in 1999, Browns fans have treated this like their offseason Super Bowl and came out in droves to support Hillis. Cleveland's tailback also received support from fans of the
Pittsburgh Steelers
,
Baltimore Ravens
and
Cincinnati Bengals
, who hope the "Madden curse" impacts a division rival.
Check with the AFC North blog Monday afternoon to find out if Hillis advances to the championship final to face the winner of
Philadelphia Eagles
quarterback
Michael Vick
and
Minnesota Vikings
tailback
Adrian Peterson
.
February, 24, 2011
2/24/11
12:30
PM ET
The AFC North blog continues to rank the top 40 players in the division.
No. 16:
Lawrence Timmons
, linebacker

Timmons
Team:
Pittsburgh Steelers
2010 stats:
135 tackles, three sacks, two interceptions
Last year's ranking:
No. 37
Analysis:
Timmons made a monumental jump in "Walker's Fab 40," up 21 spots from a year ago. The former first-round pick really came into his own in his second full season as a starting inside linebacker. Timmons originally was drafted to play outside linebacker. But teammate
LaMarr Woodley
developed
faster in that role
and left Timmons searching for a new position. It took a while to learn the intricacies of playing inside, particularly against the pass. But things finally clicked this year as Timmons led the Steelers with 135 tackles. With the mental part of the game catching up to his tremendous athleticism, Timmons has Pro Bowl potential.
No. 15:
Maurkice Pouncey
, center

Pouncey
Team:
Steelers
2010 stats:
16 starts
Last year's ranking:
N/A
Analysis:
Speaking of Pro Bowls, Pouncey pulled off quite a feat by qualifying after his rookie season. The Steelers hit a home run in the first round by selecting Pouncey, who missed the Super Bowl with an ankle sprain but started every other game for Pittsburgh. Pouncey moves well, is great at finishing blocks and had no issues making the line calls as a rookie. At 21, Pouncey can still add weight and get stronger, and that will be the next step in his maturation process. But to already be one of the top centers in the NFL as a rookie and ranked No. 15 in "Walker's Fab 40" are impressive.
No. 14:
Joe Flacco
, quarterback

Flacco
Team:
Baltimore Ravens
2010 stats:
3,622 yards, 25 touchdowns, 10 interceptions
Last year's ranking:
No. 20
Analysis:
Flacco set career-highs in passing yards (3,622), touchdowns (25) and passer rating (93.6) in his third season. But another poor outing in the playoffs by Flacco and failed expectations of reaching a Super Bowl have dominated the
offseason headlines in Baltimore
. Flacco is a good quarterback who still has room to grow. Showing up in big games will be key,
particularly against
quarterback
Ben Roethlisberger
and the rival Steelers. But Flacco is 26 and will only get better. The Ravens could also do Flacco a favor by getting a speedy deep threat to take advantage of his strong arm next season. Adding the deep ball to Baltimore's passing game will open some things up for Flacco and make the game easier.
No. 13:
Peyton Hillis
, running back

Hillis
Team:
Cleveland Browns
2010 stats:
1,177 rushing yards, 61 receptions, 13 total touchdowns
Last year's ranking:
N/A
Analysis:
It's scary to think where Cleveland's struggling offense would be without Hillis, who was acquired last offseason in a trade with the
Denver Broncos
for quarterback
Brady Quinn
. Hillis was the Browns' leading rusher and second-leading receiver. The team only won five games, but Hillis probably accounted for three or four of the wins. The bruising running back punished defenders and often got stronger as the game wore on. But his style also results in injury, and Hillis played hurt late in the year. Cleveland needs to get Hillis more help so he be effective for 16 games. Hillis also has to prove that his career year in 2010 wasn't a fluke.
Here's
who has made the "Fab 40"
so far.
December, 24, 2010
12/24/10
11:00
AM ET
Sunday's contest against the
San Diego Chargers
could be the final home game at Paul Brown Stadium for many key
Cincinnati Bengals
.
The Bengals (3-11) are
expected to rebuild
after an abysmal season. Receiver
Chad Ochocinco
, quarterback
Carson Palmer
, tailback
Cedric Benson
and head coach Marvin Lewis could be participating in their final home game with the organization.
[+] Enlarge
AP Photo/Ed ReinkeSunday's game against San Diego could be Marvin Lewis' final home game with the Bengals.
Everyone's situation will be up for review after the reigning AFC North champions completely fell apart and had an NFL-high 10-game losing steak, despite making several additions in the offseason. The contracts of Lewis and Benson expire at the end of the season, and Ochocinco, 32, has a team option for in 2011 for $6 million. He is having his
second poor season in the past three years.
Palmer's status is more complex. The struggling quarterback is under contract through 2014 but is due $11.5 million next season. The AFC North blog reported last week that
Palmer will not accept a pay cut
to remain in Cincinnati. That means the Bengals must trade or release Palmer in the offseason or make him one of the NFL's highest-paid players in 2011. This is probably the biggest offseason decision for the Bengals.
The Bengals were the "Bungles" before Lewis, Palmer and Ochocinco arrived. This trio brought excitement and two playoff appearances to Cincinnati in their eight seasons together. Before that, Cincinnati had no playoff appearances from 1991-2002.
Benson turned his career around with the Bengals by posting back-to-back 1,000-yard seasons and spearheading a rare AFC North sweep in 2009. Starting cornerback
Johnathan Joseph
, middle linebacker
Dhani Jones
and veteran tight end
Reggie Kelly
also could be playing in their final home game in Cincinnati.
Knocking off the Chargers (8-6) and ending San Diego's playoff hopes would be a quality ending for this group. But regardless of the outcome, fans at Paul Brown Stadium should give these core members a warm farewell Sunday for getting the Bengals out of the dark ages.
December, 18, 2010
12/18/10
1:30
PM ET
Let's dig into the weekend mailbag.

Bengals fan from Sardinia, Ohio,
writes: With
Brett Favre
retiring and
Tarvaris Jackson
in his last year, do you think the
Minnesota Vikings
would be willing to trade for
Carson Palmer
? If so what kind of compensation do you think they would get?
Walker:
The trade market for Palmer is going to be interesting because he makes $11.5 million next year. Any team willing to trade for Palmer has to pay him like an elite quarterback when that's no longer the case. The AFC North blog reported Saturday that
Palmer would not accept a pay cut
this offseason to stay with the rebuilding Bengals (2-11). That could increase Palmer's chances of a trade or release from Cincinnati. But the Bengals also have to be careful. If word gets out that Cincinnati is willing to release Palmer to avoid paying that high salary, teams could simply wait for the quarterback to become available and negotiate a lower salary as a free agent. That way teams won't give the Bengals any compensation.
---
Hank from Westbrook, ME,
writes: Do you see the Bengals giving
Bernard Scott
more playing time in the last three games?
Walker:
Scott only got four carries last week, so it's hard to say. But I agree the Bengals should use Scott more down the stretch. In all likelihood, starting running back
Cedric Benson
will not return to Cincinnati. I'm not sure Scott can be a feature back, but the Bengals need to find out what his strengths are. Scott is averaging 4.8 yards per carry this season.
---

Jon Teams from Barboursville, W.Va.,
writes: What is the deal with
Pittsburgh Steelers
offensive coordinator Bruce Arians? Why has he not tried to utilize the run more?
Walker:
It's a combination of having various injuries on the offensive line and having quarterback
Ben Roethlisberger
back under center. Pittsburgh ran the ball best when it had to. For the first month of the season, tailback
Rashard Mendenhall
was the only consistent offensive threat the team had. The Steelers were also healthy up front. Now the entire playbook is available with Roethlisberger and they pass a lot more, and the offensive line isn't healthy and blocking as well.
---
Peter from Virginia
writes: Which offense is in more disarray at this point: Steelers or
New York Jets
?
Walker:
The Steelers are having offensive line issues and the Jets are having quarterback issues. Both can really stall an offense. But it's harder to overcome poor quarterback play. So I would say the Jets have bigger issues at the moment.
---
Will from Alexandria, Va.,
writes: What do you think about the Steelers' chances in the playoffs? Do you think they can beat the
New England Patriots
?
Walker:
I think the Steelers' chances are much better if they don't play the Patriots. Otherwise, the Steelers have as good a chance as anyone if they can get healthy.
---

Adam Gardner from Bel Air, Md.,
writes: Do you think
Joe Flacco
will ever become the Ravens' team leader, call audibles, and be up there with
Peyton Manning
and
Tom Brady
?
Walker:
I never understood the expectations for Flacco to become Manning or Brady, who are two future Hall of Famers. I think Flacco is doing fine at this stage of his career. He has three playoff wins and is having a solid third season statistically.
Ray Lewis
is the leader of the Ravens, and that won't change until he retires. Flacco, for now, can just play well down the stretch and lead by example.
---
Brandon Crawford from Sykesville, Md.,
writes: With the Ravens really struggling on the offensive line, how much of this can you contribute to the loss of offensive tackle
Jared Gaither
?
Walker:
That's a good question, Brandon. I almost forgot about Gaither, because he hasn't been available to the team all season. Gaither can be solid when he wants to be and could've helped Baltimore this year. But too often the Ravens had to stay on top of Gaither, and that gets tiring for an organization. He lost too much weight in the offseason and subsequently got hurt, and I think that was the final straw. Gaither is no longer a good fit with Baltimore, and I don't expect him to return next year.
---
B. Susi from Orlando, Fla.,
writes: I know you like the Troy Reed and now the Heath Heap mash-up. But what about the terror that would be James Lewis? Now THAT would be a terrifying linebacker.
Walker:
Wow, B. Susi. That's an automatic Hall of Famer. The only weakness I can think of would be...long snapping???
---
Troy Reed from Walkerville, AFCN,
writes: Okay, I will admit it:
Troy Polamalu
is better than both me and
Ed Reed
.
Walker:
What?!? No way. Please read this tweet
explaining your greatness
. Neither Polamalu nor Reed could do that alone. Only you can, Troy Reed. You're the best safety in NFL history!
---

Matt
writes: Can you please comment on Brian Daboll and his status as the
Cleveland Browns
' offensive coordinator?
Walker:
Sure, Matt. Daboll is in major trouble. A lot has been written
about Eric Mangini's future
because he's the head coach. But I think the verdict is pretty much in on Daboll. The offense hasn't made any progress in two years, and it has to be driving offensive guru and Browns president Mike Holmgren crazy. I think Cleveland's failure to develop second-round picks
Mohamed Massaquoi
and
Brian Robiskie
also reflects poorly on Daboll.
---
Becky from Galloway, Ohio,
writes: I was wondering why in December the "Battle for Ohio" between the Bengals vs. Browns couldn't be played in The Shoe [at Ohio State]. It would be a sellout. Even if OSU got a million both teams would still make a tidy sum. I work with a number of Bengals and Browns fans. and we would all go no matter cost of tickets.
Walker:
Interesting idea, Becky. But there are a couple of issues I see with this from the NFL's perspective. For starters, one team would be losing a home game every year. Would it be fair for the Browns or Bengals to play just seven annual home games and one at a neutral site, while other teams get eight? Also, home teams make a lot of money off concessions, parking and other things during the game-day experience. That's not something the Browns or Bengals would want to give up to Ohio State.
Comment and complaint department
Ken from Long Beach, Calif.,
writes: As terrible as the
Oakland Raiders
have been the past few seasons I would gladly trade ownership with them. Living in L.A. I have seen the freak show that is Al Davis, but one thing remains certain about him; he wants to win. I am not sure I can say that about Mike Brown. I love my Bengals but I can't wait for L.A. to get a team so I can file my fan free agency and get the heck out of Mike Brown's land of despair.
Jacob from Cincy
writes: I watched
DeSean Jackson
take a 10-yard pass 91 yards to the house, I thought back to how we passed him up in the draft and how the guy we passed him up for has been inactive all season. Where would the Bengals be if they drafted Jackson over
Jerome Simpson
?
Walker:
Jacob, Simpson would probably play like Jackson in Philly and Jackson would be a bust in Cincy. Just kidding. It would have made a big difference in Cincinnati's offense. Ken, so many Bengals fans are at the end of their rope. I've held firm in saying it's good fandom to stick with your team. The Bengals haven't had back-to-back winning seasons in 28 years. Why leave now?
---
Joe from Cincinnati
writes: "Cleveland Browns (5-8) at
Cincinnati Bengals
(2-11), Sunday at 1 p.m. Blasik's comment: The Bengals have better personnel than the Browns, and
Colt McCoy
will be a little rusty coming back. As much as I love to see the Bungles lose, this streak has to end sometime, right? Walker's score: Bengals, 17-16" -- I feel all Bengals fans knew, or at least had a sneaking suspicion, that you hate the Bengals and were extremely biased against them. But your stating how much you love to see them lose makes it woefully apparent.
Walker:
Joe, when did I change my name to Amanda Blasik? We had a guest predict games this week.
Please read the blog again
. Also, for those who think I'm too harsh on the Bengals, read last year's coverage. For those who think I'm a Bengals homer, read this year's coverage.
---
David from Fontainebleau, France,
writes: I think it is incredibly unlikely that the Panthers take Stanford QB Andrew Luck with the No. 1 pick of the draft as you suggested they would. They just picked
Jimmy Clausen
and
Tony Pike
this year. Three picks on the QB position in two drafts? I don't see it happening.
Walker:
David, it's probably too early to predict the top of the draft board, but keep in mind that Clausen was a second-rounder and Pike was a sixth-rounder. Clausen hasn't showed anything for the 1-12 Panthers to get a vote of confidence for next year. Carolina also will have a new coaching staff in 2011 that's not tied to these draft picks, and a new coach always has the tendency to bring in his own players. I wouldn't rule it out.
---
Barry Veet from Hazleton, Pa.,
writes: Just wanted to tell you in my fantasy football playoffs this week I was down 61 points with only
Matt Schaub
and
Andre Johnson
left. I came back and was up 1.6 points until Schaub threw that INT in OT. Talk about an unbelievable heartbreak, losing by .4 after an improbable comeback.
Walker:
Tough way to end your season, Barry. I assume Ravens cornerback
Josh Wilson
probably
isn't your favorite player
.
---
Will from Nashville, Tenn.,
writes: Hey, James. Thanks for not posting that comment comparing the Bengals and the Heat until after the Heat went on a seven-game winning streak and making me look like a fool for the question. At 9-8 when I did post the comment, the Heat were a little more disappointing and it maybe would have drawn a little better comparison to the Bengals. Way to show some respect to a loyal reader.
Walker:
You are correct, Will, and my apologies. We get a lot of questions in our inbox and sometimes we can't always get to them immediately. By the time I got to yours, it was outdated.
AFC North Homer of the Week
We didn't have a strong batch of homer comments this week (good job, everyone). So we had to dig deep and find one of the runners-up from last week.
Enjoy.
Andy from Canada
writes: Hey, James. Longtime reader and much respect. I am driving down to Buffalo regardless of weather for the game this weekend and
Peyton Hillis
will break 200 yards rushing. Post me if I'm right, and post me if I'm wrong. I have faith. Thanks.
Walker:
Andy, Hillis did get 108 rushing yards. But I'm sure you didn't anticipate his three fumbles. Nonetheless, Hillis is having a great year.
If you have any additional questions, comments or complaints, please send them to our
AFC North inbox.
December, 18, 2010
12/18/10
9:47
AM ET
With so much speculation swirling around the future of
Cincinnati Bengals
quarterback
Carson Palmer
, details are starting to emerge with three games remaining in a disappointing season.
[+] Enlarge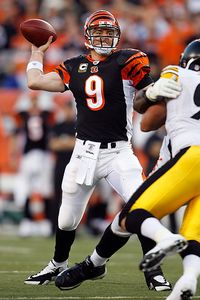 Andy Lyons/Getty ImagesCarson Palmer's salary jumps up to $11.5 million next season.
A source with knowledge of the situation tells ESPN.com's AFC North blog that it's highly unlikely Palmer would accept a pay cut this offseason to remain with the rebuilding Bengals (2-11). Palmer is projected to be one of the NFL's highest-paid players in 2011 with a base salary of $11.5 million, and this could be the first step to a potential parting between the two-time Pro Bowl quarterback and the team which drafted him No. 1 overall in 2003.
Cincinnati has yet to discuss its offseason plans with Palmer. But with the pay-cut option now squashed, this puts the Bengals in a tight spot. Cincinnati -- one of the NFL's most frugal franchises -- has to decide whether to overpay for a struggling quarterback or release Palmer, who will turn 31 on Dec. 27, and make him a free agent for the first time in his career.
The Bengals can cut Palmer without absorbing any cap charges. Entering Week 15,
Cincinnati also holds the No. 2 overall pick
, which is a good spot to draft a quarterback.
An offseason trade might be a third option. But it could be a challenge for Cincinnati to convince other teams to pay Palmer's ballooning $11.5 million salary despite declining production. Palmer has six multi-interception games this season and 18 picks total, which is the second highest tally of his career. He also holds a pedestrian 78.1 passer rating.
Palmer provided a clue to potentially moving on earlier this week when reporters in Cincinnati asked if Palmer could
see himself in another uniform next year.
"Yeah, anything is possible," Palmer said candidly. "This is a business."
The Bengals will have plenty of tough business decisions to make this offseason -- and it starts with their franchise quarterback.
November, 29, 2010
11/29/10
8:00
AM ET
Here are the most interesting stories Monday in the AFC North:
Morning take: Bills receiver Steve Johnson dropped a wide-open touchdown in overtime to allow the Steelers to pull it out. But a win is a win.
Morning take: The pass-interference call before halftime was questionable. But the Ravens have been on the short end of plenty of calls. Ask Roddy White.
Morning take: Expect a lot more questions at quarterback this week, as Delhomme's performance didn't silence many critics.
Morning take: The Bengals aren't very interesting now. But Cincinnati will be interesting in the offseason, when it likely makes major changes after a disappointing year.
February, 15, 2010
2/15/10
11:00
AM ET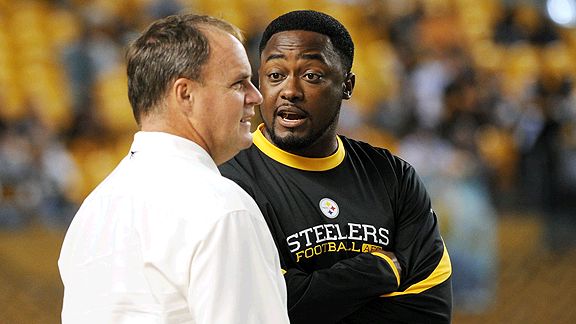 George Gojkovich/Getty ImagesAfter missing the playoffs in 2009, Kevin Colbert and Mike Tomlin hope to get the Steelers back on track, starting with the NFL draft in April.
The
Pittsburgh Steelers
entered last season with the Lombardi Trophy in hand and extremely high expectations. But when the smoke cleared in 2009, Pittsburgh was a disappointing 9-7 and watched from home as 12 other teams competed in the postseason.
So what is the current state of the Steelers? ESPN.com's AFC North blog went straight to the top to find out from Kevin Colbert, Pittsburgh's football operations director and general manager.
In a one-on-one interview, Colbert discussed all things Steelers, including the 2009 season,
Troy Polamalu
's knee injury and his thoughts on the coaching and front-office shakeups within the organization.
Kevin, last year clearly fell short of expectations. So how would you best describe Pittsburgh's 2009 season?
Kevin Colbert:
In looking back at last year, I'm a big believer in you are what your team's record indicates. Right now we're a 9-7 team. Anytime we don't qualify for the playoffs, that's a disappointment, and it was a disappointing year by any and all accounts. That's who we are at this point.
Probably 70 percent of the league would be happy with 9-7, yet the sky is falling in Pittsburgh when it happens to the Steelers. Is the bar and pressure to succeed for this franchise unreasonable?
Colbert:
The pressure is no different than the pressure we would put on ourselves anyway. This organization set a high standard a long time ago with their success. It's been a couple times when we've been able to add to that success. But, again, we understand that not having a chance to compete for the championship, that will always be a disappointing season here. We accept that and we really embrace that, because we're going to have that expectation anyway besides any outside pressure.
After experiencing it in 2006 and 2009, any thoughts on why it's so difficult to defend a Super Bowl title?
Colbert:
I don't think it's necessarily defending the title. I think it's speaks to the strength of the league and the balance of the league. We didn't go into the season feeling we were defending anything. We went into the season feeling that we were 0-0 like everybody else, and we came out of the season 9-7 and not good enough to qualify. So, really, we never talked about or looked at ourselves as defending champs. We looked at ourselves like everybody else at the beginning of last year.
December, 30, 2009
12/30/09
4:30
PM ET
Here is a transcript
of our final AFC North chat of the regular season and in 2009.
We discussed a variety of topics concerning the playoffs and offseason with the Cincinnati Bengals, Baltimore Ravens, Pittsburgh Steelers and Cleveland Browns.
So if you missed it, take a read.
February, 9, 2009
2/09/09
4:00
PM ET
| | |
| --- | --- |
| | |
| | Scott Boehm/Getty Images |
| | Cincinnati fans found themselves frustrated this year and The Jungle was quite tame after an 0-8 start. |
Posted by ESPN.com's James Walker
To wrap up our day-long celebration of Reader Appriciation Day, let's make our final stop in "The Jungle," home of the Cincinnati Bengals.
Dear Bengals fans,
Where have you been? After an 0-8 start, many of you disappeared. There wasn't much positive to report at that point, so perhaps you became tired of reading the bad news on this blog. But I have to keep it real here.
I even ventured the streets of Cincinnati to talk to Bengals fans and get a sense of your frustrations. You all are very down and fed up with your team. Many feel hopeless and numb to all the losing over the past 19 years, which is worse.
The good news is it's the offseason and the Bengals have a lot of high draft picks. There will be a lot of interest in your team and hopes of turning it around will become the primary focus.
So welcome back to the party, Bengals fans. You're still a part of our AFC North family.
Yours Truly,
James Walker