November, 27, 2013
Nov 27
10:00
AM ET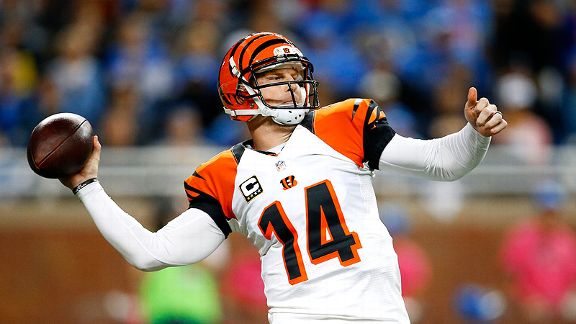 AP Photo/Rick OsentoskiThe Cincinnati Bengals are counting on Andy Dalton to return to the form that helped lead the team to a 4-1 record in October.
CINCINNATI -- Earlier this week,
Cincinnati Bengals
players like cornerback
Chris Crocker
were adamant in pointing out the urgency they need to play with throughout the
month of December
.
"It's all about winning in December," Crocker said. "Let's win out and see where the chips lay. Why can't we win out? I don't see why we can't."
If you ask some Bengals fans and most NFL analysts, they'll give you one big reason why they don't believe Cincinnati will be able to go 5-0 to close out the regular season: No. 14.
That's right. To some, the primary obstacle in the way of end-of-season perfection for the Bengals is
Andy Dalton
, the player who has quarterbacked the franchise into the playoffs each of the past two seasons, and who constantly is trying to prove himself to those who consider him just another member of a mostly failed 2011 quarterback draft class.
For that reason, as the Bengals gear up for a stretch run that could give them a first-round bye and home-field advantage in the playoffs, an important question has to be asked.
Can December Andy mimic October Andy?
As we've written countless times in the past month, October Andy was indeed a dandy. Through the first four games of that month, Dalton threw for 1,243 yards and 11 touchdowns. He also completed 67.9 percent of his passes, won four games, had a passer rating higher than 116.0 and a QBR above 83.0. He was, quite simply, brilliant. His play was so sharp back then that on the final day of the month, hours before the Bengals were set to take on the Dolphins in a road Thursday night game, he was named the AFC's Offensive Player of the Month.
And, yes, even though, comparatively speaking, he didn't look as good overall against the Dolphins and ended up taking the game-winning sack for a safety in overtime, Dalton still had a rather special performance in the 22-20 loss. Aside from not completing a touchdown pass and getting intercepted three times, he threw for 338 yards, marking the fourth straight game he had gone over the 300-yard passing mark.
Overall, October Andy was Good Andy.
But now here comes December with all of its postseason potency. If Cincinnati hopes to set itself up for the type of playoff seeding Crocker believes it deserves, then it will have to play its best ball across the next five weeks. That's especially the case for Dalton and a Bengals offense that has looked rather anemic in the past three games.
One look at Dalton's previous December stats and it doesn't appear the third-year star should have any problem showcasing even a sliver of the success that made him and his team so good about two months ago.
After a rocky December as a rookie in 2011, Dalton was among the difference-makers last season when the desperate Bengals were in need of a strong final month just to secure a playoff berth. One year after going 2-2 in the month, Dalton went 4-1 during December 2012. The lone loss came after the
Dallas Cowboys
made a field goal in the final seconds to win 20-19.
While the level of desperation may be different this December, the Bengals are looking for Dalton to thrive under similar pressure-packed moments during this one. This time around, the pressure on Dalton mainly stems from the fact that so many are fed up with his play from the past three games. In them, he's thrown eight interceptions and been sacked 10 times. Across the latter two of those games, he's completed fewer than 50 percent of his passes and hasn't posted a QBR higher than 18.0.
Weather factored heavily in Dalton's inability to move the ball in those two games. Windy conditions at Baltimore and windy and rainy conditions against the Browns sent some of his passes sailing and forced others into the hands of defensive backs.
Although weather shouldn't be a concern this weekend in San Diego (the forecast calls for partly cloudy skies and a delightful high of 71 degrees Sunday), it could be the rest of the season. Farmer's Almanac projects cold, damp conditions for all of December in the Ohio Valley. It should be noted that after Sunday's game, the Bengals are home three of the next four weeks. Their only remaining road game is at Pittsburgh.
Throughout his career, Dalton has performed better in warmer games. In games with temperatures 50 degrees or higher, he has a 20-14 record, an 85.1 passer rating and a 52.5 QBR. In games with temperatures at 49 and lower, he has a 5-5 record, a 75.4 passer rating and a 32.9 QBR. Dalton's last three sub-49-degree wins came last December, though; a sign that perhaps he's turning a corner in cold-weather contests.
Whatever the conditions and whomever their opponents are, when it comes to the next five weeks, the Bengals can only hope that Dalton turns into the same man who torched through this October.
December, 24, 2009
12/24/09
1:49
PM ET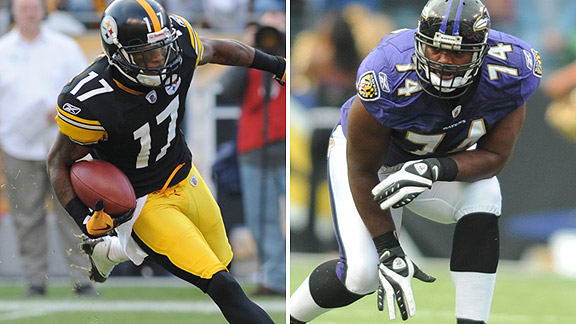 Getty Images/US Presswire Their teams are fierce rivals, but Mike Wallace, left, and Michael Oher, right, are close friends.
Hidden beneath one of the NFL's most heated rivalries lies a strong friendship that goes much deeper than football.
It's no secret the
Baltimore Ravens
(8-6) and
Pittsburgh Steelers
(7-7) do not like each other. The AFC North rivals play Sunday, and their games are often filled with bravado, brutality and plenty of trash talk.
But for Ravens right tackle
Michael Oher
and Steelers receiver
Mike Wallace
, their bond goes beyond the natural hatred between the two teams. The two rookies spent the past four years at Mississippi leading the Rebels and developing a strong friendship.
They played in the same offense, worked out together and even spent holidays in Memphis with Oher's family, which was prominently highlighted in
this year's blockbuster movie "The Blind Side."
Now that both players are in the pros, it's a link not even the Ravens and Steelers can break.
"Our friendship is apart from our rivalry," said Oher, who estimates he and Wallace talk three or four times a week.
Same school, different paths
Despite their close friendship, the players took different paths to the NFL.
Oher came to Ole Miss with a lot of fanfare. He had a tough personal story, growing up homeless at one point, before developing into one of the nation's top recruits. Oher quickly became a starter as a freshman, and it was only a matter of time before the NFL called. Oher was Baltimore's first-round pick this past April.
"I heard about [Oher's story] before he ever got there, because he was a big recruit," Wallace said. "He kind of told me for himself. I wanted to know his story from him. So he told me about it, and I'm just happy for him and the things he accomplished, considering where he came from."
Wallace wasn't as heavily recruited out of O. Perry Walker High School in New Orleans. He didn't begin to blossom until his junior and senior years, when he became Mississippi's primary deep threat. Even during the draft, teams questioned his route running, which was a major reason he fell to Pittsburgh in the third round.
But hard work and good coaching have made Wallace a dangerous part of Pittsburgh's offense. In last week's 37-36 victory over the
Green Bay Packers
, Wallace scored the first touchdown of the game on a 60-yard reception, and the last on a 19-yard game-winner with no time remaining.
"I gave him a call right after the game," Oher said. "He was just excited and I was proud of him."
Both players have been among the NFL's most productive rookies.
Oher has started all 14 games for Baltimore, mostly at right tackle. But he has been so good that Baltimore is considering moving him to left tackle at some point to protect quarterback
Joe Flacco
's blind side.
Wallace has 34 receptions for 609 yards for the Steelers. He is tied for second on the team with five touchdown receptions.
High stakes
But both Oher and Wallace have a job to do Sunday, and that is to help their teams keep their postseason hopes alive.
Baltimore currently holds the No. 5 seed in the AFC and can control its destiny with wins over Pittsburgh and the
Oakland Raiders
. The Ravens are playing great football, as Oher and the offense have scored 79 points in the past two games.
The Steelers need help in addition to winning their final two games against the Ravens and
Miami Dolphins
. Pittsburgh ended a five-game losing streak last week with a win over the Packers. One of those five losses was to Baltimore, 20-17 in overtime on Nov. 29.
Oher improved to 1-0 against Wallace, but there hasn't been much trash talk between the two friends.
"We don't hang it over each other's head too bad," Wallace said. "After the [first] game he told me he will see me in four weeks, and I told him we're going to be ready."
As bitter rivals, the Ravens and Steelers will never get along. But Oher and Wallace will.
"We got a good, close friendship," Oher said. "In the offseason we're going to take a lot of trips and work out together.
"It's a good friendship that's going to last a long time."
August, 10, 2009
8/10/09
1:30
PM ET
Posted by ESPN.com's James Walker
LATROBE, Pa. -- There is a rookie with the Pittsburgh Steelers who is showing flashes in training camp -- both literally and figuratively.
| | |
| --- | --- |
| | |
| | Gregory Shamus/Getty Images |
| | Steelers rookie Mike Wallace is impressing coaches with his speed. |
Lightning-quick rookie receiver
Mike Wallace
has been impressive this summer. He is showing good hands and improved route-running, which hasn't gone ignored by Pittsburgh's coaching staff.
The AFC North blog recently caught up with Wallace to discuss his speed and starting a new rivalry with good friend and former college teammate Michael Oher.
1. Mike, what is it like for a rookie playing every day against last year's top-rated defense?
Mike Wallace: It's a big difference because our defense sends a lot of different blitzes. The main adjustment is learning the "hots" [hot reads] because I don't want to leave Ben (Roethlisberger) out there to dry. So I'm just working my way up to try to get as many reps as I can to help my team. But I believe we're going to have the best defense again this year. We have a lot of playmakers on defense, we have real good coaches, and we have a real good scheme.
2. You and Michael Oher of the Baltimore Ravens were college teammates at Ole Miss. What's your rapport with him?
Wallace: Me and "Big O," we've been friends ever since we stepped on campus. Sometimes I used to stay by his house in Memphis. We've been real good friends our whole time there at Ole Miss. That was one of my closest teammates when I was there.
3. How does it feel now to be on opposites sides of one of the NFL's best rivalries?
Wallace: It's going to be a change, but it's going to be fun. I can't wait to play against him. I feel like our team is going to go out and try to win a ballgame. We're going to save the [trash] talk for that week. We've just been talking lately to make sure each other is straight. We talked maybe two or three days ago to see how each other were doing.
4. Your Steeler teammates are already saying you're one of the fastest players on the team. Where do you think you rank?
Wallace: [Laughs] I don't know. I don't want to put it out there too early. You got to race a couple guys first, and those guys are established. Speed doesn't matter if I haven't done anything yet. So I'm just trying to work to get better.
5. What's it like learning under Hines Ward and Santonio Holmes?
Wallace: It's going to help me be the best player I can be, because they've been there. They've been at the top. With Hines and Santonio, I have two Super Bowl MVPs and not just one helping me out. What one hasn't done the other one has. So they've done pretty much everything.