November, 27, 2013
Nov 27
10:00
AM ET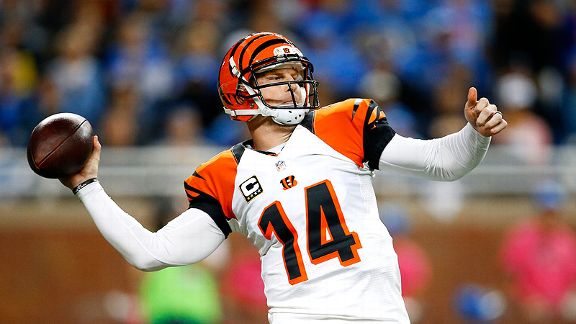 AP Photo/Rick OsentoskiThe Cincinnati Bengals are counting on Andy Dalton to return to the form that helped lead the team to a 4-1 record in October.
CINCINNATI -- Earlier this week,
Cincinnati Bengals
players like cornerback
Chris Crocker
were adamant in pointing out the urgency they need to play with throughout the
month of December
.
"It's all about winning in December," Crocker said. "Let's win out and see where the chips lay. Why can't we win out? I don't see why we can't."
If you ask some Bengals fans and most NFL analysts, they'll give you one big reason why they don't believe Cincinnati will be able to go 5-0 to close out the regular season: No. 14.
That's right. To some, the primary obstacle in the way of end-of-season perfection for the Bengals is
Andy Dalton
, the player who has quarterbacked the franchise into the playoffs each of the past two seasons, and who constantly is trying to prove himself to those who consider him just another member of a mostly failed 2011 quarterback draft class.
For that reason, as the Bengals gear up for a stretch run that could give them a first-round bye and home-field advantage in the playoffs, an important question has to be asked.
Can December Andy mimic October Andy?
As we've written countless times in the past month, October Andy was indeed a dandy. Through the first four games of that month, Dalton threw for 1,243 yards and 11 touchdowns. He also completed 67.9 percent of his passes, won four games, had a passer rating higher than 116.0 and a QBR above 83.0. He was, quite simply, brilliant. His play was so sharp back then that on the final day of the month, hours before the Bengals were set to take on the Dolphins in a road Thursday night game, he was named the AFC's Offensive Player of the Month.
And, yes, even though, comparatively speaking, he didn't look as good overall against the Dolphins and ended up taking the game-winning sack for a safety in overtime, Dalton still had a rather special performance in the 22-20 loss. Aside from not completing a touchdown pass and getting intercepted three times, he threw for 338 yards, marking the fourth straight game he had gone over the 300-yard passing mark.
Overall, October Andy was Good Andy.
But now here comes December with all of its postseason potency. If Cincinnati hopes to set itself up for the type of playoff seeding Crocker believes it deserves, then it will have to play its best ball across the next five weeks. That's especially the case for Dalton and a Bengals offense that has looked rather anemic in the past three games.
One look at Dalton's previous December stats and it doesn't appear the third-year star should have any problem showcasing even a sliver of the success that made him and his team so good about two months ago.
After a rocky December as a rookie in 2011, Dalton was among the difference-makers last season when the desperate Bengals were in need of a strong final month just to secure a playoff berth. One year after going 2-2 in the month, Dalton went 4-1 during December 2012. The lone loss came after the
Dallas Cowboys
made a field goal in the final seconds to win 20-19.
While the level of desperation may be different this December, the Bengals are looking for Dalton to thrive under similar pressure-packed moments during this one. This time around, the pressure on Dalton mainly stems from the fact that so many are fed up with his play from the past three games. In them, he's thrown eight interceptions and been sacked 10 times. Across the latter two of those games, he's completed fewer than 50 percent of his passes and hasn't posted a QBR higher than 18.0.
Weather factored heavily in Dalton's inability to move the ball in those two games. Windy conditions at Baltimore and windy and rainy conditions against the Browns sent some of his passes sailing and forced others into the hands of defensive backs.
Although weather shouldn't be a concern this weekend in San Diego (the forecast calls for partly cloudy skies and a delightful high of 71 degrees Sunday), it could be the rest of the season. Farmer's Almanac projects cold, damp conditions for all of December in the Ohio Valley. It should be noted that after Sunday's game, the Bengals are home three of the next four weeks. Their only remaining road game is at Pittsburgh.
Throughout his career, Dalton has performed better in warmer games. In games with temperatures 50 degrees or higher, he has a 20-14 record, an 85.1 passer rating and a 52.5 QBR. In games with temperatures at 49 and lower, he has a 5-5 record, a 75.4 passer rating and a 32.9 QBR. Dalton's last three sub-49-degree wins came last December, though; a sign that perhaps he's turning a corner in cold-weather contests.
Whatever the conditions and whomever their opponents are, when it comes to the next five weeks, the Bengals can only hope that Dalton turns into the same man who torched through this October.
January, 10, 2013
Jan 10
7:30
AM ET
The Ravens will head out to Denver tomorrow for Saturday's divisional playoff game, but they're not the only ones with travel arrangements. It looks like the NFL head-coach and general-manager searches could affect the rest of the teams in the division. I'll explain further in the wake-up call ...
RAVENS
: Slowed by injuries, linebacker
Terrell Suggs
has one sack in his past eight games and just one quarterback hurry in his past three games, including none against Denver last month. The Ravens, though, don't sound disappointed. "I'm marveled the guy has played at all this year," defensive coordinator Dean Pees said, via the
team's official website
. "So I think anything that we've gotten out of Terrell Suggs has been a positive. I don't look at it at all that he hasn't done something successful. I look at it as this has been a bonus that we ever had the guy."
BENGALS
: Cornerback
Terence Newman
, who played under defensive coordinator Mike Zimmer in Dallas and Cincinnati, gave a ringing endorsement to his coach. Zimmer interviewed with the Browns on Wednesday and has drawn interest from the Chargers. "I think he'd do great. It's kind of an enigma how he's not a head coach already," Newman told the
team's official website
. "His track record speaks volumes. It's just one of those things where you have to get an opportunity; you have to get a chance. If there's any coach right now that's deserving, I think it would be him. He's won Super Bowls. He's led great defenses. He's led great teams. So, with that being said, he's well deserving."
STEELERS
: Omar Khan, the Steelers' director of football and business administration, is interviewing for the Jets' GM job on Thursday, according to the
New York Daily News
. Khan is part of the Jets' growing list of candidates that includes former Bears general manager Jerry Angelo and Dolphins assistant general manager Brian Gaine. Losing Khan would be significant for a Steelers team that needs to do some maneuvering to get under the salary cap. Khan has been Pittsburgh's chief contract negotiator for more than a decade and is known for his cap expertise.
BROWNS
: Marv Levy and Bud Grant, two Hall of Fame coaches who worked in the Canadian Football League, believe Montreal Alouettes coach Marc Trestman would have no trouble making the transition back to the American game. Trestman was interviewed by the Browns earlier this week. "You do have to adapt a bit, but it's the same game," Levy told The
Plain Dealer
. "The same things that win in the U.S. win up there. If you run, throw, block, tackle, catch, kick better than your opponent, you're probably going to win. It's still about fundamentals and teaching. I have been very impressed with Marc. I know he's being considered for several jobs and I think he'd make a darn good NFL coach."
February, 13, 2012
2/13/12
7:30
AM ET
Every morning, grab a cup of coffee and get your AFC North wake-up call here:
Bengals cornerback Leon Hall is on schedule to be ready for the start of training camp after a torn Achilles ended his season in November.
Hall won't participate in offseason minicamps, but he's already been doing some light running and jumping off boxes less than three months after his surgery.
"With the Achilles, and really with any injury, you don't want to come back too early," Hall told the
team's website
. "As important as I think the [offseason training activities] and minicamp are, it's just as important that you don't want to go into an OTA or minicamp practice and take a step back and miss the start of training camp. Early September, we'll answer some questions."
Hensley's slant
: Getting Hall back at full strength is essential to the Bengals' defense. He is Cincinnati's best player on defense and is a difference maker. In the first nine games with Hall, the Bengals gave up eight touchdown passes. In the last seven regular-season games without him, they allowed 12 touchdown passes.
BROWNS
: Tight end Ben Watson told the
Boston Herald
that he doesn't feel any residual effects from the three concussions that he suffered last season. He was placed on injured reserve in December but plans on playing his ninth NFL season. "I'm great," Watson said. "Three or four days after the last incident, I felt normal. I passed all my cognitive tests. I didn't have any headaches."
Hensley's slant
: Watson's production dropped significantly in his second season with the Browns. His receptions went from 68 to 37 and his receiving yards plummeted from 763 in 2010 to 410 last season. The Browns might diminish Watson's role in favor of getting Evan Moore more involved.
RAVENS
: The
Baltimore Sun
's Mike Preston believes John Harbaugh gets overlooked as one of the NFL's top coaches. "He already has beaten the best, including [Pittsburgh's Mike] Tomlin twice last season," Preston wrote. "But Harbaugh gets left out because of the stigma attached to being a longtime special-teams coach, and he also happens to be the coach of one of the NFL's most dominating personalities, inside linebacker Ray Lewis."
Hensley's slant
: It's hard to question Harbaugh's record since he became the Ravens head coach. He became the fourth NFL coach since the 1970 merger to guide his team to the playoffs in his first four years and his 48 victories (including playoffs) ranks as the third-most in the league over the past four seasons. But the true test to Harbaugh's coaching will come when the Ravens make the transition from future Hall of Famers (and team leaders) Ray Lewis and Ed Reed.
STEELERS
: Cornerback Ike Taylor became the third player to restructure his contract to help the salary-cap strapped Steelers, according to the
Pittsburgh Post-Gazette
. The details of the new contract are unknown. Also, Steelers executive Omar Khan took himself out of the St. Louis Rams' general manager search, the Post-Gazette reported. Khan, 35, has been an executive with the Steelers and their chief contract negotiator the past 11 years.
Hensley's slant
: Both moves will really help the Steelers get out of their cap predicament, especially the return of Khan. My guess is it didn't take much convincing to get Taylor to restructure his contract. He was probably in a helping mood after how the playoffs ended for Pittsburgh.
February, 9, 2012
2/09/12
7:30
AM ET
Every morning, grab a cup of coffee and get your AFC North wake-up call here:
The Steelers released cornerback
Bryant McFadden
and special teams player
Arnaz Battle
, according to the
Pittsburgh Post-Gazette
.
These moves freed up $3.5 million in salary-cap room. McFadden played six of his seven NFL seasons for the Steelers, and Battle joined Pittsburgh in 2010.
Pittsburgh officially announced the signing of safety Myron Rolle, who was a 2008 Rhodes Scholar. He had been on the
Tennessee Titans
practice squad in 2010 and in their training camp last summer.
Meanwhile, the
St. Louis Rams
requested permission to speak to Steelers director of administration Omar Khan for their general manager position, sources told the
Pittsburgh Tribune-Review
. Khan, the team's salary-cap manager and chief contract negotiator, has been with the Steelers since 2000. He was a finalist in the
Seattle Seahawks
' general manager search two years ago.
Hensley's slant
: The only significance with these cuts is that it's the beginning of what should be a long list of them. McFadden started the season opener but lost his starting job to
William Gay
. He played sparingly on defense much of the season and fell behind rookie cornerbacks
Cortez Allen
and
Curtis Brown
on the depth chart. Battle contributed on special teams but the veteran wide receiver didn't make a catch in his two seasons with the Steelers.
BENGALS
: The Bengals dropped to 10th in the AFC this season with 22 takeaways. Their 10 interceptions were the fewest in coach Marvin Lewis' nine seasons in Cincinnati. "If there's one thing we have to get … figure out a way to create more. Teams that create the most turnovers play in this game," Lewis told the
team's website
while at the Super Bowl. "More recently we have declined [in interceptions] and we have to find out why. We play more man concepts. That is part of it. We started very good and then we hit a lull. You have to look at that but conceptually that's the difference."
Hensley's slant
: That was the biggest season-long weakness for a defense that consistently overachieved. How important are turnovers? Like Lewis said, you just need to look at the two teams who played in the Super Bowl. New England led the AFC with 34 takeaways, and the
New York Giants
were fourth in the NFC with 31.
BROWNS
: Quarterback
Colt McCoy
was medically cleared from a head injury that sidelined him for the final three games last year, team president Mike Holmgren told ESPN 850 WKNR-AM in Cleveland (via the
Akron Beacon Journal
). "He passed all his tests and he's feeling fine," Holmgren said. "He has no residual effects from the play. I know no one will work harder this off season than Colt McCoy. So I'm happy we got through all that and he's fine and he appears to be."
Hensley's slant
: Now, the only question that remains at quarterback is who will be competing against McCoy for the starting job. At this point, it would be a letdown if the Browns failed to draft Baylor's
Robert Griffin III
or sign
Matt Flynn
in free agency.
RAVENS
: The team's website speculated that offensive tackle
Jah Reid
might shift to left guard if
Ben Grubbs
leaves in free agency. Reid, a third-round pick from a year ago, was drafted to be the team's future right tackle. "The thing that Steve [Bisciotti, team owner] pushed John [Harbaugh] and I the last couple of years is, 'Don't be afraid to play young players,'" general manager Ozzie Newsome said when asked about the potential position change. "We've had Jah now for a year, and now we've got him for a full offseason ... so John and I are not afraid."
Hensley's slant
: The Ravens need to make contingency plans because it appears that the odds are against Grubbs returning. Replacing a Pro Bowl guard with a converted tackle seems like a major step backward to me. Baltimore would be better off adding a stop-gap veteran guard if it can't draft a quality one in the first three rounds.
August, 31, 2011
8/31/11
12:00
PM ET
The regular season is set to begin in less than two weeks.
Here are the updated cap numbers for the AFC North, according to Jason La Canfora
of the NFL Network:
Cincinnati Bengals
Cap room:
$29,030,430

Analysis:
Teams are not required to spend to the cap until 2013, and the Bengals are taking advantage. Cincinnati has the third-most cap space in the NFL. Trading receiver
Chad Ochocinco
and putting quarterback
Carson Palmer
on the reserve/did not report list will save Cincinnati more than $17 million this year. The Bengals made several free-agent acquisitions, such as
Nate Clements
and
Manny Lawson
. But few were big names. They also re-signed starting tailback
Cedric Benson
for a bargain, one-year deal after Benson had legal issues this summer.
Cleveland Browns
Cap room:
$18,856,161

Analysis:
The Browns said they would build through the draft and keep their own players. They stuck to that principle this summer. Cleveland didn't make any significant moves in free agency. The Browns had plenty of needs and plenty of money to spend but stood pat. Cleveland's biggest move was giving Pro Bowl left tackle
Joe Thomas
a
huge, seven-year extension
worth up to $84 million. It's the biggest deal in NFL history for an offensive or defensive lineman. Still, Cleveland has plenty of cap room to try to work out more extensions with in-house players such as tailback
Peyton Hillis
and defensive tackle
Ahtyba Rubin
.
Baltimore Ravens
Cap room:
$2,344,835

Analysis:
Baltimore's cap number is somewhat deceiving. The team will have more room -- perhaps as much as $5 million to $7 million -- once it reaches a long-term extension with Pro Bowl defensive tackle
Haloti Ngata
. The Ravens are working to extend Ngata and remove the franchise tag. But both sides have been unable to reach an agreement. Baltimore has been active and has a chance to make a couple more moves after Saturday's cuts. But the Ravens first have to take care of their in-house business with Ngata.
Pittsburgh Steelers
Cap room:
$2,268,471

Analysis:
General manager Kevin Colbert and cap specialist Omar Khan did an amazing job of transforming the Steelers' cap from about $10 million over to more than $2 million under. Pittsburgh gave out big extensions to cornerback
Ike Taylor
and linebackers
LaMarr Woodley
and
Lawrence Timmons
in the process. Key players such quarterback
Ben Roethlisberger
and linebacker
James Harrison
restructured their deals to assist the Steelers. Pittsburgh kept its team together to make another run this season. Don't expect any additional moves before the start of the season.