July, 15, 2010
7/15/10
1:00
PM ET
»
NFC On the Radar
:
East
|
West
|
North
|
South
»
AFC
:
East
|
West
|
North
|
South
A player, coach or issue that should be on your radar as training camp approaches.
It's both a blessing and a curse to be a fearless and physical receiver.
The positive is
Anquan Boldin
plays with a toughness and reckless abandon
that should fit in well
with the
Baltimore Ravens
. The negative is Boldin's style has resulted in injuries, and he hasn't played a full 16-game season since 2006.
Will Boldin's health be an issue in Baltimore? The Ravens hope that's not the case, because they will need the three-time Pro Bowler on the field to remain
strong Super Bowl contenders.
Baltimore recently traded for Boldin to get over the hump against teams like the high-powered
Indianapolis Colts
. After
losing to Indianapolis in the playoffs last season
, Ravens general manager Ozzie Newsome came to realize that Baltimore
cannot always rely on defense in today's NFL
. There are too many rule changes favoring the offense and too many great quarterbacks leading playoff teams.
That's where Boldin comes in. His job is to become the No. 1 target for third-year player
Joe Flacco
, who is trying to become one of the NFL's better quarterbacks. Boldin's presence also should take some of the pressure off Pro Bowl tailback
Ray Rice
and the running game.
The Ravens sought out Boldin's medical records before finalizing the trade with the
Arizona Cardinals
. So there is some concern. Last postseason Boldin dealt with an injured left ankle and in 2008 he took a crushing blow to the head against the
New York Jets
that required facial surgery.
Baltimore's best-case scenario is that Boldin left his history of ailments in Arizona. His style of play won't change, but perhaps his luck will.
July, 8, 2010
7/08/10
1:00
PM ET
»
NFC On the Radar
:
East
|
West
|
North
|
South
»
AFC
:
East
|
West
|
North
|
South
A player, coach or issue that should be on your radar as training camp approaches.
In just one week, offensive lineman
Trai Essex
has gone from a relative unknown to one of the most talked about
Pittsburgh Steelers
heading into training camp.
[+] Enlarge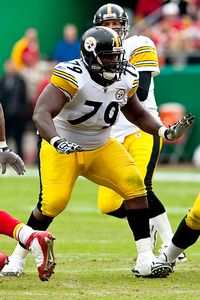 Icon SMITrai Essex may be called on to replace injured right tackle Willie Colon.
The buzz surrounding Essex is whether he's the key component to replace injured right tackle
Willie Colon
, who was
lost for the season
after rupturing his right Achilles tendon.
Now Pittsburgh needs answers -- and quickly. With training camp set to begin later this month, the Steelers worked out veteran offensive tackle
Flozell Adams
but didn't sign him to a contract. If there is no movement in free agency, Essex could be the top choice to replace Colon.
Essex started all 16 games at right guard last season, but his starting job this year was already in jeopardy. Pittsburgh drafted rookie
Maurkice Pouncey
in the first round (No. 18 overall) with the anticipation that the Florida product would eventually take over for Essex, who has played on the first team this spring. Colon's injury could speed up the process and give Essex a chance to work at right tackle in training camp and the preseason.
"When you look at Essex, I kind of like him because he's smart and he's versatile," said Scouts Inc.'s Matt Williamson. "In a pinch, he can probably play any of the five positions. But he's going to get exposed if he's there too long for any of them.
"He moves pretty well, although I think he carries too much weight and a bigger spare tire than you'd like to see [for an offensive tackle]."
Other in-house options for Pittsburgh include backups
Jonathan Scott
and
Tony Hills
. Expect both players to get a look in training camp.
For an offense that recently traded receiver
Santonio Holmes
and will be without quarterback
Ben Roethlisberger
for at least four games, solving the right tackle issue this summer would be a huge plus.
July, 1, 2010
7/01/10
1:00
PM ET
»
NFC On the Radar
:
East
|
West
|
North
|
South
»
AFC
:
East
|
West
|
North
|
South
A player, coach or issue that should be on your radar as training camp approaches.
Troy Smith
is a perfect example of how quickly things can change in the NFL.
Two years ago, Smith was the favorite to be the starting quarterback of the
Baltimore Ravens
. He was within weeks of winning the job before a tonsil infection knocked him out the competition and gift-wrapped it for then-rookie
Joe Flacco
, who ran with the opportunity.
[+] Enlarge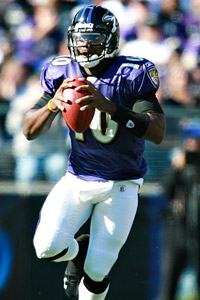 Marvin Gentry/US PresswireTroy Smith's future in Baltimore remains uncertain.
Two years later, Smith is in limbo and he could be trade bait. He's the projected third quarterback behind Flacco and recent acquisition
Marc Bulger
heading into training camp.
"It's a part of the game," Smith recently told
Mike Duffy of BaltimoreRavens.com
. "The situation, there's not much that we as players can do about it."
Smith seems to be taking the high road despite his unsure future with the Ravens. This offseason, his representation made it clear that Smith would like the opportunity to try to earn a starting role elsewhere. He only carried a fifth-round tender but there were no takers.
Now the question is would teams reconsider Smith if there's an injury? Would the Ravens lower their asking price to a sixth- or seventh-rounder in 2011? Or would Baltimore be content to keep Smith around as the emergency quarterback?
Smith's biggest contribution to the team was his ability to run the "Suggs package," which was Baltimore's variation of the Wildcat offense. But as the No. 3 quarterback, Smith by rule could not play unless Flacco is benched or injured for the remainder of the game.
Barring injury, there just isn't much room for Smith to contribute to Baltimore this year. Sure, a team can never have enough quarterbacks with starting experience. The Ravens have four: Flacco, Bulger, Smith and
John Beck
. But at least one has to go before the Sept. 13 opener against the
New York Jets
.
That leaves either Smith or Beck as the odd man out, and the trade market for Smith could be the determining factor.
June, 24, 2010
6/24/10
1:00
PM ET
»
NFC On the Radar
:
East
|
West
|
North
|
South
»
AFC
:
East
|
West
|
North
|
South
A player, coach or issue that should be on your radar as training camp approaches.
It's no secret the NFL can be a shrewd business. Therefore, there's no guarantee all first-round draft picks will report for training camp on time.
Every year, there are several rookies who get into bitter battles with teams over millions of dollars before they play their first pro game. Last year, the AFC North had one of the biggest rookie contract disputes when
Cincinnati Bengals
offensive tackle and No. 6 overall pick
Andre Smith
missed all of training camp. Finally, both sides agreed to an incentive-laden deal. But Smith's rookie year never got off the ground with a late start and subsequent foot injury that limited him to six games.
Will the AFC North see another high-profile contract dispute this summer?
There are three first-round candidates:
Joe Haden
of the
Cleveland Browns
,
Maurkice Pouncey
of the
Pittsburgh Steelers
and
Jermaine Gresham
of the Cincinnati Bengals. The
Baltimore Ravens
traded out of the first round this past April and didn't pick until the second round.
In order, Haden is probably the player most at risk of a contract dispute, simply because he was the highest pick at No. 7 overall. There will be a lot of guaranteed money involved in Haden's deal. Last year's No. 7 pick,
Oakland Raiders
receiver Darrius Hayward-Bey, received $
23.5 million guaranteed
.
Pouncey, the No. 18 overall pick, is one of Pittsburgh's highest selections in recent years. But the Steelers are moving fast and already have
eight of their 10 draft picks under contract
. Pouncey and second-round pick
Jason Worilds
are the only two unsigned players, and there is ample time before training camp.
The Bengals have a history of not getting players to camp on time. But with Gresham being the No. 21 overall pick, it's more likely Cincinnati will reach an agreement with its first-rounder much quicker this year.
Overall, it appears the AFC North has a decent chance of avoiding a major rookie contract dispute this summer. But with the way business is in the NFL, anything is possible.
June, 17, 2010
6/17/10
1:00
PM ET
»
NFC On the Radar
:
East
|
West
|
North
|
South
»
AFC
:
East
|
West
|
North
|
South
A player, coach or issue that should be on your radar as training camp approaches.
CINCINNATI -- Coachable. Hard-working. Willing to listen.
These were not terms often used to describe cornerback
Adam Jones
during his turbulent NFL career. But that's the praise I heard from the
Cincinnati Bengals
' coaching staff during this week's mandatory minicamp.
Jones was out of football in 2009 for various off-the-field issues. The defending AFC North champions took the risk and signed Jones to a two-year contract with hopes that he can provide depth for the secondary.
[+] Enlarge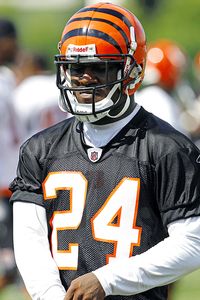 Frank Victores/US PresswireAdam Jones has been doing all of the right things since joining the Bengals.
It's been so far, so good, according to the Bengals.
"He's come in and done everything we've asked him to do at this point," Cincinnati defensive backs coach Kevin Coyle said. "He's been very coachable. He wants to do well and is extremely competitive. He wants to win at everything. He's got that nature about him."
Jones said he's working to better himself and shed his old image. For starters, he no longer wants to be called "Pacman." That nickname represents a persona that often got into trouble.
Jones' athleticism has never been in question. That's what made him the No. 6 overall pick of the
Tennessee Titans
in the 2005 draft. In minicamp, Jones has showed flashes by making several nice plays on the ball at cornerback and still displaying natural skills as a kick returner, despite his extended time away from the NFL.
The extra work spent in organized team activities has helped Jones shake the rust.
"I've only had one year of OTAs since I've been in the NFL; that was my second year," Jones explained. "I had a pretty good second year, too. I think OTAs is a big part for me. Some people don't need it. I need the extra work. It's a situation that [keeps me] focused and just getting back to football."
By September, Jones expects to be in even better football shape. But it's his history of not being able to steer clear of trouble that will be the biggest question for the cornerback this season.
If Jones, 26, figures out the latter, Cincinnati's experiment could pay dividends.
June, 10, 2010
6/10/10
1:00
PM ET
»
NFC On the Radar
:
East
|
West
|
North
|
South
»
AFC
:
East
|
West
|
North
|
South
A player, coach or issue that should be on your radar as training camp approaches.
Simply mention Bruce Arians' name in Pittsburgh and it's sure to cause a polarizing debate among Steeler Nation.
Some criticize Pittsburgh's offensive coordinator for getting away from the power running game, which has been a Steelers staple for generations. And detractors often point out Arians' reluctance to use a fullback, which is un-Steeler-like.
[+] Enlarge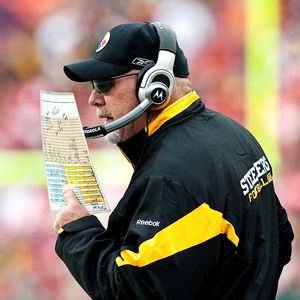 Jeff Moffett/Icon SMIThe spotlight will shine even brighter on Bruce Arians this season.
Supporters will argue that Pittsburgh won a Super Bowl under Arians following the 2008 season and had a 4,000-yard quarterback, two 1,000-yard receivers and a 1,000-yard rusher last year. Things aren't perfect (see red zone production), but the Steelers are moving the football under Arians, supporters say.
But no matter what side of the fence you're on with Arians, everyone agrees that this is a big year for the Steelers' offensive coordinator. After a chaotic offseason that included quarterback
Ben Roethlisberger
's conditional six-game suspension and a trade of receiver
Santonio Holmes
, Arians has a golden opportunity to prove himself. His game planning and play calling will be at a premium during Roethlisberger's suspension.
If Pittsburgh continues to rack up yards and score points without Roethlisberger and Holmes, Arians would silence many of his critics. The key will be a more consistent running game, led by tailback
Rashard Mendenhall
and perhaps first-round draft pick and interior offensive lineman
Maurkice Pouncey
.
Although quarterback is a question early this season, the weapons in the passing game are still there.
Veteran receiver
Hines Ward
is still productive. Second-year receiver
Mike Wallace
is an up-and-coming talent and tight end
Heath Miller
is coming off a Pro Bowl season. It will be up to Arians to figure out how reserve quarterbacks
Byron Leftwich
or
Dennis Dixon
will get the ball in the hands of these playmakers.
When things went well offensively for Pittsburgh, "Big Ben" got most of the credit. Yet when things went poorly, Arians received most of the blame.
This year, all of the credit or blame will rest squarely on Arians' shoulders -- at least through the first four or six games of the season without No. 7 around.
June, 3, 2010
6/03/10
1:00
PM ET
»
NFC On the Radar
:
East
|
West
|
North
|
South
»
AFC
:
East
|
West
|
North
|
South
A player, coach or issue that should be on your radar as training camp approaches.
Last offseason, a surprise rookie from Ole Miss flashed tremendous speed and reliable hands during
Pittsburgh Steelers
' practice.
[+] Enlarge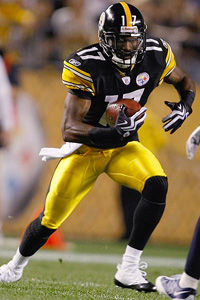 Scott Boehm/Getty ImagesMike Wallace had 39 catches for 756 yards and six touchdowns during his rookie season.
Several months later, third-round pick
Mike Wallace
introduced himself to the rest of the NFL with a standout season, recording 39 receptions for 756 yards and six touchdowns.
This year, Wallace has been arguably the best receiver for the Steelers during practices with
Hines Ward
coaching from the sidelines. Wallace routinely makes plays now that he's getting more opportunities with the first-team offense. With
Santonio Holmes
traded to the
New York Jets
, it will be important for Pittsburgh's second-year standout to make the jump from a backup receiver to a starter.
Wallace owes a lot of his quick development to Ward, who remains in his ear during practices. Like
Plaxico Burress
and Holmes in the past, Ward knows how important it is to have two productive receivers in Pittsburgh's offense.
"Anything I do, he's watching," Wallace said of Ward this week. "So it's kind of hard to be perfect with Hines out here."
Wallace continues to work on his routes; route-running was the knock on him coming out of college. Pittsburgh utilized Wallace's strengths last year by making him a deep threat as the third receiver. But this season Wallace must be more polished running short and intermediate routes as a starter.
Timing also is something to watch in training camp. Wallace and the receivers are working with
Ben Roethlisberger
, who has a conditional six-game suspension, as well as
Byron Leftwich
on the first team this spring.
Dennis Dixon
also is expected to get a chance to work with the starters at some point, as the team figures out how to divide snaps.
"They're all good quarterbacks, so it doesn't really matter to me," Wallace said. "Anyone of them lines up, I'll be ready to go."
Wallace is confident that he's ready to step into the starting role. Based on last season and his steady growth this offseason, there's no reason for the Steelers to think otherwise.
May, 27, 2010
5/27/10
1:00
PM ET
»
NFC On the Radar
:
East
|
West
|
North
|
South
»
AFC
:
East
|
West
|
North
|
South
A player, coach or issue that should be on your radar as training camp approaches.
[+] Enlarge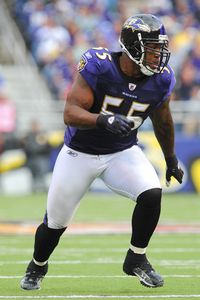 Al Messerschmidt/Getty ImagesTerrell Suggs had a career-low 4.5 sacks last season.
Terrell Suggs
of the
Baltimore Ravens
openly admits 2009 was a down year. But it also led to a bold proclamation for this upcoming season.
"Rest assured, it will never happen again,"
Suggs recently told reporters.
The hybrid linebacker/defensive end and three-time Pro Bowler is motivated to have a bounce-back season for the Ravens, who should be strong contenders in the AFC.
A variety of factors contributed to Suggs' subpar numbers last season.
At times Suggs was banged up with a knee injury, missing three games. He lacked his usual explosiveness and didn't look to be in the best of shape. There were points when teammates
Jarret Johnson
and
Trevor Pryce
, not Suggs, were Baltimore's best pass-rushers. Pryce (6.5 sacks) and Johnson (6.0 sacks) led the team, while Suggs recorded a career-low 4.5 sacks.
The sudden inconsistency from Suggs is baffling. He was one of the most dominant defenders in the NFL for the six years before last season.
"His pass rush, I just tend to think it was an anomaly," said Matt Williamson of Scouts Inc. "There wasn't somebody on the other side who took a lot of the pressure off ... But I don't worry about Suggs. If it happens another year in a row, then maybe I will say he's a declining pass-rusher.
"But I tend to side that he's going to come back to form in a hurry."
The Ravens are banking on Williamson's projection. Baltimore gave Suggs, 27, a six-year,
$63 million contract
last year, believing he is still in his prime.
Baltimore as a team was ranked a disappointing No. 18 in sacks last season. If the Ravens are going to have a resurgent pass rush in 2010, Suggs will be vital.
May, 20, 2010
5/20/10
1:00
PM ET
»
NFC On the Radar
:
East
|
West
|
North
|
South
»
AFC
:
East
|
West
|
North
|
South
A player, coach or issue that should be on your radar as training camp approaches.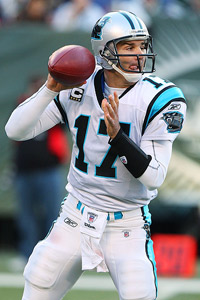 Al Pereira/Getty ImagesDelhomme will likely lead an offense that is a hybrid of the West Coast and Patriots' systems.
How will the
Cleveland Browns
' offense look in 2010?
At this point, it's anyone's guess.
Cleveland's offensive scheme is "constantly evolving," according to Browns head coach Eric Mangini. The lack of success -- the Browns were ranked last in total offense last season -- combined with the addition of influential team president Mike Holmgren have resulted in an exchange of ideas of how to run things more efficiently.
Holmgren is a firm believer in the West Coast offense, which has led him to three Super Bowls as head coach of two franchises. But Mangini and current Browns offensive coordinator Brian Daboll are coaching the team and believe in the
New England Patriots
' system, where they worked up the ranks and also won Super Bowls.
By the end of training camp, Cleveland probably will have a blend of the Patriots' system mixed with some West Coast principles.
"There's been an influx of ideas between the new people of the organization," Mangini explained. "There's been an influx of ideas with offseason studies and things that we liked from other teams that they did ... Now it's a function of trying to figure out where does it fit."
One key to making it all work will be veteran quarterback
Jake Delhomme
, who signed as a free agent from the
Carolina Panthers
.
Delhomme is learning a new system in Cleveland this season. But it's not completely foreign because he knows the West Coast portion of the scheme from the time he spent with the
New Orleans Saints
under former assistant Mike McCarthy, who is now the head coach of the
Green Bay Packers
.
"I think I have a very good background in it," Delhomme said. "Some of the plays, Seneca [Wallace] and I will speak some of the West Coast language, because it's very similar to the system he ran in Seattle and what I ran with Mike."
Cleveland's offense looked dominant during Wednesday's organized team activities that were open to the media. Both Delhomme and Wallace made several nice throws for big gains against Cleveland's defense.
It's early, but perhaps that's a small sign that Cleveland's offense has the potential to improve in 2010. Considering last year's ranking, the unit has nowhere to go but up.