April, 7, 2014
Apr 7
10:45
AM ET
After the
Baltimore Ravens
announced the signing of tight end
Owen Daniels
, coach John Harbaugh said, "You guys know football. You can see where this is going."
The direction of the Ravens' offense is two-tight end formations. It's been a favorite formation of new Ravens offensive coordinator Gary Kubiak during his years with the
Houston Texans
, and it falls in line with the Ravens' philosophy. Harbaugh has always said the best 11 players will be on the field, and that translates to a lot of significant playing time for Daniels and
Dennis Pitta
.
Lining up two tight ends will be a drastic change for the Ravens. Last season, no team ran
fewer
plays with multiple tight ends than the Ravens (155 snaps), the result of not having Pitta for 12 games. Under Kubiak, no team ran
more
plays with multiple tight ends over the past three seasons than the Texans (an average of 625 snaps), according to ESPN Stats & Information.
Daniels, who played eight seasons under Kubiak in Houston, predicts the Ravens will have plenty of two-tight end sets in the playbook.
"We've got the guys here to do it," Daniels said. "That always makes things tough on defenses. When you run the ball well, that makes the defenses make decisions on personnel, and you kind of go off that. I would say look for more of that in the future."
For years, the Ravens were the traditional I-formation, power running team. Their offense revolved around
Jamal Lewis
and
Ray Rice
following a fullback and gashing defenses.
The Ravens' game plan changed last year when they were unable to run the ball. The team phased out fullback
Vonta Leach
and decided to spread out defenses with three wide receivers.
The Ravens' base offense is expected to evolve again after the Ravens re-signed Pitta and added Daniels. The team can go with two tight ends, wide receivers
Torrey Smith
and
Steve Smith
and Rice at the skill positions.
The Ravens can be versatile with this personnel grouping. They can split out either Pitta or Daniels (or both) to have a four-wide look because both tight ends are such strong pass-catchers. Or they can line Pitta and Daniels next to the offensive tackles for a more run-heavy formation, which could also set up play-action passes.
The key to running the ball out of a two-tight end formation will be the effectiveness of Pitta and Daniels as blockers. Opening holes for the run game isn't the strength of Pitta and Daniels, although Daniels is considered a functional blocker.
Asked whether the Ravens are still looking for a blocking tight end, Harbaugh looked at Daniels and said they'll take that as an insult.
"You can't just be one-dimensional. If you're one-dimensional, and you can't block, you'll probably be out there, and you're basically a wide receiver," Harbaugh said. "That conversation has been had. If you're in there, and you're a tight end, and you can't run a route, you're basically an offensive tackle. Everybody knows it. The ability to do both well, or at least do one thing great and the other thing adequately, you have to have that."
Harbaugh added, "Owen Daniels is a good blocker. Put on the tape, and you're going to see a very good blocker. He understands the blocking scheme. So, I wouldn't take that away from him. Hey, if we end up with some punishing, dominating, end-of-the-line-of-scrimmage blocker, you'll see me smiling. But our two guys right now block really well, too."
April, 4, 2014
Apr 4
5:00
PM ET
OWINGS MILLS, Md. -- The pairing of
Owen Daniels
with
Dennis Pitta
gives the Ravens their best one-two punch at tight end in their history.
Could Pitta and Daniels be the best tight end tandem in the NFL? Ravens coach John Harbaugh wouldn't argue against it.
Daniels
Pitta
"To me, the sky's the limit," Harbaugh said at Friday's introductory news conference for Daniels. "We're not going to downplay anything that we're capable of accomplishing. These are two of the best tight ends in the National Football League, who fit this offense really, really well. Hey, no promises. We've got to go out and do it and prove it. Use your imagination and you guys know football. You know where this is going."
In 2012, the last time Pitta and Daniels had a full season, they each topped 60 receptions and five touchdowns. If the Ravens could get a combined 100 catches from them this season, it would be quite an accomplishment. Only the
New Orleans Saints
had a tight end combination with more than 100 catches last season, and
Jimmy Graham
accounted for 86.
Besides the Ravens, the other top tight end tandems in the league are the
Indianapolis Colts
with
Coby Fleener
and
Dwayne Allen
(if he's healthy); the
Denver Broncos
with
Julius Thomas
and
Jacob Tamme
; and the
Cincinnati Bengals
with
Jermaine Gresham
and
Tyler Eifert
.
But Pitta and Daniels have a more proven track record.
"I think being able to play alongside Dennis is going to be awesome," Daniels said. "We're going to be a great tandem. [Being] very versatile in what we do individually is going to make it tough on defenses to prepare."
Pitta and Daniels have a good shot at becoming the most productive tight end tandem in Ravens history. The Ravens have had five seasons in which two tight ends have totaled more than 80 catches. The most was 95 catches in 2005, when Baltimore's tight ends were Todd Heap (75 receptions) and Daniel Wilcox (20).
.
April, 4, 2014
Apr 4
11:15
AM ET
Last year, the
Baltimore Ravens
made
Joe Flacco
one of the wealthiest quarterbacks in the league. This offseason, the Ravens have put him in position to be among the most successful.
By reaching an agreement with tight end
Owen Daniels
, the Ravens have given Flacco the strongest supporting cast of his seven-year career.
[+] Enlarge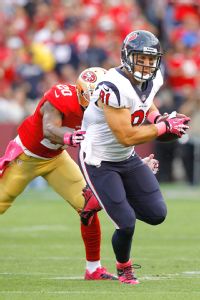 Cary Edmondso/USA TODAY SportsThe addition of TE Owen Daniels gives QB Joe Flacco yet another experienced playmaker to target.
Flacco can go deep to
Torrey Smith
, hit
Steve Smith
on a comeback route and connect with Daniels and
Dennis Pitta
over the middle. Everywhere Flacco looks, there is a playmaker who is experienced and dependable.
Whether it was last season or 2012, all four of these players -- Torrey Smith, Steve Smith, Pitta and Daniels -- have caught at least 60 passes in a season. This makes the Ravens less predictable and should make them more productive.
The Ravens made it a priority this offseason to give Flacco his best shot at succeeding. The only player signed by the Ravens before free agency was Pitta. The only player signed by the Ravens on the first day of free agency was left tackle
Eugene Monroe
. The first free agent from another team signed by the Ravens was wide receiver Steve Smith. And, in what may be the last significant move before the draft, the Ravens added a two-time Pro Bowl tight end in Owen Daniels.
"There's never too many horses in the stable," wide receiver Steve Smith told The Baltimore Sun after the Ravens struck a deal with Daniels. "You can never have too many fast cars in garage."
That garage was largely empty last season after
Anquan Boldin
was traded and Pitta missed the first 12 games of the season with a hip injury. Flacco's top four targets became wide receiver Torrey Smith, who had never been a No. 1 receiver; wide receiver
Marlon Brown
, an undrafted rookie; tight end
Dallas Clark
, who looked like a player at the end of his career; and tight end
Ed Dickson
, who seemed to drop as many passes as he caught.
The lack of chemistry and consistency led to Flacco throwing a career-worst 22 interceptions, which were 10 more than he had in any previous season. The Ravens learned that Flacco isn't a quarterback like
Tom Brady
or
Peyton Manning
, quarterbacks who excel by raising the level of talent around them.
But Flacco can play at an elite level with the right pass protection and receivers. The Ravens made a mistake last offseason when, after signing Flacco to a $120.6 million contract, they traded away Boldin and didn't add anyone of significance to the passing attack until the start of training camp. By that time, the Ravens brought in Clark and wide receiver
Brandon Stokley
, which would've been great moves in 2008, not 2013.
The Ravens signed two veterans again this year with Steve Smith and Daniels. They're not in the prime of their careers, but they're not in the twilight stages of it like Stokley and Clark. Smith was a Pro Bowl player in 2011, and Daniels was one in 2012.
Flacco has had talented receivers around him in other seasons. In 2010, there was Boldin,
Derrick Mason
,
Todd Heap
and
T.J. Houshmandzadeh
. During the Super Bowl run, there was Boldin, Pitta, Torrey Smith and
Jacoby Jones
.
What separates the 2014 Ravens passing attack is the depth. Along with the Ravens' Big Four (Torrey Smith, Steve Smith, Pitta and Daniels), they still bring back a big-play receiver in Jones and a red zone threat in Brown. When you look at the big picture, the Ravens have a blend of speed, size, big-game experience and dependable hands. Defenses are no longer going to be able to just bracket Torrey Smith or play a run defense on first and second downs against the Ravens.
All of these weapons produce heightened expectations for Flacco. A 4,000-yard season is a reasonable target. Throwing 30 touchdowns is not out of the question.
Ravens general manager Ozzie Newsome did his part to help his quarterback this offseason. The ball is in Flacco's hands now.
April, 3, 2014
Apr 3
8:00
PM ET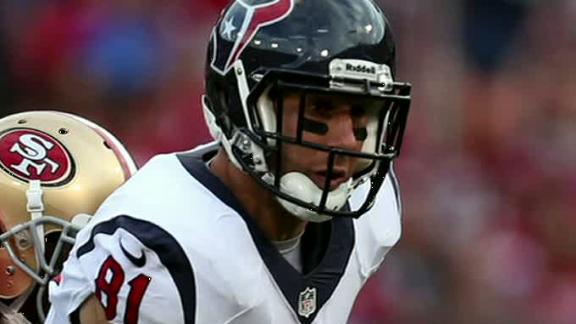 The
Baltimore Ravens
don't expect
Owen Daniels
to be their No. 1 tight end. They don't project him to put up Pro Bowl numbers or relive past glory in Gary Kubiak's offense.
So, why is a one-year deal with Daniels such a significant move for the Ravens?. Essentially, Daniels will be what
Steve Smith
is to
Torrey Smith
. Daniels is an excellent compliment to
Dennis Pitta
and provides a clutch secondary option behind a young player hitting his prime. His history says you can count on him for 50 catches, timely third-down conversions and yards after the catch.
This is a win for quarterback
Joe Flacco
, whose tight ends last year were an aging
Dallas Clark
and an undependable
Ed Dickson
. This is a critical addition for new offensive coordinator Gary Kubiak and it goes beyond his ties with Daniels.
Daniels
Kubiak likes using two tight ends, and he can now go with that as his base offense. Lining up Pitta and Daniels, the Ravens can be just as dangerous as any team using four wide receivers because of their tight ends' pass catching ability.
This isn't to suggest that they will become
Rob Gronkowski
and
Aaron Hernandez
. This is, however, the Ravens' version of that. At 31, Daniels has been on the decline but he has at least 54 receptions in his past five healthy seasons.
Daniels runs great routes, can catch most passes thrown his way and has proved to be a functional blocker. Unlike anyone else on the Ravens' offense, Daniels won't have a transition period. He played seven seasons in Houston under Kubiak when he was the Texans head coach.
Why Daniels was still on the free-agent market is because of last season. He played only five games because of a fractured fibula. Daniels went unsigned after visits with the Ravens, Packers, and Redskins.
It wasn't too long ago when Daniels was one of the most productive tight ends in the league. In 2011 and 2012, Daniels ranked eighth in receptions (1,393), fifth on third-down conversions (27) and sixth in yards after the catch (623).
There was no one available who could have made a more immediate impact than Daniels. The Ravens could've re-signed Dickson, but Flacco had no confidence in him last season. They could've drafted a tight end, although it was unlikely that the No. 1 prospect Eric Ebron was going to fall to the Ravens at No. 17.
Daniels was the Ravens' sure bet at tight end, and he gives the Ravens the best one-two punch at tight end in their history.
March, 25, 2014
Mar 25
3:00
PM ET
ORLANDO, Fla. -- The
Baltimore Ravens
are still interested in tight end
Owen Daniels
, according to coach John Harbaugh.
Daniels
Tight end is the thinnest position on the Ravens. No tight end on the roster other than
Dennis Pitta
has played in a regular-season game.
Daniels, 31, would fit with the Ravens because he has familiarity with Gary Kubiak's offensive system from his days in Houston. Durability is the biggest concern. Last season, Daniels played only five games because of a fractured fibula.
"We just have to see how it plays out," Harbaugh said. "It's got to be a fit for everybody. There's a lot to it financially and other things. He's in our conversation."
Harbaugh also mentioned that the Ravens are considering re-signing
Ed Dickson
to fill the No. 2 tight end role.
There has been speculation that the Ravens could bring in another former Texans player. But right tackle
Eric Winston
is currently not on the team's radar.
"That's not to say it couldn't change, but that's not a guy we're talking to right now," Harbaugh said.
March, 11, 2014
Mar 11
1:00
PM ET
There are multiple reports indicating the
Baltimore Ravens
are close to re-signing left tackle
Eugene Monroe
, and a deal could be complete before the start of free agency at 4 p.m.
This likely will be the first of a handful of moves in free agency as the Ravens look to improve the NFL's 29th-ranked offense. Let's take a look at who else could be on the team's radar:
WIDE RECEIVER
Smith
Steve Smith, Carolina:
The Panthers are reportedly trying to trade Smith, and they could ultimately release him. Smith is the type of clutch, go-to receiver the Ravens need. He also brings an intensity and work ethic that can rub off on young receivers. The biggest problem is Smith turns 35 in May and he's coming off his second-least productive season over the past nine years. He had 64 catches for 745 yards and four touchdowns.
Julian Edelman, New England:
He fits what the Ravens want: a receiver who can make the tough catches underneath and can break tackles to convert third downs. Edelman's skill set would complement
Torrey Smith
's deep speed and give the Ravens two receivers hitting their prime. What is tough is gauging whether Edelman can come close to matching his 2013 breakthrough season (105 catches for 1,056 yards) without
Tom Brady
throwing him the ball.
Golden Tate, Seattle:
Tate would be at the top of my list for the Ravens. At 25, he's just reaching the prime of his career. His receiving stats aren't overly impressive because he has played in a run-heavy offense, but the key is his numbers have improved each season. Tate's biggest selling point: He led the league in yards after catch per reception (7.75), according to ESPN Stats & Information. Plus, he's not afraid to block, and he's known for being a high-character player in the locker room.
TIGHT END
Pettigrew
Brandon Pettigrew, Detroit:
Even though the Ravens signed
Dennis Pitta
, the Ravens are expected to line up in two tight ends a lot under offensive coordinator Gary Kubiak. Pettigrew, who is more of a complete tight end than Pitta, would be an excellent fit for the Ravens. General manager Ozzie Newsome liked Pettigrew in the 2009 draft, but the Lions selected him six picks ahead of the Ravens. Pettigrew, 29, never delivered the pass-catching numbers expected of a first-round pick. Last season's production (41 catches for 416 yards and two touchdowns) was his lowest since his rookie season. The Ravens need him as much for his blocking as pass-catching skills. He would be an upgrade over
Ed Dickson
, who is a free agent.
Owen Daniels, Houston:
Daniels, who was released by the Texans on Tuesday, is on the list because of his obvious connection with Kubiak, the former head coach of the Texans. He runs great routes, can catch most passes thrown his way and has proved to be a functional blocker. Durability is the biggest concern. He has been limited to 11 games or fewer in three of the past five seasons. Last season, Daniels played only five games because of a fractured fibula.
Garrett Graham, Houston:
Just like Daniels, Graham is here because of his history with Kubiak. He proved he could be effective in the passing game (49 catches and five touchdowns last season) and is an above-average blocker. With his age (27) and upside, some teams (like the Buccaneers) will view him as a potential No. 1 tight end. He wouldn't have that high-profile role with the Ravens.
CENTER
Mack
Alex Mack, Cleveland:
There are reports the Ravens could turn their attention to Mack if they can't get a deal done with Monroe. What is going to be difficult is prying the Pro Bowl center away from the Browns, who put the transition tag on him. That means they can match any offer. If the Ravens can somehow pull this off, this would be a major step toward improving the offensive line. I know I'm in the minority on this one, but I believe adding Mack would be a better move than keeping Monroe.
David Baas, New York Giants:
Baas, who was cut by the Giants on Monday, would serve as a stopgap until
Gino Gradkowski
can get stronger. Baas is 32 and has an injury history, which is why he can be had for a one- or two-year deal. He has been the Giants' starting center since signing as a free agent in 2011, but has struggled to stay healthy. His 2013 season ended early as a result of a neck injury. The Giants could target Packers center
Evan Dietrich-Smith
, who could follow offensive coordinator Ben McAdoo from Green Bay to New York.
Brian De La Puente, New Orleans:
He's a three-year starter for the Saints who will draw interest because of a weak free-agent market for centers. Before joining the Saints, he was a journeyman who played on six teams in three seasons. At 28, De La Puente could be coming into his own at the right time. He's not considered a power player inside.
October, 18, 2012
10/18/12
12:00
PM ET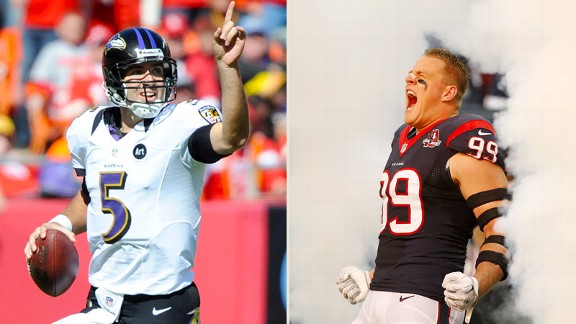 US Presswire, AP ImagesHow Baltimore's Joe Flacco, left, fares against Houston's explosive J.J. Watt could be key Sunday.
The last time we saw the Texans and Ravens square off, we were watching a divisional-round playoff game at M&T Bank Stadium in Baltimore.
Terrell Suggs
had six tackles and a pass defended as the Ravens' rush linebacker. Houston featured third-string rookie
T.J. Yates
at quarterback, and his three interceptions -- paired with multiple special-teams gaffes by Texans returner
Jacoby Jones
-- were big factors in a 20-13 Baltimore victory.
The Texans returned home to rave reviews for their first playoff season but also couldn't help wonder what might have been if they'd had injured starting quarterback
Matt Schaub
and played a cleaner game. Baltimore advanced to the AFC Championship Game in New England, where it lost to the Patriots, but a near-catch for a touchdown by
Lee Evans
could have won it with 27 seconds left and a missed 32-yard field goal by
Billy Cundiff
could have forced overtime.
This rematch doesn't carry the same stakes but could have big implications. The winner will have the AFC's best record at 6-1.
AFC North blogger Jamison Hensley and AFC South blogger Paul Kuharsky will be watching closely.
HENSLEY
: I think it's easy to say this is a battle of the two best teams in the AFC. Not really going out on a limb here because the Ravens and Texans are the only teams with winning records in this mediocre conference. I know there are going to be nine games after this one, but this is shaping up to be the Ravens' most important game of the regular season.
The result of this game could become a tiebreaker for home-field advantage or a first-round bye at the end of the season. The Ravens, who have won a league-best 14 consecutive games at home, don't want to go on the road in the playoffs. The Ravens' mindset is that they won't have to come back to Houston this year if they win there Sunday. What's the mindset of the Texans after what happened in Houston last Sunday night?
KUHARSKY
: Because the Texans are so young, they've played a lot of "biggest games in franchise history." This is certainly the newest one to top the list. Their critics look at the 5-1 record and see wins over mostly softies and a pasting by the Packers on Sunday night. A victory over the Ravens validates everything they've done and regains a firm hold on Best in the AFC. A loss would create some serious concerns. They do have the cushion of playing in a terrible division they simply can't lose. But Baltimore has been an obstacle and ended the Texans' last season in the playoffs. If they meet again with such high stakes, they don't want to be traveling.
It might be a good time to draw the Ravens, too, right? I know
Ray Lewis
wasn't what he has been, but their first game without a leader like that and without an underrated, great corner like
Lardarius Webb
may make them a bit more susceptible, no?
HENSLEY
: This is the most vulnerable I've seen the Ravens' defense in 13 seasons. Lewis wasn't playing like the Lewis from 10 years ago, but he was still an above-average linebacker in this league. The Ravens have given up more than 200 yards rushing in each of the past two games, and losing Lewis only makes that run defense shakier.
Dannell Ellerbe
, who has made seven starts since entering the league as an undrafted free agent in 2009, will take Lewis' spot.
Though the Ravens will miss Lewis' leadership, the bigger loss is Webb. He was emerging as one of the top cornerbacks in the league. His nine interceptions since the start of the 2011 season was tied for the league lead. So, the Ravens have taken shots to both their run and pass defenses this week. How do you see the Texans attacking the Ravens' defense Sunday?
KUHARSKY
: Although they might not run first chronologically Sunday, the Texans are a run-first team. Everything they do offensively is keyed on the one-cut-and-go running of
Arian Foster
, who did great work running for 132 yards in that playoff game on Jan. 15. They send him left most often now, because
Duane Brown
and
Wade Smith
are steadier blockers than the guys on the right side, where they have two new starters who aren't even full time.
Spinning off that run game, we'll see play-action heavy with bootlegs and rollouts. It's always remarkable to see
Owen Daniels
out in space awaiting a Matt Schaub pass.
Andre Johnson
is certainly dangerous too, though they've not been able to feed him the ball as much as usual. He hates the talk that he's getting older and slowing down, but he hasn't looked like the same player so far this season. Two weeks ago, Jets cornerback
Antonio Cromartie
really smothered Johnson. I figured Webb would be a guy who could do similar work. If AJ sees someone like
Cary Williams
instead, it could be a different story.
Speaking of Schaub, let's turn to quarterbacks. He has been quite efficient this year, doing what Houston needs and not getting caught up at all in his numbers. I came into the season not sold on
Joe Flacco
and thinking the Ravens didn't have the right guy under center to become an offensive team. But he has done some very good work in the games I've seen and started to change my opinion. Even minus
Brian Cushing
, the Texans' front throws a lot at a quarterback. Green Bay might have exposed some coverage deficiencies. How's Flacco at assessing such things on the fly and taking advantage?
HENSLEY
: Flacco's biggest improvement this season has been his ability to audible at the line. The Ravens are using the no-huddle more than any other time in Flacco's five seasons. It's not to the point of being
Peyton Manning
, but Flacco is constantly changing the play at the line. Flacco, who ran the no-huddle during his college days, is comfortable with this. He has wanted to have more control of the offense and he's now getting it.
A lot of credit goes to quarterbacks coach Jim Caldwell, who is familiar with this style from his days with the Colts. Flacco makes his mistakes when he gets pressured. His pocket awareness has improved and he can scramble for yards. But Flacco will rush and make poor throws when a defender is in his face. Left tackle
Michael Oher
(four sacks) and rookie right tackle
Kelechi Osemele
(three sacks) have struggled at times keeping rushers away from Flacco. Is there any chance the Ravens slow down
J.J. Watt
and Houston's pass rush?
KUHARSKY
: It sure seems like the key to the game for me. Watt is going to get his at some point, and it's not just sacks. Watch how he'll stop rushing when he knows he's not getting there and time his jump to bat down, or even pick off, a pass.
And although the numbers of the other guys aren't in his stratosphere,
Brooks Reed
,
Antonio Smith
and
Connor Barwin
are very effective rushers who will have a bearing on Flacco's pocket comfort. Force some mistakes with that rush, and I like Houston's chances. Get stonewalled and fall victim to the ball coming out super-fast, and I feel differently.
One note about the quicker Ravens offense: With Cushing out,
Brice McCain
, the nickelback, will have a bigger role in covering players such as
Ray Rice
and
Dennis Pitta
on routes. If the Ravens run hurry-up or no-huddle, they can potentially trap the Texans in base if they want McCain off the field. I am eager to see whether they try that. The Texans are obviously are familiar with Jim Caldwell's no-huddling.
How about special teams? Tell me how Jacoby Jones is now reliably explosive? The Texans have some serious special-teams issues.
HENSLEY
: Jacoby Jones has been one of the bigger surprises this season for Baltimore. The Ravens were looking to upgrade the return game this offseason and failed to sign
Eddie Royal
or
Ted Ginn
in free agency. That's why they jumped on Jones when he was cut by the Texans. He has been average as a punt returner (9 yards per return), but he really keyed the win over the Cowboys on Sunday. His 108-yard kickoff return for a touchdown, which tied an NFL record, was the big play in that game.
The only reason the Ravens turned to Jones on kickoffs was because rookie
Deonte Thompson
fumbled a kickoff the week before. If you think about it, it's kind of funny that Jones got his chance to be explosive because another player couldn't hold onto the ball, especially after Jones' problems fielding kicks in the past. But that really hasn't surfaced so far with the Ravens.
Baltimore's coverage teams are both ranked in the top half of the league, which is a big improvement from last year. In 2012, the Ravens allowed three touchdowns on returns. Another improvement is at kicker. Rookie
Justin Tucker
has made 12 of 13 field goals this season and has hit both attempts beyond 50 yards. If this game is close, the Ravens have a lot of confidence in Tucker to make a pressure kick. So, what are the issues with the Texans' special teams?
KUHARSKY
: Well,
Trindon Holliday
was absolutely electric as their returner in the preseason. But it didn't carry over and they gave up on him. You saw Holliday playing for the Broncos on Monday night.
Keshawn Martin
is the man now. The team averages only 9.8 yards a punt return and 18.5 yards a kick return.
Their average start after a kickoff is the league's worst -- the 17.7-yard line. Their coverage isn't that bad -- it's 31st in the league instead of 32nd. Opponents start at the 26.9-yard line.
Donnie Jones
is a middle-of-the-pack punter in net average.
Shayne Graham
has been good on field goals, hitting 11 of 12, but is tied for 24th in touchbacks playing at home in what amounts to a domed stadium.
It's gambler's logic that the Texans are due to break through against the Ravens. Maybe they will, maybe they won't. If they don't and Jacoby Jones has something to do with it, it'll hurt a little bit extra.
It's certainly no stretch to predict we'll see these teams facing off again in the playoffs. In what round and where is the question, and Sunday's winner will lead the race to be in position to host.
January, 11, 2012
1/11/12
5:40
PM ET
OWINGS MILLS, Md. -- The top wide receivers for both teams participated in practice Wednesday as the Ravens and Texans prepare for Sunday's divisional playoff game. The Ravens'
Anquan Boldin
(knee) had a full practice while the Texans'
Andre Johnson
was limited.
The only other injury of note is Houston tight end
Owen Daniels
, the Texans' leading receiver who has an injured hand. Texans coach Gary Kubiak said Monday that Daniels would play against the Ravens.
Here is Wednesday's injury report:
BALTIMORE RAVENS
Limited
: LB
Brendon Ayanbadejo
(thigh)
Full participation
: WR Anquan Boldin (knee), LB
Dannell Ellerbe
(head), CB
Jimmy Smith
(head), S
Tom Zbikowski
(head)
HOUSTON TEXANS
Limited
: G
Mike Brisiel
(ankle), TE Owen Daniels (hand, knee), WR Andre Johnson (knee), S
Troy Nolan
(ankle)
Full participation
: LB
Mister Alexander
(shoulder), CB
Jason Allen
(thumb), LB
Bryan Braman
(neck), RB
James Casey
(knee, foot), DT
Shaun Cody
(knee), TE
Joel Dreessen
(knee), CB
Sherrick McManis
(ankle), C
Chris Myers
(knee), LB
Brooks Reed
(knee), RB
Ben Tate
(shoulder), T
Eric Winston
(calf), QB
T.J. Yates
(left shoulder)
December, 11, 2011
12/11/11
8:55
PM ET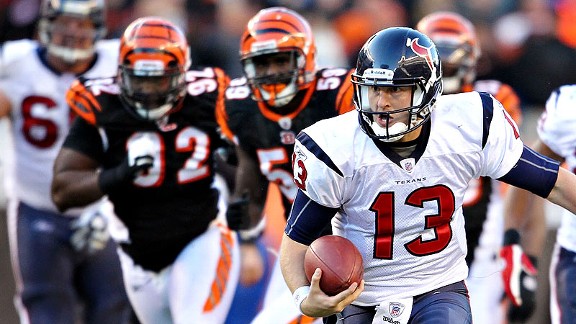 Andy Lyons/Getty ImagesWith the game on the line, Houston's rookie QB T.J. Yates made the clutch plays, not the Bengals.
CINCINNATI -- The
Cincinnati Bengals
aren't a playoff team this year.
That's not to say they're eliminated from the postseason. That's not to say the Bengals will fail to reach the playoffs next season and the next five years after that. But Sunday's
20-19
loss -- make that punch-in-the-gut collapse -- to the
Houston Texans
illustrates one point: The Bengals aren't ready.
Playoff teams come through in the clutch in December. They don't allow a rookie third-string quarterback to drive 80 yards in the final minutes to score the winning touchdown.
Playoff teams finish off teams on their home turf during a playoff run. They don't squander nine-point leads in the fourth quarter. They don't let a receiver go uncovered across the middle of the field on second-and-goal in the final seconds.
It would be easy to say the Bengals looked like the Bungles. Let's not go there. The Bengals simply looked like a young team that flinched when they needed to punch back.
"It's a defeated feeling today," safety
Chris Crocker
said. "I can't even put it into words how bad this hurts, especially being in it until eight seconds left. We just had so many opportunities. I can't even put a word on how much this hurts."
Crocker added, "It was just one of those games where there were missed opportunities time after time after time. It was our own fault. We put ourselves in bad positions. Offensively and defensively, we just made critical errors all day long. And that's why we lost this game."
Some might argue that this is putting too much into one game. But Marvin Lewis was the one who called this the "biggest" game of his nine-year Bengals coaching career. Instead, he suffered one of the biggest collapses. Lewis talked about a "rebirth." Instead, he watched a loss that might have killed his best coaching season.
Hey, what's that saying ... If a team falls and there is no one there to see it, does it make a sound? Ok, that's a low blow, but it's accurate. The second-smallest crowd (41,202) in Paul Brown history showed up, leaving 24,333 seats unfilled. Those empty seats matched the Bengals' empty feeling.
"As far as the team goes, they are very disappointed and I'm going to have to pump some air in them," Lewis said. "We have to make some corrections and get back on track. Before this game, we controlled our own destiny, and now I can't tell you what is going to happen. We have to move forward and see what happens."
The Bengals entered this game with a hold on the sixth and final playoff spot in the AFC. They left with a 7-6 record, one game back of the
New York Jets
(8-5), who grabbed the No. 6 seed away from them.
Even if Cincinnati is able to get that playoff spot back in the final three weeks, the Bengals will be a playoff team in name only. The Bengals are a team that will do damage in future seasons. They have the NFL's best rookie quarterback-receiver combination in the past two decades. They have a defense that will come back stronger with a healthy
Leon Hall
and
Carlos Dunlap
.
At this point, Cincinnati isn't on the same level as Baltimore and Pittsburgh. And the Bengals proved today that they can't beat a Texans team that is without its top two quarterbacks and star wide receiver
Andre Johnson
.
The Bengals are now 1-6 against teams that currently have winning records.
"It's not even about the playoffs anymore. It's about winning games," Crocker said. "We can't think about the postseason until we start winning games. It's a remote idea right now."
Everything that the Bengals did right -- a 97-yard touchdown drive, a 49-yard field goal in the final seconds of the first half and a season-high four turnovers forced -- gets lost in what the Bengals did wrong.
Cincinnati had first-and-goal at the Houston 1-yard line in the first quarter until right guard
Bobbie Williams
' false start (that led to a field goal instead of a touchdown). The Bengals were 1 of 3 in the red zone.
Cincinnati had a 13-point lead to open the second half until quarterback
Andy Dalton
was stripped from behind on the second play of the third quarter. Rookie tight end
Colin Cochart
couldn't block
Connor Barwin
, who caused the fumble inside the Bengals' 20-yard line (leading to a quick Texans touchdown).
And Cincinnati forced a fumble early in the fourth quarter, but defensive end
Frostee Rucker
coughed it up while trying to score. Then, Bengals safety
Reggie Nelson
and linebacker
Manny Lawson
fought over the ball, which allowed the Texans to regain control at their own 2-yard line.
Leading 19-10 at the time, the Bengals could have had the ball in the red zone and with a chance to put the game away. But three Bengals couldn't hold onto the fumble. The Texans marched 83 yards for a field goal to pull within 19-13 and set up the dramatic finish.
"That should have been one of the [turnovers] that would have helped us tremendously," Lawson said.
Their biggest downfall came on the final drive. On third-and-15, the Bengals allowed Yates to scramble for 17 yards. Then, after a 17-yard pass interference penalty on cornerback
Adam Jones
, they allowed the 152nd pick of the draft to throw the winning touchdown when linebacker Brandon Johnson followed tight end
Owen Daniels
and let Walter run free over the middle.
"A rookie quarterback beat us today," Crocker said. "I don't even know what to say. Wow. I don't even know what to say."
The Bengals are a good team. They are a promising one. But the Bengals have made it clear that they're not a playoff team.
"We knew if we came out there and outperformed them, it was a matter of time where we would get our chance to shine," Maualuga said. "But it sucks to look at that scoreboard and see that we lost by one point when we knew we had the whole game in the palm of our hands."