March, 14, 2013
3/14/13
8:00
AM ET
Here's a recap of the first two days of free agency in the AFC North: the Browns signed players, the Ravens lost starters, the Bengals focused on re-signing their own players and the Steelers created more salary-cap space. If you want more details about Day 2 in free agency, take a look at the wake-up call ...
BALTIMORE RAVENS
The Baltimore Sun's Kevin Cowherd believes fans shouldn't panic over the Ravens' loss of players. "There has to be a plan in place that's dictating these recent moves," Cowherd wrote.
The Ravens envision recently signed Chris Canty to play a role similar to the one defensive end Cory Redding had a couple of years ago. "I'm excited about that," Canty told Baltimore reporters, via the team's website. "I'm very confident that I'd be able to come in and do that job at a very high level and help provide this defense with an opportunity to be aggressive and to be a dominant defense."
CINCINNATI BENGALS
According to the team's website, Lewis seemed unfazed that the Bengals lost three backup players who didn't fit into their long-term future: Defensive tackle Pat Sims (Oakland), outside linebacker Manny Lawson (Buffalo), and backup quarterback Bruce Gradkowski (Pittsburgh). "Nothing has changed," Lewis said. "I'm happy for Manny and that's a great thing for him. Our plans are set the way they are set."
PITTSBURGH STEELERS
Gradkowski, who was signed by the Steelers on Wednesday, has been a backup throughout his career but this time it's a different situation for him. "There's a great franchise quarterback here," Gradkowski said, via The Pittsburgh Post-Gazette. "To get to play with him and be a part of this is amazing. I haven't had that yet, to be somewhere where that guy is the guy. Ben (Roethlisberger) is the guy."
The Steelers re-signed long-snapper Greg Warren, who has spent his entire seven-year career with the Steelers. Also, Beanie Wells visited the Steelers and took a physical, according to The Post-Gazette.
CLEVELAND BROWNS
Outside linebacker Paul Kruger wants to be an every-down player and not a pass-rush specialist. "That's the biggest thing I want to change, is just being somebody you can rely on during the whole game," Kruger said at his introductory news conference, via The Plain Dealer. "I think that I was deemed as a pass-rusher only and it's something I think I'll be able to show people, I can be effective on every snap."
December, 13, 2012
12/13/12
11:46
PM ET
PHILADELPHIA -- My thoughts on the
Cincinnati Bengals
'
34-13 victory
at the
Philadelphia Eagles
:


What it means
: Capitalizing on five Eagles turnovers, the Bengals improved to 8-6 and moved a half-game ahead of the Steelers (7-6) for the sixth and final playoff spot in the AFC. This also ended a nine-game losing streak in prime time for the Bengals. Cincinnati is now 5-2 on the road and secured back-to-back winning road records for the first time since 1975-76. The Bengals won for the fifth time in six games.
Defense turns around game with turnovers
: The Eagles gave this one to the Bengals with their sloppy play. Four turnovers in a five-minute stretch in the second half turned a three-point deficit (13-10) into a 21-point lead (34-13). Trailing 13-10, cornerback
Leon Hall
made his first interception in 17 games and returned it 44 yards, which set up a touchdown run by
Andy Dalton
. Two plays later,
Pat Sims
forced a fumble and
Wallace Gilberry
returned it 25 yards for the Bengals' first defensive touchdown of the season. The Bengals scored 24 points in a span of 3 minutes, 23 seconds.
Offensive drought
: Before the turnover party by the Eagles, the Bengals' offense was stuck in neutral. In a seven-drive stretch, Cincinnati had four three-and-outs, two fumbles (both by Dalton) and one kneel-down. In the second quarter, the Bengals had as many first downs (two) as turnovers.
Keep on running
: Running back
BenJarvus Green-Ellis
went over 100 yards for the fourth time in five games. Green-Ellis had a quick start to the game, gaining 46 yards in the first quarter on eight carries.
Usual strong start
: A forced fumble by
Carlos Dunlap
and a blocked punt by
Dan Herron
led to 10 points in the first 7 minutes, 9 seconds. In the first quarter of the past six games, Cincinnati has outscored opponents 62-9.
There's the boom
: Herron, a rookie sixth-round pick, lived up to his nickname, Boom. On the first punt of the game, Herron showed his power by pushing wide receiver
Marvin McNutt
into punter
Mat McBriar
to block the kick. That led to a field goal and increased the lead to 10-0. It was the Bengals' first blocked punt in the regular season since DeDe Dorsey in 2007.
What's next
: The Bengals have 10 days before they play at the Steelers (7-6) in what could decide the final playoff spot in the AFC. Pittsburgh plays at Dallas on Sunday.
October, 31, 2012
10/31/12
7:00
AM ET
Happy Halloween to the AFC North blog family. Hopefully none of the Steelers fans are using those 1934 jerseys as their costumes. That would truly be frightful. Here's your first treat of the day, the wake-up call ...
RAVENS
: The
Baltimore Sun
's Mike Preston says getting defensive tackle
Haloti Ngata
healthy is the top priority for the Ravens, especially with games against the Browns'
Trent Richardson
, the Raiders'
Darren McFadden
and the Steelers'
Jonathan Dwyer
coming up in the next three weeks. "Ngata might be the best tackle in the NFL, but played the past three games with an MCL sprain and shoulder injury," Preston wrote. "He started all three games, but missed some playing time because of the injuries. In two of those three games, the Ravens allowed more than 200 yards rushing and 181 in the third game against Houston."
STEELERS
: Pittsburgh is looking at Sunday's game at the
New York Giants
as a measuring stick. "We are playing the defending champions at their place," coach Mike Tomlin said, via The
Pittsburgh Post-Gazette
. "That is varsity football, as we say in our business. Looking at what they have done this year, it's equally as impressive. They are 6-2. They've won their last four games. They do things that winning teams do." The Steelers are still searching for a signature win this season. All four of their victories have come against teams that have losing records and own a combined 12-18 mark (.400).
BENGALS
:
Pat Sims
' season could be in jeopardy because of a hamstring injury. Sims, who started 23 games at defensive tackle in his first four seasons, has only one more week on the physically unable to perform (PUP) list before the Bengals have to make a decision whether to begin his three-week practice window or shelve him for the season. "We're waiting on Pat to get where Pat can help us," coach Marvin Lewis said, via
CBS Sports
. "He's being given certain guidelines to do so that he can achieve it quickly. He's got some time."
BROWNS
: The Browns are starting to build some momentum. Cleveland has won two of its past three games after losing 11 games in a row. "Since I've been here it's just been 'We're happy we got a win, OK -- phew,'" tight end
Alex Smith
told
The News-Herald
. "Now we're developing a culture. We're just trying to keep on this path of (going up). I think it hit home even more when (owner Jimmy Haslam) came in and talked to us. That was pretty much the bottom line. He said, 'I'm about winning. Whoever's on board, we'll be good.' That was kind of awakening everybody -- it's go time."
April, 12, 2012
4/12/12
6:00
PM ET
Outside linebacker
Keith Rivers
, who was traded today to the
New York Giants
for a fifth-round pick, wasn't the only disappointment in the Bengals' 2008 draft class.

Cincinnati failed to find a long-term impact player out of its 10 picks that year. Rivers, the ninth overall pick in the 2008 draft, finished with the most starts in this class with 33, and the only players that remain with the team are two backups: defensive tackle
Pat Sims
(third round), and offensive tackle
Anthony Collins
(fourth round).
Wide receiver
Jerome Simpson
(second round) produced a career-high 50 catches last season as the team's No. 2 wide receiver, but he now faces 15 days in a Kentucky jail after pleading guilty to a drug charge. The Bengals haven't ruled out bringing him back.
Wide receiver
Andre Caldwell
(third round) showed promise in 2009 when he made a career-best 51 catches. But he followed that up with a combined 61 receptions the past two seasons. Caldwell signed this offseason with the
Denver Broncos
.
There were two players -- defensive tackle
Jason Shirley
(fifth round) and safety
Corey Lynch
(sixth round) -- who played a handful of games for Cincinnati before going elsewhere for reserve roles. Shirley played last season for Carolina, and Lynch was with Tampa Bay.
The last three players taken in the Bengals' 2008 draft -- tight end Matt Sherry (sixth), defensive end Angelo Craig (seventh) and wide receiver Mario Urritia (seventh) -- never played a regular-season game for Cincinnati and are out of the league.
In comparison, the Ravens drafted quarterback
Joe Flacco
and running back
Ray Rice
that season, and the
Pittsburgh Steelers
selected running back
Rashard Mendenhall
. Even the Browns, who had limited picks after trading for
Shaun Rogers
and
Corey Williams
, got underrated defensive tackle
Ahtyba Rubin
in the sixth round.
March, 25, 2012
3/25/12
8:00
AM ET
The Bengals continued their focus on the defensive line, announcing Saturday that they've re-signed backup tackle
Pat Sims
. It was the latest, and perhaps last, free-agent move by the Bengals involving their defensive line, which was the best in the AFC North in 2011.
Has the Bengals defensive line improved from last season or has it weakened? On paper, it looks the Bengals have taken a step back.
Cincinnati lost two key contributors in free agency: defensive end
Frostee Rucker
(Browns) and defensive lineman
Jonathan Fanene
(Patriots). The Bengals will miss defensive end Rucker's ability to stop the run and Fanene's motor in the pass rush.
Their additions have been two defensive ends who carry labels as first-round disappointments:
Jamaal Anderson
and
Derrick Harvey
. But they will be part of the rotation and won't really determine whether the Bengals are better or worse on the defensive line.
The Bengals' defensive line can be more productive than last year if defensive end
Carlos Dunlap
can stay healthy and defensive end
Michael Johnson
can bounce back from a disappointing 2011 season. Dunlap is the Bengals' top pass-rusher, and Johnson has intriguing upside.
So, have the Bengals improved their defensive line? Dunlap and Johnson are the only ones who can answer that question.
February, 15, 2012
2/15/12
8:00
AM ET
Every morning, grab a cup of coffee and get your AFC North wake-up call here:
New Ravens quarterbacks coach Jim Caldwell is turning his focus to
Joe Flacco
after a decade of working with the Colts'
Peyton Manning
.
But no one should expect Caldwell to morph Flacco into Manning.
"Everybody's different," Caldwell told the
team's website
. "[Flacco] has his own strengths, and what we want to try to do is accentuate those. I'm not here to make him like any other quarterback in this league, like Peyton Manning or Brad Johnson or the other guys I've coached. That's not my goal. He is who he is. What we want to do is just help him perfect what he does well."
In three years as the Colts head coach, Caldwell faced Flacco three times. The most recent meeting was in December, when Flacco threw for 227 yards and two touchdowns.
"We knew he was dangerous because we knew he could make all the throws," Caldwell said. "He could make all the finesse throws, all the intermediate throws, and under duress. He's a tough guy to handle."
Hensley's slant
: Still not sold on how much Caldwell will raise Flacco's game. It's difficult to tell how effective Caldwell was as the Colts' quarterbacks coach when he worked with a future Hall-of-Fame quarterback in Manning. But it was a good move to add a quarterbacks coach this year after the one-year experiment of Cam Cameron overseeing the position.
BENGALS
: Dolphins defensive coordinator Kevin Coyle, a former defensive backs coach in Cincinnati, might lure a couple of Bengals free agents to Miami. Among the possibilities listed by the
Miami Herald
were: safety
Reggie Nelson
and defensive tackle
Pat Sims
. "[Coyle] somehow got Nelson, an early-round draft bust in Jacksonville, to play well in Cincinnati," the Herald's Armando Salguero wrote. "Maybe Nelson might be the answer to getting some plays out of the Miami free safety spot."
Hensley's slant
: The loss of Nelson would hurt because he is one of the top three free agents the Bengals would like to re-sign. But Coyle would like to bring a veteran along who is familiar with his system and style. Luckily for the Bengals, they have plenty of cap room to sign a replacement if Nelson does leave.
BROWNS
: The
Canton Repository
's Steve Doerschuk suggests that the Browns keep running back
Peyton Hillis
and pursue quarterback
Matt Flynn
and wide receiver
Pierre Garcon
in free agency. That would allow Cleveland to fill other holes in the draft, where they have three of the top 37 picks.
Hensley's slant
: Signing Flynn would make a lot of sense. He would make more of an immediate impact than any of the rookie quarterbacks, and the Browns would have the freedom to draft the best player that falls to the No. 4 pick. This has the potential to backfire if Flynn becomes this year's
Kevin Kolb
and Baylor's
Robert Griffin III
becomes this year's
Cam Newton
.
STEELERS
: The
Pittsburgh Post-Gazette
's Ron Cook says it's time for the Steelers to realize that they owe wide receiver
Hines Ward
nothing. "There is no room in pro sports for sentimentality or loyalty, not when so much money is at stake and the pressure to win is so great," Cook wrote. "Unfortunately, Ward's inevitable parting from the Steelers looks as if it will be awkward with hurt feelings for Ward."
Hensley's slant
: This is the bad part about the business, because you want to see all of the stars finish their careers with one team. But that rarely happens these days in the NFL. Just ask another longtime wide receiver, Jerry Rice, who finished his career with the
Oakland Raiders
and
Seattle Seahawks
and not the
San Francisco 49ers
.
May, 11, 2011
5/11/11
7:30
PM ET
We continue our look at 2008 draft classes with the
Cincinnati Bengals
.

Draft picks:
LB
Keith Rivers
(first round), WR
Jerome Simpson
(second), DT
Pat Sims
(third), WR
Andre Caldwell
(third), OT
Anthony Collins
(fourth), DT
Jason Shirley
(fifth), S
Corey Lynch
(sixth), TE
Matt Sherry
(sixth), DE
Angelo Craig
(seventh), WR
Mario Urritia
(seventh)
Analysis:
The Bengals had a lot of draft picks, acquiring 10 new players. But despite so many picks, the Bengals didn't get much impact out of this draft. Rivers is a solid starter, but I would like to see more impact plays from him as a former top-10 pick. Simpson was a non-factor with Cincinnati for nearly three years before coming on strong in the final two weeks of last season. In 2011, Simpson has to prove that wasn't a flash in the pan. Caldwell and Sims have both developed into decent role players, which is not bad for a pair of third-round picks. It's not an awful draft for the Bengals but certainly not an impact draft. Simpson's development could be key to improving this final grade.
AFC North blog's draft grade:
C-
On Thursday we will take a look at the 2008 draft of the
Pittsburgh Steelers
.
March, 22, 2011
3/22/11
12:00
PM ET
By
Matt Williamson, Scouts Inc.
| ESPN.com
Scouts Inc.'s Matt Williamson looks at AFC North players on the verge of a breakout in 2011.

Carlos Dunlap
is the more likely candidate of these two young impressive defensive linemen to truly become a star for Cincinnati, but
Geno Atkins
is less well-known and deserves to be discussed thoroughly.
This is one of the quickest interior defensive linemen off the ball in the league. Atkins is an exceptional penetrator overall. His pass-rush skills jump off the tape, and he is already among the best interior situational pass-rushers in the league.
The next step that Cincinnati needs from Atkins is improvement in his run defense, although he isn't terrible in this regard now. Atkins isn't the biggest player for the position and needs to show that he can hold up to the pounding when given additional snaps. If he continues to impress -- and I expect he will -- Atkins should pair with
Pat Sims
to make for very solid starting defensive tackles. Maybe the most encouraging thing about Atkins is that he left college as a very young player and will be 23 this year.
Many have projected Cincinnati to take a defensive linemen with the fourth overall selection, but with the emergence of Atkins to pair with Sims and outside edge players Dunlap and
Michael Johnson
, it might make more sense to draft a quarterback with that pick or someone like Georgia's
A.J. Green
or LSU's
Patrick Peterson
-- especially if
Johnathan Joseph
departs in free agency.
Scouts Inc. watches games, breaks down film and studies football from all angles for ESPN.com.
December, 8, 2010
12/08/10
10:00
AM ET
»
NFC Stock Watch
:
East
|
West
|
North
|
South
»
AFC
:
East
|
West
|
North
|
South
FALLING
1. Pat Sims, Cincinnati Bengals defensive lineman:
With the
New Orleans Saints
down three points late in the fourth quarter, no one in Paul Brown Stadium believed they would go for it on fourth down with the exception of one person: Sims. Cincinnati's defensive lineman
jumped offside
and gave the Saints a new set of downs to eventually score the game-winning touchdown. Kudos to Sims for owning up to his mistake after the game. But the play still joins a
long list of mental errors
the Bengals have made this season.
2. Bengals' defense:
What happened to this group? Cincinnati's defense was ranked No. 4 in the NFL during last year's playoff run but dropped to No. 22 this season. The Bengals are allowing 26.8 points per game and gave up another 34 points in the loss to New Orleans. Lack of a pass-rush is a huge issue, but overall everyone on Cincinnati's defense is struggling this year.
3. Baltimore Ravens' offense:
It's Week 14, and I'm still waiting for this offense to develop more consistency. Some weeks the Ravens are scoring 37 points, while other weeks they could barely muster 10 points. On paper this group should be closer to the team that's capable of scoring 30 points a game. The talent is there at wide receiver, running back and tight end, which is part of the reason frustration is mounting in Baltimore. Veteran receiver
Derrick Mason
believes the offense
should be more productive
this late in the season, and we agree.
[+] Enlarge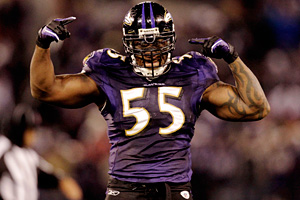 AP Photo/Rob CarrBaltimore's Terrell Suggs has nine sacks this season after recording just 4.5 last year.
RISING
1. Terrell Suggs, Ravens defensive end/linebacker:
It's been a great
bounce-back season for Suggs
, who already doubled his sack total (nine) from a year ago. But Suggs had his best game of the season in a big spot during Sunday's loss to the
Pittsburgh Steelers
. He had five tackles, 1.5 sacks and five additional hits on quarterback
Ben Roethlisberger
. Suggs has 5.5 sacks in his past five games.
2. Troy Polamalu, Steelers safety:
When a big play needs to be made,
Polamalu is always ready
for the key moment. Polamalu saved the Steelers for the second consecutive week with a game-changing sack and fumble of Ravens quarterback
Joe Flacco
that led to Pittsburgh's go-ahead touchdown. Polamalu also had a crucial interception two weeks ago that helped force overtime in a win over the
Buffalo Bills
. Plenty of players can make plays, but few can close games defensively like Polamalu.
3. Joe Haden, Cleveland Browns cornerback:
Cleveland's first-round pick is coming into his own late in the season. Haden recorded an interception in his fourth consecutive game in the Browns' win over the
Miami Dolphins
. Haden also had six tackles and four pass defensed. He leads the Browns this year with five interceptions and recently worked his way into the starting lineup.
December, 6, 2010
12/06/10
12:30
PM ET
Here are seven notes and observations from Week 13 in the AFC North:
AP Photo/Rob CarrThe Ravens broke Roethlisberger's nose, but he played on.

We are getting emails from Steeler Nation asking if Ben Roethlisberger's reputation has hurt him in drawing flags: I do see evidence that Roethlisberger's size works against him. Listed at 241 pounds, Roethlisberger is comparable in size to most linebackers and may be the hardest quarterback to bring down after contact. As a result, referees have been slower to throw flags when Roethlisberger is hit. There were several examples in Sunday's win over the Baltimore Ravens. The most obvious was the hit across the face from Ravens defensive lineman Haloti Ngata. Although the play looked unintentional, it broke Roethlisberger's nose and didn't draw a flag. I've seen much softer plays this season to other quarterbacks draw personal fouls. I noticed another first-half hit by Ravens defensive end Terrell Suggs, who put Roethlisberger on the ground after a pass attempt. Roethlisberger briefly complained to the refs to no avail. Last week, the Buffalo Bills twisted Roethlisberger like a pretzel long after the play was over, causing an injury to his foot. Again, no flag. If the NFL wants to go out of its way to protect its players -- and specifically quarterbacks -- Roethlisberger deserves the same protection and shouldn't be penalized for his size.

Can the Steelers (9-3) recover from this weekend's brutal game? Starting tight end Heath Miller suffered a concussion on a controversial hit by Ravens linebacker Jameel McClain, who was not penalized. Pittsburgh also will be looking for a new punter because Daniel Sepulveda will miss the rest of the year with an ACL injury. Right tackle Flozell Adams also could miss extended time with a high ankle sprain. This all helps the Cincinnati Bengals (2-10), who have lost nine straight and play in Pittsburgh on Sunday. The Bengals need all the help they can get.

For the first time this season, I have concerns about the Ravens' offensive chemistry. Two weeks ago, receiver Derrick Mason and quarterback Joe Flacco had a heated exchange on the sideline. On Sunday night, Mason vented again about the offense's lack of aggression. There's a lot of frustration coming from the Ravens. Of course, much of that has to do with the fact Baltimore may have let a home playoff game and a first-round bye slip through its fingers. The AFC North blog predicted in the spring that winning was going to be the biggest factor in keeping everyone happy for the Ravens (8-4).

Kudos to Suggs for one of the more dominant defensive performances I've seen in this Ravens-Steeler rivalry. With Pittsburgh dealing with offensive line issues, Suggs was virtually unblockable. He recorded five tackles, 1.5 sacks and five quarterback hits. Despite sometimes having to face two blockers, Suggs often was in Pittsburgh's backfield. Suggs, the AFC Defensive Player of the Month for November, leads the Ravens with nine sacks.

Another player who is coming on strong is Cleveland Browns rookie cornerback Joe Haden. In Cleveland's win over Miami, Haden recorded an interception for the fourth straight game. The first-round pick played solidly as a reserve but looks even better as a starter.

Cleveland is causing turnovers, a good sign heading into the final month of the season. The Browns have forced 10 turnovers in the past three games, including three interceptions against Miami quarterback Chad Henne. Cleveland's offense has struggled to do much with those extra opportunities, but the Browns (5-7) are still 4-2 in their past six games.

The Cincinnati Bengals (2-10) may have the lowest football IQ of any team I've been around in six years covering the NFL. They played hard in Sunday's 34-30 loss to the New Orleans Saints, but the Bengals continue to make errors and draw silly penalties. Defensive lineman Pat Sims jumped offside on fourth down against New Orleans on Sunday, and the Saints scored the winning TD on the next play. Everyone in Paul Brown Stadium knew the Saints wouldn't snap the ball. Bengals coach Marvin Lewis said he showed a similar play on film to his players last week, which means someone in the room wasn't paying attention.
December, 5, 2010
12/05/10
4:36
PM ET
Here are some thoughts on the
New Orleans Saints
'
34-30
victory against the
Cincinnati Bengals
:


What it means:
Despite a solid effort, the Bengals fell to 2-10 and extended their losing streak to an NFL-high nine games. Cincinnati is now battling for draft position. Players and coaches in the locker room obviously want to win. But each loss gets this team closer to securing one of the top picks in next year's NFL draft.
What I liked:
It's a shame this game was blacked out in the Cincinnati area, because it was the most entertaining Bengal games in weeks. Cincinnati's offense wasn't perfect, but it played well in the second half and put up 30 points against the defending Super Bowl champs. Bengals tailback
Cedric Benson
also had two rushing touchdowns. Cincinnati didn't turn over the football against New Orleans, which kept the Bengals in the game.
What I didn't like:
The Bengals gave away this game by not paying attention to the small details, such as
Pat Sims
jumping offside on fourth down, Cincinnati missing an extra-point attempt and not getting a big fourth-down conversion near the end zone. Cincinnati had 10 days of preparation for this game and continues to make inexcusable mistakes. The Saints did not bring their 'A' game Sunday and were ripe for an upset. But Cincinnati kept finding ways to beat itself.
What's next:
The road doesn't get easier for the downtrodden Bengals, who will travel next week to face the
Pittsburgh Steelers
. On paper, it doesn't appear Cincinnati will win many games the rest of the season. But if the Bengals put forth the same effort with less mistakes, they might have a chance to pull off an upset or two.
December, 14, 2009
12/14/09
2:30
PM ET

The
Cincinnati Bengals
(9-4) committed 11 penalties that helped lead to Sunday's
30-10
loss to the
Minnesota Vikings
(11-2). It's an issue that Cincinnati's coaching staff will have to fix as the team inches closer to the playoffs.
But before the Bengals fix their penalties, they first have to get to the root of the issue. The AFC North blog provides some assistance by determining if the team's problems are mental or physical errors.
By our count, seven of Cincinnati's 11 penalties were mental errors. These types of infractions often drive coaches crazy.
Bengals head coach Marvin Lewis will have to preach to his team to play smarter and more discipline next week against the
San Diego Chargers
(10-3). Because another game with 11 penalties likely will lead to the same losing result.