AFC North:

Patrick Willis
April, 21, 2014
Apr 21
10:00
AM ET
PITTSBURGH -- Mock drafts have, predictably, been all over the place as far as the
Pittsburgh Steelers
' first-round pick. Most, however, have them taking a wide receiver or a cornerback No. 15 overall, assuming they don't try to trade down.
I think those two positions are most likely the ones the Steelers will target with their first pick, though North Carolina tight end
Eric Ebron
could also be in play if he slides a little in the draft.

Ebron
Ebron is the No. 1 player at one of the few positions that is not particularly deep, and he would give the Steelers a tall receiver while also filling a long-term need. I think
Heath Miller
has at least three good seasons left in him, but the Steelers have to plan for the post-Miller years at some point.
If Ebron is still available when they make the first pick, I think they give him serious consideration, especially if a couple of cornerbacks are already off the board, as well as Texas A&M wide receiver
Mike Evans
.
The Steelers have eight other picks in the draft, three of which are compensatory selections, including one at the end of the third round. They have a lot of needs -- or as general manager Kevin Colbert would frame it "wants" -- particularly on defense.
Here is my projection of the positions they will address with their nine picks, which is contingent on the Steelers not adding extra ones through a trade.
Cornerback (2):
The Steelers could use immediate help here, and they don't have a long-term starter at cornerback after third-year man
Cortez Allen
. I would be surprised if they don't draft two cornerbacks, with one of them coming in the first three rounds. They drafted two cornerbacks in 2011, including Allen in the fourth round.
Defensive line (2):
The Steelers will draft a defensive lineman as early as the second round -- ESPN analyst Mel Kiper Jr. has them taking Notre Dame nose tackle
Louis Nix III
with their second pick in his latest mock draft -- and they need to take at least one end. The signing of
Cam Thomas
gives them a player with position flexibility, but the Steelers' need at defensive end is every bit as glaring as it is at cornerback.
Wide receiver (1):
No position is deeper in the draft, and even if the Steelers don't address it in the first round, they can still get a good prospect later. The Steelers probably won't get a chance to draft Evans unless they trade up in the first round and Florida State's
Kelvin Benjamin
may be too much of a risk to take at No. 15. LSU's
Odell Beckham Jr.
has been linked to the Steelers in various mock drafts, and they could pull the trigger on him if they have him high on their board.
Linebacker (1):
The Steelers have to take a player who projects as an outside linebacker in a 3-4 scheme given how thin they are at the position. It will be interesting to see what they will do if Alabama's
C.J. Mosley
is still on the board at No. 15. Mosley, who projects as an inside linebacker, may be one of the most NFL-ready players in the draft. "He and (Lawrence) Timmons could be your (NaVorro) Bowman and (Patrick) Willis," ESPN analyst and former NFL scout Matt Williamson said. If the Steelers take Mosley, they will also draft an outside linebacker later in the draft.
Safety (1):
The Steelers have hosted at least three safeties for pre-draft visits, including Louisville's
Calvin Pryor
, a projected first-round pick. The signing of
Mike Mitchell
makes it unlikely the Steelers take a safety in the first round but it wouldn't hurt to add another younger player here. The question is whether it makes sense for them to draft a safety -- or instead sign a couple of undrafted free agents -- if they don't take one in the second or third round.
Offensive line (1):
I don't see this as the need that others do. The Steelers got their upgrade up front when they hired Mike Munchak to coach the offensive line and he has plenty of material with which to work. All five starters return, including Pro Bowl center
Maurkice Pouncey
, who tore his ACL eight snaps into last season. And the Steelers have depth up front after re-signing
Cody Wallace
and
Guy Whimper
. The Steelers will probably take a lineman they can develop later in the draft, but I could also see them not drafting one for the second year in a row if they take two linebackers or a tight end.
Running back (1):
The Steelers need depth and they could use a speedster to complement
Le'Veon Bell
and
LeGarrette Blount
. The de-valuing of running backs allows the Steelers to wait until later in the draft to address the position and still get a good prospect. I don't see them taking a running back before the fifth round.
January, 28, 2013
1/28/13
12:39
PM ET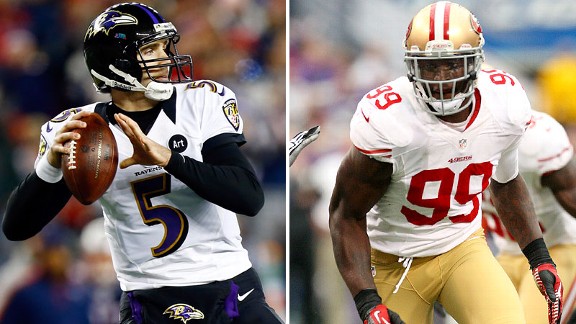 Getty ImagesRavens quarterback Joe Flacco will face his toughest challenge in Aldon Smith and the 49ers.
NEW ORLEANS --
Baltimore Ravens
quarterback
Joe Flacco
is riding one of the greatest postseason runs an NFL quarterback has ever ridden.
Only six quarterbacks have thrown more touchdown passes in a single postseason than Flacco, who has eight in these playoffs.
But the
San Francisco 49ers
will provide Flacco's toughest test of the postseason. Since Vic Fangio took over as the 49ers' defensive coordinator in 2011, San Francisco has allowed the fewest points (15.7) and second-fewest yards (301.3) on a per-game basis.
NFC West blogger Mike Sando and AFC North counterpart Jamison Hensley break down the matchup between this strong-armed quarterback and stingy defense.
Hensley:
Everyone laughed at Joe Flacco when he said he was the best quarterback in the NFL this offseason. Look who's laughing now. I'm not saying Flacco is the best quarterback in the league, but he's playing at a different level right now.
Sando:
I know "playing at a different level" sounds like a cliché, but it's really true. The smart numbers back this up in a big way.
Consider that
Peyton Manning
,
Tom Brady
,
Colin Kaepernick
,
Matt Ryan
and
Aaron Rodgers
finished first through fifth, respectively, in Total QBR for the regular season. All posted figures in the 70s or higher, well above the 50-point mark reflecting average contributions to winning.
I think we'd all agree that those guys were very good. Flacco finished 25th with a 46.8 mark. So, unless Flacco somehow defied a system that correctly identified the best and worst quarterbacks in the NFL, there was some reason for skepticism entering these playoffs.
Yes, the Ravens have won playoff games in past seasons with Flacco at quarterback, but he has been much, much better during this postseason -- not just relative to the regular season, but relative to past postseasons as well.
Flacco's eight touchdown passes and zero interceptions tell us as much. So do the advanced stats. Flacco's Total QBR has spiked to 77.5, third-best in the playoffs. It ranged between 17.6 and 41.9 for him in previous postseasons.
Hensley:
The difference with Flacco is his ability to get the ball downfield. He's averaging 16.7 yards per completion by going deep to
Torrey Smith
and
Anquan Boldin
. I expect a similar game plan from the Ravens, especially after watching how
Matt Ryan
was able to hit some big plays against the 49ers in the first half of the NFC Championship Game. How does San Francisco go about slowing down Flacco?
Sando:
The 49ers gave up a 46-yard touchdown pass to
Julio Jones
on a blown coverage in the NFC Championship Game. These longer passes have been a bit of problem for the 49ers during the playoffs. That is a concern in this game.
During the playoffs, the 49ers have allowed 66.7 percent completions with three touchdowns and one interception on passes traveling more than 15 yards past the line of scrimmage. The 49ers are allowing 17.6 yards per pass attempt on these throws. The numbers were much more impressive during the regular season (36.3 percent completions, two TD passes, six picks, 10.5 yards per attempt).
The 49ers' pass rush, diminished since Pro Bowl defensive end
Justin Smith
suffered a triceps injury in Week 15, finished strong in the NFC Championship Game. San Francisco needs to pick up in the Super Bowl where it left off against the Falcons.
Hensley:
What has impressed me just as much as Flacco's downfield passing has been his decision-making. He's not chucking the ball downfield any chance he gets. Flacco is waiting for the one-on-one matchups and exploiting them. That's the main reason why he hasn't thrown any interceptions in the playoffs. In fact, Flacco hasn't been picked off since he had an interception returned 98 yards for a touchdown against Denver on Dec. 16. He has gone 19 quarters of play without throwing one, a span of 162 passes. That's an amazing stretch for Flacco, whose previous best streak was 137 passes. A big reason why Flacco hasn't thrown interceptions is he's getting time to throw. If the 49ers can get pressure on Flacco, especially early, he has to continue to take care of the ball.
Sando:
The 49ers do not blitz much. They have sent five or more pass-rushers just 6.9 percent of the time in two playoff games, easily the lowest rate this postseason (32.4 percent for everyone else). They really need
Aldon Smith
and Justin Smith to play well. Neither has dominated for some time. Aldon Smith did get pressure on Matt Ryan as the NFC Championship Game progressed. That was one reason the 49ers put Ryan under duress on six of his final 12 drop backs.
What kind of pass protection should we expect from the Ravens?
Hensley:
Based on the playoffs, I would expect a very safe pocket for Flacco. The Ravens made a change on the offensive line and it has totally changed the passing game. Left guard
Jah Reid
was placed on injured reserve with a toe injury just before the playoffs began. That meant right tackle
Kelechi Osemele
moved to left guard, left tackle
Michael Oher
shifted to right tackle and
Bryant McKinnie
got out of John Harbaugh's doghouse and into the starting lineup at left tackle.
The result: four sacks allowed in three playoff games. The key matchup is McKinnie versus Aldon Smith. McKinnie has given up just one sack in the playoffs, but he has been inconsistent throughout his career. If the 49ers get too much heat on Flacco, look for the Ravens to get the ball to
Ray Rice
in space whether it's on swing or screen passes. Rice has been quiet in the playoffs as a receiver (four total catches) but he's dangerous in the passing game. Just look at fourth down-and-29 in San Diego.
Sando:
If the 49ers could hand-pick two inside linebackers to chase Rice around the field, they would probably pick the ones they're taking into this game,
Patrick Willis
and
NaVorro Bowman
. They should be OK in that aspect of the matchup. But there are no guarantees Aldon Smith, playing with a shoulder injury, is going to consistently win those pass rush battles against Bryant McKinnie.
Yes, McKinnie's career has been disappointing in recent seasons, but he was the seventh pick of the 2002 draft because he has talent.
McKinnie was at left tackle last season when the Ravens limited the 49ers to zero sacks. We should note that Justin Smith gave McKinnie problems in the running game. Still, though, that 16-6 defeat for the 49ers stands as one of three zero-sack games for San Francisco's defense over the past two seasons, counting playoffs. The 49ers' offense scored only 22 points in those three games, however. It's not like the Ravens were in any obvious passing situations against San Francisco last season.
Hensley:
Some Ravens players have told me that the key to their running game is getting linemen to the second level, especially against Bowman, who is getting a lot of respect here in Baltimore. The Ravens need the running game to work early to avoid those obvious passing situations you pointed out, Mike, and set up the play-action, which Flacco uses quite well.
This game is such a role reversal for Flacco after going through Peyton Manning and Tom Brady in the AFC gauntlet. He's now the experienced quarterback compared to Colin Kaepernick. After eight playoff games and three trips to the AFC Championship Game, he understands what it takes to win in the national spotlight. He needs to convert third downs, produce touchdowns in the red zone (he already has five touchdowns inside the 20 this postseason) and not make costly turnovers. If the Ravens are going to win, it's going to be because of Flacco.
May, 19, 2011
5/19/11
1:30
PM ET
Our popular and successful Power Rankings series continues next week with another interesting category that is sure to spark debate. Next week we examine who are the top-10 defensive players in the NFL.
There are a lot of wrinkles to this debate. For example, how do you rank a great linebacker such as
Patrick Willis
next to a great safety like
Troy Polamalu
? How would defensive lineman
Haloti Ngata
, who dominates the line of scrimmage, compare to cornerback
Darrelle Revis
, who shuts off one half of the field? These are all factors we have to consider when ranking the most dominant defensive players.
But our community doesn't have to wait for next week. Share your thoughts below on how you would rank the top defensive players in the NFL. ESPN.com will have its top-10 list complete on May 24.
April, 12, 2011
4/12/11
1:00
PM ET
The AFC North had the most linebackers (three) in the top 10 of any division in this
week's positional Power Rankings
.
[+] Enlarge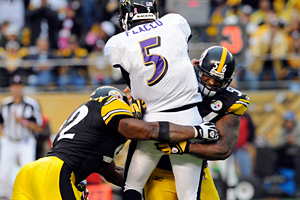 AP Photo/Tom E. PuskarThe Steelers boast two of the NFL's best linebackers in James Harrison, left, and LaMarr Woodley.
This should not be a surprise. Linebackers are the strength of this division, and that's especially the case for the
Baltimore Ravens
and
Pittsburgh Steelers
, who are perennial contenders.
Pittsburgh's
James Harrison
(No. 2) and
LaMarr Woodley
(No. 8 ) both made the list. So did Baltimore's
Ray Lewis
(No. 5). Ravens teammate
Terrell Suggs
just missed the cut and finished 11th.
Lawrence Timmons
of the Steelers also registered a vote and finished 15th.
Rating middle and outside linebackers
was very difficult
and not an exact science. But on my ballot, I decided to put more emphasis on pass-rushers than middle linebackers, because pressuring the quarterback is the most effective way to stop an offense in what's become a pass-heavy league. That is why you see players like
DeMarcus Ware
on my ballot ahead of
Patrick Willis
,
Clay Matthews
Jr. ahead of
Jerod Mayo
and Suggs ahead of Lewis. But all are great linebackers and probably interchangeable in these rankings, depending on what you prefer defensively.
Here is the full list:
ESPN.com's linebacker Power Rankings
1. Patrick Willis, 49ers
2. James Harrison, Steelers
3. DeMarcus Ware, Cowboys
4. Clay Matthews Jr., Packers
5. Ray Lewis, Ravens
6. Jerod Mayo, Patriots
7.
Brian Urlacher
, Bears
8. LaMarr Woodley, Steelers
9 (tie).
Tamba Hali
, Chiefs
9 (tie).
Jon Beason
, Panthers
Walker's linebacker Power Rankings
1. DeMarcus Ware, Cowboys
2. Patrick Willis, 49ers
3. James Harrison, Steelers
4. Clay Matthews, Packers
5. Jerod Mayo, Patriots
6. Brian Urlacher, Bears
7. Terrell Suggs, Ravens
8. LaMarr Woodley, Steelers
9. Ray Lewis, Ravens
10.
London Fletcher
, Redskins
April, 8, 2011
4/08/11
4:00
PM ET
ESPN.com's positional Power Rankings will continue next week with one of the toughest categories to date.


The question: Who are the NFL's best linebackers?
Linebackers are the strength of the AFC North, especially with the
Baltimore Ravens
and
Pittsburgh Steelers
. Baltimore's
Ray Lewis
and
Terrell Suggs
, a hybrid, will certainly be in consideration.
James Harrison
and
LaMarr Woodley
should also get votes from our panel.
But ranking outside and inside linebackers simultaneously is very tricky. The responsibilities are vastly different. Therefore, do you give more credence to the inside linebacker with 120-plus tackles (
Patrick Willis
), or the outside linebacker with 15-plus sacks (
DeMarcus Ware
)? Both players did their jobs extremely well.
Feel free to provide your list of top linebackers below. Find out who makes the final cut when ESPN.com unveils its Power Rankings on Tuesday.
April, 4, 2011
4/04/11
1:00
PM ET

The Elite Eight has been announced in the
"Madden NFL 12" cover tournament
, and there is one AFC North standout still remaining.
Cleveland Browns
tailback
Peyton Hillis
-- the dark horse of the tournament -- moved one step closer to sporting the cover of this year's popular video game with a huge upset over
Atlanta Falcons
quarterback
Matt Ryan
. Hillis, a No. 10 seed, edged the second-seeded Ryan by the slimmest margin possible, getting 51 percent of the vote. Hillis advanced this week to face
Kansas City Chiefs
tailback
Jamaal Charles
, who beat out
Maurice Jones-Drew
of the
Jacksonville Jaguars
.
The AFC North also suffered an upset as No. 2 seed
Hines Ward
of the
Pittsburgh Steelers
lost to No. 7 seed
Patrick Willis
of the
San Francisco 49ers
. Willis received 60 percent of the vote and will face
Philadelphia Eagles
quarterback
Michael Vick
in the next round.
The voting for the Elite Eight begins today. The overall favorite in the tournament is
Green Bay Packers
quarterback
Aaron Rodgers
, who is the lone No. 1 seed remaining.
April, 1, 2011
4/01/11
11:30
AM ET
Hillis
In the "Madden NFL 12" cover tournament,
Cleveland Browns
tailback
Peyton Hillis
is trying to put together a run similar to Virginia Commonwealth's basketball team.
Hillis, a No. 10 seed coming off a breakout season, is close to pulling off a huge upset against popular
Atlanta Falcons
quarterback and No. 2 seed
Matt Ryan
. As of Thursday, Hillis led Ryan by
fewer than 1,000 votes
. You can
cast your votes here
before the second-round ballots close this week.
Pittsburgh Steelers
receiver and No. 2 seed
Hines Ward
also is facing No. 7 seed
Patrick Willis
of the
San Francisco 49ers
. The winners will advance to the Elite Eight and will be announced next week.
May, 18, 2010
5/18/10
1:00
PM ET
»
NFC Big Question
:
East
|
West
|
North
|
South
»
AFC
:
East
|
West
|
North
|
South
Will the Pittsburgh Steelers offer outside linebacker LaMarr Woodley a contract extension before the start of the 2010 season?
[+] Enlarge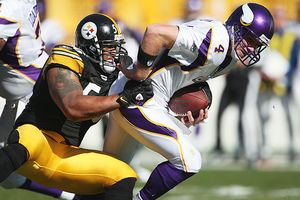 Rich Gabrielson/Icon SMILaMarr Woodley was one of the best bargains in the NFL last season, collecting 13.5 sacks while making $460,000.
Coming off a Pro Bowl year in 2009, there is little debate that Woodley has outperformed his rookie contract. He led the Steelers with 13.5 sacks while making $460,000 last season.
But new rules during the NFL's uncapped year have made things very complicated for Woodley and the Steelers. The league's 30 percent rule is the biggest hurdle for Pittsburgh to work out a pay raise for Woodley, as it is for several other quality players around the league who are nearing the end of their deals.
By rule, Woodley can make a maximum salary of $598,000 in 2010, which is a 30 percent increase over last season. The subsequent salaries could go up only 30 percent each year during the life of the contract. That means a substantial bulk of a multiyear deal would have to go into bonuses, forcing both parties to get extremely creative for Woodley to get fair market value.
Things have been quiet on the Steelers' front. So far there has been no substantial movement from the team to negotiate a new deal with Woodley. Pittsburgh also drafted three linebackers in the first five rounds last month to groom for the future. But that probably has more to do with
James Harrison
, 32, than it does Woodley, 25, who is entering his prime.
Pro Bowl linebacker
Patrick Willis
recently proved that it's not impossible to get around the 30 percent rule. He signed a five-year, $50 million contract extension with the
San Francisco 49ers
. The difference is San Francisco had more to work with in terms of base salary, because Willis is a former No. 11 overall pick. Woodley was a second-rounder.
Former second-round pick
Kevin Kolb
also worked out a one-year, $12 million deal with the
Philadelphia Eagles
that was heavy in bonuses. Pittsburgh probably prefers to go the multiyear route with Woodley.
But it remains to be seen whether the Steelers are willing to work out a new deal this year. The franchise's primary focus this offseason is to get star quarterback
Ben Roethlisberger
back on track. Couple that with the 30 percent rule, and to date Pittsburgh hasn't given Woodley's situation a lot of attention.
December, 18, 2008
12/18/08
1:30
PM ET
Posted by ESPN.com's James Walker
PITTSBURGH -- This week the AFC North version of the Blog Network caught up with Steelers linebacker LaMarr Woodley to discuss, among other things, if he was snubbed for the Pro Bowl and what he has in common with former NBA stars Charles Barkley and Dennis Rodman.
| | |
| --- | --- |
| | |
| | AP Photo/Gene J. Puskar |
| | LaMarr Woodley has 11.5 sacks and two forced fumbles through 14 games this season. |
1. What are your thoughts about not making the Pro Bowl this week?
LaMarr Woodley: I'm still a football player. That kind of stuff doesn't determine what type of player you are. When you go back and look at your team stats and you look at where you are as far as the team and an individual, you can say, "Hey, I'm doing pretty good."
2. Is this one of those instances where a second-year player has to pay his dues?
LW: That's what people always say, that you have to pay your dues first. But I can't really say [that's the case]. You see guys that came in last year and made the Pro Bowl. Patrick Willis in San Francisco made the Pro Bowl in his first year. So I can't really say if you have to pay your dues. You just have to do better than the guys they selected.
3. What is it like playing for defensive coordinator Dick LeBeau? He's been coaching since before many of his players were born.
LW: Ah man, coach LeBeau just has an attitude out there. It's the kind of attitude where he's not really the type that yells at you. He's that calm coach, yet he's always fired up. Every day he comes into the meeting room, and even sometimes after a game, he'll say "It's a great day to be alive!" He's just one of those coaches that you want to go out there and play your heart out for. He's just that type of person.
4. You played a lot of basketball in high school and averaged a double-double. What NBA star would you liken your game to?
LW: I would have to say I was like a Dennis Rodman type, mixed with some Charles Barkley in there. I wasn't a tall guy, but I was kind of big. I took control of the paint just with my weight and the attitude that I had. Charles was dominant, but he was only about 6-5, 6-6.
5. Even in college at the University of Michigan, it seems every defense you've been a part of was really good at stuffing the run. What's the secret?
LW: It's everybody just doing what they're suppose to do and everyone staying in their gap. You can't overdo it. Some guys want to overdo it so they can make plays. Usually when a guy sees an opportunity to make a play they'll jump out of their gap, and when you jump out of your gap sometimes you take a chance and it creates a hole. We just have guys that are dedicated to it. We're not selfish people. We're willing to do things for the team. Because, at the end of the day, if we're the No. 1 rush defense we all look good, not just one person.