AFC North:

Pittbsurgh Steelers
July, 16, 2011
7/16/11
8:00
AM ET
Here are the most interesting stories Saturday in the AFC North:
Morning take: Ward thanked his fans for their support but didn't elaborate whether he feels he will be cleared of all charges, which is what his rep said last week. Eventually, this all will be handled through the legal system.
Morning take: The Bengals have too many inexperienced quarterbacks already in Andy Dalton, Jordan Palmer and Dan LeFevour. Adding a fourth quarterback with zero NFL starts wouldn't work in Cincy.
Morning take: The Browns will be looking for several starters at defensive end, safety and possibly on the offensive line. It's imperative that Cleveland general manager Tom Heckert is prepared for various scenarios.
Morning take: Offensive guard Marshal Yanda is the most important name on this list. He could get interest from several teams and could leave a big hole on Baltimore's offensive line.
April, 19, 2011
4/19/11
2:00
PM ET
The AFC North blog would like to wish a happy birthday to
Troy Polamalu
of the
Pittsburgh Steelers
. The Pro Bowl safety turns 30 today.

Polamalu
It seems like a distant memory when Polamalu joined the Steelers eight years ago and struggled as a rookie. Six Pro Bowls and two championships later, Polamalu will go down as one of the most dynamic safeties to play in the NFL.
The age of 30 is significant for NFL players. But Polamalu, when healthy, has showed no signs of slowing down. He is the NFL's reigning
defensive player of the year
after recording 63 tackles and seven interceptions this past season, and many of his big plays came in clutch moments.
The biggest issue with Polamalu is injuries. He plays with reckless abandon, which makes him unique and unpredictable for opponents. But Polomalu's playing style also has resulted in knee, hamstring, ankle and Achilles ailments the past few seasons. Polamalu spends a lot of time in the box banging around with much bigger players, and the wear and tear is taking its toll.
Polamalu will be starting his ninth season with Pittsburgh in 2011. Perhaps the Steelers should consider playing Polamalu more in coverage and less in the box, which is what Pittsburgh did last season during its playoff run when Polamalu wasn't 100 percent.
Polamalu will continue to be one of the top defensive players in the NFL, but the Steelers have to do their part in keeping him fresh for a full season.
February, 18, 2011
2/18/11
12:33
PM ET
The AFC champion
Pittsburgh Steelers
officially placed the franchise tag on outside linebacker
LaMarr Woodley
Friday, a source tells ESPN.com's AFC North blog.

Woodley
Woodley, 26, was one of the NFL's best bargains last season, making just $550,000 in the final year of his rookie contract. Including playoffs, Woodley recorded 60 tackles, 13 sacks and two interceptions. He also become just the second Steeler to record double-digit sacks in three consecutive years, joining teammate
James Harrison
.
Although the future of the franchise tag is unclear, it's projected to be
worth approximately $10.2 million
for linebackers in 2011.
This also buys the Steelers time to continue long-term negotiations with Woodley. The "30 percent rule" under the current collective bargaining agreement makes it virtually impossible to work out a big-money deal for the former second-round pick. But the CBA will expire next month, as the NFL and NFLPA continue negotiations to work out a new agreement.
January, 29, 2011
1/29/11
9:00
AM ET
Here are the most interesting stories Saturday in the AFC North:
Morning take: Pittsburgh had a very productive week at its training facility. The Steelers will leave for Texas on Monday with hopes of returning with their seventh Lombardi Trophy.
Morning take: A speedy deep threat is needed. Defenses were able to sit on the short and intermediate routes, because the Ravens struggled to get deep.
Morning take: It's a huge week for the Matthews family. I can recall Clevelanders wanting the Browns to draft Clay Matthews III in 2009. But they let another great player get away.
Morning take: This helps the college players get a feel for the pros. But it also helps the Bengals, who may draft a player or two from this game.
January, 15, 2011
1/15/11
5:28
PM ET
PITTSBURGH -- One of the strangest playoff touchdowns you will ever see occurred in the first quarter between the
Baltimore Ravens
and
Pittsburgh Steelers
.
Deep in its own territory, Pittsburgh quarterback
Ben Roethlisberger
was hit from behind by Ravens defensive end
Terrell Suggs
while trying to throw the football. It was a fumble, but all 22 players stood still for several seconds because they thought it was an incomplete pass.
After no whistle was blown by the officials, Ravens defensive lineman
Cory Redding
made a smart play by picking up the football and waltzing into the end zone for a 13-yard touchdown. Pittsburgh challenged the play, but the fumble call was upheld.
The Ravens lead
14-7
after the first quarter.
January, 10, 2011
1/10/11
3:30
PM ET
By
ESPN.com staff
| ESPN.com


Baltimore Ravens Pro Bowl linebacker/defensive end Terrell Suggs says Saturday's Round 3 against the Pittsburgh Steelers is "Armageddon." Suggs also talks about safety Ed Reed's tough situation and looks back at Baltimore's impressive performance in its wild-card win over the Kansas City Chiefs.
December, 15, 2010
12/15/10
2:00
PM ET
Playoff scenarios are becoming a weekly staple in the AFC North blog with the Baltimore Ravens (9-4) and Pittsburgh Steelers (10-3) heading down the stretch.
So get out your scorecards. Here is what the Steelers and Ravens can clinch in Week 15:

Steelers
Can clinch the AFC North if:
PIT wins + BAL loss + PIT clinches strength of victory tiebreaker over BAL
Can clinch first-round bye if:
PIT wins + BAL loss + PIT clinches strength of victory tiebreaker over BAL and JAC
PIT wins + BAL loss + JAC loss or tie + PIT clinches strength of victory tiebreaker over BAL
Can clinch playoff berth if:
PIT wins or tie
IND loss or tie + SD loss or tie
IND loss or tie + KC loss

Ravens
Can clinch a playoff
berth if:
BAL wins + IND loss or tie + SD loss or tie
BAL wins + IND loss or tie + MIA loss or tie + KC loss
BAL tie + MIA loss or tie + SD loss + IND loss
For more playoff scenarios outside the AFC North, check out the
NFL Nation blog.
November, 21, 2010
11/21/10
2:33
PM ET
PITTSBURGH--The Steelers lead the
Oakland Raiders
,
21-3
, at halftime.
Here are some notes at intermission:
The game got off to a sloppy start with a lot of penalties and both sides trying to establish their physicality. There was a lot of jawing early and two brawls between Pittsburgh's offense and Oakland's defense in the second quarter. Quarterback Ben Roethlisberger was hit in the face by Oakland defensive lineman Richard Seymour after Pittbsurgh's third touchdown. Seymour was ejected and could be facing a heavy fine and/or suspension. The teams have been penalized a combined 11 times in the first half.
Roethlisberger showed some niftiness with a second-quarter touchdown run. Pittsburgh spread out Oakland's defense with an empty backfield, and Roethlisberger saw an opening and ran up the left sideline for a 16-yard score to put Pittsburgh up 11 points.
The lead has helped Pittsburgh's defense, particularly the pass rush. The Steelers' front seven looks energized Sunday and has three sacks in the first half. Oakland quarterback Jason Campbell doesn't look comfortable throwing from the pocket. New England Patriots quarterback Tom Brady carved up the Steelers last week.
New Steelers kicker Shaun Suisham received a loud ovation in Heinz Field after making three extra points in the second quarter. It was the first kicks by someone other than Jeff Reed since the 2002 season. Reed was released this week after missing seven field goals in nine games.
October, 29, 2010
10/29/10
4:00
PM ET
»
NFC Final Word
:
East
|
West
|
North
|
South
»
AFC
:
East
|
West
|
North
|
South
Five nuggets of knowledge about Week 8:
[+] Enlarge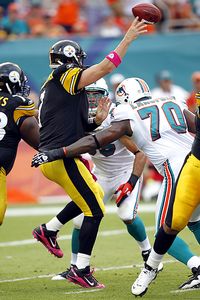 AP Photo/Paul SpinelliBen Roethlisberger is not afraid to stay in the pocket even when under pressure.
Big-play Ben:
Pittsburgh Steelers
quarterback
Ben Roethlisberger
has a chance to make a lot of big plays in Sunday's prime-time matchup against the
New Orleans Saints
. According to ESPN's Stats and Information, Roethlisberger leads the NFL in passer rating (140.1) and yards per attempt (11.1) against the blitz, which consists of five or more rushers. Roethlisberger is not afraid to hold the ball an extra second or two against pressure to allow his receivers to get downfield. Four of Roethlisberger's five touchdowns passes this year have come against the blitz. The Saints and defensive coordinator Gregg Williams are a blitz-heavy team, which could play into Roethlisberger's hands Sunday.
Winning the turnover battle:
It's no secret why the
New York Jets
(5-1) and the Steelers (5-1) are two of three teams tied for the NFL's best record. They are No. 1 and 2, respectively, in turnover ratio. The Jets are plus-10 in six games and the Steelers are plus-9. Pittsburgh adopted a conservative offense, which took care of the football in Roethlisberger's absence while wreaking havoc on defense. The Steelers are plus-2 in turnover ratio in Roethlisberger's two starts.
Banged-up Bengals:
The
Cincinnati Bengals
are hurting entering their must-win game against the
Miami Dolphins
, most notably in the secondary. Starting cornerbacks
Johnathan Joseph
(ankle) and
Leon Hall
(hamstring) both missed practice time this week, as did safeties
Chinedum Ndukwe
(knee) and
Roy L. Williams
(knee).
Adam Jones
(neck) also was put on
injured reserve
. Quarterback
Carson Palmer
missed Thursday's practice with
a hip injury
, but Bengals coach Marvin Lewis says he expects Palmer to play Sunday.
Red zone woes:
The Bengals have been gaining yards but have stalled in the red zone. Cincinnati is ranked No. 8 in total offense but in the bottom third (No. 24) in red zone efficiency, which has made a huge difference in its 2-4 start. The no-huddle has helped between the 20s, but the unit has to toughen up and stop settling for field goals. During Cincinnati's three-game losing streak, the team converted touchdowns on only four of 10 trips to the red zone.
Bye-week thoughts:
As the
Baltimore Ravens
enter the bye week, star safety
Ed Reed
(hip) will continue to get healthy after an impressive return in last week's win over the
Buffalo Bills
.
Reed recorded two interceptions
against Buffalo, and according to ESPN's Stats and Information, only two players have more multi-interception games (nine) than Reed: Hall of Famers
Ronnie Lott
and Paul Krause. The
Cleveland Browns
must find a way to score more points before taking the field Nov. 7 against the
New England Patriots
. The Browns are No. 28 in scoring at 16.9 points per game. The defense has played hard, and Cleveland is 2-0 when scoring 23 points or more.
March, 24, 2010
3/24/10
7:30
PM ET
After acquiring three compensatory picks this week, the
Pittsburgh Steelers
are now second in the AFC North with 10 total draft picks.
Here is a breakdown of each selection:

Round 1:
No. 18 overall
Round 2:
No. 52 overall
Round 3:
No. 82 overall
Round 4:
No. 116 overall
Round 5:
No. 151 overall
Round 5:
No. 164 overall
Round 5:
No. 166 overall
Round 6:
No. 188 overall
Round 7:
No. 225 overall
Round 7:
No. 242 overall
Can 10 rookies make a veteran-laden team such as the Steelers? It's doubtful.
Therefore, Pittsburgh may find itself in position to move up in the NFL draft to select a player (or players) the team covets. In recent years the Steelers have shown the ability to move up and down the draft.
March, 19, 2010
3/19/10
8:30
AM ET
Here are the most interesting stories Friday in the AFC North:
Morning take: That rules out a Week 1 matchup against the New Orleans Saints. But Pittsburgh should have a chance to get off to a fast start.
Morning take: The Ravens are counting on Kruger to make strides this season. Some players need a year or two to get acclimated to the NFL game.
Morning take: Bryant has some skills the Bengals need on offense. If Bryant stays healthy he can help.
Morning take: The Browns traded Kamerion Wimbley and need outside linebackers. It makes sense.