August, 21, 2010
8/21/10
1:00
PM ET
Let's see what's in the AFC North weekend mailbag.
Becky from Galloway, Ohio,
wants to know how the
Cincinnati Bengals
can improve if they continue to have a problem with penalties.
James Walker:
This was a problem last season, and it's something the Bengals have been unable to solve early in the preseason. Coaches typically can live with physical or "effort" penalties, but it's the mental errors that will drive Bengals head coach Marvin Lewis crazy. It sounds simple, but the Bengals must play smarter and pay more attention to detail. Based on last season and from what I'm seeing so far, this could be an ongoing problem.
---
Brooks from Lubbock, Texas, writes:
I was interested to know if you believe
Quan Cosby
might be able to make the Bengals as a return guy and backup receiver.
Walker:
There is a good chance Cosby will fall victim to the numbers game in Cincinnati. Cosby is a decent player, but the Bengals are too deep at that position this year. The team appears comfortable letting
Adam Jones
and
Jordan Shipley
field punts and
Bernard Scott
handle kickoff returns. So that could make Cosby expendable. But he's certainly good enough to help another team if he gets cut.
---
Anther214 from Caracas, Venezuela, writes:
If the call were on your hands, would you start
Dennis Dixon
over
Byron Leftwich
?
Walker:
It's too early to make a decision, but I would make sure Dixon gets an equal opportunity to compete with the
Pittsburgh Steelers
. I believe that's the biggest issue Steeler Nation has with the way things are being handled, and it's a legitimate gripe. If it's an "open" competition, allow Dixon to share some first-team reps in minicamp, organized team activities, training camp and the preseason. If it's not an open competition, name Byron Leftwich the starter and move forward. The Steelers are not doing either right now, which is confusing.
---
Derek from Virginia writes:
Even if
Lardarius Webb
and
Fabian Washington
were to come back healthy by the season's start, would it really make as big a difference as a lot of people speculate? Without
Ed Reed
, this unit is average at best.
Walker:
That's a fair point, Derek. Baltimore's secondary without Reed patrolling the back end is not as dangerous. But the strength of this defense is in the front seven. So any additional help Baltimore gets in the secondary with Webb, Washington or both will make a difference.
---
Joel Metzger from Bowling Green, Ohio, writes:
Hey, James, do you notice any similarities between the 2010
Cleveland Browns
and the 2008
Miami Dolphins
?
Walker:
If you're suggesting the Browns will go from worst to first in the AFC North, I don't see it. The division is too competitive, and this will be a gradual building process for new Browns president Mike Holmgren. They don't have enough talent right now to win the division.
---
Complaint department
Here are comments and complaints from our AFC North community this week:
RJ from Virginia Beach, Va., writes:
I don't get why the Steelers are so hesitant to use Dennis Dixon. It's like they bought an action figure and they don't want to take it out of the package. He's not going to learn any more by watching from the bench. If you're too afraid to use him, then you might as well trade him for someone you will use.
Jimmy T. from Williamsville, N.Y., writes:
I went to Steelers training camp for two days, and I must say that Dennis Dixon looked better and more sharp than Leftwich! I also think that mobile quarterbacks are more useful than pocket quarterbacks!
Dustin from Pittsburgh writes:
I'm sick of all these yinzers in the Burgh going nuts over Dennis Dixon. Yes, he's athletic and, yes, he has an NFL arm. But he's just like
Kordell Stewart
-- if his first read's covered, he's going to take off and run. He had open receivers on plays when he decided to tuck it and run against Detroit. I've never been able to understand for the life of me, James, why does Steeler Nation have a knee-jerk reaction to every little thing when the franchise is the exact opposite?
Henley from Richmond, Va., writes:
Alright guys, I think we all need to stop freaking out about Baltimore's secondary. Even John Clayton used it as grounds to no longer have the Ravens as his pick for the top of the AFC North this season. Yes, it is very poor right now. However, both Lardarius Webb and Fabian Washington will likely play in or immediately after the season opener. John Harbaugh didn't even rule out the possibility of Webb playing in the preseason. Ed Reed will likely miss a few games, but
Tom Zbikowski
is a decent player. With two good cornerbacks playing, the secondary will likely be above average, but not elite until Reed returns.
Ryan Campbell from Cincinnati writes:
I just read your article regarding
Shayne Graham
. I especially liked his comment when asked how he would feel if the game came down to kicking a field goal down by two. His comment of "that would be nice." As a Bengals fan, I couldn't agree more. That would be very nice. After watching him choke in big-game situations, it will be nice to watch him blow it for a division rival instead of us. Oh, and Ravens, I hope you enjoy very short kickoffs, too. That is another Shayne specialty.
Gary from Savannah, Ga., writes:
I think J.T. O'Sullivan and
Jordan Palmer
will be great backups in Cincinnati this season as long as they are only expected to hand the football to a running back. Otherwise, dump them both and try again.
Jake from Youngstown, Ohio, writes:
I think if this season is a complete disaster, then everyone will hate
Jake Delhomme
. But they won't look at the other reasons like turnovers (as in fumbles), injuries, defense! Some people need to open their eyes and pay attention. But I think he will do good with a good running game and a decent defense. All he needs to do is relax and have fun and he will do fine. Stick to the short throws and the wildcat, and we will be a real threat to the other teams. I think we will go 7-9.
Crail from Akron, Ohio, writes:
As big of a Browns fan as I am, this is still hard to watch. Our history has been horrible on quarterback decisions. I want to hope so bad, but somehow in my heart I know I will be let down. If Jake does well, who is gonna jump out in the wide receiving core in Cleveland? Too many what if and hopes. I hate to say it, but another losing year. Sorry, Brownies, I hope I am wrong.
AFC North Homer of the Week
Treezus from Cincinnati writes:
All my life it's been the Pittsburgh Steelers' division to lose. The Bengals have a gun-shy quarterback, the Browns are the Browns, and the always contending Ravens are always contending. BUT it's about the world multi-ring champions. The Steelers are the true pride of the AFC North.
August, 8, 2010
8/08/10
1:30
PM ET

The
Cincinnati Bengals
will play the
Dallas Cowboys
Sunday at 8 p.m. ET in the first preseason game of 2010. The AFC North blog will be in Canton, Ohio, keeping tabs on the Bengals.
Here are five things I will be looking at:
1. How does WR Terrell Owens fit in the offense?
Skinny:
Many football fans will tune in just to watch Owens. There is a lot of excitement surrounding the Bengals after the acquisition of T.O., and many are curious of what his role will be and how he fits within the Bengals' scheme.
2. Will the defense get to the quarterback?
Skinny:
Cincinnati defensive coordinator Mike Zimmer wasn't happy with his pass rush last season, which finished No. 16 in the NFL. As a result, Zimmer has been dialing up blitzes all camp, and the team will get to see how effective the packages are in live action.
3. Who will emerge at wide receiver?
Skinny:
The Bengals have a lot of depth at wide receiver, but not everyone will make the cut.
Andre Caldwell
,
Matt Jones
,
Jerome Simpson
,
Jordan Shipley
,
Quan Cosby
and
Dezmon Briscoe
are trying to find roles. Their preseason tape is a huge part of the evaluation process.
4. Which young players will stand out?
Skinny:
Bengals coach Marvin Lewis said a great thing about having five preseason games is the coaching staff will get an extended look at young players. Don't expect the starters to play beyond the first quarter tonight. But Cincinnati has a lot of rookies and second-year players who need work.
5. Will a kicker step up?
Skinny:
The kicking competition in Cincinnati hasn't been very thrilling.
Mike Nugent
has been injured, and
Dave Rayner
has failed to run away with the job in Nugent's absence. Exhibition games will go a long way to determine who wins this job, and there's no better time to start kicking well than the preseason opener.
July, 27, 2010
7/27/10
10:00
AM ET
The Cincinnati Bengals had plenty of competition at wide receiver even
before
they re-opened negotiations
with free-agent Terrell Owens. So what happens to receivers on the bubble in Cincinnati if Owens is signed?

Owens
The Bengals likely will carry six receivers on their 53-man roster this year. That number may increase to seven with consideration given to special teams, but it's not expected. Therefore, with the possible addition of Owens, five players would be slotted into those six roster spots, making for a very tight competition this summer.
Chad Ochocinco, Antonio Bryant, Andre Caldwell, rookie Jordan Shipley and potentially Owens would be locks to make the team. That leaves players like Matt Jones, Jerome Simpson, Quan Cosby, Dezmon Briscoe and Maurice Purify essentially battling for one roster spot, barring injuries.
Either way, the Bengals would end up with quality depth at wide receiver. But by potentially adding a proven veteran like Owens, they could also let a player get away this summer with some potential.
Who's in and who's out?
Here's a look at which receivers are a lock and which are on the bubble:
Chad Ochocinco:
Lock
Antonio Bryant:
Lock
*Terrell Owens:
Lock
Andre Caldwell:
Lock
Jordan Shipley:
Lock
Matt Jones:
Bubble
Quan Cosby:
Bubble
Jerome Simpson:
Bubble
Dezmon Briscoe:
Bubble
Maurice Purify:
Bubble
*Bengals are in negotiations with Owens.
June, 16, 2010
6/16/10
3:00
PM ET
CINCINNATI -- The reigning AFC North champion
Cincinnati Bengals
had their second day of minicamp Wednesday.
[+] Enlarge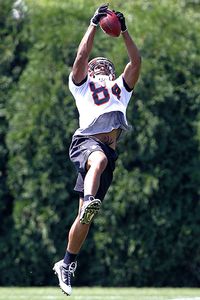 Frank Victores/US PresswireRookie Jermaine Gresham has been impressive during offseason workouts.
Here are some notes and observations:
June, 3, 2010
6/03/10
8:00
AM ET
Here are the most interesting stories in the AFC North: Morning take: LeBeau will be inducted to the Hall of Fame this summer. Expect many of his current and former players to show their support as well.
Morning take: Quan Cosby and Bernard Scott were good in their roles last year. But there's a lot of candidates looking to earn roster spots via special teams this year.
Morning take: May the best leg win.
Morning take: The combination of a struggling economy and a struggling team has hurt the Browns. I'm hearing corporate suites sales have also been tough in recent years.
May, 25, 2010
5/25/10
8:00
AM ET
Here are the most interesting stories Tuesday in the AFC North:
Morning take: For those tired of "Big Ben" stories, simply move on to the next link.
Morning take: It's way too early for predictions. But I will say there's a good chance the division champion this year will be one of these two teams.
Morning take: If the Browns want to dig out of the basement of the AFC North, most of these listed players have to step up this season.
Morning take: Who will return kicks this year? Will it be Quan Cosby, Bernard Scott, Jordan Shipley, Adam Jones, Andre Caldwell or some combination? Cincinnati has a lot of options.
January, 25, 2010
1/25/10
8:45
AM ET
Here are the most interesting stories in the AFC North: Morning take: Miller will replace Dallas Clark, who helped lead the Indianapolis Colts to the Super Bowl with Sunday's win over the New York Jets. Miller will be the fourth Steeler in the Pro Bowl.
Morning take: Right now Parmele is the favorite. Cornerback Lardarius Webb is coming off a serious knee injury and may not be ready for the start of the regular season.
Morning take: Quan Cosby and Bernard Scott did a good job returning kicks as rookies. Another year of experience should make both returners more dangerous in 2010.
Morning take: Stallworth is eligible to come off suspension after the Super Bowl, and at this point, it's probably best that both parties go their separate ways.
November, 24, 2009
11/24/09
11:00
AM ET
»
NFC Stock Watch
:
East
|
West
|
North
|
South
»
AFC
:
East
|
West
|
North
|
South
Falling

1. Ravens' red zone offense
: Let's be clear: There is nothing wrong with putting up 354 yards of total offense. But there is something wrong with going 0 for 4 in the red zone and just getting only 15 points in return.
The Ravens were solid offensively in between the 20s Sunday in a
17-15
loss to the
Indianapolis Colts
. They moved the football consistently and kept Colts quarterback
Peyton Manning
off the field better than most teams.
But when you have chances to score touchdowns against a Manning-led team, you have to capitalize. The Ravens couldn't as the Colts tightened up and were more physical than Baltimore near the goal line. Eventually Manning was able to put up just enough points, and thus put another dent in the playoff hopes of the Ravens (5-5).

Caldwell
2. Andre Caldwell, Bengals receiver
: As I mentioned on Monday, it is time for the Caldwell experiment on kickoff returns to end. He lost a fumble on a crucial return in the final seconds in Cincinnati's
20-17
defeat to the
Oakland Raiders
.
It is clear at this point that Caldwell is not a natural kick returner, and that's fine. He is a solid wide receiver, who has made a lot of big catches this season, and that should be enough for the Bengals' coaching staff.
Cincinnati needs to find someone else, perhaps
Bernard Scott
or
Quan Cosby
, to take over the kickoff return duties on a full-time basis.

3. Steelers special teams
: Speaking of special teams, Pittsburgh's kickoff unit needs some help. The Steelers gave up their fourth kickoff return for a touchdown and second in two weeks during a
27-24
overtime loss to the
Kansas City Chiefs
.
Pittsburgh's kick coverage has been up and down all year, but recently it has started to cost the team games. When Chiefs tailback
Jamaal Charles
took the opening kickoff to the house in front of the home fans, you knew right away that the Steelers were in for a tough game.
Expect more teams to try to exploit this weakness down the stretch unless Pittsburgh makes drastic changes.
Rising

Quinn
1. Brady Quinn, Browns quarterback
: See how quickly things can change in one week?
Quinn was the No. 1 player in the "falling" category after another poor outing against the
Baltimore Ravens
. But Quinn suddenly looked great against the
Detroit Lions
, throwing for 304 yards and four touchdowns.
It was a career-best performance for Quinn, who is trying to prove that he can be the long-term quarterback in Cleveland. Despite the
loss
, this was the best thing that could have come out of this weekend for the Browns, because now Quinn at least has some momentum and something to build on.
2. Billy Cundiff, Ravens kicker
: The player in Baltimore who received the loudest ovation in Sunday's
17-15
loss to the Indianapolis Colts was Cundiff. He was nearly lights out, making 5 of 6 field goal attempts and tying a team record.
Cundiff's missed kick was a combination of a high snap and a rushed follow-through, according to Ravens coach John Harbaugh. Still, seeing the ball consistently sail through the uprights was a welcome sight for Ravens fans who were nervous every time Steve Hauschka had an opportunity.
3. Derrick Mason, Ravens receiver
: A major reason Cundiff had all of those opportunities was because of Mason's performance.
The veteran receiver had season-high nine catches for 142 yards. Unfortunately for Baltimore, Mason couldn't get in the end zone, which was sorely needed in the close loss to the Colts.
But Indianapolis struggled to cover Mason all game, and Baltimore will need more of these big performances from him down the stretch.
November, 9, 2009
11/09/09
4:00
PM ET
Posted by ESPN.com's James Walker
CINCINNATI -- There was a celebratory mood inside the Bengals' locker room Sunday evening with the exception of one player:
Chris Henry
.
| | |
| --- | --- |
| | |
| | AP Photo/Ed Reinke |
| | Chris Henry suffered a broken forearm in Sunday's win over the Ravens. |
Cincinnati's receiver tried to put a good face on the situation. The Bengals (6-2) picked up a huge win to sweep the division rival
Baltimore Ravens
(4-4). But inside, Henry was dealing with the harsh reality of a broken forearm that will end his 2009 season. He was placed on injured reserve on Monday.
"I've been trying to ask people what happened," Henry said solemnly. "I just know when I tried to get up my arm was broken."
Henry cut across the middle to make a reception when Ravens cornerback
Fabian Washington
tackled him. Henry then landed awkwardly on his arm and needed to be carted off the field.
Cincinnati has good depth at the receiver position.
Henry usually was the fourth option behind
Chad Ochocinco
,
Laveranues Coles
and
Andre Caldwell
. But Henry also was the team's best deep threat. Other players such as
Quan Cosby
or former second-round draft pick
Jerome Simpson
will have to step up.
"It's going to hurt," quarterback
Carson Palmer
said of Henry's absence. "He's a big-play guy, a guy we depend on third down and expect to come through in a number of situations."
September, 24, 2009
9/24/09
7:00
AM ET

Posted by ESPN.com's James Walker

Here are the most interesting stories Thursday in the AFC North: Morning take: The team says otherwise but the numbers don't lie. Pittsburgh is throwing the football 63 percent of the time through the first two weeks.
Morning take: Cosby has quietly added an extra element to special teams. The Bengals will need all three phases playing well Sunday against Pittsburgh.
Morning take: This is a surprise so far as Baltimore had decent expectations of Williams returning from injury. Kelley Washington's solid play also has decreased Williams' opportunities.
Morning take: The Browns are struggling offensively and the Ravens are still working out some bugs on defense. One of these units will get their act together Sunday.
August, 28, 2009
8/28/09
1:30
AM ET
Frank Victores/US Presswire



St. Louis running back Samkon Gado scored one of two touchdowns Thursday night, surprising the Bengals defense.


Posted by ESPN.com's James Walker

The Cincinnati Bengals lost to the St. Louis Rams, 24-21, in their third preseason game Thursday night.

Here are some observations:

I was surprised Cincinnati's first-team defense gave up two first-quarter touchdowns against an offense that's expected to be average at best in St. Louis. The first was an 11-play, 71-yard drive capped by a 16-yard run by Samkon Gado. St. Louis had a short field on second scoring drive. But Cincinnati failed to hold the Rams to a field goal, which is what elite defenses do. If the Bengals want to be a top 10 defense this year, which is their goal, they are going to have to handle both of these situations better in the regular season.


Bengals receiver Chris Henry continued his impressive preseason. Henry scored for the third straight preseason game after quarterback Jordan Palmer connected with Henry for a 54-yard touchdown in the fourth quarter. Henry had the best offseason of his career and is poised to help the Bengals this year as the No. 3 receiver.


Rookie linebacker Rey Maualuga is making a strong push for a starting job. After missing the preseason opener, he's been a stud the past two weeks. Against St. Louis he led the Bengals with eight tackles. Maualuga has already established himself as a feared hitter in training camp, and he fits right in with the AFC North division.


Former Baltimore Ravens quarterback Kyle Boller did well Thursday night. He got the start for St. Louis and finished 14 for 20 for 96 yards and a touchdown. He threw a lot of safe passes but executed pretty well. Boller also rushed twice for 16 yards.


Rookie receiver Quan Cosby made his first big play of the preseason with a 49-yard punt return for a touchdown in the first quarter. Cosby is on the bubble in a deep receiver corps of the Bengals. Stellar special teams play is probably the only way he avoids the practice squad.
May, 11, 2009
5/11/09
4:00
PM ET
Posted by ESPN.com's James Walker
Who will be the odd man out at receiver for the
Cincinnati Bengals
?
The Bengals have 11 players at the position vying for a limited number of spots on Cincinnati's 53-man roster. Most NFL teams will keep about five receivers active in the fall.
Laveranues Coles and Chad Ocho Cinco are locks as starters. That likely leaves three active roster spots for eight remaining receivers.
Chris Henry, Andre Caldwell, Jerome Simpson and Antonio Chatman played last year and have to be among the favorites. Chatman could be on thin ice this summer or latch on as a sixth receiver because of his return skills. But the Bengals may need that roster spot and look elsewhere for help on special teams.
Chatman cannot be retained on the practice squad because of his seven years of NFL experience, so he might fall victim to the the numbers game.
A young, inexperienced group of Quan Cosby, Maurice Purify and Mario Urrutia are behind them and will have an uphill climb. But if any of these players has an outstanding camp, perhaps Cosby, it could force another difficult decision at receiver for Cincinnati's coaching staff down the road.