AFC North:

Ramon Harewood
April, 8, 2013
4/08/13
11:48
AM ET
By
ESPN.com staff
| ESPN.com
Baltimore Ravens
Ravens quarterback Joe Flacco has agreed to portray the late Johnny Unitas in an upcoming film called "Unitas We Stand," according to Joe Unitas, Johnny Unitas' son. Joe Unitas told the Baltimore Sun that Flacco
will play his father playing football
in the final scenes depicting the Colts' 1958 championship game victory.
But not everyone in the Unitas family was thrilled with the selection of Flacco. A grandson of Johnny Unitas, J.C. Unitas,
called it an "embarrassing choice
" on his Facebook page (via the Clarion-Ledger).
Ravens offensive lineman Ramon Harewood hosted more than 100 children ages 11 to 18 during the weekend for his "Big Mon Elite Athlete Development Camp" in his home country of Barbados. "We had a great camp," Harewood
told the Baltimore Sun
. "We had a great turnout and the kids had a good attitude and put in some excellent work. My main message to the kids was about the recipe for success and the only way to get it done is through hard work with no shortcuts."
Speaking of hard work, Ravens defensive lineman Bryan Hall is shedding weight to
take on a new role
, reports The Baltimore Sun. Coach John Harbaugh has asked Hall to give inside linebacker a try, and Hall is all for it.
Cincinnati Bengals
Is right tackle Andre Smith about to be
done in Cincinnati
? Mike Florio of Pro Football Talk gives reasons why.
Cleveland Browns
Greg Little and Dan Gronkowski spent Friday night at "A Prom To Remember,"
an event for Northeast Ohio children battling cancer
, the team's website reported.
Many of the kids in attendance are going through chemotherapy or were too ill to attend their schools' proms. Through the generosity of local businesses, these kids had the opportunity to attend free of charge, including everything from dresses, tuxedos, salon services, prom photos, food and limousine transportation.
Pittsburgh Steelers
With limited salary-cap space this offseason, Gregg Rosenthal of NFL.com writes that the 2013 NFL draft is
vital for the Steelers
.
Inside linebacker Stevenson Sylvester
says he's appreciative
to have re-signed with the Steelers, per the team's website.
March, 13, 2013
3/13/13
8:00
AM ET
It was a fast start to free agency. It was so hectic that 20-plus posts weren't enough to cover everything in the AFC North on Tuesday. Time to hit the other news happening in the division ...
BALTIMORE RAVENS
CINCINNATI BENGALS
PITTSBURGH STEELERS
CLEVELAND BROWNS
The Browns and Buccaneers have expressed interest in trading for Patriots backup quarterback Ryan Mallett, a source told The Boston Herald. But the paper said no deal is imminent.
Browns receiver-returner Josh Cribbs is leaning toward signing with the Cardinals, according to Fox Sports. The Patriots are also interested in Cribbs.
Cardinals outside linebacker Quentin Groves, another pass rusher, is scheduled to visit the Browns, according to The Plain Dealer.
October, 23, 2012
10/23/12
8:00
AM ET
There's a theme for the Tuesday wake-up call. All four teams are addressing lineup changes, whether it's the Ravens offensive line, the Steelers' running backs, Bengals middle linebacker Rey Maualuga or Browns running back Trent Richardson. Let's take a look:
RAVENS
: One change coming out of the Ravens' bye could come on the offensive line, which coach John Harbaugh called a "work in progress." The Ravens have given up 18 sacks, the fifth-most in the league. "I would guess we're going to roll some guys in there and see how they do," Harbaugh said, via the
team's official website
. "Let's take a look at some young guys, and see how they do. Let's keep the veterans available and let them play a little bit." Baltimore could rotate Ramon Harewood, who had started earlier this year, with veteran Bobbie Williams at left guard. The other two young backups are tackle Jah Reid and center-guard Gino Gradkowski.
STEELERS
: It was redemption time for running back Jonathan Dwyer on Sunday night. He had a costly fumble at Oakland on Sept. 23, which led to him being inactive for the next two games. "Coach put it on the board for everyone to know that he wasn't playing that weekend," right guard Ramon Foster told the
Pittsburgh Tribune-Review
. "I'm glad to see him respond." In his first game back, Dwyer didn't let this opportunity slip from his grasp, rushing for 122 yards and averaging 7.2 yards per carry against the Bengals. The Steelers' 167 rushing yards were their most in eight games dating to last season.
BENGALS
: Coach Marvin Lewis isn't replacing middle linebacker Rey Maualuga during the bye even though he had another disappointing performance Sunday night. His most noticeable mistake was being out of position on the game-sealing 32-yard run by Dwyer in the fourth quarter. "He didn't play as well as he played over the last couple weeks, but some of it, it looks like he's not playing as well because other people aren't doing what they're supposed to be doing and he's actually doing what he is (supposed to be) doing most of the time," Lewis said, via
CBS Sports
. "Unfortunately, the last run of the game he decides he's going to be Superman and get out of his responsibility." According to Pro Football Focus, Maualuga ranks among the top five linebackers with nine missed tackles.
BROWNS
: Rookie running back Trent Richardson may sit out more than the second half this week. Head coach Pat Shurmur said he will evaluate Richardson's rib injury and didn't rule out sitting him for Sunday's game against the Chargers. "You just watch him, watch him practice, see where he's at physically and if he's ready to play, he'll play," Shurmur said, via
The Plain Dealer
. "If we see that this is bothering him to the point where he can't perform, then we'll make those decisions as we go." In other news, the Browns placed Jason Pinkston on injured reserve, ending the starting left guard's season. He discovered Thursday that he has a blood clot in his lung.
October, 14, 2012
10/14/12
11:46
AM ET
BALTIMORE -- Former
Cincinnati Bengals
lineman
Bobbie Williams
will make his first start for the
Baltimore Ravens
, replacing benched
Ramon Harewood
at left guard. Harewood, who had started the first five games, is on the inactive list Sunday against the
Dallas Cowboys
.
The Ravens are also making a change on kickoff returns. Undrafted rookie
Deonte Thompson
, who had been the primary kickoff returner, fumbled in Kansas City last Sunday.
Jacoby Jones
is expected to replace him.
LaQuan Williams
is another option.
Here's the Ravens' inactive list: G Ramon Harewood, OT
Jah Reid
, WR Deonte Thompson, LB
Sergio Kindle
, DE
DeAngelo Tyson
, CB
Asa Jackson
and DT
Bryan Hall
.
September, 19, 2012
9/19/12
7:30
AM ET
Hope everyone is having a better start to the day than their favorite AFC North teams. Steelers coach Mike Tomlin is unhappy with his running game. The Ravens aren't pleased with the pass protection from their young starters. And the Bengals can't be thrilled about another injury. At least the winless Browns are making some improvement in their pass rush. As far as what to expect today, I will have my midweek column later this morning and the weekly poll this afternoon. Now, let's get started with the wake-up call ...
BENGALS
: Another week, another major injury for the Bengals. The team placed backup defensive lineman Jamaal Anderson on injured reserve after he
tore a quad tendon
in Sunday's win over Cleveland. Cincinnati signed Wallace Gilberry, who was released by Tampa Bay on Friday. Gilberry had played from 2008 through 2011 with Kansas City. The Bengals would get a boost on the defensive line if Carlos Dunlap (knee) can return this week.
BROWNS
: Cleveland is tied for second in the NFL with eight sacks, trailing only Green Bay's 11. Middle linebacker D'Qwell Jackson, who had three sacks Sunday, told
The Plain Dealer
that the difference this year is the play of the defensive line. "We've got some depth this year," Jackson told the paper. "We have some young guys playing well and ... [defensive coordinator Dick Jauron] doesn't have to run a lot of pressures because we're getting a lot of great push from our four-man rush." Over the previous two seasons, Cleveland has never ranked higher than 23rd in sacks.
RAVENS
: Two first-year starters on the offensive line struggled against the speed rush of the Eagles. According to the
team's official website
, rookie right tackle Kelechi Osemele allowed one quarterback hit and four quarterback hurries, while left guard Ramon Harewood gave up two quarterback hits and two hurries. "At times there were one-on-one matchups that got us a little bit in the second half, especially that were pretty good players rushing against some younger guys," Ravens coach John Harbaugh said. "That is going to be part of the learning process for some of those guys." The Ravens' next opponent, the Patriots, have three sacks in the first two games.
STEELERS
: With backups Isaac Redman and Jonathan Dwyer, the Steelers have 141 yards rushing in two games and a paltry 2.6 yards per carry, both ranked 30th in the NFL. "We haven't run the ball as well as we have liked," Tomlin said. "I'm not interested in assigning blame in that regard. I will take responsibility for it. The reality is we've got room for growth." According to the
Pittsburgh Post-Gazette
, the Steelers will step up Rashard Mendenhall's work in practice this week. He has been out all year after having ACL surgery in January.
September, 15, 2012
9/15/12
9:00
AM ET
When I opened up the mailbag, I received a lot of congratulations for the birth of my son. I really appreciate every one of the kind notes. It's nice to see the sensitive side of the roughest division in football. Now, let's get to some questions ...
Matt, from Sparks, Md., writes:
Congrats on the new addition. I have a 8-month-old myself so I know that answering these questions on your amount of sleep is close to impossible. A few questions: Will the Ravens' new offensive line be able to last the full season and why did they restructure instead of cut
Bryant McKinnie
if he wasn't going to play? Also, headed to the Linc on Sunday. Is wearing a
Ray Lewis
jersey a good idea or should I go undercover?
Jamison Hensley, from AFC North headquarters, responds:
The offensive line has a better chance to last the full season because the Ravens went younger with left guard
Ramon Harewood
and right tackle
Kelechi Osemele
. McKinnie has been durable at his age, but his recent off-the-field issues were a red flag about his dependability. The reason why the Ravens were more agreeable to cutting his pay by $1 million over cutting him from the team is insurance. If
Michael Oher
got hurt, the Ravens don't have anyone else who they trust to protect
Joe Flacco
's blind side. Spending $2.2 million might be a little expensive for a backup but it beats the alternative of trying to pick up an unsigned veteran who is a bigger question mark than McKinnie. As far as your attire to the Eagles game, go undercover. Lincoln Financial Field doesn't have a jail anymore, but that doesn't mean fans will greet you with a cheesesteak.
---
Auto4Short, from Elgin Air Force Base, Fla., writes:
First off congratulations JH! But my question is what is the word on
Dre Kirkpatrick
? Starting to look like the Bengals need all the depth they can get at cornerback.
Jamison Hensley, from AFC North headquarters, responds:
There is very little to report on Kirkpatrick, Cincinnati's first-round pick, which continues a disappointing first chapter to his Bengals career. After being sidelined for nearly all of the offseason workouts and all but one training-camp practice, Kirkpatrick suffered a setback late in the preseason, which is why he hasn't practiced for the first two weeks of the regular season. The hope is he'll return to practice either in Week 3 or the following week. Kirkpatrick felt good after rehabbing on the field Thursday and Friday. If you saw how Flacco picked apart the Bengals' secondary, Cincinnati needs to get Kirkpatrick into the mix. He was expected to be at least the team's nickelback before injuries got him off track.
---
Jack, from Cleveland, writes:
More likely true of the Browns' Week 1 performance: The defense really is
that
good, or the offense really is
that
bad? Don't say somewhere in the middle, the offense will improve and the defense played over its head but is a good unit. Take a stand! Don't hedge in 2012!
Jamison Hensley, from AFC North headquarters, responds:
The defense has proven to be very good, but it's not a game-changing one.
Michael Vick
's average play at quarterback (he's thrown 20 interceptions in his past 16 starts) has made a lot of defenses look better recently. The Browns offense, though, will have many games where it will look that bad. This is a young Cleveland offense, starting with rookies at quarterback and running back. Mistakes are bound to happen. There were indications in the preseason that
Brandon Weeden
would throw a high number of interceptions this season. It goes back to his gunslinger mentality and the fact that the Browns receivers will run ragged routes, which will lead to turnovers. Cleveland has a good foundation on offense, but this year will feature weekly growing pains. Hope that meets your "Don't hedge" approval.
---
Jacob, from Kansas City, Mo., writes:
Do you think
Rashard Mendenhall
has any kind of a shot to get an extension from the Steelers after this season?
Jamison Hensley, from AFC North headquarters, responds:
At this point, I would say the odds are against it. There were rumblings before the draft that the Steelers could take a running back (like
Doug Martin
) as early as the second round. It wouldn't surprise me if the Steelers look to the future and put running back high on their priority list for the 2013 draft. Of course, that's not set in stone because no one knows how this season will unfold. The Steelers will likely ride the hot hand at running back, whether it's
Jonathan Dwyer
or
Isaac Redman
. When Mendenhall has fully recovered from ACL surgery, he will get his chances as well to prove he should be in next year's plans. Mendenhall has been a consistent running back, averaging 1,103 rushing yards and scoring 29 touchdowns over the past three seasons. But Mendenhall didn't hit the holes hard last season and preferred to bounce runs to the outside -- not the Steelers' style of running. My guess is another team will be willing to pay him more than the Steelers next offseason, when Mendenhall is a free agent.
---
HomeoftheBRavens, from Baltimore, writes:
Are you ready to backpedal from your "Ravens will finish third in the division and miss the playoffs" prediction yet?
Jamison Hensley, from AFC North headquarters, responds:
You couldn't help but be impressed by the Ravens in the season opener. I have said all along that Flacco is primed for a career season. My question is whether this defense can hold up against the more experienced and explosive offenses in the NFL. But it would be foolish to jump to conclusions on any team after one game. Last season, the Redskins beat the Giants in Week 1 and you know how that turned out. In 2003, the Patriots lost their season-opening game 31-0 to the Bills and went on to win the Super Bowl. In other words, ask me this question after a few more games.
---
September, 14, 2012
9/14/12
10:44
AM ET
Michael Oher
is staying at left tackle for the Ravens, the
NFL Network
is reporting. This was an unexpected lineup change in the season opener because the Ravens were presumably going with
Bryant McKinnie
at that spot.

The switches on the left side of the Ravens' offensive line in Week 1 -- Oher over McKinnie at tackle and
Ramon Harewood
instead of
Bobbie Williams
at guard -- make sense in light of the team's no-huddle offense. The Ravens can move at a quicker tempo with Oher (26 years old) and Harewood (25). It would have been more difficult with McKinnie, 32, who is battling weight issues, and Williams, 35, who is dealing with ankle problems.
While Oher is still better on the right side than the left, it makes sense to go younger and more athletic. The other benefit of moving Oher to the left side is getting
Kelechi Osemele
on the field at right tackle. Osemele, a second-round pick, has been the team's most impressive rookie.
The reshuffling of the Ravens' offensive line makes sense why the team wanted McKinnie to take a $1 million pay cut. He is scheduled to make $2.2 million and could make the rest back with incentives. The way the Ravens are proceeding with the offensive line, McKinnie likely won't see that money anytime soon.
September, 6, 2012
9/06/12
11:55
AM ET
By
ESPN.com staff
| ESPN.com
Baltimore Ravens
The Ravens franchise presents a
special collection of statements from around the league
on the life and death of Art Modell.
Check out ESPN's
retrospective photo gallery of Art Modell
.
Ravens offensive tackle
Ramon Harewood was fined $8,000 by the NFL
for an illegal block against the St. Louis Rams, according to the Baltimore Sun's Aaron Wilson.
"Around here, people are kind of obsessed," said
Ravens wide receiver Torrey Smith
, who told the Baltimore Sun that he doesn't plan to get rid of his signature dreadlocks (for now).
Cincinnati Bengals
Marvin Lewis isn't shy about the Bengals' game plan against the Ravens in Week 1:
Stop Ray Rice
.
The
Bengals have played one Monday game since 2007
, which means almost half of the players on Cincinnati's roster have never played in a "Monday Night Football" game.
"The offense, that in just 17 short games has exactly one starting skill player that played with Carson Palmer (tight end Jermaine Gresham), believes it has grown up fast enough to start using the term reliability,"
writes Geoff Hobson of Bengals.com
.
Cleveland Browns
Undrafted rookie free agent
L.J. Fort is expected to start at strong-side linebacker
against the Eagles, the Cleveland Plain Dealer's Tom Reed reports.
"[Art] Modell, who owned the Browns from 1961-1995, never seemed to completely overcome the sadness he felt about moving the team. At the time of his death, he was still public enemy No. 1 in Cleveland, the city he loved. After moving to Baltimore, Modell was never able to return here because of death threats. For a time, he was forced to travel with two armed bodyguards,"
writes Mary Kay Cabot of the Plain Dealer
.
Pittsburgh Steelers
Todd Haley's offense may look a lot different than the one run by Bruce Arians, but it won't matter if it is not productive. Ed Bouchette of the Pittsburgh Post-Gazette has
five story lines for Steelers fans to watch in 2012
.
Broncos coach John Fox and Steelers coach Mike Tomlin
tried to quiet external talk of revenge being a motivating factor
in their teams' season opener Sunday night in Denver, according to the Denver Post.
Can the
Steelers stop the Ravens this season
? Baltimore QB Joe Flacco is 4-2 against Pittsburgh the past three regular seasons and twice brought his team from behind late in the fourth quarter to beat the Steelers at Heinz Field.
August, 31, 2012
8/31/12
10:13
PM ET
Click
here
for the complete list of
Baltimore Ravens
roster moves.

Significant move
: The Ravens surprisingly kept linebacker
Sergio Kindle
, their top draft pick in 2010, purely on his potential as a pass-rusher. Kindle's lasting impression from the preseason was a roughing-the-passer penalty in the finale that allowed the Rams to convert a third-and-22. Never showing any burst, Kindle didn't record a sack in the preseason and finished with four tackles. With
Terrell Suggs
out indefinitely with an Achilles injury, the Ravens probably don't want to part with anyone who can help pressure the quarterback. Kindle hasn't been the same player since falling down two stairs and fracturing his skull before his first training camp. On his reaction in making the team, Kindle said, "Jump for joy and do a back flip if I could. Wouldn't want to land on my head though." ... Baltimore also released
Curtis Painter
and chose to go with
Tyrod Taylor
as its backup quarterback. Painter, who threw six touchdowns this preseason, threw countless interceptions in training camp.
Onward and upward
: Undrafted safety
Omar Brown
is a likely target to return as a member of Baltimore's practice squad. He lacks ideal size for the position (5-foot-11, 195 pounds) but he has a knack for being around the ball. Brown had arguably the best preseason on the team, finishing third with 10 tackles, recording three fumble recoveries, intercepting one pass and recovering an onside kick. The Ravens need depth at safety because of the uncertainty surrounding
Sean Considine
, who has sustained two concussions in two weeks.
What's next
: Don't be surprised if the Ravens look for an upgrade on the offensive line. Their depth at tackle is questionable with backups
Jah Reid
and
Ramon Harewood
. Reid has been limited all summer with a calf injury, and Harewood surprisingly made the team after spending the past two years on injured reserve. The Ravens also may look to add a defensive lineman. The team could move rookie defensive tackle
DeAngelo Tyson
, a seventh-round pick, to the practice squad.
July, 25, 2011
7/25/11
1:58
PM ET
»
NFC
:
East
|
West
|
North
|
South
»
AFC
:
East
|
West
|
North
|
South
»
Unrestricted FAs

Readiness factor:
The Ravens don't have any major issues. The personnel and offensive and defensive schemes are pretty much the same, with the exception of new defensive coordinator Chuck Pagano's adding some wrinkles. Baltimore's roster is already stacked, and the team will focus primarily on taking care of its own (
Haloti Ngata
,
Marshal Yanda
) in free agency before signing a few outside players. If the Ravens had to line up next week and play a game, they could.
Biggest challenge:
The Ravens-Steelers rivalry is usually reserved for later in the season, but Baltimore will host a rare Week 1 showdown against its biggest rival -- and it comes after a lengthy lockout. Pittsburgh has won most of the key games in this series the past few years, including the past two playoff meetings. Pressure is mounting on the Ravens to start winning again in this rivalry, and they have to do it with little time to prepare for the Steelers this summer.
Competition at right tackle:
Despite a veteran roster, Baltimore's right tackle spot is wide open. It was a revolving door last season and one of the major reasons the Ravens struggled with pass protection. This year Baltimore has a rookie draft pick (
Jah Reid
) and several holdovers (
Oniel Cousins
,
Ramon Harewood
) competing for a key spot. You also can't rule out adding another tackle to the mix in free agency.
Key players without contracts for 2011:
Yanda, Baltimore's starting guard, is the biggest name without a contract. Yanda will test the market, but the Ravens also will make a strong push to re-sign the versatile lineman. Cornerbacks
Chris Carr
and
Josh Wilson
, who both started last season, also will garner interest. Look for the Ravens to bring back the cheaper of the two players, with rookie
Jimmy Smith
, Lardarius Webb and
Domonique Foxworth
listed as possible starters. Former starting left tackle
Jared Gaither
also is a free agent, and Baltimore is expected to part ways with him after a tumultuous and injury-filled 2010 season.
August, 19, 2010
8/19/10
1:31
PM ET
ESPN.com NFL Power Ranking
(pre-camp): 5
WESTMINSTER, Md. -- Pro Bowl talent? Check.
Plenty of depth? Check.
A budding quarterback and tremendous coaching staff? Check and check.
There are plenty of reasons to buy into the Super Bowl hype surrounding the
Baltimore Ravens
this year. Most of the key ingredients are in place for Baltimore to make a deep postseason run.
On paper, this is perhaps the best collection of talent in Baltimore since the team's inception in 1996. It's certainly the most balanced, as last season's third-ranked defense joins quarterback
Joe Flacco
, Pro Bowl tailback
Ray Rice
and new receiver
Anquan Boldin
to give Baltimore a potentially high-scoring offense.
But expectations do not always equal results. Can the Ravens live up to the hype? First they must address these key issues.
THREE HOT ISSUES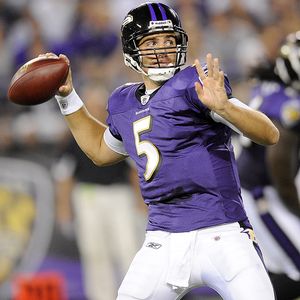 AP Photo/Nick WassRavens quarterback Joe Flacco has plenty of weapons to be successful on offense.
1. Is Flacco ready to take the next step?
There are plenty of weapons on offense, but it's up to the quarterback to make sure everything runs efficiently.
Flacco has improved every year in the NFL. He is entering his third season, and the Ravens expect him to take the next step to become a legitimate franchise quarterback.
There is no reason to believe Flacco will not make the jump this year from a good to great quarterback. He has the best receiving corps of his career, a top-notch running game and a quality offensive line. Perhaps the biggest challenge for Flacco is
keeping everyone happy
, as every starting skill player with the exception of the quarterback has been to the Pro Bowl.
2. Will the cornerbacks hold up?
Baltimore's secondary issues are well-documented.
Top corner
Domonique Foxworth
(knee) is out for the season and starters
Fabian Washington
and
Lardarius Webb
are both coming off major knee surgeries.
Washington will make his 2010 debut
Saturday against the
Washington Redskins
, while Webb is waiting to be cleared for practice. There's also no guarantee both players will instantly get back to their old form once they return.
Players like
Cary Williams
,
Travis Fisher
and
Chris Carr
have been filling in for the time being. But starting roles are simply too big for this group, and that won't cut it in the regular season. In this pass-heavy NFL, you need quality depth at cornerback, and it turns out this is Baltimore's one glaring weakness on an otherwise stacked roster.
3. Can Baltimore survive the AFC North?
Here is a fact Ravens fans often ignore: At least two division rivals currently have Baltimore's number.
The
Cincinnati Bengals
and
Pittsburgh Steelers
have given Baltimore fits in recent years. Bengals quarterback
Carson Palmer
is
8-3 against the Ravens
in 11 career starts, which includes last year's 2-0 sweep. Pittsburgh also is 4-1 (including playoffs) in its last five meetings against the Ravens. The only Baltimore win in that span came against the
Dennis Dixon
-led Steelers in overtime last November.
A deep postseason run would be a lot easier for Baltimore if it won the AFC North division. With that comes a home playoff game(s) and possibly a bye in the first round. But the Ravens will have to play more consistently against their division rivals this season.
BIGGEST SURPRISE
[+] Enlarge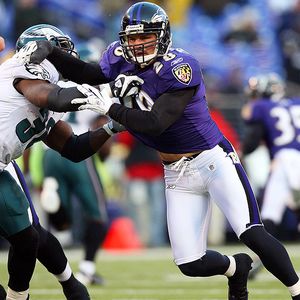 Jim McIsaac/Getty ImagesRavens safety Tom Zbikowski is having an outstanding training camp.
The Ravens are not panicking over safety
Ed Reed
's offseason hip surgery, because
Tom Zbikowski
is having the best training camp of his career. The third-year safety
is leaner and quicker
this year, as Zbikowski continues to earn the confidence of the coaching staff.
Zbikowski has some natural instincts that the Ravens want to take advantage of. He's versatile enough to play in the box, and has very good timing and angles on blitzes. It's unknown if Reed will be ready for Week 1 of the regular season. The Ravens probably can't win a Super Bowl without Reed, but they can win in the short term with an improved Zbikowski.
BIGGEST DISAPPOINTMENT
Jared Gaither
's offseason has been a disaster. The offensive tackle got off on the wrong foot by making contract demands, and things have gone downhill from there.
Right now Gaither has a back injury that's kept him out of camp. He also surprised the Ravens by reporting to the team much lighter than his usual playing weight.
Baltimore has already moved forward by making
Michael Oher
its left tackle, which is the most important position on the offensive line. But if Gaither doesn't straighten things out, the Ravens also may have to figure out what to do next at right tackle. We will explain their options below.
OBSERVATION DECK
Remember the name Oniel Cousins. He will be one of the most important Ravens in the next several weeks. With Gaither working to get back on the field, Cousins could do Baltimore a huge favor by playing well at right tackle. Marshal Yanda also is a possibility, but he's better suited as Baltimore's starting right guard. If Cousins proves to be the answer, the Ravens can maintain continuity with the other four spots on the offensive line.

[+] Enlarge

AP Photo/Rob CarrRavens' Haloti Ngata looks like one of the league's top defensive linemen.

By the end of this season, Haloti Ngata may be mentioned as the top interior defensive lineman in football. It's impressive watching Ngata routinely blow up offensive linemen in practice. He makes it look easy. In one sequence Wednesday, Ngata pushed rookie offensive tackle Ramon Harewood about 5 yards into the backfield. Ngata then yelled to the offensive coaches "get him out," because Harewood's best effort barely offered Ngata any resistance.

I would be surprised if Baltimore doesn't improve its pass rush this season. The "pressures" in camp look more crisp and aggressive this year. It also doesn't hurt that linebacker/defensive end hybrid Terrell Suggs is in great shape and motivated to have a bounce-back season. Last year, the Ravens were ranked 18th in the NFL with 32 sacks in 16 games. The Steelers (47), Cleveland Browns (40) and Bengals (34) all had more sacks in the division.

From what I saw this week, it's pretty clear Marc Bulger deserves to be the No. 2 quarterback behind Flacco. Bulger has a quicker release and more accurate arm than Troy Smith. Bulger still shows flashes of the Pro Bowl-ability he had in St. Louis and can make throws that Smith simply cannot. Bulger would be a better short-term fill in if Flacco goes down.

Webb looked good running and cutting on his surgically repaired knee while doing individual drills this week. He's yet to practice with the team but is very close to being cleared. Baltimore believes Webb could eventually develop into the team's best cornerback. But the team has to be careful and make sure he returns at full strength.

Despite the bad press rookie defensive tackle Terrence Cody received after failing his conditioning test, he is a force once he's on the field. Cody is hard to move in the trenches and has surprisingly good feet for someone his size. The Ravens are experimenting with Cody in various ways, including pairing him with Ngata and also giving Cody an occasional look at fullback in goal-line situations.

I thought I would see more from rookie receiver David Reed this week. Not to put unnecessary pressure on the fifth-round pick, but Reed generated a significant buzz in Baltimore during minicamp and organized team activities. My first impressions of Reed in training camp is that he's still inconsistent. Reed had some drops, but he also had one of this week's best catches by leaping over a defender in the corner of the end zone for a touchdown. Baltimore will need to see more of the latter.

Switching Paul Kruger to full-time defensive end and adding bulk is already paying dividends. Kruger looks more powerful and explosive this summer. The second-round pick was drafted as a linebacker/defensive end hybrid and couldn't find a role on the team his rookie year. Now he's more productive focusing on one position.
June, 29, 2010
6/29/10
11:20
AM ET